New Age Islam News Bureau
7 March 2016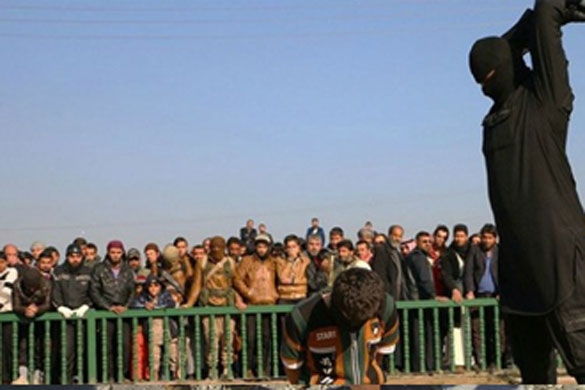 Photo: Teenage Boy Missed Friday Prayer and Beheaded By ISIS
----------
• Teenage Boy Missed Friday Prayer and Beheaded By ISIS
• Indian Muslim League Keeps up Tradition, Denies Assembly Tickets to Women Once Again
• Taslima Nasreen Hails Kerala Judge for Asking 'Why Muslim Women Can't Have Many Husbands'
• Muslim Women Brave Wintry Showers to Pass on Their Floral Message Of Peace
• Women Leaving Criminal Law Practice in Alarming Numbers
• Sophie Gregoire-Trudeau on What Women's Empowerment Means To Her
• 15-Year-Old Jhanvi Behal Challenges Kanhaiya Kumar for An Open Debate On PM Modi
Compiled by New Age Islam News Bureau
URL: https://newageislam.com/islam-women-feminism/india-kerala-h.-c.-judge/d/106577
----------
India: Kerala HC Judge Breaks Conventions; Asks, 'Why Not Four Spouses For Muslim women too?'
SPEED NEWS DESK|7 March 2016
Those tenets that especially revolved around alimony and Muslim men being allowed to marry up to four times, while women faced the brunt of socio-economic poverty and neglect.
Cut to 2016 and nothing seems to have changed either way. But, on Sunday, a Kerala high court judge named Justice B Kamal Pasha asked a very simple question: Why Muslim women could not have four husbands while the men enjoyed the same privilege under the Muslim personal law.
And this surely hasn't gone down well with the zealous gatekeepers of religion, who have ever since taken to branding the judge with various nefarious terminologies.
What happened?
The judge was addressing a seminar organised by an NGO run by women lawyers in Kozhikode. He said Muslim personal laws are heavily loaded against women and blamed religious heads for establishing the hegemony of men and wanted them to introspect during religious discourses on sensitive issues, as reported by Hindustan Times. Nothing wrong, so far!
Muslim personal law:
Muslim personal law allows a man to marry four times and it is still prevalent in India.
"Religious heads should do self-introspection whether they are eligible to pronounce one-sided verdicts. People should also think about the eligibility of persons who are pronouncing such verdicts," Pasha said, stating that women were deprived of rights enshrined in the Quran.
Don't oppose uniform civil code:
He also said that it was unfair to oppose a uniform civil code. "Even the highest court is a bit reluctant to interfere in this. Women should come forward to end this injustice. Personal law is loaded with discrimination. Besides denying equality, it also denies women's right to property and other issues," he concluded.
Reaction:
On social media, numerous ardent zealots are condemning the judge for interfering in religious matters, which of course isn't the case. The judge rightfully hit a sixer home by equating men and women and trying to drive the point home on Muslim personal act and Polygamy.
The judge has batted for women's rights vehemently and also mentioned how unfair the whole 'Talaq Talaq Talaq' rule has been for Muslim women.
catchnews.com/national-news/kerala-high-court-judge-breaks-conventions-asks-why-not-four-spouses-for-muslim-women-too-1457337231.html
-----
Teenage Boy Missed Friday Prayer and Beheaded By ISIS
07 March 2016
A teenage boy has been beheaded by ISIS extremists because he missed Friday prayers. The 16-year-old was arrested in the Syrian city of Jarablus, in northern Aleppo, was executed within 24 hours of committing his so-called 'crime'.
Witnesses described how he was hauled out into a packed public square and executed in front of a 'huge crowd' as a warning to others to not to miss prayers at the mosque.
His trial, at which he was accused of apostasy, is said to have lasted only a few minutes before the horrifying sentence was handed down in the city, which has been held by the extremists since 2013.
Activist Nasser Taljbini told ARA News: 'The teenage boy, who faced charges of apostasy, was beheaded in front of a huge crowd in central Jarablus on Saturday.'
One witness, who wished to remain anonymous, added: 'Before carrying out the execution, a "Sharia" official read a statement issued by the "ISIS Sharia Court", vowing everyone who misses prayers at the mosque to face a similar punishment.'
Friday prayers are held at a mosque each week, a time for the community to come together and worship.
The horrifying act comes just days after it was revealed ISIS militants had forced a 12-year-old girl to shoot dead five women in another so-called 'execution'.
Horrifying act comes just days after it was revealed ISIS militants had forced a 12-year-old girl to shoot dead five women in another so-called 'execution'.
This massacre occurred in Nineveh Province, in northern Iraq on Wednesday, Alsumaria News reported.
A source said: 'This evening, a 12-year-old girl belonging to the ISIS executed five women, including a doctor who refused to medicate ISIS members that were wounded in a coalition bombardment, by firing squad.
'This execution is considered to be the first of its kind to be implemented by a small girl within ISIS.'
en.alalam.ir/news/1796376#sthash.BGJBtZ6I.dpuf
-----
Indian Muslim League Keeps Up Tradition, Denies Assembly Tickets To Women Once Again
Monday, March 7, 2016
By KA Antony
The Indian Union Muslim League (IUML), the second-largest party in the ruling United Democratic Front (UDF), has once again decided not to field women candidates for the Assembly elections to be held in Kerala on May 16. The decision to deny party tickets to women was taken ignoring the demand by the Vanitha League (women's wing of the IUML) leaders for at least one seat for a woman candidate from the women's wing.
Though resentment is brewing in the women's wing, none of its leaders are in a mood to make a big issue out of it as they do not want to invite ire of the clergy and party leadership.
It is a known fact that there is no dearth of educated women with a good public image in the Vanitha League and also in the Muslim community. But when it comes to gender equality, the IUML leadership often ignores women candidates fearing the wrath of the clergy belonging to the two prominent Sunni factions led by Kanthapuram AP Abubacker Musliyar and the EK faction owing allegiance to the Muslim League.
Two names that were being discussed in the IUML circles as probable candidates for Assembly elections were that of Advocate KP Mariyumma and Advocate Noorbina Rasheed. Mariyumma has previously been elected as the president of the Malappuram district panchayat while Noorbina is a member of the State Women's Commission.
Mariyumma did not hide her disappointment when she said she had expected at least one seat for a female candidate. "After all it's for the party leadership to decide and I don't want to elaborate further on the issue," she said.
Sources in the Vanitha League said they had mooted the names of both Mariyumma and Noorbina to be considered as candidates to contest the Assembly election. "The party leadership was very positive to our claim in the beginning. We don't know why and how things went awry," sources said.
Asked why the Vanitha League leaders were not considered for the Assembly elections, IUML state general secretary KPA Majeed said that the party had to accommodate five ministers and 11 sitting MLAs. "We wanted to give seats to a few leaders from the Muslim Youth League," he said adding that the party would have considered female candidates if it could field more candidates.
The first and perhaps the last time the IUML, never known for a women-friendly approach, had thrown up a surprise was in 1996, by fielding Khamarunnisa Anvar from Kozhikode-11.Though she lost in that election, the IUML gesture had created an impression that the party was changing its attitude towards women when it comes to elections.
However, the issue has come up for a discussion even among members from the Muslim community who accuse the IUML of taking a male chauvinistic stand when it comes to gender equality in elections.
V.P.Suhra, president of NISA, an organization for Muslim Women said the IUML stand on denying Assembly tickets to women cannot be accepted. "They (IUML) leaders are afraid of what Kanthapuram and other clerics would think when Muslim women are allowed to contest Assembly elections. Kanthapuram is bent on suppressing women even though he himself knows that even the prophet had not banned women from taking up prominent positions in politics and society," she said.
Suhra said she is fighting a case against Kanthapuram, who had recently said that Muslim women should be confined to homes as their only duty is to be an obedient wife and a caring mother.
Abdul Nazar K, a social observer said no progressive changes were expected from a political party like the IUML, which is very afraid of the clergy when it comes to issues like women empowerment.
"It is true that the IUML is in the habit of fielding female candidates for the panchayat elections. But they are doing so as there is 50 percent reservation norm for women in local body elections," he said.
Salim Idid Thangal, a senior journalist said the Samastha Kerala Jammiyathul Ulama and its subsidiary organizations like SYS and SKSSF always put pressure on the IUML when it comes to the question on women's entry into politics," he said.
thenewsminute.com/article/muslim-league-keeps-tradition-denies-assembly-tickets-women-once-again-39922#sthash.Gz6McJHv.dpuf
-----
Taslima Nasreen Hails Kerala Judge for Asking 'Why Muslim Women Can't Have Many Husbands'
March 7, 2016
Zee Media Bureau
New Delhi: Bangladeshi author Taslima Nasreen has lauded Kerala High Court judge Justice B Kamal Pasha for his potent question "Why Muslim women can't have many husbands when men enjoyed the same privilege?"
In a tweet, the author said: "I salute Kerala judge Justice B Kamal Pasha for asking why Muslim women couldn't hv 4 husbands while men hv 4 wives!"
Justice Pasha on Sunday stirred a hornet's nest by asking why women face differential treatment under the Muslim personal law.
Pasha said that Muslim personal laws are heavily loaded against women.
Muslim personal law allows a man to marry four times. Although polygamy has been banned in many Muslim countries, it is still prevalent in India.
"Religious heads should do self-introspection whether they are eligible to pronounce one-sided verdicts," HT quoted Pasha as saying at a seminar.
"Even the highest court is a bit reluctant to interfere in this. Women should come forward to end this injustice," he added.
zeenews.india.com/news/india/taslima-hails-kerala-judge-for-asking-why-muslim-women-cant-have-many-husbands_1863346.html
----
Muslim women brave wintry showers to pass on their floral message of peace
6 March 2016
A group of Muslim women took to the streets of Luton to hand out roses to mark International Women's Day.
The women wanted to break down barriers and promote a positive view of Muslim women.
They raised £660 to fund the project and handed out 500 roses yesterday, as well as encouraging women to try a Muslim-style headscarf.
The event brought communities together and initiated conversations. We hope it broke down some barriers and dispelled the negative stereotypes that some people might hold about Muslims living in Luton specifically but also Muslims generally throughout the world. We hope that communities can continue to work together on many more projects in the future to prove that we can and are united in this great, multi-cultural town of Luton.
itv.com/news/anglia/2016-03-06/muslim-women-brave-wintry-showers-to-pass-on-their-floral-message-of-peace/
-----
Women leaving criminal law practice in alarming numbers
By Maureen Brosnahan, CBC News Posted: Mar 07, 2016
Women lawyers are quitting the practice of criminal law at a significantly higher rate than men, according to a new report by the Criminal Lawyers Association (CLA) of Canada.
The report, entitled "The Retention of Women in the Private Practice of Criminal Law," was released this past weekend at a CLA conference in London, Ontario. It found low pay, lack of financial support for maternity leave and being treated differently than male peers by judges and court staff as some of the reasons so many women are leaving private practice of criminal law.
The report confirms what many had been reporting anecdotally for years, according to Breese Davies, vice-president of the CLA. "We all had impressions that women were leaving criminal practice at a higher rate than men," she said.
"But we never had any numbers to determine whether or not our impressions were real."
The study, authored by Natasha Madon, a postdoctoral research fellow from Griffith University in Brisbane, Australia and Anthony Doob, professor emeritus of criminology at the University of Toronto, examined statistics from Legal Aid Ontario, the Law Society of Upper Canada. They also set up five focus groups and surveyed 225 female criminal lawyers in Ontario.
Breese Davies, a Toronto criminal lawyer and member of the Criminal Lawyers' Association, said the report found 'an enormous attrition rate' of female criminal lawyers over a span of 10 years. (Phil Brown)
They found many women dropped criminal law after five years and very few were still practising in the area after 10 years.
'Most shocking to me was, of the women who started doing criminal law in 1996, there were 47 of them, eight years later, by 2014, only 13 of them were still doing a substantial amount of criminal law," Davies said. "That is an enormous attrition rate."
Sixty-one per cent of those surveyed reported they considered leaving because of low pay, long hours and challenges dealing with the Legal Aid system, a key source of funds for those in criminal law. Many also pointed to the financial burden of maintaining a practice and running an office during maternity leaves.
"It's amazing that given all those challenges that we have any women in criminal law," said Indira Stewart, a Toronto defence lawyer who has been in practice for seven years. 'It's such an uphill battle, it's such a tough field, even if you're not a woman."
'A systemic problem'
Stewart, who has two young children, says many of the report's findings ring true for her. "The unpredictability of work hours, the logistical and financial challenges in taking a maternity leave and then having to completely rebuild your practice after returning. You really have to start from scratch after you've been gone," she said.
"In my first maternity leave I took less than four months but even in that short time frame, clients' matters have to proceed, their cases move along and they form a relationship with a new lawyer."
The Law Society of Upper Canada has a parental leave program, but it's very limited and requires applicants to pass a means test.
'Many women also reported a lack of respect and being treated differently than male lawyers by court officers, police, crown attorneys and judges. One reported being called "Little Lady" repeatedly. Others said they were chastised for asking judges for time to pick up children from school, whereas their male counterparts who made similar requests were not rebuked.
The study also found senior male lawyers tended to see women as students or assistants rather than fully qualified professionals. Only 22 per cent of those surveyed said they felt men and women were treated equally in the system.
"It's a systemic problem that needs to be addressed," Davies said.
The study also found that many women gave up private defence practice to take government jobs or become Crown Attorneys where they were guaranteed regular hours, no overhead and benefits including maternity leaves.
Davies said it's important that the practice of criminal law reflect the community and legal profession.
"Diversity matters," she said. "We need diverse perspectives to make sure the law develops in step with social values. You do not want a group of homogenous people designing and developing laws."
The report makes several recommendations:
Create mentorship programs involving senior female lawyers;
Develop education programs and sensitivity training for judges and other court staff;
Establish fixed end times for courts and streamline court processes;
Provide greater support for maternity leaves;
Increase the number of female judges.
"There's a lot to be done. These are pretty ambitious recommendations that touch a lot of areas of the criminal justice system," Davies said, adding that she hopes to reassess the system in five years.
"Certainly in five years I would hope that we're not losing the number of women we're losing now," added Stewart.
cbc.ca/news/canada/women-criminal-law-1.3476637
----
Sophie Gregoire-Trudeau on what women's empowerment means to her
Sonja Puzic, Staff Writer, March 7, 2016
Sophie Gregoire-Trudeau says women around the world face different barriers every day, but we must all come together to empower them.
The wife of Prime Minister Justin Trudeau sat down with Canada AM's Marci Ien ahead of International Women's Day to share her thoughts on female empowerment, being a mother and staying true to herself in the national spotlight.
"Women's empowerment for me means knowing your rights, having the facts, knowing the truth about what is happening out there, here in our own country and the condition of women throughout the world," Gregoire-Trudeau said in the interview that aired Monday.
The barriers for women across the world are different, depending on which kind of political system you live under," she said.
"We're privileged here in Canada, but there's still so much work to be done on pay equity, on access to child care, on violence against women, the tragedy of missing and murdered indigenous women."
Gregoire-Trudeau, 40, an activist who speaks publicly on issues relating to women and children, self-esteem and eating disorders, said it's important to remember that in some parts of the world, women don't even have basic rights.
"We can't really compare the barriers," she said, adding that education and awareness are key to bridging the gaps between different societies.
"We must come together, not only to share these facts and to continue to educate women and men, but as mothers, as parents as friends, we must be responsible for raising our kids to see and to exercise that justice between themselves," Gregoire-Trudeau said.
Gregoire-Trudeau said she's proud to be married to a feminist who supports her and the causes she's passionate about.
The Trudeaus have three young children, Xavier, Ella-Grace and Hadrien. Gregoire-Trudeau said she doesn't separate her roles as mother, daughter, friend and the prime minister's wife.
"I feel privileged with what I have…There's so much gratitude," she said.
In the past, Gregoire-Trudeau has publicly discussed her struggles with bulimia and self-esteem issues. Her decision to be open with her life is a choice, but also "a way of being," she said.
"If we're honest enough to know ourselves and to share our stories and our truths … we can grow as an individual and help people in their own struggling and their own suffering."
Gregoire-Trudeau also said she's looking forward to meeting First Lady Michele Obama when she and Trudeau attend the White House state dinner on March 10
ctvnews.ca/politics/sophie-gregoire-trudeau-on-what-women-s-empowerment-means-to-her-1.2806354
--------
15-year-old Jhanvi Behal challenges Kanhaiya Kumar for an open debate on PM Modi
By Satya Prakash | March 6, 2016
Zee Media Bureau
New Delhi: Amid ongoing fiasco over the anti-national sloganeering at Jawaharlal Nehru University in the National Capital and JNU students' leaders Kanhaiya Kumar 's outburst against Prime Minister Narendra Modi and his government, a teenage girl Jhanvi Behal from Ludhiana has challenged the 29-year-old from Begusarai in Bihar.
In an open challenge, the 15-year-old challenged Kanhaiya Kumar to meet her 'wherever and whenever' for the debate.
"I am ready for an open debate wherever and whenever he (Kanhaiya) wants. It is very easy to criticise someone while sitting at home. Kanhaiya should concentrate on working like PM Modi," said Jhanvi.
"Whatever Kanhaiya ji said against PM Modi is completely wrong and unacceptable. It would have been better if he had spoken against those anti-nationals who raised slogans rather than PM Modi," added Jhanvi.
Earlier, Jhanvi Behal has received a letter of appreciation from PM Modi for social works.
Kanhaiya Kumar, who was booked on sedition charges for anti-national sloganeering in JNU, is out on bail and has been critical about Prime Minister Narendra Modi and his government following his release.
zeenews.india.com/news/india/15-year-old-jhanvi-behal-challenges-kanhaiya-kumar-for-an-open-debate-on-pm-modi-watch_1862863.html
URL: https://newageislam.com/islam-women-feminism/india-kerala-h.-c.-judge/d/106577
New Age Islam, Islam Online, Islamic Website, African Muslim News, Arab World News, South Asia News, Indian Muslim News, World Muslim News, Womens in Islam, Islamic Feminism, Arab Women, Womens In Arab, Islamphobia in America, Muslim Women in West, Islam Women and Feminism