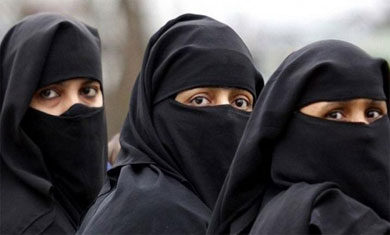 Muslim women stopped from boarding Lucknow Metro. Image Source : PTI
-----
Saudi Cleric Criticizes 'Woman Phobia' in the Kingdom
35-Year-Old Mumbai Man Booked For Giving Instant Talaq to Wife In July '18
Iran Hijab Protester Freed From Jail: Lawyer
UN Women praises Egyptian government's decision to implement UNSCR 1325
Compiled by New Age Islam News Bureau
URL: http://www.newageislam.com/islam,-women-and-feminism/new-age-islam-news-bureau/india-election-aftermath--five-burqa-clad-muslim-women-stopped-from-boarding-lucknow-metro,-complaint-sent-to-lmrc/d/118739
---------
India Election Aftermath: Five Burqa-Clad Muslim Women Stopped From Boarding Lucknow Metro, Complaint Sent To LMRC
May 29, 2019
Lucknow: Five Muslim women, belonging to one family, were stopped from travelling on the Lucknow Metro after they refused to remove their veils.
The women, who wanted to board the metro at Maiwaiya station on Tuesday had no reservations about being frisked and checked by women security personnel.
However, since there were no women security personnel, male security guards refused to allow the group to board the Metro.
The family later asked the officials for a refund and gave up their plans to travel.
The head of the family, Maaz Ahmad, has now sent a complaint to the Lucknow Metro Rail Corporation (LMRC).
LMRC Public Relations Officer Pushpa Belani said the complaint had been received and the matter will be probed to verify the allegations.
This is just one of a number of incidents against Muslims that are being reported in the northern areas of the country post the Lok Sabha (India's Lower Parliament) elections. The results announced on May 23 gave an overwhelming victory to Bharatiya Janata Party (BJP) with Modi at the helm.
A Muslim villager in Bihar was shot after revealing his name, in an alleged hate crime in the state. In another incident, a Muslim youth was allegedly accosted and beaten up by four unidentified assailants in Gurugram, New Delhi on Saturday night for wearing a traditional skullcap and not chanting religious slogans, police said.
https://gulfnews.com/world/asia/india/india-election-aftermath-burqa-clad-muslim-women-stopped-from-boarding-lucknow-metro-1.1559108466797
---------
Saudi Cleric Criticizes 'Woman Phobia' in the Kingdom
May 29th, 2019
A prominent Saudi cleric has criticised the kingdom's rigid gender segregation restrictions, calling for an end to what he called "woman phobia".
Sheikh Adel al-Kalbani, the former imam of the Grand Mosque in Mecca, made the comments in a televised interview, Saudi newspaper Arab News reported on Monday.
Kalbani argued that Saudi women face stricter restrictions today that "isolate them from society" than they did during the time of the Prophet Muhammad.
"Sadly today, we are paranoid - in a mosque - a place of worship. [Women] are completely separated from men,"
"In the Prophet's era… the men used to pray in the front and women prayed in the back of the mosque without a partition, not even a curtain,"
"And today, it is a separated room, some even far from the original Prophet's Mosque area, I believe this is some type of phobia toward women,"
The cleric also said that women should be addressed by their names as was the case during the early period of Islamic history.
The grandson of Saudi Arabia's former grand mufti has dismissed Kalbani's comments, arguing that the partition is necessary to ensure that women pray behind men.
"Honestly, a cow is more useful than Kalbani," Saleh ibn Baz was quoted as saying by local media.
Saudi Arabia has for decades imposed strict social rules, including bans on the mixing of unrelated men and women.
Kalbani is well-known for his liberal-leaning religious rulings, allowing music and card games for example.
The remarks come as Riyadh continues a drive to adopt a "moderate" state-sanctioned interpretation of Islam, with women recently being granted the right to drive.
Critics, however, say the reforms are meaningless as long as the male guardianship system persists.
The system severely restricts the ability of women to travel and conduct various routine tasks without the permission of their male relatives
They have also criticised the trial of several women rights activists charged with having links to foreign intelligence agencies.
https://www.albawaba.com/editors-choice/saudi-cleric-criticizes-woman-phobia-kingdom-1288582
---------
35-Year-Old Mumbai Man Booked For Giving Instant Talaq to Wife In July '18
May 29, 2019
Vijay Kumar Yadav
A 35-year-old man was booked by the Sakinaka police on Saturday for using triple talaq to divorce his wife last year. The accused later married another woman.
The Muslim Women (Protection of Rights on Marriage) Ordinance, 2018 makes triple talaq punishable with three years in jail.
"I had complained to police in January, but they were not registering the case under the new ordinance. After I gave them examples of registration of similar FIRs in other districts, they registered my FIR," said the complainant Tabassum Imran Sayed, 34, a resident of Kurla (West). She works as an assistant engineer with Maharashtra State Electricity Distribution Company Limited (MSEDCL), Vasai.
Sayed married Imran Younus Sayed in May 2005 as per Muslim rituals in Uttar Pradesh. The couple has two sons aged 13 and eight years.
According to Sayed's complaint, Imran had no permanent job and repeatedly asked her for money. In 2014, he allegedly demanded she borrow Rs 25 lakh from her father to buy a flat, which she did.
In 2016, Imran allegedly assaulted Sayed after she refused to give him money to buy a car. She later relented and gave him Rs1 lakh to buy the car.
On another occasion, Imran demanded money from her to start a business, which she refused to give. The duo then started living separately since August 2017.
According to the police, the accused was booked under sections 498 (A), 494, 504, 506-II of the Indian Penal Code (IPC) and section 4 of The Muslim Women (Protection of Rights on Marriage) Ordinance, 2018.
As per the FIR, Imran got a job in 2017, and in 2018 he married one Shaheen Shaikh.
"In July 2018, Imran abused me in public and said 'talaq' thrice and divorced me. He later married Shaikh," Sayed said.
"He never gave me anything in writing. He didn't even give me 'Iddat' [waiting period]," she said.
However, Imran said he is not aware of any FIR against him. "All the allegations made against me are false and baseless," he said.
https://www.hindustantimes.com/mumbai-news/35-year-old-booked-for-giving-instant-talaq-to-wife-in-july-18/story-Zs9AGiba1usjKVdIuiNrxI.html
---------
Iran Hijab Protester Freed From Jail: Lawyer
28/05/2019
A woman jailed in Iran for one year for removing her hijab in public to protest against the country's Islamic dress code has been released early, her lawyer said Tuesday.
"Vida Movahedi was summoned by prison authorities on Sunday evening and told that her sentence had been commuted, and combined with some accumulated furlough she was free to go," Payam Derafshan told AFP.
Movahedi, who is in her mid-20s, was arrested in October after removing her hijab from her head at Tehran's Enghelab Square.
She was charged with "encouraging corruption and debauchery" and sentenced by a court in Tehran to 12 months in prison on March 2, Derafshan added.
The lawyer said Movahedi had stated her opposition to the "compulsory hijab" and that she wanted to express her opinion in "a civil protest".
Under the Islamic dress code, women can only show their face, hands and feet in public and are supposed to wear only modest colours.
Movahedi has staged protests in the past.
In December 2017, she stood on a pillar box on Enghelab Avenue without the mandatory long coat and raised her white veil on a stick.
Enghelab means revolution in Farsi and the square and avenue are among the busiest areas in the capital.
Movahedi's move sparked similar protests by other women, including some at the same spot, and they soon won recognition as "Dokhtaran-e enghelab", or the Girls of Revolution Street.
Like other women who copied her, she was arrested, but she was only fined for her first protest.
https://www.france24.com/en/20190528-iran-hijab-protester-freed-jail-lawyer
---------
UN Women praises Egyptian government's decision to implement UNSCR 1325
May 29, 2019
The United Nations Entity for Gender Equality and the Empowerment of Women (UN Women Egypt) praised the decision of the Egyptian government to develop the country's first national action plan on the implementation of the United Nations Security Council Resolution (UNSCR) 1325 on Women, Peace and Security and subsequent resolutions.
UN Women Egypt said in a statement that the decision reaffirms the commitment of the government of Egypt to implementing the constitutional provisions that pertain to women's leadership and decision-making through the implementation of the first-ever National Strategy for the Empowerment of Egyptian Women 2030, endorsed by President Abdel Fattah al-Sisi.
"Among the main goals of the strategy is to encourage all forms of women's political participation and leadership while capacitating them to succeed in their missions through the engagement of all relevant actors, including the civil society," the statement said.
The UNSCR 1325 resolution reaffirms the important role of women in the prevention and resolution of conflicts, peace negotiations, peace-building, peacekeeping, humanitarian response and post-conflict reconstruction and stresses the importance of their equal participation and full involvement in all efforts for the maintenance and promotion of peace and security.
According to UN Women, the resolution also calls on all parties to take special measures to protect women and girls from gender-based violence, particularly rape and other forms of sexual abuse, in situations of armed conflict. The resolution provides a number of important operational mandates with implications for member states and the entities of the United Nations system.
"Engaging women at all levels of decision-making is the cornerstone based upon which Egypt's Vision for the Empowerment of Women 2030 was founded. Egypt's forthcoming National Action Plan on Women, Peace and Security 1325 will be developed on this premise: the participation of women in prevention and protection," said President of the National Council for Women (NCW) Maya Morsy.
https://www.egyptindependent.com/un-women-praises-egyptian-governments-decision-to-implement-unscr-1325/
---------
URL: http://www.newageislam.com/islam,-women-and-feminism/new-age-islam-news-bureau/india-election-aftermath--five-burqa-clad-muslim-women-stopped-from-boarding-lucknow-metro,-complaint-sent-to-lmrc/d/118739
New Age Islam, Islam Online, Islamic Website, African Muslim News, Arab World News, South Asia News, Indian Muslim News, World Muslim News, Women in Islam, Islamic Feminism, Arab Women, Women In Arab, Islamophobia in America, Muslim Women in West, Islam Women and Feminism