New Age Islam News Bureau
1 Aug 2014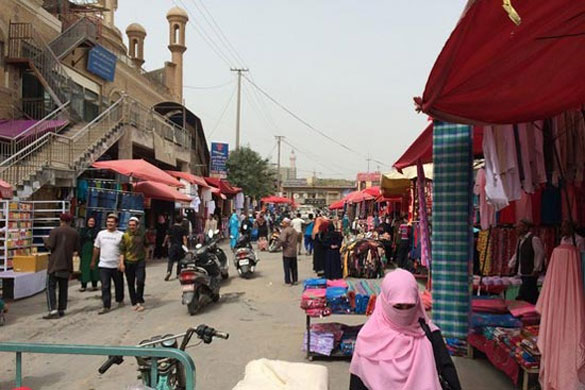 Women in Hotan and other parts of Xinjiang are often fully veiled despite the Chinese government's efforts to curb the practice. Jeremy Page
-------
• Islamic State Orders Total Cover-Up for Women
• Jeddah Records High Number of Violations at Female Workplaces
• Acid Attacks on Women Cast Pall of Fear in Balochistan
• Education Is a Rare Jewel; Appreciate the Endless Opportunities It Brings: Malala
• Istanbul Convention Grants International Rights for Domestic Abuse Victims
• Raja Teh Named Most Talented Woman Professional in Islamic Banking
• Turkish Court Considers Wearing Leggings as 'Provocative' Factor in Domestic Violence Case
Compiled by New Age Islam News Bureau
URL: https://www.newageislam.com/islam,-women-and-feminism/new-age-islam-news-bureau/in-xinjiang,-veils-signal-conservative-shift-among-uighurs/d/98380
----------
In Xinjiang, Veils Signal Conservative Shift among Uighurs
01 July, 2014
Efforts to Ban Head Scarves Push Some Women to Don Them in Defiance
HOTAN, China—It's midmorning in the grand bazaar of this oasis city in western China, and as the crowds begin to swell, the growing influence of conservative Islam is clearly visible among the women browsing the market stalls.
At least one in three is fully veiled, with only the eyes uncovered, despite a ban on the practice here and throughout China's far western region of Xinjiang, home to the mostly Muslim Uighur ethnic group.
Many more, as elsewhere in Xinjiang in recent years, are wearing a loose-fitting, high-necked robe called a Jilbab and a partial veil known as the hijab—also targets of official campaigns against Islamic dress.
Rarely seen in Xinjiang a decade ago, the veil has become increasingly popular. It is now part of Beijing's broader battle to curb what it sees as religious extremism following a wave of deadly attacks in Chinese cities in recent months.
In the latest violence, the state-appointed imam of China's biggest mosque—in Kashgar, 300 miles from Hotan—was killed Wednesday shortly after attending morning prayers, according to the official Xinhua news agency.
On Monday, at least 20 people were shot dead in clashes between police and locals in Yarkand, a city between Hotan and Kashgar, according to state media and Uighur activists overseas.
China's government blames most recent violence on Uighur separatists who it says have links to al Qaeda and preaches an extreme reading of the Quran that requires women to be fully veiled and men to grow their beards long.
Locals and many Uighur experts acknowledge the spread of more conservative brands of Islam, but say the violence is largely caused by anger over increasingly tight Chinese restrictions on religion in the last five years.
They say a series of local government campaigns against the veil since 2012 have caused particular anger among Uighurs and pushed many previously apolitical women into daily displays of defiance.
"The veil is part of our religion, our tradition," said one veiled woman selling tie-dyed silks in the bazaar in Hotan, a heavily policed city of 380,000 near China's mountainous border with Pakistan.
Asked why some women weren't veiled, she motioned as if firing a gun, and said: "The police don't allow it. There is no freedom in Xinjiang."
Hotan and neighboring Kashgar are among Xinjiang's most religiously conservative areas, and some women there have long worn the full veil, but their numbers have increased substantially in recent years, according to locals and regular visitors.
In other parts of Xinjiang, those people say, full veils are also now more common, while the Jilbab and Turkish-style two-piece Hijab have become widespread, especially among younger women.
Erkin Tuniyaz, a Uighur who is vice-chairman of Xinjiang's regional government, said restrictions on veils were necessary to curb the spread of extremist ideas that he said were alien to Uighurs, who traditionally observe a moderate form of Sunni Islam.
"No drinking, no singing, no dancing—this it not traditional Uighur Islamic culture," he said. "The veil is not our traditional Uighur dress."
Echoing other government officials, he said the recent violence began with this type of what he called "illegal religious activity."
Uighur scholars and activists deny a link between violence and the veil, saying those who wear it are simply pious Muslims. Some of them say the practice has become more popular through exposure to television shows from Turkey and the Persian Gulf.
Others point to the influence of Uighurs who received religious education in Pakistan and Saudi Arabia. They also cite increasingly tight religious restrictions since ethnic rioting in the regional capital, Urumqi, in 2009.
Local officials have long discouraged veils. But since 2012, authorities have launched increasingly explicit campaigns against the veil and Jilbab and young men growing their beards long, according to online local government statements.
One prefecture in Xinjiang, Turpan, is now considering an explicit legal ban on the Jilbab and veil in public places, with fines of 200 yuan to 500 yuan—about $32 to $80—for wearing "a piece of cloth covering all or most of the face," according to the local legislature's website.
"There are still a small number of incorrigible women who insist on wearing the Jilbab and veil in public places, causing a very bad influence and a serious threat to social stability," it says.
It also says the veil and Jilbab endanger "Chinese cultural security," violate China's constitution, and threaten women's health by exposing them to heatstroke and calcium deficiency through lack of exposure to the sun.
On a recent visit to Turpan, most women in the streets and bazaars were unveiled, but some locals said they knew women who wore a full veil in villages nearby.
Another notice on the local government website of Xinjiang's Hutubi County, just outside Urumqi, described how an official inspection team had discovered a veiled woman near her home and immediately reported her to the police.
It said police searched door-to-door and when they found her, "educated this masked woman to lift her veil, and not to wear the Jilbab but to wear traditional ethnic dress."
Uighur activists say such intrusions into Uighur homes have sparked violence, including one instance in June that left five Uighurs and one policeman dead near Kashgar.
Another government initiative launched in 2011 is to organize fashion shows, beauty contests and talent competitions featuring veil-less Uighur women in a campaign called "Project Beauty." Its slogan is: "Let your beautiful hair float up, let your pretty face be exposed."
Some central government notices online say the aim is to stop women from being forced to wear the veil.
On the ground, however, local officials often respond with a total ban, according to many Uighurs and Xinjiang experts.
As a result, the veil has now become "a passive form of resistance, signifying your opposition to government restrictions on religion," said Michael Clarke, an expert on Xinjiang at the Griffith Asia Institute in Australia.
"What is new is the intensity with which authorities are attempting to restrict it," he said. "The concern is that China's creating a situation that could lead to more radicalization."
The battle over the veil in Xinjiang in some ways echoes those in other parts of the world since the Sept. 11, 2001, attacks on the U.S. France and Belgium have banned the full veil in public places since 2011.
Turkey and Syria have relaxed restrictions on veils in public buildings in the last three years. In the U.S. and Britain, the debate has focused on how to balance religious freedom with the state's need to identify people for security reasons.
Until recently, China was insulated from such controversy: Most Uighur women used to wear their hair uncovered or in a simple head scarf, knotted over the ears or under the chin.
Now, China is confronting many of the same emotive issues as Western governments with the added complication that in Xinjiang they are intertwined with Uighur separatism.
In Urumqi's grand bazaar, one 21-year-old woman shopping for a mobile phone said she used to follow the latest fashion, but started wearing a tight-fitting Turkish-style hijab early this year.
"It is partly because of my religion, but also because I'm Uighur," said the woman, a student. "If I wear this at university, I won't be able to graduate, but I'm not afraid to show who I am."
http://online.wsj.com/articles/in-xinjiang-veils-signal-conservative-shift-among-uighurs-1406830554
-------------
Islamic State Orders Total Cover-Up for Women
01 July, 2014
BEIRUT: The Islamic State has imposed a strict dress code for women in eastern Syria, forbidding them from showing any part of their bodies, a monitoring group said.
"Women... are completely forbidden from showing their eyes," said the statement, which the Syrian Observatory for Human Rights said was distributed in IS-controlled areas of Deir Ezzor province in the east.
Women are also forbidden from wearing "open abayas (traditional black gowns) that reveal colorful clothes worn underneath," it said.
Abayas, it added, "must not be decorated with beads, sequins or anything else" and women "must not wear high heels."
"Anyone who violates this will be penalized," it added, without elaborating on the punishment.
In parts of Deir Ezzor city that are under jihadis' control, the group also distributed a statement forbidding the sale and public use of nargileh (water pipe) tobacco and cigarettes, the Observatory said.
"In its effort to implement Islamic law and to fight evil things, it is completely forbidden to sell cigarettes and nargileh anywhere," it said, citing the jihadis who also forbade "smoking in public."
http://www.arabnews.com/news/middle-east/610161
----------
Jeddah records high number of violations at female workplaces
01 July, 2014
Jeddah has surpassed other cities in the number of violations reported against female workshops, with close to 3,000 violations recorded in one year. Municipalities in Riyadh and the Eastern Region reported 4,000 violations over three years.
A spokesman for Jeddah Municipality stated that female inspection teams focus on shops that prepare brides to ensure regulations are being implemented with regards to all private and public activities pertaining to women, noting that monitoring the prices of services is the responsibility of the Ministry of Commerce and Trade.
"More than 3,000 violations have been recorded during the current year, and are mainly due to the carrying out of irregular and unlicensed health-related activities, operating businesses without a license, failing to renew a license, or the hiring of employees without any health certificates," he said.
According to sources, the number of violations decreased in Jeddah over the past two years; more than 5,000 violations were reported in 2012.
Inspection teams visiting female workshops and businesses also inspect the buildings and verify their facilities to ensure that the facility is on the ground floor and has a separate entrance, as well as it meets basic health requirements as per the regulations.
"Aside from hygiene and cleanliness of tools used, the health requirements specify the proper use and storing of devices intended for sterilization," Buqami added.
He stressed that the requirements must be made available to all workers, as well as their health certificates, and should highlight their working hours, proper attire, and other regulations, such as the practice of using any part of the facility for living, which is a violation.
Meanwhile, Arwa Al-Aama, assistant secretary for IT and director of the female department at Jeddah Municipality, said that the status of female businesses in Jeddah was currently much better than before.
He added: "Female business women have become more aware of the regulations due to the courses and workshops provided by the female department at the municipality but violations still occur, such as carrying out health related activities without necessary licenses from the appropriate authority."
She said the municipality's inspection department seeks to develop the monitoring process by enhancing communication tools with women in society through use of technology and smart phones in order to provide continuous information about regulations, processes and requirements.
http://www.arabnews.com/news/saudi-arabia/610226
----------
Acid Attacks on Women Cast Pall of Fear in Balochistan
01 July, 2014
QUETTA: A recent spate of acid attacks in Balochistan has sparked an impassioned debate about rising Islamisation that is forcing an increasing number of women to stay at home.
The horrific crime, which disfigures and often blinds its overwhelmingly female victims, has long been used to settle personal or family scores with hundreds of cases reported every year.
But two fresh attacks on consecutive days in the province last week, where until a few years ago such assaults were unheard of, suggests a new pattern is emerging.
Last Tuesday, two men on a motorcycle sprayed acid using syringes on two teenage girls who were returning from a market in Mastung town, 40 kilometres from the provincial capital Quetta.
The day before, four women aged between 18 and 50 had suffered the same fate in Quetta, in the market area of Sariab. They were partially burned.
"In accordance with our Baloch traditions, they were wrapped in big shawls as well as covering their faces. That... saved (them) from severe injuries," said Naz Bibi, mother of two of the victims.
Asked about the attackers, she said: "I can only request that they should not treat women in such a cruel way."
In most acid attack cases around Pakistan, the majority of victims know their attackers. When caught, relatives found guilty speak of punishing their victims for having sullied their "honour" or that of their family with "indecent" behaviour.
But, in these latest cases, the victims had no known connection to their assailants — which has led campaigners to suggest the attacks are part of rising religious extremism in the region.
Vast and sparsely-populated but rich in resources, Balochistan has long been racked by a separatist insurgency that has staunch leftist secular elements — including strong participation by women — and which reveres Communist icons like Argentine revolutionary Ernesto 'Che' Guevara.
Separatists say the attacks on women are the latest battlefront in an ideological war between the rebels, who are fighting for a greater share of the region's mineral and gas wealth, and state-backed Islamist proxies who want to terrorise the population into acquiescence.
"The aim of these inhuman acts is to prevent women from participating in education, as well as social, political and economic aspects of life by creating a climate of terror," said Jahanzaib Jamaldini, vice president of the Baloch National Party, which is fighting for greater autonomy.
This week, three more women suffered injuries to their legs and feet in yet another attack — though police and senior officials have so far said the latest incident was a case of a "family feud".
Mohammad Manzoor, a brother of one of the victims, lamented that the attackers were still at large. "They roam the area on motorcycles and the local people have spotted them, "he said.
Militant involvement?
In the Sariab district of Quetta, the scene of one of last week's attacks, Islamist groups like the Ahl-e-Sunnat Wal-Jammat (ASWJ), are increasingly coming to the fore.
Dressed in Arab garb, they are able to roam the area armed with automatic weapons without fear of molestation -- leading many to believe they are given tacit state backing.
"ASWJ controls the area with dozens of armed men," said one young resident, standing under the group's flag as it fluttered in the breeze, adding that their presence scared families into preventing women from being out in public.
The group said the accusations were "without any basis". "We condemn these attacks," Ramzan Mengal, the group's leader in Balochistan said.
The acid attacks also fit a wider pattern of a steady erosion of women's rights, especially in separatist and erstwhile relatively secular strongholds.
Al-Furqhan, an obscure militant group, recently appeared in the one-time separatist rebel stronghold of Panjgur district, which borders Iran, threatening private schools over the teaching of girls, according to residents.
In an atmosphere rife with fear, no suspects have so far been arrested and no group has claimed responsibility.
The first recorded acid attack in Balochistan came in 2010, with two more reported in 2012.
Mohammad Aslam, a women's tailor in Sariab, has seen sales drop by three-quarters since the market attack. "Women are afraid to step out of their homes or their men stop them from going," he said.
Shopkeepers in Mastung reported a similar decline in sales.
"We fear that such incidents could increase and leave no space for women in an already male-dominated society," said human rights activist Saima Jawaid.
http://www.dawn.com/news/1122383/acid-attacks-on-women-cast-pall-of-fear-in-balochistan
----------
Education Is a Rare Jewel; Appreciate the Endless Opportunities It Brings: Malala
01 July, 2014
PORT-OF-SPAIN- Children in T&T should be thankful for the educational opportunities and take full advantage of them, according to world-renowned education activist Malala Yousafzai.
Addressing students at the National Academy for the Performing Arts, Port-of-Spain, 17-year-old said: "In this country, you get quality education that is free from the primary level up to the tertiary level and even up to the post-graduate level."
The Pakistani adolescent, ranked in 2013 as one of the 100 most influential people in the world by Time Magazine, informed the audience about other children across the globe who would give anything to have similar opportunities.
Highlighting one of her projects in Jordan for Syrian children who are refugees from the civil war, she said: "They are amazing, amazing children who have so many dreams but they have so many difficulties in their lives. They don't get the right books. They don't get well-qualified teachers. They don't have schools and shelter." She stated that her organization, the Malala Fund, was established to speak up for those underprivileged children and to provide opportunities for them.
http://www.nation.com.pk/national/31-Jul-2014/education-is-a-rare-jewel-appreciate-the-endless-opportunities-it-brings-malala
----------
Istanbul Convention Grants International Rights For Domestic Abuse Victims
01 July, 2014
ANKARA – The Istanbul Convention, which Turkey became a party to in 2011, has come into force today in the country, along with 10 European countries. The convention, branded as a legal revolution in combatting domestic violence, grants more rights to victims.
Victims will be able to lodge complaints to international bodies and be granted the right to receive compensation from the state for the first time under the convention.
The convention urges states to sponsor group therapy for families with a history of domestic violence as well as revise the primary school curriculum to educate against domestic violence.
Under the convention, crisis centers to help victims of domestic violence, sexual violence and abuse will be set up for the first time in Turkey.
In 2011, Turkey became one of the first countries to sign the convention, the first comprehensive and legally binding document on domestic violence. The country has already implemented laws compatible with the convention in 2012 but will take more steps for its wider implementation.
For instance, women are granted the right to file complaints with international legal bodies on domestic violence matters. The Istanbul Convention also allows signatory countries to turn to legal means against countries that fail to implement measures for combatting domestic violence.
Women will also be allowed to receive compensation from the state if they suffered serious bodily harm in addition to compensation by the perpetrator. If the country already provided sufficient measures to protect the victims, it will be exempt from paying the compensation.
Crisis centers that offer treatment for injuries as well as treatment for the mental trauma they suffered, especially in the sexual violence cases, will be set up to help victims. Female genital mutilation and similar practices will be outlawed in all countries that have signed the convention.
The state will also be liable for group therapy or private therapy sessions for perpetrators and victims of domestic violence. The convention also orders countries to classify forced marriages as a crime, annul such marriages and provide financial support for women forced to marry, if needed.
The Council of Europe drafted the convention and will set up a committee of observers to monitor signatory countries' adherence with the convention. The committee will prepare regular reports on countries' efforts against domestic violence.
Domestic violence came into the spotlight following an apparent rise in violence targeting women and spousal murders. Turkey's Ministry of Family and Social Policies is seeking to resolve the problem through awareness campaigns and services for protecting women. Among the ministry's efforts to help women is a "panic button," a device that alerts law enforcement with the push of one button in the case of violence. As of June, 168 women were provided with the device.
The ministry also opened new women's shelters for victims of violence in the provinces of Sinop and Düzce this year and five more are scheduled to open by the end of 2014 for cities without a state-run shelter.
http://www.dailysabah.com/nation/2014/08/01/istanbul-convention-grants-international-rights-for-domestic-abuse-victims
----------
Raja Teh Named Most Talented Woman Professional In Islamic Banking
01 July, 2014
KUALA LUMPUR: The Managing Director and Chief Executive Officer of Hong Leong Islamic Bank (HLISB), Raja Teh Maimunah, was named the most talented women professional in Islamic banking at the recent Asia Islamic Banking Excellence Awards 2014 in Singapore.
Known as a passionate and inspirational leader, Raja Teh has seen through a wide range of challenges in her career spanning more than 20 years, focusing on areas of Islamic and investment banking.
In a statement, HLISB said in addition to her portfolio at HLISB, Raja Teh is also the Chief Operating Officer of the Digital Innovation and Transactional Banking Division of Hong Leong Bank.
Meanwhile, the Asia Islamic Banking Excellence Awards identify and reward professionals and organisations for superlative achievements in their respective fields,contributing to higher corporate disclosure standards in Asia.
http://www.malaysiandigest.com/news/511271-raja-teh-named-most-talented-woman-professional-in-islamic-banking.html
-------------
Turkish Court Considers Wearing Leggings as 'Provocative' Factor in Domestic Violence Case
01 July, 2014
A local court in the eastern province of Erzurum has reduced the sentence of a husband who attacked his wife after seeing her with another man, arguing that her wearing leggings and sitting "slightly leaning to one side" could be described as "provocative" and an extenuating circumstance.
T.K., who seriously injured his wife, D.K., by stabbing her during a row after seeing her in the same car with another man, was eventually handed six years and three months in prison after his sentence was reduced.
Prosecutors had asked for up to 15 years in prison on charges of attempted homicide; the couple admitted that they were seeking a divorce when the incident occurred.
Defense lawyers denigrated D.K., arguing that she provoked the husband's anger by sitting in the backseat of the car while wearing leggings and leaning toward one side. T.K. also said he only intended to scare his wife when he pulled the knife.
But D.K. rejected her husband's accusations, claiming that the man in the driver's seat, A.P., was a friend of 14 years and that her husband saw them at a gas station while they were going to pick up her brother and sister.
"I wasn't wearing anything bawdy, as he claims. He asked me 'Why did you leave me?' when he entered in the car and stabbed me. Then he said: 'I told you I would kill you. Now it will be your family's turn,'" D.K. told the court.
However, in its ruling, the court lent credence to the husband's argument that D.K. appeared "very comfortable" inside the car, saying her attitude was "suspicious" and "provocative."
The latest incident comes amid increasing cases of domestic violence and murders of women in Turkey. According to an opposition statistic, 129 women were killed in the first half of 2014, compared to 88 in the same period a year earlier.
http://www.hurriyetdailynews.com/turkish-court-considers-wearing-tights-as-provocative-factor-in-domestic-violence-case.aspx?pageID=238&nID=69832&NewsCatID=341
----------
URL: https://www.newageislam.com/islam,-women-and-feminism/new-age-islam-news-bureau/in-xinjiang,-veils-signal-conservative-shift-among-uighurs/d/98380