New Age Islam News Bureau
18 Oct 2018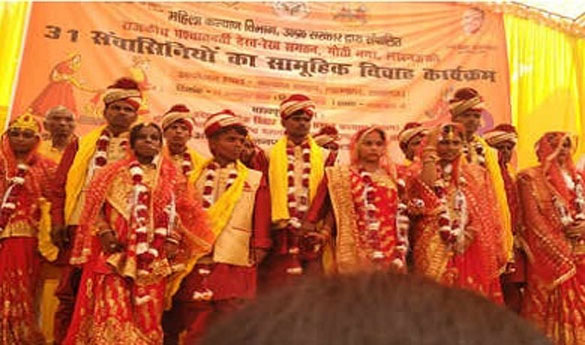 Photo: The mass wedding programme was held under the UP government's mass marriage scheme
-------
• Rohingya refugee girls sold into forced labour in Bangladesh: UN
• Female inmates go on hunger strike at Bahraini jail over ill-treatment
• Shia woman injured amid Saudi regime forces' raid on Qatif
• UK Mulling to Put Muslim Female Spy on £50 Note
• Narsingdi militant raid ends, 2 suspected female militants surrender
• Salam Sisters dolls inspire young Muslim girls
• The 28-year-old woman reshaping Afghanistan's politics
• UN calls for women's participation in Afghan polls
Compiled by New Age Islam News Bureau
URL: https://www.newageislam.com/islam-women-feminism/in-up-girls-with-muslim/d/116657
--------
In UP, girls with Muslim names married as per Hindu rituals
Oct 18, 2018
LUCKNOW: Four orphan girls with Muslim names were married to Hindu boys as per Hindu rituals along with 27 other Hindu couples at a mass wedding organized by the district administration at Kalyan Mandap in Mahanagar on Wednesday under the UP government's mass marriage scheme. All the couples had first tied nuptial knots on Tuesday in the court under the Special Marriage Act as part of the programme held in coordination with social welfare and women welfare departments.
The 31 orphan girls, four Muslims and 27 Hindus, belonged to the government women shelter home where they were living since the age between 6-10 after being declared orphans. They were selected for mass marriage by the district administration officials. Around 11am on Wednesday, all 31 couples took seven rounds of the sacred fire and exchanged garlands under the mandap while pundits recited shlokas.
The four Muslims girls who were married to Hindu boys were Rizwana, Noori, Seema and Saba. Rizwana tied knot with Raj Kumar who was from Shahjahanpur district, Noori wedded with Bablu from Aligarh, Seema with Umesh Kumar Dixit and Saba with Vijay Singh, resident of Hardoi.
District probation officer Sudhakar Pandey said: "The orphan girls were brought to shelter home when they were 6-10 years old. When they turned 18 and became eligible for marriage, the administration decided to wed them with eligible boys. So an advertisement was floated in newspapers. Hundreds of boys responded and applied for marriage but only a few were selected. After their selection, we contacted girls of shelter homes. After receiving their approvals, the mass marriage event was organised."
When asked why Muslim girls were married to Hindus and that too with Hindu rituals, chief development officer Manish Bansal said, "You are raising an 'unfortunate question' about religion of these orphan girls. They have Muslim names but they had no religion while they were in shelter home. They did not follow or performed any religious traditions or rituals. They were first married under the Special Marriage Act before performing rituals here at the mandap. Now after their marriage, they will follow their husband's religion. Also government helped them by providing them financial help and some essential. Couple were gifted with Rs 35,000 in their bank accounts along with silver jewellery and other gifts."
When TOI asked Seema, one of the Muslim brides, whether she was informed about the marriage with a Hindu boy with Hindu rituals or not, she said "Acceptance was taken for marriage after providing backgrounds of the groom, but were not informed about the mandap ceremony."
https://timesofindia.indiatimes.com/city/lucknow/girls-with-muslim-names-married-as-per-hindu-rituals/articleshow/66269415.cms
--------
Rohingya refugee girls sold into forced labour in Bangladesh: UN
October 18, 2018
Rohingya refugee girls are being sold into forced labour to raise money for desperate families in overcrowded camps in Bangladesh, according to the United Nations' migration agency.
The International Organisation for Migration (IOM) said it had identified 99 cases of human trafficking during the year since September 2017, although it cautioned that the actual number was likely far greater.
Of the victims, 35 were girls and 31 were women, the IOM said in a report this week. Thirty-one of the girls ended up in forced labour as did 26 of the women.
"The stories we commonly hear are of vulnerable people being approached by traffickers with false promises of work and a better life," said IOM spokeswoman Dina Parmer, adding some refugees were unaware of the risks.
"Others may be aware it is dangerous, but feel their situation is so desperate that they are willing to take extreme measures, perhaps sacrificing one family member for the sake of the rest of the family," she said in a statement.
The rest of the trafficking survivors comprised of 25 adult men and eight boys who were forced into labour. Five women and four girls ended up in situations of sexual exploitation.
The Bangladeshi charity Young Power in Social Action (YPSA) is raising awareness among refugees of the dangers of trafficking and has been collecting reports from Rohingya community leaders, as well as local and international groups.
"More than 1,000 have been identified as victims of human trafficking," said Jishu Barua of the YPSA.
More than 900,000 Rohingya, an ethnic and religious Muslim minority in Myanmar, live in Bangladesh's Cox's Bazar district, the vast majority in camps, according to the UN.
About 700,000 of them arrived in Bangladesh last year following a bloody military offensive launched by the Myanmar army.
The UN, the US and human rights groups have said civilians were targeted in the crackdown. In a report released last month, the UN fact-finding mission said that Myanmar's top generals - including Commander-in-Chief Min Aung Hlaing - must be investigated and prosecuted for genocide in Rakhine State.
Myanmar has denied most of the allegations.
Bangladesh bars refugees from leaving the camps or holding jobs other than participating in small-scale cash-for-work programmes run by humanitarian agencies, IOM noted.
"They are desperate to get out of the camps to make some money," Barua told the Thomson Reuters Foundation by phone from Cox's Bazar.
Traffickers prey on that desperation, offering transportation and work opportunities, according to IOM.
Among the cases IOM documented, one woman was forced to work "extremely long hours for very little pay in the fish processing industry", while girls and young women were used as domestic maids.
https://www.aljazeera.com/news/southasia/2018/10/rohingya-refugee-girls-sold-forced-labour-bangladesh-181017094028347.html
--------
Female inmates go on hunger strike at Bahraini jail over ill-treatment
Oct 17, 2018
Three female dissidents have launched an open-ended hunger strike at a detention center in Bahrain to protest their dire situation and mistreatment by prison authorities as the ruling Al Khalifah regime presses ahead with its heavy-handed clampdown on human rights campaigners and pro-democracy activists in the Persian Gulf kingdom.
Prominent Bahraini human rights advocate Ebtisam al-Saegh said on Wednesday that high-profile activist Hajer Mansoor Hassan, 49, 41-year-old Najah Ahmed Yusef and Medina Ali have refused to eat their food portions since Sunday to express outrage over inhumane conditions at the Women's Detention Center in Isa Town.
Saegh added that Hassan is currently suffering from symptoms of dehydration, warning about the deteriorating health conditions of the other two female inmates.
Prison authorities are reportedly keeping female prisoners in the isolation ward, and the detainees are unable to contact anyone from the outside world. They are denied any privacy as closed-circuit television cameras monitor their movements round the clock.
The detainees are calling for the removal of glass barriers between them and visiting family members, more access to the prison's courtyard as well as three phone calls per week.
The prison administration has thus far ignored all of their demands.
Thousands of anti-regime protesters have held demonstrations in Bahrain on an almost daily basis ever since a popular uprising began in the country in mid-February 2011.
They are demanding that the Al Khalifah regime relinquish power and allow a just system representing all Bahrainis to be established.
Manama has gone to great lengths to clamp down on any sign of dissent. On March 14, 2011, troops from Saudi Arabia and the United Arab Emirates were deployed to assist Bahrain in its crackdown.
Scores of people have lost their lives and hundreds of others sustained injuries or got arrested as a result of the Al Khalifah regime's crackdown.
On March 5, 2017, Bahrain's parliament approved the trial of civilians at military tribunals in a measure blasted by human rights campaigners as being tantamount to imposition of an undeclared martial law countrywide.
Bahraini King Hamad bin Isa Al Khalifah ratified the constitutional amendment on April 3 last year.
https://www.presstv.com/Detail/2018/10/17/577279/inmates-hunger-strike-Bahrain
--------
Shia woman injured amid Saudi regime forces' raid on Qatif
Oct 17, 2018
A young woman has been shot and injured after Saudi regime forces stormed the kingdom's oil-rich and Shia-populated Eastern Province as the Riyadh regime presses ahead with its brutal clampdown against pro-democracy campaigners and political dissidents.
The Arabic-language Ahrar television network, in a post published on its official Twitter page on Wednesday, reported that Saudi troopers raided a number of neighborhoods across Qatif region, located more than 420 kilometers (260 miles) east of the capital Riyadh, firing stun grenades, tear gas canisters and live bullets.
Power supplies were cut off in the wake of the operations, and a fire even broke out in the Bab al-Shamal neighborhood.
Local sources, requesting not to be named, said a woman suffered gunshot wounds after bullets ripped through the wall of her apartment.
Her relatives sought to transfer the woman to a nearby hospital, but were not allowed to do so for about half an hour by regime forces in the area.
The sources added that regime forces were trying to round out a number of political dissidents during the operations.
Saudi Arabia has recently stepped up politically-motivated arrests, prosecution, and conviction of peaceful dissident writers and human rights campaigners.
Saudi regime forces have also intensified crackdown in Eastern Province.
Eastern Province has been the scene of peaceful demonstrations since February 2011. Protesters have been demanding reforms, freedom of expression, the release of political prisoners, and an end to economic and religious discrimination against the oil-rich region.
The protests have been met with a heavy-handed crackdown by the regime. Regime forces have increased security measures across the province.
Over the past years, Riyadh has also redefined its anti-terrorism laws to target activism.
In January 2016, Saudi authorities executed Shia cleric Sheikh Nimr Baqir al-Nimr, who was an outspoken critic of the policies of the Riyadh regime. Nimr had been arrested in Qatif in 2012.
https://www.presstv.com/Detail/2018/10/17/577263/Shia-woman-Saudi-raid-Qatif
--------
UK Mulling to Put Muslim Female Spy on £50 Note
18 October, 2018
The new £50 note could become the UK's first to feature a Muslim woman, as the Bank of England begins its call for submissions from the public.
Historians and politicians are among those who have called for the Second World War heroine, Noor Inayat Khan, to be the "face" of the highest-denomination note, which will be reissued in plastic from 2020, The Telegraph reported.
Inayat Khan was born to an American mother and a father of Indian royal descent in Russia in 1914. She then moved to France and from there escaped to Britain in 1940 and joined the British army.
She trained for the Women's Auxiliary Airforce and was later recruited as a secret agent for the Special Operations Executive (SOE). She became the first female radio operator sent into Nazi-occupied France in 1943 - aged just 29.
She was then arrested by the Nazis who reportedly tortured her for ten months, but failed to extract information from her.
Transport Minister Nusrat Ghani told The Telegraph: "It's a phenomenal story, you don't think about the money in your purse, when you think about young girls taking a minute to think about the fantastic work that she did and the ultimate sacrifice she made...
"The more you learn about her, the more you learn how brave and bold she was.
"I believe she was also involved in rescuing some British and American pilots. Being able to do what she did with the limited resources they had would be remarkable."
https://aawsat.com/english/home/article/1430386/uk-mulling-put-muslim-female-spy-%C2%A350-note
--------
Narsingdi militant raid ends, 2 suspected female militants surrender
October 17th, 2018
Law enforcement members ended the militant den raid in Madhabdi, Narsingdi after two suspected female militants surrendered after a 40-hour standoff around 3pm on Wednesday.
The female suspects have been identified as Khadija Akter Meghla, 25 and Moushumi Akhter Mou, 24.
Counter Terrorism and Transnational Crime (CTTC) unit Chief Monirul Islam confirmed the news, and stated that: "Those who were hiding in the 7th storey building had ties with those killed in Tuesday's anti-militant operation.
"As they are females, we tried our best to make them surrender and they did, although they hurled explosives at us. They had also been arrested, backin 2016, for their involvement in militant activities and were released on bail after seven months, none of them returned home; instead they got themselves deeper into militant activities."
The two women, amid tight security, were taken from the second militant hideout by an ambulance, at Madhabdi municipality after they surrendered.
CTTC Monirul further said: "We came to know that one of the arrestee's husbands is high ranking leader of New JMB and the other one in not married. All the three females, including the deceased were students of Manarat International University in Dhaka. One of them went back to live a normal life also."
Earlier police cordoned off two militant hideouts – a five-storey building and another seven-storey building – on Tuesday night. Law enforcement agencies raided the five-storey at the samenight and recovered bodies of a man and a woman along with firearms.
The deceased were later identified as husband and wife Abdullah Al Bangali and Aklima Akhter Moni. Bangali was the head of New Jama'atul Mujahideen Bangladesh (JMB)Media Section.
Meanwhile on Tuesday night, the suspected militants were asked to surrender by the law enforcers and from Wednesday morning, section 144 was imposed in the area, where the militants were hiding.
Monirul further said they have not yet identified the reasons as to why the suspected militants rented out two flats in two nearby buildings of the area and who their targets were. They rented one of the flats on October 3 and the other on October 5.
https://www.dhakatribune.com/bangladesh/nation/2018/10/17/narsingdi-militant-raid-ends-2-suspected-female-militants-surrender
--------
Salam Sisters dolls inspire young Muslim girls
By Samreena Ashraf
October 17, 2018
SHARJAH: Toys, for ages have been a medium of sparking creativity and imagination in kids. However, there has always been an issue of pigeonholing and segregating them based on gender. The politics of toys have also come under scrutiny when they have not been representing enough of various cultures and ethnicity.
For Muslim girls feeling left out because they cannot relate well with their toys, Salam Sisters dolls are playing a role in confronting these issue considered subtle. They are a group of five dolls with their own aspirations that are on their way to enhance the conversation around representation of diversity and ethnicity.
In a world where hijab is seen as a means of oppression and subjugation of Muslim women, Salam Sisters show how it is all about the choices a girl makes. The dolls come with scarfs that can be removed as per ones own choice, showcasing that these dolls are not only representative of Muslim hijabi girls, but also those who choose not to wear hijab and non-Muslim girls.
Contrary to popular thinking, hijab does empower women, as it is a result of choice in most cases. There are girls and women out there, both hijabi and non-hijabi, Muslims and non-Muslim, who are changing the popular discourse with their aspirations and achievements.
Children learn from what they see and hear, from what they are exposed to. Toys that are not representing of various colours, shapes, sizes, and faith have an impact on the way a child's thinking is shaped. Salam Sisters dolls are cultivating a conversation around these issues and by doing so, bringing in a wave of change. These dolls inspire young girls to make choices and dream.
Dolls that look like the girls who play with them instil confidence and self-esteem in them. They make them feel like they are the hero of their own story.
Because a hero is not always a man with a cape, but also a little girl standing up for herself and her dreams.
http://gulftoday.ae/portal/55a33276-286c-4989-be13-70b72aae1487.aspx
--------
The 28-year-old woman reshaping Afghanistan's politics
By Lauren Bohn
October 17, 2018
When Shahba Shahrukhi told her parents that she intended to run in Afghanistan's parliamentary elections on October 20 -- the country's first in eight years -- they laughed.
"No, I am not joking," she told them, defiantly. "I must run. I have to run."
Once they realized she was serious, they quickly stopped laughing and forbade her from doing so.
But, for the first time in her life, the 28-year-old psychologist refused to obey them.
"I know I have to do this to show other women that you can be a leader and you can fight. This country needs new blood," Shahrukhi, who is running in her hometown of Samangan, a province in the north, told me.
The first female in her family to have graduated from college, Shahrukhi is committed to advancing education among women, or what she calls "Afghanistan's biggest wound."
According to the Independent Election Commission, she is among the 16% of parliamentary candidates who are women. In a country that's been called "the worst place in the world to be a woman," the elections are a referendum on the way Afghan women are regarded in society, usually as second-class citizens.
During a reporting trip to Afghanistan last winter, I met many young women like Shahrukhi who are disillusioned by a government they feel has largely let them down -- women who are determined to take matters into their own hands and lead the charge, no matter the cost. As our news cycle continues to center on an increasingly autocratic US administration and worldviews become more insular, their fights cannot be ignored.
"The world sees Afghan women as helpless, but it's up to us to save our country," she tells me. "We have no more time to waste."
'Enemy number one'
Afghanistan's long-delayed parliamentary elections are taking place under high stakes as the Taliban maintains its grip on more than 40% of the country and the civilian death toll has reached a new high: 8,050 fatalities in the first nine months of this year.
The elections will be a measure of many things, including how far women have come in society. In 2013, Afghanistan's parliament passed a law lowering the proportion of provincial council seats reserved for women from 25% to 20%. Human Rights Watch called it a "broad-based attack on women's rights."
"Sometimes it doesn't seem like the government thinks the Taliban are the main enemy of the people," Lima Ahmad, a research scholar at NATO Defense College, told me. "Instead, women are still seen as enemy number one."
Almost exactly 17 years after the US-led military intervention in Afghanistan ousted the Taliban -- a war problematically framed by the West, in part, to "liberate" Afghan women -- much remains to be done to ensure Afghan women's equitable place in society. And Afghan women themselves, too often patronized as mere victims, are best suited to meaningfully effect change and rebuild their country.
"Instead of handing money to contractors or the government, the international community needs to invest in us personally," says Shahrukhi. "Our government needs to take us seriously. We have so much potential, yet so few opportunities to be anything but second-class citizens."
For Shahrukhi and other female candidates, reforming education is the priority in a country where an estimated two-thirds of Afghan girls still do not attend school. An October 2017 Human Rights Watch report warned that as security in the country has deteriorated, the proportion of students who are girls is falling in parts of the country and gains may soon be reversed.
"In educations and all areas, Afghan women must be the drivers of change on the ground," Palwasha Hassan, founder of Afghanistan Women Education Center, told me. Last spring, Hassan collaborated with Mina's List, a group that partners with in-country organizations to help prepare female civil society leaders to run for office through workshops and mentorships. Tanya Henderson, executive director of Mina's List, said they trained 29 parliamentary candidates including Shahrukhi. She noted that four other women have since dropped out because of death threats.
"Now is the time for us to keep pushing and we have to be the ones who are pushing," says Hassan. "We can't have international groups or others come here with far removed realities from the ground."
To her point, a recent report by the Special Inspector General for Reconstruction of Afghanistan criticized USAID's Promote program -- the agency's largest ever investment in women's empowerment globally -- for having spent $89.7 million in three years but having made little progress in efforts to improve the employment status of women, other than the placement of 55 women in government jobs.
Looking away
Sakena Yacoobi, renowned education activist and CEO of the Afghan Institute of Learning, told me she is worried that global attention on Afghanistan has drifted. As President Donald Trump turns inward and champions a myopic America First approach with focus spent only on militaristic endeavors, activists are afraid efforts to bolster civil society are falling by the wayside.
"We need to have the world paying attention and monitoring what is going on," she says. "The women are the ones who will save the country and the world can't look away."
For Shahrukhi, who spends most of her days running from meeting to meeting and hosting town halls, the true indicator of how far Afghanistan still has to go is its perniciously high rate of violence against women. Nearly 87% of women in Afghanistan have experienced abuse.
A United Nations report released in May took the Afghan criminal justice system to task for ignoring violence against women. President Ashraf Ghani has frequently said he has a zero tolerance policy, but activists say he hasn't been firm enough. One of the government's most harrowing tests came in 2015 when 27-year-old Farkhunda Malikzada was beaten to death in broad daylight by a mob in Kabul after being falsely accused of burning the Quran. Critics say Ghani's government did little to leverage the tragedy into enforcing the violence against women law more vigorously.
"I want to have faith, but sometimes it is difficult," said Shahrukhi while rushing to speak with a group of male teachers in her village who are skeptical of her candidacy. "Even if I don't win, it's still important for me to show people that I am here, that I am not scared and that Afghan women will not stay silent. We are survivors, and we will keep going always."
https://edition.cnn.com/2018/10/17/opinions/afghan-parliamentary-election-women-outcome-bohn/index.html
--------
UN calls for women's participation in Afghan polls
October 18, 2018
In a meeting on Monday with Afghan women from civil society organizations, academia and advocacy groups, Tadamichi Yamamoto, the Secretary-General's Special Representative for Afghanistan and head of UNAMA, said that the full participation of women in Afghanistan's electoral process is vital to ensure that upcoming parliamentary elections are inclusive and credible.
"Elections are only truly representative and credible when women fully participate and are included in all parts of the electoral process," said Yamamoto. "I was inspired and encouraged from my meeting today with Afghan women, all of them strong leaders actively working toward women's full participation in all areas of Afghanistan's social, economic and political life, including in elections," Yamamoto added.
UNAMA said that 16 percent of candidates are women, a marginal increase on previous elections, and that women make up approximately 32 percent of total registered voters, according to current statistics from the Independent Election Commission (IEC).
According to UNAMA's statement, they welcomed the crucial role that civil society plays in ensuring women's voices are heard during the election. "The mission is mindful of the great personal risk that numerous female candidates and women's rights activists routinely face in promoting women's full inclusion as candidates, voters, election staff and observers," read the statement
Meanwhile, IEC Chief Abdul Badi Sayad on Monday said at a press conference that election is an "Islamic principle" and those who call the election process a "western phenomenon" are in fact unaware of Islam, in a veiled reference to the Taliban.
Afghanistan will hold elections for parliament on October 20. In the run up to elections, many incidents of violence have been reported, which have created a sense of fear and anxiety among candidates and voters. Despite large contingents of police personnel protecting polling booths, observers fear violence and fraud.
https://www.tehrantimes.com/news/428672/UN-calls-for-women-s-participation-in-Afghan-polls
--------
URL: https://www.newageislam.com/islam-women-feminism/in-up-girls-with-muslim/d/116657
New Age Islam, Islam Online, Islamic Website, African Muslim News, Arab World News, South Asia News, Indian Muslim News, World Muslim News, Women in Islam, Islamic Feminism, Arab Women, Women In Arab, Islamophobia in America, Muslim Women in West, Islam Women and Feminism