New Age Islam News Bureau
19 Jul 2014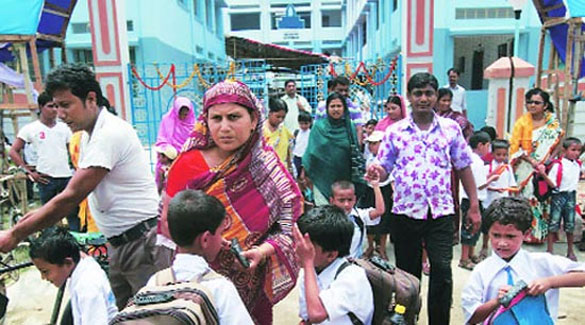 Photo: Students outside Paninala English Medium Government High Madrasah
----------
• Jihadists Stone Syria Woman to Death for 'Adultery'
• Stop Denigrating Saudi Women!
• Local Wives of Taliban and Uzbek Foreign Fighters Left In the Lurch
• Pakistani Love-Marriage Couple Seeks Protection
• Woman Student Invents Scarless Suture
Compiled by New Age Islam News Bureau
URL: https://newageislam.com/islam-women-feminism/in-this-indian-madrasa,-boys/d/98202
----------
In This Indian Madrasa, Boys and Girls Sit Together and Speak English
Written by Arshad Ali | Paninala | July 19, 2014
It looks like any other school. A campus divided into blocks, a playground, classrooms with desks and chairs, and students in uniforms – boys in shirts and shorts, girls in shirts and skirts. But this is no regular school. It's an English-medium, co-educational madrasa.
The Paninala English Medium Government High Madrasa, a government-run madrasa in Paninala, a town with 40 per cent Muslim population in Nadia district of West Bengal, is the state's first English-medium madrasa. Here, the medium of instruction is English, the board of education is CBSE, and the second language taught is Bengali. Since it's a madrasa, learning Arabic and reciting the Quran is compulsory.
The "modern madrasa", spread over five acres of land, launched its first academic session last week. An initiative of the Mamata Banerjee government, the madrasa bears TMC's stamp – its building is painted blue and white. Prime Minister Narendra Modi, too, wants to promote such madrasas, with his Rs 100 crore allocation to the "madrasa modernisation" programme in the Budget.
Parents of Muslim children seem to be warming up to the idea of a modern madrasa. Rabiul Haque, who runs a grocery store, says he "likes" seeing his son Araful Haque, a Class I student, "carrying English, Bengali and mathematics books". "In most madrasas, education revolves around learning to recite the Quran and rest of the education is imparted in Bengali."
Ibrahim Nabi SK, a farmer, brings his two sons from Sonpukur, 30 km away, everyday to the school. "My sons used to go to a private English-medium school in Sonpukur where the standard of teaching was not up to the mark. This state initiative is promising and my kids will learn better. I don't mind travelling the distance every day," he says.
The school has four blocks, each with a four-storeyed building, and can accommodate students up to Class XII. Currently, the school is operational till Class I (including UKG), and has five teachers, and 198 students. Arup Kumar Das, a former government school headmaster and now the teacher-in-charge of the madrasa, says that in the next academic year, the school would be upgraded to Class V and later, gradually to Class XII.
Despite being a madrasa, 15 per cent of its students are Hindu. Compulsory teaching of Arabic or the Quran appears to be no hindrance for the Hindu students. Jeet Biswas, a student of Class I, enjoys learning the Arabic alphabet. "He is picking it up very fast," says Abul Quasem, the Arabic teacher.
Deepali Biswas, Jeet's mother, was initially sceptical though. "I always thought madrasas were meant only for Muslims and did not want Jeet to study here. But later, when I saw this school, it appeared better than the private school Jeet was going to. No other government school in Nadia has such a huge structure and a playground. The teachers here speak in English with the kids unlike the teachers who speak Bengali at private English-medium schools. Also, many told me that Arabic is only a language and my son would benefit from learning an additional language," she says.
Seema Biswas was also in two minds about admitting her daughter Disha Biswas to the school. "I was worried about her learning Arabic. But my husband, mother-in-law and sister-in-law convinced me that Arabic, like English, is foreign language and there's no harm in learning it. Now, I am glad she is here," she says. School authorities say that Hindu parents have no problem with their children learning the Quran either.
Of the five teachers, one, Mamon Halsana, is Hindu. A former teacher on probation at a government school, she learned about the madrasa through an advertisement. "They said they wanted a teacher with B. Ed and an English-medium background. I applied and got through," she says.
Most students come from backgrounds where English is not spoken, but at the madrasa, teachers are instructed to speak to the children only in English. "There are initial hiccups in conversations, but it is good that they have started early and we will definitely get over the problems," says Halsana.
Shahidul Islam, secretary, minority department, says that 11 such madrasas are planned across the state. PB Salim, district magistrate, Nadia described it as the much-needed modernisation of madrasas.
http://indianexpress.com/article/india/india-others/in-this-madrasa-boys-and-girls-sit-together-and-speak-english/99/
----------
Jihadists Stone Syria Woman to Death for 'Adultery'
July 19, 2014
Jihadists in the northern Syrian province of Raqqa have accused a woman of adultery and stoned her to death, the Syrian Observatory for Human Rights said.
It was the first "execution" of its kind by the Islamic State (IS) group in Syria, which has proclaimed the establishment of an Islamic "caliphate" straddling Syria and Iraq.
"The Islamic State carried out its first sentence of death by stoning against a woman in Tabaqa, accusing her of adultery," said the Britain-based Observatory, referring to a town in Raqa province, most of which is under IS control.
An activist in the province confirmed the report, and said the stoning took place in a public square in Tabaqa on Thursday evening.
"This is the first time that this has happened here," added Abu Ibrahim.
IS first emerged in the Syrian conflict in late spring last year.
Some Syrian rebels initially welcomed the jihadists, seeing them as potential allies in their war to topple President Bashar al-Assad's regime.
But the group's systematic abuses and quest for domination swiftly turned the mainstream opposition against it, and rebels have been battling IS fighters since January.
IS spearheaded a recent offensive in Iraq, capturing large swathes of territory and massive amounts of weapons from fleeing Iraqi troops.
http://english.ahram.org.eg/NewsContent/2/8/106538/World/Region/Jihadists-stone-Syria-woman-to-death-for-adultery-.aspx
----------
Stop denigrating Saudi women!
July 19, 2014
Every now and then jokes about Saudi women spread on Twitter. The jokes are cruel because they make fun of the character of women. In these jokes, women are always obese, not beautiful, have black marks around their knees because they sit all the time, and fear competition from Moroccan, Syrian, Lebanese, etc. women. The jokes even go so far as to mock the lifestyle of Saudi women, saying that they eat copious amounts of desserts and food and attend social get-togethers with their female friends to backbite and gossip about other ladies.
This month, the cruel and unfair jokes not only appeared on Twitter, but were also heard on some comedy programs being aired in Ramadan. The comedy show WiFi, which is shown on MBC, played a segment about a Saudi husband, his first Saudi wife, and his second Syrian wife. The Syrian wife appeared to be very feminine and beautiful while the Saudi wife was depicted as an obese woman who did not have any self-confidence, etiquette or elegance.
Apparently, the Saudi husband was head over heels in love with his Syrian wife, and every time the Saudi wife got mad, the husband soothed her with some words which he clearly did not mean.
The question is: Why are Saudi women described in this way? The answer lies in the culture of the denigration of women in this society and in the fact that a large section of society believes that women should have less freedom than men. Sometimes men treat women as if they own them.
This treatment has prevented women from exercising at school and women cannot sign up for a women's gym to keep healthy and fit because it is not proper for women to go out.
Many women today feel depressed and let down because they have spent their entire life with husbands who were strict and lacked emotions, husbands who never utter kind words to their wives. That is why a romantic husband is something which is very rare these days.
All these jokes and comedy clips about women commend and praise the beauty of women from other nationalities but belittle the beauty of Saudi women. It is high time we stopped spreading such jokes which on the surface appear to be said for fun but in reality enhance the culture of disrespect.
http://www.saudigazette.com.sa/index.cfm?method=home.regcon&contentid=20140719212015
----------
Local Wives of Taliban and Uzbek Foreign Fighters Left In the Lurch
July 19, 2014
PESHAWAR - While an overwhelming majority of Pakistanis are optimistic about the positive outcome of military operation against North Waziristan based militants, scores of local tribeswomen married off to foreign militants, especially the Uzbeks and Arabs, continue to endure unbearable confusion and insecurity.
As the military targets Taliban and Uzbek warriors' hideouts, majority of other foreigners – while leaving their children and wives behind – have reportedly left for other parts of the tribal areas or Afghanistan. The 'foreigners' came to Waziristan after Russian invasion of Afghanistan in late 1980s and since then they are living there, while some of them are residing on the other side of Afghan border.
For obvious reasons, these foreign militants now could not take their families along with them while moving to places they felt 'safe'. Since abandoning North Waziristan, according to locals, hardly any foreigner husband has established any contact with their wives as there are no means of communication.
Just like other tribeswomen, most of the 'left behind' wives, along with their children, have also reportedly shifted to Bannu, Dera Ismail, Tank and Lakki Marwat etc for refuge. They are now living with their relatives. These women are not even sure whether their husbands are dead or alive in highly dangerous conflict zone of North Waziristan.
Being a US ally in war on terror Pakistan carried out a number of military operations against militants in tribal areas of the country but these assaults did not achieve the desired objectives. However, the government and majority of people in the country are optimistic that the ongoing military operation, Zarb-e-Azb, would clean the area of the militants.
The operation has rendered around one million tribesmen homeless who are struggling for finding shelter in the settled districts of Khyber Pakhtunkhwa. According to a report, during the ongoing military operation, approximately 450 militants – many of them Uzbek fighters – have been killed. The remaining Uzbeks and other foreigners who could not leave the area are feeling deeply insecure regarding their status and future in Waziristan and they too are looking to escape to Afghanistan.
Apparently, they too would prefer to leave without taking their local wives along, although while talking to this scribe during a recent visit to Bannu, some locals claimed that many jihadists wanted to take along their wives and children as well, but their tribal hosts resisted fulfilling their desires.
Some of the women married to foreign militants belong to poor families, who extracted handsome cash from their husbands via the custom of 'Volvar' (a custom where the family of girl receives money from the groom). The relatively affluent jihadist kept on pampering their wives and in-laws even after marriage. The financial security and patronage would be soon missing for 'left-behind wives' if the army completely crush the militants in the area.
During military operations in the past the foreign militants fled to unknown places while their women knew nothing about their whereabouts and the fate of their husbands, some of whom never made any contact with them. Some others however were lucky as their husbands returned.
The foreigners have again either left their local wives or they will leave them soon. And, once again they would not know whether their 'missing' husbands will make a comeback and if yes, how long they will have to wait for seeing their life partners. For those who could not see their husbands for long may consider remarrying. But, under the Islamic law they cannot remarry unless their husbands divorce them or their death is confirmed or they remain missing for a long time.
http://www.nation.com.pk/national/19-Jul-2014/local-wives-of-foreign-fighters-left-in-the-lurch
----------
Pakistani Love-Marriage Couple Seeks Protection
July 19, 2014
SAHIWAL: A love-marriage couple -- the girl taking a refuge at the Darul Aman in Sahiwal and his husband hiding at an undisclosed location -- has sought help from the Punjab chief minister and the regional police officer to provide them security when they appear before a magistrate at the District Courts here on Saturday (today).
Earlier, the couple tried to appear in the court but girl's parents, their lawyers and brothers did not allow them to record the statement.
Mariya Bibi and Sabir Hussain told Dawn that they should be provided protection on the premises of the District Court so that they could safely record their statement in front of judicial magistrate Rana Aneel Arshad.
Mariya Bibi (20), caste Sahoo, is the resident of village 77/5-L and her husband Sabir Hussain (24), caste Khokhar, is the resident of village 89/5-L Jahan Khan.
The couple said they had contracted court marriage in front of a judicial magistrate in Pakpattan on June 14.
Sabir said his family accepted the girl, but her father Noor Ahmed gave an application to Yousafwala police station that his daughter had been kidnapped.
He alleged SHO Qalbe Sajjad had called both parties on June 26, harassed us and kept our men Umer Farooq, Yasin, Akhter and Yousaf in the lock-up for 24 hours.
He claimed the next day the Yousafwala police had not only registered a kidnapped FIR against him and others, but also booked Umer Farooq, Yasin, Akhter and Yousaf under section 7/51.
Interestingly, the parents of the girl also succeeded in getting a birth certificate from Nadra which showed that Mariya was only 13-year-old.
Sabir claimed the parents of his wife got prepared a fake birth certificate from the secretary of the union council 80/5-L, Jahan Khan.
Investigation officer Altaf Hussain told Dawn that a tension existed between two parties and their lawyers. "Police will fully protect the couple and try to get their statement recorded with magistrate Rana Aneel Arshad," he said.
http://www.dawn.com/news/1120196/love-marriage-couple-seeks-protection
----------
Woman student invents scarless suture
July 19, 2014
TAIF — A Saudi student on a government scholarship to study medicine in Germany has discovered a new surgical stitch, especially suited for dermatological surgeries, Al-Riyadh daily reported. Dr. Raedah Al-Mohammadi is on scholarship from the Ministry of Higher Education and is specializing in dermatology and skin surgery at Helios St. Elizabeth Hospital in Germany. The new stitch allows for sutures of wounds while avoiding scarring typical in such procedures. Medical bodies in Germany commended the student and described the invention as "exciting news in the world of medicine and surgery". Al-Mohammadi credited her invention to Custodian of the Two Holy Mosques King Abdullah.
http://www.saudigazette.com.sa/index.cfm?method=home.regcon&contentid=20140719212002
----------
URL: https://newageislam.com/islam-women-feminism/in-this-indian-madrasa,-boys/d/98202