New Age Islam News Bureau
14 Dec 2013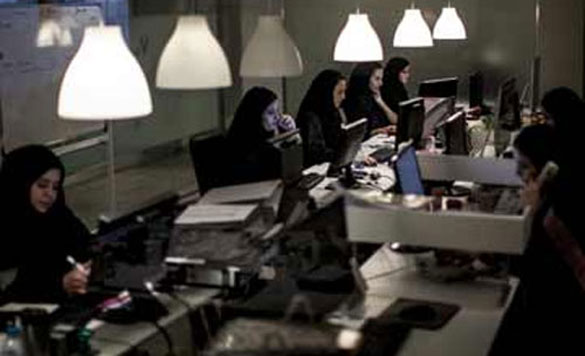 Staff members at Glowork, a new service that matches female applicants and employers, sort through resumes in Riyadh, Saudi Arabia on November 11, 2013, Photo credit: Bryan Denton/The New York Times
-----------
• French Panel: Let Muslims Wear Head Scarves in School
• Muslim Woman Challenging France's Burqua Avoids Being 'A Sign of Islamisation'
• 2 Saudi Women Arrested For Driving
• Forums to Help Women Build Cohesive Families
• Over 5,000 Turkish Women Applied For Help Due To Violence in 2012: Ministry
• England Women's Team Demands Gender Test on Pakistan Players
• Universities UK Withdraws Advice on Gender Segregation in Lectures
• Women Islamists Challenge Egypt's Army-Backed Rule
Compiled by New Age Islam News Bureau
URL: https://newageislam.com/islam-women-feminism/in-taking-jobs,-women-take/d/34859
------------
In Taking Jobs, Women Take On a Saudi Taboo
December 13, 2013
Riyadh: The religious police were not the ones who chastised the princess running the Harvey Nichols department store here when she decided to enhance the upscale shopping atmosphere with some instrumental lute music.
Instead, the irate caller accusing the store of anti-Islamic behaviour was a frequent shopper, a woman who on average spent $13,000 per visit.
"Maybe I should get whale sounds," said the princess, Reema Bint Bandar Al Saud, making light of the blowback that business people in the conservative kingdom often face when making even glacial changes to how things are done.
But this is part of being a pioneer in Saudi Arabia, where women are severely restricted in all public activities.
Despite her royal credentials, the princess did away with the music, but has pushed ahead on the equally touchy front of hiring women as sales clerks. This step — or leap, in the Saudi context — not only seeks to shift social conventions but also to aid the country's long-term economic health.
Setting an example
At Harvey Nichols, several dozen female clerks were spread throughout the store. They were busy arranging dresses, hawking cosmetics and swiping credit cards. Just two years ago there were only a few women working here.
The kingdom's restrictions on women have long drawn the condemnation of rights groups, most recently after dozens of women drew headlines by defying a ban on driving.
But some women's rights advocates here say that the international attention given to small numbers of women getting behind the wheel overshadows the deep, if gradual, shifts in Saudi society as more women work, broadening their range of experience, helping to run organisations and earning a degree of economic independence.
Although the effort has been promoted by the Ministry of Labour as part of a campaign to reduce unemployment and the dependence on foreign workers, it has butted up against strict social codes. The percentage of Saudi women who work remains minuscule by world standards, at about 15 per cent.
Separate break rooms
Still, many employers say they prefer hiring Saudi women to Saudi men; they have added separate break rooms and office areas for women, and have installed partitions and cameras to prevent unwelcome mingling.
"We are promoting recruitment of Saudi women because they have a low level of attrition, a better attention to detail, a willingness to perform and a productivity about twice that of Saudi men," said a grocery store manager.
Despite that, Saudi women comprise less than 5 per cent of his staff of more than 1,000 because of social taboos in many areas. He spoke on the condition that neither he nor his company be identified to avoid being targeted by opponents of women's employment.
While working women in the Red Sea city of Jeddah are relatively accepted, he said, the addition of female checkout clerks in a more conservative city caused such an uproar that a local prince intervened and paid the women's salaries for more than a year — as long as they stayed home.
Others have found business opportunities in bridging the gap between employers and women.
"For some employers, it is their first time to hire women and they don't know how to deal with them," said Khalid Al Khudair, 30, who runs a women's employment service called Glowork that cooperates with the government to boost female employment.
Frosted glass partitions bearing inspirational quotes divide the company's pink-walled office in Riyadh. On a recent morning, a dozen female employees sipped coffee as they sorted through applicants' resumes on flat-screen monitors. All wore loose black gowns, some with their hair uncovered — a rare but increasingly common site in some private offices.
In two years, the company has found jobs for more than 10,000 women. Yet across the kingdom, about two-thirds of female university graduates are unemployed, showing that the labour market has yet to catch up with huge advances in women's education.
Social experiment
Some Saudis laud King Abdullah Bin Abdul Aziz as a reformer for appointing 30 women to a royal advisory council and granting women the right to run and vote in municipal elections.
Harvey Nichols has served as a pioneering case, benefiting from a small staff, ample resources and, of course, a royal boss. "This store is a big social experiment because we are talking about ladies who had severe obstacles in coming here," said Reema, 38, who was educated in the US while her father, Prince Bandar Bin Sultan, served as ambassador.
Leading a visitor through her now music-free store, she explained that she had opened a nursery for employees' children and given transport stipends to women who could not drive themselves to work.
The store does not regulate face veils, she said, adding that some women prefer to cover their faces at work.
Two years ago, the store employed only 12 Saudi women, she said, including herself. That number has nearly quadrupled since then, she said.
Jawharah, a 35-year-old saleswoman, said this was her first job and that her husband had inspected the store before letting her take it.
— New York Times News Service
http://gulfnews.com/news/gulf/saudi-arabia/in-taking-jobs-women-take-on-a-saudi-taboo-1.1266749
------------
French Panel: Let Muslims Wear Head Scarves in School
14 December 2013
PARIS: France should reverse decades of strict secularism to integrate its immigrant population better, allowing Muslims to wear head scarves in schools and promoting Arabic teaching, according to an iconoclastic report commissioned by the prime minister.
The document, part of a government review of integration policy, sparked an outcry among conservative opposition politicians and unease among the governing Socialists.
It said France, with Europe's largest Muslim population, should recognize the "Arab-oriental dimension" of its identity, for example by changing street and place names, rewriting its history curriculum and creating a special day to honor the contribution of immigrant cultures.
Although ethnic statistics are officially banned, an estimated 5 million Muslims, originating mostly from former African colonies such as Algeria and Morocco, live in France.
Prime Minister Jean-Marc Ayrault, who will chair a ministerial meeting next month on improving integration based partly on the report, told reporters there was no plan to drop the head scarf ban and distanced himself from the study.
"Just because I receive a report doesn't make it government policy," Ayrault said after the daily Le Figaro drew attention to the document, which was posted on the prime minister's official website last month.
Among the proposals presented by senior civil servant Thierry Tuot and a group of experts was to forbid authorities and the media to refer to people's nationality, religion or ethnicity, and the creation of a new offense of "racial harassment."
They also recommended promoting the teaching of Arabic and African languages in French schools.
http://www.arabnews.com/news/492476
------------
Muslim Woman Challenging France's Burqua Avoids Being 'A Sign Of Islamisation'
11 December 2013
A woman challenging France's Burqua ban stayed away from court today because she did not want 'to be perceived as a symbol of supposed rampant Islamisation'.
Cassandra Belin, 20, sparked a near riot in the Paris suburb of Trappes in July after being stopped by police for wearing a full face veil.
She admits telling the officers to 'shut up' but denies saying 'Allah will exterminate you'.
Now her lawyers have launched a constitutional challenge to the ban on Muslim veils, arguing that the controversial law of 2011 which made them illegal should be scrapped.
Belin's husband, Michael Khiri, was arrested for insulting one of the officers who stopped his wife in Trappes during the Muslim fasting period of Ramadan.
This led to a large crowd gathering on the couple's housing estate, where hundreds of mainly Muslim immigrants live.
Soon bus stops and other public property was being destroyed, as running battles took place between youths and the police.
Belin, a Muslim convert who has worn a veil all her adult life, was outraged when her husband received a three-month suspended prison sentence.
In October, Belin herself went on trial for defying the ban on Islamic veils and for insulting a police officer.
Now her lawyer has launched a constitutional challenge to the entire Burquaban at the criminal court in Versailles, west of Paris.
Philippe Bataille told the court that the ban was discriminatory, unconstitutional, and against the guiding principles of the French Republic.
Mr Bataille said his client was deliberating shunning the hearing because 'she does not want to be wrongly perceived as the symbol of a supposed rampant Islamisation'.
Many conservative politicians claim that France's 6million-plus Muslims are changing the nature of the country.
They say that Burquas are a symbol of many Muslims' desire to exclude themselves from other French people.
This has led to growing support for the far-right National Front party which wants to stop the so-called 'Islamisation' of society.
Thibault de Montbrial, for the police, said that 'a small group of radical elements were testing the institutions' of secular France, under the guise of religious freedom.
Earlier this month, European judges heard the case of a 23-year-old French woman who also claimed the Burqua ban violates her rights.
The Strasbourg-based European Court of Human Rights will rule on the case in 2014.
Today's case in Versailles continues.
http://www.dailymail.co.uk/news/article-2521920/Muslim-woman-challenging-France-burka-ban-law-stays-away-court.html
------------
2 Saudi women arrested for driving
December 12, 2013
Manama: Two Saudi women were detained at a police station for driving a car in the capital Riyadh and refusing afterwards to call their male custodians to take them home.
Azza Al Shamsi and Baria Al Zubaidi were caught by the police as they were driving the car near a shopping complex.
Azza was behind the steering wheel and Baria was filming her.
When they were taken to the police station, they refused to call their male relatives as is customary in the kingdom, arguing that they were legally responsible for their acts and did not need custodianship, Saudi news site Khabar 24 reported.
The security sources cited by the site said that the two women seemed to have deliberately sought to be detained to prove their right to drive.
Although no legal text or rule bans women from driving in Saudi Arabia, the practice is not allowed.
Women drivers are detained for driving without a Saudi licence and they are invariably allowed to go home after they sign a pledge not to drive again.
News of the decision by Azza and Baria to drive in Riyadh sparked a new heated online debate that indicated the widening chasm between those who supported and opposed women driving in the kingdom.
Both sides have been using social, economic and religious arguments to prove their points and undermine the claims made by the others.
http://gulfnews.com/news/gulf/saudi-arabia/2-saudi-women-arrested-for-driving-1.1266171
------------
Forums to help women build cohesive families
14 December 2013
Princess Mashael bint Muqrin will sponsor a series of forums for women entitled "Toward a safer family," organized by the Al-Mawaddah Society for Social Reform in Jeddah in cooperation with the Social Responsibility Department at the Dallah Group.
Anas Zar'ah, the society's chairman, thanked the princess for her sponsorship of the series of the talks, which aim at disseminating family cultural values based on sound relations.
He said that the society aims at educating families about factors that enhance the stability of the household, strengthen family solidarity and cohesion and protect family members from the adverse effects of growing social and living problems. "We called the series "Toward a Safer Family" because we want to drive home educational and social messages, as well as give special family advice that would strengthen marital bonds," he said.
"Last year, we presented a series entitled 'A stable family makes me happy,' through which we were able to educate 3,521 women from various Jeddah neighborhoods. We want to bring down the rate of divorce in our society," he said.
He explained that alarming divorce rates across various communities make it very important to study its causes and seek efficient solutions to the problem. "We believe that the spreading of familial culture is the first step and most efficient solution for combating this phenomenon before it becomes unmanageable," he said.
He invited women to attend these events and benefit from the society's activities. "We conduct various activities and we have many programs that concern family relationships, including family counseling in person and on the phone, and we hold training sessions for young men and women to better equip them for family and married life. We also train women on how to be better wives and mothers.
We issue educational pamphlets and booklets that contain useful information and we hold public lectures about married life, family stability and cohesion," he said.
To find out more, visit www.almawaddah.net.
http://www.arabnews.com/news/492416
------------
Over 5,000 Turkish women applied for help due to violence in 2012: Ministry
December/13/2013
The number of women in Turkey who sought the support of the Family and Social Policies Ministry due to domestic violence totalled more than 5,000 last year, according to Minister Fatma Şahin.
All the women who requested the ministry's help were provided shelter, psychological counselling or legal assistance, Şahin said, responding this week to a parliamentary question issued by main opposition Republican People's Party (CHP) deputy chair Sezgin Tanrıkulu. Eighty-seven women found a job thanks to the ministry's assistance, Şahin added.
At the end of 2012, 6,105 women and 2,628 children were staying at women's shelters, Şahin said. Under normal circumstances, female victims of domestic violence are able to stay at women's shelters for six months, but the duration of their stay can be extended according to "developments in the woman's conditions."
A majority of the women applying to the ministry are subjected to violence from their husbands, but violence against women is also perpetrated by women's in-laws, as well as their neighbors.
According to data, 1,151 women applying to the ministry were exposed to violence by their husbands, 110 by their fathers, 76 by their brothers and 22 by their sons.
Some women applying to the ministry were also exposed to violence by their female relatives. Fifteen women were subjected to violence by their mothers-in-law, three by their daughters and one of them by her aunt. Another 17 were victims of domestic violence at the hands of their mothers, along with three by their stepmothers, according to the ministry's information.
http://www.hurriyetdailynews.com/over-5000-turkish-women-applied-for-help-due-to-violence-in-2012-ministry.aspx?pageID=238&nID=59541&NewsCatID=341
------------
England women's team demands gender test on Pakistan players
12 December 2013
Controversy struck the ongoing fourth edition of the Kabaddi World Cup in India when England women's team officials demanded a gender test on three players from the Pakistan team on Wednesday. Pakistan women's team, who took part in the tournament for the first time, have been knocked out of the event by India.
England Kabaddi Federation alleged that Pakistan players have masculine physique and are playing the sport like male athletes. The English body also alleged that the entire issue was being swept under the carpet despite their raised grievances. The English federation voiced their complaints in a letter to Punjab's director of sports Shiv Dular Singh Dhillon.
"Prior to our match against Pakistan at Jalalabad on December 7, I submitted a letter raising serious doubts about three players who we suspect are of male gender. All the women teams are put up at the same hotel and we have had sufficient time to observe the behavior of these players," Kawal Das, England Kabaddi Federation general secretary, was quoted as saying in the Times of India.
Das says that a team of doctors were to look into the matter but the plan was cancelled after Pakistani officials made requests. England kabaddi coach Ashok Das, who is also the president of the England Kabaddi Federation, said they had made the complaint on December 7 and 8 however, no action was taken by the concerned authorities.
"How can they think of including kabaddi in the Olympics and Commonwealth Games if you ignore such a serious issue?," said one of the officials.
On the other hand, tournament direction Shiv Dev Singh admitted that complaints were made by the England team management but said the players under doubt may have male hormones being from an athletic background.
"There is no question of male or transgenders playing in the team. The players in question were professional throwers and might be having male hormones. This can be checked by dope tests," Dev Singh said.
Dev Singh said that only an expert can take a call on an issue of alleged doping as such issues do not fall under his domain.
India will take New Zealand in the final of the tournament in Jalandhar on Thursday after beating Pakistan 46-12 in the semis on Wednesday.
http://sports.ndtv.com/othersports/othersports/218185-kabaddi-world-cup-england-womens-team-demands-gender-test-on-pakistan-players
------------
Universities UK withdraws advice on gender segregation in lectures
13 December 2013
Rajeev Syal and Matthew Weaver
The body that represents Britain's universities has withdrawn guidance on the gender segregation of audiences in lectures and debates after an intervention from David Cameron.
Universities UK (UUK) said on Fridaythat the controversial policy which allowed the voluntary separation of men and women at events such as lectures on Islam by visiting speakers was being dropped pending a review.
The body had sought guidance from the Equality and Human Rights Commission (EHRC), which said that, while the law allows segregation by gender in premises being used for religious purposes, it was not permissible in an academic meeting or in a lecture open to the public.
The announcements from UUK and the EHRC followed severe criticisms from the prime minister's spokesman on Friday morning, who had said UUK should urgently review the guidance.
The U-turn is an embarrassment for UUK, which has attempted to fight off criticisms over the policy for several days. The body had insisted that it had sought legal advice from a senior QC, who said that gender segregation should be allowed if requested by the lecturer and students.
But yesterday, Nicola Dandridge, chief executive of UUK, said it had withdrawn a case study which had been used to justify the policy. "Universities UK agrees entirely with the prime minister that universities should not enforce gender segregation on audiences at the request of guest speakers. However, where the gender segregation is voluntary, the law is unclear. We are working with our lawyers and the EHRC to clarify the position.
"Meanwhile the case study which triggered this debate has been withdrawn pending this review."
UUK's guidance set out hypothetical case studies based on situations that arise on campuses, including where a speaker from an ultra-orthodox religious group requests that an audience be segregated by gender. It set out the legal framework which universities should bear in mind when deciding what action to take.
The report stated that university officials must consider both freedom of speech obligations and discrimination and equality laws, and it concluded that institutions ought not to enforce segregation, but if participants were happy to sit in separate groups, that should be permitted as long as no disadvantage was caused.
UUK issued the guidance following a series of Islamic events at campuses at which male and female students had been separated.
The body had sought an opinion from the senior barrister Fenella Morris QC, which concluded that the advice was "an appropriate foundation for lawful decision-making by universities". But the guidance prompted widespread criticism and protests from students.
On Thursday, Downing Street had declined to comment on the row. But after an intervention by Michael Gove in an interview with the Daily Mail, the prime minister's spokesman launched into an unusually strong attack on UUK's policy.
"There is an issue around speakers who are invited into universities," it said. "He doesn't think that guest speakers should be able to address segregated audiences and he thinks that Universities UK should urgently review its guidance.
"There is an important issue around principle and possible risks around discrimination. I think [Cameron] feels very strongly about this."
The spokesman made it clear that the PM wanted a ban on gender-segregated audiences on campus even where men and women voluntarily separated themselves. He also stressed that those views did not extend to places of worship such as mosques, synagogues or gurdwaras.
Business Secretary Vince Cable, whose department has responsibility for universities, was writing to UUK calling for the guidance to be amended to clarify the distinction between private worship and areas of public learning.
He said: "I am clear that forced segregation of any kind, including gender segregation, is never acceptable on campuses.
"But how the law applies where segregation is voluntary is unclear. That is why I am writing to Universities UK asking them to clarify that distinction between private worship on the one hand and public areas of learning on the other, and to amend their guidance accordingly.
"Many universities already have very strong equalities policies that do not allow segregated events on their campuses. We have also seen several recent events cancelled by universities because the event organisers insisted on segregation.
"But this needs further clarification to ensure our universities are never places where discrimination of any kind is tolerated."
On Thursday, UUK, which represents more than 130 institutions, said it was seeking a definitive legal view on the issue from the EHRC after its London HQ was targeted by student protesters.
UUK's controversial advice took the example of an ultra-orthodox religious group invited to speak as part of a wider series of talks on faith, where the speaker requested the audience be segregated. The guidance said that if, for example, women and men were seated separately side by side rather than men at the front and women at the back, there would not necessarily be any gender inequality, and voluntary segregation could be permitted.
EHRC chief executive Mark Hammond said it was not permissible under the law for universities to segregate by gender in academic meetings.
"Universities can provide facilities for religious meetings and associations based on faith, as in the rest of society. Equality law permits gender segregation in premises that are permanently or temporarily being used for the purposes of an organised religion where its doctrines require it.
"However, in an academic meeting or in a lecture open to the public it is not, in the commission's view, permissible to segregate by gender," he said.
However, Tahir Nasser, chairman of the Ahmadiyya Muslim Students' Association UK, which regularly organises lectures on Islam on university campuses, said the prime minister's views did not take into consideration the sensitivities of other communities.
"I completely disagree with the forced segregation of students at universities. This is really a non-issue as Muslim women and men who feel more comfortable sitting next to people of the same gender are already able to do so. Their personal preference should not be imposed upon others who have a different preference," he said.
"However, at the same time, those wishing to freely sit separately should be able to do so and their rights respected just as those of others are."
http://www.theguardian.com/education/2013/dec/13/universities-uk-withdraws-advice-gender-segregation
------------
Women Islamists Challenge Egypt's Army-Backed Rule
December 14, 2013
CAIRO: With many of its male members jailed, Egypt's besieged Muslim Brotherhood is calling up an unlikely reserve force against the army-backed government in the conservative Arab country.
At more and more protests, female members of the Islamist movement can be seen taking on security forces mounting one of their fiercest crackdowns against the group. One newspaper front page captured the determination of the Muslim Brothers, and sisters, to survive. A photograph showed a woman wearing goggles and a gas mask over her headscarf throwing an object at security forces as she and two women were engulfed in a cloud of teargas. Beside the photo was an image of the interior minister, one of the officials who have vowed to wipe out the movement.
"We are doing this for our classmates who are in jail and our friends who were martyred," says Al Shaimaa Hussein, 21, a media student at Al Azhar University, the epicentre of student protests against the army. The university is the Sunni Islamic world's seat of learning, and usually toes the Egyptian government line, but some students are sympathetic to the Islamist cause.
Police have killed hundreds of Islamists. They have also arrested top Brotherhood leaders, including Mursi, decimating what was once the most organised political force in Egypt. But going after women members could pose a dilemma for the state.
While much of the public has supported tough security measures against the group, societal norms in the majority-Muslim country may cause some to chafe at action against women and girls, even those protesting against the revered army. Those sensitivities may have figured in the calculations of the Brotherhood, who have tried but failed to turn the public against the army, which it accuses of staging a coup.
Eric Trager, an expert on the Muslim Brotherhood at the Washington Institute for Near East Policy, says the Muslim "Sisterhood" has not suffered heavy blows in the crackdown.
"With their structure intact, they are able to play a more central role in mobilising for the current protests," he said.
"The fact that Egyptian authorities have typically been more hesitant to round up women than men is an added incentive for the Muslim Sisters to participate in the demonstrations."
The government came under fire last month from rights groups after a court sentenced 21 women and teenage girls to harsh prison terms for protesting. The court ended up slashing their sentences and releasing them.
Unlike her Islamist male relatives who are constantly on the run for fear of arrest, 18-year-old Olaa, an engineering student at Al Azhar, still has freedom of movement, and she is taking full advantage of it for the cause.
"Protesting is more important than lectures and tests because this is about freedom for our country," she said, giving only her first name on account of security concerns. Just outside her dorm, hundreds of female students chanted for the end of military rule.
They went as far as to call army chief General Abdel Fattah Al Sisi, who toppled Mursi, a traitor, despite a new law that puts severe restrictions on demonstrations.
"Our presence encourages the men to continue," said Nada Abdelrahman, 21, her face fully covered by a black veil, nervously watching a man who she suspected was an undercover state security agent.
"We can't stand by while our brothers are in jail and getting beaten up by the police."
Sisi has promised that a political roadmap would lead to free and fair elections in Egypt. But Brotherhood members say Egypt is no freer than it was before the 2011 popular uprising that toppled autocrat Hosni Mubarak.
Al Azhar student Shaimaa Mounir, 21, was arrested at a mosque in downtown Cairo during a protest in August. She was detained for two days at one of Egypt's most notorious prisons.
"The police think they can scare us into stopping. On the contrary, I feel no fear," she said. She wore a button with a photograph of herself with a woman friend killed in a raid on a pro-Mursi protest camp. reuters
http://thepeninsulaqatar.com/news/middle-east/264430/women-islamists-challenge-egypt-s-army-backed-rule
------------
URL: https://newageislam.com/islam-women-feminism/in-taking-jobs,-women-take/d/34859