New Age Islam News Bureau
18 Aug 2018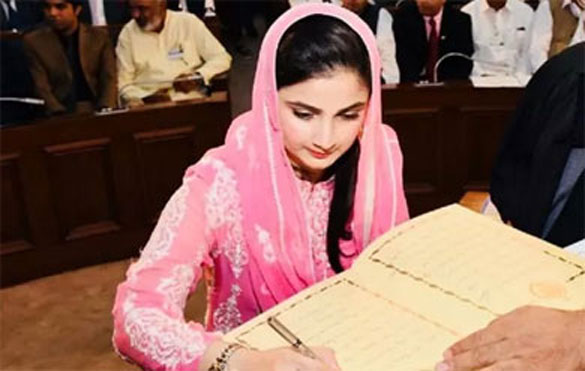 Sania Ashiq taking oath as youngest parliamentarian of Pakistan. (Supplied)
------
• Tunisia Mayor: Ban Muslim Women from Marrying Non-Muslims
• Tunisian President Challenges Quran with Greater Rights for Women in Tunisia
• Iranian Cleric in Altercation with Woman over Hijab
• Iraqi Girls Take Up Swimming in IS-Free Mosul
• US Police Officer Uses Taser on Syrian Woman, 87
• Women's Groups Rally at Sunway Pyramid to End Child Marriage
• Female Political Prisoner Zainab Jalalian Denied Medical Care for 11 Years in Iran Prison
Compiled by New Age Islam News Bureau
URL: https://www.newageislam.com/islam-women-feminism/in-pakistan-25-year-old/d/116146
--------
In Pakistan, 25-Year-Old, Sania Ashiq, Becomes Country's Youngest Parliamentarian
18 August 2018
At 25, Sania Ashiq is dubbed as Pakistan's youngest parliamentarian.
As she stepped out of iconic building of Pakistani Punjab's provincial Assembly soon after taking oath as a parliamentarian, she was questioned by journalists if she knows that she just made history by becoming 'Pakistan's youngest parliamentarian'.
Giving them a smile, confident and well educated Sania nodded her head before making her way.
Sania holds a degree of Pharmacy-D (Doctor of Pharmacy) which is a professional degree like a Doctor of Medicine (MD) or Doctor of Dental Surgery (DDS), from Pakistan's 135 years old The University of Panjab.
She was elected to Pakistani Punjab's provincial Assembly earlier this week on Monday, on one of the seats reserved for Women after former ruling political party the PML-N nominated her.
Born and raised in Lahore, a city known as intellectual, artistic and cultural centre of Pakistan, Sania has been involved in charity and social work for long time. Her work for uplifting of poverty-stricken women and children caught attention of Maryam Nawaz Sharif, former Pakistani Prime Minister Nawaz Sharif's daughter who, later, nurtured this young woman into a mature politician.
Soon after taking oath as youngest parliamentarian of Pakistan, Sania vowed to use her influence and position as parliamentarian only to work for the betterment of country's poor women and children.
"As a parliamentarian, I will work for women empowerment. I will make sure the projects initiated by our party for women empowerment," Sania told journalists.
"I will try my best to serve the people of Punjab from this prestigious platform of Punjab Assembly & come up to the expectations of my party PMLN. May Allah Almighty help & guide me," she tweeted.
Sania's election to provincial assembly shows that ordinary and young women are also being encouraged to get involved in politics in Pakistan which has long been a male dominant area.
Pakistan was the first Islamic state which elected a female Prime Minister Ms. Benazir Bhutto (late). She was killed in an assassination in 2007 and is still considered as a role model by many - not just women.
Over the years, new trend has emerged in Pakistan with young and well-educated women like Sania Ashiq are actively taking part in Pakistan's politics.
Just before recently held general election in Pakistan, more women got involved in major political parties in Pakistan.
Both political experts and critics hailed big political parties for facilitating women in their ranks, but argue the parties need to more in empowering women in politics.
"Glad to see women like Sania making inroads in politics. But, Pakistani politics are still influenced by the local feudal system and dynasty politics. Majority of the seats in the parliament are occupied by well-known and wealthy families. This also accounts for many women who are active in Pakistani politics.
This has to be changed," Sohail Iqbal Bhatti, a political analyst and a talk show host told Al Arabiya English.
There is no denying that majority of women in the national and provincial assemblies come from families with a long political tradition.
However, increasing number of women like Sania Ashiq was notable in some of the political parties like PML-N that shows room is also open for the females of middle class families with no political background.
https://english.alarabiya.net/en/variety/2018/08/18/In-Pakistan-25-year-old-woman-becomes-country-s-youngest-parliamentarian.html
--------
Tunisia Mayor: Ban Muslim Women from Marrying Non-Muslims
August 18, 2018
A mayor in Tunisia has caused controversy after calling for all marriage contracts between Muslim women and non-Muslim males to be annulled.
Fathi Laayouni, mayor of El Kram who stems from the Ennahda party, made the call in response to a 2017 order by President Beji Caid Essebsi for the government to withdraw laws – dating back to 1973 – which ban such marriages.
Lawyers and politicians have said that Laayouni has broken the law and challenged the state.
Deputy Speaker of the Nidaa Tounes ruling party, Fatma Mseddi, said Laayouni is breaking the law and the Law on Local Communities provides for the possibility of dissolving Tunisian municipal councils once a serious mistake has been made.
However, the head of Dar Al-Hadith Al-Zaytounia Islamic association, Sheikh Farid Beji, supported Laayouni's decision, and stressed that it is not possible for a Tunisian Muslim woman to marry a non-Muslim man, regardless of his religion. He asserted that this is a clear provision by God.
https://www.middleeastmonitor.com/20180818-tunisia-mayor-ban-muslim-women-from-marrying-non-muslims/
--------
Tunisian President Challenges Quran with Greater Rights for Women in Tunisia
August 17 2018
Tunisia, the sole success story of the Arab Spring, is bracing for a new battle over its future direction after its president backed a groundbreaking reform granting equal inheritance rights to women, effectively overruling the Quran as a source of law.
President Essebsi, 91, used the country's Women's Day to announce he would put the draft law before parliament this year, setting the stage for a battle between religious conservatives and secularists.
Ennahda, the moderate Islamic party that shares power in a coalition government, has yet to take a position on inheritance equality, one of several sweeping reforms proposed by a special presidential commission. Other proposals, unprecedented in the Arab world, include the decriminalisation of homosexuality and the abolition of the death penalty.
https://www.thetimes.co.uk/article/essebsi-challenges-Quran-with-greater-rights-for-women-in-tunisia-wg6qp8s20
--------
Iranian Cleric in Altercation with Woman Over Hijab
17 August 2018
Iranian Masih Alinejad, activist and TV journalist on the Tablet show on VOA and founder of #WhiteWednesdays, #MyCameraIsMyWeapon and #MyStealthyFreedom campaigns against compulsory hijab, posted on her twitter account on Friday, a video documenting a face-off between a young Iranian woman whose hijab was a bit loose on her forehead and an Iranian cleric in the streets of the capital Tehran.
The incident happened on a Tehran street when the cleric asks her to fix her hijab, and the female answered angrily and stormed out of the crowd removing her hijab completely.
The video shows the cleric calling for her arrest.
In June, a similar incident involving school girls went viral on social media, with Iranian police women chasing the girls because of their dress and trying to impose a certain way of wearing the hijab.
These incidents are very common in Iran lately with the disgruntled general public, prompting activists to launch the "White Wednesday" initiative and other campaigns to express rejection of the obligatory headscarf imposed by the laws in force since the Islamic Revolution in 1979.
Since last December, more than 30 Iranian women have been arrested because of attempts to remove their hijab publicly in a move to defy the law. Iranian authorities has released most of them but they are still undergoing trial.
https://english.alarabiya.net/en/variety/2018/08/17/WATCH-Iranian-cleric-in-altercation-with-female-over-Hijab.html
--------
Iraqi Girls Take Up Swimming in IS-Free Mosul
Aug 18 2018
Her father and grandfather gained fame in the pool. Now, 12-year-old Rama Omar hopes to do the same -- a bold move in Mosul, a former jihadist stronghold in Iraq where swimming was never for women.
Even before the Islamic State group made Mosul the heart of its self-proclaimed caliphate in Iraq in 2014, conservatism and tradition in the ancient mercantile city meant its pools were only for men.
But a year after Iraqi forces reclaimed the city from the jihadists, coach Omar Ibrahim and his team of 12 young girls are changing that.
At 10-years-old, Malak Hisham had previously only ever seen women swimming on TV or the internet.
Today, she splashes about with her teammates, all of whom are determined to train hard and win big.
Healthy body, healthy mind
"Swimming's good for the body and the mind," says Malak, who has been at the outdoor pool in eastern Mosul's posh Al-Muthanna neighborhood every day since the summer holidays began.
Owner Ibrahim Saleh says the complex stayed open throughout IS's crushing three-year rule. But it was only open for men, and among them, only those dressed according to the jihadists' strict codes.
The annual rent of $4,000 (3,500 euros) usually paid to the municipality went to IS coffers, Saleh says, to avoid violent punishment.
But after a bloody nine-month push to retake the city, relative calm has brought a new crowd to Mosul's pools.
In her black jumpsuit, pastel pink swimming cap and tightly strapped goggles, Rama dives head first into the 25-by-10 meter pool.
With the backing of her parents and her coach, she hopes to achieve her "dreams of becoming a famous swimmer," just like her father and grandfather before her, she tells AFP.
From the edge of the pool, Ibrahim shouts instructions to his team.
"(We train) every day for two hours, with some warm-ups before practicing breaststroke, crawl and backstroke," the 40-year-old trainer says.
Groups of boys horse around in the complex's other two pools, seemingly oblivious to the small dedicated team already dreaming of international competitions.
To do that though, they'll need help.
"We need the Ministry of Youth and Sports or any other competent authority to support us. We're still the only team of this kind in the province," says the coach, wearing a red bucket hat to shield himself from the scorching summer sun.
'The colours of Mosul'
Malak hopes a few girls at the pool is part of a bigger change. She wants to see "all girls practice a sport, to raise the colors of Mosul."
Her father, Ahmed Hisham, himself a sports teacher, says he didn't hesitate to register his daughter for swimming lessons.
But he knows many other families in the city might not be ready to take the plunge.
Still, "they should encourage their daughters to practice a sport or any hobby that would be beneficial" to a generation that grew up under jihadist rule.
Beyond the hurdles set by society, however, the team has a more pressing challenge.
For the moment, Ibrahim has graciously lent them the use of his outdoor pool in Al-Muthanna, but in a few months it will be unusable, as another one of northern Iraq's often snowy winters sets in.
"We have to find an indoor swimming pool, otherwise everything will have to stop," says Rama, who is already worried about the prospect.
The options are limited, as many of the city's other pools were destroyed in the battle against IS.
Ten years ago, Mosul's municipality launched a major project to equip the city with an Olympic-size swimming pool. But that project, like many others in Iraq, stalled due to lack of cash.
As efforts now ramp-up to rebuild, Rama and her team hope that a pool will be included in the reconstruction plans -- that way, they can train year-round.
http://news.abs-cbn.com/sports/08/18/18/iraqi-girls-take-up-swimming-in-is-free-mosul
--------
US Police Officer Uses Taser on Syrian Woman, 87
17 August 2018
A US police chief has defended the use of a Taser on an 87-year-old grandmother cutting dandelions near her home in the southern state of Georgia.
The incident occurred last Friday when a youth club worker called 911 after spotting Martha al-Bishara, who does not speak English, using a knife to cut dandelions in the club's grounds near her home.
Responding to the scene, police in Chatsworth, around 135 kilometers north of Atlanta, stunned her with a Taser and handcuffed her after she failed to follow instructions to drop the knife.
"It was the lowest use of force we could have used to simply stop that threat at the time," Chatsworth police chief Josh Etheridge told local media.
But al-Bishara's granddaughter, Martha Douhne, told NBC that "she thought she got shot."
"We have never really told her about stun guns or Tasers, and so she doesn't know what that is," she said, adding her grandmother is having trouble sleeping and is afraid to go outside.
Etheridge insisted the octogenarian had posed a potential threat that justified the use of the Taser.
"An 87-year-old woman with a knife still has the ability to hurt an officer," Etheridge said.
"We began trying to communicate with her, telling her of course to drop the knife... We didn't know if she just didn't understand us or was having some type of issue."
Al-Bishara was looking for dandelions to put in a salad she often makes for her husband.
The officer "used the Taser, he deployed the Taser rather than using deadly force to stop the situation," he said.
Etheridge added the force would continue to review the situation, and the officer in question remains on duty.
https://english.alarabiya.net/en/News/world/2018/08/17/US-police-officer-uses-taser-on-Syrian-woman-87-.html
--------
Women's Groups Rally at Sunway Pyramid to End Child Marriage
18 Aug 2018
PETALING JAYA: Armed with placards and chanting "end child marriage", hundreds of Malaysians marched to the beat of drums at a rally at the Sunway Pyramid mall here amid a heavy downpour.
The "Walk the Talk to End Child Marriage" event – jointly organised by The Body Shop Malaysia, Women's Aid Organisation (WAO), Sisters in Islam (SIS), and the Association of Women Lawyers (AWL) – marked the launch of the groups' petition campaign to urge the Government to raise the minimum age of marriage to 18 with no exceptions.
WAO vice-president Meera Samanther said the fact that child marriage was happening in Malaysia showed that the nation was failing its children.
"This is not an issue for one community, race or religion to deal with.
Housing and Local Government Minister Zuraida Kamarudin turned up to show support, along with Batu Kawan MP Kasthuri Patto, Bukit Malawati assemblyman Juwairiya Zulkifli and activist Datin Paduka Marina Mahathir.
The groups also called on the Government to amend laws such as the Child Act 2001, the Law Reform (Marriage and Divorce) Act 1976, Islamic Family Law, and the Sexual Offences Against Children Act 2017.
They said the Native Courts Enactment 1992 in Sabah, as well as various native customary laws in Sarawak, should also be amended.
The Body Shop Malaysia managing director Datin Mina Cheah-Foong said in order to completely end child marriage, one also had to beyond legal reform. She said there was a need to change public perception, achieve gender sensitisation, institute comprehensive sexuality education and empower youths.
The petition, which started on Aug 1, has already collected almost 20,000 signatures.
The campaign will go on until Sept 30 before the petition is handed over to the Women, Family and Community Minister and respective Ministers in the Prime Minister's Department in charge of Religion and Law.
https://www.thestar.com.my/news/nation/2018/08/18/womens-groups-rally-at-sunway-pyramid-to-end-child-marriage/
--------
Female Political Prisoner Zainab Jalalian Denied Medical Care for 11 Years in Iran Prison
17 August 2018
Female political prisoner Zainab Jalalian has been denied medical care and access to medical facilities for 11 years despite her deteriorating health conditions.
In an open letter, Zainab Jalalian writes, "First, my eyes became weak, and afterwards my kidneys, my lungs, my blood pressure, and then my mouth began foaming, and eventually my teeth were damaged and infected. I have been forced to endure intense pain. As a political prisoner, I have no rights. The authorities have not taken me to see a doctor but have lied to the media by telling them that I have seen one."
She added, "I knew that if I requested treatment, I would not receive any answers, just like now. No one and nothing is strong enough to prevent me from achieving my goals. On my own, I will be stronger than ever and I will continue my path."
Amnesty International stated in an urgent call for action dated June 15, 2018, that Zainab Jalalian is exposed to torture by being denied medical care.
Amnesty International wrote, "Iranian Kurdish woman Zeynab Jalalian is being subjected to torture by the Iranian authorities, who are deliberately blocking her access to specialized medical care, despite her deteriorating health in Khoy prison, West Azerbaijan Province. She has several medical conditions, including a heart problem and a severe dental infection. She has repeatedly asked the prison authorities to take her to a hospital outside the prison for specialized testing and treatment for her health problems but the authorities have either rejected outright her requests or have accepted them on the condition that she make videotaped 'confessions'."
Female political prisoner Zainab Jalalian has been in prison since 2007 and serves the heaviest sentence (life imprisonment) among female political prisoners in Iran.
On July 30, 2018, she, along with a group of other female prisoners, went on hunger strike in protest to being deprived of basic prison facilities in Khoy Prison.
https://women.ncr-iran.org/iran-women-news/5419-female-political-prisoner-zainab-jalalian-denied-medical-care-for-11-years-in-iran-prison
--------
URL: https://www.newageislam.com/islam-women-feminism/in-pakistan-25-year-old/d/116146
New Age Islam, Islam Online, Islamic Website, African Muslim News, Arab World News, South Asia News, Indian Muslim News, World Muslim News, Women in Islam, Islamic Feminism, Arab Women, Women In Arab, Islamophobia in America, Muslim Women in West, Islam Women and Feminism