New Age Islam News Bureau
3 Feb 2015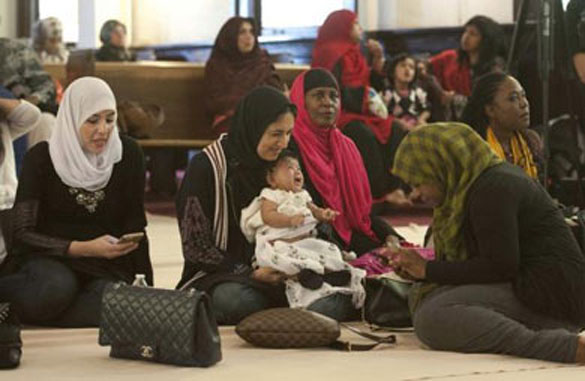 Women wait for the prayer service at the Women's Mosque of America in downtown Los Angeles, California January 30, 2015 CREDIT: REUTERS/LORI SHEPLER
----------
• World Hijab Day Encourages Women to Try Covering Up
• 'Heroic' Turkish-German Girl Died After Earring Pierced Skull, Autopsy Says
• Aussie Muslim Women Reject Islamophobic Violence
• Turkish President's Daughter Sümeyye Erdoğan May Run for Office
• West Virginia University Muslim Students Challenges Women To Wear A Hijab
• Recruitment Ban on Shops Failing To Employ Saudi Women: Ministry
• Stipend Motivates Pak Girl Students to Continue Education
• Muslim Woman in St. Louis Breaks Barriers at Work
• Jeep Puts Muslim Woman in Super Bowl Ad, World Ends For Some People
• Sex Education Should Be Mandatory For Teen Girls Too: President NUTP
Compiled by New Age Islam News Bureau
URL: https://newageislam.com/islam-women-feminism/in-los-angeles,-muslim-women/d/101351
-----------
In Los Angeles, Muslim women find empowerment in female-only Friday prayers
By Reuters Staff
03 Jan, 2015
After the traditional call to prayer, Edina Lekovic stood in front of some 150 women seated on the floor at an interfaith center in Los Angeles, and delivered a sermon, a role traditionally reserved for Muslim men.
"We have the right and responsibility to our faith," Lekovic told the women as she stood in front of banners emblazoned in gold with verses from the Koran, Islam's holy book.
Lekovic, an activist with California's Muslim Public Affairs Council, then joined the women in kneeling in prayer in the direction of Mecca, the holiest city in Islam.
Friday's gathering at the interfaith center – a former Jewish synagogue near downtown Los Angeles with Stars of David etched into the stained glass windows – aims to encourage women to participate fully in Muslim prayer and education.
Significantly, women are at the helm.
In traditional mosques, women pray separately from men, which can distance them from the lecturer. Women may also feel excluded for other reasons, such as male-only Koran studies.
Muslim women often meet for casual gatherings and prayer, but rarely do they unite in a formal setting, such as the Friday worship, under the banner of a mosque.
"The fact that this is the Friday prayer, the jumma'a, and that there's a woman officially giving the sermon, the khutbah, that's new," said Donna Auston, a doctoral candidate studying American Muslim culture at Rutgers University.
MEN AND WOMEN SHOULD FEEL AT HOME
Hussam Ayloush, of the Council on American-Islamic Relations, said some Muslims may prefer integration – not segregation – as a way to draw women into Islam.
"A mosque is a place of worship where all segments of the Muslim community, men and women … should feel at home," he said.
After the initial call to prayer and Lekovic's sermon, the women sat in a circle under the tall arched ceiling, some with tears in their eyes, and reflected on the experience.
"I want every woman to experience what it feels like to learn from a female religious authority in the mosque," said M. Hasna Maznavi, 29, who founded the Women's Mosque of America organization with Sana Muttalib, 31, after feeling excluded from traditional mosques. They say it is the nation's first female-only mosque.
Lubna Muttalib, Sana's mother, said she has sat so far behind men at other mosques she has had to watch the sermon projected onto a screen.
"It's so good to see my khatiba in person, instead of looking at a TV screen," she said, referring to the person who gives sermons.
Maznavi hopes to unite Muslim women from diverse backgrounds and said the mosque is neither Sunni nor Shi'ite and occupies the "middle ground" of politics.
http://blogs.reuters.com/faithworld/2015/02/02/in-los-angeles-muslim-women-find-empowerment-in-female-only-friday-prayers/
---------
World Hijab Day encourages women to try covering up
03 Jan, 2015
(CNN)To some, the hijab is a symbol of female oppression and Islamic fundamentalism.
But to Nazma Khan, a Muslim who moved from Bangladesh to New York at age 11, the headscarf is a symbol of her religious belief in beauty through modesty.
"Modesty is part of our Islamic faith," Khan wrote in an email. "No one should be discriminated (against) for following their faith."
So Khan started World Hijab Day to build empathy for this perspective and to encourage non-Muslims, and Muslims who don't normally wear a hijab, to try it out. The Arabic word hijab refers not just to a headscarf but to modest dress and behavior in general.
"Our goal is to foster global religious tolerance and understanding through hijab awareness. Many women get discriminated (against) simply because they choose to wear the hijab," Khan said. "Hopefully, this event will make people realize that women who wear the hijab are just like anyone else. They're not oppressed or are forced to wear it. They just simply want to follow their faith by being modest, just like Mary (mother of Jesus)."
For the first time in its three-year run, Sunday's World Hijab Day became a trending topic on social media as women supported the effort in events worldwide and shared images tagged #WorldHijabDay.
"Covering up should be a free choice! I may not be Muslim or religious but I support the beauty a hijab can bring to a woman," said one woman who shared an image through the World Hijab Day website.
The concept of modesty is not unique to Islam. Other religions, including Judaism and Christianity, embrace the concept. Still, public expression of hijab can be controversial and often misunderstood -- especially in the United States -- despite being protected by the First Amendment right to free speech and freedom of religion.
Many hijabis, or wearers of hijabs, are stigmatized for the practice, Khan said, speaking from experience. After moving with her family to the U.S., she says, she was taunted and called names for wearing hijab to school. The harassment continued into high school and college and became worse after the September 11 terrorist attacks.
"I always faced the following question: 'Why don't you ever dress normal?' " she said. "I constantly lived in fear as I was called names such as Osama, terrorist, etc. It was a total nightmare."
In summer 2011, after friends from around the world shared similar stories of harassment, Khan began pondering solutions.
"I kept on thinking how can I help them and myself?" she said. "I thought if I could invite other women (Muslim & non-Muslims) to walk in my shoes just for one day, perhaps, things would change."
This year, "ambassadors" in 33 countries organized World Hijab Day events. Organizers in Canada, for example, invited the public to try on hijabs at a mall in Fort McMurray, Alberta.
Kiran Malik-Khan, the organizer of that event, made the choice to start covering her head four years ago after a pilgrimage to Mecca, Islam's holiest site.
Born in Pakistan and raised in New Jersey, the 37-year-old United Way employee has practiced Islam all her life. The spiritual journey moved her to embrace her faith in a deeper way through hijab.
"I did it because I wanted to do it. It's progress for me as a Muslim woman, the next step in my faith," said Khan (no relation to Nazma Khan).
"It's moving forward religiously. If you're raised in Islam, then you want to embrace everything it says. For me, personally, that progress was doing the hijab."
She became involved in hijab activism in 2014, when Quebec's national assembly began hearings on a secular charter to ban overt religious symbols in the public-sector workplace. She felt compelled to start speaking up in her community to help others understand that, for people like her, the hijab is a choice, not an imposition.
"If we keep living in our silos, we will never be able to break down barriers and stereotypes," she said. "Social justice is not a spectator sport, so if we don't work for it, nothing will change."
http://edition.cnn.com/2015/02/02/living/feat-world-hijab-day/
----------
'Heroic' Turkish-German Girl Died After Earring Pierced Skull, Autopsy Says
03 Jan, 2015
Tuğçe Albayrak, a young German student of Turkish descent who was fatally beaten while trying to protect two women from being harassed, died after her earring punctured her skull when she fell on the ground, according to a recently revealed autopsy report.
The 22-year-old woman died on Nov. 28, 2014, after languishing in a coma for around two weeks following an altercation with three men of Serbian descent that she tried to stop from sexually harassing two German girls in the parking lot of a McDonald's in Offenbach, a town near Frankfurt.
According to a report from German weekly magazine Stern, the autopsy report concluded that her death was caused by her earring piercing her skull when she fell on the concrete ground after receiving a blow from one of the men, identified as Sanel M.
A lawyer for the Albayrak family, Macit Karamehmetoğlu, told German daily Bild that the autopsy result was not expected to lead to any changes in charges against the suspect, who is accused of injury resulting in death.
Albayrak's attempt to protect the girls triggered an outpouring of public sympathy in Germany, causing thousands, including German leaders, to pay their respects to the late woman on the streets and in social media.
http://www.hurriyetdailynews.com/heroic-turkish-german-girl-died-after-earring-pierced-skull-autopsy-says.aspx?pageID=238&nID=77758&NewsCatID=351
------------
Turkish President's Daughter Sümeyye Erdoğan May Run for Office
03 Jan, 2015
While word is going around that President Recep Tayyip Erdoğan's daughter, Sümeyye Erdoğan, will run for office in the upcoming general elections in June, the names of several bureaucrats may also be pronounced.
According to the election calendar, bureaucrats have to resign by Feb. 10 at the latest if they want to run in the upcoming general elections, which have accelerated the preparation of lists in the ruling Justice and Development Party (AKP). This week, Finance Ministry Undersecretary Naci Ağbal and Turkish Airlines Head of the Executive Committee Hamdi Topçu are expected to resign so they can run in the elections.
Sümeyye Erdoğan, the president's daughter, appears likely to become a deputy as well, but the family has not reportedly decided or announced its decision yet. The number of veiled female deputies in the party will also increase after these elections. Half of the planned 60 female deputies will be veiled.
Eyes have also turned to advisors in the offices of the president and the prime minister. The first resignation came from Erdoğan's text writer Aydın Ünal. Chief Advisor Yiğit Bulut's entry into politics is debatable because there is a serious resistance to Bulut's candidacy within the party.
The party will not have candidates coming from mayoral positions or provincial organization chairs except for Kayseri Mayor Mehmet Özhaseki. It has been rumoured that he was promised candidacy in the first general elections and a cabinet post.
National Intelligence Organization (MİT) Undersecretary Hakan Fidan's entry into politics will also be decided this week. Two criteria are expected to affect Fidan's situation, a person who has good relations with both the president and the prime minister. Having a name at the head of the MİT who is able to convince Erdoğan is one of them, while Fidan is the assurance that the struggle against the so-called "parallel state" will continue. The ruling party is expected to nominate 15 bureaucrats, including some governors.
The former four cabinet ministers who were involved in the corruption scandal will not be nominated. Egemen Bağış cannot run for office because of the party's internal ban on "three-terms." Zafer Çağlayan had already declared he would leave politics. The other two, knowing the stance of the party, will not apply.
http://www.hurriyetdailynews.com/turkish-presidents-daughter-sumeyye-erdogan-may-run-for-office.aspx?pageID=238&nID=77750&NewsCatID=338
------------
Aussie Muslim women reject Islamophobic violence
03 Jan, 2015
Concerned with the increasing reports of Islamophobic attacks, a forum is planned later this month in the southern eastern Australian city of Hume, giving terrified Muslim women an outlet to speak up against violence they have been facing recently.
"Muslim women are more explicit than men when they wear the hijab," Uniting Through Faiths interfaith network developer April Robinson told Herald Sun on Sunday, February 1.
"They're wearing this as an expression of their devotion … yet a lot of women are feeling like they have to take it off just so they can ride the train without being harassed."
Robinson's interfaith network is one of the organizers of the forum held next February 25, at Hume Global Learning Centre from 9.30am-3pm.
Special workshops for those living in fear were also planned by the Uniting Church in Australia in conjunction with Lentara UnitingCare and Dianella Community Health.
According to Robinson, recent events such as Charlie Hebdo attack in Paris and Sydney siege were putting Muslims in the same sentiments they faced after 9/11 attacks in 2001.
"To feel and be told that you should not leave the house unless you are walking with a man or walking with a group . . . it makes you feel despondent and it makes you feel alone and isolated," she said.
Emigrating from the US, Muslim woman Reem Hakem said she was shocked by the increasing backlash against Muslim women in Australia.
"It's unfortunate that sometimes when a bad event occurs, you sort of anticipate that something might happen," Hakem, who will chair the forum, said.
"It's also sad to say it's somewhat understandable because people will choose to look at the Muslim female as a symbol – that's the only symbol available to them, physically in front of them, to vent their anger and frustration towards.
"It is unfair because it's almost like putting all of us in one big pot along with the terrorists."
Bad Experience
Some Muslim women recalled how they were targeted in Australia just for being a Muslim.
Rehab Ayoubi, who lives in Meadow Heights, was walking along Sydney Rd while heavily pregnant when a male stranger approached her, pushed her and threw her into a trestle table.
"When we do go out, we get physically abused, we get verbally abused," she said.
You get terrible stares everywhere you go and just having to constantly feel almost apologetic everywhere we go. We're carrying a burden of what's being portrayed by the media."
Though going through various attacks, the physical attack was the hardest experience for the heavily pregnant woman.
After giving birth, she was threatened by a woman in her ward, but was denied a room change.
"It wasn't until I started doing a course and started integrating back into the community and having the support of my mentors and my teachers that I was able to build that confidence up again," Ayoubi said.
"Now my role is to help women like myself. (By being) a role model, being positive, not hiding away and being a victim, you can really be useful in the ­community."
She said practical strategies were needed to face the growing threats.
"(We need to be) breaking the stigma and being role models ourselves and integrating into the community," she said.
"There is a lot of support out there but we just (need) to know how to (find) support and be confident."
Muslims, who have been in Australia for more than 200 years, make up 1.7 percent of its 20-million population.
In post 9/11-era, Australian Muslims have been haunted with suspicion and have had their patriotism questioned.
http://muslimvillage.com/2015/02/03/62419/aussie-muslim-women-reject-violence/
----------
West Virginia University Muslim Students challenges women to wear a hijab
03 Jan, 2015
In honor of World Hijab Day, the West Virginia University Muslim Students' Association challenged women of all backgrounds and religions to wear the hijab for an entire day. Members of the association hoped this challenge would aid students in gaining insight on the common misconceptions and stereotypes associated with the hijab.
According to the association, some negative perceptions attributed to the garment are notions of oppression and submission to women of the Islamic faith. Sara Berzingi, association member and organizer of the event, is hopeful that through experiences such as this one, negative stereotypes will be broken down one by one.
The most common stereotype according to Berzingi, is that wearing a hijab is not a choice made by women themselves. Berzingi, who chooses to wear the hijab every day, shared her positive and negative experiences of wearing the garment. Berzingi expressed she has been the victim of many negative remarks based on her decision to wear the hijab.
Berzingi said she has been called a "rag head," "towel head" and a "terrorist" when wearing the hijab. When asked how she dealt with such damaging remarks and misperceptions on the campus, Berzingi replied that at times she is fearful and worrisome of her safety, but she believes that through education and exposure people can gain awareness on this issue.
"Education will help," Berzingi said. "I really don't think there's any other way to combat it."
Berzingi said she believes through her negative experiences she can find strength and even more faith in her religion.
"You just have to reevaluate yourself," Berzingi said. "Through that you feel stronger for wearing it (the hijab)."
Senior and participant of the challenge Rachael Empson elaborated on Berzingi's opinions and shared her own experience with the group.
"It felt liberating to be who I am," Empson said. "Every choice we make in our physical appearance is a representation of ourselves and who we are."
Many students of all religions and backgrounds attended the event and participated in the discussion panel. Light refreshments were served after the discussion, where many students continued to compare and contrast their experiences throughout the challenge. For more information on WVU's Muslim Student Association and their upcoming events, visit http://muslimstudents.studentorgs.wvu.edu.
http://www.thedaonline.com/news/article_378543ba-ab68-11e4-9f56-af2c78a8b51d.html
---------
Recruitment ban on shops failing to employ Saudi women: ministry
03 Jan, 2015
Shops failing to implement feminization decision will be deprived from recruitment and sponsorship transfer, according to a senior official of the Ministry of Labor.
Assistant Undersecretary of the ministry Dr. Fahd Al-Tekhaifi told Okaz/Saudi Gazette that many shops have been found employing illegal expatriate women.
"We pursue owners of shops that do not implement feminization decision and impose penalties including fines," he said.
The penalties in the third stage of feminization are stern and include recruitment ban and stoppage of transfer of sponsorship. The shops will also be referred to the Saudization Committee, Al-Tekhaifi said.
The ministry started intensive inspections in 2013 after its deadline to employ Saudi female staff expired on July 7, 2013.
The inspection formed part of the second phase to feminize shops selling women's dresses, abayas and accessories. It was complimentary to the first stage of feminizing lingerie shops.
In March 2014, the ministry started the implementation of the third phase of the feminization of shops selling women's accessories. This phase includes shops selling female perfumes, Jalabiyas (traditional dresses), bags, shoes, socks, clothes and fabrics for women as well as shops selling mother-care products (baby stuff are excluded), and pharmacies in malls selling beauty products and accessories.
By October 2016, the ministry plans to achieve its goal to employ women in all stores selling women's accessories.
The male staff of over 13,000 women's accessory shops all over the Kingdom were replaced by 65,000 women in the first and second phases of shop feminization.
http://english.alarabiya.net/en/business/2015/02/01/Recruitment-ban-on-shops-failing-to-employ-Saudi-women-ministry.html
-----------
Stipend motivates Pak girl students to continue education
03 Jan, 2015
PESHAWAR: "These two hundred rupees can be a reason many girls from poor families are still managing to continue their studies," says Mahnoor, a 9th grader, whose father is a schoolteacher. She says that she saves this monthly stipend and uses it to buy stationery.
However, she says education is free but there are many girls in her class whose parents cannot even afford to buy stationery, calculator, shoes and uniform for them. These girls use the Rs200 monthly stipend, given by the provincial education department to encourage female education, to buy such items.
"I keep saving this stipend. When I need something like a book or dictionary I buy that with this money. I don't have to ask my parents," says Urma, a student of 9th class at Government Centennial Girls High School in Notia locality of Peshawar. Her father is a shopkeeper.
Mahnoor, who also lives in Notia, says that many poor parents already are doing an extraordinary job by sending their girls to schools amid security concerns and unfavourable circumstances. Usually parents of poor background don't spend on a girl as compared to a boy as she is usually married off at an early age. Those, who want to educate their girls, find financial constraints and accessibility to school in the conservative culture a challenge.
However, Anwar Sultana, the principal of the school, says that enrolment has improved in her school and this monthly stipend seems to be one motivational factor. Some girls use this money to buy their stationery and others use it for paying fare to come to school without burdening their parents.
Principal of govt school says enrolment has improved
"Many maids send their daughters to my school since their daughters not only get education but also get stipend which is like their pocket money," says Ms Sultana.
The elementary and secondary education department of Khyber Pakhtunkhwa has been running the stipend programme since 2006. A visit to a government model school in Peshawar, one of the low-net enrolment rate districts, showed that girls mostly from humble background were finding this 'pocket money' very useful. It helped them to fulfil their educational needs without burdening their parents.
Officials associated with the programme said that it was being run for some years now but a major overhaul in terms of monitoring and efficiency to achieve its objectives was also required.
"After the disbursement of the second installment in a month or two, the government for the first time would assess the impact of this programme too," said an official.
Giving details of the programme, the official said that the Girls Stipend Programme had three different streams. One was provision of stipend in seven districts of the province and later the stipend programme was rolled out to the entire province. Under this programme, girls enrolled in grades 6th to 10th were eligible to receive a monthly stipend of Rs200 per month in two installments. In 2013-214, around 432,000 girl students in 23 districts received the stipends excluding Torghar and Kohistan.
Officials said that second scheme was initiated specifically for Torghar and Kohistan which targeted girls enrolled in grades one to 10 in Torghar district and grades six to 10 in Kohistan.
Under the programme, Rs15,00 per month were given to primary school girls and Rs2,000 per month to girls in grades six to 10 as stipend, officials said.
"The reason for the increase in the amount of money for this specific programme in the two districts is the geographical disadvantage of the area, the neglect of the areas for decades and lack of proper educational facilities there," said an official.
A special initiative programme launched in 2013-2014 is third stream under which stipend is provided as a special incentive to girl students of primary schools in seven districts with a low net enrolment rate. These districts include Hangu, Peshawar, Battagram, Dir Upper, Swat, Shangla and Tank. "The purpose of this gender specific programme is to remove gender disparity in education in Khyber Pakhunkhwa," said the official.
http://www.dawn.com/news/1161230/stipend-motivates-girl-students-to-continue-education
------------
Muslim Woman in St. Louis Breaks Barriers at Work
03 Jan, 2015
ST. LOUIS — It's said to truly understand someone, you should walk a mile in their shoes. A Muslim woman in St. Louis believes you can best understand her world if you walked a mile in her Hijab.
Sidra Nasser, a start-up entrepreneur at tech hub T-Rex, is developing an app that allows women to digitally share their closets as well as buy Hijabs from women in developing countries. The women will receive a portion of the sales to help keep their businesses going.
"I'm the only one who wears a Hijab at T-Rex and everybody wonders (about it). We are normal people as well. It's not what's on my head, it's what's inside my head that matters," she said.
Nasser says she only recently started wearing the Hijab.
"Everybody was so shocked. (They said) is she extremist all of a sudden?"
Nasser says the Hijab is simply her way of getting closer to her roots. And to help educate those around her, she chose World Hijab Day on Feb. 1 to bring her headdresses to the fifth floor of her office, where she also taught classes on how to use the clothing.
"It was an opportunity to create a bridge between my culture and the people I'm around every day. I want it to be an inspiration for Muslims and non Muslims to show them you can break barriers. I'm the first female in my family to graduate from a U.S. institution," she said.
The women who came to Nasser's impromptu classes say they learned something her.
Watch the video above to see Nasser teach her colleagues how to wear a Hijab.
"It doesn't feel as foreign as I thought it would," said Keely Bailey.
"That's such a beautiful picture that she feels empowered by something other people look at as oppressive," said Katie Saunders.
Here at the USA TODAY network, not only do we want to provide you with the current events of the day, but also a little dose of inspiration while you're getting your news fix. Inspiration Nation is our way of providing you with that jolt of good news to bring a smile to your day.
http://www.usatoday.com/story/news/2015/02/02/inspiration-nation-muslim-woman-breaking-barriers/22766777/
-----------
Jeep puts Muslim woman in Super Bowl ad, world ends for some people
03 Jan, 2015
US carmaker Jeep managed to make a very small minority of the internet angry by daring to show a picture of a Muslim woman in its Super Bowl advert.
Set to the tune of traditional folk song This Land is Your Land, the ad features familiar American landscapes before moving across the world (it's all about globalisation see… and selling cars).
But the inclusion of a headscarf-wearing Muslim woman was apparently too much for some people.
Meanwhile, on YouTube, that bastion of rational thought, one user wrote: "Who is in the advertising department? Fire them. This is an American song. AMERICAN. Why showing other foreign countries? Not only that I think it's an insult to show Muslim women, rather anything muslim related."
Other people weren't best pleased, but for different reasons.
While some were just happy with a neutral portrayal of a Muslim person in a high profile advert.
http://i100.independent.co.uk/article/jeep-puts-muslim-woman-in-super-bowl-ad-world-ends-for-some-people--gyeLMpy0sg
----------
Sex Education Should Be Mandatory For Teen Girls Too: President NUTP
03 Jan, 2015
Teenage girls should also have access to sex education when it is introduced next year to males aged 16 and above, say leaders of educational and parenting associations.
Welcoming the move, these leaders said the implementation of the sex education module should be thoroughly studied so that it would be understood by the students.
National Union of the Teaching Profession (NUTP) president Hashim Adnan said like the boys, girls also needed to be given sex education so that both understood the matter.
"It takes two to tango, so in this matter, both parties, whether male or female, must be informed about sex education.
"We believe it should be taught properly... sex education in schools, rather than them learning from the internet, as is happening now," he said when contacted by Bernama today.
Hashim noted that sex education could be taught through several subjects, including Science, Islamic and Moral education.
Women, Family and Community Development Minister, Datuk Seri Rohani Abdul Karim had previously said that from next year, sex education would be imparted to teenagers aged 16 and above.
She was reported to have said that the module targeted male teenagers to help them understand reproductive and sexual health, and could curb social problems which affected the family structure.
Meanwhile, Parent Action Group for Education president, Datin Noor Azimah Abdul Rahim said schools should prepare for the best way to implement the module so that sex education could be taught in the most effective way to students.
"The teaching method must be thoroughly studied so that it is effective and could be a way to reduce social problems arising from informal education obtained from the information technology mediums.
http://www.themalaysianinsider.com/malaysia/article/sex-education-should-be-mandatory-for-teen-girls-too-bernama#sthash.ppcS5sbo.dpuf
-----------
URL: https://newageislam.com/islam-women-feminism/in-los-angeles,-muslim-women/d/101351