New Age Islam News Bureau
26 Feb 2014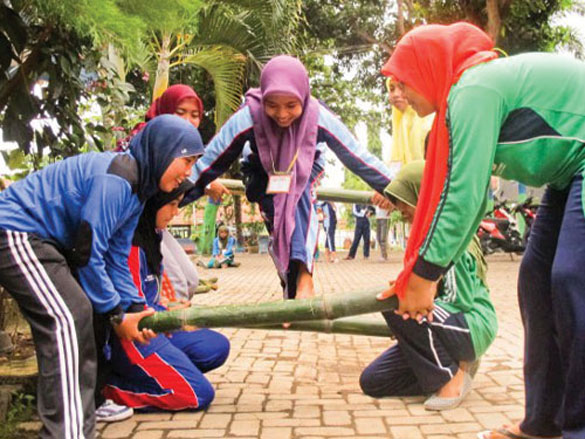 Iglow activities in Probolinggo, East Java (Photo courtesy of Katie Starr)
--------------
• After Tunisia, 'Sextremist' Femen Talk Ukraine
• Discipline Is 'Hair' To Stay: Saudi Girl Students Told To Change 'Wild' Style
• Afghan women face increasing sexual and physical abuse
• 2 Young Women Arrested For Picking Pockets in Abu Dhabi
• Arab Women's Groups Partner With UN on A Development Document
• Plotting For a Woman-Shaped Peace: Syrian And Bosnian Women Confer
• Opening New Doors for Young Women in East Java
• Pakistan Has Highest Rate of First Day Deaths, Stillbirths
• Dubai Ruler Leads Tributes to Pioneering Emirati Nurse Who Died At 80
• 50,000 Somali Kids at Risk of Malnutrition
• Blasphemy Conviction: Aasia Bibi's Appeal Yet to Be Heard
• Returned Bangladesh Housemaids Urge Govt for Compensation
Compiled by New Age Islam News Bureau
URL: https://www.newageislam.com/islam,-women-and-feminism/new-age-islam-news-bureau/in-jordan,-woman-found-married-to-four-in-rare-polyandry-case/d/45925
--------------
In Jordan, Woman Found Married to Four in Rare Polyandry Case
February 26, 2014
A rare polyandry case in the Middle Eastern kingdom of Jordan has sparked controversy when the four husbands take a dispute over the pregnancy of their shared wife to court.
The London-based Arabic daily al-Hayat reported this week that a court in Jordan's northern town of al-Ramtha is considering the case, which reportedly involves two Syrian men, a Jordanian and a Saudi Arabian.
Each man claimed to be the real impregnator of the wife, denying awareness that she was married to another man, according to al-Hayat. The court resorted to DNA tests to resolve the dispute.
Reaction
Many people expressed their shock that such an incident took place in a Muslim society. In many Muslim countries, polygamy is common practice but polyandry is legally and religiously prohibited.
"This is a strange story and the law does not protect dupes," a person commented on al-Hayat's report, referring to the four husbands.
Another slammed the marriage as "disguised prostitution." One commentator asked whether the court was "ruling with God's law or with Hollywood law."
http://english.alarabiya.net/en/variety/2014/02/24/In-Jordan-woman-found-married-to-four-in-rare-polyandry-case.html
--------------
After Tunisia, 'Sextremist' Femen Talk Ukraine
February 26, 2014
First, they grabbed the Arab world's attention when they protested topless in Tunisia.
Now, they've gone back to their roots and are tackling the Ukraine saga which has recently erupted into a bloody mess.
Femen, the Ukraine-based controversial women's right group protesting against sexual exploitation of women, dictatorship and religion, had first begun demonstrating against the now defunct Ukrainian President Viktor Yanukovich back in 2010.
In an interview with The Daily Beast on Monday, Femen leader Inna Shevchenko boasts that the group had warned of the recent wave of bloody unrest in Ukraine years ago.
"Now it's February 2014 and we're at a war in Ukraine--the war Femen warned about. We were [the] first fighters and then victims of the regime, being persecuted and forced to flee."
Shortly after their radical protests, the radical feminists fled Ukraine, claiming they were scared for their lives and well-being.
The group continued to protest fiercely – pumping their fists and shouting -- outside of their embassy in Paris to vocalize their contempt for Yanukovich, who critics say tried creating a "controlled democracy," by squashing opposition forces and limiting personal freedoms, among other corrupt tendencies.
In an interview with Al Arabiya News last month, Shevchenko said another focus of the group's protest would be opposing oppressive rulers, claiming they were a part of the patriarchal society the group is against.
"We want to attack the people who are guilty in our problems. For example, such person[s] as Putin, but in the Arab world, the dictators - the bosses of the country."
During one topless protest, FEMEN members dropped their pants in public and urinated on a picture of the leader.
The group later went on to stage the first ever topless protest in the Middle East, taking off their clothes again in defense of a Amin Sboui, a Tunisian member of Femen.
Sboui scandalized the country in March by posting topless photos of herself as a protest. She later attempted another protest May 19 in the religious center of Kairouan, where she was arrested.
Two French and a German member of the Ukrainian feminist group were arrested following the demonstration for her release.
Next stop: USA
After causing controversy in Europe and the Middle East, Shevchenko tells the Daily Beast the group's new frontier is the United States.
"American women expressed their support and impatience when fighting puritanism and conservatism using Femen tactics.We got the call, so we're giving an answer and helping commit Femen revolution in the United States," Shevchenko said.
"Once American women are trained and ready to act as Femen, every place of gender injustice, every representative of patriarchal culture, will be a target of Femen USA."
While Shevchenjo wouldn't reveal specific targets of the U.S.-based demonstrations, she did state that the group will focus on religious institutions.
"We will not leave religious institutions in peace, with their lobbying for anti-women policies. And Republican politicians will not walk the streets without worry [if they] lobby for anti-women laws. Femen is a special troop of reaction and punishment."
Hostility towards religion
In an interview with The Daily Beast, Shevchenko explained: "Religion is not a personal issue anymore, it has become political. Religion is oppression and we are going to fight it with whatever "instincts" necessary."
While FEMEN took down a 13-foot cross with a chainsaw in front of a church in Kiev, the group's feelings towards religion have not been limited to Christianity.
At 2012 Summer Olympics in London, the group staged a protest in opposition of "bloody Islamist regimes." The demonstration included women wearing clothes traditionally worn by Muslim men with signs that read "No Sharia."
FEMEN activists also burned the Salafist flag in front of the Great Mosque if Paris in 2013 in solidarity with fellow FEMEN members who were being detained in Tunisia after their nude demonstration there.
Shevchenko reported told The Guardian last year that she "strongly believes that one day religion has to be forbidden."
http://english.alarabiya.net/en/variety/2014/02/25/After-Tunisia-sextremists-Femen-lift-lid-on-Ukraine.html
--------------
Discipline Is 'Hair' To Stay: Saudi Girl Students Told To Change 'Wild' Style
February 26, 2014
Teachers and school supervisors here have been requiring female students with "wildly creative" hairstyles to cover their heads because they violate the Ministry of Education's dress code.
"School is not a runway for students to look their best or dye their hair whatever color they want. They should have a toned down look that reflects our society," said Sara Kabli, manager at a public school.
"It does not look good when students are wildly creative in their outlook and focus on their style because this will affect their image and make them shallow," she said. Punishing students by forcing them to cover their hair is the best way to solve this problem, said Kabli. "This falls under the rules of behavior and attendance outlined by the Ministry of Education, which states that students should not significantly change their appearance, and should look and dress alike," she said.
"We are not allowed to force them to change the way they look, we can only force them to cover their hair. We also inform their parents that this behavior is not allowed in our school and their daughters should follow the rules," she said.
Laila Al-Meterk, director of guidance at the ministry, said action should be taken against such students for violating the rules but this should not involve them covering their hair.
"Teachers should deal with this matter by giving students verbal instructions and warning them in an acceptable and wise manner," she said. "If a student repeats the violation, the school should notify her parents verbally and in writing, and start working with them to modify the behavior," she said. One parent, stay-at-home mother Najla Muwata, has slammed a supervisor at a private school for pouring oil on her daughter's hair.
"My daughter has silky hair and I took her to change it at a salon, where they applied a treatment to make it curly. She was instructed to keep the hair dry and not add any moisturizers or oil. I was shocked when she came home from school with her hair covered in cooking oil," said Muwata.
"My daughter said the supervisor took her to the kitchen and poured the oil on her hair over the sink. When I went to the school the following day, the supervisor said my daughter violated the rules by dramatically changing her hair," she said.
Muwata said teachers should not do such things without consulting parents. She said schools must provide information on their dress code when students enroll, and "not find creative ways to torture students."
"I could not reach a higher authority to report this, but we need to know what our rights are in such matters. We need to stop this type of abuse because my daughter lost her dignity and the money we paid at the salon," she said.
http://www.arabnews.com/news/530986
--------------
Afghan women face increasing sexual and physical abuse
February 26, 2014
Najla and Mariam finish each other's sentences and banter like sisters who have shared a lot together. But the 17 and 40-year-old women are not sisters, they are housemates in a women's shelter in Kabul.
They are from different ethnic groups and provinces in Afghanistan but what makes them understand each other's often sad stares and angry outbursts is that they are both victims of sexual and physical abuse in a country that offers little legal protection for women and girls and is seeing violence against women increasing.
"Tell them about how well you bead those small purses," Mariam tells Najla, who is young enough to be her daughter. "She's even learning how to cook." The women's names have been changed to protect their identities.
Najla smiles and stares down at her hands, "I'm not very good, I'm just learning" the 17-year-old whispers. The shelter is run by the Afghan Women Skills Development Center (AWSDC), an Afghan non-profit organization that operates two women's shelters in Afghanistan and educates Afghan communities on women's rights issues.
Najla is in the AWSDC shelter because in early 2012 she ran away from her mother's house, after enduring years of sexual abuse by her stepfather. She was 14 then and went to live with her father but she didn't stay long because she says her stepmother beat her and didn't want her around.
"One day I left my father and stepmother's home and was waiting on the street to try to find a way to get back to my mother's house, that's when two police officers forced me into their car and raped me," said Najila with a quivering voice. "Two other police officers then took me to the Ministry of Women's Affairs handed me to them because I was too young just to be left outside."
Increasing violence
Najla says that was one of the toughest moments of her life because she felt like she had nowhere to go, especially when she couldn't trust any of the people who were supposed to protect her.
"At that point my choices were to go to my mother's house and be raped by my stepfather, go to my father's house and be beaten by my stepmother or live on the street," she said.
But at the Ministry of Women's Affairs, the Afghan governmental department tasked to promote women's rights and advancement, Najla was told about the AWSDC's women's shelters.
"I had heard about the safe houses and was worried about what kind of place it would be, but I figured I didn't have any other choices," Najla said. "Now I am grateful that this shelter is here."
In January there were 31 women in the AWSDC's Kabul shelters and according to shelter administrators about 400 women stayed in the shelters in 2013, more than in any other year.
AWSDC's figures are in line with the increase in violence against women cases as reported by the Afghanistan Independent Human Rights Commission, a quasi-governmental body mandated to promote and protect the human rights of Afghans.
According to researchers at the AIHRC's Women's Rights Division from March to September 2013, the first six months of the Afghan calendar year, 1179 women reported being victims of violence. This is a 15 percent increase in the same period in 2012.
But Fatana Quarishi, from AIHRC's Women's Rights Division, says the number of cases of violence against women is much higher than what is being reported to them and other governmental agencies.
"Many women come to us (AIHRC) or call us just to be able to tell someone about the violence they are facing but they don't want to file an official complaint because doing so would put them in more danger or even get them killed by their husbands or other family members," said Quarishi, who has worked for more than nine years as a researcher for the AIHRC.
Quarishi says she is seeing an increase in reported cases of physical violence against women and economic violence, which she defines as a husband refusing to provide basic necessities like food and a home for his wife. Under Islamic and Afghan law this right is called nafaqah and although a man's failure to financial support his wife and children may result in a jail sentence for him, legal experts say prosecutions are rare.
More poverty, more violence
Quarishi and women's rights activists say that there is a correlation between increasing poverty and unemployment in Afghanistan and more violence against women.
"When men can't find work because there aren't many jobs out there for them, they come home frustrated and angry because it is out of their control and they take out their anger on their wives or children," said Khorshid Noori, AWSDC's Deputy Director.
Noori says poverty doesn't justify the violence but she sees the issue repeated in the cases of the women so many times that she can make the connection.
She says that when an Afghan women is kicked out of her house that is usually the beginning of a dangerous road for her.
Despite the establishment of Family Response Units in some police precincts, women's rights experts say that when women go directly to the police to complain about violence, they are often advised to go back home or in some cases are at risk of being sexually assaulted by male police personnel.
"If women contact us first, we will help them file a police report and provide them with legal services. We have direct contact with most police precincts," said Sajia Begham, AWSDC's program director.
She says women's shelters are a critical resource for abused women and she disagrees with the claims some political and religious leaders make about shelters being places where women are encouraged to runaway from their homes and engage in extramarital affairs or sex before marriage, which are prohibited under Afghan and Islamic law.
"The women that come to us are victims, they are in pain both physically and mentally. They need help and should not be blamed for the violence they have endured," said Begham.
Shelters must be 'priority'
Experts at the Afghan Women's Network and Women for Afghan Women, two leading women's rights organizations in Afghanistan, say support for women's shelters needs to be a priority for international aid agencies, especially as US and NATO forces draw down, foreign aid to Afghanistan lessens, and international attention on Afghan women's rights issues wane.
"We also worry about the Elimination of Violence Against Women law being repealed. Although it isn't being implemented as effectively as we would like, the law still gives women a legal case against many forms of violence," Sonia Aslami, the Afghan Women's Network Data Officer, told Al Jazeera.
Aslami says the EVAW law, which was enacted in 2009, has been useful for raising awareness about the many forms of violence against women but that more cases need to be prosecuted under the law for it to really have an effect on preventing violence.
"Women's rights is about giving women options and shelters offer women a safe place to go if it is too dangerous for them to stay in their homes," Shukria Khaliqi, program manager for Women for Afghan Women, a non governmental organization which operates ten women's shelters and offers legal services, told Al Jazeera.
Khaliqi says that if women don't have access to shelters, they sometimes have to return to their parent's home.
"Because of a lack of education, job training, and family limits on women working outside of the home, these women can't earn an income and are dependent on male family members for their survival," said Khaliqi.
40-year-old Mariam, who says her husband refuses to financially support her and beats her, has gone back and forth between her husband's home and her parent's home at least five times in the last six years.
She was married at 17 and has six children. Mariam says her parents are old and fragile.
"They don't have anything themselves so they can't help me either," Mariam who is working with the AWSDC's defense lawyers to get the family courts to grant her a divorce, told Al Jazeera.
Her youngest son is six years old and lives with her at the shelter. She says that her husband claims that their youngest son is not his and that she committed adultery, which according to a recent draft of the new Afghan penal code could result in her being stoned to death.
"He wouldn't allow me to go to the doctor so how could I leave the house to have any relationship with another man. It's just an excuse for him not to worry about paying for food and clothes for me and my youngest son," said Mariam. Her other children are teenagers and still live with her husband.
At the shelter Mariam and the other women are learning how to run a home-based business making fruit preserves. Shelter administrators say the money the women make from the business is put away in the safe for them and when the women leave the shelter they are given the money they have earned to help support them.
Some women stay a few weeks in the shelters and some longer than a year. Noori says all are offered psychological counseling, legal services, and opportunities to learn about Islam, their legal rights, and marriage.
"We have six women whose legal cases have been closed but they don't have anywhere to go, so they are in our long term shelter and are going to school," said Noori.
One of those women is Najla, who says she wants to finish school.
"I want to study law so I can defend women's rights like the women who work with us here [in the shelter]," said Najla.
http://www.aljazeera.com/humanrights/2014/02/afghan-women-face-increasing-abuse-20142269545418772.html
------------
2 Young Women Arrested For Picking Pockets in Abu Dhabi
February 26, 2014
ABU DHABI: The Abu Dhabi Police have arrested two Arab girls for pick-pocketing. They reportedly stole 14 handbags, a wallet, and precious women's accessories from 11 big shops in the capital worth thousands of dirhams. The light-fingered girls used to choose a point of time when the salespersons were busy with other clients, and in a blink they would pick the item, police said.
"During the past period, tip-offs indicating robberies at shops in Abu Dhabi were received repeatedly," Brigadier Maktoum Al Shrefi, director of the Metropolitan Police at the Abu Dhabi headquarters, told the Gulf Today. Consequently, an investigation team was assigned within the area of jurisdiction of the police station to identify the thieves.
Through the investigation, information was relayed from undercover agents to a security team about two Arab young women known as HA, 25, and SJ, 24, who could be behind the thefts.
In the light of this information, they were put under close watch, which led to a verification of these facts.
Accordingly, they were arrested and referred to the Public Prosecution.
Upon questioning them, they confessed to the charges, noting that they used to wear baggy cloaks to be able to hide the stolen items within them.
http://gulftoday.ae/portal/7662ff84-f2cc-4cdb-a226-355cae290d67.aspx
-------------
Arab women's groups partner with UN on a development document
February 26, 2014
A document recently drafted by women's rights groups, regional governments and the UN aims to deliver sustainable development and gender empowerment, according to UN Women Deputy Executive Director Lakshmi Puri during a trip to Cairo.
The Arab League hosted a series of meetings for civil society groups and stakeholders with the UN Women agency to work out gender-related recommendations for "The Post-2015 Development Agenda," a UN-mandated goal to lay down a global development framework for 2015 to 2030.
Arab countries rank among the lowest in women's participation in parliament at 12 percent. Women in the workforce also rank low with 23 percent participation.
"In terms of participation of women and their agency in Arab Spring movement, one can say that it was a woman's Arab Spring…Yet, when it came to the establishment of new order, in many cases we did not see women getting their rightful place, whether politically, economically, or socially," Puri said in press interviews with several media outlets including Ahram Online.
"In that sense, the spring in the eyes of many has turned to winter," she said.
The final declaration will be presented in the fifty-eighth UN session of the Commission on the Status of Women, slated for March, following regional and subregional consultations.
Puri viewed the Arab League's talks as a "historical moment," aimed at bringing forward gender equality from a previous framework that did not take into account many challenges facing women, especially those in the Arab world.
Puri said that gender equality and women's empowerment, child mortality, and maternal health had to be modified from a precursor framework of the UN's Millennium Development Goals (MDGs), which the new framework ultimately is meant to replace.
The MGDs were published in 2000 and placed eight goals or guidelines for measuring sustainable development including poverty alleviation, education, gender equality and empowerment of women, child and maternal health, reducing HIV/AIDS and communicable diseases, and others, according to the UN women website.
The MDGs left out cultural and religious sensitivities, according to Puri, who was born and educated in India and does not view them in contradiction to women's rights.
"The Arab world has and can take a leadership role in using tradition and culture for positive purposes," Puri said. "We hope Arab states will live up to that rich interpretation."
Other issues such as sexual violence against women and their economic and social development were also inserted into the new framework.
Sameera Al-Tuwaijiri, who heads UN Women's regional office, which also organised the meetings, said that the agency is dedicated to the support of civil society. It has started two funds that are completely run by women rights groups in Egypt.
She said, however, that the question of implementation remains a "national and subnational issue" that needed to be addressed.
Al-Tuwaijiri also referred to inter-country disparities on the status of women that must be addressed before the enforcement of the framework takes place.
Constitutional reforms in Morocco have allowed for the formation of a broad coalition of women rights groups and organisations known as Feminist Spring for Democracy and Equality Coalition. In Libya a decree outlining compensation for rape victims during the 2011 uprising was sent to parliament. Other countries have yet to adopt similar measures.
A debate occurred during the meetings on how local women's right groups should be administered and whether they should fall under governmental or independent jurisdiction. Puri said that she preferred a national gender machinery that operates closely with the president or parliament, making partnerships with civil society secondary.
"You need that political impulse at the highest level. Gender equality is ultimately a national project," she said.
http://english.ahram.org.eg/NewsContent/2/8/95096/World/Region/Arab-womens-groups-partner-with-UN-on-a-developmen.aspx
--------------
Plotting for a woman-shaped peace: Syrian and Bosnian women confer
February 26, 2014
Bosnian women live with the malign consequences of a peace agreement engineered by internationals between male war leaders. Syrian peace negotiations are heading the same way. Recently Syrian women met with Bosnian counterparts to strategize for a peace that delivers on the interests of women and civil society.
The war now raging in Syria differs in many ways from the frenzy of ethnic aggression that afflicted Bosnia-Herzegovina twenty years ago. Nonetheless, when twenty Syrian women sat down in Sarajevo on February 10 for a five-day exchange of experience with Bosnian counterparts they found plenty of common ground. Both groups described hyper-masculinized societies featuring the sexual abuse of women as men's weapon of choice for humiliating enemy males. And Bosnian women recognized themselves in Syrian women's stories of misogynistic religious conservatism encroaching on their secular and civil space. Even in areas where you are safe from bullets or barrel bombs, 'It's ever harder to go out of doors without head cover and a man,' said one young Syrian participant.
This conference in Sarajevo, organized by the Women's International League for Peace and Freedom (WILPF) brought Syrian women directly from the conflict, and yet others from refugee camps in Turkey, Lebanon and Jordan. The meeting coincided with UN-mediated peace negotiations being conducted in Switzerland, at which Syrian women's organizations, despite support by UN Women, WILPF and other international NGOs, had so far failed to get representation. The purpose of the Sarajevo conference was for Syrian women to strategize in the light of Bosnian women's experience of exclusion from the Dayton peace negotiations of 1995, and the consequent marginalization of women's interests in the post-conflict decades.
Bosnian women recalled how the war had galvanized them in projects of self-help and mutual help. Memories of unity in Yugoslav days had enabled some of them to reach out across the ethnic conflict lines and support each other in work for women refugees and survivors of war rape. But the negotiation of a peace agreement, when the moment came, had taken place five thousand miles away at an airbase in Dayton, Ohio. The negotiators, dragged to the table by international actors, were the male war leaders, their sole motivation to retain territory and maximize power. Women and civil society had no presence and no voice in that process. What's worse, the Dayton peace accord simultaneously created a state and a constitution. It drew territorial lines between the now deeply antagonized Serb, Croat and Bosniak (Muslim) identity groups in such a way that each became a dominating majority in one part and disadvantaged minority in the others. What's more, the constitution set up a clumsy fourteen-level political and administrative system, further subdividing the population, impeding public services and inviting corruption.
'You see,' Gorana Mlinarevic told the meeting, 'the Dayton Peace Agreement taught us precisely how not to live together'. The lesson for the Syrians was: get your act together now, with all the international support you can muster, to achieve a voice in the peace negotiations. And on no account allow the negotiators to double as constitution-builders. The constitution must be hammered out later, back home, in an inclusive, democratic process.
The Syrian women reflected on the Bosnian experience in separate daily strategy meetings. They also discussed what they could learn from Bosnian women's struggle for 'transitional justice' after the war. They learned how, post-war, the Bosnian women had pressured the government for legislation giving women survivors of rape in the war the right to acknowledgment and reparation. They were deeply touched by the testimony of Nura Begovic and Hatidža Mehmedovic, two elderly members of the Srebrenica Women's Association who are still pursuing the perpetrators of the massacre of ten thousand men in that Bosnian enclave in July 1995. Many of the Syrian women told how they are trying right now to document human rights abuses occurring in the course of the fighting, to get autopsies done, medical evidence of injuries recorded and deaths certified, with a view to taking war criminals to court when the fighting ends.
The solidarity that grew between the Bosnian and Syrian women during these intense five days was heart-warming to see. Bonding was fostered by the organizers' understanding that emotions matter as much as thoughts: participants could take a break at any moment to enjoy "wellbeing" sessions run by feminist therapists. Another gift was skilled and sensitive three-way language interpretation between Arabic, Bosnian and English.
However, it early became apparent that, despite sharing a language, the Syrian women were seriously challenged to reconcile their political differences. Attendance at the conference had been by open application. The women who came were of different ages, differently feminist, and active in women's organizations with a range of views as regards a solution of the conflict. Some, like those of the Syrian Women's League, and its partner organizations in the Coalition of Syrian Women for Democracy, including Msawat (Equality), were already deeply committed to gaining access to the Geneva peace negotiations. Others saw a certain elitism in such venerable women's NGOs, and perhaps wondered whether long survival under the Assad regime had compromised them. Some, particularly younger participants, were involved with groups that had sprung up during the war, such as Refugees Not Slaves (Lajiaat La Sabaya), prioritizing the urgent needs of displaced and refugee families. Najlaa Alsheek, for instance, told me her own appalling story - how the regime detained her husband and her father, how she fled a bombed house with an injured child, how she escaped across the border to Turkey. Now she was running a project from her small temporary home to empower a group of refugee women through making and selling handicraft products. At one moment in the conference, a women involved in the Geneva initiative called out to Najlaa, "Leave the knitting! Come with us to the peace talks!" She was unshaken by this scornful evaluation of her daily work for refugee women. No, she said, I stick with the knitting.
Some of the Syrian participants were living in 'liberated' areas, and had close relations with the armed opposition forces. Some of these were suspicious of the word 'reconciliation' and hungered for victory as much as peace. Others were part of the Syrian NonViolent Movement (Alharak, or 'Uprising'), who disagree with an armed response to Assad. How were these women to find common ground, meeting each other here in a foreign city? One said, "In Syria we so like to attack each other. We need to start respecting each other, even if we disagree. Personally I need to work on that. I have seen it modelled here among the Bosnian women." Nawal Yazeji, a leader of the Syrian Women's League, candidly admitted in the concluding session, "This has tested my ability to learn from the younger generation. But if I am open to them, I myself am young." Najlaa too, notwithstanding the knitting jibe, told me that in these five days she had come to understand the importance of the work some women were doing to influence peace negotiations. These new relationships had changed her, she said.
The Syrian women, in telling their story to Bosnian counterparts, constantly referred back to women's presence in the 'revolution' of 2011, their moment in the Arab 'Spring' before nonviolent uprising was brutally crushed by the regime and turned into civil war. What gave added meaning to our conference was that, during the week before we arrived, and even as we spoke, Bosnians were out on the streets in their own 'strike for dignity' - as the Syrians put it. Protests were happening in Sarajevo, Zenica, Tuzla, Mostar and other towns. Buildings had been burned. Already four cantonal authorities had resigned in response. Several Bosnian women, among us all day, were out in town at night doubling as protesters. They ferried news back to us from a thousand-strong plenary, at which a third of the speakers had been women. They confirmed our sense that these were the first stirrings of a unified popular rejection of the divisive and corrupt nationalist authorities installed by Dayton. We learned that protesters were demanding the governments' resignation; drastic cuts to the inflated salaries and perks of political leaders and officials; diversion of mis-spent money into public social spending; and a reversal of the privatization of industry.
The Bosnian women felt this rebellion clinched their argument. The Bosnian political system was a stitch-up between rival nationalisms - militaristic, patriarchal and corrupt - reducing ordinary people, and especially women, to penury and impotence. Learn the lesson, they warned their Syrian friends. If civil society doesn't get a say in shaping post-war Syria, before long you too will need another revolution.
http://www.opendemocracy.net/5050/cynthia-cockburn/plotting-for-woman-shaped-peace-syrian-and-bosnian-women-confer
--------------
Opening New Doors for Young Women in East Java
February 26, 2014
Sometimes, it's easy to forget that what we see as common sense, might be far from obvious to others. This is never more true than when we're talking about complex topics like gender roles and women's health.
The current reality in various parts of Indonesia is that women's rights tend to be ignored, if not obscured by traditions passed down from generation to generation. These traditions can bring consequences such as girls dropping out of school because they're married off during their teenage years.
Negative cycles can be broken however, by guiding young women in understanding the importance of education and self-esteem.
To encourage women's empowerment and global equity, a group of United States Peace Corps volunteers founded Indonesian Girls Leading Our World (Iglow). The initiative invites young women to participate in leadership training, and learn about issues including women's health and goal-setting.
Iglow took place for the first time in 2012 in Mojoagung, East Java, and has since been held in cities around that
province, where the Peace Corps has been operating first since sending volunteers to Indonesia. The most recent training was held in Probolinggo, East Java.
One of the organizers of the most recent Iglow event is 25-year-old Katie Starr, a volunteer teacher at the Pajarakan State Islamic High School in Probolinggo, which has hosted the 2014 program.
"Iglow Probolinggo invited nine schools in the area," Starr said. "From local vocational schools, to high schools and madrasah [Islamic boarding schools], the 63 girls participating were hosted by the school where I'm teaching, for a four-day, three-night camp. All participants are volunteers, including our committee, counselors, and session facilitators.
"Iglow Probolinggo marks the first Iglow where non-Peace Corps Volunteer schools were invited to join and it was also the first camp to be fully sponsored by a local business."
The ultimate goal of the program, Starr explained, is that the young women, after their participation, share what they've learned with the people around them. "We prompt all of our campers and counselors to brainstorm how they will share their experiences with their communities after they return home from the camp," Starr said.
"After campers learn about many new topics like gender roles, reproductive health and nutrition, we hope that they will share this new knowledge. Most of our girls come from low-income families and Iglow is truly a great experience for them."
Elle Chang, a Peace Corps volunteer who served in Indonesia from 2011 to 2013 and one of the organizers of Iglow in Mojokerto in 2013, explained that last year's Iglow participants were full of enthusiasm.
"The immediate changes that I saw were increased enthusiasm, confidence and wanting to spread the word to their friends about the camp since it was very selective," said Chang, who was teaching in Dawarblandong, 15 kilometers from Mojokerto. "I know that their mindsets were challenged that week but by the end of the camp, and especially during a session on goal-setting, the girls had realized they do possess the same potential as their male counterparts."
For this year's event, the organizers have planned a vast range of activities, from playing getting-to-know-you team-building games, to interactive lessons such as one on gender roles.
When it comes to the topic of reproductive health, Starr said, participants seem very interested.
"They learn medical facts about their bodies that they would never be educated about otherwise," she said.
"Even simple things like a woman's menstruation cycle and sexual organs are new knowledge to our camp participants. We have invited Yogyakarta-based nonprofit organization Samsara to facilitate these sessions and it has been a pleasure working with them in bringing this knowledge to our girls".
Tutik Qomariah, an 11th-grader from Pajarakan, said she is impressed by the lessons she has received during Iglow, particularly the one on reproductive health.
"I live in an environment where talking about these kind of topics is considered taboo," Tutik said. "But it's important for us to know about sexual education and health. Now, when I talk to my friends I share with them what I've learned.
"My other favorite lessons were the ones related to self-esteem. It helped me to become more confident to face the future. My father is a farmer and my mother is a seamstress, but I want to aim high and improve the conditions of my family. I want to go to university and become a math teacher," Tutik said.
Meanwhile, Peace Corps volunteer Natasha Wright who participated in the Mojokerto Iglow has an inspiring story about a participant. "After Iglow, a student of mine invited me to visit her home, a bit outside Bungah [Gresik district, East Java]," Wright said.
"I met her mother who supports the whole family by making jamu [traditional medicine] because her father cannot work. Her elder sisters are all married and had children before completing high school. She said she didn't want to get married too early because she wanted to go to university and become a career woman as well as a mother. I talked to her mother about her dreams. Now my student is in class 12 and applying to university. She inspires me."
The success of project has led to efforts to replicate it in other locations in East Java. "Currently there are around 25 Peace Corps volunteers in East Java who are working on Iglow initiatives in their respective communities," Starr said.
http://www.thejakartaglobe.com/features/opening-new-doors-for-young-women-in-east-java/
--------------
Pakistan has highest rate of first day deaths, stillbirths
February 26, 2014
LONDON: A million newborn babies a year die within 24 hours, with Pakistan having the highest rate of first day deaths and stillbirths, charity Save the Children said in a report out Tuesday which urged governments to tackle preventable deaths.
The rate of deaths in Pakistan stands at 40.7 per 1,000 births, followed by Nigeria (32.7), Sierra Leone (30.8), Somalia (29.7), Guinea-Bissau (29.4) and Afghanistan (29.0).
In Pakistan, fewer than half of women had a skilled health worker present at birth. Attempts to improve this have been dogged by 'delays in the salary disbursements, stock-outs of medicines, unavailable and dysfunctional equipment, and an unhelpful referral system', the report said.
The report by the British-based organisation said 6.6 million children around the world died in 2012 before their fifth birthday, mostly from preventable causes.
The number has almost halved from the 12.6 million in 1990, but there remains a 'deplorable problem of lack of attention to babies in their first days of life', the aid organisation said.
In its report, entitled "Ending Newborn Deaths", it said one million babies did not survive their first 24 hours of life in 2012.
It said two million babies could be saved each year if preventable newborn mortality was ended. "Child mortality remains one of the great shames of our modern world. Every day, 18,000 children under five die, and most from preventable causes," the report said.
"Unless we urgently start to tackle deaths among newborn babies, there is a real danger that progress in reducing child deaths could stall and we will fail in our ambition to be the generation that can end all preventable child deaths."
It said the reduction since 1990 had been achieved through immunisation, family planning, better nutrition and treatment of childhood illnesses, as well as improving economies. India had the highest number of first day deaths and stillbirths at 598,038 per year - a quarter of the 2.2 million lives lost.
The under-five mortality rate in India has been more than halved since 1990, from 126 per 1,000 live births to 56.1.
"(Indian) states with strong health systems and implementation mechanisms have done exceedingly well compared with others," the report said.
Save the Children, which operates in more than 120 countries, called on world leaders, philanthropists and the private sector to commit to ending preventable newborn deaths.
They said they would present their action plan to government ministers. They want governments to issue declarations on ending preventable newborn mortality.
Save the Children wants them to ensure that by 2025, every birth is attended by trained and equipped health workers, and user fees for maternal and newborn health services are removed.
They demanded a commitment to spending at least $60 per capita on training maternity workers.
The also urged pharmaceutical companies to increase the availability of products for the poorest new mothers. "In many cases, small but crucial interventions can save lives in danger. Skilled care during labour could reduce the number of stillbirths during labour by 45 percent and prevent 43 percent of newborn deaths," the report said.
http://www.dailytimes.com.pk/national/26-Feb-2014/pakistan-has-highest-rate-of-first-day-deaths-stillbirths
--------------
Dubai Ruler leads tributes to pioneering Emirati nurse who died at 80
February 26, 2014
DUBAI // She was the first Emirati woman to take up a career in nursing more than 50 years ago, overcoming gender stereotypes to inspire a new generation of local female medical practitioners.
But on Monday morning, Salma Al Sharhan, 80, died at Obaidallah Geriatric Hospital, in Ras Al Khaimah.
Sheikh Mohammed bin Rashid, Vice President and Ruler of Dubai, was among the first public figures to honour Ms Al Sharhan, who has been likened to Florence Nightingale for her contributions to nursing.
"Salma worked tirelessly since the 1950s to bring health care to communities in remote and mountain areas," Sheikh Mohammed said on Twitter.
"Salma's story is one of a great Emirati woman who dedicated her life to serving people. May Allah have mercy upon her."
Ms Al Sharhan was born the daughter of a pearl diver, and moved to Bahrain at an early age. She went to sea with her father and two younger brothers as a teenager, trading clothing between Bahrain and Ras Al Khaimah.
She worked as a cleaner at a pharmacy in RAK in the 1950s, before becoming an apprentice to a British nurse, Ruth Ash (nee Willis).
Ms Ash taught the basics of nursing and midwifery to Ms Al Sharhan, who in turn accompanied Ms Ash to remote mountain villages in RAK to act as a translator and assistant.
She travelled on a donkey, donated by the Government, accompanied by an elderly man with a rifle.
She overcome many challenges arising from a lack of health care equipment. She once made an incubator out of a cardboard box for a premature baby whose mother died during childbirth. Ms Al Sharhan nursed the child with dates, and the man still visited her on occasion.
"Back then things were so simple and scarce," said Fatima Al Rifai, director of nursing at the Ministry of Health.
"Her challenges were enormous. By entering nursing at that time and overcoming those challenges, she has become an inspiration for young Emirati women to enter the nursing profession.
"We look at her as a mother of nursing in this country. She is a very important figure in the history of this country."
She has won several government awards over the years and last week it was announced that a laboratory at the Fatima College of Health Sciences in Abu Dhabi would be named after her.
Although she delivered scores of babies, Ms Al Sharhan never had children of her own. She married a man from Bahrain, but divorced after he demanded that she quit her work as a nurse.
Yasser Al Nuaimi, director of Ras Al Khaimah Medical District, said Ms Al Sharhan was a pioneer for her time.
"She had the courage and bravery to take the career as a nurse," he said. "She was the first to break a rule, which many local ladies were avoiding.
"We look at her as a model for our national nurses. For us, she's like a Florence Nightingale.
"She was a leader. She encouraged the national girls to also have the same courage. Because of her, I see in Ras Al Khaimah nowadays we have the highest number of local nurses in the country.
"It's not only because there is a nursing institute in Ras Al Khaimah, but because Salma was a role model for them."
Mr Al Nuaimi said Ms Al Sharhan had been suffering from age-related illnesses, such as dementia, for some time and had been treated in her home.
However, medical staff did the best they could to repay her for her contribution to health care in the emirate.
"Whenever she got admitted to any hospitals in Ras Al Khaimah, she was treated as a VIP," he said.
"We were grateful for her and all doctors and nurses, everybody, showed very deep respect to her. This was the least we could do to repay her for all she had done for the emirate and the country."
mcroucher@thenational.ae
http://www.thenational.ae/uae/dubai-ruler-leads-tributes-to-pioneering-emirati-nurse-who-died-at-80#ixzz2uT0B85yo
--------------
50,000 Somali kids at risk of malnutrition
February 26, 2014
Mogadishu: Somalia's president is urging donors to fulfil aid pledges made to his fledgling government, while the UN is appealing for aid money, saying that 50,000 children are at risk of death from malnutrition.
Philippe Lazzarini, the UN's top aid official in Somalia, said Tuesday that Somalia's hunger situation does not compare to the devastating 2011 famine, but that it's similar to just before a famine. The UN is asking for $933 million for its 2014 Somalia aid operations.
He said international donors, squeezed by the continuing crisis in Syria and new emergencies in South Sudan and Central African Republic, have given less money to Somalia. Donors have continuing concerns about the theft and corruption of aid money in a country with little effective government.
http://gulfnews.com/news/region/somalia/50-000-somali-kids-at-risk-of-malnutrition-1.1295787
--------------
Blasphemy conviction: Aasia Bibi's appeal yet to be heard
February 26, 2014
LAHORE: An appeal against her blasphemy conviction by Aasia Bibi was fixed for hearing on February 14, three years after it was filed, but not taken up by the court, The Express Tribune learnt on Monday.
Bibi's criminal appeal number 2509/10 'Mst Aasia Bibi vs The State' and murder reference 614/10 'State Vs Mst Aasia Bibi w/o Ashiq' was fixed for hearing before the Lahore High Court division bench.
The court administration had informed her counsel. Ashiq Masih, Bibi's husband, said "It was a ray of hope for me and my children…the court might reconsider the facts of the case and release her".
The counsel were later informed that the hearing had been cancelled.
Her counsel, Muhammad Yasin of the Free Legal Aid and Settlement (FLAS), told The Express Tribune that on February 14 the LHC administration had informed him through an SMS that the hearing had been "cancelled by order".
He said the matter was very sensitive and the LHC was fully aware of this.
He said the original case file was not kept with other files but in an officer's cabinet. He said a photocopy of the appeal had been placed in the regular record room for reference.
He said the cause list was cancelled because one of the judges on the division bench had gone on leave that day. He said he could not predict the next date of hearing.
Bibi, 45, has been in jail since June 19, 2009 after her neighbours in a village near Nankana Sahib accused her of making derogatory remarks about Prophet Muhammad (peace be upon him). An additional district and sessions judge convicted and sentenced her to death in November 2010. The confirmation of the decision by the LHC has been pending. The case attracted more attention when Governor Salmaan Taseer visited Bibi in jail and denounced her conviction as well as the blasphemy law. A few months later, Taseer was murdered by his official bodyguard.
Advocate Anis AA Saadi, the FLAS chairman, told The Express Tribune that Bibi faced threats from fellow inmates and her jailers at Sheikhupura Jail. He said she had been badly beaten by a member of jail staff in October 2011.
He said her appeal should be heard immediately to ensure her safety. He said he hoped the high court would acquit her.
He said Bibi's conviction for blasphemy was inconsistent with the evidence presented in her case.
If not acquit her, he said the court would likely reduce her sentence. He said her allegedly blasphemous utterances had come in a quarrel with some Muslim neighbours, who had refused to drink water from the same glass as her because she was Christian.
He said the trial's record showed that there were several loopholes in the prosecution's case, including her extrajudicial confession, inconsistencies in the testimony of prosecution witnesses, and procedural errors on the part of the police.
http://tribune.com.pk/story/676142/blasphemy-conviction-aasia-bibis-appeal-yet-to-be-heard/
--------------
Returned Bangladesh Housemaids Urge Govt for Compensation
February 26, 2014
Some 15 female migrants who were compelled to return home after losing jobs in Hong Kong urged the government to compensate them.
They made the urge at a press conference held in the Dhaka Reports Unity in the capital on Tuesday morning.
In the briefing, they also brought allegations of mistreatment against their employers.
They claimed they were provided with insufficient food, had to put up with excessive pressure of work and were frequently terminated from jobs.
Out of 30 returnees, 15 - including Beauti Aktar, Sohela Shamsunnar, Rupali Aktar and Sultana Parvin -were present at the press briefing.
"We demand compensation from the government that we took from the Prabashi Kallayan Bank," Beauty Akter, one of the returnees, said.
According to BMET officials, around 300 female workers have gone to Hong Kong so far.
The recent cases of abuse of domestic helpers caused a public outcry in the city, prompting Hong Kong's Labour Department to take preventive measures.
http://www.dhakatribune.com/bangladesh/2014/feb/25/returned-housemaids-urge-govt-compensation#sthash.zQk9vEcc.dpuf
--------------
URL: https://www.newageislam.com/islam,-women-and-feminism/new-age-islam-news-bureau/in-jordan,-woman-found-married-to-four-in-rare-polyandry-case/d/45925