New Age Islam News Bureau
14 Sept 2014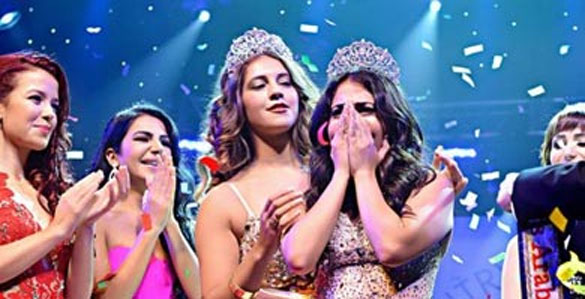 Photo: Lebanese beauty grabs Miss Arab USA title
----------
• France: 60 Women among Residents Involved 'In Jihad'
• Colorado Woman Pleads Guilty to Conspiracy to Support ISIS
• Jewish Woman and Satan Give Birth to ISIS on Iraqi TV
• Afghanistan Orders Strict Action Againt Sexual Abuse of Children
• Islamic State Attracts Female Jihadis from US Heartland
• Gaza Children Return To School after War
• Lebanese Beauty Grabs Miss Arab USA Title
• U.S. Woman Named Isis Upset by ISIS Acronym
• Bangladesh: Draft of Child Marriage Restraint Act to be placed before cabinet on Monday
Compiled by New Age Islam News Bureau
URL: https://newageislam.com/islam-women-feminism/in-jordan,-younger-syrian-brides/d/99062
-----------
In Jordan, Ever Younger Syrian Brides
World | Rana F. Sweis, The New York Times
September 14, 2014
MAFRAQ: The bride-to-be was so young and shy, she spent her engagement party cloaked in a hooded robe that swallowed her slim figure but could not quite hide the ruffled pink dress her fiance's family had rented for her.
As the Syrian women celebrating her coming wedding to an 18-year-old cousin chattered around her in the Zaatari refugee camp, she squirreled herself in a corner, perking up only when a photo or message from a friend popped up on her cellphone. The girl, Rahaf Yousef, is 13.
Speaking wistfully of her days at school, she declared herself throughout the day to be "indifferent" to the marriage she says will keep her from finishing her education. But no one seemed to be listening.
For many Syrians stuck in Jordan's squalid and sometimes dangerous refugee camps, marrying girls off at younger and younger ages is increasingly being seen as a necessity - a way of easing the financial burden on families with little or no income and allaying fears of rape and sexual harassment in makeshift living spaces where it is harder to enforce the rule of law. As a result, UNICEF says, the number of marriages involving girls younger than 18 has ballooned since the war in Syria started.
"The parents feel a man can protect" their daughters, said Ola Tebawi, an official at Jordan Health Aid Society, a non-profit that provides primary health care for refugees with United Nations support. "These families feel marriage would be the best option for a girl growing up as a refugee."
But the trend - even among displaced Syrians who live outside the camps - is increasingly worrying international aid groups and women's advocates who say that the Syrians are simply trading immediate dangers for longer-term ones. They tick off a laundry list of threats for women worldwide that accompany marrying before they are 18.
High on the list, they say, are increased risks of being the victims of domestic violence and an abrupt end to the young women's education. The aid workers also worry about pregnancies among girls whose age makes them more vulnerable to certain life-threatening complications like eclampsia, which is characterized by seizures.
During the first six months of this year, 32 percent of all registered marriages of Syrian refugees in Jordan involved a girl under the age of 18, according to the Jordanian government. That percentage was up from 25 percent during all of 2013 and, according to UNICEF, more than twice as high as the 13 percent of marriages in Syria just before the war that included girls younger than 18.
A majority of the Syrian girls marry into Jordanian families, UNICEF reported, ensuring themselves a place in Jordan outside the refugee camps, and a new home country for the long term.
Although the marriage of girls as young as 13 is not unheard-of in parts of the Middle East, including in rural Syria, that practice has not been common in areas of Syria or Jordan with higher levels of education. Jordanian law allows marriages for girls and boys 15 to 18 years old, but it requires that a chief justice of a Shariah, or Islamic, court determine that all sides agree to the match.
In an attempt to ensure the same level of scrutiny for Syrian marriages, the Jordanian government - which has struggled to accommodate more than 600,000 of the more than 3 million Syrians who have fled their country - has opened a Shariah court in the Zaatari camp. But the minister of social development, Reem Abu Hassan, said that it was difficult for judges to say no to early marriages given the circumstances - and difficult to ensure even that all the marriages were registered.
"We have to be practical and see the challenges the Syrians are facing," she said.
Human rights advocates say many of the women have arrived in Jordan terrified of rape because, as the U.N. has reported, sexual violence had become a "persistent feature of the Syrian war." And they struggled to adjust to living circumstances in Jordan that were different from peacetime Syria, where men often did the shopping and other chores outside the home to avoid having their women exposed to the public.
Even in urban areas outside the crowded camps, many women who are widowed or without their husbands, who stayed in Syria to fight, report being sexually harassed or living in fear that men will prey on them.
Outour al Khasara, 45, a refugee who lives on a farm near the Zaatari camp, said she saw firsthand that counting on marriage as protection against such threats might be illusory.
She married off her 15-year-old daughter, Jazia al Barhoum, last year to a distant cousin to protect her from "the uncertainty that continues to plague our future."
Twenty days into the marriage, Jazia said, her husband began to beat her. Jazia quickly left him, but returned at the request of her husband's family members. "He promised my family he would treat me well," she said, "but he didn't change." Eventually her father decided the marriage should end, and he went to bring her home.
Sitting on plastic buckets covered with threadbare pillows one recent day, Jazia's parents expressed regret about their decision to have their daughter marry so young.
Her father, Abu Muhsen al Barhoum, said unemployment, idleness and fear is pushing Syrian refugees to marry too quickly and that he had lost count of the people he knew who had recently married and separated.
Jazia declares herself much happier to be home working in the fields. "You should live your life and then get married," she said. "I guess this is the lesson my family learned."
Another teenager, Yasmeen Ritaj, 16, described a similar experience, of initially being wooed, but then being beaten by her new husband. "I imagined it would be paradise," she said, "but the first time he beat me, I knew there was no future and that this was hell." A month after the wedding, she became pregnant and then returned to her family after just eight months of marriage, before her daughter was born.
Aid agencies and organizations are alarmed enough by the increase in early marriages that they have been conducting awareness campaigns.
"You'll be surprised at the lack of knowledge among the community about the devastating health consequences of early marriage," said Fasel Shammout, a psychologist who has done training for the refugees. "By the time they reach us, they are in a dire state - legally, mentally, physically."
Even among those who end up in loving marriages, the risks can be severe. Hana Mohammad, 16, was married in Syria during the war to a young man who professed his love, but whom she would have married later had the fighting not given her few good choices. Her parents, who remained in Syria, thought she would be safer living with his family, which was planning to leave the country, than staying in Dara'a, where so many missiles fell on the wedding day the families held no party.
By the time the husband's family left Syria, she was eight months pregnant. Soon after they arrived at the Zaatari camp, she collapsed. "She turned blue, she became stiff as stone, she was having seizures and there was blood coming out of her mouth," said her husband, Mohammad Ghazawi, 26, who said he had known he wanted to marry her since catching glimpses of her in their hometown.
It is unclear whether the arduous 12-day journey through the desert caused her collapse and the coma that followed, but teenage mothers are considered at risk for the condition she eventually learned she had: eclampsia.
In the end, doctors were able to deliver her baby, a girl, safely, but Hana continues to have seizures.
Although she is still a believer in early marriages, her anxious husband and her mother-in-law have begun warning other girls to wait until they are past 18.
"I almost lost my wife," Ghazawi said. "She paid the price for being pregnant too early in her life."
© 2014, The New York Times News Service
http://www.ndtv.com/article/world/in-jordan-ever-younger-syrian-brides-591412
-----------
France: 60 women among residents involved 'in jihad'
14 September 2014
Around 930 French citizens or residents, including at least 60 women, are either actively engaged in jihad in Iraq and Syria or are planning to go there, the interior minister said Sunday.
In an interview with Le Journal de Dimanche weekly, Bernard Cazeneuve said: "930 French citizens or foreigners usually resident in France are today involved in jihad in Iraq and Syria."
According to the minister, "350 are on the ground, including 60 women. Around 180 have left from Syria and 170 are en route for the zone."
In addition, some 230 people are looking to head to areas held by militants. Added to this total of 930, an estimated 36 have already died out there, said Cazeneuve.
Western governments have voiced concern about the possibility of their citizens joining Islamic State of Iraq and Syria (ISIS) militants and then returning home to commit atrocities.
The man who carried out the apparent beheading of British aid worker David Haines speaks with a British accent.
Cazeneuve said that some returning militants boast about what they have done and "say they are ready to leave again."
"Others, destroyed by the violence and atrocities they saw or participated in, say they no longer want to be involved."
"Some claim to have left on a humanitarian mission, but we have reliable information that they fought in jihadist ranks," explained the minister.
He announced that "at least 70" people had been prevented from leaving after authorities received around 350 alerts about possible 'jihadists.'
This included around 80 minors and 150 women.
France has created a law aimed at stopping aspiring jihadists from travelling, which includes a ban on foreign travel of up to six months for individuals suspected of radicalization and gives authorities powers to temporarily confiscate and invalidate their passports.
In a recent parliamentary report, France had previously estimated that 950 suspected of engaging in jihad.
Asked about Frenchman Mehdi Nemmouche, suspected of killing four people at Brussels' Jewish Museum in May, Cazeneuve said: "The perversity of the terrorist jihadist system means that you do not necessarily have to receive a mission to carry out a terrorist act."
"When people are psychologically destroyed by daily acts of extreme violence, decapitations or other acts of barbarism, all their moral values fall, all their points of reference are wiped out."
http://english.alarabiya.net/en/News/middle-east/2014/09/14/France-says-930-citizens-or-residents-involved-in-jihad-.html
-----------
Colorado Woman Pleads Guilty to Conspiracy to Support ISIS
14 September 2014
A Colorado woman plead guilty to conspiracy to support Islamic State (IS; formerly known as ISIS) on Wednesday, according to the US Department of Justice.
Shannon Conley, 19, was arrested in April as she tried to board a flight to Turkey to join the Islamists.
Conley joined the US Army Explorers to gain training in armed combat, according to the Department of Justice, and even ignored warnings from federal agents to steer clear of a US-based terrorist organization.
The warnings surfaced after she was found in possession of a number of CDs and DVDs labelled "Anwar Al-Awlaki." Al-Awlaki was the Colorado educated terror suspect assassinated by a U.S. drone missile in Yemen, according to the report.
Conley's parents told the FBI they failed to talk their daughter out of her plans. Conley was living with her parents in their Arvada home.
The Arvada, CO native, who calls herself "Halima" after converting to Islam, later confessed to making contact online with a self-professed member of IS. According to the plea agreement, she committed to marry a terrorist in Syria, to provide tactical support to the organization, and to engage in combat herself if necessary.
In court Wednesday, Conley - clad in a prison jumpsuit and Islamic headscarf - said very little, according to the Huffington Post, merely stating that she understood the plea agreement and its ramifications.
The agreement stipulates that she must cooperate with intelligence and law enforcement agencies and provide information on other US nationals joining terror organizations abroad.
In exchange, her sentence - now a maximum sentence of five years in prison and a possible fine of up to $250,000 - could be reduced. She will stand for sentencing on January 23, 2015.
Conley's case has made headlines during a worldwide focus on foreign nationals fleeing to Syria.
Exact data on foreign nationals globally is uncertain; while some estimates claim that up to 75,000 foreign nationals may now have joined Syrian rebel groups, the US State Department placed this number closer to 12,000 on Friday; only 100 of them are estimated to be US citizens.
Conley also made headlines for attempting to join IS from the US, despite having enjoyed full rights and freedoms in the West.
Women have gained greater prominence in media coverage of IS - both their oppression and their participation in the brutal terror regime.
Days ago, researchers told British media that over sixty women had joined the IS's "modesty police" in Raqqa; last month, 22 year-old London native Khadijah Dare, made headlines after tweeting for 'equal rights' to kill terrorists for IS.
Women's decision to leave Western culture for IS has made headlines for the oddity of the choice, as well, as international media has widely covered the terror group's brutality to women under its reign, where women have largely been ordered to cover up completely and stay at home, and forcible rape in the early days of IS was - and may still be - a common occurrence.
http://www.israelnationalnews.com/News/News.aspx/185044#.VBWQkpRdU4U
-----------
Jewish woman and Satan give birth to ISIS on Iraqi TV
14 September 2014
With Islamic State dominating the world stage with its brutal mass murders, gruesome videos to world leaders and omnipresence on social media, Iraq – perhaps the hardest-hit nation by the self-proclaimed caliphate – has taken to the airwaves to give its take on the root cause of the extremist group.
A satire show, broadcast on an Iraqi TV network, depicts an arranged marriage between Satan and a Jewish woman. As celebratory music plays in the background, wedding preparations are underway in an arid Middle Eastern desert. The marriage "has a purpose," the man officiating the wedding exclaims, as the video turns to the bride and groom. "We will name our child ISIS," the parents-to-be say in unison.
Much to their pleasure, after taking their vows, the happy couple has a child, an ISIS fighter – who emerges from an egg, fully equipped for battle.
As Satan and his Jewish wife raise their "ISIS-ling," the controversial rituals of the rising terrorist group are mocked, from the infamous black-and-white Islamic State flag, to the many "throat slittings", to various forms of punishments inflicted on "infidels" and the rest of the extreme Sharia laws.
http://www.jpost.com/Arab-Israeli-Conflict/Watch-Jewish-woman-and-Satan-give-birth-to-ISIS-on-Iraqi-TV-375299
----------
Afghanistan orders strict action againt sexual abuse of children
14 September 2014
The Ministry of Interior (MoI) instructed police to take strict actions against the abuse of children during the wedding ceremonies.
MoI following a statement said a meeting was organized to discuss the issue of aerial firing by certain irresponsible individuals to disrupt the security situation of the country.
The statement further added that the issue of abuse of children who are forced to dance in wedding ceremonies, was also discussed the meeting.
The Afghan police forces were instructed to take immediate actions against all individuals and groups who breaching the law and introduce them to relevant institutions, the statement said.
This comes as at least one person was killed and five others were injured following aerial firing by certain irresponsible individuals during the commemoration ceremony of Martyrs Week in capital Kabul last week.
On the other hand, the Independent Human Rights Commission of Afghanistan (AIHRC) released its latest report on 'Bacha Bazi' – sexual abuse of teenage boys in Afghanistan last month, stating that influential figures as well as wealthy people in Afghanistan are hiring teenage boys aged between 10 to 18 years old for their sexual satisfaction.
AIHRC officials also called on security institutions to take actions against those who are sexually abusing children.
http://www.khaama.com/afghanistan-orders-strict-action-againt-abuse-of-children-8641
----------
Islamic State attracts female jihadis from US heartland
14 September 2014
US law enforcement is investigating a new phenomenon of women from the American heartland joining Islamic State as President Barack Obama vows to cut off the militants' recruiting at home.
At least three Somali families in the Minneapolis-St. Paul area have female relatives who have gone missing in the past six weeks and may have tried to join Islamic State, said community leader Abdirizak Bihi. He said that while the reasons for their disappearance were unclear, he had told the families to contact police.
In a separate case, a 19-year-old American Somali woman from St. Paul sneaked away from her parents on August 25 saying she was going to a bridal shower. Instead, she flew to Turkey and joined Islamic State in Syria.
Home to the biggest Somali community in the United States, the Twin Cities area of Minnesota has been plagued by terrorist recruiting since the Somali group al-Shabaab began enlisting in America around 2007.
This year, law enforcement officials say they learnt of 15-20 men with connections to the Minnesota Somali community fighting for extremist groups in Syria. They included Douglas McAuthur McCain, a convert to Islam, who was killed in battle this summer.
The St. Paul woman is the first case of an area female joining Islamic State that has been made public although her family have asked for her name to be kept private because it fears retaliation from Islamists.
Greg Boosalis, FBI division counsel in Minneapolis, said law enforcement was investigating the possible recruitment in the area by Islamist extremists of other females, as well as males, but refused to comment on specific cases.
"We are looking into the possibility of additional men and women travellers," he said.
Somali leaders and sources close to police worry that the reports of female would-be jihadis from the region could mark a new trend.
The St. Paul woman is highly likely to have been recruited by Islamic State through Islamist sympathisers in the United States, rather than joining the group on her own, they said. At least one other woman is suspected of helping her leave the United States.
Another US teenager, nurse's aide Shannon Conley, 19, from Colorado, pleaded guilty this week to trying to travel to the Middle East to enroll in Islamic State. She was arrested at Denver International Airport in April with a one-way ticket and had been recruited online by a male militant in Syria.
Nipping domestic extremism in the bud before Americans try to join terrorist groups is part of Obama's strategy against Islamic State announced in a televised address last week.
Along with an aerial bombing campaign in Iraq and Syria, Obama pledged that the government would "intervene with at-risk individuals before they become radicalised toward violence and decide to travel abroad to Syria and Iraq to join Isil."
He said authorities would offer "tailored domestic programs to prevent violent extremism and radicalization" but gave no more details.
The Somali woman from St. Paul who traveled to Syria attended a mosque near the eastern bank of the Mississippi River which had previously attracted suspected extremists. In June, the mosque banned an Egyptian-American man it said was spreading radical ideology.
The woman told a relative after leaving the United States that she wanted to help children in Islamic State controlled territory in Syria.
"The nature of the recruitment of these crazy organizations is how they use the element of surprise. Now they have surprised us again by going for the girls," said Bihi, speaking about the St. Paul woman who he said was targeted by recruiters.
Bihi's teenaged nephew was killed in Somalia in 2009 after being persuaded to join al-Shabaab while in Minnesota.
While foreign women who join Islamic State often envision aiding a holy war or at least playing an active role in establishing a purist Islamic nation, the reality can be more mundane.
Monitoring of extremists' social media accounts and other writings shows that male jihadis regard women counterparts as little more than mating partners, said Mia Bloom, from the Center for Terrorism and Security Studies at the University of Massachusetts Lowell.
"Isis is recruiting these women in order to be baby factories. They are seeing the establishment of an Islamic state and now they need to populate the state," Bloom said.
Scores of European Muslim women, mostly from Britain and France, have joined Islamic State in the Middle East.
Denver teenager Conley became engaged to an Islamic State militant in Syria who she met online. Jihadist groups like al-Qaeda and Islamic State usually only put women near the frontline in emergencies, Bloom said.
Some young foreign women have been deployed to Islamic State checkpoints in northern Syria where they pat down other women to search for weapons and force local females to abide by strict Islamic dress codes.
But snapshots on social media of the female jihadis' lives in Syria more often show that, "the girls go around making cookies. It's almost like a jihadi Tupperware party," Bloom said.
The main worry for law enforcement is that US militants will one day return to the United States and attack targets.
"The obvious fear is of individuals coming back and committing a terrorist act here," said the FBI's Boosalis. The FBI has been working with the Somali community in Minnesota for years to help it combat radical Islamists.
The Malaysian Insider has previously reported that Malaysian women are believed to have joined the Islamic State forces to offer Jihad Al-Nikah or sexual jihad.
http://www.themalaysianinsider.com/world/article/islamic-state-attracts-female-jihadis-from-us-heartland#sthash.m9VCb0yN.dpuf
----------
Gaza children return to school after war
14 September 2014
GAZA CITY, Gaza Strip — Some half million Gaza children are making a delayed return to school after a devastating 50-day war with Israel that killed more than 2,100 Palestinians and damaged hundreds of school buildings.
Gaza Education Ministry official Ziad Thabet says Sunday's opening — delayed two weeks — involves 230,000 1st to 12th graders attending public schools, 200,000 going to United Nations-run schools and tens of thousands enrolled in private institutions.
Thabet says that unlike in previous years the first week of instruction in government schools will be given over to providing psychological counseling and recreational activities to help the children transition to learning.
He says 26 Gaza schools were destroyed during the war, and another 232 sustained damage.
The war between Israel and the Hamas group ruling Gaza ended Aug. 26.
http://www.saudigazette.com.sa/index.cfm?method=home.regcon&contentid=20140914218134
-----------
Lebanese Beauty Grabs Miss Arab USA Title
14 September 2014
With her charm and grace, 22-year-old Lebanese beauty Guinwa Zeineddine nabbed the Miss Arab USA 2014 title on Saturday.
Born in Canada, Zeineddine was raised in the UAE before moving to the U.S. at the age of 16, according to Lebanese media.
The beauty queen is currently studying a dual major in pre-pharmacy and communications and has been an advocate for higher education, reportedly dedicating herself to teaching part time.
She became the first Arab president of a Latina based sorority and has also advocated for community involvement and female empowerment
Guinwa "has served countless hours to under serviced communities in efforts to promote education and unity. Her civil service includes Boys & Girls Club, Center for the Blind, Operation Christmas child, Salvation Army, adopting needy families for the holidays, etc," a local Lebanese website reported.
The yearly Miss Arab USA pageant prominently features women with Saudi Arabian, Iraqi, Syrian, Palestinian, Egyptian and Algerian roots, among others.
Organizers describe the contest as being is founded on the basis of advancing the cause for young ladies of Arab descent.
"It is a charity event for the community, uniting Arabs and friends of Arabs in celebrating the Arab cultural heritage in this great nation of The United States of America," a statement on the pageant's website reads.
http://english.alarabiya.net/en/life-style/fashion-and-beauty/2014/09/14/Lebanese-beauty-grabs-Miss-Arab-USA-title.html
-----------
U.S. Woman Named Isis Upset by ISIS Acronym
14 September 2014
Sharing a name with the Islamic State of Iraq and Syria (ISIS) militant group has become too much to bear for Isis Martinez, a 38-year-old woman from Florida, who has started a campaign to get the group referred to by a different acronym.
Martinez, who was named after her mother (who was named after the Egyptian sky goddess), told news and lifestyle site Fusion that she has grown tired by all the negative responses from people hearing her name.
As U.S. President Barack Obama announces plans to "degrade, and ultimately destroy" the group, which has conquered vast swathes of Iraq and Syria and then enraged Americans by beheading U.S. journalists James Foley and Steven Sotloff, Martinez wrote on her campaign's Facebook page that "the past several weeks have been incredibly challenging."
"Although the acronym for this name is ISIL [Islamic State of Iraq and Levant] and the UN, the U.S. State Department and even the Associated Press have made it clear that this is the correct name to use when referring to these shameful excuses for human beings," she continued.
However, according to Martinez, the worst was yet to come. When an emergency room nurse asked her how she pronounced her name, and Isis told her, the nurse then displayed "such incredible sadness for me."
Martinez's online petition has so far garnered 318 signatures, out of her target of 1,000.
Another separate yet concerned party is David Emami, who told Portland-based TV station KATU that he was not happy how regularly the name of his three-year-old daughter, Isis, is being misused.
"She's named after an Egyptian goddess. To see it be misused in such a form it's gut-wrenching, it hurts," he said.
Forced change
The impact of ISIS's name is not only linked to individuals.
Earlier this month, U.S. mobile payments firm Isis officially changed its name to Softcard, completing the process of distancing itself from the militant group.
"However coincidental, we have no desire to share a name with this group and our hearts go out to those affected by this violence," chief executive Michael Abbott said in a statement.
Another victim was ISIS Mag, a London-based hair and beauty magazine for women of African descent, recently changed their logo so that the "Mag" is much more prominent in the title.
"We started getting messages from our Facebook page that we were part of the terrorist organization, so I said to my business partner 'we have to rebrand,'" Linda Graham, founder of ISIS Mag, told Russia Today.
Obama's choice
With U.S. media outlets and the Obama administration choosing to refer to the group by different names, NBC News host Chuck Todd last week attempted to explain.
"Obviously we refer to it at NBC News as ISIS. The Obama administration, president, says the word ISIL. The last S stands for Syria, the last L they don't want to have stand for Syria," Todd told a panel after an interview where he and Obama had used different acronyms to refer to the group.
According to the Washington Post, the issue of the group's name was even debated at length in the Capitol last week. As a result, House Democrats decided after they too would call refer to the militant group as ISIL.
http://english.alarabiya.net/en/variety/2014/09/13/Woman-named-Isis-launches-petition-to-stop-media-calling-extremists-ISIS-.html
-----------
Bangladesh: Draft of Child Marriage Restraint Act to be placed before cabinet on Monday
14 September 2014
Bangladesh has one of the highest number of under-15 child marriages in the world, according to the report published by UNICEF in July this year
The draft of a law intended to choke off the high rate of child marriages in Bangladesh will be placed before cabinet on Monday, the top bureaucrat at the women and children affairs ministry said.
The Child Marriage Restraint Act 2014, drawn up by the Ministry of Women and Children Affairs, comes after a Unicef report found that 74% of Bangladeshi girls under 18 years and an alarming 39% of girls under 15 years had been married off.
"We have finalised the draft and it will be placed for approval before the next cabinet meeting on Monday," Tariq ul Islam, the women and children affairs secretary, told the Dhaka Tribune over the telephone on Thursday.
Bangladesh has one of the highest number of under-15 child marriages in the world, according to the report published by Unicef in July this year.
Over 20% of girls married off by their 15th birthday become mothers of three or more children before reaching their 24th birthday, the report said.
These girls are less likely to receive proper medical care during pregnancy and child birth, and are not physically mature enough to give birth, which places both the mothers and their babies at risk.
Bangladesh National Women Lawyers' Association's (BNWLA) executive director, advocate Salma Ali, said: "We have been campaigning about the intensity and consequences of child marriage, and pressing the government to formulate a law to prevent child marriage."
She said the existing Child Marriage Act, 1929 was outdated and not effectively enforced.
The BNWLA executive director said the new law would require proper birth registration in order to determine the age of the parties to a marriage.
The proposed law criminalises child marriages, defined as any marriage involving a minor.
Males under 21 and females under 18 are considered minors under the proposed legislation.
The draft law proposes a maximum two-year jail sentence and Tk50,000 fine, or both, and a minimum sentence of six months and Tk10,000 fine, or both, for violations of the law.
Adults who wed minors, registrars who register marriages involving minors, parents or guardians who give their minor children or wards in marriage and officials who issue fake documents to conceal child marriages will be held culpable under the proposed law.
Any marriage proven to be a child marriage will be annulled. Victims of child marriage will be entitled to compensation by those held liable. The courts will settle compensations.
The draft law empowers Upazila level administrators including Upazila nirbahi officers, executive magistrates, Upazila women affairs officers, Upazila social welfare officers, upazila secondary education officers as well as officers-in-charge of local police stations to inform the courts about suspected child marriages.
The proposed legislation provides for the return of assets or gifts given during the wedding ceremony in the event that a marriage is annulled.
The draft law proposes the formation of a child marriage prevention committee charged with raising public awareness to prevent child marriages.
"We hope child marriages can be prevented by the enactment of a new law and we emphasise the implementation of the law," the BNWLA head said.
http://www.dhakatribune.com/bangladesh/2014/sep/13/draft-child-marriage-restraint-act-set-be-placed-cabinet-monday#sthash.ZfqVR9Sf.dpuf
-----------
URL: https://newageislam.com/islam-women-feminism/in-jordan,-younger-syrian-brides/d/99062