New Age Islam News Bureau
12 May 2014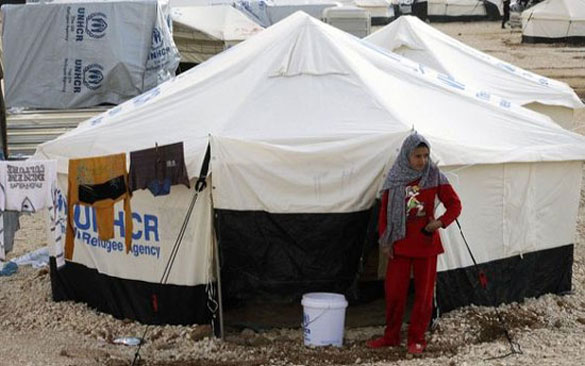 A Syrian refugee girl is standing outside a camp tent in Jordan. (File photo)
--------------
• Saudis Sexually Exploit Teenage Syrian Girls: Report
• Rally Held in Defence of Hijab and Modesty in Tehran
• Child Marriages Violate Right to Education: Sharmila
• Defy Husbands and Vote for Modi, RSS Tells Muslim Women
• Shoura to Consider Pension to Unemployed Saudi Housewives
• Fake Saudisation: 500 Women Caught
• Loophole Halts Justice for Honour Killing Victims in Jordan
• Florida Democrats Just Voted To Impose Sharia Law on Women,' Bloggers Say
• Women in British Army Fighting on Front Line, Wrong Move, Mr Defence Secretary
Compiled by New Age Islam News Bureau
URL: https://www.newageislam.com/islam,-women-and-feminism/new-age-islam-news-bureau/in-islam,-woman-returning-to-earlier-faith-can-end-marriage-if-she-likes--delhi-hc/d/76982
-------------
In Islam, Woman Returning To Earlier Faith Can End Marriage If She Likes: Delhi HC
Abhinav Garg,TNN | May 12, 2014
NEW DELHI: Interpreting a 75-year-old law, Delhi high court has held that a non-Muslim woman who embraces Islam after marriage but reconverts to her original faith can dissolve the union due to apostasy.
Granting divorce under the Dissolution of Muslim Marriages Act 1939 to Sultana (name changed), a division bench of Justice S Ravindra Bhat and ​Justice Najmi Waziri also clarified there is no requirement in such circumstances for a woman who leaves the pale of Islam to prove her act in a trial. The mere act of apostasy dissolves the marriage if she so desires.
"Were a woman married under Muslim personal law to apostatize, the marriage stands dissolved. In such circumstances, the woman is entitled to seek a decree of declaration that the marriage stands dissolved from the date of her apostatizing," Justice Waziri explained.
The bench went into the circumstances under which the pre-Independence act was passed in 1939 to emphasize, if people come or are brought into Islam from a different religion, they should be permitted to go back for which there should be no bar.
The HC was hearing an appeal filed by the husband Asif (name changed) challenging the grant of divorce by a Saket family court to Sultana on her petition. Asif contested Sultana's reconversion back to Hinduism and alleged she did it under pressure from her parents. Asif also cited Section 4 of the Dissolution of Muslim Marriages Act to contend that it prohibits dissolution of marriage only on the ground of apostasy.
On her part, the estranged wife argued that for her reconversion to Hinduism no evidence is required to be led, as her mere statement 'ipso facto' amounts to abjuration of Islam and its tenets. She also filed an affidavit admitting to her apostasy along with two fatwas from two mufti. The wife also informed the court she had withdrawn complaint filed under Domestic Violence Act and another petition seeking maintenance. Now that she had apostatized, neither the marriage nor any right to claim maintenance subsisted.
The HC agreed with the trial court verdict and ruled that Section 4 has not altered the rule of Muslim personal law that apostasy dissolves a marriage. "In the opinion of this court, all that Section 4 has done is to introduce an intervening mechanism, but to reach the same conclusion, i.e., that apostasy would not by itself dissolve the marriage and some further substantive act would be required to be done in this regard; the substantive act being the filing of a suit seeking declaration as to dissolution," it observed. However, it rejected Asif's argument that Sultana would have to prove her apostasy.
http://timesofindia.indiatimes.com/india/In-Islam-woman-returning-to-earlier-faith-can-end-marriage-if-she-likes-Delhi-high-court/articleshow/34990894.cms
-------------
Saudis Sexually Exploit Teenage Syrian Girls: Report
May 12, 2014
Syrian teenagers living in refugee camps in Jordan are sexually abused by Saudi men who first propose marriage but disappear before the end of the honeymoon period, a Saudi paper reports.
The Saudi Gazette said the Syrian families are duped into marrying their daughters off to Saudi men with promises of better life and luxuries.
Um Alaa, a matchmaker in Al-Zaatari refugee camp in Jordan, said the Saudis proposing to Syrian girls are mainly aged.
She added that the Saudi men disappear because "they want to keep their marriage a secret."
Um Abdulkarim, a Syrian refugee, said the suitors are subjected to no background check.
"The men are only obligated to be present in front of officials when signing the marriage contract and they can get away with their crimes by bribing their way out," she said.
She said the deadly war in her country has forced her and many others to seek refuge in Jordan.
"We did not choose to come to these refugee camps. We were chased away by grenades and bullets. Many sacrificed their lives to get us here and then this becomes our reality. Young girls who have barely flourished, wilt before they bloom," she said.
However, Saudi Ambassador to Jordan Sami Al-Saleh played down such marriages, saying they are rare.
"Saudi marriages to Syrians are rare cases and not a phenomenon. All of these stories are heavily publicized in order to tarnish the reputation of Saudis," he said.
At least 600,000 registered Syrian refugees live in Jordan. Officials say more than 1.3 million Syrians are in the kingdom and that only a fraction of them live in camps.
Al-Zaatari refugee camp houses more than 100,000 Syrian refugees. Half of the refugees in the camp are children. The camp was first opened on July 28, 2012 to host Syrians fleeing the violence in Syria.
Syria has been gripped by deadly violence since 2011. Over 150,000 people have reportedly been killed and millions displaced due to the violence fueled by Western-backed militants.
http://www.syriasolidaritymovement.org/2014/05/11/saudis-sexually-exploit-teenage-syrian-girls-report/
-------------
Rally held in defence of Hijab and modesty in Tehran - Iran
May 12, 2014
On the afternoon of May 7, a large group religious people gathered in support of Hijab and chastity on the north side of Fatemi Square in Tehran, the capital of the Islamic Republic of Iran.
Demonstrators held banners with slogans bearing statements supporting the Supreme Leader of the Islamic Revolution, Imam Khamenei, and the other grand Ayatollahs who have declared their support for the promotion of culture and modesty of Hijab and have showed their support of the police forces in regard to enforcing chastity.
The encourgement of proper Hijab is seen as part of the important Islamic concept of "enjoining the right and forbidding the wrong and the ralliers believed that their actions were in the spirit of this concept.
Friday prayer leaders, seminarians, scholars, were present at the rally. They held banners which read: "this entire army came with the love of the Leader," "Oh man! Where is your honour? Where is your wife's Hijab?" The ralliers showed united against those who wear do not wear Hijab properly and supported the culture of modesty and Hijab.
During previously held rallies, the protesters did not have a plan to deal with the traffic and chaos created due to their rallies; the streets surrounding Fatemi Square were choked with heavy traffic and people. This time the organizers read a statement to the rally's witnesses stressing that the rally was in line with cultural issues and not related to political issues. People from the Ministries of Education, Higher Education, the seminaries, and television and radio stations then began chanting slogans calling for cultural and educational measures to promote a culture of Hijab and chastity throughout Iran.
http://abna.ir/english/service/iran/archive/2014/05/11/607770/story.html
-------------
Child Marriages Violate Right to Education: Sharmila
May 12, 2014
Special Assistant to Sindh Chief Minister Sharmila Farooqi has said that child marriages violate the basic right to education of young girls, substantially reducing their access to pursuing economic opportunities.
It also has adverse effects on both maternal and child health. She said this while addressing a programme, organized by an NGO Rutgers WPF Pakistan, on International Mother's Day.
She said, "Those girls are more likely to be victims of domestic violence due to lack of decision making and negotiation skills."
She praised all the Sindh parliamentarians and the efforts for unanimously passing the Child Marriage Bill by the Sindh Assembly prohibiting marriage of girls below 18 years age. Sharmila Farooqi extended her full support to Rutgers WPF to eradicate child marriages.
On the occasion, Commissioner Shoaib Ahmed Siddiqui officially launched a movement to end child marriages in Pakistan. The campaign "dekho-bolo-roko" aims to generate community level evidence and support in order to eliminate early age marriages from Pakistan.
Praising the efforts of politicians, media, and civil society, Qadeer Baig, Country Representative- Rutgers WPF, Pakistan said, "When we celebrate Mother's Day in Pakistan we commemorate safe motherhood".
The mother award was presented to Ms. Sultana Siddiqui, a prominent media personality. She was awarded for highlighting and strengthening the role of women in Pakistan through her creative productions.
http://www.pakistantoday.com.pk/2014/05/11/city/karachi/child-marriages-violate-right-to-education-sharmila/
-------------
Defy husbands and vote for Modi, RSS tells Muslim women
May 12, 2014
As the election in Varanasi inches closer, the Sangh Parivar has stepped up its attempts to ensure victory for Narendra Modi
As the election in Varanasi inches closer, the Sangh Parivar has stepped up its attempts to ensure victory for the BJP candidate Narendra Modi.
The controversial RSS leader Indresh Kumar is in Varanasi and is reaching out to the Muslim community, asking them to vote for Mr. Modi. In the last two days, Mr. Kumar has addressed several such meetings, organised by Muslim organisations affiliated to the RSS.
One such organisation, the Bharatiya Awam Party, has already organised 10 meetings with Muslim women. In one such meeting in Varanasi city, Mr. Kumar spoke to a group of women, telling them that they had been misled by parties such as the Congress and the Samajwadi Party.
"They come, they misguide you, take your vote and only contribute to your misfortune," he told them. He went on to say that the time had come for them to vote for Mr. Modi. "He is the only leader who will ensure that your children will have the Koran in one hand and a computer in the other," he said.
Mr. Kumar then asked the women to defy their husbands on the day of voting and cast their ballot for Mr. Modi.
"You will be accompanied by an elder or your husband. Ask him: 'you got me voting for the hand, the cycle or the elephant. But, has our 'taqdeer' (fate) changed?' Maybe, he'll look at you angrily, fix his angry gaze on you … but what is there to fear?" he told them.
Speaking to The Hindu on the phone, Mr. Kumar claimed that many Muslims were opening up to Mr. Modi because nobody else talked about their welfare.
"If they [the Muslims] were wary of Modiji, why would they come to listen to me? The RSS is not organising these meetings, the Muslim community is," he said.
Reacting to the remarks of Mr. Modi's close aide Amit Shah on Azamgarh [of it being a terrorist base], Mr. Kumar said the Union Home Ministry had said the same in different words, but only Mr. Shah had the courage to say it "as it is."
"Unlike secular parties, Amit Shah does not worry about vote-bank politics," he said.
http://www.thehindu.com/elections/loksabha2014/north/defy-husbands-and-vote-for-modi-rss-tells-muslim-women/article5986633.ece
-------------
Shoura to Consider Pension to Unemployed Saudi Housewives
May 12, 2014
RIYADH — The Shoura Council's human rights committee is planning to ask the council to study a proposal to pay a monthly pension to unemployed Saudi housewives, the committee's chairman Abdullah Bin Muharib Al-Zufairi said. He told Al-Riyadh newspaper that the committee is currently discussing a number of requests from women members to this effect. "The committee will thoroughly study these requests before tabling a proposal for discussion at a plenary session of the council," he said.
http://www.saudigazette.com.sa/index.cfm?method=home.regcon&contentid=20140512204825
-------------
Fake Saudisation: 500 women caught
May 12, 2014
DAMMAM — The Labor Ministry last year caught about 500 Saudi women who cooperated with a number of private companies and establishments to achieve their Saudization targets to get out of the Nitaqat red zone, Al-Hayat newspaper reported on Sunday quoting an informed source from the ministry. The ministry, however, said the figure was the lowest in the last five years. The source said the Human Resources Development Fund (Hadaf) has prevented these women from receiving its incentives for three years. He added that Hadaf has also punished the private establishments that took advantage of the women with fines and warnings.
http://www.saudigazette.com.sa/index.cfm?method=home.regcon&contentid=20140512204827
-------------
Loophole Halts Justice for Honour Killing Victims in Jordan
May 12, 2014
AMMAN, Jordan — Batool Haddad, a Christian girl from the northern Jordanian village of Khirbet Wahadneh, kept relatively quiet about her interest in Islam, mentioning it probably only to her sister, who also kept it to herself.
But when Haddad converted to Islam after attending a lecture by a Saudi preacher, according to local reports, she told her sister, who this time told their father, who told his brother. On April 30, the two men took Haddad to a local forest.
Beating her first with a stick, they then used a 40-by-50-centimeter (15-by-20-inch) rock, fracturing and crushing her skull and killing her, said Ali Shotar, the forensic pathologist who examined her body. She was about 22 years old.
Haddad was one of four women killed last week in Jordan in a shocking succession of unrelated murders that has highlighted one of Jordan's more taboo topics: so-called honor crimes. Three of the deaths occurred within a span of 24 hours, from April 30 to May 1, and all of the killers were relatives of the victims.
One woman, 38 years old, was shot the day after Haddad's death, killed in the eastern Amman district of Hashemi al-Shamali by her two older brothers. The same day, in Ruseifa, a district east of Amman, a youth in his 20s killed his 18-year-old sister, Maram, stabbing her with a knife multiple times in the chest. Several days earlier, in a neighboring area, a 20-year-old girl was also stabbed, this time over 20 times in the face and chest, and also by her brother.
Haddad would have graduated from college this month, Shotar told Al-Monitor by phone. Those who knew Haddad considered her sweet, "quiet and polite," according to a resident of Khirbet Wahadneh, who did not want her name used.
In Jordan, an official average of 20 females die each year in "honor" crimes, although some estimates vary slightly and experts agree that actual numbers are likely higher, as some deaths go unreported. In 2014, nine such deaths have been reported, making the rate higher than usual despite predictions earlier this year by the Jordanian branch of the women's rights group Sisterhood Is Global Institute that "honor" crimes would decrease in 2014.
An "honor" crime is "a specific kind of crime … committed against somebody — mainly women — because this somebody brought dishonor against the family," explained Abeer Dababneh, lawyer and director of the Center for Women's Studies at the University of Jordan. Perpetrators are typically male.
The concept of honor is "related to sex and sexuality outside of marriage," Dababneh added. Anything from leaving the house to having a relationship — real or perceived — can be viewed as a violation.
While Haddad's death may not have been "based on sexual honor," Hadeel Abdul Aziz, a lawyer and the director of the Justice Center for Legal Aid, told Al-Monitor, her murder was "because she violated social norms."
Established in 2009, No Honor in Crime is a local activist group that profiles and collects details on honor killing victims while actively campaigning for an end to such crimes. One of the organization's volunteers, Deena Dajani, told Al-Monitor by email that Haddad's murder both did and did not constitute a so-called honor crime.
Haddad "made a personal decision that defied norms," she wrote. "Her murder was a reaction to her act." Murder is the most extreme on a wide spectrum of acts that "impose limits on women's movement, choices and bodies."
Even if Haddad was not killed over "sexual honor," her death is still a manifestation of a deeper problem, one where using violence to punish women for perceived disgraces is accepted.
Numbers of so-called honor crimes often fluctuate, Dajani pointed out, so spikes or drops aren't necessarily meaningful. "Even when the number of murders seems to be on the decrease, … the problem is so much larger than what it appears to be."
"In Jordan, there's still a legal framework in which honor crimes are essentially excused," Adam Coogle, Human Rights Watch's Jordan-based researcher, told Al-Monitor. "There hasn't been any meaningful change on this issue," he added.
"People still now think they can kill their female relatives and get away with it," Abdul Aziz said.
The legal framework that "essentially excuse[s]" honor crimes, according to activists, lawyers and researchers interviewed, is built primarily upon three elements of Jordanian law, two in the Penal Code and the third in the right of a victim, or whoever represents him or her if dead, to waive the personal right to litigate.
It is the latter that is most frequently invoked, Dajani said, and it can weaken any deterrent against committing "honor" crimes.
"When a citizen is murdered, the victim's 'personal' right is transferred to that victim's family," Dajani explained. Since with honor crimes the perpetrator and victim's family are usually the same, the family will "forsake the victim's right," thereby reducing the perpetrator's sentence. Of the 46 honor killings for which No Honor in Crime has gathered information, 22 have gone to court, and of those, 17 had mitigated sentences due to waived personal litigation rights.
This loophole does not apply solely to honor crimes, Abdul Aziz said. "In all crimes, if the victim forgives the perpetrator and waives the personal right, then the penalty [for the crime] is reduced."
Articles 340 and 98 of the Penal Code reduce sentences for a perpetrator who murders a partner or family member caught committing adultery or for one who commits the crime "in a fit of rage," respectively.
http://www.al-monitor.com/pulse/originals/2014/05/honor-killings-jordan-surge.html#ixzz31Xd4MeCm
-----------
'Florida Democrats just voted to impose Sharia law on women,' bloggers say
May 12, 2014
In the final days of Florida's legislative session, some conservative blogs claimed that they had unearthed the "real" war on women -- a war being waged by Democrats.
"Florida Democrats just voted to impose Sharia law on women," read one headline April 30, 2014, on WesternJournalism.com, a blogging platform for "conservative, libertarian, free market and pro-family writers."
The story explained: "Anyone who isn't certain that Democrats are devoted to destroying America need only take a look at their despicable conduct in the Florida Senate. In a vote that never should have had to be taken, every single Democrat voted to force Sharia law on the people of Florida. By doing so, they placed women and children in very real danger. The vote was 24 votes for America and 14 votes for al-Qaida and the Taliban cast by loathsome Democrats."
The article said that elements of Sharia law include women being barred from voting, forced marriages for young girls, stoning to death of adulterous women and a requirement that women wear burqas -- the full-body clothing required of women in some very traditional Islamic societies -- when in public.
While we were distracted by the close of the legislative session and a hotly contested governor's race, we somehow missed Democrats voting in favor of burqas and stoning. But readers have made clear to us that they want to know: Did Florida Democrats vote to impose Sharia law on women?
What the bill was about
It's important to note that claims that "Florida Democrats just voted to impose Sharia law on women" are wrong on many levels -- the first of which is that Democratic lawmakers didn't vote affirmatively for doing any of those things. They voted against a bill that would have barred the use of foreign laws in some contexts, something far more limited.
Sharia law is a wide-ranging set of rules that govern aspects of Islamic life, including religious practice, daily living, crime and financial dealings. Muslims differ on its interpretation.
At root of the Florida issue is a dispute between a Tampa Islamic center and some of its ousted trustees. In making a ruling on the case in March 2011, a circuit court judge cited Islamic law, sparking outcry from conservatives. That month, two Republican state lawmakers, Sen. Alan Hays and Rep. Larry Metz, announced they would push for a bill to ban foreign law in Florida courts.
After several failed efforts, the bill that passed this year -- Senate Bill 386, "Application of Foreign Law in Courts" -- was watered down compared to previous versions.
The bill doesn't specifically mention Sharia law, and it doesn't outright ban the use of Sharia law, said Eduardo Palmer, a Coral Gables lawyer who serves on the legislative committee of the Florida Bar's international law section. But much of the discussion centered on Sharia law.
The bill only applies to family-law cases, including divorce, child support and child custody. It doesn't apply to other areas of law, such as corporate matters.
The bill states "A court may not enforce: (a) A choice of law provision in a contract selecting the law of a foreign country which contravenes the strong public policy of this state or that is unjust or unreasonable. ... The purpose of this section is to codify existing case law, and that intent should guide the interpretation of this section."
The law allows a judge to agree to apply foreign law as long as it doesn't contradict public policy in the U.S. For example, if a couple signed a prenuptial agreement in Argentina and later gets a divorce in Florida, a Miami judge could decide to apply Argentina's law in the divorce case here, Palmer said. But if a foreign law violated our public policy in the United States about child labor rules, for example, then a judge could reject it.
"That is the universal standard that most civilized countries adhere to," Palmer said.
In reality, the bill doesn't change existing law, which already allowed judges such discretion.
An earlier version would have been much more aggressive -- it would have raised the standards before a judge could have allowed the use of foreign law. A compromise essentially codified existing law.
The Florida chapter of the Council on American-Islamic Relations, which tracks and counters anti-Islamic attacks, and Florida's Anti-Defamation League, a group that fights anti-Semitism, both lobbied against the bill.
Legislators who voted against the bill argued that it was unnecessary and was tantamount to an attack on Muslims.
Rep. Jim Waldman, D-Coconut Creek, told the House "This bill, this proposal, stems directly from a hatred of Muslims. It's caught on across the country and many other state legislatures have dealt with this, and I find it reprehensible."
Waldman called the bill "a solution in search of a problem."
A Florida Senate staff analysis in April stated there were six states that currently had laws restricting foreign law in state courts: Arizona, Kansas, Louisiana, North Carolina, South Dakota, and Tennessee. (An amendment approved by Oklahoma voters that expressly banned Sharia law was ruled unconstitutional, prompting Legislatures to later go with the more generic "foreign law.")
The Senate approved the bill 24-14, with all the votes in opposition coming from Democrats. The House approved the bill 78-40, with a majority of Democrats voting "no." (House Democrats who voted "yes" included Daphne Campbell of Miami, Betty Reed of Tampa and Hazelle Rogers of Lauderdale Lakes.)
As of May 6, Scott had not signed it into law yet and a spokesman said his office would review the bill.
How common and controversial is the use of foreign law in Florida courts?
International law experts told us it's not unusual for foreign law to get used in Florida courts.
"Foreign law is applied all the time, in various ways, and it is almost never controversial," said C. Ryan Reetz, a Miami lawyer and chair of the Florida Bar's international section.
For example, parties in international contracts frequently agree to apply a specific foreign country's law to govern their agreements.
"In addition, there is an entire body of law called 'conflict of laws' or 'choice of laws' that governs when the law of a different state or foreign country will be applied to one or more issues in the case," Reetz said. "As in all other states, the Florida courts have developed a series of conflict of laws rules that address this question. This body of law dates back to the founding of our country, and it has been especially well-documented over the last 100 years."
In contracts, parties can choose to apply the law of any jurisdiction and the court will accept those laws as long as it doesn't conflict with our Constitution, said Cyra Akila Choudhury, Florida International University law professor who wrote a paper about states passing anti-Sharia laws.
"The Hillsborough case that is referred to was a contract case in which both parties chose shari'ah as the law," she said. "And the court had to give it credence as the freely chosen legal rules by which the contract was to be interpreted. It was no different than if they had chosen German law, or Klingon law."
The American Civil Liberties Union of Florida opposed the bill, although spokesman Baylor Johnson said the final version "has relatively little impact on existing law."
"Just like some folks think that tinfoil hats will protect you from the imaginary threat of aliens reading your thoughts, the 'foreign law' bill won't protect against the imaginary threat of 'Sharia law' taking over Florida, because that threat isn't real," Johnson said.
Our ruling
Claims like this one recently circulated on the internet: "Florida Democrats just voted to impose Sharia law on women."
Senate Democrats did vote against a bill that prohibits judges from applying foreign law in family-law cases if it contradicts United States public policy. In reality, though, the bill would have essentially codified existing practice. The bill didn't single out Sharia law, and the United States Constiution still applies.
It's ridiculous -- beyond ridiculous, really -- to suggest that Senate Democrats forced on women such elements of Sharia law as burqa-wearing and stoning to death. We rate this claim Pants on Fire.
http://www.politifact.com/florida/statements/2014/may/08/blog-posting/florida-democrats-just-voted-impose-sharia-law-wom/
-------------
Women in British Army Fighting on Front Line, Wrong Move, Mr Defence Secretary
May 12, 2014
Defence secretary Philip Hammond has indicated that females in the British army will be able to serve in direct combat for the first time, and not just in roles on the front line, as already happens. Hammond says that other countries have women in combat roles, and that the issue should be about fitness, not gender. Hammond says that he does not want to send out the message that the army is not fully open to women who meet the same fitness criteria as men. So, that's the political correctness box nicely ticked - but should it be? Should concern about women in combat roles automatically be written off as sexism or chauvinism?
This is not an attack on female army personnel – only a fool would have anything but the deepest respect for the courage and professionalism of anyone (male or female) serving on the front line. It's also worth noting that promotion to the highest levels can be barred to women who've not undertaken combat duty. Indeed, if I balk at the idea of women in combat, it's not because I think that women would be hopeless, over-promoted, tokenistic cry-babies, who would need to be protected – girlie Private Benjamins, who'd spend all their time 'distracting' their male counterparts with their hair flicking, pouting and lipstick applying.
The oft-brandished 'distraction' argument was always a farce - managing to insult both sexes. As is the notion that 'chivalry' (the urge to protect the little ladies) would override all other concerns on a battlefield. Even to a cowardly civvie like myself it seems obvious that soldiers would be constantly looking out for each other's safety, regardless of gender.
However, it seems to me that Hammond should be less concerned with the message being sent out, and more about addressing the key issues surrounding women in direct combat, some of which cannot be dismissed as mere chauvinism. For a start, Hammond needs to be more specific about these 'fitness levels', currently reputed to be so punishingly high as to be out of the reach of most men. Does the fact that so few women could realistically acquire this ultra-alpha 'male' brand of fitness mean that their combat numbers would end up being tokenistic? The training offered to deter outside criticism regarding sexism, but would women who didn't succeed at the male-oriented tests be dismissed as failures who couldn't hack it? Conversely, if standards were altered to accommodate female difference (please note, not inferiority, difference), would this result in placing effectively under-trained women and their colleagues at even greater risk?
Moreover, would combat be particularly dangerous for a woman precisely because she would be so unusual,- therefore representing a warped kind of 'trophy'? Rape has been well documented as a method of humiliating and controlling civilian enemies, and there seems to be no reason why this would not apply to women in uniform. While it's true that male soldiers can also be sexually assaulted as a form of torture, in countries where even female education is opposed, it seems obvious that female combat personnel would be targeted. Or do we all prefer to pretend that combat is a gender-free zone because otherwise it's all too messy and complicated?
To my mind, it doesn't seem sexist or derogatory to question how differences between the sexes might impact on a dangerous high-intensity situation such as a combat zone. While I wouldn't question female abilities, there's no point refusing to acknowledge how women may have the odds unfairly stacked against them while training, after which they could be more exposed and vulnerable than their male counterparts. I certainly wouldn't rush to put a crowd-pleasing tick in some approving box that becomes something others have to live, fight, even die, by; and which simultaneously misleads the public about the true nature of military equality.
http://www.nation.com.pk/international/12-May-2014/women-in-british-army-fighting-on-front-line-wrong-move-mr-hammond
-----
URL: https://www.newageislam.com/islam,-women-and-feminism/new-age-islam-news-bureau/in-islam,-woman-returning-to-earlier-faith-can-end-marriage-if-she-likes--delhi-hc/d/76982