New Age Islam News Bureau
27 Apr 2018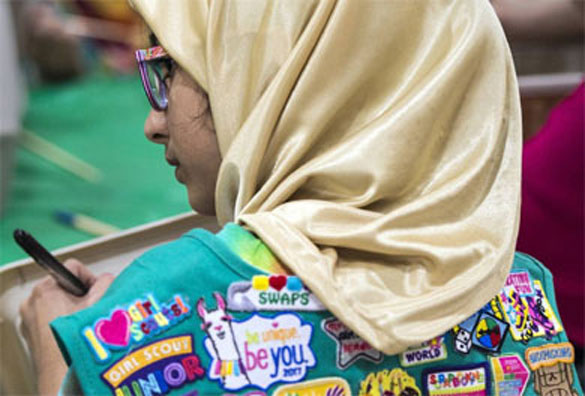 The Islamic Centre of Johnson County in Overland Park hosts Girl Scout troop 4162, made up of Muslim girls. Allison Long
----
• Muslim Women Wear Kippahs Over Their Hijabs in Solidarity with Jewish Community after Anti-Semitic Attack
• This Princess Is the New Face of Fashion In Saudi Arabia
• Female Candidates Shake Up Iraq Election
• Saudi Bars Pregnant Women, Drug Peddlers from Hajj
• Arab, European Women Trek North Pole Together
• Tunisian Women Hit Campaign Trail as Equals to Men
• Beauty for a Better Life Empowering Women in Pakistan
• Sindh to Get UN Women Supported Body To Promote Women Empowerment
• Iran: Women take to the streets in Tehran, Bandar Abbas, Mahshahr
• Iran: Young Woman to Be Jailed Five Years for Her Faith
• Iran: Harrowing case of domestic violence against girl children
Compiled by New Age Islam News Bureau
URL: https://www.newageislam.com/islam-women-feminism/in-hijabs-girl-scout-vests/d/115069
--------
In Hijabs and Girl Scout Vests, These Kansas Muslim Girls Make America Great Again
BY JENEÉ OSTERHELDT
April 25, 2018
Wearing homemade tie-dye tees and a rainbow of hijabs, the members of Girl Scout Troop 4162 decorate flower pots for Earth Day.
Zoya Hafeez, 11, paints the Pokemon logo on hers. Charizard is her fave. Ten-year-old Syeda Khadijah grabs a Girl Scout-green marker and etches out "Go Green."
In the midst of their meeting, the sun sets. A call for prayer rings like a beautiful song on the intercom in the basement of the Islamic Center of Johnson County. The girls kick off their sneakers, covered in sparkles and pastel colors, and line up to pray for a few minutes.
As they bow and kneel, they pray for good grades and their families.
I pray for their lives.
I pray they never have to experience a hate crime or a travel ban or bullying over their hijabs or their faith.
This week, a report by the Council on American-Islamic Relations found that hate crimes against Muslims rose 15 percent last year.
On Wednesday, the Supreme Court heard arguments on the travel ban, widely called the "Muslim Ban," meant to keep out immigrants, refugees and visa holders from Iran, Libya, North Korea, Somalia, Syria, Venezuela and Yemen. Five of those seven countries are predominantly Muslim.
President Donald Trump, before ever taking office, slung around "Muslim" like a bad word, demonizing 3.45 million Americans and far more worldwide. And he keeps giving power to the Islamophobes like former Kansas congressman Mike Pompeo, the CIA director on his way to becoming the next secretary of state. John Bolton, the president's new national security adviser, was the head of an anti-Muslim think tank.
When the government spews hate toward Muslims, it empowers everyday bigots to do the same.
A week ago, three Kansas men were found guilty of a conspiracy to bomb a Garden City apartment complex where Somali immigrants lived. Last month, a Missouri man pleaded guilty to hate crimes for threatening to behead and slaughter Muslims worshiping at a Georgia mosque. Muslims in America are under attack.
But here, at a Scout meeting in south Overland Park, the girls are flourishing in their faith and sisterhood. Together, they are strong. And it's deeper than selling cookies.
Zainab Attar, 9, almost whispers to me about not wearing her hijab to her public school.
"I like my hijab," she tells me. "But one time when I wore my hijab to school, people made fun of it."
So she wears it to the mosque and when she prays, but very rarely in public. When I ask her what the kids at school said, she shuts down. She says she doesn't remember, her eyes, big and brown and hurt with the memory she won't share.
But things are getting better, thanks to Girl Scouts.
"I didn't really have that much confidence in myself before. When I joined Girl Scouts, I was really shy. I am also really shy right now," she tells me. "But I talk more than I did before, here and in school. And I have more patience. Patience is important."
Heba Aziz, 10, is the only Muslim girl in her school. There's no outright hate, but there is confusion and sometimes fascination, she says. But at her Scout meetings?
"They just understand me," she says.
For troop leader Saima Imtiaz, that's the point. She started the Overland Park troop after years of taking her oldest daughter to a Muslim troop in Olathe. When her younger daughter, Syeda Khadijah, was old enough to join, Saima realized the Muslim community had grown enough to fill another troop. Now she has 15 girls. They just conquered their first camping trip and sleepover.
It's not about segregating, she says. Muslim girls join integrated troops all over the country. But a Muslim troop, she says, strengthens the girls so they can teach others about themselves and learn about others as well.
"We share the same values as all Girl Scouts troops," Saima says. "But this is good for them, because they all know what the other one is going through, and if they have a problem, we can work together to resolve things. They are gaining so much confidence."
Her oldest daughter, Syeda Mahnoor, 16, has seen what the troop can do.
"We strive to improve ourselves, to work together and help people around us understand who we are. We are not different. We are not bad people," she says. "People don't know until you show them. A lot of people have never met a Muslim, and we are busting down stereotypes by going out in the community and talking to people. We are loving people, and we teach the girls to love themselves for who they are and love themselves, even when they are around people who are not like them, so they aren't affected by hate."
Her sister Syeda Khadijah is a budding Girl Scout leader. Her vest is running out of room for badges. Her favorites thus far: a Gaga Ball badge and Inspire a Girl.
"I take everyone in my troop as my sister," she tells me, peering through her glasses with poise. "Our troop is a diverse group. I'm totally good with being myself. There are over six cultures just in this troop," she says, stopping to count out Palestine, Egypt, Pakistan, India, Iraq, Saudia Arabia, Somalia, Kenya, Russia, "and we can learn from each other."
She has her Girl Scout goals set on raising money for outdoor benches to beautify the mosque and to invite the outside community in. She says freedom of religion makes America a better place.
"I want people to know about my faith and know that we are all the same from each corner, and we are all the same on the inside. There is nothing really different between us and them."
As I leave the Islamic Center, she stops me to hand me her "Go Green" flower pot. She just put in some fresh soil and cute little white pansies.
The Supreme Court is taking on the travel ban this week. Early signs point to support of the xenophobic measure. This isn't just about whom we let in this country. It affects how we treat the people living in it, born in it, just as American as anyone else.
So as I gaze at my new plant and think of Syeda Khadijah and her friends, I don't just hope my new flowers grow. I hope inclusion in America blossoms. As-salamu alaykum. Peace be unto us all.
http://www.kansascity.com/living/liv-columns-blogs/jenee-osterheldt/article209333999.html
--------
Muslim Women Wear Kippahs Over Their Hijabs in Solidarity with Jewish Community after Anti-Semitic Attack
April 27, 2018
Muslim women, wearing skullcaps over their hijabs, joined Germans of various faiths to protest against a recent anti-Semitic attack in Berlin, amid fears about growing antisemitism in the country.
The "kippah march" on Wednesday was triggered by the daytime assault last week of two young men wearing skullcaps in an upscale neighbourhood in the German capital.
The attack, in which a 19-year-old Syrian asylum-seeker is a suspect, drew outrage in Germany and sharp condemnation by Angela Merkel.
It is the latest of several antisemitic incidents that have many Jews wondering about their safety in a country which has tried to atone for the Nazis' killing of 6 million European Jews in the Holocaust.
In Berlin, more than 2,000 people — including Jews, Christians, Muslims and atheists — put on kippahs in a show of solidarity.
The yarmulkes were of all varieties — silky and knitted, leathery, embroidered and patterned. Holding them so the wind wouldn't blow them away, both men and women cheered when Berlin mayor Michael Mueller told them, "Today, we all wear kippah. Today, Berlin is wearing kippah."
Jewish community leaders said it was the biggest such display in public since before the Second World War.
The rising tensions have come at a time when Germany is grappling with an influx of more than 1 million mostly Muslim migrants, along with the rise of a nationalist party, the Alternative for Germany, which was elected to parliament last year. Its leaders are known for their openly anti-Muslim stance, but their antisemitism is less apparent.
Across Europe, anti-Semitism has been on the rise in recent years, and thousands of Jews — mostly from France — have moved to Israel.
Elard Zuehlke, a 26-year-old non-Jewish Berliner, said he came to the rally in front of the city's synagogue on Fasanenstrasse because "it cannot be that in Germany there is any kind of antisemitism — not in schools, not in public, not at work, not in politics, nowhere."
"This cannot be happening. Germany has to live up to its special responsibility," he said.
Reinhard Borgmann, a 65-year-old Jew who lost several great-uncles in the Holocaust and whose mother only survived because she hid from the Nazis, said he was pleased that dozens of organisations had turned out to support the demonstration.
"As Jews, we want to be able to move freely, whether with kippah or without," Mr Borgmann said. "We want to be able to practice religion in peace and not be discriminated against and not live in fear. And this event tonight is a sign and an important one."
Three people who protested separately against antisemitism in the Arab immigrant neighbourhood of Neukoelln ended their demonstration earlier after a one person took away their Israeli flag, police said.
Beyond that, hundreds of people also rallied in Cologne, Erfurt, Magdeburg and Potsdam.
In last week's attack in Berlin, the 21-year-old victim, an Arab Israeli who said he wore the kippah in a show of solidarity with his Jewish friends, caught the assault on video, which quickly went viral. It showed a young man whipping him violently with a belt while shouting "Yahudi!" — Jew in Arabic.
Germany's main Jewish leader, Josef Schuster, sparked tension within the Jewish community Tuesday when he said he would advise people visiting big cities against wearing Jewish skullcaps.
The RIAS group that tracks antisemitism said there were 947 antisemitic incidents last year in Berlin, including 18 attacks and 23 threats last year.
In all of Germany, authorities say there are a high volume of antisemitic incidents reported, with the equivalent of nearly four per day in 2017. There were 1,453 antisemitic incidents, compared with 1,468 incidents in 2016 and 1,366 in 2015.
Mr Schuster's comments on hiding the skullcap drew sharp criticism from other Jewish leaders, who say Jews should wear a kippah to show they are not afraid.
"Jewish identity is not something we should hide," said Rabbi Yehuda Teichtal. "We have to be proud of who we are and at the same time fight antisemitism."
For years, many Jewish men in Germany and across Europe who wear the kippah as a symbol of their devotion to God have been hiding their skullcaps under baseball hats when they are in public.
Antisemitism has existed in Europe for hundreds of years, often fanned by Christian churches who have blamed Jews for the killing of Jesus. In recent decades, however, Muslim immigrants have added a new strain by holding Jews responsible for the Israeli-Palestinian conflict.
"We also have new phenomena (of antisemitism in Germany). We have refugees now, for example, or people of Arab origin who are bringing a different type of antisemitism into the country," Ms Merkel told Israeli TV this week. "In the new government, we have for the first time appointed a commissioner for Jewish life in Germany and in the fight against antisemitism."
The new commissioner, Felix Klein, starts his job in early May.
The decision followed a recommendation by experts and came amid concerns over the bullying of Jewish children in schools in recent months and the burning of Israeli flags during a recent pro-Palestinian protest in Berlin.
Earlier this month, a rap band that included cynical references about the Auschwitz death camp in its lyrics won the Echo award, Germany's most important music prize, drawing strong criticism from other artists and government officials. After several past winners said they would return their awards, the German music industry behind the Echo said Wednesday it would scrap the prize in its current form.
Neighbouring France also has witnessed virulent antisemitism in recent years, notably in two Islamic extremist attacks targeting a Jewish school and a kosher supermarket. More recently, authorities say antisemitism was a motive for the stabbing death last month of an 85-year-old Parisian woman, a killing that shocked France.
Thousands of French Jews have left for Israel in recent years, but France still has the highest Jewish population in Europe, about half a million.
Around 200,000 Jews live in Germany, most of them immigrants from the former Soviet Union. That's fewer than half of the 500,000 Jews who lived in the country before the Holocaust.
Some 3.3 million Jews lived in Poland on the eve of the Holocaust, making it Europe's largest Jewish community, and the second-largest in the world. There are no exact numbers today because many people with Jewish roots do not register. Estimates are in the thousands.
Poland witnessed a startling wave of antisemitic comments earlier this year by government officials amid a dispute with Israel over a new Polish law. The law criminalizes blaming Poland for Holocaust crimes. The antisemitic rhetoric, unprecedented in Poland in 50 years, deeply shook the country's tiny Jewish community.
Despite the rhetoric, Poland is still considered one of the safest countries in Europe for Jews, with violence extremely rare. With no radical Muslim population and no left-wing antisemitism, Jews in Poland have to worry only about the extreme right, which is small but growing more emboldened.
https://www.independent.co.uk/news/world/europe/kippah-march-germany-muslim-women-hijabs-antisemitism-protests-berlin-jews-a8324791.html
--------
This Princess Is the New Face of Fashion In Saudi Arabia
April 27, 2018
When Saudi Arabia hosted its first-ever Arab Fashion Week earlier in April 2018, it obviously turned heads.
To offer women a platform for expressing themselves through sartorial experimentation, in an otherwise conservative kingdom, could surely be deemed a refreshing change.
Interestingly, spearheading the Arab fashion industry is also a woman.
Princess Noura bint Faisal Al-Saud, the great-granddaughter of Saudi Arabia's founder, was named president of the Arab Fashion Council in December 2017.
The princess graduated from Tokyo's Rikkyo University with a Masters degree in International Business with a Japanese Perspective. It was her stay in Japan that motivated her to take up fashion.
Talking about how women battle deep-seated patriarchal rules in Saudi Arabian culture, Princess Noura said, ''Absolutely, I understand people's perspective. Saudi Arabia has strong ties with its culture. As a Saudi woman, I respect my culture, I respect my religion,'' while speaking to Agence France-Presse.
In Saudi Arabia, women follow a strict dress code. Police and judiciary have long enforced a dress code whereby women are required to wear abayas (a loose, robe-like over-garment), and cover their heads and faces, as mentioned by Reuters in an article.
Princess Noura, however, doesn't exactly associate abaya with conservatism. ''Wearing the abaya or being if you would like to call it conservative in the way we dress is something that is part of who we are. It's part of our culture...this is how our life is, even while travelling,'' she said.
Prince Mohammad bin Salman, however, dismissed the need for wearing abaya, while suggesting that women should be able to choose whether or not to wear it, while speaking at an interview recently.
While the Arab Fashion Week turned out to be a watershed in the history of Saudi Arabia, some people criticised it for being restricted to women only, and for banning cameras.
Princess Noura begs to differ. According to her, the limited access was "part of the restrictions that we have to follow as part of the culture''. She said, ''It was a women-only event and some women are coming to the event--most of them, I would say--feeling safe. I'm coming to see fashion without having to worry about anyone taking my picture. I want to enjoy it.''
The princess is now looking at introducing textile manufacturing to her country. ''Even if it's just 10 per cent of the production line, or the manufacturing line, we can have the finishing ... the last stages of assembling the product in Saudi Arabia. I believe that we can do something great,'' she signed off.
https://www.indiatoday.in/lifestyle/people/story/this-princess-is-the-new-face-of-fashion-in-saudi-arabia-1221476-2018-04-27
--------
Female Candidates Shake Up Iraq Election
27 April 2018
BAGHDAD: Iraqis will go to the polls on May 12 to elect 329 MPs — the fourth parliamentary vote since the 2003 US-led invasion toppled the regime of Saddam Hussein.
With security better in much of the country than it has been for several years, the election has led to a surge of interest in a new generation of female candidates.
A total of 2,592 women are standing for office across the country and in Baghdad many of them have shunned the nation's conservative traditions to run socially liberal and occasionally glamorous campaigns unlike anything Iraq has seen before.
Some posters depicting female candidates in make-up and without Islamic headscarves, have provoked a mixed response from an electorate more accustomed to voting for unsmiling religious clerics.
While some voters said the images were a welcome change to the dry, male-dominated campaigns of old, others accused the women of lacking "political depth" and relying on their looks to woo the public. The candidates themselves have defended their unorthodox approach as just another way to generate interest in the election.
In an interview with Iraqi news agency, Al-Manar Press, Mannal Al-Mu'atassim, said she hoped her fashionable image would motivate more young people to support her in the polls. She told Arab News that while she was "not betting" on her looks to win her more votes, she regarded her appearance as more important than her ability to debate conventional political issues.
"I believe that Iraqi voters are heading toward choosing new faces, so there is no need for an electoral program or slogans," she said.
Under the terms of the Iraqi constitution, 25 percent of the seats in the national Parliament are reserved for women.
This is the first time, however, that the participation of female candidates has generated such widespread public interest among an electorate used to taking a cynical view of more established politicians linked to corruption and sectarian violence.
Ziena Al-Shimari, another female candidate in Baghdad, told Arab News she had been granted permission to run by the head of her tribe and was now determined to stand up for the rights of a new generation of Iraqis.
"I am calling on us to unify the Arab tribes because they support the young while the state does not," she said.Since campaigning began on April 14, the images of the women have given rise to a range of reactions, from anger and mockery to adulation and pride.
"I will vote for one of the beautiful candidates and I do not mind if she has robbed me" Murtadha Zayer, a soldier, told Arab News. "If a beautiful thief robs me in front of my eyes it is better than having an ugly thief who continues to trick me all the time."
Some of the pictures showing the female candidates have been torn by infuriated voters, while others have been defaced to give the women beards and mustaches.
Salah Ahmed, a political activist, criticized many of the women for lacking "cultural or political depth" and targeting "ignorant voters".
"If we asked them to participate in electoral debates to identify their visions, plans and ways of thinking, we would find they had nothing to offer. So to compensate for this shortage they are focusing on their make-up and changes to their appearance," he said.
Bushra Zuwini, a former minister of women's affairs, told Arab News political factions are using female candidates who lack knowledge of important issues to trick the electorate.
"The big blocs now have experience in how to defraud voters, so they brought in new faces that do not understand politics and do not have any programs or visions," she said. "This phenomenon will reflect negatively on women.
http://www.arabnews.com/node/1292291/middle-east
--------
Saudi Bars Pregnant Women, Drug Peddlers from Hajj
April 27, 2018
By Adeola Yusuf and Abdulwahab Isa
The Kingdom of Saudi Arabia has tasked pregnant women and peddlers of drugs to stay away from 2018 hajj operations. The kingdom had, for the umpteenth time, declared its non-approval for pregnant women to participate in the operations. It insisted that this was to avoid the pregnant prospective pilgrims from being subjected to grievous health risk. Stating that this was part of the correspondence the kingdom sent to the National Hajj Commission of Nigeria (NAHCON).
The Executive Secretary of the Kwara State Pilgrims Welfare Board, Alhaji Mohammed Tunde-Jimoh, explained that the law banning pregnant women from performing hajj through the board was still in force. He warned that no pregnant woman should even approach the board for registration.
The Executive Secretary said the board was still expecting directive from National Hajj Commission on the issue of biometric registration for all intending pilgrims. In the same vein, the Muslim Media Practitioners Association of Nigeria (MMPAN) has commended NAHCON for its various innovative reforms which has improved and ease the performance of Hajj in Nigeria.
The Association gave the commendation when its executive members led by the president, Mallam Abdulrahman Balogun, paid a courtesy visit to Chairman/Chief Executive Officer of NAHCON, Barrister Abdullahi Mukhtar, at the commission's Headquarters in Abuja. Balogun called for partnership between the association and NAHCON for improved Hajj reportage and propagation of Islam.
In a welcome address earlier, Chairman/CEO of NAHCON, Barrister Abdullahi Mukhtar, represented by Commissioner, Policy, Personnel, Management and Finance, Alhaji Adebayo Yusuf Ibrahim, commended the association for using various media channels of members to enlighten the Muslim Umma on Hajj activities.
He advised them to imbibe the ethics of the profession by being fair, objective and honest in their reportage as required by the Islamic faith. Alhaji Adebayo assured the association of the commission's commitment to fulfill its pledge in partnering with the association in the area of training and implementation of the media guidelines to be instituted by the commission on Hajj Reporting
https://newtelegraphonline.com/2018/04/saudi-bars-pregnant-women-drug-peddlers-from-hajj/
--------
Arab, European Women Trek North Pole Together
April 26, 2018
Dubai: Four women adventurers from Middle East and seven from Europe have achieved a feat of immense physical and mental endurance by reaching the North Pole, seven days after they launched their expedition.
Seeking to foster greater dialogue and understanding between women from Arabian and Western and culture, the 11 predominantly novice female adventurers had to brave particularly gruelling hours, extreme temperatures, shifting pack ice, blistering winds, and the ever-present threat of polar bears as they successfully completed the demanding cross-country ski from 1° North to the pole.
The Arab contigent included trekkers from Saudi Arabia, Kuwait and Qatar.
Led by veteran polar explorer, Felicity Aston, MBE, the Women's Euro Arabian expedition with only two experienced polar explorers among them was welcomed upon arrival at the North Pole by Eugene Kaspersky, the founder and CEO of cybersecurity company Kaspersky Lab.
"I could not miss the opportunity to personally congratulate these brave women at the end of their journey. Things did not go smoothly for them. They faced severe temperatures, strong winds and drifting ice, but still finished their expedition against all odds. Some members of the team were literally the first women from their respective countries to ever set foot on the Arctic ice cap," said Kaspersky, a keen adventurer and long-time supporter of women's polar expeditions.
Aston who had previously twice led polar expeditions said it was one of the more challenging trips she has embarked upon.
"The team endured extreme cold, the possibility of polar bears, open leads of water, thin ice, and being forced to live in very close quarters in small tents," she said. "On some days, they had to navigate vast fields of ice rubble, forcing them to make tough and demoralising choices, like heading in the opposite direction for extended periods to find another way around."
To their credit, the women adventurers overcame all the challenges with a great sense of humour, spirit of adventure and by holding on tightly to their reasons for making the trip.
The seven-day polar adventure was launched by Aston with the aim to boost mutual understanding between women from Western and Arabian cultures.
She hoped that their extraordinary efforts would inspire all women, regardless of their backgrounds, to reach beyond the expectation of others and fulfil their own life ambitions.
"The team are so delighted to have had the opportunity to ski to the top of the world together, sending out a positive and powerful message of collaboration, teamwork and perseverance against the odds," Aston said.
https://gulfnews.com/news/gulf/arab-european-women-trek-north-pole-together-1.2212318
--------
Tunisian Women Hit Campaign Trail as Equals to Men
April 27, 2018
TEBOURABA, Tunisia: Tunisian women "have the chance to act," says Ines Boussetta, as she hits the campaign trail in northern Tebourba, listening attentively to the problems of the rural region's inhabitants.
Boussetta is one of hundreds of Tunisian women heading party lists in May 6 municipal polls — and for the first time, women will be on an equal footing with men, thanks to a new electoral law.
"I have faced many criticisms and commentaries, like 'you are too young,' 'you don't have political experience,' 'how can a woman lead a council?'" Boussetta, a candidate for the ruling Nida Tounes party, she says.
But "women today have the chance to act, to have an opinion that counts," she added.
Around 100 party lists have been rejected for failing to meet a strict requirement for the candidacy of men and women to alternate in the municipal polls, the first since mass protests forced dictator Zine El Abidine Ben Ali from power in 2011.
Boussetta says she was attracted by Nida Tounes because its founder, Tunisia's 91-year-old President Beji Caid Essebsi, has sought to promote the role of women and young people.
The head of state's 2014 election triumph was "thanks to women," says the former health volunteer.
The North African country's 2014 constitution has been praised as a key milestone, paving the way for greater equality.
A law on violence against women, passed last year, came into force in January.
"A new political generation is in the process of appearing," says Torkia Chebbi, vice president of the League of Tunisian voters, a group set up in 2011 to promote female participation in political life.
Fifty-two percent of Tunisia's 5.3 million voters are under the age of 35.
Women now sit at the top of more than a quarter of the 2,074 party lists.
Many of the female candidates first dipped their toes into politics with the fall of Ben Ali through their work in civil society, Chebbi says.
But "without the law on parity, we would never have achieved such a figure, because attitudes continue to favor men," says Chebbi.
The key parties, Nida Tounes and its junior coalition partner the Islamist Ennahda party, were found to have fulfilled the new gender requirement.
For Boussetta, who moves onto her next campaign stop in a modest black car, her experience working in the health sector makes improving infrastructure a big priority.
Many have placed their confidence in her "because she is young and sensitive to the needs of the region," she says.
Boussetta's family have a long history in Tebourba, where fresh street protests erupted in January this year against the high cost of living, unemployment and corruption.
And there is a yearning for change at the local level.
With the fall of Ben Ali seven years ago, municipalities collapsed.
While replaced by temporary councils, these are widely perceived as having failed to respond to communities' needs.
There is hope that the upcoming elections could help improve daily life in the country, cleaning up public spaces, attracting new investment, and helping to develop marginalized regions.
"Tunisian women don't have experience," acknowledges Simone Susskind, a Belgian gender politics specialist who recently ran a workshop on female leadership.
"But they have to start somewhere."
http://www.arabnews.com/node/1292361/world
--------
Beauty for a Better Life Empowering Women in Pakistan
April 27, 2018
LAHORE - Evidence from all over the world shows that investing in girls and woman creates a ripple effect that yields multiple benefits- not only for individual woman, but for families, communities and countries.
The inauguration ceremony of the 3rd edition of 'Beauty for a Better Life' was held at Ismail Aiwan-e-Science on Thursday. The event was attended by who's who of fashion industry, socialites, media personalities and the graduate students as well.
"Beauty for a Better Life" is a philanthropic professional educational program in Pakistan which is designed to enable underprivileged members of society to gain access to employment and self-esteem through top quality, free-of-charge beauty training.
Through this program, the L'Oréal Foundation has planned to encourage proficient cosmetics and hairstyling trainings for woman from underprivileged groups who aspire to pursue careers in the field of fashion - but can't afford to do so.
Under the mentorship of Mehreen Syed at IFAP, the extensive 3months training imparted by "Beauty for a Better Life" program enables the students of this program to learn the latest techniques and trends in makeup and hair styling.
On the occasion, Mehreen Syed said, " Beauty for a Better Life is effective across the globe in 30 countries in partnership with local NGOs to bring a positive change in the lives of the program's beneficiaries through top quality, extensive and hands on training programs based on global standards, free of cost. We aim to scale up the program further, with a mission to train more than 500 beneficiaries to become beauticians and lead empowered lives."
Speaking about the third edition of "Beauty for a Better Life" program in Pakistan, L'Oréal Pakistan Managing Director Musharaf Hai said: "The program aims to empower, educate and train women with limited resources, in the field of beauty and personal grooming, who want to become economically sustainable. Our goal is to reach deserving women and impact talented entrepreneurs.
The program is designed in accordance with the international standards in theory and practice of the L'Oréal Foundation. We primarily want to cater to the youth to make them technically proficient and financially independent. L'Oréal as a company seeks innovation and always encourages creativity and entrepreneurial spirit as our core values."
https://nation.com.pk/27-Apr-2018/beauty-for-a-better-life-empowering-women-in-pakistan
--------
Sindh to Get UN Women Supported Body To Promote Women Empowerment
APRIL 27, 2018
KARACHI: The Women Development Department in collaboration with HomeNet Pakistan and Aurat Foundation organised a consultation meeting on formation of a Women Economic Empowerment (WEE) Network in Sindh, supported by UN Women, on Thursday.
The main objectives of the WEE Network will be to create a platform within the Women Development Department for dialogue on Women's Economic Empowerment; to improve coordination amongst donors, private sector, women's organisations, NGOs/INGOs and government departments on issues and programmes related to economic empowerment; creating a referral system to support women startups and women entrepreneurs for promoting and strengthening economic empowerment through linking them with skills/business development, service delivery channels, market linkages, strengthening capacities & knowledge sharing, safe working environment, as well as creating linkages for resolving issues with Ombudsman offices and labour courts etc. Moreover, facilitating the implementation of Sustainable Development goals (SDGs) especially SDG 5 gender equality and; SDG goal 8 decent work and economic growth; and promoting evidence-based research on WEE.
Ume Laila Azhar of HomeNet Pakistan shared an extensive research on economic empowerment of women focusing on Pakistan's status among countries and women's participation ratio and share.
Even when not explicitly focused on women's empowerment, the social enterprise sector is providing greater opportunities in employment than the wider economy. Women workforce in Pakistan is 22%; whereas women's share in the social enterprise workforce is 37%; women percentage of leaders in for-profit sector is only 5% and the percentage in social enterprise sector is 20%.
"The graph of women growth is not heading towards a steady growth pattern because there is a disconnect between policy and practice," Ume Laila said.
WDD Secretary Haroon Ahmed Khan explained the structure and concept of WEE and said that WDD recognised its due role in composition of the body and would try its best to play an effective role for overall women economic empowerment. He said that he expected cooperation of all stakeholders in making the network a strong and strengthened body to further enhance the agenda of women empowerment in Sindh.
Tahira Raza, the president of First Women Bank, highlighted the importance of financial institutes and was of the view that keeping in view of importance of digital marketing and ecommerce, there was a need to develop a website to cater the needs and to display the valuable work of women entrepreneurs/home-based workers.
Nuzhat Shirin of SCSW, Musarrat Jabeen of WDD, Renuka Swami of UNFPA, Taniya Hafeez of SMEDA, Shaheen Mangi of Labour Dept, Mayor of Hyderabad city, Naheed Syed of HomeNet, Mahnaz Rahman of AF, gave their constructive input for formation, structure and strengthening for WEE Network in Sindh.
All the stakeholders appreciated the concept of WEE Network and stated that this network was a need of the hour to provide a platform and to make coordinated efforts for women empowerment in Sindh in all sectors.
It was agreed among the participants that the launch of the network would be undertaken in the second week of May, as Labour Day fell on May 1st.
The Network would comprise a body under the chairpersonship of the WDD secretary. The members of the WEE network will be from organisations working on women's economic empowerment, women owned businesses/ women entrepreneurs, private companies, banks, financial institutions, academia, scholars, and UN Agencies and donor agencies.
https://dailytimes.com.pk/232887/sindh-to-get-un-women-supported-body-to-promote-women-empowerment/
--------
Iran: Women take to the streets in Tehran, Bandar Abbas, Mahshahr
26 April 2018
Numerous protests took place in various cities across Iran on Wednesday, April 25, 2018, and women actively participated in a number of them.
In Bandar Abbas, the female personnel working for the Plan to Evolve Health and Medical Network staged a protest against officials' lack of accountability and failure to raise their salaries in the face of rising inflation.
In Tehran, women and men plundered by Arman Institute gathered in front of the Commerce Bank and demanded reimbursement of their assets. One of the protesters held a banner which read, "What I had earned in young age for the future of my child has been squandered by Arman Institute under the supervision of the Islamic Republic's Central Bank. Is there anyone who could do justice?"
In Mahshahr, a group of women and men gathered in protest outside the Justice Department's building, demanding serious action against a father and a stepmother who had tortured three innocent children.
https://women.ncr-iran.org/iran-women-news/5007-iran-women-take-to-the-streets-in-tehran-bandar-abbas-mahshahr
--------
Iran: Young Woman to Be Jailed Five Years for Her Faith
26 April 2018
A young woman was sentenced to five years in prison for her faith by a court in Shiraz, capital of Fars Province in southern Iran.
Nazanin Bangaleh, a young Bahaii woman, was tried by the First Branch of the Court of Shiraz on Tuesday, April 24, 2018, along with her father Nematollah Bangaleh.
They had been freed on bail shortly after being arrested on August 27, 2016. Now, they have been sentenced to five years' imprisonment, each.
The residence of this family was violently ransacked at the time of arrest and their furniture damaged.
Under the clerical regime in Iran, Bahaii's are systematically persecuted and denied their basic rights.
https://women.ncr-iran.org/iran-women-news/5005-iran-young-woman-to-be-jailed-five-years-for-her-faith
--------
Iran: Harrowing case of domestic violence against girl children
26 April 2018
The discovery of three children including two girls who had been tortured by their father and stepmother outraged the public in city of Mahshahr, in southwesternin Iran.
Fatemeh, 12, Omolbanin, 8, and their five-year-old brother, Ali Akbar were tortured physically and psychologically by an ax, a hammer, hot iron rods, etc.
The horrendous case of domestic violence against these children was discovered by neighbors in the town of Taleghan, near Mahshahr, in Khuzistan Province.
Officials say the father has been arrested on Prosecutor's warrant. However, the stepmother who was the main perpetrator of this crime has been freed on bail and remains at large.
Eyewitnesses who discovered the tortured children said they had been kept in the back yard in hot weather. The childrens' mouths were glued to prevent them from screaming.
Fatemeh, 12, was discovered tied to iron bars and not able to move. Her stepmother broke her elbow by an ax and her teeth using a hammer. Various parts of the childrens' bodies had been burnt. The children had only water to drink. (The state-run Asriran.com, April 24, 2018)
The bill proposed to protect children against violence has been suspending in the mullahs' parliament for ten years.
https://women.ncr-iran.org/iran-women-news/5008-iran-harrowing-case-of-domestic-violence-against-girl-children
--------
URL: https://www.newageislam.com/islam-women-feminism/in-hijabs-girl-scout-vests/d/115069
New Age Islam, Islam Online, Islamic Website, African Muslim News, Arab World News, South Asia News, Indian Muslim News, World Muslim News, Women in Islam, Islamic Feminism, Arab Women, Women In Arab, Islamophobia in America, Muslim Women in West, Islam Women and Feminism