New Age Islam News Bureau
17 Jun 2017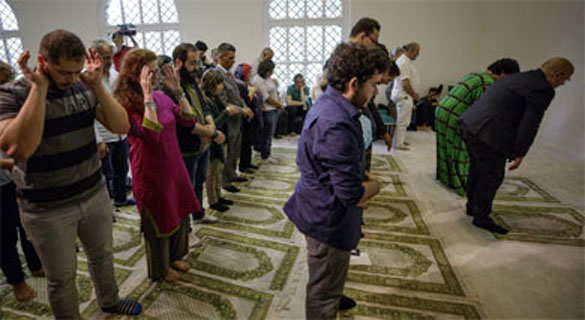 Worshipers pray at the Ibn Rushd-Goethe Mosque during its inaugural Friday prayers in Berlin on June 16, 2017. (Carsten Koall/European Pressphoto Agency)
-----
• Pakistan Rape Victim Attends US Opera She Inspired
• Man Kills Two Sisters for 'Honour' In Faisalabad
• A Saudi Woman Who Got Behind the Wheel and Never Looked Back
• World Bank Aims To Help Poor, Women Access Digital Banking
• Activist Zafar Khan Lynched to Death in Rajasthan for Objecting Photography of Women Defecating In Open
• Najib: Government Safeguards Women's Interest in National Policy Formulation
Compiled by New Age Islam News Bureau
URL: https://www.newageislam.com/islam-women-feminism/in-germany-new-feminist-islam/d/111581
--------
In Germany, a new 'feminist' Islam is hoping to make a mark
By Anthony Faiola and Stephanie Kirchner
June 17, 2017
BERLIN — Inside the red-brick building that now houses the German capital's newest and perhaps most unusual mosque, Seyran Ates is staging a feminist revolution of the Muslim faith.
"Allahu akbar," chanted a female voice, uttering the Arabic expression "God is great," as a woman with two-toned hair issued the Muslim call to prayer. In another major break with tradition, men and women — typically segregated during worship — heeded the call by sitting side by side on the carpeted floor.
Ates, a self-proclaimed Muslim feminist and founder of the new mosque, then stepped onto the cream-colored carpet and delivered a stirring sermon. Two imams — a woman and a man — later took turns leading the Friday prayers in Arabic. The service ended with the congregation joining two visiting rabbis in singing a Hebrew song of friendship.
And just like that, the inaugural Friday prayers at Berlin's Ibn Rushd-Goethe Mosque came to a close — offering a different vision of Islam on a continent that is locked in a bitter culture war over how and whether to welcome the faith. Toxic ills like radicalization, Ates and her supporters argue, have a potentially easy fix: the introduction of a more progressive, even feminist brand of the faith.
"The intention is to give liberal Islam a sacred space," Ates said. "I feel very discriminated by regular mosques where women have to pray in ugly backrooms."
The subject of withering criticism as well as hopeful support, the house of worship is part of a small but growing number of liberal mosques founded all or in part by women.
Seen by their backers as an antidote to gender bias that often leaves Muslim women praying in smaller spaces, the new kind of "feminist mosques" amount to a rallying cry for change, observers say.
In London, for instance, the female-founded Inclusive Mosque Initiative opened its doors in 2012. Female imams routinely lead prayers in spaces that welcome male and female Muslims of any sect — gays and lesbians included. More recently, mixed-gender or all-female prayers have spread to boutique mosques from California to Switzerland to Denmark.
Women and men traditionally pray separately in mosques for reasons of modesty. Some argue that the Koran does not explicitly call for separation, but others say that female voices should not be heard during prayer.
Nevertheless, women are said to have served as imams in ancient Islam, and female Muslim activists have been challenging the norms surrounding the religion for decades. Notable among these activists is Amina Wadud, an American who famously delivered a Friday sermon at a South African mosque in 1994.
Enter Ates, who opened the Berlin mosque largely through donations. A 54-year-old Turkish Kurd, she is both well known and polarizing in Germany's Muslim community of more than 4 million. As a student, she narrowly survived a gun attack at a counseling center for Turkish women. And after years of fighting for women's rights, repeated death threats forced her to close her legal practice in 2006.
The debut of her mosque brought a round of fire on social media from critics. "#Mosque without #Islam. Those who know Ates know that she is in favor of an Islam that is not based on its sources," tweeted the advocacy group Generation Islam.
Burhan Kesici, chairman of the Islamic Council for the Federal Republic of Germany, dismissed her house of worship as a fad.
"We're observing this and are wondering . . . how what is happening there is supposed to be rooted in Islam at all," he said.
He added, "Of course women are equal. That there's a separation in religious practice doesn't mean that they're not equal. I'm curious how long this congregation will last. . . . It seems a random conglomerate of different Islam critics."
At the inaugural service Friday, the mosque housed inside an old theater space of a Protestant church lured more journalists than worshipers, as well as a significant security presence. Among the young Muslims attending was Haithm al-Kubati, 26, a Yemeni who moved to Germany six years ago.
It was, he said, his first time praying in a mosque with women.
"It still takes a bit of getting used to. But it's often the case when something is new that it is a bit strange, perhaps even a bit scary. But I am sure that this is the way of the future," he said.
Elham Manea, the female imam who shared in leading the Friday prayers, said mixed worship is an issue of equality.
"How and when a woman is asked to pray mirrors her social status within her community," Manea said. "She is asked to pray separately from men, to cover her hair during prayer . . . and to stop praying during the days of her menstruation. . . . All these restrictions are imposed on her because they mirror the social conviction that a woman is not fully complete and perfect like a man and [that] she without doubt isn't equal."
"I understand that change is hard, because one is used to doing the same thing for centuries, and it will of course be difficult to change it. But still the time for change is now. . . . And we're calling for it respectfully."
https://www.washingtonpost.com/world/europe/in-germany-a-new-feminist-islam-is-hoping-to-make-a-mark/2017/06/16/fc762d00-529c-11e7-b74e-0d2785d3083d_story.html?utm_term=.6368b7033d76
--------
Pakistan rape victim attends US opera she inspired
June 17, 2017
Fifteen years after her gang rape by a local clan in her village in Pakistan, Mukhtar Mai is reliving her ordeal, but also her courage, through a US opera inspired by her story.
The opera, by composer Kamala Sankaram and librettist Susan Yankowitz, recounts Mai's 2002 rape and her decision to defy her attackers and take them to court.
"I was very emotional when I first started watching it and began reliving the incident in my mind," Mai, 37, told AFP news on Friday, after attending the Los Angeles premiere of Thumbprint.
"But then as the opera progressed, it became easier to watch and I felt more courage," she said.
It was an unusual move in male-dominated Pakistan, where a woman who suffers such a crime often commits suicide rather than endure the stigma and shame associated with it.
Thumbprint first opened in New York in 2014, but Mai had never seen the opera.
She travelled this week from her home, in the remote Pakistani village of Meerwala, to attend the West Coast premiere.
While the story on stage ends when Mai's rapists have been sentenced to death, in reality her attackers walked free.
They are seemingly going about their daily life with total impunity after their sentences were overturned on appeal.
The men had raped Mai, with the approval of the village council, as a punishment after her 12-year-old brother was falsely accused of having an illicit relationship with a woman from the dominant clan in the village.
"My rapists live across from my house and I try not to cross paths with them," said Mai, who used compensation money from her case to start several schools and a women's shelter in her village.
"When I walk past, they taunt me and make catcalls."
In an added strange twist to her story, the children of her rapists attend her school, and the daughters of some of the village elders who ordered her rape have sought refuge at her shelter.
"Even though some members of my own family were outraged, I told them I could not turn away the kids as the school is here to serve everyone in the community," she said.
Daily threats
Mai married in 2009 and has three children. She acknowledged that her story had empowered women in her village and beyond, giving them courage to stand for their rights.
But she said she held little hope that the legal system in her country would ever render her justice.
She said she receives threatening messages daily on her telephone, Facebook page or in person and is now afraid for the safety of her children.
"I have reported nearly 35 such threatening calls and incidents and only one person was arrested, but he was let out on bail," she said.
"I want to make it known that if anything happens to me or my children and family members, the Pakistani government is responsible."
As for the opera inspired by her story, she doubts it could ever be shown in Pakistan, where it would certainly hit a nerve.
But, she said, "I would like it to be shown everywhere."
"And I would like for the people who committed this crime to be identified and come face to face with what they did."
http://www.aljazeera.com/news/2017/06/pakistan-rape-victim-attends-opera-inspired-170617061409056.html
--------
Man Kills Two Sisters for 'Honour' In Faisalabad
June 17, 2017
FAISALABAD:-A man allegedly killed his two sisters in the name of honour here in Nishatabad locality late the other night. The suspect, Allah Ditta, was taking his sisters Sidra,18, and Aliza,14, to his home from their paternal home when he strangled both the girls to death and escaped, police officials said. The bodies were shifted to Allied Hospital for post-mortem. The police are on the lookout for the suspect, a local police spokesperson said.
http://nation.com.pk/national/17-Jun-2017/man-kills-two-sisters-for-honour-in-faisalabad
--------
A Saudi Woman Who Got Behind the Wheel and Never Looked Back
June 17, 2017
OSLO — Manal al-Sharif was 14 when she burned her brother's Back Street Boys cassettes, then her mother's fashion magazines. She gave up drawing human figures and reading her prized Agatha Christie novels — forbidden, she had learned, under the puritanical strain of Islam sweeping through her native Saudi Arabia at the time. All kinds of things were forbidden for women and girls, she had also learned: no plucking your bushy eyebrows, no parting your hair fashionably to the side, no revealing your face in public.
The one thing she could not destroy was a plastic bag of family photographs that her mother had stashed in her bedroom. She found them, years later, after her mother had died. There was a photo of herself, in a red dress for Eid; another of her mother, in a calf-length skirt she had stitched herself; another of her dad, barechested, for the hajj.
"I'm so happy she hid them from me," Ms. al-Sharif said the other day, scrolling through the images she had uploaded on her phone. "I thought we didn't have any."
Ms. al-Sharif, 38, has undergone a radical change of heart since those Salafi firebrand days. She is now best known for challenging the laws and mores that keep women down in Saudi Arabia, including what she considers the kingdom's infantilizing restrictions on the right of women to drive.
Her first book, "Daring to Drive: A Saudi Woman's Awakening," published this week by Simon & Schuster, is a memoir of her political coming of age. It is equally a portrait of tumult and tyranny in Saudi Arabia over the last four decades — and the kingdom's vexing relationship with the United States.
I met Ms. al-Sharif in Norway, at a human rights conference in the capital, Oslo, in late May, as the Trump family was visiting her country. Speaking to women in the Saudi capital, Riyadh, Ivanka Trump called the country's progress on women's rights "very encouraging," even as she acknowledged that "there's still a lot of work to be done."
Ms. al-Sharif found the appraisal insulting.
She pointed to the case of her friend Mariam al-Otaibi, detained since April for her campaign against a policy that requires a woman to obtain the permission of a male guardian to work, study or travel, regardless of how old she is. Ms. al-Sharif wears a blue plastic wristband in support of the campaign to end the guardianship system. "#IAmMyOwnGuardian," the wristband reads.
"What type of progress in women's rights?" she said. "I wish she was more specific so I wouldn't feel insulted. If you don't want to support us, just stay quiet. Don't praise. You're making it worse for us."
Ms. al-Sharif was born at home in 1979, the second daughter of a Saudi father and a Libyan mother. They lived in a cramped apartment in Mecca, Saudi Arabia's holiest and most religiously conservative city. Her father drove a taxi. Her mother stitched their clothes from designs she had copied from fashion magazines. There wasn't always running water. There was a lot of abuse: her father beating her mother, her sister beating her, and later her first husband beating her. Lots and lots of beatings.
"It is too soon to say how many of my generation may have learned to despise injustice as a consequence of the beatings, verbal abuse and general cruelty that we suffered as children," she writes in the book. "But I know that I have, and I know that I will carry that lesson with me always."
Her generation was bound by a rigid form of Islam. She remembers religious leaders coming to lecture on her school's public address system. Leaflets were passed out in the streets, prescribing what and what not to do. An elderly aunt who had always worn colorful traditional Saudi gowns suddenly began to cloak herself in a head-to-toe black abaya, because her children told her to. Her mother took down from the bedroom wall a decorative hand-stitched canvas of a woman, bathing. Photos vanished from their apartment. Young men were routinely encouraged to join the fight against Soviet forces in Afghanistan.
Being true to that sort of doctrine, as she recalled it, required hating the infidel.
"My generation, born in the '70s and '80s, we were all radicalized," she said. "You give up so much to follow these rules. It gets under your skin."
It left her skin, slowly.
There was a girl in college who did not cover her face — Sara. She was so kind and friendly, Ms. al-Sharif recalls, that it was hard not to be friends with her. It felt dissonant.
There was the Back Street Boys. She secretly listened to her brother's tapes. And liked them.
Then there was Sept. 11. She was appalled that the extremist doctrine she grew up in had spurred 19 hijackers — 15 from Saudi Arabia — to kill so many people. She had had enough of the hate.
Inside Saudi Arabia, the rules were — and remain — particularly onerous for women.
Ms. al-Sharif needed her father's permission to enter university; she studied computer science. She needed his permission to apply for a job; she was hired as an information security specialist at Aramco, the Saudi oil company. She needed his permission to travel abroad for a business trip, and to get a passport.
A work trip to New Hampshire changed her outlook on many things. She went to the theater, where she saw two men kissing. She went skiing. She learned to drive.
And then, in 2011, came a wave of pro-democracy protests across the Arab world. Ms. al-Sharif was back in Saudi Arabia by then, living in the Aramco compound, a divorced single mother to her son, Abdalla.
She had bought a car. She was allowed to drive inside the Aramco compound.
One morning in May 2011, she decided it was time to take it for a spin outside. A friend sat in the passenger seat and recorded the drive on her phone.
By afternoon, it was a YouTube sensation. International news coverage followed, and, eventually, a knock on the door in the middle of the night by Saudi authorities. Ms. al-Sharif was thrown in a women's prison, crawling with cockroaches.
Hillary Clinton, who was then secretary of state, came under pressure to speak out in favor of the Saudi women's campaign to drive. "What these women are doing is brave and what they are seeking is right," Mrs. Clinton said.
In 2012, Ms. al-Sharif received the Vaclav Havel Prize for Creative Dissent at the Oslo Freedom Forum, an annual conference of human rights advocates. Ms. al-Sharif had never heard of Mr. Havel, the Czech dissident writer who went on to become president, nor did she know precisely what dissent meant.
Speaking out — and that too, abroad — meant losing her job, Ms. al-Sharif said, along with company housing.
Only later did she realize that she was following in the footsteps of women who had dared to drive as far back as 1990, and had become social outcasts afterward.
The Oslo trip was a turning point in other ways too. One speaking engagement brought another. She wanted to write a book about women agitating for change in her country. An agent persuaded her to write about herself, which wasn't easy, especially about the one thing Saudis don't talk about: genital cutting, which she describes as "the most difficult part of my childhood." It took five years to pull together a memoir, and several writers whom she calls her collaborators.
She lives in Australia now, with her husband, a Brazilian, and their 3-year-old son. She has applied for the Saudi government to recognize her second marriage and has yet to receive it. Exile is frustrating. "When you're there you don't just talk. You take action," she said. "I feel little bit helpless now, being outside."
And then there's her firstborn son. He lives in Saudi Arabia, with his father. Ms. al-Sharif visits as often as she can. He asks her all kinds of questions about all kinds of things, like whether to talk to a girl.
"I say: 'Abdalla, you're a very intelligent boy. I'll give you two answers. An answer that I believe in. And an answer that'll keep you away from trouble,'" she said.
He is now 12, and she hopes he will one day read the book and understand her choices. "It tells my whole story."
A version of this article appears in print on June 17, 2017, on Page A5 of the New York edition with the headline: A Saudi Woman Who Got Behind the Wheel and Never Looked Back. Order Reprints| Today's Paper|Subscribe
https://www.nytimes.com/2017/06/16/world/middleeast/saudi-womens-rights.html?partner=rss&emc=rss&mtrref=daily.news.itthon.ma&gwh=D7E9223675122709CC3D96BF9D9F2F97&gwt=pay
--------
World Bank aims to help poor, women access digital banking
June 17, 2017
ISLAMABAD: The World Bank has approved a project worth $137 million to help the poorest and vulnerable people in Pakistan, especially women, who do not have access to digital banking and financial services.
According to the World Bank's resident mission in Islamabad, the 'financial inclusion and infrastructure project' will upgrade the payment systems to ensure affordable and faster payment services.
The project, approved on Thursday, is designed to implement the 'National Financial Inclusion Strategy'. It will improve access to financial and banking services for 50 per cent of the adult population — half of which will be women — across the country by 2020. The inclusion project will boost the private sector credits to small and medium businesses to 15pc, from 7pc in 2015.
The World Bank's country director for Pakistan, Illango Patchamuthu, said: "Five per cent of the world's unbanked population lives in Pakistan. We need to change this to empower people financially, especially women."
https://www.dawn.com/news/1340038/world-bank-aims-to-help-poor-women-access-digital-banking
--------
Activist Zafar Khan Lynched to Death in Rajasthan for Objecting Photography of Women Defecating In Open
June 17, 2017
Municipality employees in Pratapgarh town on Friday beat a middle-aged man to death when he allegedly tried to stop them from scaring women defecating in the open and taking their photographs. The incident happened near Bagwasa Kachi Basti area at around 6:30 am where few women had gone to attend nature's call. The municipality employees of Pratapgarh town municipality tried scaring away women and took photographs of women defecating in the open. It was then that Zafar Khan intervened and tried stopping municipality employees from taking pictures.
In retaliation, municipality employees kicked, punched and beat Khan with a stick, which led to his death, according to the FIR lodged by Khan's elder brother Noor Mohammed. Noor has lodged a complaint against Kamal Harijan, Ritesh Harijan, Manish Harijan, Nagar Parishad commissioner Ashok Jain and others following police have registered a case of murder, Pratapgarh Kotwali police said.
Pratapgarh Superintendent of Police, Shivraj Meena said, "We are getting the matter investigated and a case has been registered against four named accused in the FIR". SHO, Pratapgarh Kotwali, Mangilal Bishnoi said that the body has been kept at district hospital for postmortem. Police have been deployed considering the matter sensitive and to maintain law and order. "We are investigating the case and no arrests have been made so far," he said.
http://indianexpress.com/article/india/activist-zafar-khan-lynched-to-death-in-rajasthans-pratapgarh-for-objecting-photography-of-women-defecating-in-open-4707822/
--------
Najib: Government safeguards women's interest in national policy formulation
June 17, 2017
KUALA LUMPUR, June 17 — The government has always emphasised on women's significant role when formulating the country's policies, says Prime Minister Datuk Seri Najib Razak.
Numerous endeavours, he pointed out, had been initiated to empower women both in the corporate and social sectors.
"We want to produce many more 'heroines' who are looked up to in their respective fields.
"I am confident that women could realise their full potential through the opportunities offered by the government, God willing," he said in his latest blog entry najibrazak.com, with the heading, 'Kehebatan Tokoh-Tokoh Wanita Dalam Sejarah' (The greatness of women in history) .
He noted that the role of women was not merely as mother and wife but has a major impact on the development of a society or nation.
"As the Malay saying goes, 'Tangan yang menghayun buaian mampu menggoncang dunia' (The hand that rocks the cradle rules the world)," he said.
Najib cited Saidatina Siti Khadijah RHA who not only was a very successful businesswoman looked upon as a role model for her vast contribution but the main source of inspiration for Rasulullah SAW (Prophet Muhammad).
"We also acknowledge the wisdom of Saidatina 'Aishah RHA as an educator, and the courage of Nusayba binti Ka'ab al-Ansariyah, who defended Rasulullah SAW in the Battle of Uhud," he said. — Bernama
http://www.themalaymailonline.com/malaysia/article/najib-government-safeguards-womens-interest-in-national-policy-formulation
--------
URL: https://www.newageislam.com/islam-women-feminism/in-germany-new-feminist-islam/d/111581
New Age Islam, Islam Online, Islamic Website, African Muslim News, Arab World News, South Asia News, Indian Muslim News, World Muslim News, Women in Islam, Islamic Feminism, Arab Women, Women In Arab, Islamophobia in America, Muslim Women in West, Islam Women and Feminism