New Age Islam News Bureau
9 Feb 2015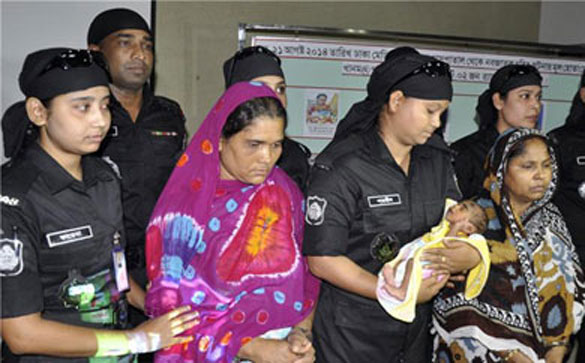 The number of infants abducted from hospitals doubled last year, a worrying trend for parents [Sourav Lasker/Al Jazeera]
-----------
• UN Alarmed At Increasing Attacks against Schoolgirls Worldwide
• Abducting and Selling Babies in Bangladesh
• Hijab Controversy Revived in Russia
• Saudi Moms Get Thumbs Up In New Survey
• 'I Am Malala' Wins Grammy for Best Children's Album
• Sex Abuse in Rotherham: Women of All Faiths Must Make a Stand against the Bigots Who Betray Islam
• Banning FGM Opposed By Those with 'Weak Knowledge': Islamic Scholar
• Guinea's Muslim Clerics Call For End to FGM to Help Stop Ebola
• Muslim Uncle of Two Ugandan Girls Beats, Locks Them Up without Food
Compiled by New Age Islam News Bureau
URL: https://www.newageislam.com/islam,-women-and-feminism/new-age-islam-news-bureau/in-europe,-parents--dismay-as-syria-jihad-lures-troubled-teens/d/101438
-----------
In Europe, parents' dismay as Syria jihad lures troubled teens
February 9, 2015
(Reuters) - As Belgium braces for a verdict in Europe's biggest trial of those accused of fostering Islamist violence in Syria, much attention is on poor Muslim immigrant communities' struggle in a region blighted by youth unemployment.
But for parents in Antwerp, a city on high alert since the Charlie Hebdo massacre in Paris and police raids on Belgian jihadists, Wednesday's ruling by judges there may never explain why their two sporty teenagers, with no Muslim heritage, abandoned comfortable homes to take up arms in the Middle East.
And whatever sentences may be passed on their sons, Brian De Mulder's mother and Jejoen Bontinck's father both say the damage done by those who recruited them - harm that includes lost jobs and disrupted homes for parents and siblings - cannot be undone.
"For me there is no difference to a sect," Dimitri Bontinck, 41, told Reuters. Local group Sharia4Belgium enticed his then 18-year-old son to travel to fight in Syria, he said, leaving him and Jejoen's Nigerian-born mother distraught.
"The way they are groomed, the way they are initiated, the way they take on new names, the way they have their rituals", it all attracted youngsters going through moments of adolescent angst, Bontinck said - in Jejoen's case, a failed teen romance.
With Belgium outstripping its European neighbours in providing foreign fighters for the likes of Islamic State and al Qaeda - some 350 from a country of just 11 million - Bontinck made national headlines by risking his own life to travel, three times, to the war zone. And he managed to bring his son home.
Now 20, Jejoen Bontinck has been a key witness in the trial on terrorism charges of leaders of Sharia4Belgium. But he also faces up to four years in prison himself as one of just nine of the 46 defendants present. The other accused, like 21-year-old Brian De Mulder, are still in Syria. Or may already be dead.
De Mulder's Brazilian mother Ozana Rodrigues says she still weeps every day for her son, once a promising youth soccer player. She believes it was being dropped by his professional club, aged 17, that led Brian to religion, and violence.
DISDAIN FOR "INFIDELS"
Like Jejoen Bontinck, Brian De Mulder was converted to Islam and quickly became very devout, dressing in robes, insisting on halal meat and criticising his mother and sisters for dressing immodestly.
One day he announced he wanted to volunteer for charity work in Syria: "I argued with him saying that there were plenty of opportunities here," Rodrigues said. "He told me he didn't want to because all the people here were infidels."
She moved the family from Antwerp to the countryside. But Brian kept in touch with his radical friends. One morning, Rodrigues said, "I went to his room and noticed he had gone. They had taken my son."
Two years have since passed. Brian has sent word he is in Syria but they have little contact.
"An event can happen in the life of person that acts as a catalyst," said Ghent University's Bilal Benyaich, a political scientist who has studied the radicalisation of young Belgians. "They find themselves outside of the system and believe it's society's fault they have suffered."
They find solace in radical Islam. There's black and white and good and bad ... You feel liberated from this uncertainty and you suddenly have a goal."
But disruption and stigma hurt others. Dimitri Bontinck and Ozana Rodrigues both lost jobs. Brian's mother and 13-year-old sister are also homeless, relying on friends and family to house them.
The defendants have little sympathy from a public shocked by raids on jihadist cells last month that police said showed some Belgians were returning from Syria to attack their homeland. Two died in a shootout a week after Islamists killed 17 people in Paris, at Charlie Hebdo newspaper and a Jewish grocery. Last summer, a gunman killed four people at Brussels' Jewish Museum.
European Union leaders will agree tighter counter-terrorism cooperation at a summit in the Belgian capital on Thursday. One priority is combating the radicalisation of young EU citizens.
Dimitri Bontinck hopes the court will let his son seek a new life far from Belgium. Prosecutors want him to serve four years.
They demand 15 years for Sharia4Belgium spokesman Fouad Belkacem, 32. He denies recruiting foreign fighters for Syria.
Rodrigues hopes the judges will punish those she blames for taking her son but sees no consolation: "If my son had died in a car crash or got hit by a bullet, I could bury him," she sobbed. "I could say goodbye. But my son is in Syria. What can I do?" (Editing by Alastair Macdonald and Sophie Walker)
http://af.reuters.com/article/commoditiesNews/idAFL6N0VE57U20150208?sp=true
-----------
UN alarmed at increasing attacks against schoolgirls worldwide
9 February 2015
The United Nations human rights office says there have been threats, violent attacks and other abuse against girls for going to school in at least 70 countries over the past five years.
A report published Monday by the Geneva-based body noted that, despite some progress, girls still face difficulty getting an education in many countries around the world.
It notes that "attacks against girls accessing education persist and, alarmingly, appear in some countries to be occurring with increasing regularity."
The report cites the kidnapping of nearly 300 schoolgirls in Nigeria last year and the shooting of education activist Malala Yousafzai in Pakistan in 2012.
It says that in 2012 alone there were 3,600 attacks against schools, teachers and students.
http://indianexpress.com/article/world/world-others/un-alarmed-at-increasing-attacks-against-schoolgirls-worldwide/
-----------
Abducting and selling babies in Bangladesh
February 9, 2015
Dhaka, Bangladesh - It should have been one of the most joyous moments in the lives of Torikul Islam and his wife Rubina - the birth of their daughter. Instead it turned into a nightmare after the baby was abducted from the hospital.
Stealing and selling newborns from public hospitals is on the rise in Bangladesh with at least 16 such incidents over the past year, according to police and non-government organisation statistics.
With only five babies recovered over the past year, the trend has spread fear among would-be parents, especially rural dwellers and lower income groups who use the services of public hospitals for free or nominal fees.
Torikul - a farmer living in Rajshahi division, 240km east of the capital Dhaka - admitted his pregnant wife Rubina Begum at the Rajshahi Medical College Hospital on December 28, 2014. She gave birth to a baby girl that night.
"As she is the first baby in our family, most of my relatives came to the hospital to see her the next day. There was this woman in a veil in the neonatal ward who sat near us," Torikul told Al Jazeera.
He said he went out to bid farewell to relatives leaving only his elderly mother-in-law with the baby.
"We learned later that the veiled woman had advised my mother-in-law to wipe the face of the baby, and when she had turned to look for a cloth, she fled with the baby," said Torikul.
Although hospital authorities immediately locked down all exits, the baby thief still managed to escape.
Unlike other parents, the family's horrifying story had a happy ending, as police recovered the baby on January 1.
"After investigating the outsiders who frequented the hospital, we managed to arrest four people including a hospital staffer," said Anisur Rahman, the officer-in-charge at the Rajpara police station.
Nightmares
Kaosar Hossain's baby boy was stolen from Dhaka Medical College Hospital in August 2014.
Two days earlier, Kaosar, who works at a neighbourhood clinic and earns a monthly salary of $84, had admitted his wife Runa Akhter.
"She required a caesarean operation as we were expecting twin baby boys," said Kaosar.
"My wife was feeding Yasin, one of the twins, in a bed of the neonatal ward. As Ekhlas, the other one, cried, a woman who had been occupying one of the beds in the ward ... walked over and tried to calm Ekhlas," said Hossain.
When Runa turned around a minute later, she found that both the woman and Ekhlas had disappeared.
A week later a unit of the Rapid Action Battalion, an elite paramilitary force, recovered Ekhlas from Gazipur area, some 30km outside Dhaka and made two arrests.
"The week we passed without Ekhlas was filled with nightmares. We never expected to find him again," Runa told Al Jazeera.
Stealing babies
According to Bangladesh Shishu Adhikar Forum, a Dhaka-based NGO that monitors child rights, at least 16 babies were stolen - double the number from the previous year - and only five were later recovered.
The group said the actual number is likely to be higher as "most newborn thefts in public hospitals at rural locations remain unreported".
Officials said it appears the demand for babies is among childless couples and that is driving the infant trade.
Stolen babies are later sold for about $500.
One of the arrested culprits had been delivering babies for poor parents in clinics, and "often lied to the parents by telling them that their babies were stillborn. Later, she often sold the same healthy baby to childless couples", said Commander Mufti Mahmud Khan of the Rapid Action Battalion.
In the case of Torikul's baby, the kidnappers confessed to police that they were desperate for a child after their two-year-old died, said investigating officer Anisur Rahman.
The rise in baby abductions, meanwhile, is driving away patients from public hospitals. Fahad Ahmed, a Dhaka-based businessman, said he and his wife would go to a private hospital and pay more because of the situation.
In a bid to allay such fears, the public hospitals are bolstering security.
"We are increasing supervision in the different wards by installing more closed circuit cameras and also increasing accountability among ward in-charges, nurses and other staff," Dhaka Medical College Hospital official Mushfiqur Rahman Al Jazeera.
http://www.aljazeera.com/indepth/features/2015/01/abducting-selling-babies-bangladesh-201512074837512711.html
-----------
Hijab Controversy Revived in Russia
09 Feb, 2015
MOSCOW – As Russia's Supreme Court prepares to discuss hijab ban in schools, the country's grand mufti has sent a letter to President Vladimir Putin, urging him to defend the right of Muslim girls to wear the hijab in schools and universities.
"I address you as a mufti and as a father – please protect our traditional values, protect our daughters and granddaughters – the future of our great and beautiful Eurasian state," Ravil Gainutdin wrote in the open letter published earlier this week on the Russian Council of Muftis' website.
"Hijab simply means "veil" in Arabic and Islam doesn't demand that everyone wears some sort of uniform, it only declares the principle of modesty and non- nudity," he wrote.
"It is neither a sign of some confession nor a challenge to society."
The Mufti explained that his letter was prompted by the Supreme Court plans to discuss the ban on Muslim headgear in schools introduced earlier in the Russian republic of Mordovia next February 11.
The scholar also reminded the Russian leader that February 1 is marked around the world as "International Hijab Day".
He added that women's veil existed in other Abrahamic religions and traditional cultures.
He went on to blame foreign influence for the recent controversies surrounding the Muslim women attire.
"Through the 'headscarf issue' certain foreign forces are imposing on us intolerance, anti-democracy and disrespect to Eurasian traditions of inter-ethnic friendship. They are politicizing a completely household, family issue. Through tearing off modest clothing they seek to tear the beautiful and complicated patterned cloth of the Russian world," Gainutdin stated.
The Russian Federation is home to some 23 million Muslims in the north of the Caucasus and southern republics of Chechnya, Ingushetia and Dagestan.
Islam is Russia's second-largest religion representing roughly 15 percent of its 145 million predominantly Orthodox population.
In January 2013, the Russian Federal Migration Service issued a decision allowing expatriate Muslim women working in Russia to wear headscarf without covering their faces in their identification papers.
The wearing of hijab triggered a controversy in Russia in October 2013 after five Muslim students were banned from attending classes in their school in the village of Kara-Tyube in the southern Stavropol region.
Though they were initially allowed to attend their school in September while donning hijab, they were told later that they would not be allowed in unless they took off their headscarf.
At that time, Putin backed banning the Muslim headscarf in schools.
Islam sees hijab as an obligatory code of dress, not a religious symbol displaying one's affiliations.
http://www.onislam.net/english/news/europe/482793-hijab-controversy-revived-in-russia.html
-----------
Saudi moms get thumbs up in new survey
February 9, 2015
A recent survey has found that while 84 percent of parents say bath time is some of the best quality time they get with their child, many underestimate its power and benefits.
The online survey of more than 3,500 parents of young children around the world, conducted by Harris Poll on behalf of Johnson's, found less than half of parents (42 percent) believe bath time to be an extremely important routine in their child's brain development. Furthermore, the survey revealed that 93 percent of Saudi mothers see bath time as so much more than just a bath, a significantly higher statistic compared to the global average.
According to a study published in the Journal of Applied Developmental Psychology, infants who experienced routine touch and massage (compared to those who did not) were 50 percent more likely to make eye contact, and three times more likely to have an overall positive expression (smiling, eye contact, etc).
The research findings suggest that Saudi mothers are ahead of the curve when it comes to understanding the significance regular massage has on baby, with 34 percent recognizing the practice as being extremely important for their child's brain development, compared to 23 percent globally and only 13 percent in the UK.
Dr. Zainab A. Malik, a consultant pediatrician, said: "Mothers in Saudi Arabia enjoy the quality time they spend with their children during bath time. With research identifying 85 percent of a baby's brain to be developed by 3, it is important for parents to recognize opportunities, such as bath time, to engage in touch, sight, smell and sound. Moments like these are crucial in helping to shape their baby's brain."
Studies have also shown that babies bathed with a fragranced bath product displayed 30 percent more engagement cues with their parent after bath and spent nearly 25 percent less time crying before sleep compared to those who were not.
A study of 58 mother-infant pairs found that infants who followed a bedtime routine, including a warm bath with a fragranced bath product, took 37 percent less time to fall asleep and had a significant improvement in mood in the morning.
http://www.arabnews.com/saudi-arabia/news/701816
-----------
'I am Malala' wins Grammy for best children's album
February 9, 2015
LOS ANGELES: The audio version of the book "I Am Malala: How One Girl Stood Up For Education And Changed The World", by Nobel Peace Prize winner Malala Yousafzai, was awarded the Best Children's Album at the 57th Annual Grammy Awards here.
The book was narrated by Neela Vaswani under the label Hachette Audio.
"I Am Malala…" is the memoir of a teenage girl, who risked her life for the right to go to school. Raised in Pakistan by an enlightened father from a poor background and an illiterate mother from a political family, she was taught to stand up for what she believed in.
The story relates Malala's bravery and determination in the face of extremism, detailing the daily challenges of growing up in a world transformed by terror.
Critically-acclaimed author Patricia McCormick served as contributor to the tale.
The audio version was up against "Appetite For Construction" by The Pop Ups, "Just Say Hi!" by Brady Rymer And The Little Band That Could, "The Perfect Quirk" by Secret Agent 23 Skidoo and "Through The Woods" by The Okee Dokee Brothers.
http://tribune.com.pk/story/835431/i-am-malala-wins-grammy-for-best-childrens-album/
-----------
Sex Abuse in Rotherham: Women of All Faiths Must Make a Stand against the Bigots Who Betray Islam
February 9, 2015
Feminism, it is now often argued, is an idea that has had its day. In Britain, where women are equal in the eyes of the law, and where girls outperform boys in education, emancipation no longer feels like the fight of our lives.
But this week I realised that we need feminism perhaps more than ever before. We need to empower women, listen to young girls — and challenge the appalling behaviour of certain men whose belief systems would seem to legitimise the idea that women are forever second-class citizens.
Nowhere is this more apparent than in the shocking case of the sexual exploitation of an estimated 1,400 girls and young women by overwhelmingly Muslim Pakistani men in Rotherham.
Because if their behaviour tells us anything about the culture of certain Muslim men, it tells us how they value females. Which is to say, not very highly. Or not, at least, by the standards of modern Britain.
I am not saying, let me stress, that every Muslim man is a misogynist. Indeed there are countless numbers who are hard-working exemplary citizens, model husbands and fathers, who love their wives and daughters as more than equals.
But I am sorry to say it is an undeniable fact that hardline exponents of the religion are becoming more common in this country, and that women are suffering as a result.
This is a truth that is hard to bear, especially for someone like myself. I have always believed that people have a right to follow their religion, just as they have a right to vote for their preferred political party.
I might not agree with their beliefs, but I would never rush to judgment. However strange or alien some practices might seem on the surface, I told myself, there were generally reasons for them — ones that a tolerant society can accept.
I realise now that such thinking, while well-meaning, can be naive and even dangerous.
Because it would seem it was thanks in part to people like me, naively tolerant and carefully respectful of certain types of cultural behaviour, that so many — politicians, the media, the police and social services — were reluctant to see the truth in the scandal of the Rotherham gangs grooming and sexually exploiting of young girls.
With hindsight, it seems hard to believe that the authorities could have missed what was going on beneath their very noses. But they did. And they did so because they didn't want to believe the worst of a culture that, arguably, represents one of the oldest civilised influences on the planet.
Not only is this a sad and painful fact to admit, it makes us feel like fools. And this is a deception that goes to the heart of how we see ourselves as a nation.
The awful truth is that because of our generous and open acceptance of other cultures, we all but colluded in 16 years' worth (from 1997 to 2013) of abuse towards vulnerable young girls in Rotherham.
Abuse that were it not for the dogged persistence of a free Press — including this paper's own Sue Reid, who was the first to report the sexual abuse and was accused of racism for doing so — might never have been uncovered.
I'm afraid that fundamentalist Muslims can be openly and clearly anti-woman.
The culture these hardliners propagate segregates and silences its females, promotes a relentlessly patriarchal view of the world, forces its daughters into arranged marriages, and punishes women in the most brutal of ways for even daring to dream of the kind of freedoms that most British women, quite rightly, take for granted.
Even now, it feels deeply wrong to be writing these words. And I apologise from the heart to the many clever, funny, generous and wonderful Muslim men who make a huge and valued contribution to our country. But for their sakes, and ours, we need to be honest now: Islam is a feminist issue.
Would that it weren't. Would that all of Islam was still the enlightened, questing religion of the people in the 14th centure who built the magnificent Alhambra Palace in Granada in Spain, where scientists, medical experts and philosophers gathered for debate.
It was Muslim intellectuals who filled the medieval courts of Europe, who resurrected the ancient texts outlawed by the Christian Church, who helped lift Europe out of the Dark Ages and into the great flowering of the Renaissance and civilised values in subsequent centuries.
But that enlightened Islam, it would seem, is increasingly threatened by a creed that, far from drawing on the intelligence and wisdom of those great thinkers from the past to adapt to and shape the modern world, now appears to be returning to darkness through a twisted misinterpretation of its own principles.
In so many quarters today, throughout the world, Islam is a religion that preaches isolation from other faiths, and one that seems — to liberal Western sensibilities at least — to demand intolerable sacrifice from its followers.
More worrying, the moderate elements of this religion are being hijacked by the swivel-eyed within its ranks — not least those who harbour distinctly women-hating tendencies.
Just this week, the Quilliam Foundation, a counter-extremism think tank, published an English translation of a shocking document entitled Women In The Islamic State: Manifesto And Case Study.
Given that Islamic State already occupies an area of Syria and Iraq larger than the whole of the UK, and given that it is their stated aim to bring Sharia — or Islamic — law to our shores, it is a document all women should familiarise themselves with. Because this is what awaits us if they get their way.
According to this manifesto, girls can marry from the age of nine, and should have husbands by the age of 16 or 17. They must not be corrupted by going out to work, and any studies they engage in must focus on domestic activities.
Emancipation is a sin; equality is unnatural. Indeed, everything that is wrong with Western civilisation is because women neglect their proper place in the world — which is to exist as sedentary objects in the service of men.
If a woman resists or strays from this path, she becomes fair game. She may be punished with lashes, or even put to death, on the mere say-so of men, for dishonouring her family.
The overwhelming majority of Muslims in Britain will find this ideology and behaviour repellent. But it is undeniable that those countries and organisations that believe in imposing the rule of Islam as a political system rather than a private faith, do, on a daily basis, oppress women.
Look at Saudi Arabia, which only last week proposed a men-only Olympics. Or Nigeria, where Boko Haram kidnaps schoolgirls and punishes them for daring to seek an education by selling them as sex slaves to jihadists.
Or Iraq, where women of the Yazidi tribe have been raped into submission by Islamic State fighters. And Somalia, where little girls have their genitals mutilated in the most barbaric way so that Muslim men can be assured of their purity on their wedding night.
And now, too, in Rotherham, where non-Muslim girls were explicitly targeted and groomed to be used and abused by men who, because of what they believe their religion allows, saw them as little more than objects of Western decadence to be used for their own warped pleasures.
Rotherham, where one girl was raped with a broken bottle, and others forced to kiss the feet of their abusers. Rotherham, where ordinary British schoolgirls were duped into a life of degradation and prostitution.
One of the reason for this was 'misplaced political correctness' — the phrase used by Louise Casey, the woman appointed to investigate the abuse.
Through fear of judging others from a different culture and being deemed racist or Islamophobic, councillors, police and social workers refused to acknowledge the evidence of appalling abuse that was being practised on an almost industrial scale — even when it was presented to them in the starkest of ways.
To understand what is going on in communities like Rotherham, we have to listen closely to the voices of those who, for many years, have been clamouring to be heard above the strident tones of the politically correct. Women such as Ayaan Hirsi Ali, the Somali-born politician and activist and, in my view, one of the greatest feminists of my generation.
In the preface to her brilliant yet terrifying 2004 book, The Caged Virgin: A Muslim Woman's Cry For Reason, she explains the basic rules that she was taught as a child in Somalia.
'We Muslims are chosen by God,' she writes. 'They, the others, the kaffirs, the unbelievers, are antisocial, impure, barbaric, not circumcised, immoral, unscrupulous, and above all obscene … their girls and women are whores.'
This idea, of non-Muslim women being whores, is commonplace in jihadist dogma. But the men in the Rotherham case were not wild-eyed jihadists. While they may have been in a minority, they were ordinary Muslims, fathers, husbands, businessmen.
Which is why this case is so significant. It shows the flagrant disregard that a minority in these communities — often housed and educated at the expense, at least in part, of female British taxpayers such as myself — have for our rights as women.
There is another problem, too. Feminism is dominated by the Left. In fact, the Left believes it has moral ownership of the entire concept of feminism, largely because usually the struggle has been against the traditional conservative male Establishment, which in the past invariably veered to the Right of the political spectrum.
Yet it was the Left's espousal of multicultralism and their insistence that anyone who dares criticise behaviour within ethnic or cultural minorities is a racist that led to this 'misplaced political correctness'. And I'm not just talking about acute cases such as Rotherham, but chronic cultural ills such as forced marriage.
Labour has some real questions to answer here about its relationship with Muslim voters, with whom it is by far the most popular party.
The widespread fear of being branded Islamophobic among law-makers and politicians — fuelled by people like the Respect party MP for Bradford West, George Galloway, with his mantra that Islam is the religion of the oppressed — has meant that, as a nation, we have failed to have a conversation that is long overdue.
In any other circumstances, such culturally specific behaviour would have been not only noted, but widely highlighted.
More than ever, there is a need to empower those in the Muslim community who believe in liberalism and equality. People like Sara Khan, director of Inspire, which campaigns for British Muslim women, and Maajid Nawaz, the Liberal Democrat parliamentary candidate for Hampstead and Kilburn and chairman of Quilliam. People who really understand the situation and who want to give a voice to the vast majority of moderate Muslims.
Meanwhile, we must challenge people like Yusuf al-Qaradawi, the Muslim Brotherhood scholar who advocates wife beating and who numbers among his misguided supporters the former London mayor, Ken Livingstone.
Above all, though, as the beneficiaries of decades of feminism, we need to stand up not only for the victims in Rotherham, but for women who find themselves subdued by the forces of darkness and bigotry, who are too scared to speak out and who don't, like me, have the privilege of belonging to a culture that values and respects women as equals.
http://www.dailymail.co.uk/debate/article-2943407/SARAH-VINE-Sex-abuse-Rotherham-British-women-faiths-make-stand-against-bigots-betray-Islam.html#ixzz3RHeP90eK
-----------
Banning FGM opposed by those with 'weak knowledge': Islamic scholar
09 Feb, 2015
CAIRO: "Banning [female] circumcision has faced a lot of opposition from those with weak knowledge in Egypt, especially those who live in rural areas and slums," head of the preaching department of the Islamic Research Academy Abdel Aziz al-Naggar told Hayat TV.
On the occasion of the U.N.-designated Worldwide day of Zero Tolerance on Female Genital Mutilation (FGM), Naggar reiterated that the practice was followed in Egypt before the inception of Islam, and that the phenomenon does not exist in other Muslim-majority countries, including Saudi Arabia.
"They do not understand the truth of this matter because they follow an old inherited [custom;] that it is from the religion of Islam, it is at the heart of religion, and it is a sound instinct," Naggar said, adding that this "gruesome custom" was accompanied by celebration feasts.
Egypt has the largest number of women who have been subjected to genital cutting in the world, according to the World Health Organization. The 2008 Egyptian Demographic Health Survey (EDHS) reported that 91.1 percent of women from ages 15-49 have experienced FGM, and that 74 percent of girls age 15-17 have undergone the practice, marking a reduction from previous surveys. The decline is expected to reach 45 percent among girls age 15-17 over 15 years.
The EDHS also shows that the more educated, urbanized and wealthier mothers are, the lower rate of FGM there is among their daughters.
Egypt's efforts to eradicate FGM
In 2008, the Egyptian parliament passed a Penal Code amendment criminalizing FGM with a prison term of three months to two years or a fine of 1,000 EGP to 5,000 EGP.
The first application of the law only took place in January 2014, where a doctor who circumcised a 13-year-old girl was sentenced to two years in prison after the girl died of complications in 2013. The doctor had been acquitted in a previous ruling, but prosecutors appealed the sentence.
In 2007, Dar al-Iftaa decreed that the practice, which is followed by both Muslims and Christians, was "un-Islamic and forbidden."
Naggar, however, noted that Dar al-Iftaa said in 1981 that female circumcision that reduces the size of the external genitalia and does not remove them was a "form of honor."
He said that forbidding FGM was gradual over more extensive research that proved Prophet Muhammad most likely did not approve of female circumcision, adding that there have been different opinions because there is not a categorical holy text adjudicating on the matter.
"[T]hese are opinions of men, we consider or differ with them; they are not binding on anyone but those men," Naggar said.
http://www.thecairopost.com/news/136398/editors-choice/banning-fgm-opposed-by-those-with-weak-knowledge-islamic-scholar
-----------
Guinea's Muslim clerics call for end to FGM to help stop Ebola
09 Feb, 2015
GUECKEDOU, Guinea (Thomson Reuters Foundation) - Muslim leaders in Guinea have called on families to end the practice of female genital mutilation (FGM) to prevent the spread of the deadly Ebola virus.
Guinea has the second highest rate of FGM in the world, with around 97 percent of women and adolescent girls cut. But the outbreak in West Africa of Ebola - spread by infected bodily fluids - could bring a change of attitude towards the tradition.
In a sermon preached across mosques in the capital Conakry, senior cleric Imam Nabe Sidiki told worshippers that the preventative measures reflected the teachings of the Prophet Mohammad, who said the healthy should not be exposed to disease.
"In this period of Ebola epidemic, we must move away from all traditional practices that can be sources of contamination such as female circumcision and ceremonies that accompany the act," Sidiki's sermon read.
Despite progress towards ending the practice of FGM in other African nations, the prevalence in predominantly Muslim Guinea actually increased slightly between 2005 and 2012, according to government figures.
"This is the first time that public leaders have asked people to stop FGM. It's very promising," said Guirlene Frederic, head of child protection for UNICEF in Guinea.
"Having religious and community leaders speak out against the tradition is a good first step in trying to stop the harmful practice."
FGM, which involves the whole or partial removal of the clitoris and labia, is often carried out in mass ceremonies throughout Africa, in which many girls are cut using the same traditional knife.
The spread of Ebola - which has killed more than 8,900 people in the worst-affected countries of Guinea, Liberia and Sierra Leone - has prompted campaigns to encourage villagers to adapt other cultural practices, such as traditional burials in which families often touch the bodies. [ID:nL6N0VF5NU]
In Gueckedou, about 400 km (250 miles) southeast of Conakry, Isaac Lelano, who works for the Ministry for Social Action, told the Thomson Reuters Foundation that sermons needed to be backed by enforcement of the law. FGM has been illegal in Guinea since 2000, but the first case was only brought to court last year.
"FGM is a traditional practice that dates back thousands of years," said Lelano. "I'm not sure if Ebola is going to change this, but applying the law will. Right now in Gueckedou, some police officers don't even know the law exists."
FGM is practised by communities across a swathe of African countries as well as in pockets of Asia and the Middle East. An estimated 140 million women and girls worldwide have undergone the practice.
http://af.reuters.com/article/topNews/idAFKBN0LA1KZ20150206?sp=true
-----------
Muslim Uncle of Two Ugandan Girls Beats, Locks Them Up without Food
09 Feb, 2015
NAIROBI, Kenya (Morning Star News) – The uncle of two Muslim girls in eastern Uganda who put their faith in Christ on Feb. 1 beat them and locked them in a room without food for nearly three days, sources said.
Nabagabana Fatuma, 14, and her 16-year-old sister, Namwase Aisha, need trauma counseling and medical care after the Muslim uncle who has custody of them, Kakongoka Ahamadah, mistreated them at their home in Nasenye village, Pallisa District, because they had converted to Christianity, sources said.
"My uncle became so furious because we had embraced Jesus," Aisha told a Morning Star News source. "He locked us inside the house and began beating us with a wooden stick, and then we were left for three days without food. At the third day, we felt as if we were going to die, and we began crying for help."
Ahamadah had taken custody of the sisters after the death of their father five years ago. The girls' father had retained custody after divorcing their mother two years before he died, sources said.
Aisha said that she and her sister had been attending classes at an Islamic school (madrassa) where they had been taught about jinn, or supernatural creatures from another world, which they said were oppressing them.
"We were always troubled by the Islamic jinn, and on many occasions we missed sleep during the night, and we then decided secretly to attend the Christian prayer meeting to seek to be set free," she said.
They went to a worship gathering at a church in the area whose name is withheld for security reasons.
"Before leaving he church, we told the pastor of our problems, who first prayed for us to be followers of Jesus and later prayed that the evil spirits will not torment us again," Aisha said. "After the prayers, we felt as if a big burden had been rolled away."
Full of joy, the two girls arrived home and told their uncle what Jesus had done for them, she said. The subsequent beating left her with a swollen cheek and an injury to her left leg, the extent of which is unknown as she needs to have it scanned, while Fatuma's right arm was injured, sources said.
Ahamadah was not available for comment. Sources said he arranged for the children to be taken to a Uganda branch of the Dawat-e-Islami, a global movement propagating the Quran and Islamic teaching, in the Sekulo area on Feb. 3. While he was away buying food in a nearby town, however, a friend of his arrived at the house. The children were crying, and the uncle's friend decided to break the padlock, sources said.
The girls feared telling the friend, also a Muslim, what had happened.
"We told him that we had gone out without the permission of our uncle, who had then decided to lock us inside the house," Aisha said.
The visitor told them he was going to town and would return soon with their uncle.
"As he left, we then decided to flee to the church," Aisha said.
A church leader whose name is withheld for security reasons confirmed circumstances of the girls' conversion and ordeal to Morning Star News. He initially took them to his home.
"When the two sisters arrived at my home, I decided to take them to a hiding place because I knew the uncle would soon come for the children," he said. "The children looked pale, confused and traumatized. They need medical attention."
The population of Uganda is less than 12 percent Muslim, according to Operation World. Catholics are the largest Christian denomination at 39 percent of the population of 28.6 million, followed by Anglicans at 36 percent; Protestants are less than 7 percent of the total population, and "independent" churches make up about 3 percent.
http://christiannews.net/2015/02/08/muslim-uncle-of-two-ugandan-girls-beats-locks-them-up-without-food/#sthash.mXsRpin9.dpuf
http://ugandabusinessnetwork.com/news-uganda/muslim-uncle-of-two-girls-in-uganda-beats-locks-them-up-without-food/
-----------
URL: https://www.newageislam.com/islam,-women-and-feminism/new-age-islam-news-bureau/in-europe,-parents--dismay-as-syria-jihad-lures-troubled-teens/d/101438