Age Islam News Bureau
14 Nov 2012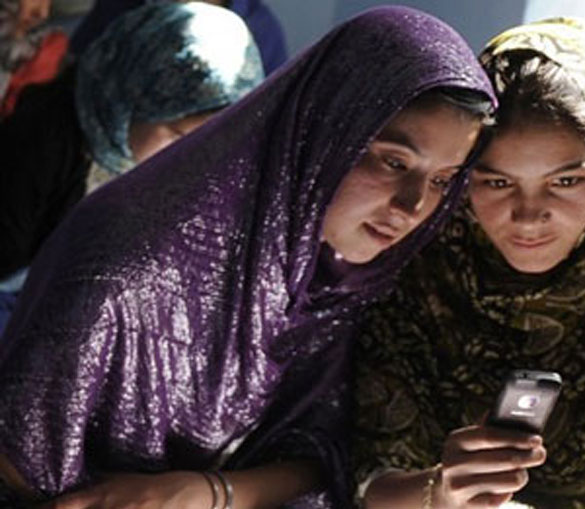 • Female Gaddafi bodyguard killed in Egypt
• Jewellery designer dedicates herself to inmates
• Young Woman, 3 Housewives Allegedly Commit Suicide: Bangladesh
• 14-Year-Old Christian Girl: IHC Reserves Verdict on Plea Seeking Case Dismissal
• Indian Accused of Forcing Widow into Flesh Trade in Saudi Arabia
• Afghan Women Learn Literacy through Mobile Phones
• Dubai Drums Founder: Israelis Treated Me Abhorrently; I Wouldn't Go Back
• Woman Who Strangled Her Baby to Death Gets Breather
• Harasser jailed, small victory for women in Egypt
• Qur'an award winners honoured in Jeddah
• 9- And 10-Year Old Girls Train For Wilmington's Turkey Trot for Thanks Giving Day
• A celebration of Indian talent at IISJ, Jeddah
Compiled by New Age Islam News Bureau
Photo: Afghan Women Learn Literacy through Mobile Phones
URL: https://newageislam.com/islam-women-feminism/in-egypt-match-fully-veiled/d/9298
---------------
In Egypt Match For Fully Veiled Women Only!
By Youssra el-Sharkawy
November 13, 2012
Because she does not belong to any Islamist group and her family opposed her wearing the niqab (full face-veil), she felt desperate after becoming 32 and no-one had asked to marry her.
Although her mother was not fully veiled and her father was not bearded, Hanan, a graduate of a faculty of engineering, insisted on wearing the niqab 12 years ago, as through it, she found her way to express her love and loyalty to Allah.
She was as happy wearing the black of the niqab first, as if it were her bridal dress. She tried her best to convince her family that what she was doing was the right thing. But the family felt unhappy and unconvinced. They unsuccessfully tried to make her change her mind. She moved on with her decision and left behind her every advice, thinking it was better for her.
Twelve years later, she felt alienated as all her friends wearing Hijab (the Islamic headscarf) had got married. She felt that the blackness of her clothing was harshly pressing on her body, as if it were a shroud. Now, her father and mother are dead and she is left alone.
Reading in a newspaper, she found a small advertisement: "marriage for fully-face-veiled women only". She called the number written in the ad.
"What's your age and university degree," asked the voice on the other side after breaking the ice with hello. "32, faculty of engineering," she replied. "Is there a religious man, who is suitable for my age?" she asked. "Yes, many, but we need a copy of your graduation degree and ID. If you will not be able to come to our office to see the suggested groom, we could go (the groom with a representative from our office), to your home and you will then have to pay LE150 (around $25) as fee for the service," he elaborated. "Is he going to see my face?" she said. "Yes, of course," he replied.
Before accepting, she consulted a friend, who encouraged her, then one day, she received the prospective groom at her home. She uncovered her beautiful face so that he could see her. But her beauty didn't move the prospective groom, who had a long beard and was dressed in an Islamic-white galabiya. He asked her to recite a part from the Qur'an as a test, but she failed in remembering the whole part. So he refused to marry her.
That was her first direct encounter with the marriage offices, which offer a service for fully-veiled women.
"I just need to marry a religious man, who would take care of me," said Hanan, who is still searching for a groom.
A recent study stated that women wearing niqab, who belong to an Islamist group, do not face marriage problems because the group offers chances for the female members to marry religious men of the same group. The study has also highlighted that some of these groups promote polygamy as a good deed between members as well as promoting marriage at a young age.
The study also stated that fully-veiled women, who do not belong to any Islamic groups, face the most problems in finding a good husband, which is why they find shelter in marriage offices, of which most are not licensed and are spurious.
Recently, many advertisements promoting the marriage of such women were written illegally on the walls of city streets, metro stations, and other public places. The advertisements are untrustworthy and of an unknown source.
The idea for these ads started few months ago at one mosque between a small group of religious young men, who wanted to help young covered women to find a husband, as they knew that their chances might be poor er for finding a good husband.
They spread the idea among friends, family and relatives and they asked an old woman who works with them as khatba (matchmaker) to go to mosques and find unmarried fully-veiled women to approach them help in finding a groom, according to Radio and TV magazine.
The matchmaker would see the face of the girl and speak with her, then ask the prospective groom to wait in front of the mosque to see her (wearing her full face-veil) while walking out of the mosque.
The suggested groom should not speak to her but only tell the matchmaker if he felt comfortable with her appearance (without seeing her face). And the second step is that the matchmaker takes a photo of the girl (revealing her face) and shows it to him, when he would say yes or no. Soon, the idea developed and was extended to written ads in many streets and on walls.
"Some fully-veiled women accept, but I don't like this way. I'd rather live without a husband than be put to this choice," said Aliaa, a full-face-veiled young woman, 23.
If Aliaa will refuse, Shaymaa would accept because Shaymaa is in her thirties and she is afraid to lose her chance to have children.
"I may accept to speak with the matchmaker and send my photo with her. I see it is Ok, because I won't speak with him or let him see my face. Also before doing this, I will ask the sheikh in the mosque and know his opinion," Shaymaa explained.
Although the young men, who thought about this idea were only keen on helping niqab-wearing women, some sheikhs have said that this way is insulting for a girl or woman. But they did not offer a solution for women, who may wait a very long time to get married.
"In my opinion, this way of advertising will give the chance for ill-minded people to think that the fully-veiled ladies are old maids, who are desperate and want to marry by any means," stated Sheikh Abdel-Wahab Saad, from el-Kholafaa el-Rashedin Mosque in the Haram (Pyramids) area of Giza.
Some sheikhs said that this way might not be genuine or worthy. "Islam respects woman and these ads, if they are real, promote marriage only for fully-veiled girls, which is not accepted in Islam because it differentiate between women.
Even if some fully-veiled girls get married by this way, they will always be attacked by people and subjected to gossip and criticism from people who hate fully-veiled ladies," warned Sheikh Moustafa, an Al-Azhar University graduate.
"I believe that it would be better if the people who put the ads say, 'marrying a religious girl' rather than 'a fully-veiled girl', because religion in the heart is more important than appearance," added the Sheikh.
"I'm afraid that some bad girls are using these ads by changing their appearance to the style of the full face-veil and asking those young men to find a husband for them," he charged.
http://213.158.162.45/~egyptian/index.php?action=news&id=28014&title=Match%20for%20fully%20veiled%20women%20only!
---------------
Female Gaddafi bodyguard killed in Egypt
November 14, 2012
Cairo: Egyptian authorities are investigating the killing of a former female bodyguard of ousted Libyan leader Muammar Gaddafi, She was found stabbed to death in her Cairo apartment.
Egyptian officials said Tuesday Zahra Al Bouaishi, 31, was found dead in a pool of blood in her apartment in Nasr City district in Cairo over the weekend.
Authorities suspect Al Bouaishi's brother. The officials said Al Bouaishi was planning to begin an acting career in Cairo, considered a disgrace by some in her family. Al Bouaishi defected from Gaddafi's regime, then helped the rebels and international allies with information about some of his forces' weapons caches. She later moved to Cairo from Tunisia.
http://www.indianexpress.com/news/female-bodyguard-of-muammar-gaddafi-killed-in-egypt/1030978/
---------------
Jewellery designer dedicates herself to inmates
13 November 2012
JEDDAH: Saudi jewelry designer, Yousra Al-Faiz, has dedicated herself to helping female prisoners develop their capacity and skills, to empower them to lead an honorable life after they are released from prison.
Al-Faiz in an exclusive interview with Arab News said, she is saddened by the female prisoner's plight, and feels we, as a society must shoulder the responsibility in helping them back to the right path. The stereotypes against people who have spent time in prison are rampant, and make it even more difficult for convicts to lead a normal life after their prison sentence.
"I thought a lot about what these female prisoners' lives will be after their sentences were over, and it dawned on me that they will be faced with numerous challenges, not least of which is finding an honest source of living. This is what inspired me; I want these women to find an outlet that will enable them to lead a respectful and decent life. My aim is to allow these women to utilize their time in prison, learning news skills, in the hopes that they will use when they leave prison."
She further added that many of the female prisoners exhibited creativity and talent, and with the right resources and training, they could channel their skills in many directions.
Al-Faiz said she will strive hard to establish training courses on jewelry designing for the female prisoners, and will personally visit them regularly to interact with them and provide with them with guidance. She also wished other members of society would come forward to offer similar skills.
"I am planning to visit the higher authorities of Dammam prison, to request permission to start my work in the premises of the prison or in any space they will allocate to me." Al-Faiz has big dreams for these women, hoping that one day perhaps some of them will showcase their creativity in jewelry exhibitions and bazaars. "This way we will put the spirit of life back into them, and give them a new chance of living. They are part of our society, every human being makes mistakes and deserves a second chance," added. Al-Faiz.
http://www.arabnews.com/jewelry-designer-dedicates-herself-inmates
---------
Young woman, 3 housewives allegedly commit suicide: Bangladesh
November 14, 2012
A young woman and three housewives allegedly committed suicide in Chapainawabganj, Sunamganj, Jessore and Bogra districts yesterday, on Sunday and the day before.
A woman allegedly killed herself at Chaitannayapur village of Shibganj upazila in Chapainawabganj on Sunday, reports our correspondent.
The deceased was identified as, Sweety Akhtar, 20, daughter of Zem Ali of the village under Dhainagar union in the upazila.
Humayaun Kabir, chairman of Dhainagar union parishad said, Sweety's family members found her hanging from a ceiling fan in the morning. But the reason behind her suicide could not be known immediately.
Sweety was married off about one and half years ago and her husband works in Dubai, he said.
Full report at:
http://www.thedailystar.net/newDesign/news-details.php?nid=257416
---------------
14-Year-Old Christian Girl: IHC Reserves Verdict On Plea Seeking Case Dismissal
November 14, 2012
ISLAMABAD: The Islamabad High Court (IHC) reserved its verdict on an application seeking to dismiss the Rimsha Masih case, reported Express News on Wednesday.
Rimsha, a 14-year-old Christian girl, was arrested from a suburb of Islamabad on August 16 after a neighbour accused her of burning papers containing verses from the Quran, in breach of Pakistan's strict blasphemy laws.
On September 22, police investigating the case declared prayer leader Khalid Jadoon Chishti guilty, adding that there was no evidence against Rimsha and that he had framed her.
Rimsha and her family, who have been in fear for their lives since the blasphemy allegations, were moved to an undisclosed location after her release on bail on September 8.
http://tribune.com.pk/story/465479/rimsha-masih-ihc-reserves-verdict-on-plea-seeking-case-dismissal/
---------------
Indian Accused of Forcing Widow into Flesh Trade in Saudi Arabia
Marie Nammour / 13 November 2012
A man accused of human trafficking and forcing a woman into prostitution after luring her to come here to work as a maid, stood in the dock on Sunday in the Court of First Instance. The 50-year-old Indian, who is on a businessman visa, had two accomplices, one who had been convicted earlier and another at large.
They are believed to have sexually exploited the woman for a month from February by intimidating and locking her up in a room in a flat in Naif where they ran a brothel.
The victim, a 31-year-old Indian, said in the investigation that she had been duped by the accused and another man back home. She had been a widow since 2005 and was working as a maid to provide for her two children. That was when she was contacted by a man in her home town and offered a maid's job here for Dh800 a month.
Full report at:
http://www.khaleejtimes.com/nation/inside.asp?xfile=/data/courtroundup/2012/November/courtroundup_November36.xml&section=courtroundup
---------------
Afghan Women Learn Literacy through Mobile Phones
November 14, 2012
KABUL: Afghanistan has launched a new literacy programme that enables Afghan women deprived of a basic education during decades of war to learn to read and write using a mobile phone.
The phone is called Ustad Mobile (Mobile Teacher) and provides national curriculum courses in both national languages, Dari and Pashto, as well as mathematics.
All the lessons are audio-video, with writing, pronunciation and phrases installed in Ustad Mobile phones – and they are distributed free to students.
Sat on a carpet in a small Kabul classroom with a handful of women learning to read and write, 18-year-old Muzhgan Nazari said the Taliban, who banned schooling for girls during their rule, were in power when she should have started her education.
Full report at:
http://tribune.com.pk/story/465486/afghan-women-learn-literacy-through-mobile-phones/
---------------
Dubai Drums Founder: Israelis Treated Me Abhorrently; I Wouldn't Go Back
Israeli headache for woman banging drums of peace
Amanda Fisher / 14 November 2012
A Dubai woman who travelled to Palestine to unite women from across the divide had such a difficult time getting out of Israel she may never return.
Dubai Drums founder Julie-Ann Odell last week went behind the Gaza Wall to hold a drumming session with 33 Palestinian women, 33 Israeli women and 33 American women, as part of a unity day hosted by American-based women's organisation Brave Heart Women.
"(Israeli authorities) treated me abhorrently...I wouldn't go back, I wouldn't subject myself to that again. I did it once and I did it for a good cause because I want peace in the Middle East...but if I went back I don't think I'd get out (easily)."
Full report at:
http://www.khaleejtimes.com/kt-article-display-
---------------
Woman who strangled her baby to death gets breather
14 November 2012
The Abu Dhabi Court of Appeal on Monday upheld the conviction of an Asian woman of strangling her newborn baby to death, but reduced the life imprisonment awarded to her by a lower court to 10 years.
The court ordered her deportation after serving the jail term.
The woman was charged with premeditated murder of her baby boy born out of an illicit affair. Right after giving birth in a bathroom attached to her room, the woman strangled the baby with her underwear, hid the body in a plastic bag and kept it inside a wardrobe, according to the prosecution.
The crime came to light when she visited a hospital soon after because of tiredness and the doctors found out that she had given birth recently.
Full report at:
http://www.khaleejtimes.com/kt-article-display-
---------------
Harasser jailed, small victory for women in Egypt
Luiz Sanchez
November 13, 2012
An Egyptian man was sentenced to two years in prison and fined a further EGP 2,000 for sexually assaulting a woman in Maadi in July. According to the Nadeem Centre for Rehabilitation of Victims of Violence, the verdict was a small victory.
The incident occurred on 17 July. The victim said she was standing outside a Cilantro on Nasr Street when a man approached her from behind and attacked her. She quickly regained her composure, grabbed the man, and began yelling to draw attention.
The man was taken to a nearby police station and, with the help of an eyewitness, an investigation was launched. On Sunday, the court ordered the victim be given compensation amounting to EGP 10,001, to be paid by the attacker.
Full report at:
http://dailynewsegypt.com/2012/11/13/harasser-jailed-small-victory-for-women-in-egypt/
---------------
Qur'an award winners honoured in Jeddah
13 November 2012
JEDDAH: It is the duty of Muslims to learn the holy Qur'an by utilizing all possible means and opportunities, and to live according to the Islamic values espoused in the holy Qur'an and the teachings of Prophet Muhammad, peace be upon him, said Abdul Shakoor Ali, president of Thanima.
Addressing the Qur'an Study Center's award ceremony, he highlighted the remarkable transformation brought about by the Qur'an, in the lives of Muslims in Arabia during the time of Prophet Muhammad and his Caliphs.
Full report at:
http://www.arabnews.com/qur%E2%80%99-award-winners-honored
---------
9- And 10-Year Old Girls Train For Wilmington's Turkey Trot for Thanks Giving Day
LORA ABERNATHY
November 13, 2012
Thanksgiving will mean more than just turkey and apple pie for one group of young girls this holiday.
For them, it means getting up early to run in their first 5K.
"We're showing them how much fun running can be, so they're training for the Turkey Trot," said Lori Kersey Williams, Wilmington's parks and recreation director.
The Friends of the Wilmington Parks will host its 7th Annual 5k and 10K Run and 5K Walk to Promote Health and Community Fellowship on Thanksgiving Day, and this group of seven girls has been training twice a week since the end of September to prepare for this race.
Full report at:
http://wnewsj.com/main.asp?SectionID=49&SubSectionID=156&ArticleID=202725
---------------
A celebration of Indian talent at IISJ, Jeddah
14 November 2012
JEDDAH: More than 50,000 members of the Indian community attended the Educational Exhibition 2012 and were treated to a demonstration of creatively, talent and skill by the students of the International Indian School Jeddah Girls Section (IISJ).
IISJ Principal Syed Masood Ahmed said the school encourages their students to participate in exhibitions and help them develop their innovative capacity and enhance their creative skills.
Ahmed said EDEX 2012 gives students a platform to showcase their skills. "It is also an opportunity for parents and community members to recognize and appreciate the great talents of our students. We have made every possible effort to develop their innovative capabilities by making use of available resources," he added.
Full report at:
http://www.arabnews.com/celebration-indian-talent-iisj
---------
URL: https://newageislam.com/islam-women-feminism/in-egypt-match-fully-veiled/d/9298