New Age Islam News Bureau
24 Aug 2017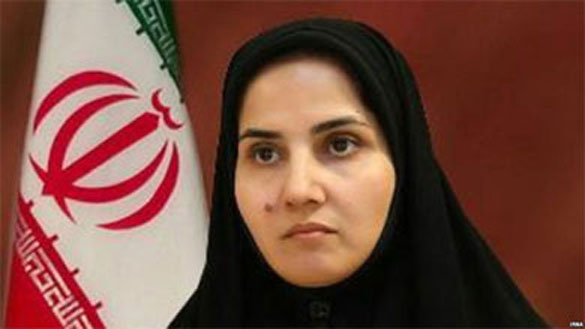 In a photo posted to an Iranian government website, Vice President Laya Joneydi is shown wearing a chador, which covers the entire body and only leaves the face exposed.
-----
• Malaysian Women to March against 'Toxic' and Sexist Politics on Sept 10
• Three Emirati Women Graduate as Captains of 24-Metre Vessels
• Tamil Nadu: Kin of Woman Who Took To Islam Complains Against Activist
'• We Women Would Work In the Oil Fields until 11 Pm'
• Pakistan Women Festival Honours Women, Speculates On Their Issues
• Malala Yousafzai Calls Kulsoom Nawaz to Inquire After Her Health
• Iran to Disqualify Female Teachers 'With Too Much Facial Hair'
Compiled by New Age Islam News Bureau
URL: https://www.newageislam.com/islam-women-feminism/in-controversial-move-iran-new/d/112317
--------
In Controversial Move, Iran's New Female Vice President Ordered To Wear Chador
August 23, 2017
Before she was appointed as Iran's vice president for legal affairs, law expert and college professor Laya Joneydi followed the obligatory Islamic dress code by covering her hair with a scarf and wearing a coat and pants to cover her body.
In announcing her appointment to the cabinet, the Iranian government website posted a statement and a photo of Joneydi wearing the chador, which covers women from head to toe and leaves only the face exposed.
Social-media users were quick to point out that Joneydi had overnight become a so-called chadori, an expression used in Iran to refer to women who choose to wear the chador promoted by conservatives as the "superior hijab" and the best protection for women.
Many posted Joneydi's before and after pictures while criticizing her decision to wear a chador as hypocritical.
Joneydi later told the reformist Sharq daily that President Hassan Rohani had asked her to wear the chador, saying that it is the cabinet's "protocol."
"The respected president, who was elected with 24 million votes, asked me to work with the government. He said my service was needed [and] he also said that the cabinet's protocol is such [that a woman wears a chador]," Joneydi said.
She added that she respected the demand of Rohani, "whom we all voted for."
Many blasted Rohani's decision to impose the chador on Joneydi as a step backward following his appointment of three women, including Joneydi, as vice presidents. The appointments only came after criticism of Rohani's original all-male cabinet.
Joneydi was also criticized for not standing up for her rights to appear in public with the Islamic clothing of her choice.
"The chador has been declared as the protocol for the presence of a qualified lawyer in the cabinet. Is this anything other than promoting hypocrisy?" asked Mohammad Taghi Karrubi, the son of opposition cleric Mehdi Karrubi, who's been under house arrest since running for president in 2011.
"Rohani talks of citizens' rights. He says he's a lawyer, but he doesn't respect the most basic rights of a woman, which is the right to decide about her clothing," journalist Sepehr Khorami wrote on Twitter.
The alleged protocol appears to be a reference to a nonwritten rule in the Islamic republic that only very conservatively dressed women can serve in state bodies.
Women who don't fully respect the hijab that became compulsory following the 1979 Islamic Revolution are often criticized in Iran for allegedly spreading corruption in society and endangering the country's interests and values. They often face a state crackdown and pressure over their appearance.
The two other women serving as presidential assistant and vice president -- Shahindokht Molaverdi and Massoumeh Ebtekar -- are both chadoris. They both served in Rohani's previous government.
Like Joneydi, Ebtekar, a former spokeswoman for hard-line students who took dozens of U.S. diplomats hostage following the 1979 revolution, reportedly became a chadori after being appointed by former reformist President Mohammad Khatami to oversee Iran's Environment Department.
Senior ayatollahs had reportedly criticized her appointment and warned that a nonchadori woman should not serve in the government.
Zahra Shojaei, who served under Khatami as an adviser on women's affairs, recalled in a recent interview the pressure that was put on the president.
"[Khatami's] appointment of [Ebtekar] had been criticized by some religious officials. We heard later that there had been threats but that he had resisted," Shojaei said.
She added that one of the criticisms against Ebtekar was that she was not wearing the chador.
"When Ebtekar was told, she said she will [start wearing] the chador. She's said she's not opposed to it," Shojaei said.
It is not clear whether Rohani has faced pressure over Joneydi's appearance or had asked her to wear a chador to avoid receiving criticism from hard-liners.
The Iranian president hinted he had been pressured by conservatives when he said on August 15 that he intended to name three women as ministers, saying the candidates had been chosen but that "it wasn't possible [to add them to his cabinet]."
Rohani didn't elaborate.
He has not publicly commented on the controversy over Joneydi's chador.
Last month, popular Iranian television personality Azadeh Namdari, a chadori, was accused of hypocrisy and attacked on social media after leaked photos from a trip to Switzerland showed her in public not only without the chador but with her hair exposed while wearing a jumpsuit.
https://www.rferl.org/a/iran-rohani-cabinet-joneydi-chador-chadori-/28692682.html
--------
Malaysian Women To March Against 'Toxic' And Sexist Politics On Sept 10
BY YISWAREE PALANSAMY
August 24, 2017
KUALA LUMPUR, Aug 24 — Several of Malaysia's most prominent women personalities are planning a city march on September 10 demanding an end to what they call a "rising tide" of toxic, violent and sexist politics in the country.
The walk is scheduled to start from Maju Junction to the Sogo shopping centre 350m away on Jalan Tuanku Abdul Rahman in the national capital from 5pm.
"We as the women of Malaysia are dismayed at the erosion of democracy in Malaysia, through acts of violence perpetrated at political events, media or online. As the authorities have failed to address the problem, we as the women of Malaysia are taking a stand against this harmful rise of toxic politics.
"What is more worrying is when a woman's dignity and well-being can be sacrificed for the sake of politics and propaganda," Datuk Noor Farida Ariffin, representing the women, told a news conference here at the launch of the event called "Women Against Toxic Politics".
A retired judge and former ambassador, Noor Farida noted that many sexist comments have been issued with impunity in Parliament, often by lawmakers.
She also criticised a recent incident in May that saw prominent film producer Datuk David Teoh of Metrowealth Pictures being slapped by an actor in front of Prime Minister Datuk Seri Najib Razak as an example of the spread of toxicity among Malaysians, claiming it to be the "new norm".
"This is not civilised behaviour for anyone, much less for Malaysians who are cultured and proud people.
"It appears that now, there is no space that is safe for everyone. The toxic political culture has spread across the country, whether in public domain, online or through the mainstream media," Noor Farida said.
Also present at the press conference was Tun Dr Siti Hasmah Mohamad Ali, wife of former prime minister Tun Dr Mahathir Mohamad, who would also be joining the march next month.
Dr Siti Hasmah noted that "toxic politics" was becoming more frequent and more violent at many events wherever she followed her husband to.
"There has been too much politics in our country, especially remarks made by national leaders, which create a lot of problems for women especially," she said.
Her daughter Datin Paduka Marina Mahathir was among the number of prominent social activists present at the news conference. Others included lawyer and former Malaysian Bar president Datuk Ambiga Sreenevasan and electoral reform watchdog Bersih 2.0 co-chair Maria Chin Abdullah.
The movement also welcomes other women advocates to join in the walk, regardless of their gender.
There is no registration, but those interested to participate are urged to wear purple on that day. The colour has been previously worn by suffragettes and women's rights advocates globally.
http://www.themalaymailonline.com/malaysia/article/women-to-march-against-toxic-and-sexist-politics-on-sept-10#idsCZDk9eoF7SyYv.97
--------
Three Emirati women graduate as captains of 24-metre vessels
August 23, 2017
Abu Dhabi: Three Emirati women have become the first to graduate as masters (captains) of 24-metre vessels from the Maritime Training Centre of Abu Dhabi Ports, a few days ahead of Emirati Women's Day on August 28.
Sahar Rasti, Fatima Al Khaja and Mahra Al Shamsi graduated along with 10 other students after six-and-a-half months of extensive theoretical and practical training and coursework, according to a press release issued by Abu Dhabi Ports on Wednesday.
Lecturers from the Australian Maritime College conducted the training while the Australian Marine Safety Authority, which is the official representative of the International Maritime Organisation in Australia, issued the certification. The students were required to attend 10 weeks of classes and spend four months at sea to demonstrate their practical experience by completing tasks aboard vessels.
Through the participation of the Emirati women in the maritime sector, the UAE has seen a rise in their contribution to the economy.
Fawziya Al Daheri is a case in point. She is considered to be the first Emirati woman to work as a VTS (Vessel Traffic Services) operator with Abu Dhabi Marine Services, or Safeen, after becoming the first Emirati woman to clear the VTS course.
Over the past year especially, Emirati women have increasingly been stepping into the limelight and taking on new and progressive roles.
Recent accomplishments have included the first Emirati women graduating from Harvard, climbing Alaska's 6,190-metre Mt Denali and becoming the first Arab woman to compete in next season's Formula-4.
Captain Mohammad Juma Al Shamsi, CEO of Abu Dhabi Ports said: We, at Abu Dhabi Ports, are eager to extend every opportunity to our young women and men to develop their capabilities and fulfil their potential. That these young women have graduated through this intensive course sets an example for future generations and shines a light on the career opportunities available in the maritime industry."
Abu Dhabi Ports is the master developer, operator and manager of commercial and community ports within the emirate of Abu Dhabi, in addition to the container terminal at Port of Fujairah, and Khalifa Industrial Zone Abu Dhabi.
http://gulfnews.com/news/uae/society/three-emirati-women-graduate-as-captains-of-24-metre-vessels-1.2079121
--------
Tamil Nadu: Kin of woman who took to Islam complains against activist
Aug 23, 2017
A week after right-wing activist Rahul Eswar released a controversial video purportedly showing Hadiya Jahan (Akhila Ashokan) arguing with her mother on choice of her faith, her family has filed a complaint against him. Hadiya's marriage with a Muslim man was annulled by the Kerala high court in May.
"He (Rahul) has cheated us. He took the video without our knowledge. What is shown in the video is not correct," said father Ashokan, an ex-serviceman. He said the video gave a wrong picture that his daughter continues to live as a Muslim and she was under tremendous pressure.
"Being the grandson of Sabariamala thantri (main priest) we gave him some consideration and allowed to visit us. But we never thought he will become a tool in the hands of fundamentalist outfits" Ashokan said.
In the complaint field at Vaikkom police station (Kottayam) Ashokan said Rahul exploited the situation and cheated them.
"He said he is taking selfies for his personal use and assured us they won't be made public. But he gave the photos and video to the media the next day," he said.
Rahul claimed he shot the video with the knowledge and consent of the family.
http://www.hindustantimes.com/india-news/tamil-nadu-kin-of-woman-who-took-to-islam-complains-against-activist/story-R6XDrFs9GMM5hVLNGSe9PO.html
--------
'We women would work in the oil fields until 11 pm'
August 23, 2017
In 1989, Shaikha Al Maskari was the first woman to be granted 100 per cent ownership when she took over her family's Tricon Energy Operations
For the first female petroleum engineer in the GCC region, witnessing Emirati women having their mark in every sector across the country makes her heart happy.
Dr Shaikha Al Maskari was the first woman to work in the oil fields of Abu Dhabi among thousands of men upon starting her career at Adnoc Group in the 1970s. Now at 77, she recalls the time when the late Sheikh Zayed bin Sultan Al Nahyan was her main support.
"I thank God I'm alive to witness this progress; to see women forming one third of our cabinet and taking their spots in aviation and military force. I wish my mother was alive to see how Emirati women are shining in each sector, because we have all grown up with the dream of having top female performers in society," said Al Maskari, who is also an active philanthropist, on the third Emirati Women's Day.
At the age of six, Sheikh Zayed patted her head and predicted that she will be the country's ambassador to the world. Today, the Emirati grandmother is the founder of Al Maskari Holding, a conglomerate of 20 multinational firms with strong international partnerships. She was the first woman to run such a large company. And just last month, she was named among the most powerful Arab women 2017 according to Forbes Middle East's July edition.
For Al Maskari, such success goes back to the fact that women empowerment has been in the country's agenda even before its formation in 1971.
"Sheikh Zayed used to discuss women's development and education with Sheikha Fatima bint Mubarak (the mother of the nation)."
She added: "I'll never forget the day I received a telegram from the minister of education when I graduated from school. The UAE founders have always opened doors for women and believed in their essential role in the country's development. Women were part of every stage of this country's history," said Al Maskari.
Throughout her career, she said she never felt discriminated or unattended to during her duty in Adnoc and other government departments. "Back then, we didn't have the Internet or emails so we would stay in the oil fields until 11pm. I was never belittled and officials always treated us equally as professionals in the oil community," she said.
In 1989, she was the first woman to be granted 100 per cent ownership when she took over her family's Tricon Energy Operations. The hurdle was gaining sole ownership of the business, which was something granted only to men at the time. She said while the oil field was male-dominated, it was during the late 1980s that regulations were started emerging to support women.
"Look at us today, it really makes me feel grateful for being a citizen in a country that supports women from the cradle to the grave and that applauds her every achievement," she said.
It's time to give back
For Al Maskari, every privilege has accountability, and while the country keeps supporting women, it is important for every Emirati citizen to give back to help with the country's advancement and social ambiance.
"Every aspect of society we have is literally like a beautiful garden that we need to take care of."
Outside the corporate world, Al Maskari has financially adopted over 2,000 children around the world and set up many charitable organisations, from a soup kitchen in St. Petersburg to an orphanage in India. She had founded the Global Institute of Justice and Technology and the Global Paramedic and Rescue Academy, both of which have trained hundreds of UAE Ministry of Interior personnel in advanced police sciences and security.
She said the fundamental role of Emirati women at this point is bringing up the future generation, besides their professional success.
"The Emirati woman is known to be hard working and patient, but this success must be taken to her post-work life." Al Maskari stated that the main challenge facing women now is the complete reliance on foreign helpers, which is making the Emirati customs and traditions slowly disappear among the younger generation.
"More important is our responsibility of raising the future generation that will carry our legacy. We have to give back to the country, our children and grandchildren. We need to be mothers, not only women who bring up children," said Al Maskari.
And for Emirati women, the path only leads forward for the leadership not only encourages, but also applauds and rewards women when they achieve, said Al Maskari.
sherouk@khaleejtimes.com
Key achievements of Shaikha Al Maskari
Dr Shaikha Al Maskari earned her BA from the University of London, MA and PhD (Geology) at Indiana University, and trained in geophysics with the US Geological Survey. She was named among the 100 most powerful Arab women at Forbes Middle East issues in 2015 and 2017. She has founded the Global Institute of Justice and Technology and the Global Paramedic and Rescue Academy that trained hundreds of UAE Ministry of Interior personnel in advanced police sciences, security, search and rescue and emergency medical services. Al Maskari has won numerous national, regional and international awards. In 1993, she set up her family charity, United Mercy Foundation, which sponsors orphans and provides food, medical and emergency relief in crisis zones in the Middle East, Africa, and Asia. In 2003, she co-founded the Diyarbakir (Grameen) Microcredit Project in Turkey.
In 2016, she was awarded "the Emirati Honorary Shield" for her pioneering Humanitarian contributions and was listed among the inspiring women in a book published by the UAE Federal Competitiveness and Statistics Authority on Emirati Women's Day, titled "Emaratiyah.. UAE's Inspiring Women."
http://www.khaleejtimes.com/news/general/we-women-would-work-in-the-oil-fields-until-11-pm
--------
Pakistan Women Festival honours women, speculates on their issues
August 23, 2017
KARACHI: A three-day festival focusing on the women of Pakistan and their issues, organised by High Events, was launched at the Global Marquee, Karachi, on August 12.
The festival kicked off with a women empowerment seminar, which culminated in Pakistan Women Festival Awards, and was followed by a health seminar. Concurrently, an art exhibition took place all day. The evening ended with a scintillating concert.
The aim of Pakistan Women Festival 2017 was to honour women, recognize their contributions to society and discuss their issues, ranging from empowerment to health.
Day 1 opened with a women empowerment seminar organised by STARLINKS Pr and hosted by Shanaz Ramzi, featuring the powerhouse of HUM network, Sultana Siddiqui, who gave an inspiring speech on breaking the ceiling on women empowerment in Pakistan. This was followed by a panel discussion on the same topic. The seminar ended with an award ceremony in which six inspiring women were recognised for their efforts in promoting UN SDG goals. They were:
Shahnaz Kapadia of Mera Maan for No Poverty
Farzana Ahmed for The Food Project Trust in the category of Zero Hunger
Mantaha Maqsood for Good Health and Well-being,
Sultana Siddiqui for Gender Equality
Majida Rizvi for Peace and Justice Strong Institutions
Sabina Khatri of Kiran School for Quality education
After a short break, a women health seminar kicked off. The three-day health seminar as aimed at addressing the various health care issues and opportunities in Pakistan. The seminar was divided into two panel discussions. Session I was on 'Skin Problems and Invasive Treatments'. Renowned panellists such as Naqiba Munshi, Dr Seema Hirji and Dr Uzma Tiwana gave a comprehensive insight on the subject. The discussion was moderated by Azeemah Nakhoda.
The second session was on 'Improving Quality of Life through Workout', with a focus on physical fitness and debate on whether workout alone could guarantee good health.
Concurrent to the seminars, people had the opportunity to enjoy a hall full of beautiful masterpieces and art works by variety of artists who showcased their talents at the art gallery. Jabbar Gul, Zohra Hussain, Mehar Afroze, Margery Hussain, Shahnaz Ismail and students of Indus Valley School of Art and Architecture, and Arts Council took part in the exhibition.
The day ended with the most awaited part of the festival, the PWF concert. Sajjad Ali, Asim Azhar and Sanam Marvi gave mesmerizing performances before a packed audience.
Second day
The second day of the three-day PWF, a festival focusing on the women of Pakistan, kicked off at the Global Marquees. The day started with a women empowerment seminar, followed by Pakistan Women Festival Awards and a health seminar. Concurrently, an art exhibition took place all day. The evening ended with a scintillating concert featuring Ali Zafar, Mai Dai, Natasha Baig and Ahmed Jehanzeb.
Day II opened with a women empowerment seminar, in which the first female architect of Pakistan, Yasmeen Lari, gave an inspiring speech on 'Creating sustainable economic independence for women in Pakistan'. This was followed by a panel discussion on the same topic. The seminar ended with an award ceremony in which five inspiring women were recognised for their efforts in promoting UN SDG goals.
The award winners were:
Simi Kamal of Raasta for Clean Water and Sanitation.
Fiza Farhan for Affordable an Clean Energy
Roshaneh Zafar of Kashf Fundation for Decent Work and Economic Growth
Mrs Roshan Ali Bhimjee for Industry, Innovation and Infrastructure
Yasmeen Lari for Sustainable Cities and Communities
A Special Award was presented to Khursheed Begum Khan for empowering the youth of Pakistan in the last five decades.
In the women health seminar, session I was on 'Humanistic Therapy versus Psychiatric Treatment', in which Dr Asma Sartaj, Dr Uzma Naeem, Dr Ayesha Mian and Dr Mehmood Aminur Rehman gave a comprehensive insight on the subject. The discussion was moderated by Dr Atif Mansoor. The second session on 'Allopathic Medicine versus Alternative Treatments' included Dr Asma, Dr Shumaila Ashraf, Dr Shahnawaz and Dr Masooma Zehra.
One of the highlights of the day and the talk of the town was the fashion show hosted by the PWF and choreographed by Vinny. With a bustling Red Carpet and top of the line designers, the fashion show started with glitz and glamour. Designers that showcased were Fahad Hussayn, Ahmed Bilal, FunkAsia, Lajwanti by Ana Ali, Adnan Pardesy, Nida Azwer, Sobia Nazir and Mehdi.
The day ended with the most awaited part of the festival, the PWF concert. Mai Dhai, Natasha Baig, Ali Zafar and Ahmed Jahanzaib gave mesmerizing performances before a packed audience.
Third day
On the third and final day of the three-day festival, PWF paid tribute to the women of Pakistan at the Global Marquees. The day started with a woman empowerment seminar, followed by Pakistan Women Festival Awards and a health seminar. Concurrently, an art exhibition took place all day. Free yoga classes and a cooking show were also organized. The evening ended with a scintillating concert featuring an international performance by Stereo Nation.
The final day opened with a women empowerment seminar, in which Khushbakht Shujat gave a motivating speech on 'Women tackling challenges in Education in Pakistan'. After the speech, a panel discussion took place on the same topic. The seminar ended with an award ceremony in which five inspiring women were recognised for their efforts in promoting UNSDGs. They were:
Dr Quratulain Bakhteari for Reduced Inequalities
Shireen Halai for Recycle for charity in the category of Responsible consumption
Sabiha Zaman for Climate action
Tahira Mohammed Ali Shah (LATE) for Life below water
Dr Aamena Hasan for Life on Land
In the health seminar, session I was on 'Paediatric Care Essentials in the 21st Century' while session II was on the subject of 'Oral Hygiene for Healthier Living'. Free yoga classes were also taking place in the adjacent hall while three chefs from HUM TV also conducted a free cooking session for women.
The day ended with the most awaited part of the festival, the PWF concert, in which Amanat Ali, Zoe Viccaji, Alycia Dias and the internationally acclaimed Stereo Nation gave mesmerizing performances before a packed audience. Pakistan Women Festival aims to be an annual event.
https://www.samaa.tv/pakistan/2017/08/pakistan-women-festival-honours-women-speculates-issues/
--------
Malala Yousafzai calls Kulsoom Nawaz to inquire after her health
Aug 23 2017
Pakistani Nobel laureate Malala Yousafzai and her mother Turpakai on Wednesday called Begum Kulsoom Nawaz and inquired about her health.
During the conversation, Begum Nawaz congratulated Malala on getting accepted at Oxford University and wished her well.
Malala and her mother told Begum Nawaz that their family was praying for her recovery.
According to British doctors treating the former premier's wife in London, her ailment is curable and "treatment shouldn't be too complicated."
Doctors discussed various options of treatment and agreed that surgery and radiation therapy will not be used because Kulsoom can be treated through chemotherapy, sources said.
Geo News, on Monday, reported that Begum Nawaz had undergone three medical check-ups after reaching London a week ago, and results of her blood tests were due this week.
Kulsoom is the Pakistan Muslim League-Nawaz candidate for the NA-120 by-election due on September 17.
The seat fell vacant after former premier Nawaz Sharif was disqualified by the Supreme Court in the Panama Papers case.
https://www.geo.tv/latest/154978-malala-mother-call
--------
Iran to disqualify female teachers 'with too much facial hair'
August 24, 2017
ERBIL, Kurdistan Region (Kurdistan 24) – Iran on Wednesday said it refuses to hire teachers who suffer illness, have strong accents, or smoke cigarettes or pipes.
The Iranian Ministry of Education published an extensive list of illnesses that would disqualify applicants from being hired as teachers, as cited in the "semi-government" Fars news agency.
Among the list are common illnesses such as kidney stones, poor eyesight, or having had bladder surgery.
The diseases that would disqualify women include having period disorders, too much facial hair, infertility, or breast cancer.
Discrimination against women in the Iranian labor industry is shaped in part by political ideology.
However, many discriminatory laws can be found in Iran's 1936 civil code.
After the Islamic Republic of Iran came to power in 1979, the authorities rolled back the progress made by legislation enacted in 1976 promoting gender equality, particularly in family law.
The new government returned to earlier legal provisions while also enforcing a dress code as a prerequisite for appearing in public.
In the past three decades, authorities have punished women's rights activists for their efforts to promote gender equality in law and practice, including with imprisonment.
The government's prosecution of prominent activists trying to change discriminatory laws illustrates that the battle for women's social and economic freedoms cannot be disentangled from the broader struggle for political and civic rights in Iran.
http://www.kurdistan24.net/en/news/be2b4f25-3b39-4dd6-aa76-abfe2f751a4f
--------
URL: https://www.newageislam.com/islam-women-feminism/in-controversial-move-iran-new/d/112317
New Age Islam, Islam Online, Islamic Website, African Muslim News, Arab World News, South Asia News, Indian Muslim News, World Muslim News, Women in Islam, Islamic Feminism, Arab Women, Women In Arab, Islamophobia in America, Muslim Women in West, Islam Women and Feminism