New Age Islam News Bureau
31 Jul 2020
• Sarah Al-Tamimi, Vice Chair of Saudi Arabia's National Committee to Combat Human Trafficking
• Saudi Café Penalised Over Waitresses
• Arab International Women's Forum Highlights Pandemic Challenges, Race For Vaccine
• Taliban Executes Female Prison Guard, and U.N. Raises Concern Over Afghan Violence
• Ahead of Raksha Bandhan, Pakistan Woman Sends Rakhi For PM Modi, Says She Will Visit Delhi If PM Invites
• PKR Women's Wing Announces Several New Leaders
Compiled by New Age Islam News Bureau
URL: https://www.newageislam.com/islam-women-feminism/in-historic-verdict-saudi-court/d/122515
--------
In a Historic Verdict Saudi Court Allows Women to Live and Travel Without Guardian
July 16, 2020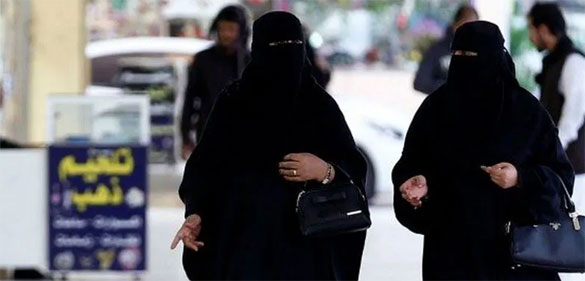 Women in Saudi, 22 February 2020 [bintroo/Twitter]
-----
A Saudi court has issued an "historic" ruling in a legal case that will give women the right to live and travel freely within the kingdom without the permission of their guardian. The judgement, which will be seen as another milestone in Crown Prince Mohammed Bin Salman's reformation of the conservative country, followed a legal battle between public prosecutors and a Saudi woman, who it appears had left the family home in defiance of her parents.
According to court documents published by Abdulrahman Al-Lahim, a lawyer in the case, Public prosecutors had been pursuing the woman, who was identified as Meriam Al-Eteebe by Al Arabiya news agency, for being absent from her family's home and travelling to Riyadh without their permission.
Ruling in favour of Al-Eteebe the court judged that the independence of the defendant in a separate home is not considered a punishable criminal act as the "woman is a sane adult who has the right to decide where she wants to live."
Al-Lahim is quoted as saying that he considers this a historic ruling because it represents a significant change that is underway within the kingdom's judicial system.
"A historic ruling was issued today, affirming that independence of a sane, adult woman in a separate house is not a crime worthy of punishment," Al-Lahim is also reported saying in a tweet. "I am very happy with this, this ruling that ends tragic stories for women."
Speaking to Al Arabiya, Al-Lahim further stressed the significance of the decision. "This shows the creation of a new generation of judges who coexist and live in the reality that the Kingdom of Saudi Arabia is living in, in alignment with the vision of Crown Prince Mohammed bin Salman," said Al-Lahim. "A ruling that deals with reality, the reality of society and the reality of the entire world."
In remarks following her victory, Al-Eteebe said that she had been fighting this battle for three years. "After long suffering that has lasted since 2017, I managed today, along with the court hero Mr. Abdulrahman al-Lahim, to take back my freedom of movement, guaranteed by the Saudi constitution, which states that every citizen has freedom of movement and stability."
It was "not easy but worth it," added Al-Eteebe.
This ruling is the latest in a series of decisions undertaken by the crown prince considered to be part of his vision to reform the kingdom's economy, culture and society. Though such reforms have on the main been welcome, critics have argued that arrest and detention of Saudi women's rights activists undermine his claim to be creating a more free and open country.
https://www.middleeastmonitor.com/20200716-in-historic-verdict-saudi-court-allows-women-to-live-travel-without-guardian/
--------
Sarah Al-Tamimi, Vice Chair Of Saudi Arabia's National Committee To Combat Human Trafficking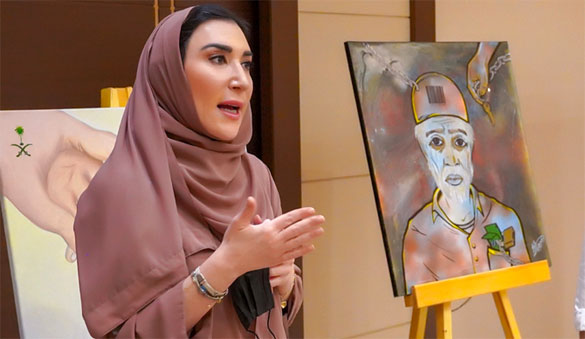 Vice-chair of the Saudi National Committee to Combat Human Trafficking, Sarah Al-Tamimi (Supplied)
-----
July 31, 2020
Sarah Al-Tamimi has been the vice chair of Saudi Arabia's National Committee to Combat Human Trafficking since February 2020. Her work includes coordination with ministries and authorities working together as a national team.
As part of her capacity-building strategy, Al-Tamimi oversees training programs at the committee with partners at the UN Office on Drugs and Crime (UNODC) for the Gulf Cooperation Council region and the International Organization for Migration, as well as coordinating protection responses for victims and potential victims of trafficking.
Al-Tamimi holds a BA in international relations from Tufts University, an MBA from MIT, and a master of public administration from the Harvard Kennedy School.
She joined the committee's fight against human trafficking in October 2019. One of her responsibilities was developing the committee's strategy.
Coinciding with the World Day against Trafficking in Persons on July 30, Al-Tamimi has been nominated by UNODC for her efforts in raising awareness of the issue. UNODC's campaign this year focused for the first time on profiling people that work in human trafficking. Nominations came from offices around the world and Al-Tamimi was the only person chosen from the GCC countries.
"Enhancing quality of life for all is a key pillar of Vision 2030, which is a goal we also strive for at the committee," she said.
"Human trafficking is a crime that knows no borders, therefore neither can we who fight it," said Al-Tamimi.
"Combating human trafficking requires the participation of a variety of international and local actors that goes far beyond the public sector and operates in areas ranging from cyberspace to private sector supply chains."
https://www.arabnews.com/node/1712366/saudi-arabia
--------
Saudi Café Penalised Over Waitresses
July 28, 2020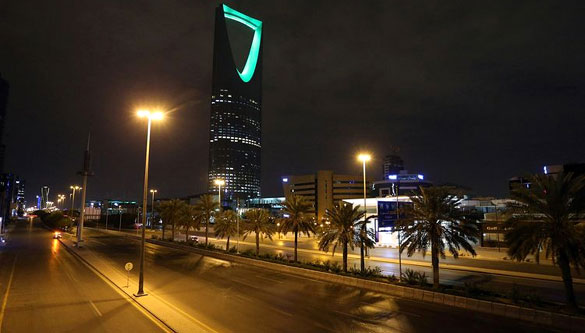 Women are allowed in Saudi Arabia to work at restaurants in women-designated areas, a restriction aimed at providing favourable work conditions for them.
------
Ramadan Al Sherbini
Cairo: Saudi authorities have penalised a local coffee shop after it had employed women as waitresses in violation of work rules, a government official has said.
Legal action was taken against the café in Saudi Arabia's eastern governorate of Taif after reports on social media circulated about female waitresses at the place, spokesman for the Ministry of Human Resources Nasser Al Hazani said.
"The violating establishment was identified for violating the unified guidebook regulating the working environment for women and disciplinary penalties were taken against it," he added on his Twitter Account without giving details.
Women are allowed in Saudi Arabia to work at restaurants in women-designated areas, a restriction aimed at providing favourable work conditions for them.
Saudi women accounted for 1.1 million workers or about 26 per cent of the country's manpower at the end of 2019, according to media figures.
In recent years, Saudi Arabia has sought to boost women's rights and empower them as part of wide social and economic reforms in the country.
In 2018, the kingdom allowed women to drive for the first time in its history, ending a decades-old ban on female driving.
In another move boosting women's empowerment, Saudi authorities have authorised women to travel without a male guard's approval and to apply for a passport, easing long-time controls on them.
https://gulfnews.com/world/gulf/saudi/saudi-caf-penalised-over-waitresses-1.72845005
--------
Arab International Women's Forum Highlights Pandemic Challenges, Race For Vaccine
July 30, 2020
LONDON: The Arab International Women's Forum (AIWF) has drawn together experts from the Middle East and internationally to examine some of the key challenges raised by the coronavirus pandemic.
In her introduction to the virtual event, held in cooperation with global partner Pfizer, AIWF founder and Chairwoman Haifa Al-Kaylani paid tribute to "the women at the frontline of the coronavirus crisis — women in science, research, policy development, health care, the media, and women who are caregivers, mothers and community leaders."
The panel was moderated by AIWF board member Dr. Oualae Al-Alami, vice president cluster lead at Pfizer Biopharmaceutical Group and chair of the Regional Diversity & Inclusion Council for Pfizer Africa.
The speakers were Dr. Maryam Matar, founder and chairwoman of the UAE Genetic Diseases Association; Dr. Graciela Morales, vice president and Pfizer vaccines lead for emerging markets; and Dr. Fadi El-Jardali, professor of health policy and systems and chairman of the Health Policy and Management Department at the American University of Beirut.
Al-Alami noted that women account for 70 percent of health services personnel. "They're on the frontlines, sometimes sacrificing their lives for patients and their families during the crisis," she said.
"Typically there's a pay gap, with women earning 80 percent of the wages of their male counterparts."
The experiences of women coping amid the pandemic have shed light on how the structure of societies has a notable impact on stress and resilience levels.
Matar said pressures on women in the UAE were mitigated by the way society is structured around extended families.
"I'd like to pay tribute to the importance of the extended family within the UAE which provides women with important psychological support," she added.
"A woman might be working as a nurse or a teacher but she has the support of her mother or mother-in-law. It's very important to emphasize the importance for any community where women are on the frontline to have a safety net for them when it comes to economic and psychological support."
Matar said the UAE was in a good state of preparedness when the pandemic struck, thanks to crisis planning and long-term investment in developing resources.
"In 2019, we had a big conference in Abu Dhabi dealing with disaster and crisis management. We were discussing a scenario of what might happen in a pandemic with specific reference to the 2020 Expo.
This exercise put us on our toes and made us think through the various scenarios. We went through a very tough exercise to formulate a response. This planning demonstrated the vision of our UAE leader," she added.
"We have to remember that when we're talking about the UAE, we aren't just talking about Emiratis — we're talking about 200 nationalities. In the UAE, we understand the role of non-Emiratis in helping us to build our country," she said.
"At the same time, however, it's very important for us to have our own nationals in a position to take the lead in the implementation of policies throughout the chain of response, not just in emergencies but in every respect."
Matar noted that it had taken decades of work to build capabilities, including investment in education and the forging of public-private partnerships (PPP).
"The participation of women in combating this crisis on the frontline didn't happen overnight. It took 50 years to build up this capability within the community," she said.
"We've learnt the importance of planning and clear vision. A key element in dealing with the crisis has been very effective public-private partnerships."
In relation to the role of the World Health Organization (WHO), Matar said she would have liked to see a more nuanced approach better fitted to the widely varying conditions within countries across the Middle East and North Africa.
"With regard to dealing with the pandemic, it's clear that there's no single WHO policy which should be applied universally to all nations. This is a strong lesson for all decision-makers. Policies should be made to fit the needs and situations of each country and region," she added.
"Previously, the WHO has always had this approach of defining countries according to regions. I believe this should be reformed as per the needs of individual countries, not regions," she said.
"There are major differences in the preparedness of each country and the vulnerabilities of their populations. We need, for example, to have plans for food and job security."
In relation to the global efforts underway to develop a vaccine, Morales said there have been unprecedented levels of cooperation.
"The pharma industry sector has been working together through collaborative networks and platforms. We're in a race against the virus, and these have been challenging times," she added.
"This has been an opportunity to recognize the collective advantage of all sectors working together and sharing knowledge. We're confident that science will win."
She said vaccines are the only long-term solution for ending this pandemic. Pfizer is "testing four vaccines simultaneously to increase our chances of success with the highest safety profile possible and in the shortest possible time," she added.
"We have early positive data from one of the candidate vaccines, and overall the preliminary data is encouraging … What we can say at this point is that there's a viable vaccine candidate based on the data we have to date," she said.
"We've worked hard to secure our production capacity for all our products during the pandemic to ensure that all in need of treatment will have the possibility of receiving it. At the same time, Pfizer is scaling up manufacturing to be ready to produce and supply the vaccine."
El-Jardali said governments could do more to support PPP in the development of vaccines. "Many countries talk about public-private partnerships, but in reality, in this time of crisis this concept has broken down. There has been a lot of dysfunction in PPP, and we've seen in many cases that the PPP relationship is mostly contractual," he added.
"It should mean sharing both benefits and risks, but in some countries we've seen that the private sector opted out and tried to leave the public sector dealing with the implications of the coronavirus for economic reasons," he said.
"We need to revisit the frameworks for PPP and to have better regulation, especially in middle-income countries."
El-Jardali said lessons that should have been learnt in relation to recent outbreaks of infectious diseases have not been acted on.
"In relation to vaccines, we've had over the past two decades five major disease outbreaks, but the response came late because of the market-based approach to investment," he added.
"We all know that the private sector invests in vaccines when they have a protected, profitable market. What has been missing has been the role played by the government. What are governments doing to change and modify the incentive for the R&D (research and development) model so that the pharma industry can take a more proactive approach to investing in vaccines before crises become overwhelming?" he said.
"We haven't learnt the lessons of the past two decades because it has been abundantly clear that if a pandemic came along we'd have a problem with vaccines, but nothing has been done to address this. Governments should've been much more proactive in working with the private sector and pharma industry to create push and pull incentives."
The webinar was attended by over 240 participants from 31 countries, including Egypt, Saudi Arabia, the UAE, Bahrain, Palestine, Morocco, Oman, Tunisia, Jordan, Iraq, Lebanon, Switzerland, Belgium, Germany, France, Canada, the US, the UK, Nigeria, Zimbabwe, India, Ghana, Kenya and Pakistan.
https://www.arabnews.com/node/1712166/lifestyle
--------
Taliban Executes Female Prison Guard, and U.N. Raises Concern Over Afghan Violence
By Mujib Mashal and Najim Rahim
July 27, 2020
KABUL, Afghanistan — The Taliban abducted and executed a female prison guard in the eastern Afghan province of Ghazni, officials and relatives said Monday, as the United Nations expressed concern over the war's unending toll on civilians.
Fatima Rajabi, 23, who had trained as a police officer, was pulled out of a civilian minibus on her way to her home village in the Jaghori district two weeks ago. After holding her captive for two weeks, the Taliban executed the young woman and sent her body to her family, her brother, Samiullah Rajabi, said.
"My sister was shot eight times," Mr. Rajabi said. "When we opened the coffin, her hands were behind her, together and stiff — you could tell her hands were first tied and they had only untied them after they sent the body."
The United Nations, in a report released on Monday on civilian harm in the Afghan conflict in the first six months of the year, expressed particular concern about the rise of abductions and executions by the Taliban. There has been an increase of more than a fivefold in civilian casualties tied to abductions since last year, it said.
Nearly 1,300 civilians have been killed and close 2,200 others wounded in the first six months of the year, according to the United Nations, which attributed 43 percent of the civilian casualties to the Taliban and 23 percent to Afghan forces.
It said the insurgent violence had grown deadlier, with a 33 percent increase in deaths caused by the Taliban over the same time period last year.
Women and children made up about 40 percent of the overall dead and injured, with pro-government forces responsible for the death of more children than the Taliban, the United Nations said. Civilian casualties from airstrikes by Afghan forces tripled from the first half of 2019.
"The reality remains that Afghanistan continues to be one of the deadliest conflicts in the world for civilians," the report noted. "Each year, thousands of civilians are killed and injured, abducted, displaced and threatened by parties to the conflict in Afghanistan."
The numbers still marked an overall 13 percent reduction in civilian casualties — which accounts for injuries and deaths — from the same period last year.
That is largely attributed to a major drop in casualties from United State airstrikes and attacks by the Islamic State branch in the country, which has shrunk significantly after major military operations. As part of a withdrawal deal signed with the Taliban in February, the United States is no longer deploying its air power against the group except in extreme cases, such as when their Afghan allies are being routed.
Although the United States has reduced its troops in the country to about 8,600 — it is on schedule to complete a full withdrawal over a 14-month period laid out in the agreement — other elements of the peace agreement, mainly direct negotiations between the Afghan sides over future power-sharing, have stalled as the violence continues.
"At a time when the government of Afghanistan and the Taliban have a historic opportunity to come together at the negotiating table for peace talks, the tragic reality is that the fighting continues inflicting terrible harm to civilians every day," said Deborah Lyons, the U.N. secretary-general's special representative for Afghanistan.
Zalmay Khalilzad, the United States' special envoy for peace in Afghanistan, has begun another trip to meet with the Taliban's negotiating team, based in Doha, and Afghan leaders in Kabul and push for direct negotiations, the State Department said. Those negotiations were expected to begin in March, but were delayed by disagreements over a prisoner swap under which the Afghan government was expected to free 5,000 Taliban fighters in return for 1,000 of its forces.
Jaghori, where Ms. Rajabi was traveling to see her family at the time of her abduction, was long considered one of the safest districts in a volatile region inhabited by the Hazara ethnic group. But in 2018, the Taliban launched an assault on the area and nearly took control, before being pushed back.
The insurgents have increasingly threatened the highways and main roads across Afghanistan, taxing commercial vehicles and searching buses for anyone suspected of working for the government.
Mr. Rajabi said his sister would often travel home unannounced to reduce the risk of being detained. Her family found out she was taken by the Taliban only after five days had passed.
Zabihullah Mujahid, a spokesman for the Taliban, denied that the group was behind the execution.
But local officials said the Taliban had been using Ms. Rajabi to pressure local leaders into resolving certain outstanding issues, possibly including taxes that the Taliban believe they are owed. "The Taliban were angry that despite repeated notices, the leaders hadn't reported to them," said Mohamad Ayub Bahonar, the district governor of Jaghori.
Ms. Rajabi's 70-year mother, Mariam Akbari, traveled to the Taliban-held area to beg for her daughter's release. The Taliban told her she must bring 15 district leaders who they wanted to talk to — something that was out of her power, she said.
"I went and begged, I lowered myself at their feet, so my sweet daughter could come back to me alive," Ms. Akbari said. "They told me 'You are old, we respect you, but don't come again.'"
Ms. Akbari had already lost one son, a police officer, to the war about ten years ago. One of her two remaining sons lives with her and has a heart condition, and the other has lived in Iran for years without much contact with the family.
"I really loved my daughter," she said. "She had joined the police out of poverty. Fatima was my only breadwinner."
https://www.nytimes.com/2020/07/27/world/asia/taliban-executes-guard-afghanistan.html
--------
Ahead of Raksha Bandhan, Pakistan Woman Sends Rakhi For PM Modi, Says She Will Visit Delhi If PM Invites
Jul 31, 2020
New Delhi: Qamar Mohsin Shaikh, a Pakistani woman has sent a rakhi for PM Narendra Modi ahead of Raksha Bandhan. According to a report, Sheikh has been sending rakhi to PM Modi for the past 25 years and she is willing to visit New Delhi if he invites her.
"I get the opportunity to tie rakhi to elder brother once every year, I'm happy. I pray that the next five years go so well for him that the whole world recognizes the positive decisions he made," she had told news agency ANi last year.
Prior to that, she had hailed the Indian government's decision to ban triple talaq and said that she would be keen on presenting a painting made by her husband to PM Modi.
No provision for triple talaq in Quran: Shaikh
"There is no provision of instant triple talaq in the Quran and Islam. No other than him could have taken this step (formation of law). He has done a very good job in interests of Muslim women," she had said while commenting on triple talaq.
She had also lauded the Indian government's decision to abrogate Article 370 and revoke the special status of Jammu and Kashmir.
Sheikh's gesture comes at a time when her country has been strongly opposing the Indian government's decisions in Jammu and Kashmir and has made several futile attempts to garner international attention on the Kashmir issue.
Raksha Bandhan will be celebrated on August 3 this year. As reported earlier by Times Now, women artisans from Varanasi have already sent rakhis to PM Narendra Modi and soldiers posted along the Line of Actual Control (LAC) in Galwan on the occasion of Rakshabandhan.
https://www.timesnownews.com/india/article/ahead-of-rakshabandhan-pakistan-woman-sends-rakhi-for-pm-modi-says-she-will-visit-delhi-if-pm-invites/630086
--------
PKR Women's wing announces several new leaders
26 Jul 2020
KUALA LUMPUR, July 26 — The PKR Women's wing continues to be in a constant state of preparedness to face any situation with several new leaders appointed in a meeting yesterday.
Central PKR Women's secretary, Nor Azrina Surip said that the women's machinery nationwide would be mobilised to ensure that the Pakatan Harapan (PH) government, which was legally elected by the people in the last 14th General Election, returns to power.
"Efforts to raise the voice and welfare of the people are our priority," she said in a statement here today.
According to Nor Azrina, who is also the MP for Merbok, during the meeting of the Central PKR Women's Leadership Council yesterday, several committee chairpersons were appointed to present new faces in the party's top women leadership.
Apart from Nor Azrina who was elected as the Central Women's secretary, others who were elected were Fadhlina Sidek and G. Sivamalar as Legal and Community Development Bureau and Economy and Entrepreneurs Bureau chairpersons respectively.
Meanwhile, Dr Zaliha Mustafa was also appointed as the Strategy, Policy and Training Bureau chairperson and Loh Ker Chean was elected as an exco in the Central Women's leadership.
Apart from that, eight state PKR Women's chiefs were also announced, namely, Rodziah Ismail as Selangor Women chief; Rohaidah Mamat (Regional); Amni Idris (Negeri Sembilan) and Naziratul Aini Muhamad Sayuty (Kelantan).
Also elected are Junaida Jamaludin (Perak); Napsiah Khamis @ Maharan (Johor); Che Meriah Che Endut (Terengganu) and Barirah Mokhtar (Pahang).
"Women chiefs from six more states will be announced later," she said.
On July 11, Kuantan MP Fuziah Salleh was appointed as the new PKR Women's chief after the incumbent Haniza Mohamed Talha was sacked on June 29. — Bernama
https://www.malaymail.com/news/malaysia/2020/07/26/pkr-womens-wing-announces-several-new-leaders/1888313
--------
URL: https://www.newageislam.com/islam-women-feminism/in-historic-verdict-saudi-court/d/122515
New Age Islam, Islam Online, Islamic Website, African Muslim News, Arab World News, South Asia News, Indian Muslim News, World Muslim News, Women in Islam, Islamic Feminism, Arab Women, Women In Arab, Islamophobia in America, Muslim Women in West, Islam Women and Feminism