New Age Islam News Bureau
13 May 2020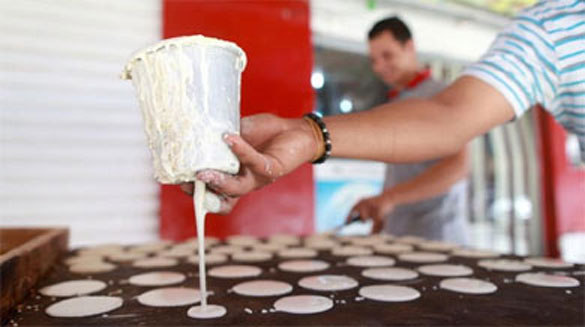 A man makes traditional sweets qatayef during the Muslim fasting month of Ramadan. (Reuters)
-----
• Importance of Self-Evaluation Discussed in Women's Workshop in Saudi Arabia
• Iraqi Women Denied Their Property by Relatives, Tribes and Militias
• Syrian Refugee Women Face New COVID-19 Battleground
• Women Leaders Shine During COVID-19 Pandemic
• Umm Mohammed, Gaza's First Woman to Sell Qatayef, An Arab Dessert Commonly Served During the Month of Ramadan
• DSC Organizes Virtual Forum for Female Players OfDubai's Sports Clubs
• 200% Increase in Crimes Against Women in Pakistan In January-March
• Nearly 5,000 Pregnant Pakistani Women Demand Urgent Repatriation FromDubai Amid Coronavirus
• Women Comprise At Least 10% Of Coronavirus Cases in Each Sindh District
• COVID-19: After Fighting for Iran's Most Vulnerable, These Imprisoned Women Have Become the Most Vulnerable of All
• Protecting Women's Reproductive Health During the Pandemic
Compiled ByNew Age Islam News Bureau
URL; https://www.newageislam.com/islam-women-feminism/importance-self-evaluation-discussed-womens/d/121835
-------
Importance Of Self-Evaluation Discussed In Women's Workshop In Saudi Arabia
May 12, 2020
RIYADH — Microsoft Arabia, in cooperation with Princess NourahBint Abdul Rahman University, organized a virtual session entitled "The importance of self-evaluation in terms of strengths, weaknesses and available opportunities", within the initiative of the "Ministry of Human Resources and Social Development — Women Leaders 2030", where more than 300 candidates from the initiative were invited representing Future women leaders from the public and private sectors, and the initiative was held on the "Microsoft Teams" platform.
The session was presented by the financial director of "Microsoft Arabia" Ms. WalaaShaheen, who talked about the importance of self-evaluation in terms of strengths, weaknesses and available opportunities, and raised a number of questions on the subject of self-evaluation, among them: How do I evaluate myself? With whom do I compete? How do I grow? How do I find opportunities? What is the biggest challenge that may face me? She also presented a number of effective means in developing self-evaluation skills and providing the trainees with skills in dealing with different human patterns and the art of investing the available opportunities.
During the session, she touched on the importance of overcoming the challenges that a woman faces in her personal life, and how to transform those challenges into strengths that enable a woman to achieve excellence and success in her working life, while she was reviewing her personal experience as a leading Saudi woman, a wife, and a mother of several children at the same time. These difficulties did not hinder her career. Today, she is the financial manager of "Microsoft Arabia" along with her other activities.
Shaheen pointed to the great support enjoyed by Saudi women during the era of the Custodian of the Two Holy Mosques King Salman and Crown Prince Muhammad Bin Salman (may God preserve them) and she indicated, during the participations in the session, the importance of investing this support and positive stimulating climate for creativity and development in overcoming all difficulties until becoming a successful woman leader to achieve the slogan (Women Leaders 2030).
Operational Director of the initiative Eng. Ohoud Al-Tareer stated to the executing agency from Princess NourahBint Abdul Rahman University that the leadership training and mentoring initiative for women's cadres aims to establish a global program with high training competencies to train women leaders, and graduate a group of leaders to raise the employment rate for women in leadership positions and raising awareness of women's participation in the labour-market and in economic work.
And she thanked Microsoft Arabia for its initiative to provide these sessions that would achieve the goals of the initiative to provide support and motivation for the initiative's graduates.
It is worth noting that Microsoft Arabia, as a pioneer in the field of technology, is interested in supporting young people and encouraging entrepreneurs, and has special programs for investment in developing young leaders, through which these programs aim to develop youth skills and empower youth competencies. — SG
https://saudigazette.com.sa/article/593030/BUSINESS/Importance-of-self-evaluation-discussed-in-womens-workshop
--------
Iraqi women denied their property by relatives, tribes and militias
11. May 2020
Hundreds of thousands of Iraqi women displaced by war remain unable to return to their homes because of systemic injustices that prevent them from proving or claiming ownership of their property.
New research by the Norwegian Refugee Council reveals that displaced women are much worse off than men: they are 11 per cent more likely to face barriers impeding them from going back home after years of suffering in displacement camps since the end of the war against Islamic State group in their areas of origin.
The barriers include inability to regain access to their property, re-establish ownership and seek compensation for damaged property. Nine per cent of women surveyed across Dohuk, Ninewa, Kirkuk and Anbar governorates said their property was occupied by community or tribal leaders, militias and security forces.
Of over 1,000 women surveyed, 43 per cent rejected the statement that women had a right to own all types of property, despite Iraqi law that protects women's housing, land and property rights. One in five women said, erroneously, that under Iraqi law women were not entitled to property following divorce, and 18 per cent said they had no inheritance rights. One in three said that in reality women received nothing following divorce and nearly one in four (23 per cent) said they had no inheritance rights in practice.
"The systemic injustices that hundreds of thousands of displaced Iraqi women face mean the wounds of war will continue to fester" said RishanaHanifa, NRC's Country Director in Iraq. "Women are prevented from rebuilding their lives after conflict. Reconstruction efforts which focus only on infrastructure and ignore women's rights are bound to fail."
While Iraqi law guarantees women's property rights, family traditions and tribal customs mean that the majority of women face insurmountable barriers to achieving those rights.
"Our property is still in good condition but has been taken over by members of my husband's family, after my husband went missing, and they will not give me the share I am entitled to," said Khamael, 35 from Mosul living in Hammam Al Alil displacement camp. "Only tribal leaders can decide if we can go back or not, if we can have our property back or not. Official papers will not change anything."
NRC surveyed 1,002 people, held 64 focus group discussions and held 59 in-depth interviews across the four conflict-affected governorates. The results also indicate that the mere suspicion of affiliation to IS group may deny women the right to prove their ownership on homes and lands even if they possess official documents.
"We have the papers proving that the house belongs to us, but when we fled we left everything in the house," said Rabiya, 47 from Hawija and mother of seven. "No one from the government will help me to prove that the house belongs to us, as my husband has been accused of joining IS." She has been living in a displacement camp since 2017.
The ongoing measures to contain Covid-19, including the shutdown of law courts and of legal dispute resolution services, as well as loss of livelihoods, are making women even more vulnerable. A recent assessment by NRC found that 64 per cent of respondents in rented houses predicted that they would not be able to pay rent in the next three months, with 42 per cent of them expecting to be evicted as a result.
NRC calls on the Iraqi government to put women's property rights at the centre of its reconstruction process, and to expedite dispute resolution through special procedures to solve backlog of cases created by Covid-19 shutdown measures. NRC also calls on international donors to condition reconstruction funding on compliance with women-friendly policies.
https://www.nrc.no/news/2020/may/iraqi-women-denied-their-property-by-relatives-tribes-and-militias/
--------
Syrian refugee women face new COVID-19 battleground
12 May 2020
Iman Al-Sin, a former child bride who fled Syria's civil war, now teaches self-defence to other women and girls living in Jordan, showing them how to fend for themselves. "I love seeing happiness, self-confidence on [women's] faces and knowing that they have overcome their fears," said Al-Sin.
For many Syrian women who have fled to Jordan and Lebanon to escape their country's civil war, that confidence may be in short supply amid the uncertainty of the COVID-19 pandemic.
"The coronavirus has taken women back in time," Al-Sin, 32, told The New Humanitarian by telephone in April. "Women are no longer able to go out or to work, which means it is taking away from the strength they've acquired. It's taking away from our confidence and independence."
In addition to using kickboxing and combat moves to teach women self-confidence, Al-Sin – who was married at the age of 16 in rural Syria (the legal age for Syrian girls to marry is 17) – works with CARE International, where she advocates against child marriage.
Relaxing lockdown restrictions is unlikely to improve the situation for many women any time soon, Al-Sin and other Syrian women who spoke with TNH from Jordan and Lebanon said. Some have lost jobs; some worry they will be forced to rely on abusive family or former partners; others are concerned that medical and legal assistance will remain difficult to access, along with necessities such as menstrual supplies.
An April survey of 1,100 adolescent girls and boys conducted by Plan International showed that girls in Lebanon have been left more vulnerable because of the COVID-19 pandemic. And the particular vulnerability of Syrian refugee girls was striking.
"Among 35 percent of adolescent girls who reported they do not have access to menstrual supplies, an overwhelming two thirds were Syrian refugee girls," said Colin Lee, Plan's Middle East director. Some "66 percent of adolescent girls reported they do not have the financial means to buy hygiene pads. More than half of these were Syrian refugees," he added.
Lebanon, which has 859 confirmed COVID-19 cases and 26 deaths, instituted a partial lockdown on 15 March. More than one million Syrian refugees live in Lebanon, where unemployment rates already hover around 40 percent and inflation has surged.
Although restrictions have eased, Lebanon's economy was already in bad shape before the pandemic, and rolling protests that began last year have caused many businesses to shut.
Cedra, a refugee now living in Lebanon, was 11 when she fled Syria in 2013. Several years later, she met a Lebanese man who she said started beating her one month into the marriage.
"He beat my (eight-month-old) daughter in front of my eyes, and forbade me from helping her," Cedra, now 18, told TNH by phone, asking that her real name not be used for fear of reprisals from her husband. She is now pregnant with her second child.
Cedra left the couple's home in mid-March and fled with her daughter to her mother's in a compound run by the UN's refugee agency, UNHCR. Although she now feels safer, she said COVID-19 restrictions make it harder for her to get prenatal medical care and legal assistance, including filing for child support and custody of her daughter. Due to the pandemic, the courts are not operating at full capacity.
Public transport is often suspended since the restrictions went into place, so she pays for private cars to take her to the clinic – a cost of $3.50 (10,000 Lebanese pounds) for a round trip. She has been borrowing money from her mother and brother, but her mother has lost her house-cleaning job because of the coronavirus.
Without legal intervention – which could forbid her husband from threatening her and hold him accountable if he did – Cedra is at greater risk, said Maya Haddad, senior case manager for Kafa (Enough) Violence and Exploitation, a local feminist aid group. The group is providing Cedra with psychosocial support.
Haddad finds the impact of the coronavirus on refugees concerning, particularly the fact it has made it harder to report cases of abuse.
Before the pandemic, 45 percent of people seeking help from Kafa for gender-based violence were Syrian refugees, she said. Since the lockdown measures were instituted, there has been a drop in calls from Syrian refugees. Haddad said she suspects this is because women are being closely watched by partners or families.
Similarly, in Jordan, where the lockdown – initially considered one of the strictest in the world – was put in place in mid-March, there was a reduction in calls to the protection hotlines for gender-based violence, according to UNHCR. Officials suggested that was due to a lack of privacy because people were staying home, making reporting abuse by phone challenging.
Jordan hosts some 655,000 Syrian refugees. The majority live outside refugee camps, in urban centres. After helping the country – which has recorded 562 COVID-19 cases and nine deaths – "flatten the curve" of new infections, many lockdown measures have now been lifted. But Al-Sin and other women say things are far from going back to what life was like pre-coronavirus.
The risk of COVID-19 has only added to the obstacles refugee women face, said Rula Amin, UNHCR spokesperson for the Middle East and North Africa.
Many women are still waiting for residency papers, or are tied financially to their partners or their families. In some cases, this reliance can lead to keeping quiet about gender-based violence, according to groups that work with women. The pandemic restrictions have only added to the bureaucracy, and to the time it takes to get paperwork processed.
"There needs to be a clear message," said Nada Darwazeh, chief of the gender equality section at the UN Economic and Social Commission for Western Asia's Center for Women. "Not only of intolerance to violence – but also that violence against vulnerable groups such as refugee women in rural areas or camps as well as migrant workers won't be tolerated."
As lockdown restrictions ease and Cedra looks ahead to rebuilding her life in Lebanon, she said she was "very tired" and had "many concerns". Among those, she added: "raising both of my children alone".
https://www.thenewhumanitarian.org/news/2020/05/12/Syria-refugee-women-coronavirus-battleground
--------
Women leaders shine during COVID-19 pandemic
May 12, 2020
Women hold only 7% of the world's government leadership roles, but several women leaders are drawing praise for their skillful navigation of the coronavirus pandemic.
In Germany, New Zealand and Taiwan -- among other countries -- women are being held up as role models on how to effectively guide countries through a public health crisis.
They've been lauded for their swift action, trust in science and ability to make difficult decisions with empathy and compassion. As a result, they've succeeded in minimizing the impact of this disease on their countries.
That was the topic of a recent webinar hosted by WomenLift Health. The all-woman panel included a former prime minister of New Zealand, past president of Nigeria and an academic expert on the topic of gender and leadership.
"The news coming out of many countries is striking enough to take note," said Amie Batson, a Stanford employee who is executive director of WomenLift Health. "Many of the countries that are doing the best are led by women."
Reports from The New York Times, the Washington Post, CNN and USA Today have all highlighted the success of women leaders who have minimized deaths from COVID-19 in their countries by making hard decisions and inspiring the support of their communities, Batson said. "These women leaders have been hailed as 'voices of reason' amid the coronavirus chaos," she said.
Their approaches have been effective, the panelists said, because they incorporate empathy and compassion, preparedness and an ability to collaborate and listen before making policy decisions. Most importantly, they said, these women leaders know how to inspire their populations to make the necessary sacrifices to control COVID-19 outbreaks.
"It looks as though women leaders have been able to motivate their followers," said Zoe Marks, PhD, lecturer in public policy at Harvard Kennedy School.
Marks wrote an op-ed piece for the Washington Post that attributed Germany's low COVID-19 death rate to Angela Merkel's "reasoning rather than rousing." The article also pointed to successes in other countries led by women, including Denmark, Finland, Iceland, Hong Kong and Taiwan.
Amie Batson, executive director of WomenLift Health (clockwise from top left) moderates a webinar on leadership of women in the COVID-19 pandemic. Panelists include Zoe Marks, PhD, Harvard Kennedy School public policy lecturer, Helen Clark, former prime minister of New Zealand, and Ellen Johnson Sirleaft Ellen Johnson Sirleaf, former president of Liberia.
During the webinar, Marks said the tendency of women leaders to be "more participatory and democratic in their leadership" made their approaches more effective. "Women are not inherently good at public health response, and men inherently weak," she said.
Panelist Helen Clark, a former prime minister of New Zealand, lauded that country's current prime minister as a role model for the future. Jacinda Ardern has been praised for her "clarity and compassion" during New Zealand's response to the pandemic, and for her early action to impose a month-long lockdown to keep deaths to a minimum.
Noting that Ardern has endured personal criticism because of her youth, gender and her status as a mother, Clark pointed out that a double standard exists for women leaders in a male-dominated world. And yet, she added, these woman have succeeded despite those obstacles.
Ellen Johnson Sirleaf, former president of Liberia, talked about her own experience leading that nation through an Ebola virus outbreak in 2014. She described making the difficult decision to cremate bodies to prevent spread of infection, knowing that half of the country's the population was Muslim and opposed to cremation for religious reasons.
These kinds of decisions must come from a place of compassion and understanding, in order to earn the support of the public, Sirleaf said: "I don't see any contradiction in being empathetic and compassionate and being a strong leader. That's not weakness. That's strength."
Goals from here, the panelists agreed, include capturing this moment in history, giving credit to women who are leading the way during such a monumental crisis, and learning from their successes.
"The power of women has not yet been fully tested or tapped," said Sirleaf, a winner of the Nobel Peace Prize. "We need to build towards using it more often."
Top photo by Governor-General of New Zealand of the country's prime minister, Jacinda Ardern, who has been praised for her COVID-19 leadership.
https://scopeblog.stanford.edu/2020/05/12/women-leaders-shine-during-covid-19-pandemic/
------
Umm Mohammed, Gaza's First Woman to Sell Qatayef, An Arab Dessert Commonly Served During the Month of Ramadan
12 May, 2020
It's been eleven years since Nahida al-Nimir, also known as Umm Mohammed, opened up her small seasonal business of selling qatayef, an Arab dessert commonly served during the month of Ramadan, a sort of sweet dumpling filled with cream or nuts.
Her stall is located in Gaza's Tel al-Hawa neighborhood, where her homemade sweets have become popular during Ramadan, Islam's holy month of fasting.
"I expected to sell less during this year's Ramadan due to the coronavirus crisis, but it hasn't been that much different. Gazans are still roaming the streets and markets normally," al-Nimir told Asharq Al-Awsat.
"My husband taught me how to make qatayef and I have taken it upon myself to work on a seasonal basis to support my family in overcoming the burdens of life, especially in the years following the imposition of the blockade on Gaza, which brought about very difficult social and economic conditions," al-Nimir said, asserting that she, in turn, had taught her children, who now help her in making the dessert.
Much like a pancake, the pieces of qatayef are first prepared with flour which is turned into a wet batter that is poured over a hot surface.
After cooking, al-Nimir, with the help of her children, packages the ready-for-sale product in plastic bags and plates. Buyers then stuff the qatayef at home with nuts, cream, cheese, dates or dried fruits.
Qatayef date back to the Mamluk era, when one of the Mamluk kings gathered dessert makers and asked them to come up with a treat no one had made before.
https://english.aawsat.com/home/article/2280146/umm-mohammed-gaza%E2%80%99s-first-woman-sell-qatayef
--------
DSC organizes virtual forum for female players of Dubai's sports clubs
May 12, 2020
DUBAI — Dubai Sports Council convened a virtual forum for female players of Dubai clubs this week, under the leadership of Rawda Al Mahrazi, chairwomen of the Council's Women's Sports Committee, and more than 40 players from different clubs participated in the forum.
SheikhaShamsaBint Hasher Al Maktoum, member of the Board of UAE Volleyball Association, attended the forum and thanked Dubai Sports Council for the initiative.
She said: "The entire world is currently passing through a tough stage, and we need to unite our efforts and comply with the instructions of the Supreme Committee of Crisis and Disaster Management. At the same time, we need to keep encouraging our females to continue exercising at home.
"Exercising regularly is important, even if it is at a lower rate than before, because it will ensure the players stay fit and healthy in these challenging times.
"We are working on a plan to resume our sports activities at a time that will be determined by our wise leadership, and we will take all the necessary precautionary measures to ensure the total safety of our players upon the resumption of sports activity.
"A comprehensive sterilization program must be adopted by all clubs and auto–sterilization gates need to be fixed at the entrance of all clubs. But for now, I urge all female players to adhere to the government's instructions and stay at home."
Rawda Al Mahrazi thanked SheikhaShamsa in the forum and added: "We convened this forum today to assure everyone that we are together in these challenging times, and we will move forward together, overcoming the challenges posed by the pandemic by continuing to exercise at home and staying fit."
Al Mahrazi stressed on the importance of the clubs' support to female players in continuing their fitness routine at home, and the importance of continuous encouragement of the players and follow-up on the mental side.
"Emirate women are capable of reaching the peak of their athletic ambitions on the international stage, and the Women's Sports Committee seeks to provide them with the tools and opportunities to pursue their dream," she said.
"Our focus is on opening doors for women of all physical abilities, and to attract and promote the best talents... players with great ambition, and support them in reaching their best levels."
Dr. Dana Al-Hawami, a physician and clinical nutritionist, also attended the forum and gave tips to players on how to maintain physical fitness through proper nutrition and by staying away from unhealthy foods.
She also listed the most important factors in staying healthy and fit, such as eating healthy, adopting a healthy lifestyle, exercising regularly, sleeping enough hours a day and thinking positive. — SG
https://saudigazette.com.sa/article/593032/Sports/DSC-organizes-virtual-forum-for-female-players-of-Dubais-sports-clubs
--------
200% increase in crimes against women in Pakistan in January-March
May 12, 2020 15:00
Zubair Qureshi
Islamabad: An alarming increase has been observed in cases of crime/violence against women and children in Pakistan during the first quarter of 2020.
A periodical report titled "Tracking Crimes against People - A Numeric Tale of Human (In) Security" released by rights group Sustainable Social Development Organisation (SSDO) revealed a 200 per cent increase in cases of violence against women in Pakistan in the past three months.
The report, based on print media coverage of such incidents during the above-mentioned period, also shows the crime rate kept fluctuating during the period as 73 per cent drop was witnessed during the month of February but a spike of up to 360 per cent was witnessed during the month of March 2020.
After compiling the data and information, collected from national and provincial dailies mainly on crimes regarding early child marriage, child abuse, child labour, domestic abuse, kidnapping, rape, violence against women (VAW) and murder it has been found that more than 90 per cent of the felonies were committed against children and women.
However, the rights group also found there was a strong possibility that many crimes committed were not reported or misreported at various locations in Pakistan.
Country head of the SSDO, Syed Kausar Abbas told Gulf News on Tuesday that from January to February, the number of cases had doubled, however the percentage remained as low as 15 per cent. This was not a comparison between the same period in year 2019 and 2020. It is a comparison between print media coverage of such incidents, he clarified.
February marked the highest percentage in the cases of work-place harassment, said Abbas. An exponential growth had been seen in rape cases, starting from February to March, 2020.
According to the report, as many as 164 cases of abductions have been reported, whereas violence against women had increased by 200 percent.
There was a staggering 142.1 per cent increase of murder cases during the month of March 2020. The findings pointed out that more than majority of the felonies against children had been sex-driven.
In most of cases, the SSDO head said the places where criminal acts against any child took place was a familiar site, usually the playground or street, neighbouring home, and place near the victim's residence.
However, a few cases showed children often were subjected to indirect violence where they might not be intended targets. A few children lost their lives at the hands of some in troubled families and there were also children who suffered or were made to suffer by someone of the estranged parent or by another child.
During the period, there were 61 cases of child abuse, while child labour cases witnessed significant drop that remained at 20, reveals the report.
The report also recounts 20 cases of domestic violence, eight of work place harassment, 25 over rape, 164 of kidnapping and 36 of violence against women had been reported.
Kausar Abbas said the purpose of the periodic report was to evaluate the performance of law enforcement in addressing the crimes against the people of Pakistan. He said that the next periodic report will be published this July.
https://gulfnews.com/world/asia/pakistan/200-increase-in-crimes-against-women-in-pakistan-in-january-march-1.71455870
--------
Nearly 5,000 pregnant Pakistani women demand urgent repatriation from Dubai amid coronavirus
May 12, 2020
DUBAI: As many as 5,000 pregnant Pakistani women residing in UAE have made a special request for immediate repatriation from Dubai in light of the coronavirus outbreak, officials at the Consulate General in Dubai confirmed on Tuesday.
According to the officials, hundreds of people gather around the consulate in Dubai every day and are seen pleading for their evacuation. However, diplomatic officials inform the troubled expats of their constraints and compulsions and urge them to be patient regarding the matter.
An estimated 2,000 people who are ill have also requested for immediate repatriation from the emirates. As per the consulate, an estimated 63,000 Pakistanis in Dubai want to be repatriated to Pakistan following the outbreak of the virus.
Hoping that the number of special flights will increase from next month and that regular flights are likely to resume after Eid, Pakistani diplomats said that so far, many deserving people have already been provided free repatriation tickets.
According to the Pakistani consulate, currently, 23,000 Pakistanis have lost their jobs and want to return to their home country, while there are 17,000 Pakistani tourists, many of them who came to Dubai in search of work, but are stranded in the country due to the pandemic.
Last month, the Pakistan International Airlines (PIA) had said that it would arrange 11 flights to bring back Pakistani citizens stranded in Dubai. The flights to bring back Pakistanis from Dubai were operated on April 19 and 20.
Three flights brought Pakistanis back to Islamabad and two each to Karachi and Lahore. Two aircraft repatriated Pakistanis from Dubai to Faisalabad and Multan.
Following a video link conference between the UAE minister on human resource and Zulfikar Bukhari, the premier's aide on overseas Pakistanis, the UAE government had announced that it will extend visas of Pakistanis stranded in the country.
The UAE had also announced that it had decided to assist stranded Pakistani nationals in every way possible and agreed to provide legal protection to those willing to stay in the country.
Both ministers discussed that Pakistani nationals who were recently dismissed from their jobs would be given salaries in full and that virtual jobs will be provided to Pakistani employees on a priority basis.
https://www.thenews.com.pk/latest/657772-nearly-5000-expectant-pakistani-mothers-demand-urgent-repatriation-from-dubai-amid-coronavirus
--------
Women comprise at least 10% of coronavirus cases in each Sindh district
May 12 2020
Khawar Khan
KARACHI: Women comprise at least 10% of the total coronavirus cases in each of Sindh's districts, data released Tuesday by the provincial health department showed.
The ratio in Larkana is 25%, which has around 300 cases of COVID-19, 23% in Sukkur, 20% in Hyderabad, and 15% in Shaheed Benazirabad, while the lowest ratio — at 12% — was reported in Mirpurkhas.
The provincial health department's statistics also revealed that the highest number of coronavirus cases in women were from the 20-39 age group.
So far, more than 130 women are either being treated at different health facilities across Sindh or in self-quarantine at their homes. Pakistan has reported more than 32,600 cases of the deadly virus, of which over 12,600 were in the southern province.
https://www.geo.tv/latest/287606-women-comprise-at-least-10-of-coronavirus-cases-in-each-sindh-district
--------
COVID-19: After fighting for Iran's most vulnerable, these imprisoned women have become the most vulnerable of all
May 12, 2020
From the depths of Iran's prisons — perhaps the last place one would expect — two courageous women have demonstrated unparalleled and inspiring leadership during this global crisis. NargesMohammadi and Nasrin Sotoudeh spent their lives fighting for Iran's most vulnerable, until becoming the country's most vulnerable themselves.
At the ages of 48 and 56, they are serving a combined 54 years in prison for defending human rights and political prisoners. They were specifically charged for their affiliation with human rights and peace groups, as well as launching an organization to gradually abolish the death penalty in a country that continues to execute juvenile offenders.
Before the outbreak began, the UN Special Rapporteur on Human Rights in Iran released a report documenting how overcrowded and unhygienic prison conditions were causing the spread of infectious diseases like tuberculosis, HIV and hepatitis C. By the beginning of March, COVID-19 was added to the list. At that point, the women's ward in Evin Prison— where Sotoudeh and Mohammadi have been held— had already ran out of medical and cleaning supplies.
There is now a general consensus among experts that Iran's official COVID-19 numbers are significantly underreported. According to an independent report by Iran's own parliament, the death toll may be nearly double and number of cases 10 times higher, which could make Iran the hardest hit country in the world. The numbers are likely worse in Iran's prisons, where authorities have denied outside observers.
A study by Iran's prestigious Sharif University predicts a worst-case scenario of 3.5 million deaths in the country, depending on the level of public co-operation. Public trust, however, is at an all-time low following a number of state-orchestrated atrocities. In November, security forces unleashed the bloodiest crackdown since the 1979 Islamic Revolution, killing 1,500 people in less than two weeks. In January, the government lied to the public and systematically concealed its shooting down of the Ukrainian airliner Flight 752, claiming the lives of the 176 passengers on board, including 55 Canadian citizens and 30 permanent residents. And now, the government is covering up the extent of the pandemic, arresting journalists, ordering hospitals not to list coronavirus as a cause of death, and suggesting the U.S. produced the virus. By April, the government was already reopening its borders and businesses and resuming regular public transportation schedules.
To its credit, Iran reportedly released thousands of prisoners temporarily to curb the spread. The Judiciary Chief, Ebrahim Raisi, stated that furloughs would continue as long as prisoners do not pose a threat to society. However, hundreds of political prisoners remain in prison, considered to pose "national security" threats.
Raisi, a possible successor to the Supreme Leader Ayatollah Ali Khamenei, is the same official responsible for the crimes against humanity committed in 1988, when he served on the notorious death commissions, which sent at least 5,000 political prisoners to death by firing squad or hanging. He is also now overseeing Iran's investigation into the downing of Flight 752. On the day Raisi was sworn in as Judiciary Chief last year, one of his first acts was to issue Nasrin Sotoudeh the harshest prison sentence ever received by a political prisoner — 38 years and 148 lashes.
NargesMohammadi is serving a 16-year sentence and has a history of severe respiratory conditions, including a blood clot in her lungs. According to the latest news from her mother, she is suffering from "a severe cough, sore throat, and chest pain."
By refusing to release these courageous women, the authorities are effectively subjecting them to the very cruel punishment they sought to abolish — the death penalty.
While the government engages in coverups, Sotoudeh and Mohammadi are finding ways to continue to fight for their compatriots from prison. Mohammadi has issued statements and staged hunger strikes and sit-ins in solidarity with other prisoners and victims of the November crackdown. For her conduct, she was brutally beaten and transferred to a more dangerous facility. She recently managed to leak a letter out of prison:
"What keeps me on my feet … is my love for the honourable, but tormented, people of this country … I pledge to speak the truth, defy tyranny and defend the oppressed until my last breath."
For International Women's Day this year, Sotoudeh also sent a letter to the world, describing how she spends her time in prison — teaching others about "truth and reconciliation commissions." The letter itself was a plea for peace, "this fundamental aspect of survival:"
Sotoudeh also recently led a hunger strike for the release of her fellow political prisoners during the pandemic, and a broad coalition of international and Iranian organizations just echoed her demands in a public appeal.
Canada should do the same, and can take concrete measures by imposing visa bans and targeting the finances of Ebrahim Raisi and the architects of repression in Iran (listed in our report here) through Magnitsky sanctions. Canada can then lead a global movement of countries with Magnitsky laws to hold these officials accountable, while recognizing the true leadership of their victims who languish in prison.
https://nationalpost.com/opinion/covid-19-after-fighting-for-irans-most-vulnerable-these-imprisoned-women-have-become-the-most-vulnerable-of-all
--------
Protecting Women's Reproductive Health During the Pandemic
12 May 2020
By Anand Grover
May 12 2020 (IPS) - "When I was 13… I got pregnant from my older brother… He raped me starting when I was 11," a girl from Guatemala told one of us in 2015. She was one of the 2 million girls under 15 worldwide who give birth each year, often due to sexual violence.
The Covid-19 pandemic is putting girls like her at even greater risk. While lockdowns reduce the spread of Covid-19, they also drive a global spike in reported violence in the home, and leaving some women and girls isolated with abusers, leading to increased unwanted pregnancies.
The pandemic is putting enormous pressure on health systems around the world as governments work to contain the virus and treat sick people. But governments also need to sustain other essential services, which according to the World Health Organization include sexual and reproductive health services.
Overloaded hospitals, travel bans, lockdowns and border closures are making access to those services increasingly difficult. Poor and marginalized women and girls, including those with disabilities, especially risk losing access to needed services. And some governments' responses are making matters worse by discriminating against women and girls who need them.
The pandemic is exposing and exacerbating existing inequalities. More than 5 million families in Africa, Asia, Latin America and the Caribbean already spent more than 40 percent of their annual non-food household expenditures on maternal health services before the pandemic. With poor families hardest hit by the pandemic's economic consequences, they are likely to find it even harder to get quality maternal health care.
Governments need to make sure that people can get these services, regardless of ability to pay, and that pregnant women not only get pre-natal and birth care and have the right to make decisions about their labor and delivery plan.
But they also need to protect everyone's choice about whether to become pregnant or continue a pregnancy. The International Planned Parenthood Federation reports that the pandemic has forced them to close thousands of family planning facilities—either due to government orders or social distancing needs— Colombia, El Salvador, Pakistan, Germany, Ghana, Malaysia, Sri Lanka, Sudan, Uganda, Zambia, and Zimbabwe have each had to close at least 100 such facilities.
Directors for Marie Stopes, an organization that provides contraception and safe abortion services in many countries, in Uganda and Zimbabwe said they have waited in vain for supplies to arrive. "We're expecting a huge shortage of contraceptives in African countries," one said. In Venezuela, thousands of women who previously travelled to neighboring Colombia to obtain contraceptive supplies are now blocked by border closings. Manufacturers warn of a global condom shortage because manufacturers are locked down to halt the spread of the virus. The shortages of contraceptive supplies increase the risk of unplanned pregnancy, sexually transmitted infections, and the need for abortion.
Anti-choice politicians and organizations are capitalizing on the pandemic by urging governments to prohibit abortion care during the crisis. In the United States, 11 states have tried to limit access to abortion. Poland's Parliament is considering regressive legislation to eliminate legal access to abortion in some cases and to criminalize sexuality education.
The right to non-discriminatory access to women's health services is part of the right to health under international law and domestic law in most countries. Governments need to find ways to protect this right, even in the pandemic.
Denying these services will undermine women's ability to recover from the pandemic. And increased pregnancies or unsafe abortions could increase pressure on already overburdened health systems.
The pandemic is reshaping our world, but it is also an opportunity to reshape reproductive health services. This might include expanded use of telemedicine, and making information available online. Expanding access to medical abortion at home, as England, Scotland and Wales have done, can help. In communities with limited access to technology, governments should ensure that health providers have the equipment and resources they need to safely reach patients.
Governments should monitor supply chains closely and seek solutions if contraceptive shortages arise, including redistributing available supplies across localities and even countries. They should ensure access to contraceptive information and services, including emergency contraception and abortion care.
Governments should put protecting sexual and reproductive rights up front in their response to Covid-19. These services are essential to women and girls—and their families– surviving and remaining healthy and are needed more than ever during the Covid-19 pandemic.
Anand Grover is the former United Nations Special Rapporteur on the right of everyone to the enjoyment of the highest attainable standard of physical and mental health and Ximena Casas is a women's rights researcher at Human Rights Watch.
https://reliefweb.int/report/world/protecting-women-s-reproductive-health-during-pandemic
------
URL: https://www.newageislam.com/islam-women-feminism/importance-self-evaluation-discussed-womens/d/121835
New Age Islam, Islam Online, Islamic Website, African Muslim News, Arab World News, South Asia News, Indian Muslim News, World Muslim News, Women in Islam, Islamic Feminism, Arab Women, Women In Arab, Islamophobia in America, Muslim Women in West, Islam Women and Feminism