New Age Islam News Bureau
17 March 2018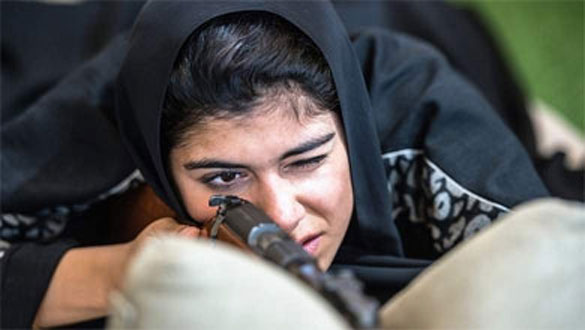 Amna Al Balooshi is not a novice in the sport having begun learning shooting since the age of 13. (Supplied photo)
-----
• Hijab Removal by New York Police Prompts Lawsuit
• US: 2 Anti-Muslim Women Arrested For Vandalizing Mosque
• Emirati Women Eyeing Olympic Glory
• Malala Sponsored School Begins Operations in Shangla
• Muslim Women to March against "Anti-Women" Triple Talaq Bill in Lucknow on March 18
• Amna Becomes GB's First Woman Sessions Judge
• Cyber-Violence, an Emerging New Reality for Many Indonesian Women
• Prince Sultan University Hosts Women in Data Science Conference
• LHC Halts PIA Pilots' Recruitment Process over Women Quota Violation
• NHRC Praises Qatari Women's Achievements in Various Fields
• Turkish Limak Co. Holds Graduation Ceremony For Kuwait's Female Engineers
Compiled by New Age Islam News Bureau
URL: https://www.newageislam.com/islam-women-feminism/ill-wear-hijab-when-do/d/114629
--------
'I'll Wear Hijab When You Do' Iranian Woman Tells Man Who Slapped Her
16 March 2018
An Iranian woman was physically and verbally assaulted after a man slapped her for refusing to wear the hijab.
In a video that has been circulated on social media, the woman can be seen responding to the man who was driving his car but, specifically stopped in a parking lot, believed to be in Tehran, to comment or her visible hair.
The man yelled, demanding that she must "obey the rules", reported the Daily Mail.
Firmly responding to him, the woman said: "I don't like this veil. I don't want to obey this rule. It's my right", adding that she will only wear it when he wears it.
Shortly, the man stepped out of his car and slapped the woman across the face. He also threatened to call the police on her. The woman was able to capture the assault with her mobile phone.
Drivers who supported the woman can be heard honking on the road. One person even chanted saying "we support the women of the revolution."
This is yet again one of the many cases where women in Iran face abuse after revolting against the forced headscarf law.
https://english.alarabiya.net/en/News/world/2018/03/16/WATCH-Man-slaps-woman-for-refusing-to-wear-the-hijab-tells-her-to-obey-the-rules-.html
--------
Hijab Removal by New York Police Prompts Lawsuit
By AL BAKER
MARCH 16, 2018
One evening in January 2017, after she had been detained for hours in a police holding cell in Manhattan and repeatedly told to remove a head scarf that is part of her Muslim faith, Jamilla Clark began to cry. Then, she relented: She let a New York City police officer photograph her without her hijab.
As the camera flashed, Ms. Clark, 39, felt as if she were naked, she later said. Several male officers then stared at the image of her uncovered head as they stored it in a police database.
In August, Arwa Aziz, 45, endured a similar experience at a police building in Brooklyn. Police officers made her pull down her hijab for an official arrest photo as she stood in a cramped hallway with dozens of male prisoners. The police snapped photos of her uncovered head and hair from several angles. The prisoners, who saw Ms. Aziz weeping, turned away in respect as the officers looked on.
"It's the law," one of the officers told her.
The women's accounts are detailed in a class-action civil rights suit filed on Friday in United States District Court in Manhattan by lawyers who argue that the New York Police Department's policies for photographing arrestees violate the religious rights of any civilian forced to remove religious head coverings that leave the face unobstructed. It could apply to the hijab of a Muslim, the skullcap or wig of an Orthodox Jew or the turban of a Sikh.
Ms. Clark, 39, and Ms. Aziz, 45, had been taken into police custody on low-level charges of violating orders of protection that later were dismissed by prosecutors.
Yet because of local police rules that contrast with practices adopted by other law enforcement agencies around the country, including in Michigan and Minnesota, and with other state and federal governmental procedures, the images of the women's uncovered heads can live on in New York Police Department databases.
Being forced to have their photographs taken without headwear violates their sense of privacy, "their sense of dignity, and their sincerely held religious beliefs," said Albert Fox Cahn, legal director of the New York chapter of the Council on American-Islamic Relations and a lawyer representing the women in the federal suit.
In addition to seeking damages for those affected by the photograph policy, the lawsuit seeks a court order prohibiting the Police Department from following that policy.
That those photographs can be retrieved from governmental computer systems and viewed repeatedly as part of a paper court file causes "multiple iterations of the trauma," said Mr. Cahn.
A spokesman for the city's Law Department, Nicholas Paolucci, said, "We will review the complaint, but we are confident that the police department's religious head covering policy passes constitutional muster. It carefully balances the department's respect for the customs of all religions with the legitimate law enforcement need to take arrest photos. Persons who do not wish to remove religious head coverings in front of others have the option of being taken to a separate, more private facility to be photographed."
Ms. Clark and Ms. Aziz, like many Muslims, observe their faith by keeping their head and hair covered in the presence of anyone but family. They are joined in the suit by Turning Point for Women and Families, a nonprofit based in Queens concerned about the impact of police policies on victims of domestic violence who wind up arrested.
Mr. Cahn and lawyers from the firm Emery Celli Brinckerhoff & Abady, who represent the plaintiffs, contend that the police practices are unreasonable and violate the plaintiffs' religious freedom under both the First Amendment and federal law.
The issue highlights the gulf between criminal justice policy, as it has evolved over time, and the cultural and religious obligations of those in custody. As it stands now, the city's policy explicitly says "the arrestee's head covering must be removed" for the department's official photograph. (A separate photograph that is not considered official, and is sometimes snapped in a station house, can be taken with an arrestee wearing a religious head covering.)
For many years, no policy existed at all, and commanders were left to their own discretion: Sometimes religious garb, like a hijab, was removed and sometimes it was left in place.
In March 2015, the Police Department tweaked its policy with an "interim order" to ensure that when photographs were taken, those opposed to removing religious headgear could be taken to a private area at Police Headquarters at 1 Police Plaza, to be photographed without the headgear by someone of the same gender.
That order has since been incorporated into the department's Patrol Guide. Yet critics say the policy is confounding.
For one, it only deals with the treatment of civilians in those brief moments when their photographs are being snapped. The accommodations the policy calls for are not consistently practiced, critics say. And when they are, they are often conveyed as a warning by officers who tell arrestees that asking for a private photograph could lengthen the arrest processing time and lead to longer detention, said Mr. Cahn. He said Ms. Aziz took such warnings as a threat.
Even more significantly, Mr. Cahn said, the photograph policy does not address the fact that photos exist, possibly to be cataloged and disseminated in the future.
"Each time someone sees a photo of them uncovered, it feels like a new betrayal of their fundamental rights," he said.
Indeed, when the city last month settled three separate cases brought by Muslims who said that removing their hijabs for photos violated their religious rights, it had the effect of papering over important nuances in the department's ongoing treatment of arrestees while staying silent on whether the policy would be altered. The city gave $60,000 to each woman, but said only that doing so was "in the best interest" of all sides without elaborating.
Also, the settlements are "limited to only those people who have already come forward," said O. Andrew F. Wilson, another lawyer for the plaintiffs. "And it does nothing to help those women and men who are forced to remove head coverings in the future, or even in the past who haven't come forward."
Mr. Cahn added that for New Yorkers of different religions, the undercutting of their faith values offers government only slight benefit since many law enforcement experts believe that effective identification is not reliant on the removal of head coverings.
For driver's licenses issued in New York, those sitting for a photo can wear hats, scarves or head coverings as long as their entire face is visible and the covering does not cast a shadow. Likewise, the State Police in New York are unaware of any case where a state trooper made an arrestee remove a hijab if their face was visible, said officials of Gov. Andrew M. Cuomo's administration.
Federally, the State Department has no requirement that such religious headwear be removed for passport photos. Several police departments around the country, too, see the removal of religious headwear as unnecessary.
The lawsuit says the city's policy only "alienates and oppresses faith communities." In interviews, Ms. Clark and Ms. Aziz said their encounters with officers had eroded their trust in the police.
Robina Niaz, the executive director of Turning Point for Women and Families, said fear among Muslim women of the police was deterring them from stepping forward to report episodes of child abuse and domestic violence.
"In today's post-9/11 climate, New York City is beset with widespread hostility toward and baseless fear of Muslim-Americans," the suit says. "In the context of this increasingly polarized setting, it is incumbent on this city's law enforcement to increase awareness of and sensitivity toward the Muslim-American community."
For Ms. Aziz, a daughter of Palestinian immigrants who is married and has two adult children, her encounter with police has fed residual pain. "I just felt like I was broken," she said. "It broke me."
https://www.nytimes.com/2018/03/16/nyregion/hijab-police-lawsuit-new-york.html?mtrref=www.google.co.in&gwh=2612F04A90C72285DA5B73B283212A14&gwt=pay
--------
US: 2 anti-Muslim women arrested for vandalizing Mosque
17.03.2018
By Safvan Allahverdi
WASHINGTON
Two women known for anti-Muslim rants at Phoenix-area political events, were arrested Thursday for breaking into an Arizona Islamic center and making anti-Islamic remarks, police said.
Tahnee Gonzales, 32, and Elizabeth Dauenhauer, 51, were arrested on suspicion of felony third-degree burglary after an investigation into theft and vandalism at a Tempe mosque.
Arrests came after the mosque officials pressed charges against the women who also filmed themselves and their children spouting hate speech while removing flyers and pamphlets from the mosque.
In the 20-minute long Facebook Live video, the women along with three children, walked around the property. They approached the gate where there is a "no trespassing" sign and a sign prohibiting firearms.
One of the women is heard asking one of the children to take her gun back to their car. They then walk past the entrance and immediately begin removing posters, brochures and other materials while insulting Islam and Muslims.
Imraan Siddiqi, director of the Council on American-Islamic Relations (CAIR), the nation's largest Muslim civil rights and advocacy group Arizona chapter told Anadolu Agency on Friday that the women are affiliated with the Arizona Patriot Movement (PMAZ) which was established by far-rights and white supremacists.
Siddiqi said the Muslim community in Arizona has been persistently harassed by the group, adding that in recent years PMAZ members who were carrying firearms stood in front of the building where nearly 600 Muslim community members were inside for an annual event.
They were screaming racial slurs to women and little children, Siddiqi said, adding that especially Muslim women are often targeted not only in Arizona but also around the country.
"As a Muslim women, not only in Arizona but most of the state, they will tell you that they have probably been harassed, followed, or tried to get run off the road," he noted. "That is the new normal for a lot of Muslim Americans now."
Recalling the Phoenix mosque incident in 2015 when members of the Arizona Patriot Movement encircled the building with heavy weapons to protest Muslims, Siddiqi said that open carry laws (allows to carry firearms openly), lack of regulations and people who glorify gun usage are serious threats for Muslims.
https://aa.com.tr/en/americas/us-2-anti-muslim-women-arrested-for-vandalizing-mosque/1091282
--------
Emirati women eyeing Olympic glory
March 16, 2018
More than 1300 men and women shooters from Oman, Yemen, Kuwait, Saudi Arabia and UAE are making their presence felt
Emirati girls and women, fuelled by big ambitions and even Olympic dreams, have added sparkle to the 18th Fazza Open Championship for Shooting - Saktoun Rifle organized and supervised by the Hamdan bin Mohammed Heritage Centre (HHC) for locals, residents and GCC nationals, at the Hamdan Bin Mohammed Shooting Range in Ruwayyah, Dubai, a press release said.
More than 1300 men and women shooters from Oman, Yemen, Kuwait, Saudi Arabia and UAE are making their presence felt as they train diligently as they target qualification for the finals scheduled to be held on Saturday from 8am.
The second day of competition saw the continuation of heats in the Men's Open, Seniors and Juniors (Boys Under 17) categories on Thursday. Among the Emirati women shooters who are aiming for glory is Aysha Alyassi who is dreaming of representing UAE in the Olympics.
"I want to take part in the Olympics. It's a big dream. I will keep pursuing it," said 24-year-old Aysha who had the honour of coming under the wing of UAE's first ever Olympic gold medallist Sheikh Ahmed bin Hasher Al Maktoum.
"The best thing that happened in my life was learning trap shooting with HH Sheikh Ahmed bin Hasher Al Maktoum. He taught me everything about shooting from A to Z. I also participated in international shooting competitions held in Egypt, India and Cyprus to gain experience," said Aysha who has a personal best score of 75 and was ranked second in a shooting competition held in Nad Al Sheba in 2016.
"This is my second time participating in Saktoun. I'm loving it. My passion is shooting. Whether it is shotgun or Saktoun, I'm determined to achieve my goals," said Aysha who works at Dubai Immigration Office. Amna Al Balooshi may be a newcomer to Saktoun but is not a novice in the sport having begun learning shooting since the age of 13.
"I learnt pistol shooting when I was 13. I won a shotgun competition in Jebel Ali and Fazza tournament for beginners. Now I'm interested in Saktoun," said the 29-year-old Electrical Engineer.
A veteran campaigner is Fakhra Abdullah Al Derai who has been participating in the Fazza Open Championship for Shooting - Saktoun Rifle for the past seven years.
"I was taught Saktoun rifle shooting by my family from a young age. Now I'm teaching my children," said Fakhra, a mother of four from Al Ain. Her daughter came second in the tournaments for Locals last year while Fakhra clinched third position. Fakhra was also ranked first in the tournament for Locals once and has a career best score of 77.
Another Emirati debutant is Fatima Alayan Al Shamsi.
"I have been training for two weeks. I got a score of 65 in training. This is my first time in Saktoun. I like it very much and want to continue shooting," said the 33-year-old policewoman from Abu Dhabi.
https://www.khaleejtimes.com/emirati-women-eyeing-olympic-glory
--------
Malala sponsored school begins operations in Shangla
Mar 17, 2018
SHANGLA: The school constructed by Nobel prize money donated by recipient Malala Yousufzai, in Shangla, Khyber Pakhtunkhwa has opened its doors to students and begun operations in the valley.
The Nobel Peace Prize winner, Malala took to Twitter to congratulate students of the school on their first day on Thursday. Malala established the school through the Malala Fund to enable all girls of the district to get a quality education.
"Congratulations to students at KKF Model School in Shangla on your first day! I was proud to give my Nobel Prize money to help build this school for girls in my home community. Thank you", Malala tweeted.
Similarly, on Jan 16, the Big Heart Foundation (TBHF), in cooperation with the Malala Fund donated US$700,000 to build a girls' school in Pakistan.
The school is being constructed in Swat Valley, Yousafzai's home district and will open its doors to 350 girls in its 11 classrooms once completed.
The donation covers half the project's financial needs and will be used to build classrooms, science and computer labs, staff rooms, principal's room, a reception area and playground facilities. The school will also have a library, laboratory, an activity hall, and accommodation for female teachers from remote areas.
https://www.pakistantoday.com.pk/2018/03/16/malala-sponsored-school-begins-operations-in-shangla/
--------
Muslim women to march against "anti-women" triple talaq bill in Lucknow on March 18
Yusra Husain
Mar 16, 2018
On the call of the All India Muslim Personal Law Board (AIMPLB), Muslim women will on Sunday hold a peaceful protest in Lucknow against the central government's proposed triple talaq bill. To be held at the Teele Wali Masjid on Sunday afternoon, the protest will see burqa-clad women coming together against the "anti-women" triple talaq bill.
Posters and banners informing men and women about the protest have come up in huge numbers across the old city for the event to be held from 1 pm. The protest is in line with similar events being organised in different cities across the country on AIMPLB's call.
To be led by women, executive committee members of AIMPLB, Dr Asma Zehra from Hydreabad and Mamdooha Majid from Delhi will be in Lucknow to address the women with Maulana Najeebul Hasan Siddiqui as the convener of the programme.
"Women are going to lead it and hold the programme and while AIMPLB members Zafaryab Jilani, Maulana Atiq Bastari and I will be present, it is an all women show against the unjust bill being brought by the government," said AIMPLB executive member, Maulana Khalid Rasheed Farangi Mahli.
He also added, "Several such protests have recently been organised in Maharashtra, Rajasthan, Bhopal, Kolkata and many other cities. The final protest will be held in Delhi for which the date will be decided on March 18."
The AIMPLB has been rejecting the central government's triple talaq bill calling it anti-women from the beginning. In December last year, an emergency meeting of the Board was called up at Lucknow's Darul Uloom Nadwatul Ulama after which a formal letter to the Prime Minister was also sent by the Board asking him to review the bill in consultation with AIMPLB, senior clerics and organisations working for women.
The board had expressed its concerns for the bill criminalizing instant triple talaq claiming that since the Supreme Court had made such instant triple talaq invalid, it ceased to exist and hence should not call for criminalisation. The Board had also questioned the three year jail term proposed in the bill on divorcing husband calling it a contradiction to the court's judgment of providing for wife's maintenance even when in jail. The provision of third party complaint leading to a case of instant triple talaq to be registered and non involving women's organisation in the process of the bill's formulation were also AIMPLB's contention.
https://timesofindia.indiatimes.com/india/muslim-women-to-march-against-anti-women-triple-talaq-bill-in-lucknow-on-march-18/articleshow/63337244.cms
--------
Amna becomes GB's first woman sessions judge
March 17, 2018
GILGIT:- The first woman judge of Gilgit-Baltistan Amna Zamir Shah has now become the first additional district and sessions judge after promotion to grade-20. She has been posted in Nagar District where she will assume charge of her office. A resident of the Hunza Valley, Zamir complete her LLB from the International Islamic University Islamabad in 2004. She passed competition exams of the Federal Public Service Commission (FPSC) in 2006 and was appointed as first woman civil judge in Gilgit-Baltistan judiciary. Appreciating her performance, the British High Commission also conferred an award on her.–Meraj Alam
https://nation.com.pk/17-Mar-2018/amna-becomes-gb-s-first-woman-sessions-judge
--------
Cyber-Violence, an Emerging New Reality for Many Indonesian Women
March 16, 2018
Jakarta. The National Commission on Violence Against Women, or Komnas Perempuan, highlighted cyber-violence as a growing trend in violence against women in Indonesia in its annual report for 2017, published on March 7.
Komnas Perempuan recorded a total of 65 cases of cyber violence against women last year and categorized the various types of incidents: recruitment, online defamation, malicious distribution, infringement of privacy, illegal content, hacking, cyber-harassment and cyber-grooming.
How Does Cyber-Violence Occur?
"Cyber-violence against women is emerging in a massive way, but there is little report and handling [of such cases]," Komnas Perempuan commissioner Thaufiek Zulbahary said during the report's launch.
In many cases, instances of cyber-violence against women are related to the objectification of women's bodies in the form of pornographic content, which becomes viral and is shared through various social media platforms and messaging apps.
"This type of violence has a huge impact on women, as they could potentially be victimized all their lives and the perpetrators have more space to 'move freely' due to lack of regulation to address and prevent such crimes," Thaufiek added.
Who Are the Actors of Cyber-Violence?
According to the report, most perpetrators of cyber-violence are individuals with close relations to their victims, such as partners, ex-boyfriends and current spouses.
Of the recorded cases, most victims were from the Greater Jakarta Area, or other big cities in Indonesia, the report said.
What Does Cyber-Violence Against Women in Indonesia Look Like?
In 2017, Indonesia saw the launch of controversial websites such as ayopoligami.com and nikahsirri.com.
"These sites are a form of online prostitution masked with a religious tenet. They facilitate men and women to date and 'get married' without following official state regulations," Komnas Perempuan said in the report.
Ayopoligami.com is still accessible and even comes in the form of an app for Android-based smartphones, though Komnas Perempuan said its popularity has decreased since its initial launch.
The site attracted tens of thousands of members but was criticized by many women's rights activists, who warned of a strong link between polygamy and domestic violence.
In Indonesia, Muslim men can apply to one of the country's Islamic courts to take a second wife. The court may review and grant an application under certain circumstances, such as cases where the first wife is unable to bear children.
On the other hand, access to nikahsirri.com was promptly blocked by the government five days after its launch.
Law Enforcement on Cyber-Violence
In September, police charged Aris Wahyudi, owner of nikahsirri.com, under the Electronic Information and Transactions (ITE) Law and the Pornography Law, for spreading pornographic content on the internet and engaging in online trading of virginity.
"Komnas Perempuan is of the opinion that this is clearly trafficking masked with a religious guise labeled as nikah sirri, with poor women as the victims," the report said.
Nikah sirri is a religious marriage in Islam that is not registered with the state.
The sexual exploitation of young girls on the internet has also increasingly become an issue in the country, which saw an online pedophile network dismantled by authorities in March last year.
The network took the form of a private group on Facebook, Official Lolly Candy's Group 18+, with over 7,000 members who collected, shared and posted hundreds of child pornographic content.
Komnas Perempuan's report showed that police duly arrested several members of the group, some of whom were found to have sexually harassed underage girls, who were between three and nine years of age, and recorded their sexual activity and shared them on the Facebook group.
"Data showed that the number of sexual exploitation cases against children in Indonesia has been increasing, and that there are around 161,000 pornographic content of this nature on the internet," the report said.
The same report also highlighted other prominent cases of cyber-violence, many of which involve massive public scrutiny, both online and offline, and usually include a viral circulation of video through social media.
According to the new 2018 Digital Yearbook published by We Are Social and Hootsuite, Indonesia has around 130 million active social media users, and ranks third in time spent on social media, after the Philippines and Brazil.
The popularity of social media, coupled with the emerging threat of cyber-violence, should prompt authorities to address this issue through a more effective mechanism of handling and preventive efforts.
As part of its annual report, Komnas Perempuan urged the Ministry of Communications and Information Technology to develop a system to prevent the expansion of cyber-violence against women.
The national women's rights body also called on the National Police, the Attorney General and the Supreme Court to develop a standard operating procedure to address cyber-violence and recovery efforts for female victims.
Where Can You Report a Cyber-Violence Case?
Incidents of violence against women can be reported to Komnas Perempuan by calling +62-21-3903963.
Women and children residing in Jakarta can also call the 112 hotline number to report abuse.
http://jakartaglobe.id/news/cyber-violence-emerging-new-reality-many-indonesian-women/
--------
Prince Sultan University hosts Women in Data Science conference
17 March 2018
Prince Sultan University (PSU) represented by the College of Computer and Information Sciences (CCIS), organized the Women in Data Science conference (WiDS) in collaboration with Stanford University on March 5.
A number of local and international data scientists took part in the event.
"We're thrilled to be working with Prince Sultan University to bring the Women in Data Science conference to the Middle East," said Judy Logan, co-director of the Global Women in Data Science conference at Stanford University.
The PSU forum is a global event that is the first of its kind in Saudi universities. The forum aims to increase the representation of women and encourage their professional participation in the data science field. The forum presented the latest researches and practices in data science in Middle Eastern countries, and promoted exchange of ideas while encouraging collaboration between several disciplines related to this field. In addition, it aims to link regional researchers and practitioners to international leading networks in data science. This event demonstrates the university's direction to enhance academic research, which contributes to the national development in accordance with the Kingdom's Vision 2030.
The forum included a live feed of the WiDS conference that was held at the American University of Beirut. It also included several sessions and workshops on the future of data science in education, humanizing analytics, privacy and security issues, data science and bioinformatics, big data architecture and other topics in data science and its role in the lives of contemporary women. The sessions and workshops were conducted by a number of university leaders and faculty members as well as guests speakers from other universities and industrial sectors such as Aramco, IBM, SAP and others.
"WiDS Riyadh at Prince Sultan University is bringing the latest data science research and applications to the Kingdom, inspiring students, faculty, and industry participants," said Mohammed Al-Kanhal, dean of the College of Computer and Information Sciences.
Rimah bint Saleh Al-Yahya, vice rector of PSU women's campus, said: "PSU is proud to be one of the pioneers in promoting the use of advanced technologies. The goal of the university is to provide successful education through integrating modern technologies and human ethics to develop the process of scientific research, discovery, productivity, and leadership for a meaningful and profound social life."
http://www.arabnews.com/node/1267756/corporate-news
--------
LHC halts PIA pilots' recruitment process over women quota violation
Mar 17, 2018
LAHORE: The Lahore High Court (LHC) on Friday halted the pilots' recruitment process of the Pakistan International Airlines (PIA) for ignoring the women quota.
Justice Muhammad Farrukh Irfan Khan passed the orders on a petition, filed by Komal Zafar for the implementation of women quota in the pilots' recruitment process of the PIA.
During the hearing, the petitioner's counsel submitted that women were ignored in the recruitment process for filling pilots' vacancies despite 10 per cent quota specified in the policy. He contended that the step was a violation of the policy, and pleaded to issue directions for completing the recruitment process on the pilots' posts reserved for women.
The court, after hearing initial arguments, stopped the recruitment process and sought a reply from the PIA chairman by March 27.
https://www.pakistantoday.com.pk/2018/03/16/lhc-halts-pia-pilots-recruitment-process-over-women-quota-violation/
--------
NHRC praises Qatari women's achievements in various fields
March 15 2018
The National Human Rights Committee of Qatar (NHRC) has praised the positive steps taken by the Qatari government to develop women's rights in education, such as the appointment of four women for the first time as members of the Advisory Council and the appointment of a woman as spokesperson of Qatar's Foreign Ministry.
This came in a statement of the Secretary General of the NHRC, Maryam bint Abdullah al-Attiyah, on the occasion of the Committee's celebration of International Women's Day.
Al-Attiyah said that the Committee, in turn, notes with deep regret the violations suffered by Qatari women because of the blockade imposed on Qatar since June 5, especially the right to education and family reunification, pointing out that these violations not only affected Qatari women, but also women in siege countries, as they were deprived of their most important rights, which constitutes a clear violation of international laws and charters of human rights.
She noted that the celebration of International Women's Day reflects NHRC's commitment to defend and protect women's rights for the development of a mature and well-informed society, stressing that the slogan of the celebration comes from the belief in the importance of education of women as a solid foundation for any civilised and developed society.
Al-Attiyah added that NHRC noted the positive steps taken by the Qatari government to protect women, in line with its commitment to the implementation of the convention on the elimination of all forms of discrimination against women signed by Qatar.
In her statement, the secretary general of the NHRC reviewed the achievements made by Qatari women in various fields, noting that in education, Qatar has achieved the principle of equal access to primary and secondary education for both sexes, in addition to equal social security, while Qatari women enjoy full freedom to participate in cultural and sporting events and receive full support and encouragement.
Al-Attiyah pointed out that the economic rights package for Qatari women is also witnessing remarkable growth by registering an increase in their presence in public and private sectors and in many jobs and non-traditional jobs, including civil aviation, police, military.
http://www.gulf-times.com/story/585194/NHRC-praises-Qatari-women-s-achievements-in-variou
--------
Turkish Limak Co. holds graduation ceremony for Kuwait's female engineers
16/03/2018
By Taha Auda
ISTANBUL, March 16 (KUNA) -- Turkish Limak Construction Co. held on Friday a ceremony for Kuwait's female engineers, the first batch of the "Limak engineers program, who graduated from Bogazici University, the largest one in Turkey.
The ceremony was attended by Undersecretary of the Ministry of Public Works Awatef Al-Ghunaim and Kuwait's Ambassador to Turkey Ghassan Al-Zawawi.
In a statement to KUNA following the ceremony, Al-Ghunaim said this step shows the desire of both Kuwait and Turkey to enhance relations in training fields, and developing expertise and efficiencies in the engineering sector.
She noted that the program is a successful example of the strategic companies between the two countries.
It is a leading program aiming to empower women in engineering, she added, referring that such mutual programs support national cadres and create an appropriate environment to invest their energies and enable them to innovation.
For his part, Ambassador Al-Zawawi told KUNA that today is a precedent in the course of the developed relations between Turkey and Kuwait in the last years.
Providing such training opportunities to Kuwaiti female engineers will help them to be prepared professionally, and to develop their abilities and communication skills, he added.
He saw that investment of the private sector in human resources is a necessity dictated by the responsibility of implementing the Kuwaiti leadership's directives in creating human capital to cope up with requirements of development and its challenges.
He voiced his extreme delight for Kuwaiti female students' participating in the Limak program, which represents an example of the successful strategic companies between the two countries.
Limak is one of the companies overseeing the construction of Istanbul's new airport established on an area of 13 million square meters.
It is considered the largest airport in the world with a capacity of 50 million travelers annually and can be expanded to accommodate 200 million passengers. (end) ta.hm
https://www.kuna.net.kw/ArticleDetails.aspx?id=2703479&Language=en
--------
URL: https://www.newageislam.com/islam-women-feminism/ill-wear-hijab-when-do/d/114629
New Age Islam, Islam Online, Islamic Website, African Muslim News, Arab World News, South Asia News, Indian Muslim News, World Muslim News, Women in Islam, Islamic Feminism, Arab Women, Women In Arab, Islamophobia in America, Muslim Women in West, Islam Women and Feminism