New Age Islam News Bureau
14 March 2018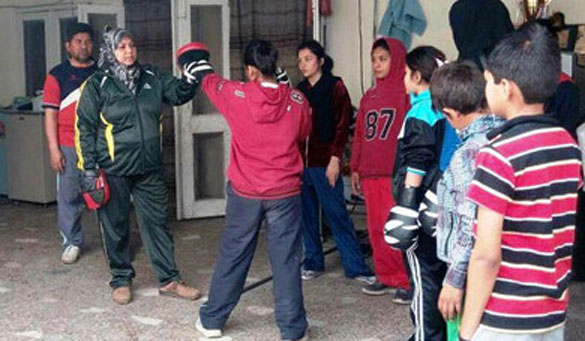 Boxing coach Shehnaz Kamal training her students boxing at a class in her home in Peshawar. (AN photo by Shahid Shalmani)
-----
• Saudi Women Filmmakers Surpass Men in Number
• Women Boxers Warm Up For Pakistan's Provincial Games
• Women Moot Concludes with Paigham-e-Pakistan
• At UN, Maleeha highlights role of women in Pakistan
• Security Coordinators in Girls Schools Get Safe Driving Training
• Iran: Zeinab Jalalian Sends IWD Message From Inside Her Cell
• Turkish Minister Touts Female Development At UN Summit
Compiled by New Age Islam News Bureau
URL: https://www.newageislam.com/islam-women-feminism/if-our-jersey-sisterhood-jews/d/114591
--------
If Our Jersey Sisterhood of Jews, Muslims Can Bond, So Can the World
By Heba Macksoud
March 14, 2018
When I first heard about the Sisterhood of Salaam Shalom, it sounded strange to me: A few older Jewish women wanted to get together with a bunch of Muslim women in New Jersey to "get to know them."
I joined as one of the Muslim women. It was my first exposure to the Sisterhood, an organization focused on building relationships between Jewish and Muslim women in an effort to end anti-Muslim and anti-Jewish bigotry.
I had two sets of twins, aged four and 10, working full-time in Manhattan and running a full-time business, as well as volunteering. I was only ambivalent because the long-term goals seemed monumental. However, I absolutely needed to be part of it.
At Sisterhood meetings, we discuss our lives and stories in the comforts of each others' homes; I have learned that the Sisterhood of Salaam Shalom is built on a premise we can all learn from: the idea that simply sharing our stories with each other -- and empathizing with those of other faiths and backgrounds -- is the first step toward building a more peaceful world.
There is a big misconception that all Muslims and Jews do not get along because of the Palestine-Israel state of affairs, and that is simply false.
There are 1.7 billion Muslims in the world from over 50 majority-Muslim countries. There are almost the same number of Muslims as Jews in the U.S. (approximately 6 million) but less than 18 percent of Muslims are Arab and even less than half of that number are Palestinians.
I do not mean to minimize the importance or reverberating effects of the Israeli-Palestinian conflict -- only to point out that it is not the defining backdrop against which all Muslim-Jewish relations take place. The issue that actually unites me with Jewish people is the way we are sometimes vilified because of our faith.
Fighting anti-Semitism and Islamophobia is core to our mission.
That's why there are 26 chapters of the Sisterhood in New Jersey alone: starting on the local community level creates change that reverberates far beyond a single meeting or even a certain town.
For example, the Princeton chapter includes women from Lawrenceville, Princeton and East Windsor, but as more and women join, the chapters become more centralized for the town. The chapter leaders attend online meetings in order to share best practices and learn from each other. We have an annual conference where chapters from across the country -- and a few international ones -- get to meet in person.
My new friends and I are all from North Brunswick and South Brunswick, and the relationships we've created in the Sisterhood extend beyond the bounds of our discussions in meetings.
We have learned to participate in each other's traditions, met each other's families, and ultimately forced that boundary of other-ness to fall away. A few years ago, Sheryl, one of the founders as well as an observant Jew, hosted a Ramadan dinner (known as an iftar) for all the sisters and their families in her North Brunswick home. The experience blew me away.
She offered the most elaborate dinner I've ever seen, complete with custom stuffed dates and decorations. Her husband, a rabbi, invited us to pray our sundown prayer in his sanctuary room where he reads the Torah. The best part was to be able to share that experience with my husband and four kids: it taught my family how we should be as Muslims.
I often hear from people that they are not happy with the current state of divisiveness that has plagued our country, but they are not sure what they can do about it. The Sisterhood of Salaam Shalom has created a framework for women to bond together and then commit to resolving some of this hateful rhetoric. Simply being around others who, through the bond of friendship, can teach you about something you didn't know, offer advice, or provide an ear to listen is a start.
We have also all committed to doing at least one act of charity together every single year. Recently, my chapter made food and served people both at the men's and women's shelter at the Reformed Church in New Brunswick. The act of bonding together while doing something good and being visible to others while doing this was an incredible experience.
So this International Women's Day, let's look to the Sisterhood of Salaam Shalom as a model that all of us, no matter our background, can follow.
What begins as sharing sharing stories can transform into connections that transcend social divides and ultimately help chip away at bigotry and hatred. We can do nothing, or we can do something -- and I honestly believe this is a very powerful way to "wear someone's else's shoes" and see the world differently.
http://www.nj.com/opinion/index.ssf/2018/03/if_our_sisterhood_of_jewish_muslim_women_can_bond.html
--------
Saudi Women Filmmakers Surpass Men in Number
March 14, 2018
JEDDAH — Saudi Arabia has the highest percentage of women filmmakers compared to men. Up to 60 percent of filmmakers in Saudi are women, said Faiza Ambah, a film writer and director, who moved from journalism to filmmaking industry. She commented, "I am super proud of us". She told Saudi Gazette that people always say women in Saudi Arabia are not advanced but that is not the case in the film industry. She said, "In this industry we were able to make something out of nothing." She added that all women filmmakers she knows of do both writing and directing and they had to learn overseas or online.
Faiza called on those working in the entertainment industry "to take cinema seriously. To be willing to learn and become good directs." She added that there is a need for more workshops and seminars where discussions and training are offered for local talents. She further added that time is here to start producing and getting crews from the local market. According to her, filmmaking needs both educational backgrounds combined with experience. "Field is very important," she said.
Faiza was speaking to Saudi Gazette on the sidelines of a panel discussion organized by Saudi Art Council and American Film Showcase. Three guests were discussing cinematic storytelling including Anu Valia from the USA whose short film, Lucia, Before and After won the Jury Prize for US Fiction, Hisham Fageeh the co-producer of Barakah Meets Barakah, a drama-comedy film which represented Saudi Arabia in the foreign language film Oscar and Jassim Al-Saady, a production manager known for A Hologram for the King, Journey to Mecca and Where in the World is Osama Bin Laden.
The three panelists addressed issues including the need to have bylaws to moderate the cinema industry and they advised beginners to practice and learn from mistakes. Speaking about her experience, Anu noted that as she has seen other women succeeding in the filmmaking industry, she was encouraged to go on with her own ideas as she knows it is not impossible to reach what others have gained.
Speaking about the Saudi scene, both Hisham and Jassim agreed that the products presented have developed if one compares earlier experiences on YouTube to the current product in terms of technicalities. However, they still believe that more time is needed before the cinema gets mature experiences. Jassim believes that young filmmakers should wait until they develop their skills and get more training prior to aiming big. He added that the more mistakes they make the more they would learn. Hisham believes that the new cinema industry will produce two types of genres, one includes production be exported and others to be presented locally, but at a later stage, there would be one product that might be consumed all over the world. He preferred not to compare the new cinema experience in the Kingdom to other countries in the Arab region including Egypt and Jordan were cinema has been practiced for decades and he suggested developing the industrial bylaws though looking at the UAE experience.
http://www.saudigazette.com.sa/article/530329/SAUDI-ARABIA/Saudi-women-filmmakers-surpass-men-in-number
--------
Women Boxers Warm Up For Pakistan's Provincial Games
14 March 2018
SHAHID SHALMANI
PESHAWAR: Inside a rented house in the Khyber Pakhtunkhwa provincial capital of Peshawar, 10 girls exercise, shadowing their boxing coach.
They are preparing for the Provincial Games, which will begin on March 17.
After a few minutes of warm-up exercise, the coach, Shehnaz Kamal, wearing two punching pads on her hands, calls her students one by one to punch the pads.
Shehnaz said that they normally train once a day, but since the beginning of the training camp for the games they have started training twice a day to build their stamina.
"Three of our boxers, Hadia Kamal, Aqsa Ali and Habiba Fazil Khan, have been selected to compete in the provincial games and we are training them to ensure they win," Shehnaz said.
Aqsa Ali said that they are training five hours daily. "We train two hours in the morning and three hours in the evening," she told Arab News.
Habiba Fazil Khan said that she feels excited to have been selected. "I am glad that I have good coaches who are working hard to improve our performance. Hopefully I will win a gold medal."
Shehnaz said that she developed a liking for the sport from her three brothers who are boxers. She liked it more, and is now married to Kamal Shah, who is a coach and a boxer.
"In 2005 my husband started training me, and after that I did courses in coaching including an international course by a Sri Lankan boxing coach in Karachi in December 2015."
Now Shehnaz is a three-star boxing coach.
After returning from Karachi, Shehnaz wanted to train girls to box — and for free. "Like boys, girls also need martial arts for their self-defense," she said. "At the same time, I know that parents in our society prefer their daughters to train with female coaches."
Then she had the idea of a home-based academy that offered the right environment for girls who want to learn boxing.
The idea was successful, said Shehnaz, and achieved good results, "As a result of our preparation and hard work in training for the
2016 South Asian Games, our students Sofia Javed and Rukhsana Parveen won bronze medals," she said.
Now Shehnaz and her team want to make a difference again.
Hadia Kamal, another boxer with Shehnaz, said that there was a time at the beginning of her training that she was afraid of boxing fights, but now she laughs it away.
"I will aim for a gold medal in the provincial games this time. Given my preparation and diet, I can't wait to be in the boxing ring."
http://www.arabnews.com/node/1265746/lifestyle
--------
Women Moot Concludes with Paigham-e-Pakistan
March 14, 2018
LAHORE: The two-day international Muslim women conference concluded here on Tuesday with the resolve to carry the "Paigham e Pakistan" (Message of Pakistan) to all four corners of the world, aimed at strengthening the family system and uniting the governments and nations for wiping out sectarian violence, extremism and terrorism.
Addressing the concluding session as chief guest, Jamaat-e-Islami ameer Senator Sirajul Haq said only educated women could ensure progress of society and the nation. He said there was need to organise the womenfolk at the world level against women exploitation. Sirajul Haq said Islamic system alone could guarantee the women rights. He said if JI came to power, women's right to inheritance would be ensured, evil customs of Wani and marriage with Quran would be abolished and female education would be made compulsory.
He reiterated his demand that all those who failed to provide an affidavit of giving their female relatives their inherited property, should be debarred from contesting elections. JI chief said the West had deprived the womenfolk of the love of father, brother, son and husband and instead burdened her with the responsibility to earn her living. On the other hand, he said, the respect and status which Islam gave to the women had no parallel in entire world history.
Delegates from Turkey, Lebanon, Sudan, Sri Lanka, France, Indonesia, Jordan and Uganda attended the moot.
https://www.thenews.com.pk/print/292220-women-moot-concludes-with-paigham-e-pakistan
--------
At UN, Maleeha highlights role of women in Pakistan
March 14, 2018
UNITED NATIONS - Pakistan made a mark at the UN on Monday, the first day of a two-week session of the Commission on the Status of Women (CSW), by organising an impressive photo exhibition and co-sponsoring an event on the Culture of Gender Justice with Qatar and other countries.
The photo exhibition, organised by the Pakistan Mission to the UN, was attended by the UN Deputy Secretary General, Amina Muhammad and Ambassadors from many countries.
The exhibition, highlighting the inspiring stories of some of Pakistan's most prominent trailblazing women and was also attended by a delegation from Pakistan headed by MNA Dr Shezra M. Ali.
Ambassador Maleeha Lodhi, Pakistan's Permanent Representative to UN, in her welcome remarks said that the exhibition titled, "No turning back: women who made history", has sought to honour Pakistani women who have demonstrated that they can be high achievers and have an impact, not just in their own country, but around the world.
She said that from the first elected female Prime Minister in the Muslim world to attaining the high positions of Foreign Minister, Speaker of the National Assembly, top diplomats, judges, human rights activists, economists, sportswomen and entertainers, Pakistani women have shown that the sky is the limit if they put their minds to it.
Describing Pakistani women as aspiring to "hold up" half the sky, Ambassador Lodhi said, "There is no glass ceiling that they have not broken and in no sphere, have they lagged behind men".
"The vision of our founding fathers, a Constitution that guarantees equal rights for all its citizens, including women, the ethos of an ancient egalitarian civilisation and the teachings of our religion have all combined to provide the platform on which our women have made a mark", Ambassador Maleeha Lodhi told APP afterwards. UN Deputy Secretary General Amina Muhammad who was shown around the exhibition by Ambassador Maleeha Lodhi, took keen interest in the exhibition and admired the efforts of the Pakistani envoy to highlight achievements of distinguished Pakistani women in diverse fields.
The Commission on the Status of Women (CSW) is the principal global intergovernmental body exclusively dedicated to the promotion of gender equality and the empowerment of women.
During the Commission's annual two-week session, representatives of UN Member States, civil society organisations and UN entities gather at UN headquarters in New York to evaluate progress on gender equality identify challenges, set global standards and formulate concrete policies to promote gender equality and advancement of women worldwide.
The event was also attended by officials from UN Secretariat, members of Pakistan delegation to CSW and delegates attending CSW from all over the world. A video highlighting the role of prominent Pakistani women was also shown to the participants.
The other side event, "Creating a Culture of Gender Justice: A Multi-Dimensional Approach" was organised by Qatar and IDLO, and co-sponsored by Italy, Pakistan and Tunisia.
Ambassador Maleeha Lodhi, and members of Pakistan delegation to CSW, Dr. Shezra Mansab Ali, MNA, Ms. Neelum Khan, KPK CSW and Ms. Fawzia Vikar, Punjab CSW attended the event.
Dr.Shezra Ali in her address highlighted the role of women in Pakistani politics and also spoke on the challenges and opportunities for women in Pakistan.
https://nation.com.pk/14-Mar-2018/at-un-maleeha-highlights-role-of-women-in-pakistan
--------
Security Coordinators in Girls Schools Get Safe Driving Training
By Abdullah Al-Dahhas
March 14, 2018
JEDDAH — The Department of Education in Makkah has started training as many as 770 women security coordinators in all girl schools in the three educational levels on safe driving.
The department has chosen 22 training programs for the coordinators who in turn will train the women staff in schools and girls in the third secondary school year.
The training programs will cover training on driving, the traffic laws, safety precautions and road manners.
The programs are designed to teach women holding educational and administrative jobs in the Ministry of Education the best methods of achieving traffic safety when women start driving in the Kingdom from June.
Meanwhile, the Ministry of Transport has invited Saudi women to its "Safe Driving Environment" forum to test driving simulations using the ministry's smart transportation system.
The ministry has provided an opportunity for women drivers to experience safe driving in preparation for the implementation of the royal order lifting the ban on women driving in the country.
The official account of the ministry invited women via "Twitter" on Saturday to visit their pavilion to attend the "Safe Environment for Driving" forum, which is organized at King Saud University for female students using the ministry's smart system.
The ministry has partnered with King Saud University to organize the "Safe Environment for Driving" forum for the first time, which is the largest platform to support women drivers in the Kingdom yet.
Dr. Inas Al-Issa, vice dean of students affairs at the university, said the cultural forum was a response to the royal decree allowing women to drive.
She added it revitalizes the university's role in society as it helps to raise awareness and disseminate the regulations and laws issued by the state's bodies.
The change in the law on women driving comes into effect in late June.
Driving opens the door to unparalleled mobility and freedom for Saudi women. Now, they can get to jobs more easily without relying on anyone for transportation. This is especially important in areas without easily accessible public transport.
As of last year, the unemployment rate in Saudi Arabia was 12.7 percent, which meant 906,552 people were without jobs. About 75 percent of that number were women, which hopefully will drop drastically, with more women becoming mobile.
http://www.saudigazette.com.sa/article/530392/SAUDI-ARABIA/Security-coordinators-in-girls-schools-get-safe-driving-training
--------
Iran: Zeinab Jalalian Sends IWD Message From Inside Her Cell
13 March 2018
"No power can bend a woman who has chosen to be free," so said woman political prisoner Zeinab Jalalian in a message sent out of Khoy Prison, northwestern Iran.
Excerpts of her message:
When we glance over history, we can see that freedom-loving women have always struggled against dictatorial regimes throughout history. These brave women also registered March 8, with their own blood.
O' oppressors, did you see that you cannot prevent women from demanding their rights by massacre, torture and jail? No poweror force can bend a woman who has chosen to be free.
I learned this truth when I was captive in the clutches of the oppressors of the Islamic Republic. They tore my clothes I was wearing. They blindfolded me. They chained my feet to the iron bed and they viciously tortured me. They hit the soles of my feet with cables so much that they swelled and were bruised. They tortured me so much that I could no longer feel anything. All my body was numb, and I had not control over my body…
This is Zeinab, Zeinab Jalalian, a Kurdish woman who has witnessed hundreds of crimes of the Islamic Republic in prison. I have witnessed their insults and accusations, torture and worst of all, the execution of ten of my cell mates. Is there any pain greater than this? Then, these oppressors want me to repent. Is it possible for some one like me who has witnessed so much oppression with my own eyes? Believe me, whenever the oppressors torture me more, I feel stronger and I feel more courageous.
http://www.women.ncr-iran.org/iran-women-news/4880-iran-zeinab-jalalian-sends-iwd-message-from-inside-her-cell
--------
Turkish Minister Touts Female Development At UN Summit
14.03.2018
Turkish Family and Social Affairs Minister Fatma Betul Sayan Kaya on Tuesday stressed the importance of female empowerment and economic development in an address at the UN in New York.
"It is impossible to achieve sustainable development goals without women contribution," Sayan Kaya said in a meeting of foreign delegates at a women's summit. "For this reason, it is of vital importance for women to have rightful status in almost all spheres of life."
Turkey has had an almost "silent revolution" in support of women's rights and empowerment under President Recep Tayyip Erdogan in the past 15 years, she said.
"During this process, we have established our main policies based on the prevention of all kinds of discrimination against women and have effectively combatted violence against women as well as ensuring women's empowerment," she added.
The efforts have borne fruit with ever increasing numbers of female participation across the board in Turkey -- soaring school enrollment in the last 15 years, a workforce that has expanded 45 percent and female employment up 75 percent in the 12 years.
The push for greater roles for women has been married with polices that have been implemented to give women greater flexibility in the workforce, including more time for things such as breastfeeding leaves to flexible working hours and better childcare support.
"The great transformation that we have accomplished in the field of health in Turkey has been reflected to women's health care services as well," Sayan Kaya said, adding that access to prenatal care is now at 99 percent while 98 percent of childbirth deliveries are made by health care personnel.
But the care and well-being of Turks is not the only concern for Sayan Kaya's agency.
Turkey currently hosts more than 3.5 million Syrian refugees she described as her country's "brothers and sisters" and, 71 percent of those are women and children.
"We have provided their basic needs such as education, health, food and shelter. We have used all our means available to relieve the deep wounds inflicted on women and children by war, terrorism and migration. And we still do," she added.
https://aa.com.tr/en/americas/turkish-minister-touts-female-development-at-un-summit/1088104
--------
URL: https://www.newageislam.com/islam-women-feminism/if-our-jersey-sisterhood-jews/d/114591
New Age Islam, Islam Online, Islamic Website, African Muslim News, Arab World News, South Asia News, Indian Muslim News, World Muslim News, Women in Islam, Islamic Feminism, Arab Women, Women In Arab, Islamophobia in America, Muslim Women in West, Islam Women and Feminism