New Age Islam News Bureau
2 Feb 2014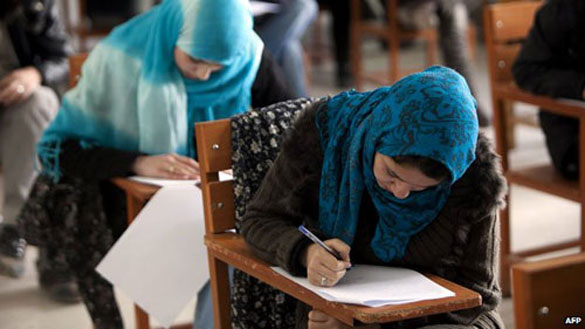 Photo: Equality for women at Afghanistan's officer academy
-------------
• Equality for Women at Afghanistan's Officer Academy
• Nigeria Muslim pupils protest against hijab ban
• Outside Morsi trial venue, child sisters wear army boots as hats
• Filipino Beautician Calls Her Workplace 'Oasis of Harmony'
• Hope for Indian Couples in the UAE Who Wish To Adopt
• 11 Year-Old Nigerian Girl among List of Top 100 Most Influential Africans
• "The Future Young African Women and Girls Want" Statement Delivered During AU Summit
• Sumaira Malik of PML (N) Challenges Life Ban on Contesting Polls
• 5.5 Million Children Out Of School in Pakistan: UNESCO Report
Compiled by New Age Islam News Bureau
URL: https://newageislam.com/islam-women-feminism/if-harassed-road,-take-down/d/35552
-----------
If Harassed On the Road, Take Down Licence Plate Number, Pakistani Women Advised
February 2, 2014
KARACHI: If you are being harassed on the road by someone riding a motorcycle or driving a car, just start pointedly noting down his vehicle's registration number and he will most likely flee.
This was suggested during a consultative workshop on Friday afternoon on harassment of women in public places and transport. NGOs Legal Rights Forum (LRF), Strengthening Participatory Organisation (SPO) and the Social Research and Development Organisation (SRDO) organised the workshop at the LRF office.
"People stare at us and ask for our mobile numbers and sometime even throw chits of their Cellphone numbers at us," said Shabana, a legal practitioner at the city court who frequently travels by public transport. "This has become a routine." Shabana, after sharing her experience, added that the seats reserved for women in public buses are a mere 10 per cent of the total capacity and women along with children are pushed into the buses "like animals".
SRDO's Muhammad Ashraf said that the organisation conducted a survey on harassment of women in which they interviewed 75 women in three towns of the city. In the survey, 74 per cent of the women said that they don't complain about harassment to their families because they would then be stopped from going outside.
"A majority of the surveyed women expressed discontent at the remarks passed by the opposite gender in public places, especially buses," said Ashraf, adding that Nipa Chowrangi is particularly notorious in terms of harassment. "They also complained about the behaviour of bus drivers and conductors and also suggested bringing separate buses for women."
LRF executive director Advocate Malik Tahir Iqbal suggested that the government should have a strict legislation in place for harassment and should look to implement the existing Women Harassment Act. "Members of the civil society should make committees that visit bus stops where women are frequently harassed," he suggested. "Those who harass women would feel like they are constantly being monitored. This may also inculcate a sense of responsibility among those who silently watch women being harassed."
Justice (retd) Majida Rizvi of the Sindh Human Rights Commission of Pakistan said that the existing laws should be made more comprehensive so that violators do not benefit from any weakness or loophole. "Making new laws will just confuse people," she said. "The existing laws need to be improved. Women need to support each other and parents should teach their children about good manners."
http://tribune.com.pk/story/666417/respect-women-if-harassed-on-the-road-take-down-licence-plate-number/
-----------
Equality for Women at Afghanistan's Officer Academy
Feb 02, 2014
The UK's lasting legacy in Afghanistan is likely to be the Afghan National Army Officer Academy, which took in its first male officer cadets in October last year, and will admit its initial female recruits this summer. Could it play a role in improving the position of women in Afghan society?
It was a story that was both shocking and depressingly familiar. A young Afghan girl, forced by her brother to wear a suicide vest, and told to blow up a police checkpoint for the Taliban. It happened in Helmand, a place that even here, makes people shake their heads and give a sad shrug that suggests: "Well, what do you expect?"
There was outrage (a little) and dismay (rather more) over Spozhmai's story, but in a country where recent news included a seven-year-old sold for a few thousand dollars in marriage to a 35-year-old so her father could buy drugs, Spozhmai's woes did not trouble the public consciousness here for long.
The story barely made the news after a day or two.
The girls and women we interview here are often those whose lives are extreme, and who symbolise all that is worst or wrong with a place.
I wondered about that when I met two young Afghan women with very different lives, Adila and Arzoo, both university students.
Literature and language student Adila would not look out of place sitting in a Paris cafe - elegantly, though modestly dressed, her eyeliner making her expressive brown eyes even bigger, and her headscarf revealing just a hint of glossy long black hair.
Arzoo, in her fourth year studying physics, is the more earnest of the two, but both are keen to stress just how different their lives are to those of their mothers and their grandmothers.
Both remember the Taliban era, when they had to study in secret. Now Adila and Arzoo are determined to help poorer women here to get an education. They believe that remains the key to changing Afghanistan and people's attitudes towards women.
What would they do after university, I asked them. More studies, both said. And if they got married, would they still plan to go out to work? There was an awkward silence. That, they eventually said, depended on their families, and what their husbands thought. It sounded rather as if the answer was No, despite outward appearances.
A few days later, we drove east out of Kabul, the choking traffic thinning as we headed out of the city. But the city limits I remembered from previous trips were no longer there.
Now, new building after new building lined the road - massive blocks of modern glass and concrete flats had sprouted from the sandy soil until they almost blocked out the mountains on the horizon. It was not until we reached the military outpost we were seeking that the city receded, and turned back into the plains I had remembered.
I wondered if these new blocks were seeded by poppy money or fertilised by Western cash, then chided myself for cynicism. There is much new business being done here, despite the high level of dependence on outside support.
The latter was evident when we arrived at "Sandhurst in the sand", the nickname for the new military academy British officers are helping develop as the UK's lasting legacy in Afghanistan.
We were there to meet Sediqa, a quiet, self-possessed 28-year-old second lieutenant, who watched us warily as we arrived. She is the first Afghan female trainer to arrive here ahead of the women officer cadets.
The Academy aims to train 100 female Afghan National Army officers per year, or about a 10th of the total, with the first intake to be chosen this April. They are due to start in June, and recruits will spend a year here before they graduate.
Sediqa told me she had joined the Afghan army because she wanted to serve her country, as her brother and sister-in-law already did.
I asked if she was worried by the deaths and injuries her army was suffering in Helmand and elsewhere - more than 1,000 killed in 2012 alone, and more than 3,000 seriously injured. Women police officers and officials have been targeted specifically in provinces such as Helmand, though Afghanistan's women soldiers will not be expected to perform frontline fighting roles.
Sediqa nodded thoughtfully, but said it had not put her off. Her husband was also happy for her to serve.
As for female equality in Afghanistan, her raised eyebrows said it all. Sediqa was not sure we could even begin to talk of equality for women in Afghanistan. Even men did not have many rights, she said, and females far fewer.
The TV and radio news were full of stories about violence against women most days, she said. Once you could begin to talk of human rights, then perhaps one day, she told me, women's rights could start here too.
But Sediqa's British mentors are keen to make sure that women are treated equally here.
In the large and airy gym, Afghan male officers and trainers are having to get used to training alongside women - including British physical training instructor, Staff Sergeant Kate Lord. She has been training the men, giving orders via an interpreter.
"At first, I didn't know how they'd take me - but after they saw me doing all the physical elements, that won me their respect. I get on with the guys really well," she smiles.
Kate is now focusing on training the three Afghan female sergeants who'll be training the cadets when they arrive. She says that they are have not been used to performing tough physical exercise in the past, and are taking to it - for the most part - with enthusiasm.
"It feels really good to be doing the one-on-one mentoring, it's historic to be here doing this at this time, and it feels as though I am making a difference."
Fluent Pashto and Dari speaker Major Claire Brown, who has been helping set up the women's course, after an earlier tour of duty in Helmand Province, is realistic about the challenges that the women who study here will face within the Afghan Army - as well as wider Afghan society.
"Anybody in the Afghan security forces has to have concerns about their own personal security. Of course, they have their own cultural issues they have to face and I hope that we can help to prepare them," she says.
"Anybody who is joining this army as a woman is a pretty brave person to start with, and we hope to develop that during the training."
The wider hope is that the Sandhurst ethos will translate to this very different culture, and bring the leadership Afghanistan wants from its army, and perhaps - in doing so - also help women in their long, slow march to greater equality in a deeply conservative society.
http://www.bbc.co.uk/news/magazine-25763312
------------
Nigeria Muslim pupils protest against hijab ban
Feb 02, 2014
Muslim pupils under the umbrella body of the Muslim Students' Society of Nigeria marched through some major streets in Lagos State on Saturday, protesting against the hijab ban in public schools.
The procession was peaceful and many of protesters were seen carrying placards with various inscriptions.
Some of the placards condemned acts of immorality, while others encouraged the wearing of hijab by female Muslims.
The Amirah (Female President) of the Lagos unit of the association said the association might seek legal action to claim Muslims' rights.
Speaking with SUNDAY PUNCH, she called on the Governor of Lagos State, Babatunde Fashola, to allow female Muslim students in public schools wear hijab.
She stated that if hijab was not allowed in public schools, they might be forced to mobilse Muslim youths against anti-Islam governments in 2015.
She cited the case of Ekiti State where the Governor, Kayode Fayemi, has permitted such, asking why Fashola, a Muslim, should not emulate Fayemi.
She stated that it was their right to wear hijab.
She said as tax payers and law abiding citizens, hijab should be allowed in public schools and that "hijabites should not be descriminited against."
The procession was made up of mainly girls of primary and secondary schools.
They marched from Maryland to Gani Fawehinmi Park, Ojota.
World Hijab Day is celebrated on February 1. It was started by a New York resident, Nazma Khan.
http://abna.ir/data.asp?lang=3&Id=502291
------------
Outside Morsi trial venue, child sisters wear army boots as hats
World Bulletin / News Desk
Feb 02, 2014
Several supporters of Egyptian Defense Minister Abdel-Fattah al-Sisi gathered outside the Cairo Police Academy last week.
Some carried posters of the top general, while others chanted pro-Sisi slogans. But it was Shahd and Habiba, two young sisters, who raised eyebrows.
Accompanied by their father, the two girls wore army combat boots on their little heads – a sign of their affection for Egypt's armed forces – while cheering for the military chief.
"We're wearing these combat boots like hats because we love Field Marshal Abdel-Fattah al-Sisi," Shahd and Habiba, both under ten years old, told Anadolu Agency, in reference to the army strongman who is widely perceived as the architect of Morsi's ouster – and subsequent imprisonment – last July.
"We love him because he's fighting the Muslim Brotherhood to protect us," Habiba added.
Al-Sisi, appointed Defense Minister by Morsi in 2012, rose to prominence after announcing Morsi's ouster last summer following demonstrations against the latter's presidency.
He is widely expected to announce his candidacy for president imminently, following a Monday statement by Egypt's Supreme Council of the Armed Forces (SCAF) mandating him to run for the country's top office in response to "popular demands."
"I'd be honored to put the boots on their heads, but they did it themselves," the girls' father said.
"They always want to wear them without my prompting," he added, as the two girls shook hands with security personnel deployed near the court venue.
A photo of Shahd and Habiba wearing the boots on their heads was widely circulated on social-media outlets, drawing criticism from some observers who voiced disapproval of involving children in Egypt's ongoing political dispute.
http://www.worldbulletin.net/world/127825/palestinians-erect-another-village-in-jordan-valley
------------
Filipino beautician calls her workplace 'oasis of harmony'
Feb 02, 2014
RIYADH — With reports coming out of Saudi Arabia either of abuse of expatriates or a retaliatory abusive action by the workers themselves making the rounds, a sponsor who provides an oasis of harmony is welcome news.
The lucky worker is from the Philippines, who seems to have realized her dream of working for an employer who treats her like one of their own.
She believes she is blessed to join this employer who deals with her fairly, accords her respect and dignity and welcomes her as one of their own.
Loot, a Filipino beautician, is grateful to her Saudi sponsor, and for the kind treatment she has been receiving from the Saudi, according to the Makkah daily.
She used the paper as a medium to express her gratitude to the family, as she said that she did not have another way to repay the family for their humane treatment of her.
Loot has been in the Kingdom for 23 years and speaks almost perfect Arabic with a Saudi accent. She said that she was lucky to get such a family and was eternally grateful to God for bringing them together.
She has been working for Um Khalid for the past 15 years in a beauty saloon owned by Um Khalid. Loot said: "I have met an angel who has helped me in achieving my dreams."
She noted that Um Khalid does not deal with her as a worker, but as a family member.
"When Um Khalid comes to the saloon, the employees do not feel the pressure of a manager supervising them. She awaits her turn like any other client and never acts as if she was the owner of the saloon and seeks preferential treatment," she said.
She added that Um Khalid invites the workers to her family gatherings, and are treated as family members.
But Loot was really all praise for Um Khalid's compassion. "It was she who has helped me in building a house back home, in providing for her children's education, in addition to helping her when her father needed medical treatment."
She pointed out that many of her compatriots are apprehensive of dealing with Saudis, and she wanted to send out this message to them that there are families like these who provide bright stories of humane treatment.
Saudi Arabia, meanwhile, with the announcement of new rules to protect the rights of foreign domestic workers have gone a long way in addressing the domestic help issue.
Though Loot's story of receiving humane treatment from their sponsors is just one of the few glowing reports in an otherwise dark side of worker abuse.
The Human Resources Watch (HRW) has issued four reports listing the abuse of domestic help in the Kingdom.
http://www.saudigazette.com.sa/index.cfm?method=home.regcon&contentid=20140202194454
-----------
Hope for Indian couples in the UAE who wish to adopt
Feb 02, 2014
DUBAI // Indian expatriate couples waiting to adopt children from their home country have been given renewed hope with the lifting of a 16-month ban.
Indian authorities abruptly stopped accepting applications from Non Resident Indians in October 2012, on the ground that too few children were available for adoption.
Now Cara, the Central Adoption Resource Authority, in New Delhi which monitors and regulates adoptions, will resume accepting applications from overseas Indians on Monday.
Its online system will register 50 applications a month.
"It's the best piece of news our documents can be sent forward," said P V, 37, a sales manager in Dubai who registered to adopt a child in 2009.
"We have been waiting for a very long time. We started the process in India in 2009. We have been repeatedly told there are no children available for adoption which is hard to believe in a country like India.
"After doing all the paperwork in India, my husband got transferred to Dubai. We had to prepare the entire dossier again with police verification, medical reports, letters from friends, etc after which they closed the process."
The couple have since had a child of their own, who is now nine months old.
"We wanted to adopt and then have a biological kid. My husband and I had this in our mind much before we had a baby. But, it's been so long and we are still waiting to even register. Many couples can't have children biologically. I can't even imagine the trauma they must be going through," P V said.
Indian officials blamed the delay on the unavailability of children and the backlog of applications from prospective parents residing in India.
"Our thrust is on in-country adoptions," said Lopamudra Mohanty, a secretary at Cara. "Why should children go overseas when there are parents waiting to adopt inside India?"
One of the reasons given for the delay was the demand from expatriates for infants and toddlers.
"All NRIs want only small children," said Dr Jagannath Pati, Cara's joint director. "It is a fact that less children are available."
Most Indian parents in the UAE are keen to adopt infants and children younger than 2. More than 1,500 children have been adopted by Indian couples in the Arabian Gulf in the past 30 years, with 60 per cent going to families in the UAE.
Omana Menon, who works in Dubai and is licensed by Cara to process overseas adoptions from the Arabian Gulf and prepare the home study report on couples, said the long wait was hard on parents.
"It is an extremely fragile situation for parents," she said.
"I receive eight to 10 calls from parents every day. They are understandably upset and angry but they take being pushed from pillar to post because it's their one shot at happiness. This is the only hope for couples who can't have their own children. When you see their desperation, you cannot brush it away."
Her immediate priority was to clear the backlog of requests from last year.
"It is absolutely great for parents that Cara will again accept their applications. Parents have been waiting for a year. It is a benediction."
Adopting a child can take from one to two years, depending on the availability of a child and the legal process of each state in India.
Until 2012, prospective parents could approach licensed agencies directly with their home study report. Once an adoption was approved, the couple paid Dh11,000 to the agency and Cara, after which their case would be forwarded to the state's family court to legalise the matter.
However, now all reports have to go through Cara. This has further slowed down adoptions.
Only nine couples from the UAE, some of whom had registered as early as 2008, were able to take in children last year, compared with about 50 in 2012.
The long, cumbersome process has discouraged at least three couples from adopting, and some have revisited their decision to adopt infants.
Despite the lifting of the ban, parents are bracing themselves for another long wait.
"I understand they need a lot of verification and it's a lengthy process as they want to ensure parents are well intentioned," said P V. "I respect that. The problem is the lack of clarity and the time it will take.
"A lot of people who want to adopt get discouraged by the process. But my husband and I are clear this is definitely the path for us. We have stuck around for four and a half years because we believe in it strongly. If I can give a child a better environment and if it takes a bit of extra patience, I will go ahead and do that. But they should not punish us for wanting a baby."
http://www.thenational.ae/uae/hope-for-indian-couples-in-the-uae-who-wish-to-adopt#ixzz2s7l6W92F
-----------
11 year-old Nigerian girl among list of top 100 most influential Africans
Feb 02, 2014
Our YG&B feature this week was headlined in the August 2013 edition of Forbes Africa, thereby being at the age of 10 the youngest person ever to be interviewed by Forbes.
She is young, gifted and Black. Zuriel Elise Oduwole has been touted in the August 6, 2013 post of Naij as the next Larry King or even an up and coming future Oprah Winfrey.
In the December 1, 2013 posting of Naij, young Zuriel "has dominated the list of top most influential people in Africa."
Sponsored by New African Magazine, this listing, according to a published descriptor, is chosen by their respective "impact on public, social and political discourse."
Strongly culturally identified as the "NewAfrican 100," the descriptor adds:
"Over the next few pages, you will find a breadth and wealth of Africans of all nationalities and ages, both women and men, whose actions and reach, we have determined, significantly impacted and realigned the continents' landscape in their fields of endeavor.
They contributed in redefining the African narrative in 2013 and we feel they will pay a big role in 2014 for Africa's good."
The contributions of Zuriel Oduwole most impressively justifies her listing among today's notable African greats.
Described in published accounts as demonstrating "amazing media and communication talents" in the area of in-depth personality interviewing, a Pan-Atlantic School of Media and Communication press release on one of her many presentation invitationals cites that as of November 2012, Zuriel has "become the youngest global international media representative ever on record."
She has stood toe-to-toe with seasoned correspondents from CNN, Reuters, Super Sports, CNBC, the UK Guardian, South African and local media houses.
Her international repertoire of interviewee listing include Fris Back, Minister of Economic Development of Denmark, Civil Rights Leader Jesse Jackson, CNN 2008 Hero Award Winner and CNN 2008 Hero Award winner Marie da Silva.
Zuriel has additionally sat down in a one-on-one interview with Aliko Dangote, one of Africa's most successful and wealthiest businessman.
Her invitation to the African Union 50th Anniversary celebration in Ethiopia allowed her the opportunity to schedule an interview with the world class tennis duo of Venus and Serena Williams when they gave their world press conference in Nigeria.
As noted in the August 6, 2013 Naija Carry Go, Zuriel received a standing ovation for her "provocative and creatively intelligent" questions to the Williams sisters.
The year 2013 marks the 50th anniversary celebration of the formation of the Organization of African Unity (OAU).
In 1963, OAU was founded by African leaders of the independent republics of Liberia, Ghana, and Guinea to work towards decolonization.
A goal of OAU as noted in a web account is "an integrated, prosperous and peaceful Africa, driven by its own citizens and representing a dynamic force in the global arena".
Consequently, the Heads of State declared the year 2013 the Year of Pan-Africanism and the African Renaissance.
Our multi-talented teen is also committed to this vision.
She has produced to her credit two historical documentaries enhancing this discussion, "Educating and Healing Africa Out of Poverty – The 1963 OAU Story" released in 2013 and "The Ghana Revolution" in 2012.
Her personal profile is themed with her presentation mantra – "Dream Up, Speak Up, Stand Up," her interview listing continues with Ghanaian Presidents Jerry John Rawlings and John Kufour, Malawi President Joyce Banda, Tanzania President Jakaya Kikwete, Mauritius President Rajkeswur Purryag, Kenya President Uhuru Kenyatta, Nigerian President Goodluck Johnathan, South Sudan President Salva Kirr Mayardit, and Jamaica President Prime Minister Portia Simpson Miller.
Zuriel – which is Hebrew for "God is My Rock – was born and raised in the United States of a Nigerian father and an American-Jewish mother.
She has visited China where she learned to speak and write Mandarin and she can also speak the African languages of Hausa, Yoruba, and Igbo.
Citing again her personal profile, she describes herself as a now 11 year-old American girl of Nigerian and Mauritian descent who is currently in the 8th grade.
In her own words, she says that she is "working hard to do my school projects, play in my basketball league, and still do what I enjoy a lot – like my extracurricular activities of interviewing leaders and inspiring girls around the world to dream bigger."
She further submits in her stated profile that her vision and mission is that, "As a girl, I am concerned that not every girl has a right to get an education or a chance to accomplish her dreams like me."
She adds that her vision, "is to see that this changes one day and my mission is to use my 'Dream Up, Speak Up, Stand Up' program to inspire girls to accomplish this mission."
The March 26, 2013 posting of "The Sun" reveals that our middle school Oprah becoming participates in a modified version of homeschool which allows her to interface with traditional schooling.
Under this arrangement, she is listed with a school in California and has teachers who review her progress and scores her assignments, most of which are online.
"I love this arrangement because it allows me to travel all over the world with my parents to experience different cultures," she says to a room of Master's degree students at the Pan-African University in Lagos, Nigeria.
Further boasting of her academic independence, she asserts that, "what a regular schoolgirl can do, a home-schooled girl can do better."
Additional to her Lagos invite, even at the age of 10 she has presented her "Dream Up, Speak Up, Stand Up" delivery to audiences throughout the world making the case for what she labels, "Educating the Girl Child in Africa and in Emerging Markets."
She just recently spoke in January, 2014 at the Wooton Community Center in Mauritius.
Presentations from March 2013 through December 2013 has scheduled her travels to Lagos, Nigeria; Malawi; Tanzania; Lagos, Nigeria and Abeokuta, Nigeria.
In honor of her achievements, Ethiopia Airlines last year named Zuriel their Global Ambassador.
http://milwaukeecourieronline.com/index.php/2014/02/01/11-year-old-nigerian-girl-among-list-of-top-100-most-influential-africans/#sthash.OhpILfCn.dpuf
-----------
"The Future Young African Women and Girls Want" Statement Delivered During AU Summit
Feb 02, 2014
The young women and girls from Africa have spoken. Their message was delivered in a statement during the just ended African Union (A.U) Summit in Addis Ababa, Ethiopia which took place from 20 to 31 January. More than 30 African heads of state gathered on Thursday for the opening session of 22nd A.U Heads of State meeting under the theme "agriculture and food security". The summit was preceded by the meeting of the A.U Peace and Security Council, where leaders deliberated on conflicts in Central African Republic, Somalia and South Sudan.
Approximately 50 young women and girls representing 14 African countries convened at the Young Women's Forum during the A.U Summit under the theme: "Transforming Africa's Agriculture for Shared Prosperity and Improved Livelihoods, through Harnessing Opportunities for Inclusive Growth and Sustainable Development." The group of young women and girls in their statement urged African leaders to take strong actions and develop concrete solutions in order for continent to harness the potential of its demographic dividend. The statement was delivered during an event that brought together 50 girls and young women from across Africa, in conversation with government leaders, heads of multilateral and non-governmental organizations and representatives from the private sector. The event was organized by the World YWCA, United Nations Women and the Nike Foundation. Titled 'The Future Young Women and Girls Want', the statement called on African leaders to consider priorities of Africa's youthful demography as they determine the African Union's common position for the future development agenda, after the Millennium Development Goals expire in 2015.
Livia Oliver, 23 from South Sudan said "Leaders and mediators must listen to us girls and young women – we can tell them the truth about conflict, and other issues facing Africa." Olivier who arrived in Addis Ababa after a five-day journey from the embattled country, reiterated "I was born in war, I grew up in war." The group focused its statement around education, social and economic development, health, and agriculture and climate justice, offering specific prescriptions under each theme. Making up half of the continent's population, African women and girls are at the epicentre of Africa's development. The statement served as a invitation to harness the potential of African women and girls by including them in the decision-making process.
English: A cropped photograph of then South Af...
Phumzile Mlambo-Ngcuka, Executive Director, UN Women (Photo credit: Wikipedia)
"When we talk about any adverse situation in Africa, women are directly affected," the former President of Nigeria, Olusegun Obasanjo was quoted as saying in response to the statement. "There are areas or places in Africa where because girls are girls, they are deprived the benefits of education. My sisters, I am with you, for the rights of women and particularly for the rights of our children for education and for empowerment," he added. The women and girls, in their statement promised to hold leaders accountable to commitments made at national, regional and international levels.
On receiving the statement, United Nations Women Executive Director, Phumzile Mlambo-Ngcuka said: "Women and girls can fight gender-based violence and take on a leadership role." And in reference to the focus of discussions on agriculture and food security, the former deputy president of South Africa said, "Agriculture for Africa offers an opportunity for economic prosperity, food security, poverty eradication, skills in science and technology and economic empowerment for women and girls."
"This has been a conversation of accountability" said Nyaradzayi Gumbonzvanda, General Secretary of the World YWCA. "Girls and young women are the future of Africa, and can lead the continent's renaissance – but they must be given the opportunity to do so. We hope that the direct engagement of girls and young women with leaders will show their courage, determination and vision."
http://www.forbes.com/sites/faraigundan/2014/01/31/the-future-young-african-women-and-girls-want-statement-delivered-during-the-22nd-african-union-summit/
-----------
Sumaira Malik of PML (N) Challenges Life Ban on Contesting Polls
Feb 02, 2014
ISLAMABAD: Pakistan Muslim League-Nawaz leader Sumaira Malik has challenged a Supreme Court decree that barred her from contesting polls for life on charges of forging her degree of graduation.
The petitioner has filed a review petition through her counsel Asma Jahangir against SC's October 28, 2013 judgment that slapped a life ban on her contesting future elections.
The applicant has requested the SC that in view of the injustice and jurisdictional overreach the review petition be heard by a larger bench.
According to the review petition neither the university authorities nor the election tribunal had arrived at a correct conclusion in view of the evidence produced.
The counsel for applicant Asma Jahangir contended that the court's observations are in violation of the fundamental rights of the petitioner including Articles 10 (A), Article 13, Articles 25 and her right to lead a life with dignity.
It also questioned whether the Supreme Court had not erred in travelling to an inquisitorial jurisdiction which was applied in very rare cases and special jurisdictions.
photo 52_zps4009fcf2.jpg
"The court has based the judgment on the ground that signatures and photographs of the petitioner on various documents on comparison shows that they are not similar with each other. However, nowhere it has been mentioned that all those signatures and photographs do not belong to the present petitioner," it said.
The review petition stated that the law does not grant the powers to court to impose a lifelong penalty on the petitioner, particularly as other more serious offences for disqualification of candidates have been given limited periods of debarring.
The applicant says that the Supreme Court has deprived her and her constituency of the basic fundamental right to take part in political activities and to choose a representative of their choice and as such debarring for life on surmises violates the rights of that constituency, too.
"Has the Supreme Court rightly interpreted Article 62(1) (f) by applying punishment beyond what the law stipulates and without conviction or a judgment passed against the petitioner by a competent court – although the petitioner insists that no malpractice was carried out," the review petition questioned.
The petition stated that it was the court's mere presumption that the husband of the petitioner influenced the university authorities with no evidence to support it.
It was also told that the petitioner had requested the court to summon the whole record of the university and the concerned officials but also offered herself for comparison of the photographs with her face and comparison of her handwriting with the handwriting specimens obtained by the university.
"Such failure has serious bearings on the issues raised but not considering the same by the court has led to grave miscarriage of justice to the present petitioner. Thus such failure was an error apparent on the face of record warranting review."
http://tribune.com.pk/story/666557/forged-degree-case-sumaira-malik-challenges-life-ban-on-contesting-polls/
-----------
5.5 million children out of school in Pakistan: UNESCO report
Feb 02, 2014
Pakistan has almost 5.5 million children that are out of school, the second highest number in the world only after Nigeria. Pakistan also has the highest number of illiterate adults in the world, after India and China.
These are just some of the findings of UNESCO's latest report on the state of global primary education that puts Pakistan's current educational crisis in a glaring, damning light.
Pakistan is among the 21 countries facing an "extensive" learning crisis, according to the report. This encapsulates a number of indices, such as enrolment, dropout rates, academic performance and literacy. Pakistan scores low in every index.
Broadly, global standards of primary education seemed particularly severe in South and West Asia, and Western Africa. The countries in these regions, including Pakistan, are behind in virtually every index. Pakistan features along with 17 countries from sub-Saharan Africa, Mauritania, Morocco and India.
Public vs Private
Children in a low-fee private school outperform those that are enrolled in the top tier of government schools, laying bare the government's crumbling educational infrastructure. However, even in private schools, 36% of grade 5 students cannot read a sentence in English, which they should have been able to do by grade 2.
Provincial Divides
The report exposed the inequalities in education within the country as well:
"Geographical disadvantage is often aggravated by poverty and gender. In Balochistan province, Pakistan, only 45% of children of grade 5 age could solve a two-digit subtraction, compared with 73% in wealthier Punjab province. Only around one-quarter of girls from poor households in Balochistan achieved basic numeracy skills, while boys from rich households in the province fared much better, approaching the average in Punjab."
Teaching crisis
The children were not the only problematic indicators. In a list of countries that have the highest shortfall of teachers, Pakistan was the only non-African country to be on the list. Nigeria was highest on the list, requiring 212,000 teachers. The study said that between 2011 and 2015, 5.2 million primary school teachers are required globally to make sure that universal primary education is guaranteed.
Women's health, education tied together
The report also provided further evidence to the relationship between education and health. In Pakistan, only 30% of women with no education believe they have a say over how many children they have, compared with 52% of women with primary education and 63% of those with lower secondary education.
Silver lining?
Amidst the crisis, the report also recommended programs that have mitigated the crisis. Save the Children's Literacy Boost was fairly successful in implementing early grade reading programs in government schools. Similarly, children who had attended after-school reading camps coordinated by community volunteers showed greater learning gains in reading fluency and accuracy in both Pashto and Urdu than classmates in the same schools.
Despite the implementation of promising programs, the report stated that Pakistan is far away from achieving the 80% enrolment target it had set for 2015.
http://tribune.com.pk/story/666285/5-5-million-children-out-of-school-in-pakistan-unesco-report/
-----------
URL: https://newageislam.com/islam-women-feminism/if-harassed-road,-take-down/d/35552