New Age Islam News Bureau
17 October 2020
• TikTok Star Jannat Mirza to Leave Pakistan after it Banned China-Based Social Media Application
• Middle East Airlines Runs First Flight With All-Female Crew
• Pakistani Drama, "Churails", or "Witches", Hailed For Portraying Strong Women Put Back On Air
• Why Is China Shaving The Hair Of Uygur Muslim Women? American NSA Explained the Reason
• HRC Warns Against Depriving Young Women of Their Legitimate Rights
• Iranian Women Facing Prison for Letter Asking Khamenei to Quit Say They Have No Regrets
• Two Additional Women Summoned To Prison for Calling On Khamenei To Step Down
Compiled by New Age Islam News Bureau
URL: https://www.newageislam.com/islam-women-feminism/iconic-afghan-girl-sharbat-gula/d/123177
--------
Iconic Afghan Girl, Sharbat Gula, Photo Sold For a Record Price
By Mohammad Haroon Alim
17 Oct 2020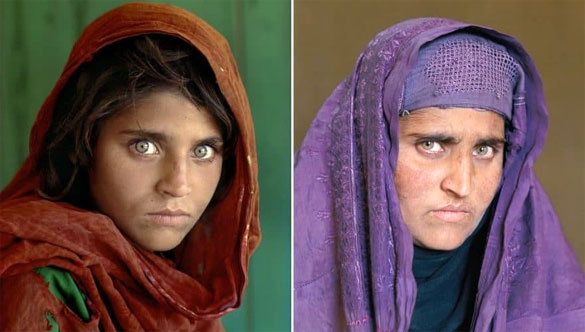 Iconic Afghan Girl, Sharbat Gula, Photo Sold For a Record Price
-----
A picture of an Afghan girl Sharbat Gula was auctioned off in Poland on Thursday, setting a record high.
A Polish company, Disa Unicum said in a report on Thursday, that a picture of an Afghan immigrant girl had been sold for 283,000 Polish złoty, worth more than 70,000 US dollars.
The Polish company said the image of the girl set a record for the highest price sale in all of Poland.
Afghan Girl is a 1984 photographic portrait of Sharbat Gula, a woman who became famous for her photo taken by photojournalist Steve McCurry during the Afghan War when 12-year-old Gula was living in a refugee camp in Pakistan.
McCurry took what was to become one of the most iconic cover photographs for National Geographic Magazine.
In 2002, a national geographic team was on a mission to find the long lost iconic girl, upon entering Nasir Bagh camp in Pakistan, the team found her brother which led them to find her, Sharbat Gula had returned to her native country in 1992.
She was 30 when identified by John Daugman with the help of IRIS recognition.
Sharbat Gula a green-eyed Afghan girl's photo, hailed as the Mona Lisa of the 21st century.
https://www.khaama.com/iconic-afghan-girl-photo-sold-for-a-record-price-poland-8778576/
--------
TikTok Star Jannat Mirza to Leave Pakistan after it Banned China-Based Social Media Application
Sameer
17th October 2020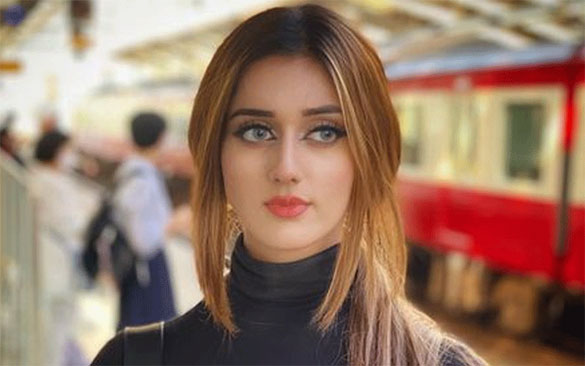 Pakistani TikToker Jannat Mirza
-----
Islamabad: Pakistani TikTok star Jannat Mirza decided to leave the country days after the country banned China-based social media application, The News International reported.
Reaction of fans after Pakistani TikTok star Jannat Mirza announces decision
As Mirza is the first TikTok user to hit over 10 million fans in Pakistan, the news has left millions of her fans are devastated.
The News International reported one of her fans asking, "Jannat why u and Alishba ignoring this text. 'Why r u moving to Japan [sic].'"
While replying the TikTok sensation said, "Ku k Pakistan bht pyara or acha hai lekin Pakistan k logo ki mentality achi nhi (Though Pakistan is beautiful, but the mindset of its people isn't)."
Pakistan banned TikTok
On October 9, Pakistan joined the list of countries like India and the US — whose differences with China are out in the open — in banning the Chinese app TikTok.
The ban on the Chinese social media app on Friday citing "immoral content", left many wondering, if Islamabad's dream of becoming an "all-weather ally" with Beijing will ever become a reality. The Pakistan government has often been accused of turning a blind eye towards human rights violations against Muslims in the Xinjiang region of China in hope of having an "all-weather ally".
The ban by Pakistan comes at a time when there is an international outcry over the short video-making app for compromising the nations' security at the behest of China.
The video-sharing app, which is owned by China's ByteDance, has been downloaded almost 39 million times in Pakistan and is the third-most downloaded app over the past year after WhatsApp and Facebook, according to analytics firm Sensor Tower.
Lahore High Court
Recently, a miscellaneous civil application was filed in the Lahore High Court demanding an immediate ban on TikTok.
Advocate Nadeem Sarwar had moved the application on behalf of a citizen who is also a petitioner in the main petition in this regard, pending with the court, The Dawn reported.
The lawyer contended that hearing of the main petition against TikTok had not been fixed so far and the matter was of great importance. More than 10 deaths had been reported in the country in incidents relating to the users of the application, he said.
https://www.siasat.com/pakistani-tiktok-star-jannat-mirza-to-leave-the-country-2000777/
--------
Middle East Airlines Runs First Flight With All-Female Crew
NAJIA HOUSSARI
October 16, 2020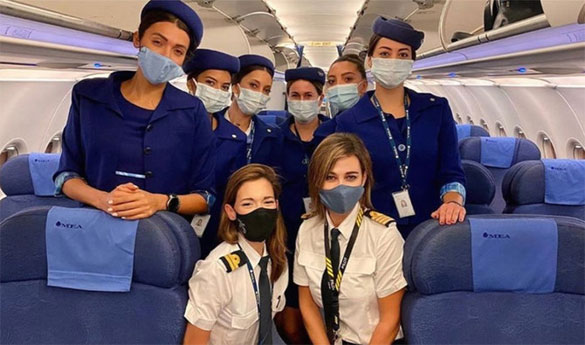 Lebanese Middle East Airlines (MEA) female cabin crew posing for a picture on October 15, 2020. (Photo Courtesy: Social Media)
----
BEIRUT: On October 13, an all-female crew staffed a Lebanese Middle East Airlines (MEA) flight for the first time in MEA's history.
Captain Rola Hoteit piloted the round trip to Cairo and told Arab News that it was only once the crew had boarded that they realized the plane was being flown by an all-female staff.
"We were all surprised," Hoteit said. "Such an arrangement happened by coincidence. We did not know that it was a pioneering event. The computer specifies the work schedule and no one — neither in the management of the company nor in the airport — knew that the crew would be an all-female one. We were very excited. We took a lot of photos since coincidence only happens once."
The crew consisted of Hoteit, her assistant and six flight attendants. Hoteit posted about the flight on social media on Wednesday and said she cannot believe the amount of positive feedback she has received.
"It was a full plane on the way to Cairo and there were around 100 passengers on the way back to Beirut. However, none of the passengers knew that the whole crew is made up of women only, and we did not inform them that, fearing that some of them might be concerned," she added. "We did our job perfectly and we later found out, through comments, that people accepted the matter and that everyone is ready to accept change."
Hoteit has been a pilot for 25 years, and said her ambition has always been to fly with an all-female crew on board. "I had the privilege to be the pilot on Tuesday, with a crew consisting only of women for the first time in Lebanon," she said. "I expected this event (to happen) on International Women's Day, for example, as a sign of women's power in Lebanon and their ability to excel in all areas of work. However, (my) dream was realized by coincidence."
While women account for more than 50 percent of MEA's administrative staff, according to airline management, Hoteit is the only female pilot currently on its books, along with six female first officers. Over 85 percent of the airline's flight attendants are women.
Claudine Aoun Roukoz, president of the National Commission for Lebanese Women, said women are also playing an increasingly important role in the military, in line with Lebanon's commitment to international resolutions, including the United Nations Security Council Resolution 1325 on women, peace and security, which urges the increased participation of women in all defense and security forces.
Lieutenant Rita Zaher, 27, was the first female pilot in the Lebanese Air Force, followed by First Lieutenant Chantal Kallas, 28. Women have also joined the maintenance, testing, and administrative departments. The percentage of women in the Air Force is now 8.51 percent, Roukoz said.
Women also account for 43 percent of students in Lebanon's military academy and 5.5 percent of soldiers. Five women currently hold the rank of brigadier general, according to Roukoz.
https://www.arabnews.com/node/1749946/middle-east
--------
Pakistani Drama, "Churails", or "Witches", Hailed For Portraying Strong Women Put Back On Air
By Zofeen Ebrahim
OCTOBER 9, 2020
Karachi (Thomson Reuters Foundation) - A Pakistani drama praised for its progressive portrayal of women was put back on the air on Friday after being removed from a streaming platform earlier this week following complaints to authorities.
The 10-episode series, which launched in August and tracks four women who set up an undercover detective agency to expose unfaithful husbands, has won plaudits for showing strong female characters taking control.
It also shows women swearing, drinking and taking drugs, and tackles subjects seen by many in conservative Pakistan as taboo, including sexual abuse, marital rape and homosexuality.
Earlier this week the series, called "Churails", or "Witches", was removed from Zee5, an entertainment platform that was streaming it in Pakistan, without explanation.
"The show was taken off the platform in Pakistan purely in compliance with a directive that we received," a spokesman for Zee5 told the Thomson Reuters Foundation in emailed comments.
"We have now addressed the matter and reinstated the show on our platform".
The Pakistan Telecommunications Authority said it had contacted the platform after receiving complaints about the programme.
Writer and director Asim Abbasi hailed the show's return.
"The witches who wouldn't burn... not for now, anyway. #Churails back on in Pakistan," he posted on Twitter.
Pakistani film critic Omair Alavi said Zee5 had taken a "huge risk" in selecting "Churails" as the first in a series of Pakistani-directed shows because the drama was "miles apart from what the viewers were accustomed to".
Women's rights are a contentious issue in Pakistan.
This year, Islamists pelted marchers marking International Women's Day with stones, shoes and sticks.
Organisers said they faced a backlash from conservative elements in the country, which a 2018 Thomson Reuters Foundation poll found to be the world's sixth most dangerous for women.
https://www.reuters.com/article/us-pakistan-women-television-idUSKBN26U288
--------
Why is China shaving the hair of Uygur Muslim women? American NSA explained the reason
by Bhavi Mandalia
October 17, 2020
Beijing
China is going to do some genocide again in its Muslim-dominated province of Xinjiang. US National Security Advisor Robert O'Brien claimed that China is doing something akin to genocide to treat Muslims in its Xinjiang region. For this, the Chinese administration is also shaving the heads of Muslim women held captive in large detention camps.
America uses the word 'genocide' for the first time
No major US official has yet accused China of massacres like the one in Xinjiang. For the first time, US National Security Advisor Robert O'Brien has used the term in the Aspen Institute's online program. It is believed that many legal implications of this term will also be removed and strict restrictions can be imposed on China.
China calls Detention Camp a vocational training center
According to the UN report, China has kept more than 1 million Jiga Uygur Muslims imprisoned in detention camps in Xinjiang province. Many human rights organizations allege that China is committing genocide here and it is a crime against humanity. While China has been denying these allegations since the beginning. He says that camps in the region provide vocational training, which helps fight extremism.
Eight million Muslims imprisoned in detention camp of China, intelligence documents revealed
China is sending the things made of hair of Muslim women to America
The NSA said that American border custom has recovered large-scale products made from human hair from Xinjiang. He alleged that the Chinese government was shaving the hair of Uygur Muslim women imprisoned in these camps and making products from them and sending them to America. In June, the US US Customs and Border Force reported that they had seized a shipment of hair products and goods coming from Xinjiang. There was a possibility that it was prepared by imprisoned Uygurs in Campo, Xinjiang.
China is forcibly sterilizing Muslims
China is already forcibly sterilizing and aborting Uygur Muslims. In the far western region of Xinjiang, some experts are calling the campaign for the last four years a kind of 'demographic carnage'. Interviews and statistics show that the province asks women of minority communities to undergo regular pregnancy checkups, forcing them to undergo intrauterine devices (Intrauterine Device, IUD) in addition to undergoing sterilization and for aborting millions of women.
China set up 400 detention camps in Xinjiang, 8 million Uygar Muslims living like hell
China calls it a vocational training center
However, Chinese leaders deny this. They call this Detention Camps a vocational training center. According to the Chinese government report, 415,000 Uygur Muslims were imprisoned in southern Xinjiang from 2014 to 2019. Many of these people are also imprisoned more than once. In total, more than 80 million people are currently detained in detention camps in China.
What is the trend of Muslim countries including Pakistan
No Muslim country has so far openly opposed China over the oppression of Uygur Muslims. Not a word has emerged from the mouths of Muslims around the world, from the mouths of Saudi Arabia, Turkey and Pakistan. All these countries do not want to fall prey to China's enmity. However, their attitude towards Muslims in any other part of the earth remains very strict.
China continues to oppress Muslims for Haj, 42 new rules issued
America took strict steps on Uygur case
The US had on July 9 banned three senior Chinese Communist Party officials for human rights abuses of Uygur Muslims. The US had already warned of stern action against China. It is being said that the US is also planning to take action against many other Chinese officials.
China is forcibly contraceptive to reduce the population of Uygar Muslims
Who are Uygur Muslims
The Uygurs are a Turkic community living in Central Asia whose language Uygur is also very similar to the Ottoman language. The Uygurs are inhabited in Tarim, Jangar and part of the Tarpan Basin. The Uygurs themselves call all of these areas as Ugistan, Eastern Turkistan and sometimes Chinese Turkistan. The region borders Mongolia, Russia, Kazakhstan, Kyrgyzstan, Tajikistan, Afghanistan, Pakistan and India as well as China's Gansu and Chinghai provinces and the Tibet Autonomous Region. In China, it is known as Xinjiang Uygur Autonomous Region (XUAR) and the area is about one-sixth of the area of China.
https://pledgetimes.com/why-is-china-shaving-the-hair-of-uygur-muslim-women-american-nsa-explained-the-reason/
--------
HRC warns against depriving young women of their legitimate rights
October 12, 2020
RIYADH — The Human Rights Commission (HRC) warned guardians against depriving young women of their legitimate rights, especially by using pressure tactics or leveling false allegations. The commission emphasized that young women must be given their due rights guaranteed by the Islamic Shariah and the Kingdom's laws and regulations.
"All the concerned authorities must follow these regulations and not bypass any one of them. They must adhere to the regulations in line with the reforms introduced by the Kingdom under the leadership of Custodian of the Two Holy Mosques King Salman and Crown Prince Muhammad Bin Salman to empower women and secure their rights," the commission said in a statement while emphasizing that the recent decisions and amendments made to many regulations, including the regulations related to women's travel, work, social insurance, and civil status, fall within the framework of empowering women and promoting their rights.
HRC said that some families and parents resort to filing complaints about young women's absenteeism or absconding in a malicious way, and this happens especially in the case of those who have reached the legal age.
The Commission underlined the need to codify reports of absenteeism, absconding, and deprivation of rights in line with the reforms adopted by the Kingdom in the framework of empowering women, as well as in line with the amendments made to many relevant laws and regulations in this regard.
HRC cited instances in which the family or guardians violate the rights of young women. These include exposing them to psychological or physical pressure and harm, depriving them of their inheritance rights, and denying the rights guaranteed to them by the Islamic Shariah and the Kingdom's laws. The Commission confirmed that it had come to the conclusion through the analysis of a number of such complaints that most of the claims are malicious.
The cordial atmosphere within the family, spreading the spirit of dialogue and affection among family members, making young women familiar with their Shariah and legal rights and duties, and educating them about these rules are among the most prominent factors that prevent such incidents.
The family has, however, the right to report about absenteeism or absconding of young women so as to ensure their safety and exposure to any crime, the commission noted.
https://saudigazette.com.sa/article/599046
--------
Iranian Women Facing Prison for Letter Asking Khamenei to Quit Say They Have No Regrets
By Michael Lipin, Ramin Haghjoo
October 17, 2020
WASHINGTON - Two female Iranian dissidents have responded defiantly to being summoned to start prison terms in Iran, saying they have no regrets for signing the 2019 letter that called for the nation's Islamist ruler to quit and triggered their arrest.
In exclusive Thursday interviews with VOA Persian from Iran, Shahla Entesari and Shahla Jahanbin said they had received phone calls the previous day from Tehran's Evin prison, notifying them that they must report to the jail within 10 days. Iran's judiciary has ordered the two women to serve 27-month prison terms for signing the Aug. 9, 2019, open letter that demanded the resignation of Iranian Supreme Leader Ayatollah Ali Khamenei.
Entesari and Jahanbin were among 14 Iranian women who signed the letter and who were later charged by Iranian authorities with spreading anti-government propaganda and "gathering and conspiring against national security."
The signatories wrote, "We rise against this anti-woman regime that has wiped out our human values and demand a complete departure from the Islamic Republic and drafting of a new constitution for the establishment of a state in which women's dignity, identity and equal rights are recognized in all areas."
Iran has been led by Shiite clerics since they seized power in a 1979 Islamist Revolution.
'Don't regret' signing
Iranian security agents arrested Entesari and Jahanbin in connection with the August 2019 letter later that month before releasing both on bail in November.
The two women told VOA they "don't regret" signing the letter, even though they face the prospect of imminent imprisonment that could exacerbate their existing medical problems and put them at risk of coronavirus exposure. International rights activists have documented multiple coronavirus outbreaks in Iran's unsanitary and overcrowded prison system.
Jahanbin suffers from osteoarthritis, a degenerative joint disease affecting both her neck and shoulders, while Entesari has heart disease and tremors in her arm and leg.
Jahanbin said she had received an initial prison summons in May but asked authorities to delay her incarceration so that she could undergo a needed back surgery and have time to recover from the procedure. She said the authorities granted her a two-month recovery period, but she was unable to schedule the surgery because of the pandemic.
Iranians who resist an initial prison summons can receive several follow-up notices over a period of weeks or months, but also risk being arrested and sent to jail at any time.
"We stand by our words," Jahanbin said in reference to the letter demanding Khamenei resign. She said she remains concerned about the increasing problems facing Iran as its Islamist rulers struggle with the Middle East's worst coronavirus outbreak and a two-year economic recession fueled by escalating U.S. sanctions and government mismanagement.
'We only made a request'
Jahanbin also said she and the other signatories of the letter did nothing wrong. "We did not gather or foment any violent movement. We only made a request (of Khamenei) based on our constitutional rights," she said.
Speaking separately to VOA, Entesari said the more time that has passed since signing the letter, the more she believes it was the right thing to do.
"Iran's worsening situation, whose main cause is the incompetence of its Islamist rulers, shows how correct our statements were," Entesari said. "It is because of their weakness that they want to imprison anyone who seeks freedom and makes the slightest criticism against them," she added.
Iranian state media have been silent on the cases of the two women in recent weeks.
The letter signed by Entesari and Jahanbin was inspired in part by an earlier June 2019 open letter in which another 14 dissidents, mostly men, issued similar demands for Khamenei to quit and for Iran's Islamist constitution to be changed.
Most of the signatories of the first letter also were arrested and charged with national security offenses. One of those detained in August 2019 was Jahanbin's husband, Abbas Vahedian Shahroudi. He was granted a temporary release from a prison in Mashhad in July.
https://www.voanews.com/middle-east/voa-news-iran/iranian-women-facing-prison-letter-asking-khamenei-quit-say-they-have-no
--------
Two Additional Women Summoned To Prison For Calling On Khamenei To Step Down
October 16, 2020
Two additional names who signed the second statement of Iranian women calling for Iran's Supreme Leader, Ayatollah Ali Khamenei, to step down have been summoned to the "Revolutionary Court" to serve their sentences.
The court is based in Tehran's infamous Evin prison.
On October 15, the Campaign to Defend Political and Civil Prisoners reported that Shahla Jahanbin and Shahla Entesari, two female signatories to Khamenei's resignation statement, were sentenced to four years and two months in prison with a two-year ban on membership in parties, political and social groups each, in October 2019 by Branch 26 of the Revolutionary Court, headed by Judge Iman Afshari.
A "telephone call summoned Entesari and Jahanbin" last Wednesday.
The report states that the two civil activists' sentences were reduced to 44 months' imprisonment for being mothers and for a lack of a criminal record.
The report says, "the sentence was further reduced to 33 months' imprisonment for the defendants' decision to refrain from contesting the verdict."
According to Article 134 of the Islamic Republic's Penal Code, 27 months' imprisonment will apply to each of them.
Human Rights Activists News Agency, HRANA, also reported that Jahanbin and Entesari were summoned to Evin Prison last November and released on five trillion rials (about $119,000 on official rate) bail each.
In June 2019, 14 civil and political activists inside Iran issued a statement calling for Ali Khamenei's resignation. Following their request, 14 female civil and political activists issued a similar statement demanding Khamenei step down.
"Four decades of this theocracy has eliminated the rights of half of the country's population," the women's rights activists asserted on August 5, 2019, calling for "civil and non-violent measures" to leave behind "this anti-women system" and compose a new constitution for Iran.
At the time, Giti Pourfazel, an attorney and one of the signatories in Iran, told Radio Farda in an interview on Tuesday "twenty million other Iranian women could count themselves as the fifteenth signatory."
All 14 activists reside in Iran, which makes their actions extremely dangerous for their freedom and safety.
In addition to Jahanbin and Ansari, Giti Pourfazel and Zahra Jamali were also sentenced to four years and two months in prison and a "two-year ban from membership in political parties and social groups" each.
Pourfazel was also released on five trillion rials bail. However, Jamali, arrested in September 2019 at her sister's house, is still behind bars in the women's ward of the notorious Evin Prison.
"We, 14 civil rights and women's rights activists, are determined to continue our combat until victory through civil and non-violent measures. Like other pioneers [of non-violent freedom fighters], we go ahead by chanting 'no to the Islamic Republic,' the letter said.
Furthermore, the letter singled out "systemic tyranny and irresponsibility" as the leading cause of Iran's problems and the country's current chaotic situation.
"In a world that women in most countries move side by side with men in science, economy, culture, arts, and politics, under the Islamic Republic women still fight for their basic human rights," the letter stressed.
Nosrat Beheshti, Shahla Entesari, Shahla Jahanbin, Zahra Jamali, Ezzat Javadi Hessar, Nargess Mansouri, Farangis Mazloum, Kimia Norouzi Saber, Parva (Sakineh) Pachideh, Giti Pour Fazel, Fatemeh Sepehri, Maryam Soleimani, Soussan Taherkhani, and Fereshteh Tasvibi were the signatories to the letter.
https://en.radiofarda.com/a/two-additional-women-summoned-to-prison-for-calling-for-khamenei-to-step-down/30896930.html
--------
URL: https://www.newageislam.com/islam-women-feminism/iconic-afghan-girl-sharbat-gula/d/123177
New Age Islam, Islam Online, Islamic Website, African Muslim News, Arab World News, South Asia News, Indian Muslim News, World Muslim News, Women in Islam, Islamic Feminism, Arab Women, Women In Arab, Islamophobia in America, Muslim Women in West, Islam Women and Feminism