New Age Islam News Bureau
4 Aug 2017
• First Pakistani Woman Climbs Spanitik Peak
• Denmark Prosecutes Woman for Joining ISIS in Syria
• Men Outnumber Women As UAE Population Hits 9 Million
• Female Health Professionals in Umerkot Allege Abuse by Court, Police Officials
• British Woman Fears Arrest after Drunkenly Abusing Muslim
• Malala Shares Photos As She Receives Copy of Her First Picture Book
• Utah Muslim Women Encourage Honest Dialogue about Islam
Compiled by New Age Islam News Bureau
URL: https://www.newageislam.com/islam-women-feminism/i-wear-niqab-act-defiance/d/112088
--------
'I Wear Niqab as an Act of Defiance': Five Women on Being Muslim in Canada
AUGUST 3, 2017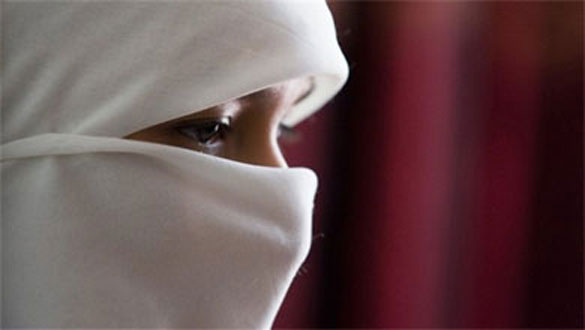 'I Wear Niqab as an Act of Defiance'
------
Last fall, Alia Youssef was sitting in a Woman in Islam class at Ryerson University, when a speaker said that the media paints all Muslim women with one brushstroke. Youssef, who's been taking photos since she was 14, had an immediate thought: Why don't I do something to change that?
By December, Youssef had started The Sisters Project, an ongoing series of more than 35 portraits of Canadian Muslim women with one goal: to subvert the portrayal of Muslim women as voiceless victims of their religion.
"When you search 'Muslim woman' on Google, you find a lot of women in black Niqabs, usually really sad-looking," says Youssef, who graduated from Ryerson's photography program this year. "I wanted to take real portraits of women that were authentic and more accurately represented what I knew Muslim women to be like. And I realized that, by doing that, I was welcoming people in who weren't used to the culture and the religion." Here, five portraits and stories from the project.
"A lot of Muslims try to go out of their way not to be seen as the terrorist or the stereotype, and I just don't want to have to do any of that. I don't want to perform being the 'good Muslim.' I just want to be able to be who I am. The predominant tropes and stereotypes of Muslim women are that they're always victims of the patriarchy and the community, or that they don't have agency or voice. Do I believe them? No. They have very little to do with actual Muslim women and a whole lot to do with various agendas."
"Muslim women have professional roles and responsibilities in society. We are not silent and unapproachable. I teach adult students from all different cultural, religious and ethnic backgrounds. My religion does not isolate me. People think that I don't speak English, or that I come from another country or am of Arab descent. I've learned a lot about Middle Eastern culture and the Arabic language, but I also have a lot of Canadian habits and personality traits that make me different from others in the faith community."
"The biggest stereotype is that we're all the same oppressed or limited type of person just because of a God we choose to believe in. Even Muslims will sometimes stereotype a Muslim hijabi as being perfect. And while it's not a negative stereotype, it's a burden to always have someone expect so much of you. I'm human and I make a lot of mistakes. Wearing a hijab is my attempt at trying to be a better Muslim, but it doesn't mean I'm perfect."
"Persistence is what has allowed me to get to where I am today. Life hasn't been easy, but no matter what I've had to deal with, I believe taking a step forward is the only option we have. What's most important to me is my faith and connection to Allah, God or the Great Spirit. My life is committed to being of service and to supporting the most vulnerable people of the world. My goal each day is to be good and to do good."
"I wear Niqab as an act of defiance. The patriarchy keeps telling me what to wear because somehow they know what it means to be liberated from Taliban-like oppression. But at the end of the day, being a Muslim, a woman of colour, a Canadian immigrant and a feminist to top it all off, it doesn't matter if I free the nipple or if I don't wear niqab. My body will be policed and my choices scrutinized."
https://torontolife.com/culture/art/sisters-project-muslim-women-alia-youssef/
--------
First Pakistani woman climbs Spanitik Peak
August 03, 2017
ISLAMABAD: For the first time, a Pakistani woman has reached the summit of the Spanitik Peak in the Karakoram Range on Wednesday, the Alpine Club of Pakistan (ACP) said.
Uzma Yousaf reached the top of the 7,027 metre mountain in the Gilgit-Baltistan region at 9:16am, said ACP spokesperson Karrar Haidri.
The mountain is popular for organised commercial expedition due to its relative ease of ascent and scarcity of objective dangers. Nonetheless, climbers who have attempted the climb and have reached the top describe Spanitik peak as one of the most technically difficult mountains which stand more than 7,000 metres.
According to one climber, the trekking stretch across razor sharp rocks is treacherous as the 40 degree steep climbing sections of the peak cannot be negotiated without fixing ropes and temperatures can plummet to 30 degrees below zero in the nights and strong winds are also very common on the mountain.
Mr Haidri said the mountain was as difficult to climb as any of those which stand over 8,000 metres tall.
"With this accomplishment, Uzma Yousaf is also the first Pakistani woman to summit any 7,000 metre peak in Pakistan," he said.
The Spanitik Peak is also known as the 'Golden Peak' and was last climbed by a 12-member Pakistan-China Friendship expedition in July 2012 which was led by retired Col Abdul Jabbar Bhatti, who recently became the fourth Pakistani to reach the top of Mount Everest.
The ACP said new records have been made this summer with Vanessa O'Brien becoming the first American woman to reach the top of K2 and Spanish climber Oscar Cadiach completing his goal of climbing all 14 peaks above 8,000 metres when he reached the top of Broad Peak a week ago.
Two French climbers also descended on skis from the top of the 8,032 metre high Gasherbrum II.
https://www.dawn.com/news/1349340/first-pakistani-woman-climbs-spanitik-peak
--------
Denmark prosecutes woman for joining ISIS in Syria
Aug 4, 2017
COPENHAGEN, Denmark: A 19-year-old Danish woman has been indicted on suspicion of violating terrorism laws for allegedly joining the Islamic State group in war-torn Syria.
Prosecutor Bo Bjerregaard says the unnamed woman is abroad — "probably in Syria" — and an international arrest warrant could be issued. He declined to give details about such an arrest order.
The woman was indicted in absentia at a closed court hearing Wednesday in suburban Copenhagen. She allegedly traveled to Syria via Turkey in June, and is also accused of having tried to help a female family member to get there in March. Media reports said her court-appointed defense lawyer pleaded not guilty.
Denmark's security service earlier said that about a third of the at least 145 people who have been radicalized since 2012 are women.
http://nation.com.pk/international/03-Aug-2017/denmark-prosecutes-woman-for-joining-isis-in-syria
--------
Men outnumber women as UAE population hits 9 million
August 3, 2017
DUBAI: The Federal Competitiveness and Statistics Authority (FCSA) announced on Thursday that the UAE population was 9,121,167 according to administrative records updated as of December 31 last year. The population records also showed that men formed 69 per cent of the population at 6,298,294, while women numbered 2,822,873.
The UAE is among the first countries in the region to reveal the population count relying on national administrative data methodology. This methodology has many advantages such as very high accuracy, speed of processing and dissemination of data, and significant financial savings in costs of field count and survey operations, whereas there is virtually no direct cost in disseminating data based on national administrative records.
"Since the inception of the FCSA, one of our strategic objectives has always been to spare no effort in evolving and modernising the statistical ecosystem in the United Arab Emirates in accordance with the best and most advanced global standards and best practices," said Abdullah Nasser Lootah, director-general of the authority.
"And thanks to the successful collaboration and support of our national partners and stakeholders in the UAE, we can now unveil the most up-to-date UAE population figures for the year 2016. We will be able to update the population number on an annual basis," he added.
Population data is one of the most important national data sets and is used for research, planning, decision-making support and policy formation. With the official population now available, UAE government entities, international organisations and the private sector will be able to use the findings in their research and studies.
http://gulfnews.com/news/uae/government/men-outnumber-women-as-uae-population-hits-9-million-1.2068636
--------
Female health professionals in Umerkot allege abuse by court, police officials
Allah Bux Arisar
August 04, 2017
Umerkot police on Thursday said they would inquire into allegations of verbal and physical abuse of two female health professionals at the hands of a district and sessions court superintendent and police officers.
Dr Kiran and Lady Health Visitor (LHV) Tejan addressing the media together at a local press club accused a superintendent of the district and sessions court Umerkot of abusing and humiliating them, and ordering policewomen to "torture" them.
Narrating the incident, Dr Kiran claimed she and Tejan had been performing their duties at the District Headquarters Hospital when an individual posing as a police guard of an Umerkot civil judge approached them with a request to visit the judge's residence in order to administer an injection to his son.
She said they asked the 'guard' to speak to the hospital's medical superintendent, as they were not allowed to leave the hospital without his permission. In response, the person left immediately, she said.
Later in the day, when both arrived at their respective residences, they found police personnel waiting outside their homes to inform them that they had been called to court, she claimed.
"Upon reaching the court, District and Sessions Court Superintendent Akbar Rahimoo abused us, humiliated us, and ordered lady police personnel to teach us a lesson in the courtroom," the doctor alleged, adding that the policewomen kicked, punched and slapped them in the presence of three lawyers and court staffers.
"We demand justice," she concluded.
Senior Superintendent of Police (SSP) Umerkot Usman Aijaz Bajwa told DawnNews that he had already summoned the policewomen allegedly involved in the incident to inquire into the matter.
"If proven guilty, I will suspend them and deal with the matter as per the prescribed procedure," the SSP said, adding that he would also speak to the district and sessions court judge regarding the allegations.
Akbar Rahimoo, the court's superintendent, while speaking to DawnNews, claimed that he had only been following orders.
"I am just a subordinate. I acted upon the orders of the honorable session judge to call them at court," he claimed, strongly denying the accusations of abuse and humiliation.
Different lawyers forums and bar associations have expressed their anger over the incident on social media and demanded justice. They have also announced their intention to file a petition to take up the matter legally.
https://www.dawn.com/news/1349392/female-health-professionals-in-umerkot-allege-abuse-by-court-police-officials
--------
British woman fears arrest after drunkenly abusing Muslim
Aug 4, 2017
A British woman who fired racist abuse at a Muslim over the veil she was wearing is now terrified she will face charges, according to reports.
Kerrie Anne Turner, 48, was apparently heavily intoxicated when she launched a malicious tirade at the woman and her husband at a supermarket in west London.
Speaking to the couple from the checkout, Ms Turner called the woman's niqab "disgusting" and said her husband should not allow her "to go around like that".
"Do you know the Qu'ran? And you're supposed to be a peaceful f***ing person!" she yelled.
"She looks like a bloody pillar box! A pillar box! That is disgusting and should be banned."
Ms Turner was flanked by her partner for the entire tirade, but he stood there blank-faced, refusing to butt in or try to calm her down.
A friend of Ms Turner's told the Daily Mail she had been crying on the phone, saying she was upset the footage of her outburst had been uploaded online.
Ms Turner, who has apparently fled her hometown for a few days, also expressed that she was worried about being arrested.
Police are currently investigating the incident, which took place on Monday (local time).
http://www.newshub.co.nz/home/world/2017/08/british-woman-fears-arrest-after-drunkenly-abusing-muslim.html
--------
Malala shares photos as she receives copy of her first picture book
August 4, 2017
Malala took to twitter and shared the photos of her picture book late Thursday night.
She tweeted; "I am thrilled to find a copy of my first picture book, Malala's Magic Pencil!". The book will be out in October this year, she said.
Malala was optimistic her Malala's Magic Pencil would inspire children around the world with its beautiful illustrations.
The Nobel Laureate also tweeted photo with her mother, who is holding her daughter's first written book, saying "I am so happy my mother, who is also learning English, is the first one to read my book."
Published by Puffin, "Malala's Magic Pencil" is aimed for readers aged 4-8, and is categorised as "Juvenile Nonfiction" and "Children's Social Activists Biographies" on Hachette Book Group and Amazon, respectively.
The 48-page-long book's description says it helps children see "the worldview that allowed Malala to hold on to hope even in the most difficult of times" since the world "needed fixing".
It encourages little kids to see they "could still work hard every day to make her wishes come true".
https://www.thenews.com.pk/latest/221316-Malala-shares-photos-as-she-receives-copy-of-her-first-picture-book
--------
Utah Muslim Women Encourage Honest Dialogue About Islam
By LEE HALE
August 4, 2017
A panel of six Muslim Women spoke to a group gathered at Salt Lake City's downtown library Wednesday evening. The event was an effort to create an honest dialogue and dispel common misconceptions about Islam.
The organizer of the panel, Faeiza Javed, is a social worker who grew up in nearby West Valley. She says the feeling in the room during the panel was a sense of "good shock."
Javed could tell many of those in attendance were not used to hearing a Muslim woman's side of the story.
"Their perspective is one that's almost never heard," says Javed.
Topics discussed included wearing the hijab, arranged marriage, even terrorism. Javed believes it's candid conversations like this that break down pervasive feelings of Islamophobia.
She also senses a kind of kinship discussing these issues in Utah among many who come from a Mormon tradition.
"I actually find a lot of comfort because they get it," says Javed. "I just had a couple of individuals come up and say those exact same things to me, they're like, 'We could have closed our eyes and we would have thought it was LDS people speaking on that panel.'"
Panelist Satin Tashnizi says another important aspect of the panel was the diversity represented. The six women in front of the room came from a spectrum of belief and cultures within Islam.
"I was listening to the girl right next to me and I had never heard that perspective," Tashnizi says. "Even as a panelist I wasn't there to teach I was also there to learn."
With regard to wearing the hijab each woman had a unique approach, some choosing to wear it daily while others, like Tashnizi, don't.
Tashnizi says if the takeaway was simply that there are multiple meanings to each aspect of Islam then she considers the night a success.
http://kuer.org/post/utah-muslim-women-encourage-honest-dialogue-about-islam#stream/0
--------
URL: https://www.newageislam.com/islam-women-feminism/i-wear-niqab-act-defiance/d/112088
New Age Islam, Islam Online, Islamic Website, African Muslim News, Arab World News, South Asia News, Indian Muslim News, World Muslim News, Women in Islam, Islamic Feminism, Arab Women, Women In Arab, Islamophobia in America, Muslim Women in West, Islam Women and Feminism