New Age Islam News Bureau
10 Jul 2012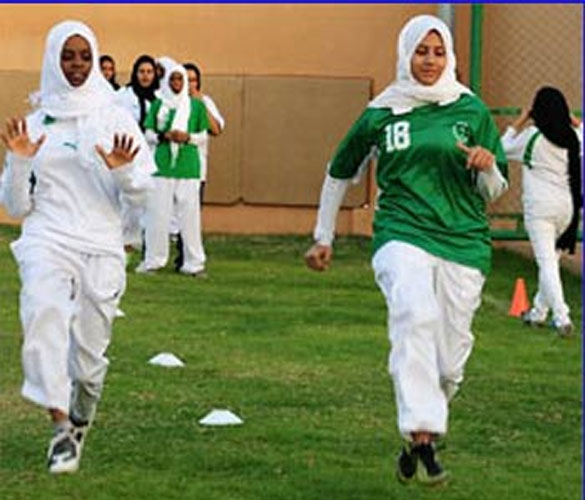 • I'm proud to be the first Muslim woman county cricketer: British woman Salma Bi
• Aussie Muslim Youth Leader Crime Fighter Accused Of Bashing His Wife
• Women officers of Indian Army scale Everest
• No Saudi women qualified for Olympics
• Pak Teenage Girl Kills Father for Scolding Her on Having A Relationship With A Boy
• Afghan Authorities Launch Probe into Woman's Public Execution
• Woman Activist's Murder in Pak Widely Condemned
• Muslim women rewarded for keeping faith with the game
• Int'l Conference on Women's Role in Islamic Awakening Kicks off
Compiled by New Age Islam News Bureau
Photo: No Saudi women qualified for Olympics
URL: https://newageislam.com/islam-women-feminism/i-am-proud-be-first/d/7875
---------
I'm proud to be the first Muslim woman county cricketer: British woman Salma Bi
By: Agencies
LONDON, July 10, 2012 - Salma Bi, 26, is the first Muslim woman to have played County Cricket. Currently employed by the England Cricket Board as a coach for Worcestershire as well as Warwickshire, she is the winner of the Asian Women of Achievement Award 2012 for her cricketing achievements. alma, who came to the UK from Pakistan when she was just six months old, is also a registered Haemodialysis Specialist Adult Nurse and an Olympics volunteer. She spoke to Kanika Tandon about her trials and triumphs in a sport dominated by men.
Q: How were you introduced to cricket?
A: I grew up in a family atmosphere where everybody was interested in sports. I remember watching World Cup cricket for hours on end with my family and that only made me more interested in the game. We all have childhood dreams and, I guess, playing cricket was mine. I witnessed the Ball of the Century bowled by Shane Warne in 1993 and there was no looking back for me then. I just knew I wanted to do exactly what he did.
Q: How supportive was your family?
A: My parents have always been a constant source of encouragement. They saw sports as a way to keep us occupied as well as focused about life - to have a goal and to achieve it.
Q: It must have required a lot of commitment from your side to keep the cricket going...
A: It always takes a whole day of play for a good game of cricket. I had to juggle college studies, driving lessons and playing cricket to secure a place in the women's league team. For me it wasn't only the passion for the game which made me persevere, but also the belief that I can carry on and achieve something in the game.
Q: Were there instances when you had to go to practice/training without informing your family?
A: When I was selected to play cricket at an official level, my family found it difficult to adjust to my staying away from home for long periods and dedicating weekends to cricket. They worried that too much of focus on cricket may take away my attention from studies. Yes, there were instances when I had to go for training after studies or work without informing them but it was only to cause them less inconvenience. I'd rather do something myself than let my family be hassled over arranging transport or keep an eye on the clock.
Q: What have been your biggest challenges in pursuing cricket?
A: I have always feared not making it to the squad. It really knocked my confidence when I struggled to get into the County games or was made the 12th man for ongoing games in a season. Those moments of doubts, when you question your own ability and enjoy the game less, are the most difficult in any cricketer's life. Finance is another issue since women's cricket isn't paid as much unless you play internationally. My nursing job pays for my sporting activities.
Q: Women's cricket does not get as much of sponsorship or publicity or even popularity as compared to men's cricket. What's your take on it?
A: Women play cricket just like men - same kit, same rules and same sport, so why not the same channel? We don't get to witness much of women's international cricket being played around the globe. However, each season I play, it gets even busier than before, with more fixtures.I watched the Women's World Cup T20 final played just after the men's game. It was such a fantastic way of allowing the crowd to witness Australia take on New Zealand in the finals and it was such a thriller of a match.
Q: Why do you think there are so less women in cricket?
A: I have been playing cricket for over 12 years now, have travelled all over the UK and played cricket at many levels. And, I can say that the sport is always growing. Yes, I see familiar faces but still, there is so much of talent yet to be discovered. Some women, you won't expect to take interest in cricket, actually want to do it more than anything else.If female sport, especially women's cricket, is promoted a lot more and wider across the globe, we will always be finding new and young players coming through.
Q: How successful have you been in breaking stereotypes?
A: I'm proud to have made history as the first-ever Muslim Asian to represent the Worcestershire Senior Women's County Squad. It is something that has made my life's story worth telling. I am the third highest wicket-taker in the entire region - top two being men and the next girl at the 10th position. I feel these achievements of mine have helped boost women's cricket too. Also, I don't just play cricket but as a highly competent coach, I have encouraged many Asian girls to step forward and play cricket. They see me as a role model and it makes me feel a lot more comfortable. It's not just about winning awards but being recognised for the work you do which matters': What do you see as the motivating factor (yours and your students') towards carrying on with cricket?
A: Being patient and having a never-give-up attitude is important. A drive to succeed and inspiring by example is something I have developed over the years. My younger sister Anisha Bi, [who] represents Warwickshire Under-17s squad, has a lot of potential and I am helping her prepare herself to play cricket at an international level.
http://www.nation.com.pk/pakistan-news-newspaper-daily-english-online/sports/10-Jul-2012/i-m-proud-to-be-the-first-muslim-woman-county-cricketer-salma-bi
-----------
Aussie Muslim Youth Leader Crime Fighter Accused Of Bashing His Wife
10/07/2012
ANTI-CRIME crusader Fadi Abdul-Rahman has been accused of bashing his estranged wife "black and blue" at her Yagoona home.
Muslim leader Abdul-Rahman, who featured at Kevin Rudd's 2020 Summit in 2008 and has been a fighter for justice in western Sydney, was charged with assaulting his wife on February 6.
Despite being the alleged victim, Abdul-Rahman's wife is now wedged between her religion, her husband and the NSW legal system after a Sydney court threatened to arrest her if she refused to give evidence when her husband's case next appears in court.
The ex-boxer screamed "f ... ... let me in", ripped a door security screen, forced his way into the house, and bashed his wife of 16 years, leaving her with two black eyes, court documents said.
Abdul-Rahman is charged with assault occasioning bodily harm, aggravated break and enter and home invasion, and will face a committal hearing next month.
Lawyer Brett Galloway said Abdul-Rahman will defend the matter and has no case to answer
Abdul-Rahman, 35, became a prominent figure for his work in steering Lebanese youth away from a life of crime, and was the subject of SBS and ABC TV documentaries.
Court documents said on the night of the alleged assault, Mrs Abdul-Rahman spoke to police. An officer asked her "who did this to you?" and she replied: "My husband."
The officer then told her: "I cannot help you without the truth in what happened".
Mrs Abdul-Rahman has refused to make a formal statement after speaking to her mosque's sheik and to family members, court documents said. Police have made several further unsuccessful approaches to Mrs Abdul-Rahman.
In Burwood Local Court on June 28, magistrate Michael Connell ordered that if Mrs Abdul-Rahman does not appear in court on July 8 he "may consider" issuing an arrest warrant.
Court documents said police, called to the house by neighbours, found Mrs Abdul-Rahman with bruised eyes.
Police allege Abdul-Rahman went into a "rage" when his wife told him to "go away", court documents said.
An officer at the house viewed a mobile phone which received a text message that said: "It's OK to answer your phone. Make sure (Mrs Abdul-Rahman) is not talking", court documents said.
http://tundratabloids.com/2012/07/43161.html
---------
Women officers of Indian Army scale Everest
Prerna Sodhi,
Jul 10, 2012,
NEW DELHI: It is a view that many would dream off. As 25-year old Captain Smitha, stood atop the Mount Everest, she could see some of the highest mountain peaks like Kanchenjunga below her. Better still she got a bird's eye view of Tibet and Nepal simultaneously. After a 7-day expedition up the highest mountain peak in the world Captain Smitha was exhilarated to complete her trek to the summit.
"It took me some time to realize I had reached the top of Mount Everest. And as I stood there I could see small mounds and also Tibet and Nepal sprawled across," she said. Even after coming down with a lung infection the young officer was one of the first to reach the summit.
Captain Smitha along with six other women officers of the Indian Army achieved this feat by not only challenging steep heights of the mountain but also its harsh weather conditions, strong winds, blinding blizzards and avalanches.
The youngest officer in the team, was speaking to TOI at the flag in of the Indian Army Women Everest Expedition 2012 that was attended by President Pratibha Devisingh Patil. The entire expedition that was filmed by the Discovery Channel captures the arduous task undertaken by these seven women along with a team of ten other members comprising of male officers and a Sherpa.
Officers say that their entire journey had its moments of drama, disappointment, adventure, disturbing scenes and risks. Describing one particular incident which was the journey from the South Col, a camp at 8,200 meters above the sea level, to the summit that is at 8,848 meters above the sea level, the scene that awaited them made the back of their hair stand.
"After reaching South Call, we started our journey to the summit at 7:30PM. It was decided to travel by night as the winds are not that strong," said Major Neha Bhatnagar.
"In the night it is only the head lamp that provides us with the light we need. And while trekking up, we came across six dead bodies. A day before six people had died and four went missing on their trek up the mountain. We saluted them and carried on," added Bhatnagar.
The team that was trained in Siachen and Manali for a year, not only stumbled across an avalanche, but also had to turn back because of bad weather. Major N Linyu, who is the eldest in the team and has undertaken more than three treks to other mountain summits, says that there was a point when the entire team felt disappointed. This was on May 18, when the team had attempted to trek up the South Col to the summit, however, was asked to turn back.
"I remember the disappointment, when we were asked to return to the base camp. The weather was bad. It was a blinding blizzard. One could not even stand as the winds were so strong," said Linyu. "But we did make it to the top on May 25th and saw the sun in the horizon along with other mountain peaks and prayer flags that mark the summit," added Linyu.
http://timesofindia.indiatimes.com/india/Women-officers-of-Indian-Army-scale-Everest/articleshow/14801943.cms?prtpage=1
---------
No Saudi women qualified for Olympics
July 10, 2012,
Riyadh: No women from Saudi Arabia have qualified for the London Olympics, a newspaper from the ultraconservative Muslim kingdom reported.
The story in the pan-Arab daily newspaper Al-Sharq al-Awsat — an important media tool for Saudi rulers — said Saudi male athletes have qualified to compete in track, equestrian and weightlifting at the games that start in less than three weeks.
There is no "female team taking part in the three fields," the report said Sunday, quoting an unidentified Saudi official. He said no female athlete had taken part in qualifying events in Saudi Arabia, which severely restricts women in public life.
Saudi leaders have been under pressure to end the practice of sending all-male teams to international competitions. They could face IOC sanctions after the London Games if women are excluded from the country`s Olympic team.
The Saudi Embassy in London said two weeks ago that women who qualify will be allowed to compete. Last week, IOC President Jacques Rogge said he remains optimistic the Gulf kingdom will send women to the games for the first time.
http://zeenews.india.com/sports/london-olympics-2012/athletics/no-saudi-women-qualified-for-olympics-report_745293.html
---------
Pak Teenage Girl Kills Father for Scolding Her on Having A Relationship With A Boy
Jul 10 2012,
A teenage girl in Pakistan's Punjab province allegedly shot and killed her father for scolding her for having a relationship with a boy of her neighbourhood, police said today.
A 16-year-old daughter of Muhammad Shabbir of Bilal Town in Faisalabad, 100 km from Lahore, allegedly had a relationship with a boy named Muhammad Basharat.
"After learning about this, Shabbir asked her not to see the boy anymore," police officer Omar Draz told reporters.
Draz said relatives of the girl said her father had beaten her up for seeing the boy against his wishes.
"Probably that might have infuriated the girl to go to this extreme," he said.
Yesterday, the girl asked Basharat to provide her with a gun as she wanted to kill her father. She allegedly gunned down her father while he was sleeping.
After hearing the gunshots, neighbours called police.
The police took several members of the family to the police station, where the girl confessed to her crime during interrogation.
Police also arrested Basharat and registered a murder case against him and the girl.
http://www.indianexpress.com/news/pak-teenage-girl-kills-father-for-scolding-her/972543/
--------
Afghan Authorities Launch Probe into Woman's Public Execution
July 10, 2012
Afghan authorities say an investigation has been launched in a bid to apprehend the Taliban militants responsible for the alleged public execution of a woman accused of adultery in northern Afghanistan.
International and Afghan outrage has been mounting over the alleged shooting death, which was captured in a video obtained by the Reuters news agency.
Interior Ministry spokesman Sediq Sediqi on July 9 pledged a thorough government probe to find those who perpetrated the alleged atrocity.
"We are going to investigate thoroughly this video and we will find those culprits and those Taliban who are behind this act of violence, terrorism, and brutal act," Sediqi said. "There is no definition, no meaning for this any more."
In a written statement on July 9, Afghan President Hamid Karzai termed the killing a heinous and unforgivable crime.
"Such a crime is unforgivable in the sacred religion of Islam and the laws of the country," Karzai's statement said.
Full report at:
http://www.rferl.org/content/afghanistan-woman-execution-/24638944.html
---------
Woman Activist's Murder in Pak Widely Condemned
By Hassan Ali
PESHAWAR: July 10, 2012, Condemning the killing of veteran human rights activist Farida Afridi in the strongest words, Khyber-Pakhtunkhwa (K-P) Information Minister Mian Iftikhar Hussain on Monday described the murder as 'anti-Islamic'.
"Imposing death decrees on individuals such as Farida has resulted in a negative portrayal of our country as well as Islam itself," asserted Iftikhar, while addressing a protest camp set up by the Aurat Foundation.
"The elements involved in the killing will be brought to justice and an investigation has already been ordered," he added. "The terrorists want to bar Pakhtun women from progressing socially and economically but they will not be allowed to succeed in their nefarious designs," declared Iftikhar.
Full report at:
http://tribune.com.pk/story/406088/woman-activists-murder-widely-condemned/
------------
Muslim women rewarded for keeping faith with the game
LUCY SWINNEN
09 Jul, 2012 03:00 AM
WOMEN footballers who wear the hijab can compete internationally, after a five-year ban was overturned by world football's rule-making body in Switzerland.
The International Football Association Board has voted unanimously to accept the headscarf worn by Muslim women, effectively overturning its 2007 ban of the headscarf for safety reasons.
Jerome Valcke, the secretary general of the international football federation, FIFA, said safety and medical issues had been removed for the use of the headscarf. The design, colour and material that will be permitted will be finalised at a football board meeting in Glasgow in October.
The decision should allow footballers to wear the hijab as temporary equipment from today onwards, until an official design is ratified in October, said Mark Jensen, a spokesman for Football Federation Australia.
The decision is good news for Muslim female footballers around the world who wear the hijab and will be allowed to compete at the international level.
Full report at:
http://www.knoxweekly.com.au/news/world/world/general/muslim-women-rewarded-for-keeping-faith-with-the-game/2617252.aspx?storypage=0
-----------
Int'l Conference on Women's Role in Islamic Awakening Kicks off
TEHRAN (FNA)- An international conference on 'Women and Islamic Awakening' started work here in Tehran on Tuesday morning.
The opening session of the two-day conference is due to be addressed by Iranian President Mahmoud Ahmadinejad.
The conference is attended by delegates from 80 Muslim states as well as representatives of Muslim minorities of non-Muslim countries.
A large number of renowned world figures are also present at the conference, including former Iraqi Prime Minister Ibrahim Jafari, Senior Advisor to the Iranian Supreme Leader for International Affairs Ali Akbar Velayati, and Head of the Islamic Supreme Council of Iraq Ammar al-Hakim.
Earlier this year, Tehran hosted an International Conference on Islamic Awakening and Youths.
Over 1,200 young people from Iran as well as 73 other world countries took part in the two-day gathering. A number of Islamic world scholars and thinkers were also present at the meeting.
Full report at:
http://english.farsnews.com/newstext.php?nn=9103085786
URL: https://newageislam.com/islam-women-feminism/i-am-proud-be-first/d/7875