New Age Islam News Bureau
12 Oct 2019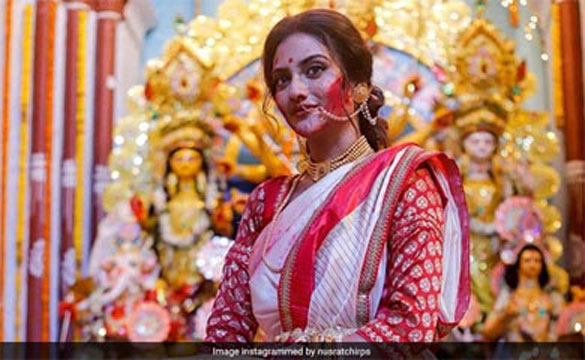 Trinamool Congress MP Nusrat Jahan shared pictures of Sindoor Khela.
-----
• Indonesian Woman Tried for Blasphemy over Mosque Incident
• Crowds Back Sudanese Islamist Cleric Opposed To Women's Football
• Actress Mehwish Hayat Appointed Goodwill Ambassador for Girls' Rights in Pakistan
• Cyclists Pedal down Seaview to Celebrate Girl Power
• Female Genital Mutilation Hijacks Religion to Subjugate Girls
• Among Canadian ISIS Detainees in Syria, Women Far Outnumber Men
• Female ISIS Adherents in Syria's Al-Hol Camp Attack Security Forces
Compiled by New Age Islam News Bureau
URL: https://www.newageislam.com/islam-women-feminism/i-m-god-special-child/d/119980
--------
'I'm God's Special Child': Nusrat Jahan amid Attack over Durga Puja Dance
October 11, 2019
KOLKATA/ NEW DELHI: Trinamool Congress MP Nusrat Jahan, who was criticised earlier this week by an Islamic cleric in Uttar Pradesh after she took part in Durga Puja festivities in Kolkata, said today that she is "God's special child" and controversies don't matter to her.
"I'm God's special child. I celebrate all festivals. I respect humanity and love more than anything. I am very happy," she was quoted as saying by news agency ANI
"Controversies don't matter to me," she said as she participated in 'Sindoor Khela', a Bengali Hindu tradition, with her husband and businessman Nikhil Jain at Chaltabagan Durga Puja Pandal in Kolkata.
On Monday, Mufti Asad Kasmi, Vice President of the Itehaas Ulema-e-Hind, hit out at the actor-turned politician saying that she should change her name and religion because she is "defaming Islam and Muslims" by her actions.
The Muslim cleric was referring to the first-tme parliamentarian's participation in Durga Puja celebrations in Bengal where her husband, was also seen with her.
"This is nothing new. She has been offering puja to Hindu Gods despite the fact that Islam orders its followers to pray only to Allah. What she has done is 'haram' (sinful)," the cleric was quoted as saying by news agency PTI.
"She had also married outside religion. She should change her name and religion. Islam doesn't need people who assume Muslim names and defame Islam and Muslims," he declared.
During the celebrations, Ms Jahan, dressed in a red saree, joined her husband in dancing and playing the 'dhaak', a traditional Bengali drum associated with Durga Puja celebrations. A video of the couple was posted on Nikhil Jain's Instagram account, along with the message: "Playing dhaak for the first time with my wonderful wifastic @nusratchirps".
Speaking to reporters after the puja, Nusrat Jahan said she wanted to promote religious harmony.
"I think I have my own way of portraying harmony towards all religions. Born and brought up in Bengal, I feel I am doing right by following culture and tradition. Here, we celebrate all the religious festivities," she said.
Her husband echoed those sentiments, saying, "I think every citizen of India, irrespective of their religious identity should accept all religions".
On social media, the couple was praised after the UP cleric's statement, with many praising the politician for supporting secularism.
BJP MP Debasree Chaudhuri also supported the Trinamool Congress MP and questioned West Bengal Chief Minister Mamata Banerjee's silence over the issue.
The 29-year-old Basirhat MP has previously been criticised for wearing Hindu symbols of marriage.
https://www.ndtv.com/india-news/nusrat-jahan-amid-attack-over-durga-puja-dance-says-im-gods-special-child-2115235
--------
Indonesian Woman Tried for Blasphemy over Mosque Incident
Andreas Harsono
October 11, 2019
An Indonesian woman with a psychosocial disability faces up to five years in prison for an altercation at a mosque, the latest victim of Indonesia's toxic "blasphemy" law.
This week, witnesses testified in court that defendant Suzethe Margaret, a Christian woman living in Bogor, a Jakarta suburb, brought a small dog into a neighborhood mosque, looking for her husband. Margaret accused the mosque of converting him to Islam to marry another woman. She was wearing her shoes and kicked a mosque guard when asked to leave.
Judges ordered the trial closed to the public because the defendant has a psychosocial disability. Margaret has paranoid schizophrenia, according to a psychiatric examination at two hospitals in Jakarta in 2013.
Indonesia's criminal code article 44 states that a person who commits a criminal act by reason of a mental health condition cannot be held criminally liable. But the law allows for that individual to "be placed in a lunatic asylum" for up to one year. A 2016 Human Rights Watch report documented a range of abuses in psychiatric hospitals in Indonesia, including involuntary treatment, seclusion, and high risk of sexual harassment and violence.
Margaret is charged with committing blasphemy against Islam. Indonesia's Vice President Jusuf Kalla, who is also the chairman of the Indonesian Mosque Council, said Margaret's act of "bringing a dog into a mosque was obviously blasphemous."
Margaret is one of several people facing blasphemy charges. In March, a Serang court sentenced Aisyah Tusalamah – who believes herself to be a reincarnation of a mythological "Queen of the South Sea" and has a perceived mental health condition – to five months in prison for posting an allegedly blasphemous video. In July, police charged Eka Trisusanti Toding, a teacher in Palopo, South Sulawesi, also with psychological record, with blasphemy after posting allegedly blasphemous comments on Facebook.
Meanwhile, the Indonesian government is revising its criminal code to expand the 1965 blasphemy law from one to six articles. This would include increasing "the elements of the crime" to include defaming religious artifacts, making noise near a house of worship, persuading someone to be an atheist, and defaming a cleric while in service.
These cases show how Indonesia's blasphemy law is easily abused. The government should revoke the law instead of expanding it and drop the cases against those charged.
https://www.hrw.org/news/2019/10/11/indonesian-woman-tried-blasphemy-over-mosque-incident
--------
Crowds Back Sudanese Islamist Cleric Opposed To Women's Football
Oct 11, 2019
Khartoum (AFP) - Crowds rallied after Friday prayers in support of a hardline Islamist cleric who has slammed Sudan's new female sports minister for backing the country's first ever women's football league.
Sudan's women's football league held its first match on September 30 in the presence of the Minister of Sports Wala Essam and several foreign diplomats.
"We will give special attention to women's sport and women's football," Essam said at that time.
Cleric Abdel Hay Youssef, known for his fiery speeches and for backing ousted Islamist ruler Omar al-Bashir, claims Islam prohibits women from playing football and has harshly criticised Essam for supporting the game.
Youssef supporters rallied outside a mosque in south Khartoum where the cleric preaches, chanting slogans of support for him, an AFP correspondent said.
"We are with you Abdel Hay Youssef," chanted the crowds, an AFP correspondent said.
Some even called the cleric "Amir al-Muminin" (Arabic for "Commander of the Faithful)".
According to media reports, Youssef had links with Al-Qaeda and financed and trained fighters of the Islamic State group in Libya. He has denied these accusations.
Women's football has faced an uphill fight in Sudan since the country adopted Islamic sharia law in 1983, six years before Bashir had seized power in an Islamist-backed coup.
Bashir was ousted by the army in a palace coup on April 11 on the back of nationwide protests against his iron-fisted rule of three decades.
Islamist parties stayed on the sidelines during the protests while women played a central role.
A new joint civilian-military ruling body, called the sovereign council, is governing the country for a transition period of 39 months.
The launch of a women's football league came amid expectations that the transition period will see liberal policies implemented in Sudan, including measures to promote freedom of speech, women's rights, sport and arts.
Last year, Saudi Arabia allowed women to attend a football match for the first time ever in the conservative Muslim-ruled kingdom.
And on Thursday women attended a football match for the first time in decades in the Islamic republic of Iran.
https://sports.yahoo.com/crowds-back-sudanese-islamist-cleric-opposed-womens-football-160406218--sow.html
--------
Actress Mehwish Hayat Appointed Goodwill Ambassador for Girls' Rights in Pakistan
October 11, 2019
KARACHI: Another feather to Pakistan's leading actress Mehwish Hayat's cap as she has been appointed a goodwill ambassador for girls' rights by the Ministry of Human Rights.
The recipient of the prestigious Tamgha-e-Imtiaz, Hayat, announced about her appointment in a video message on micro-blogging website, saying: "Delighted to be appointed by the Ministry of Human Rights as Goodwill Ambassador 4 the rights of the girl child."
The 'Load Wedding' star - who has been vocal about humanitarian issues, said: "This is something close to me & I look forward to actively raising awareness of the issues to be addressed. Let's give girls the better future they deserve."
Having been filled with enthusiasm, Hayat said: "It is an honour for me to play a crucial role in helping girls get their rights. I wish to see a Pakistan where girls are given the opportunities to get education." She also appealed to the nation to support her in mission to give girls the better future they deserve.
"Lets give girls the better future they deserve," she added. Her announcement comes a day ahead of the International Day of the Girl Child, being observed on October 11 (today).
Mehwish Hayat TI
✔
@MehwishHayat
Delighted 2be appointed by the Ministry of Human Rights as Goodwill Ambassador 4 the rights of the girl child. This is something close to me & I look forward to actively raising awareness of the issues to be addressed. Lets give girls the better future they deserve @mohrpakistan
Embedded video
6,140
6:31 PM - Oct 10, 2019
Twitter Ads info and privacy
1,232 people are talking about this
In August, Hayat was awarded the Pride of Performance in Norway. Addressing the event, she had conveyed Pakistan's message of peace.
In March, the famed Pakistani actress received Tamgha-e-Imtiaz for her outstanding contributions to the world of entertainment, she was also appointed the Muslim charity Penny Appeal's brand ambassador.
Last month, the actor made it to the list of The Muslim Vibe's top five Muslim women in the world.
https://www.thenews.com.pk/latest/539343-mehwish-hayat-adds-another-feather-to-her-cap
--------
Cyclists Pedal down Seaview to Celebrate Girl Power
Faiza Ilyas
October 12, 2019
KARACHI: Women's power is indeed gathering strength at the grass-roots level. This was very much evident at the 'Aao cycle chalaaen' (Let's go cycling) event organised at a Seaview park on Friday where hundreds of girls were in attendance along with their female family members to celebrate 'International Day of the Girl'.
The majority had come from Lyari — once a violence-hit area — not just to have some fun together but to send a strong message to their counterparts across the city that women must not sit back, overcome their barriers and empower themselves.
"Why can't girls ride a bicycle or even a motorbike in our city? I think today's event would encourage and motivate other girls to engage in healthy activities like using bicycles for transport," said Zulekhan Dawood, a young activist representing the Lyari's Girls Café (LGC), adding that it would also help reduce pollution in the city.
The non-profit organisation was set up three years ago with an aim to provide a forum to young girls and women to learn vocational skills, educate, socialise and brainstorm ideas.
It also offers training for sports like boxing and football — games which girls are generally not allowed to play in society.
"We started our journey with five to six girls and faced a lot of resistance. But, it didn't dampen our spirits. We used to counsel families whenever a member decided to leave and try to address their concerns," explained Dawood.
The LGC cycling programme, which took off with six members on rented bicycles, now has registration of more than 100 participants and the issue of getting vehicles was to an extent helped by the German consulate.
Girl Force: unscripted and unstoppable
Conversation with a few participants revealed that healthy activities were positively influencing girls' thinking process and helping them dream big.
"I love to play football and boxing and dream of becoming a pilot one day," said 12-year-old Sabah Aji Bachal.
Najmunisa, a 16-year-old science student, said that participation in the LGC events made her proud of herself. "Often girls are discouraged to do things independently. I am fortunate that my mother supports in all educational and vocational endeavours."
Fourteen-year-old Iqra expressed her desire to join the army. Habiba Allahbad in her 40s was there with her two young daughters; all participating in the cycle race. "In our area, women lack the freedom they deserve as a human being. I joined the LGC because it provided me with the much-needed space I always wanted in life; learning new skills and becoming empowered," she said.
Asked about how people in her locality reacted to this change, she said: "I routinely use the bicycle for transport in my neighbourhood. The forum gave me the confidence that now I just ignore what others say."
Among the guests was Mark Rakestraw, the Deputy Head of Mission at British Deputy High Commission, who congratulated the organisers and hoped that such activities would help end gender discrimination, open up more avenues for girls to utilise their potential and become a productive member of society.
Maren Dick representing the Consulate of Germany expressed similar sentiments. The event concluded with a cultural show.
https://www.dawn.com/news/1510300/cyclists-pedal-down-seaview-to-celebrate-girl-power
--------
Female Genital Mutilation Hijacks Religion to Subjugate Girls
By Perri Huggins
Oct 12, 2019
Rabat – Some of the strongest critics of female genital mutilation (FGM) are those who have experienced it.
Consider the following story: A teenager fled threats in Somalia and pursued a new life in the UK. Applying resourcefulness and determination, she paved a new future for herself. A medical examination revealed her as a survivor of female genital mutilation, an experience which ignited a personal drive to campaign against the practice.
She began her own foundation and received a title from a major governing authority. She later visited her family in Somalia to address her mutilation. A world-renowned activist, her inspirational story is now portrayed in film.
Who is she? She is Waris Dirie. And she is Ifrah Ahmed. Two decades apart, two Somali-born women walked similar paths to the same destiny: A life's commitment to end FGM. The two leaders, who support each other's work, are now at major moments in their movement.
Dirie quite literally returned to the international spotlight on March 7. The former supermodel collaborated with luxury lingerie and erotica brand Coco de Mer to raise awareness. The video campaign is Dirie's first modeling project in two decades and benefits her charity, the Desert Flower Foundation. Coco de Mer's industry concerns female pleasure, a theme inextricable from mutilation.
Ifrah Ahmed's biographical movie, "A Girl From Mogadishu," finished its film festival circuit at New York's 51Fest on July 21. "I want this movie to travel the world," the activist said. "I want to reach the decision-makers, the leaders and the young people, who are the future…. Girls are being traumatised by FGM. Children are dying. I hope people will watch this movie and understand that this has to end."
Female genital mutilation dates back over 2,000 years to the pharaonic era. People still practice it worldwide, especially in Africa, the Middle East, and Asia. Muslims, Christians, and other believers continue a tradition that has historically geographic and social, not religious, roots. People commonly perform FGM to guarantee purity, decrease female libido, and maintain honor.
FGM in Somalia
Dirie and Ahmed are among an estimated 200 million women and girls worldwide today to have experienced the practice. Their native Somalia has the highest FGM prevalence rate worldwide at 98%, according to a 2013 UNICEF report.
The mutilation indicates a girl's marriageability, significant in a culture where bride prices factor into family livelihoods. The majority of girls in Somalia face this rite of passage between ages 5 to 9. Usually women who have not been professionally trained perform the procedure using knives, broken glass, or razor blades.
Most Somali girls undergo a severe version of FGM called infibulation. This involves removing or reshaping all external genitalia and sewing the vaginal opening nearly shut. A small hole remains for urine and menstrual blood to drain, which then occurs very slowly and can cause severe pain and infection.
FGM also poses maternal danger during childbirth. Breaking the vaginal seal can lead to fatal hemorrhaging. Tearing can result in fistula and urinary incontinence. The sewn barrier may also delay the baby's exit from the birth canal, sometimes resulting in stillbirths and infant mortality. Often, the wound is re-stitched shut after delivery.
The practice is medically unnecessary, and the rights community widely condemns it.
Practitioners employ pseudo-religious justifications to continue the harmful practice. Critics say it subjugates women. It is "deeply entrenched in the patriarchal need to control women's bodies and sexualities," according to Zainah Anwar, executive director of Muslim women's rights NGO Musawah.
Somali Islamic law and FGM
Somalia's Constitution prohibits, but does not explicitly criminalize, the practice: "Circumcision of girls is a cruel and degrading customary practice, and is tantamount to torture. The circumcision of girls is prohibited," Article 15(4) reads.
Somalia's Constitution, by its own declaration, is the "supreme law of the country," after Islamic Sharia law. As it turns out, Islamic legal scholarship often condemns the practice.
The prophet Muhammad did not have his daughters cut and said humans should "not harm ourselves or others."
The Qur'an does not reference FGM but explicitly describes the devil leading people to mutilation: "I will create in them false desires … to deface the fair nature created by Allah." (Qur'an 4:119-120).
Muslim proponents of FGM may cite the singular hadith (a story from the prophet's life) that refers to the practice, in which the prophet told a woman to cut less severely. This hadith, written roughly 250 years after Muhammad's death, was later declared unreliable by its own author.
The Organisation of Islamic Cooperation, representing 53 Muslim-majority member countries, denounces FGM.
And in Somalia, one senior cleric joins Ahmed and Dirie with his campaign against FGM. "I was shocked to learn that Islam does not support female genital mutilation," said Sheikh Ibrahim Hassan. "The majority of Muslims have lived in darkness for centuries."
"It's very hard to convince people to abandon the practice but when you search the Quran and the Sunnah there is no reference to FGM," Hassan said in a radio broadcast sermon. "We are killing the dreams of our girls by subjecting them to this brutal act. Those carrying the practice have inherited it from their ancestors and not teachings from the Quran," he continued.
A 2018 UN report argued that religious leaders "have a unique role in mobilizing communities towards changing attitudes and norms that perpetuate female genital mutilation." Leaders like Hassan assume a weighty role in the anti-FGM movement.
Official legislation in Somalia also plays a role. The country witnessed a landmark prosecution in July 2018, after a 10-year-old girl died from mutilation. The girl's parents hampered the investigation, reportedly hiding the perpetrator from police. Many rights advocates still saw the case as progress.
"It is not acceptable that in the 21st century FGM is continuing in Somalia. It should not be part of our culture. It is definitely not part of the Islamic religion," Deputy Prime Minister Mohammed Gulaid commented on the prosecution.
FGM in America
Activists call for legislative focus to fight the practice on American soil, where approximately 513,000 girls are affected, according to the Centers for Disease Control. Today, FGM is still legal in 16 US states.
An evangelical Christian minister's daughter from Kentucky came forward in April to report that she and her sister were subjected to the practice as children. Dr. Renee Bergstrom revealed in 2016 that a Christian doctor performed the operation on her as a 3-year-old.
She indicated the story was not limited to her: "I witnessed Christian religions declaring masturbation a sin, some Christian leaders and doctors recommending circumcision to prevent it, physicians carrying out the practice, and our American culture first accepting this form of sexual abuse and then denying it ever occurred."
Most FGM in the US occurs in immigrant diaspora communities, but some "heartland" Americans exploit Christianity to justify the practice.
A federal judge from Michigan declared the US's national ban on FGM unconstitutional in a controversial ruling last November. The case against medical practitioners and parents involved families from a small Muslim sect originating in West India.
American leaders introduced the Federal Prohibition of Female Genital Mutilation Act of 2019 to the Senate in June to remove the technicality cited in the Michigan ruling.
Fighting the practice, from doctors to dogma
Most countries worldwide legally prohibit FGM. Many anti-FGM activists call for stronger legal action, along with educational interventions and a push against medicalizing the practice.
Some also call on believers and religious leaders to reverse the practice's misaligned ties to faith.
Dirie's 1998 autobiography, "Desert Flower," explored underlying ties between FGM and her personal faith. "I feel that God made my body perfect the way I was born. Then man robbed me, took away my power, and left me a cripple. My womanhood was stolen. If God had wanted those body parts missing, why did he create them?"
https://www.moroccoworldnews.com/2019/10/284434/female-genital-mutilation-hijacks-religion-to-subjugate-girls/
--------
Among Canadian ISIS Detainees in Syria, Women Far Outnumber Men
October 12, 2019
Sitting in a dim room at a detention camp in northern Syria, Kimberly Polman was feeling vulnerable. ISIS leader Abu Bakr al-Baghdadi had vowed to free female prisoners like herself, and she believed him.
"I take it seriously," Polman said. "These people don't play."
She should know: the former British Columbia resident spent almost four years living under the Islamic State, until she and her husband were taken into custody nine months ago.
Now she is a detainee of the Kurdish forces, one of thousands in their custody because their own governments haven't taken them back.
But what awaits Polman became even more uncertain this week, when Turkey launched an invasion of northern Syria.
The Turkish offensive shattered the relative calm that Kurdish forces had won six months ago by defeating ISIS and capturing roughly 100,000 fighters and their families.
And with the Kurds now occupied at their northern border, the incursion risks creating an opening for ISIS.
ISIS has already exploited the chaos. The group claimed responsibility for a car bombing on Friday in Qamishli, and five ISIS members escaped from a prison during shelling by Turkish forces.
Another car bomb exploded last night outside an ISIS prison in Hasekah.
A Kurdish official said his forces could no longer prioritize the camps and prisons where the ISIS captives are held, raising the threat of breakouts that could undo years of sacrifice.
Turkey wants to occupy what it calls a "safe zone" in northern Syria. Roj camp, where Polman is being held, is within that zone, meaning she could end up a prisoner of the Turkish military.
"We have reached out to Syrian Kurdish officials to seek information on Canadians in their custody and have sought assurances from Turkey that any Canadians detained in the region would be handled in accordance with international law," said Global Affairs Canada spokesperson Barbara Harvey.
A Muslim convert who travelled to Syria after befriending a man she met online, Polman stands out among the detainees arrested during the final throes of the so-called ISIS caliphate.
She is in her 40s and, unlike many women at the camps, does not wear a black niqab. In an interview, she was regretful and described a "deradicalization project" she was working on.
But Polman is typical in one sense: while the public debate over whether to repatriate Canadian ISIS suspects captured in Syria has focused mostly on the men, they are far outnumbered by women.
During two visits to the region, Global News found few Canadian men at prisons for ISIS detainees. Three identified themselves as Canadian citizens in interviews and another two were confirmed as Canadians. A sixth is detained in Turkey.
But at least 11 Canadian women are believed to be at Al-Hawl and Roj camps, along with almost two dozen children. Another two women are believed to be hiding in the region but have not yet been caught.
The gap between the numbers of women and men in captivity may have a simple explanation: while far more men left Canada to join ISIS, they died in greater numbers.
As a result, should the ISIS detainees return to Canada, police and social service agencies will likely be dealing mostly with women and their children rather than male ex-fighters.
In an interview, Polman told Global News, foreign fighter expert Prof. Amarnath Amarasingam of Queen's University and national security law expert Leah West that the government should bring the Canadians home.
"We have a justice system. Put them in front of that system and let that system deal with them in a way that is actually much safer," she said.
Getting the children out of the camps was "an automatic," she said. She was concerned they would die at the camps and said they were at risk of radicalization as they got older.
"Look at the environment you're in," she said.
Polman said she accepted that she might be arrested when she returned to Canada, even though she said was ready to leave Syria two weeks after arriving from Vancouver in 2015.
"If the Canadian judicial system feels that I did something that needs to be prosecuted then I have to come under the laws of the country that I'm born into, like any other person," she said.
"I'm not above the law, I'm not above anything.
"On the other side, I would suggest there's teaching and then there's punishment. I'm not sure that punishing a person's thinking is always the best way of dealing with a big issue."
The role of women in ISIS remains poorly understood. Propaganda videos show some women taking up arms while others take to social media to recruit or serve as enforcers of the harsh ISIS laws of conduct.
Mustafa Bali, spokesman for the Syrian Democratic Forces, said women who came to Syria from countries like Canada "knew what they were doing."
"From what we know about Canada, it's a great country, it's a healthy country, and a lot of people from different places in the world, they wish to arrive in Canada. So, for me, it doesn't make sense when somebody is living in a very healthy country, leaves Canada and comes to Syria, so this means that she didn't come here as a tourist," he said.
"The women who came from far away, they came here to support the ISIS fighters."
Three Canadian women interview by Global News during two visits to the region all said they were nothing more than housewives and mothers. A United Nations special rapporteur's report also warned countries to take into account the "gendered realities under the caliphate."
But West, a former national security lawyer in the Department of Justice, said the women could be charged with leaving Canada to participate in the activity of a terrorist group.
Proving their role in ISIS might be more difficult, she said.
"But these women still did travel abroad," West said.
"They left Canada with the intention of joining ISIS or supporting ISIS, which is a crime.
"It doesn't necessarily matter what they did when they got here. If they came here with the intent of supporting ISIS and joining the group, that is a crime," said West, who teaches at the Norman Paterson School of International Affairs.
The maximum sentence for such a crime is 10 years, which could ease public concerns that ISIS members might return from Syria and walk free. But Canadian authorities have neither charged any of the detainees nor made any effort to repatriate them.
The Liberal government's position is that there is nothing it can do because northern Syria is too dangerous for Canadian officials to visit.
"We will not expose our consular officials to undue risk in this dangerous part of the world. Recent developments underscore the danger in the region," said Public Safety Minister Ralph Goodale's spokesman Scott Bardsley.
Although she has not spoken to any Canadian officials, Polman said she has "shared everything" with officials from another government. She did not elaborate except to say they were "non-Canadian." Polman also holds U.S. citizenship.
"And they also went and spoke with the family extensively, and I think that they are well aware that I've been trying to get out since about two weeks after I arrived," she said.
Polman's family declined to comment.
Initially, Polman was held at Al-Hawl camp, where ISIS hardliners are vying to control daily life. She said she was not sure why she was relocated, "although I'm not objecting to it at all."
Polman implied she was under threat at Al-Hawl, saying she had removed her niqab and was open about her regrets.
"And that doesn't make you popular with certain people," she said.
Polman portrayed herself as part of a counterweight to radicalism, describing how she and eight others had formed a group for a "deradicalization project to target the different age groups and the different situations of women in specific."
"Words don't ever put into what these years have taken from me, from my family, from, I think, a very innocent public that doesn't deserve any of this. And I can't fix all of that. I'm one person," she said.
But she said she could help.
"I can work with the women that are here and try to get them on board with working with governments and please realize that there's a real fear of doing that, too," Polman said.
"This is all unknown territory. Many of us never had a parking ticket."
https://globalnews.ca/news/6021043/canadian-isis-detainees-women-outnumber-men/
--------
Female ISIS Adherents in Syria's Al-Hol Camp Attack Security Forces
Joanne Stocker
OCTOBER 11, 2019
Members of the Kurdish police force known as Asayish were attacked early Friday, October 11 by women in a camp housing thousands of foreign female Islamic State adherents, a camp official said.
A protest that began around 6 a.m. developed into a melee with women throwing stones and attacking the Asayish, said the official identified by the Rojava Information Center as Eylul.
Contrary to early reports, the official said no one escaped, but added they were likely trying to get past the police force and out of the camp.
Five women were arrested, he said.
Security in al-Hol, already tenuous, has been called into question following the start of "Operation Peace Spring," Turkey's incursion into northeast Syria on October 9.
The camp houses more than 70,000 people, more than half of them children. ISIS leader Abu Bakr al-Baghdadi urged his supporters in an audio message last month to free the women in al-Hol, and the camp has lately been marked by sporadic but increasing violence from women against those deemed not adhering to strict Islamic principles, or against security forces, sometimes in an attempt to escape.
In a phone call on Thursday, U.S. Secretary of State Mark Esper urged his Turkish counterpart Hulusi Akar to "discontinue actions in northeastern Syria," warning that it could risk "the progress" made by the Coalition against ISIS, the Pentagon said.
The al-Hol military council said it would deploy forces to support Syrian Democratic Forces fighters under attack along the Syria-Turkey border, and other military councils, including the Christian Syriac Military Council, have said they will defend the area from Turkey-backed fighters.
SDF spokesperson Kino Gabriel told The Defense Post prior to Turkey's incursion that the force could not guarantee the security of al-Hol or the prisons where thousands of ISIS fighters are detained if it had to focus on the invasion.
But the home countries of ISIS fighters and female adherents women's have been reluctant to repatriate any of them from Syria and Iraq, and few children have been brought home – mostly orphans from Eastern Europe, Asia and Africa.
U.S. President Donald Trump said on Thursday that two male ISIS suspects, part of the notorious British group known as The Beatles, were taken into U.S. custody to prevent them escaping in any chaos following Turkey's incursion. A defense official told The Defense Post that the two had been removed from Syria and were in military custody, but declined to say whether they would be brought to the United States for trial.
The pair, El Shafee Elsheikh and Alexanda Kotey, could face capital charges in the state of Virginia for their part in executing foreign ISIS hostages, including Americans, the Telegraph reported on Friday.
Esper said Friday that Elsheikh and Kotey were still in the region.
https://thedefensepost.com/2019/10/11/syria-isis-women-attack-al-hol-asayish/
--------
URL: https://www.newageislam.com/islam-women-feminism/i-m-god-special-child/d/119980
New Age Islam, Islam Online, Islamic Website, African Muslim News, Arab World News, South Asia News, Indian Muslim News, World Muslim News, Women in Islam, Islamic Feminism, Arab Women, Women In Arab, Islamophobia in America, Muslim Women in West, Islam Women and Feminism