New Age Islam News Bureau
13 Jun 2017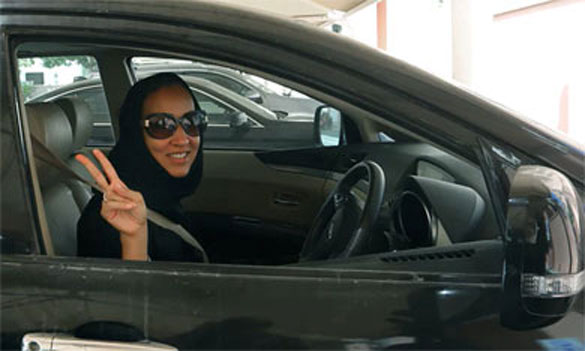 Manal Al-Sharif … 'I felt I was driving for all Saudi women – and, in a sense, I was.' Photograph: Marwan Naamani/AFP/Getty Images
----
• Norway Plans to Ban Muslim Face Veils in Schools
• Caught On Camera: Man Kicks Fasting Muslim Woman Colleague in Karnataka
• Tell the Authorities, Father of Radicalised Woman Tells Parents
• Do Pakistani Female Legislators Actually Represent Women Or Merely Serve As "Proxies" For The Wealthy And Elite?
• Pakistan, US Launch Female Self-Defense Programme
Compiled by New Age Islam News Bureau
URL: https://www.newageislam.com/islam-women-feminism/i-felt-one-fathers-songbirds/d/111525
--------
'I felt like one of my father's songbirds, let out of its cage': driving as a woman in Saudi Arabia
12 June 2017
In 2011, as the Arab spring brewed, I began a campaign to allow women to drive in Saudi Arabia, mobilising them via Twitter and Facebook. I thought that if someone posted a video of a woman driving, it might "normalise" the experience and show Saudi citizens there was nothing dangerous about it. I also wanted to prove that many of us already knew how to drive – that we had licences and even cars. And I wanted to prove that the Saudi authorities would not stop a female driver.
I asked another activist, Wajeha, to accompany me when I made the video. Because my brother was not available, I also decided to ask a friend, Ahmed, if he would come too, since an unaccompanied woman would raise suspicions. Wajeha would be the film crew and Ahmed would be our designated driver until I slid over and took the wheel of my purple Cadillac SUV. I had spent several years saving my money for the car; a car that I would now for the first time be driving on actual Saudi kingdom streets.
Ahmed honked the horn outside Wajeha's house, and she practically ran out the door. Her hair was neatly concealed beneath a black hijab, but she had on a bright pink abaya [a loose, robe-like dress]. Saudi women rarely wear anything but black abayas in public. When I saw Wajeha in pink, I giggled, thinking that she was even more fearless than me. No doubt, she was thinking that if we got arrested, at least she would look stylish.
Ahmed looked in the rear-view mirror and turned the key in the ignition. Outside the compound where I lived, he drove nervously, looking at the speedometer, then over at me and then up at the mirror to see who might be behind us on the road. His anxiety was contagious, but I also felt a growing sense of exhilaration. After several blocks, we passed the local police station, and then, at last, we reached the cafe where Ahmed would stop for a lemon and ginger tea. He pulled into the car park but didn't park until we were well behind the building, out of sight.
Finally, I moved to the driver's seat and Wajeha moved to the front-passenger seat. I took a deep breath, sat down inside the car and put my hands on the steering wheel. Although I was enclosed, at that moment, I felt like one of my father's songbirds, let out of its cage and flying around the room. "Thank you, my friend," I said to Ahmed out of the rolled-down window. "We'll be all right – don't worry." As I fastened my seatbelt, I could feel my hands shake slightly. I placed the key in the ignition, adjusted the rear-view mirror, and pulled my black hijab close round my face to make sure no hair was visible. I reached for my sunglasses from inside my bag, placed them on my uncovered face, and took one last look at myself in the mirror.
As the car glided down the street, I began to compose my thoughts for the video's introduction. I wanted to declare in a clear, loud voice: "This is my right, the right to drive." But instead, I turned the wheel of the car and gazed straight ahead, feeling the iPhone hovering close to my face. After chatting casually for a few minutes in Arabic, I said: "There's something to be proud of in this country. There are people doing voluntary work without pay to help the women of this country. We are ignorant and illiterate when it comes to driving. You'll find a woman with a PhD, and she doesn't know how to drive. We want change in the country." Like other people of my generation, who had been gathering in city squares and on street corners across north Africa and the Middle East, who were raising their voices and their hands and using their mobile phones and cameras to stand up to repression, authoritarianism and tradition, we were at that moment pushing back against one of Saudi Arabia's most enduring cultural taboos.
I looked left and turned towards the supermarket where I shopped for groceries each week – and where previously I could only go with a male driver. I let the steering wheel glide smoothly in my hands as I made the turn, looking out so I could make eye contact with any oncoming drivers. A silver Toyota SUV approached, and I saw the driver lean slightly to his right and speak to a woman seated next to him. They looked at each other and then back at me. I smiled, and Wajeha asked: "Why are you smiling, Manal?" I turned to face the iPhone in her hands, smiled even wider, and said: "Because I am driving."
The car park was crowded with male drivers, standing outside their cars, waiting for their female clients. Their eyes widened and followed us; I could hear several of them whispering to each other in Hindi or Urdu. But no one confronted us. I felt a bit like a child breaking the rules, but I also knew this was far more serious than a childhood prank. "Wajeha, let's get some groceries," I said. "I'd like to get my son a treat." We moved through the aisles, placing items in our shopping basket: a bottle of water, a piece of fruit and a chocolate bar for my son, Aboudi. At the checkout counter, the two of us stood side by side, saying nothing as I pulled out my wallet.
We walked proudly through the parking lot, opened the car doors, and got back in. Only then did Wajeha and I look at each other and break into spontaneous laughter, calling out together, "We did it!" I placed my slightly sweaty hands on the wheel, turned on the ignition, and said, "Come on, Wajeha, let's keep driving." She began to film again, but I barely spoke. Instead, I took in the space and power of the car and the undeniable sense of victory. I knew then that no matter what my future held, I had done something important and meaningful. That day, I felt I was driving for all Saudi women – and, in a sense, I was.
As I drove, I contemplated the route my driver usually took after leaving the grocery store. But I also knew that I did not yet have that freedom. After a few more miles, I guided the car back in the direction of the cafe where we had dropped off Ahmed. I drove neither fast nor slowly, but I could feel myself looking at the familiar streets and buildings that I had never seen from a vantage point other than the passenger seat. I couldn't help glancing in the direction of the police station as we passed. It was the same place where two days later I would be detained.
Daring to Drive by Manal al-Sharif is published by Simon & Schuster, RRP £16.99. To order a copy for £14.44 with free UK p&p, go to bookshop.theguardian.com or call 0330 333 6846.
https://www.theguardian.com/lifeandstyle/2017/jun/12/i-felt-like-one-of-my-fathers-songbirds-let-out-of-its-cage-driving-as-a-woman-in-saudi-arabia
--------
Norway plans to ban Muslim face veils in schools
Jun 13, 2017
A woman wears an Islamic niqab veil Peter Macdiarmid/Getty Images
Norway aims to ban face-covering Muslim veils in kindergartens, schools and universities, the government said on Monday, the latest European nation to propose restrictions on wearing burqas and niqabs.
France, the Netherlands, Belgium, Bulgaria and the German state of Bavaria have all imposed restrictions on wearing full-face veils in public places.
Norway's minority government, a coalition of the centre-right Conservatives and the populist Progress Party, said it was confident it would find opposition support for the move.
"We have every reason to believe this will be approved by parliament," Education Minister Torbjoern Roe Isaksen said.
Norway, which will hold elections on 11 September, will be the first country in the Nordics to introduce a ban on burqas for both adults and children.
"Face-covering garment such as the niqab or burqa do not belong in Norwegian schools. The ability to communicate is a basic value," acting Minister of Immigration and Integration, Per Sandberg, told a news conference.
Employees who insist on wearing a veil would risk losing their jobs, and students could face expulsion from university, he added.
In May, Austria's parliament approved a burqa ban that will see women wearing full-face veils in public fined €150 (£130).
The prohibition will come into effect in October to outlaw burqas, niqabs and other clothing obstructing facial features in public places, universities, courts or on transport.
http://www.independent.co.uk/news/norway-veil-ban-plans-muslim-islamic-dress-niqab-burqa-a7786826.html
--------
Caught on camera: Man kicks fasting Muslim woman colleague in Karnataka
Jun 13, 2017
NEW DELHI: In a shocking incident, a woman government employee was seen being kicked, allegedly by her male colleague in Karnataka's Raichur late last week.
The incident was caught on surveillance cameras and shared by news agency ANI on Tuesday.
In addition, a police official said that the woman, Nasreen, was observing the Ramzan fast at the time of the incident .
An official at the Sindhanur City Municipal Council, (SCMC) where the woman works, said the incident occurred last Saturday and added that the man in the video is one Sharanappa, a contractual employee, who has since been arrested by the police.
"Following the woman's complaint, her male colleague has been dismissed and handed over to police," said the official who didn't wish to be named.
"Sharanappa is a contractual employee and the Council had no idea about the incident. We came to know about it only after police informed that Nasreen has complained against Sharanappa," he said.
Last Saturday was a holiday at the council office and hardly any staff were around when the incident occurred, the council official said.
"On Saturday, there was a holiday in SCMC office but two employees (Nasreen and Sharanappa) were assigned to work so they could clear some backlog. Nasreen is a permanent employee while Sharanappa is hired on a contract basis as a computer operator," a senior police official said
"Nasreen was observing fast during Ramzan and is said to have turned up late to work," the police official said, adding that Sharanappa kicked Nasreen after an argument about her being late.
According to police, this is not for the first time Sharanappa has assaulted council staff.
http://timesofindia.indiatimes.com/india/caught-on-camera-man-kicks-fasting-muslim-woman-colleague-in-karnataka/articleshow/59120835.cms
--------
Tell the authorities, father of radicalised woman tells parents
June 13, 2017
SINGAPORE: The father of the first woman detained under Singapore's Internal Security Act (ISA) says he should have reported her to the authorities.
Islamic religious teacher Syaikh Abdu Manaf Al Ansari told Singapore's Berita Harian (BH) he should not have stopped at giving her advice after she started dressing differently and used the Islamic State (IS) flag as her WhatsApp profile picture.
In a statement yesterday, Singapore's ministry of home affairs said Syaikhah Izzah Zahrah Al Ansari, 22, a mother of one, was detained earlier this month for radicalism.
The ministry said Izzah, an infant care assistant at a preschool, wanted to be a martyr's widow for the IS and had planned to travel to Syria to join the militant group. The IS has threatened attacks against Singapore.
Manaf, 49, advised parents to watch their children carefully to prevent them from being radicalised by Islamic militants.
The BH quoted him as saying: "To other parents, this comes from the bottom of my heart. If you see any sudden changes, et cetera, contact the authorities. If not (the authorities), contact the Religious Rehabilitation Group," he said.
The Straits Times quoted Manaf as telling BH on Monday that Izzah started dressing in black and wearing the niqab, a facial veil which reveals only the eyes, in late 2014.
She was also using the IS flag as her WhatsApp profile picture, he said.
The parents, who both teach the Quran, questioned Izzah about this.
"I asked if she was an ISIS (another name for IS) member. She denied it but said she thought ISIS was fighting for Islam," Manaf was quoted as saying by BH.
"I told her all well-known Islamic scholars reject ISIS. I asked, is it halal in Islam to kill innocent people, children and women? I told her to show me evidence from the Quran and sunnah (prophetic teachings) that it is halal. She just kept silent."
Subsequently, Izzah stopped wearing the niqab and started listening to music and watching movies again. The parents did not pursue the matter, thinking that their religious advice had worked.
"We thought she was okay. But we did not realise she had become more radical. She was smart at hiding herself," he told BH.
After Izzah was detained, Manaf found documents in her room with information about moving to Syria, including how to get tickets.
Feeling angry, he threw the materials away. He told the authorities about this during the investigation, and was given a warning.
"This should not have happened. I really regret it," he was quoted as saying.
http://www.freemalaysiatoday.com/category/nation/2017/06/13/tell-the-authorities-father-of-radicalised-woman-tells-parents/
--------
Do Pakistani female legislators actually represent women or merely serve as "proxies" for the wealthy and elite?
June 12, 2017
By Adnan Akhter
In the male dominated South Asian region, women are considered a marginalised faction of society. While describing South Asian women in politics, there are contradicting accounts. On one hand, there are examples of women like Indira Gandhi, Benazir Bhutto, Hasina Wajid and Khaleda Zia as prime ministers, while on the other, the majority of women are seen as poor, illiterate and lacking political, social and economic opportunities.
A general perception ascribed to women in South Asian politics is that they belong to higher social strata and certain political parties, which aides their journey into the mainstream political arenas. However, women in general still lack the opportunities to participate and represent in the political arena due to a strong patriarchal system.
In Pakistan, a country where women constitute 48% of 190 million people, there are numerous issues concerning women's rights. According to Pakistan's Economic Survey 2014-15, only 22% of women are employed. They lack opportunities due to cultural and religious constraints largely rooted in patriarchal mind-sets.
The country's landscape rooted in forced marriages, acid attacks, honour killings and domestic violence incidents remain bleak for women in general. The Human Development Report (2015) ranks Pakistan at 147 on the Gender Development Index due to a marked increase in women rights violations. Since there is a lack of representation and exclusion in the political arena, these issues tend to grow in number. In order to increase women's participation and representation in line with global commitments, Pakistan introduced reserved seats for women in parliament in 2002. However, the representation of Pakistani women still remains under inquiry.
Historically, Pakistani women have struggled for citizenship and political rights, which can be traced to the colonial era. Although, they played an active role during the independence movement against the British rule, only two women were elected in Pakistan's first constituent assembly. As soon as the nationalist struggle was over, women were pushed back to their homes. Post-independence, only a minor fraction of women from elite families managed to take up women rights. But outside parliament, their first success came in the form of the charter for women's rights, which was included in the 1956 Constitution.
Subsequently, in 1961, family laws regulating marriage and divorce were passed. In the 1973 Constitution, the rights of female participation in all social, political and economic arenas were ensured, which led to the opening of government posts and services for them. Moreover, this was the first time a woman could be appointed as a provincial governor and the National Assembly's (NA) deputy speaker.
However, the situation reverted in the 80s. This era saw the promulgation of the Hudood Ordinance, notorious for its lack of distinguishing between adultery and rape and its discriminatory enforcement against women. Between 1988 and 1999, Pakistan witnessed several democratic regime changes. The era also witnessed Benazir becoming the first female prime minister, building hope that this change might bring about liberal democratic traditions, and increase women's political participation and representation. However, this did not happen.
In 2002, General Pervez Musharraf introduced mandatory women quotas at various levels of governance, 33% seats reserved for women at the local level, while 17% in both houses of the parliament. The implementation of quotas was seen as a positive step for empowering Pakistani women as previously women legislators never accounted for more than 3% of the total representatives.
The concept of reserved seats mandating a minimum number of women legislators emerged in the 30s. There are various rationales for the adoption of such quota systems. One school of thought is that only women can safeguard women's interests and promote justice for women. Another account is that in certain countries, elites adopt these quota systems for their personal gains. The concept behind quotas is that women are part of governments and legislatures. However, whether women on quota seats actually represent women is questionable.
In the case of women on reserved seats in Pakistan, conditions regarding the rules and procedures for selection and removal are fulfilled. However, since they lack a direct constituency, women constituents may not be able to hold them to account. As many as 37,597,415 women are registered voters, which account for 44% of the total voters.
Thus, by these proportions, women should have the same representation in the legislature and/or the issues raised in the legislature should adequately represent their population. A total of 60 seats are reserved for women in the incumbent 14th NA, which accounts for 17% of the House. These women are often termed as 'proxies' of the wealthy and elite families and hence do not represent the interests of the general female population.
Moreover, since there is no defined mechanism for the selection of women on reserved seats in the law, the general perception is that political parties' leaders select 60 women candidates based on their own choice. These women are mostly either relatives of the men leading political parties or belong to certain families, thus leading to an 'elite capture' of the reserved seats. In such cases, elite women who are favoured by political parties may also lack experience to represent citizens in legislatures.
Currently, 18 political parties are represented in the 14th NA, while women have representation in nine of them as reserved seats are allocated proportionately to the number of seats won in elections. The Pakistan Muslim League-Nawaz (PML-N) has 190 seats, of which 35 are reserved for women. Of the main opposition parties, the Pakistan Peoples Party (PPP) has 47 seats with eight reserved for women, while the Pakistan Tehreek-e-Insaf (PTI) has six. Within the NA, 50 out of these 60 women are part of the standing committees, while four hold government portfolios. Exploring their personal backgrounds, a majority of women on reserved seats are either housewives or social and/or political workers.
One can assume that their personal backgrounds may have considerable influence over their decision-making; for example, housewives will serve the interests of housewives, while the political/social workers will assist in enhancing women's social and political participation. However, this is difficult to ascertain without individually investigating their parliamentary agendas.
Women, in terms of strictly Orders of the Day submissions in the 14th NA, contributed to almost 60% of the agenda. However, the quality of these interventions will help understand if they were related to women or other issues. Since the NA's website does not make public the gender-specific parliamentary data and information, I could only explore the last parliamentary year.
Exploring the primary legislative function of law making, 26 bills were tabled by 16 women on reserved seats. Of these bills, only three were regarding women's rights. The first bill sought amendment in the Dowry and Bridal Gifts (Restriction) Act, 1976, demanding a complete ban on dowry. The second concerned the National Commission for Women, which was formed in 2013 to help vulnerable women, while the third bill was about provision of equal access and participation for women in government bodies, public administration entities and the judiciary. None of these bills were passed.
Similarly, 27 resolutions were tabled by 22 women on reserved seats with only one regarding women's rights. In terms of executive oversight, women legislators raised 59 attention notices, of which five focused on women's rights issues. While 1,158 questions were asked of various ministries by 38 women, only 26 were related to women's rights. Investigating the agenda's quality indicates that they have raised women issues, however, the question still remains if these parliamentary interventions are sufficient to help resolve the issues women face in Pakistan.
In a nutshell, it can be ascertained that some women in mainstream Pakistan's politics exercise strong influence in safeguarding women's rights. However, there are wider systematic, structural and societal issues which hamper their performance in legislatures. While in certain cases, some of the women legislators might also be reinforcing these systematic, structural and societal gaps. For example, women on reserved seats might be tied down to only raise agendas which are in line with their parties' or their party leader's stance.
These women might be willing to raise women-centric policies, but the aforementioned issues are not allowing them to do so.
While on the other hand, there can be another group of women legislators who are part of an elite that serve as proxies to their husbands, brothers and fathers. These women make it to the legislature due to certain electoral rules and regulations.
http://blogs.tribune.com.pk/story/51099/do-pakistani-female-legislators-actually-represent-women-or-merely-serve-as-proxies-for-the-wealthy-and-elite/
--------
Pakistan, US launch female self-defense programme
June 12, 2017
The US State Department has launched a self-defense awareness programme for college and university students, particularly for girls.
This initiative is taken by the Bureau of Educational and Cultural Affairs (ECA), US State Department and is implemented by IREX.
Tanzeela Bashir (Global UGRAD Alumna) has come up with five volunteers to visit three colleges and academies in June.
The programme will focus more on the practical aspect of self-defense along with how to be confident in the pace of world and live properly and take protected actions in case of any mishap or tragedy and is aiming for more than 500 college and university students in three days.
Women in Pakistan are contributing to the country's prosperity as much as men.
The key points of this initiative are to focus on the confidence building, to facilitate females with latest self-defence skills to help them deal with any hard time, and will also make them overcome their weaknesses and fear by making them talk about it. --------
The self-defence session is about 1.5 hours, in which the team will give the first aid training, along with brochure guide, certificates, gifts, evaluation form, displaying of self-help and awareness tips and individual and group activity.
If this project saves even one life, the impact factor would be immense.
https://www.pakistantoday.com.pk/2017/06/12/pakistan-us-launch-female-self-defence-programme/
--------
URL: https://www.newageislam.com/islam-women-feminism/i-felt-one-fathers-songbirds/d/111525
New Age Islam, Islam Online, Islamic Website, African Muslim News, Arab World News, South Asia News, Indian Muslim News, World Muslim News, Women in Islam, Islamic Feminism, Arab Women, Women In Arab, Islamophobia in America, Muslim Women in West, Islam Women and Feminism