New Age Islam News Bureau
04 January 2022
• AIMPLB Women's Wing Launches A 10 Days "Masnoon Nikah" Campaign
• Mona Bagahoom ,Saudi Female Cyclist And Diver Reveals Her Passion For Both Sports
• Two Turkey-Origin Women To Serve In New Dutch Government
• Afghan Shops Remove Heads of Mannequins in Line With Taliban Order
• Saudi Female Billiards Team Prepares For International Tournament In Egypt
• Shah Rukh Khan Fan From Egypt Makes BIG Gesture For Indian Woman Ashwini Deshpande, A Professor, Says 'You Are From SRK's Country'
Compiled by New Age Islam News Bureau
URL: https://www.newageislam.com/islam-women-feminism/activist-khalida-parveen-bulli-bai/d/126095
--------
I Am Their Mother's Age: Hyderabad Activist Khalida Parveen On 'Bulli Bai' Auction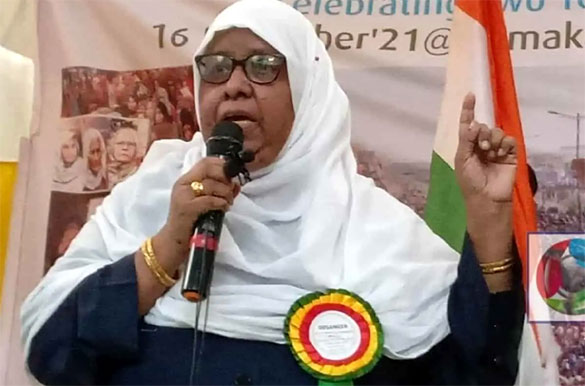 Hyderabad Activist Khalida Parveen
-----
Anjana Meenakshi
3rd January 2022
Hyderabad: "I was angry for the younger Muslim women until yesterday. It was only today I found out that even my name is on the list," said Hyderabad Activist Khalida Parveen laughingly.
Khalida Parveen and scores of other Indian Muslim women were "auctioned" on the platform Github, under the banner Bulli bai. While there is no real auction involved, it is clear that this was done with the sole purpose of sexualising, demeaning, and humiliating Muslim women.
Parveen's laughter, however, is not a sign of trivialising the issue. When asked if she was angry for her own sake, she said, "If they are going to auction off even a 65-year-old woman like me, who is their mother's age, I am not angry. I pity how shameless they can get. It is also deeply surprising that they can do something like this and then shout Bharat Mata ki Jai in the same breath. But to make it clear, I am not scared of these men."
Aside from Parveen, another resident of Hyderabad by the name Ayesha Minhaz who works as a journalist was also "auctioned".
As far Parveen is concerned, the "auction" took place this time around to solely divert from the Haridwar hate conclave headed by Yati Narsinghanand.
What is the Bulli Deals app?
The app was created on the Github platform and popped up on January 1.
This incident comes six months after the incident of July 2021, where Muslim women were auctioned online by right-wing trolls baring proof yet again to the disregard and degradation Muslim women are subjected to in today's climate.
The term 'Bulli' is a derogatory slur that has been used to insult and disrespect Muslim women. In the same vein, it is worth noting that the term "Sulli" is an offensive slur used against Muslim women and has made the rounds time and again in communal pogroms. In the current climate, neither the term nor the rampant discrimination against Muslim women seems to die down either.
Response of the women:
Despite the rampant hatred, Parveen is clear about the fact that she is unwilling to let this affront and humiliation go unanswered. "I have registered a complaint with the Cyber Crime Station. I am hopeful that the police will take action as they have been very receptive. The entire government came to a standstill when Muslim women protested at Shaheen Bagh. They are trying to silence us now and once again they will not succeed."
Ayesha echoing Parveen's sentiment says, "Although I doubt whether this would lead to anything, I will certainly take legal action."
Speaking to Siasat.com, Commissioner of Police for Hyderabad, CV Anand remarked that they have spoken to the women in question and are launching a formal investigation to detect the whereabouts of the perpetrator.
However, it is yet to be seen whether this will yield any solution, or like the July incident of "Sulli Deals", this too shall go unanswered.
Source: Siasat Daily
https://www.siasat.com/i-am-their-mothers-age-hyderabad-activist-khalida-parveen-on-bulli-bai-auction-2251604/
--------
AIMPLB Women's Wing Launches A 10 Days "Masnoon Nikah" Campaign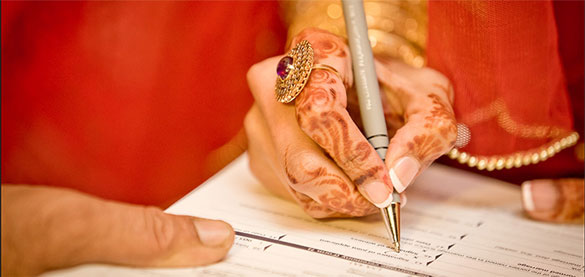 (Representational Image)
----
4th January 2022
Hyderabad: The Women's Wing of All India Muslim Personal Law Board has launched a 10 days "Masnoon Nikah" campaign at all India level to make marriage an easy and simple affair.
This campaign has been launched from Telangana's Capital from December 28 2021. The first session was held at Aamdaar Function Hall at Musheerabad on Tuesday.
The function began by Quran recitation by Ms. Asma Nadeem, representative of Muslim Development Society.
Prof. Tayyaba Sultana shed light on the concept of easy Nikah as per "sunnat". "Muslims must avoid Un-Islamic social practices in marriages," she said.
Dr Asma Zehra Chief organizer Women Wing spoke on the topic "Social Media and the Reformation". She explained that some social evil practices are spoiling the Muslim society. "We need to end those practices," she said.
"It is the duty of every Muslim to know what is 'Haram and what is Halal' in the light of Quran. Every Muslim man and woman must know what are the the rights, duties and obligations under the marriage contract," Dr.Asma said.
Dr Asma told the Muslim women and girls to maintain chastity. She referred to the Quranic verse which exhorts the believers to follow the religion in totality. "It is the duty of every woman and girl to differentiate between halal and haram relations and must resolve to live life maintaining chastity and avoid being involved in 'affairs' which is a grave sin. Patience is the essence of Quranic teachings and hence we must steadfast in the face of difficulties in life," she said.
Ms. Zara Khan representative of Muslim Girls Association spoke about the youth's role in "Masnoon Nikah". She said that youths are the wealth of any nation. Any change can only be brought about through the youth. "In respect of marriage, the Muslim youths who can play a crucial role to end Un-Islamic practices like dowry, monetary demands, singing dancing and other evil practices during the marriage."
"It is the need of the hour for Muslim boys and girls to lead life according to the teachings of Quran and sunnat. We must stay away from involvement in 'affairs' through social media," she said.
About 500 girl students took part in this special session which was concluded with "Dua" (supplication).
Those who wish to hold a "Masnoon Nikah" program in their areas can contact 9032 961 712 or 2332 657.
Source: Siasat Daily
https://www.siasat.com/aimplb-womens-wing-launches-campaign-for-easy-nikah-2252500/
--------
Mona Bagahoom ,Saudi Female Cyclist And Diver Reveals Her Passion For Both Sports
January 03, 2022
RIYADH: Mona Bagahoom has loved cycling since she was young and is now a team captain for women's cycling in the Kingdom, as well as enjoying her time exploring the depths of the Red Sea as a diver.
"I have loved riding bicycles ever since I was a child, and I improved my physical fitness as well as my technical performance until I became the captain of the team, and that is the sport that is close to my heart until today."
She expressed her happiness about women cycling. The team covers long distances, reaching 100 km, taking in several Jeddah neighborhoods and touring different areas such as the corniche and the city's historic parts.
She said that a lot of people had started to cycle and dive, with both sports becoming widespread, especially cycling. People loved to take up sports – new ones in particular – and had also started to dive. This discipline required courage and breathing exercises, she added.
"I train on Jeddah's corniche four times a week, covering a distance of 60 km each time. Around a year ago, I joined the Brave Cyclist team and I train on my bicycle from Al-Hamra neighborhood to the center of Al-Balad in Jeddah, covering a distance of 25 km. As for the rest of the week, I cover 30 to 50 km, and a distance of 100 km once a month."
She also expressed her love for diving, another sport she had mastered and felt as passionate about as cycling. "I dreamed of diving until I mastered it. I love this marine sport, it is fun and beautiful and I have never felt fear while diving."
She said diving should be practiced by healthy people, especially ones who did not suffer with ear problems as it required special breathing exercises, and that a diver must have courage.
Bagahoom viewed diving as a journey to explore and get closely acquainted with the underwater world.
She has her Open Water Diver certification, allowing her to dive to a depth of 40 m and dive at night.
Source: Arab News
https://www.arabnews.com/node/1997436/sport
--------
Two Turkey-Origin Women To Serve In New Dutch Government
January 03 2022
Two women lawmakers of Turkey-origin will take their seats in the new four-party coalition government, with the parties reaching an agreement under the leadership of Prime Minister Mark Rutte after a 271-day government-free period in the country.
Dilan Yeşilgöz-Zegerius, a 44-year-old politician of the right-wing People's Party for Freedom and Democracy (VVD) who has been a member of the House of Representatives since the 2017 general election, will be the country's new justice and security minister.
Born in Ankara and emigrated to the Netherlands as her father, a member of the Confederation of Revolutionary Trade Unions of Turkey (DİSK), applied for asylum right after the 1980 military coup, Yeşilgöz-Zegerius served as economic affairs and climate policy minister in the previous term.
Another Turkey-origin politician who will take part in the Dutch government is Günay Uslu, a member of a family settled in the Netherlands from Central Anatolian province of Afyonkarahisar's Emirdağ district. She is also the sister of Atılay Uslu, the founder of Corendon tourism firm.
Uslu, who had been working as the development director at her family's company, will now assume the role of minister of state for media and culture in the new government. The 49-year-old politician is also an expert on European cultural history, heritage and museums.
She has been appointed to the cabinet from outside of the parliament by D66, a social liberal and progressive political party.
Source: Hurriyet Daily News
https://www.hurriyetdailynews.com/two-turkey-origin-women-to-serve-in-new-dutch-government-170520
--------
Afghan Shops Remove Heads of Mannequins in Line With Taliban Order
January 03, 2022
ISLAMABAD —
Clothing shops in Afghanistan's western Herat province have begun removing the heads of display mannequins, in line with new directives given by the local office of the Taliban's ministry for Islamic guidance.
Obeidullah Yari, a local business community leader, told VOA on Monday that about 20% of the shops in the provincial capital, also named Herat, have already implemented the order to escape punishment.
The Ministry for the Promotion of Virtue and the Prevention Vice, which is responsible for administering the Taliban's interpretation of Islam, decreed last week that shop mannequins should have their heads removed for being offensive to Islam, warning that violators would be punished.
City mall owners and garment sellers initially criticized the Taliban directive, telling Afghan media that mannequins were also used to display clothes in other Islamic counties. But Yari said shopkeepers were now removing the heads of the dummies.
Aziz Rahman, the provincial head of the ministry, told local media he ordered shopkeepers to hack the heads off their mannequins because "they are idols." He went on to explain that Islam prohibits idolatry, or the worshipping of idols.
Taliban authorities reportedly have also increased monitoring of public taxis in the capital, Kabul, to see if drivers are abiding by the ministry's instructions related to women's right to travel.
The decree requires drivers to carry only those female passengers who wear a headscarf or Islamic hijab and are accompanied by a male relative if they travel more than 72 kilometers. It also instructs cabdrivers to grow beards, stop their vehicles at prayer times and stop playing music while driving.
The ministry reportedly has also banned Afghan women from driving. It has also ordered local channels to stop showing dramas and soap operas featuring actresses, and female news anchors to wear hijabs while on the air.
Taliban chief spokesman Zabihullah Mujahid, in a recent interview to Afghan state television, defended the steps taken by the Ministry for the Promotion of Virtue and the Prevention Vice, saying they should not be a matter of concern for anyone because "Afghanistan is Muslim nation and no one is opposed to Islamic laws in the country."
Mujahid said, however, that all government "religious departments" are instructed not to "mistreat people and be polite to them" while giving them guidance about Islam.
The ultraconservative Taliban regained power in August and named an all-male interim Cabinet to govern the conflict-torn country in line with the group's strict interpretation of Islam, despite pledging not to revert to the harsh polices of their previous regime from 1996 to 2001.
The government has allowed schoolboys to return to classes but girls across many Afghan provinces are still waiting for permission to do so and most women have been prevented from returning to work.
When the Taliban were last in power, girls were not allowed to attend school and women were barred from work as well as education. The then-Ministry for the Promotion of Virtue and Prevention of Vice, or the morals police, had been accused of serious human rights abuses, leading to Afghanistan's isolation from the world.
Mujahid said that arrangements were being made to allow all Afghan girls to resume their educational activities, noting that schoolgirls across several provinces have already rejoined classes.
Critics, however, are skeptical of the Taliban assurances and say the group is gradually bringing back its repressive policies of the past.
"It was expected; but I would have welcomed every single employee of this ministry to be focused on poverty reduction, aid delivery and lifting the beggars from the street, feeding them & giving them a job as their 1st priority," tweeted Torek Farhadi, a former Afghan official.
The United States and the global community at large have not recognized the new Taliban government and suspended most non-humanitarian financial assistance to the aid-dependent country.
Foreign countries continue to refuse to open direct political engagement with the Islamist group until it ensures respect for human rights, especially those of women, runs the country inclusively and cuts ties with transnational terrorists.
Meanwhile, Afghanistan is in the grip of a severe humanitarian crisis stemming from years of war, drought and poverty. The United Nations has repeatedly warned that more than half the population in the country are facing starvation, with nearly a million children at risk of dying because of a "severe acute malnutrition."
Source: VOA News
https://www.voanews.com/a/afghan-shops-remove-heads-of-mannequins-in-line-with-taliban-order/6379748.html
--------
Saudi female billiards team prepares for international tournament in Egypt
January 03, 2022
RIYADH — The Saudi women's team for billiards and snooker has started their preparations to participate in their first international tournament.
The team members are engaged in intensive practicing at their indoor training camps, which are being held in Riyadh and Dammam. Those who performed well in the camp will be selected to represent the Kingdom in the international friendly tournament, scheduled to be held in Egypt in the end of January.
Several training sessions and technical workshops are being held as part of the camps, which are directly monitored by Dr. Nasser Al-Shammari, chairman of the Board of Directors of the Saudi Billiards and Snooker Federation, and under the supervision of the first billiard team coach Mansour Al-Khanfari.
Source: Saudi Gazette
https://www.saudigazette.com.sa/article/615442
--------
Shah Rukh Khan Fan From Egypt Makes BIG Gesture For Indian Woman Ashwini Deshpande, A Professor, Says 'You Are From SRK's Country'
Jan 03, 2022
New Delhi: Megastar Shah Rukh Khan resides in every Indian's heart - this is a fact. However, the Badshah of Bollywood also has a loyal fan following across the world with many die-hard SRK fans that would do anything to meet him.
An Indian professor encountered an interesting fan moment when she was making a payment to a travel agent in Egypt.
Ashwini Deshpande, a professor, wrote on Twitter that she was facing problems while paying a travel agent from Egypt. However, instead of making her wait or cancelling her booking, he made an advance booking for her. He trusted her enough to do this as he said, she was from Shah Rukh Khan's country and he was a big fan.
She recalled the ordeal on Twitter and wrote, "Needed to transfer money to a travel agent in Egypt. Was having problems with the transfer. He said: you are from the country of @iamsrk. I trust you. I will make the booking, you pay me later. For anywhere else, I wouldn't do this. But anything for @iamsrk. & he did!."
For the unversed, Shah Rukh Khan has been busy shooting 'Pathan' co-starring Deepika Padukone and John Abraham.
He was last seen on screen in Aanand L Rai's 'Zero' along with Anushka Sharma and Katrina Kaif.
The actor had a tough year in 2021 as his son Aryan Khan was arrested in a drugs-on-cruise case in October by the NCB. The star kid was released on bail on October 28 as per Bombay HC's orders.
Source: Zee News India
https://zeenews.india.com/entertainment/buzz/shah-rukh-khan-fan-from-egypt-makes-big-gesture-for-indian-woman-says-you-are-from-srks-country-2424921.html
--------
URL: https://www.newageislam.com/islam-women-feminism/activist-khalida-parveen-bulli-bai/d/126095
New Age Islam, Islam Online, Islamic Website, African Muslim News, Arab World News, South Asia News, Indian Muslim News, World Muslim News, Women in Islam, Islamic Feminism, Arab Women, Women In Arab, Islamophobia in America, Muslim Women in West, Islam Women and Feminism