New Age Islam News Bureau
28 May 2013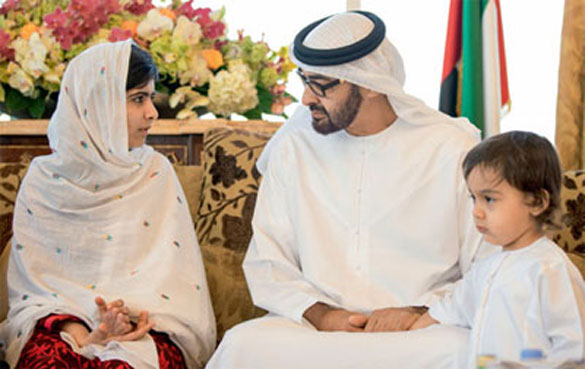 Photo: Malala Yousufzai was received by General Sheikh Mohammed Bin Zayed Al Nahyan
-----------
• Indian Muslim Girls to Submit Education Proposals to Centre
• Scars of Militancy, Floods, Leave Girl Schools Empty in Swat
• Maldives Women's Team Forfeit Basketball Tournament over Headscarf Ban
• Zero Women Voter Turnout in Some Swat Areas
• Emirati Women Pioneers Talk Tradition Vs Unusual Career
• Malala Meets UAE Top Leadership
• Malaysian Women Opening Up About Sex
• Bangladesh Mahila Parishad Expresses Concern
• Iranian Women 'Complimentary' but Not Equal to Men
• Six Women Lawmakers Win Again On General Seats in Pakistan
• Saudi Climber Asks Women to Challenge Themselves
• Decade's Largest Women Conference Launches in Malaysia
Compiled by New Age Islam News Bureau
URL: https://newageislam.com/islam-women-feminism/hyderabad's-nausheen-exposes-racket-temporary/d/11776
----------------
Hyderabad's Nausheen exposes the racket of temporary marriages with Sudanese men
A report in daily Azadi, Pakistan
Translated by New Age Islam News Desk
May 28, 2013
The capital of Indian state, Hyderabad, once notorious for the marriage of Muslims girls with old Arab citizens is again in the news for temporary marriages.
Presently, the police is investigating a case involving a 16 year old girl Nausheen Tabassum. She has complained to the police that she was being forced to marry a 44 year old Sudanese married man for thirty days. The inspector of Mughalpura police station of Hyderabad told BBC that the marriage registrar (Qazi) Bashiruddin has been arrested who has intentionally administered the Nikah of a girl child. He also prepared the divorce paper at the time of Nikah that proclaimed that the Nikah was valid for 30 days.
The inspector said that the Nikah was illegal in all respects. It was in violation of Islamic and legal laws. The police have arrested a woman named Mumtaz Begum and his aide who were arranging the marriages of the poor girls of Hyderabad with Sudanese men. However, Nausheen's parents, Yousuf and Aisha are missing and the police is looking for them. Nausheen's case has sparked a debate in the city. However, it is not the first incident of its kind. The Director of an NGO Federation of Voluntary Associations, Dr Mazhar Hussain says that this issue is 10-15 years old but has surfaced now because girls have become aware of their rights and they have got the courage to stand against such practices.
Mazhar Hussain says, "It is true that such incidents are rare now in comparison to the past but it has got more space in the media now which is a positive development.
According to the police, Nausheen escaped from her house and went to the police station when her family was pressuring her to go the hotel with a Sudanese citizen Usama Ibrahim Muhammad. According to the police, Usama had come to Hyderabad on being told by his friends that he could get a temporary wife at a low expense. He saw four girls with the help of Mumtaz Begum and liked Nausheen. Two days later he paid the woman Rs one lakh, from which the Qazi and the Arabic translator were paid Rs five thousand each. The woman kept twenty thousand to herself. The girl's family got Rs 70 thousand.
Later Nausheen told the police that she did not know how marriage was solemnised. She said to the police, "That day, I was made to wear a red sari and was told to say, 'I accept (qubul hai)'. Later when my family members tried to send me to his room, I got scared and refused to go."
On the girl's refusal, Usama got angry and went back to his hotel but the family members and the mediators assured him that the girl would reach the hotel within a few days.
During this period the Qazi prepared the Nikaahnama in which the girl was shown as an adult. At the same time, the Qazi also prepared a divorce paper in advance which said that the Nikah was valid only for thirty days.
When the pressure from the family increased, Nausheen one day came out of the house and went to the police station. On listening to her story, the police swung into action and her statement was recorded in presence of lady police personnel and the arrests were made on its basis.
The police say that it was an old issue in the old city of Hyderabad and at least fifteen contract marriages are registered here every month and men from Sudan are the most doing these marriages these days.
A police officer said that the reason behind this is that many people from Sudan come here for study and wealth of Sudan has increased due to discovery of oil there. So when someone wants to have sexual relationship with a woman outside marriage, he comes to India as extra-marital relationships are illegal and Haram in Sudan. But very few complaints come to the police. Mazhar Hussain says that most parents agree to the temporary marriages of their daughters due to poverty as in Hyderabad marriage of poor girls is not easy. A marriage here costs about Rs 3-4 lakh.
The officer says that such incidents occur mainly in the old city of Hyderabad where mostly poor families live. For example, Nausheen has four sisters and is the eldest of all. Nausheen is not ready to go back to her home and is sheltered in the government home meant for helpless girls. This incident has also exposed the government Quazis. Bashiruddin has been suspended but there are some other Quazis who administer such fake Nikahs.
Hyderabad's chief Qazi says, 'Action should be taken against such Quazis as contract marriages are Haram in Islam. Marriage is a permanent relation.'
Mazhar Hussain said that contract marriage is another form of prostitution. Since illicit relationship is Haram in Islam, they are using the name of marriage and ruining the lives of girls.
The way Nausheen has raised her voice against this evil practice has reminded us of the Amina Begum case whose marriage to an old Arab in 1991 had created ripples in the country. Amina had been saved by an air hostess of the airplane in which she was crying while travelling with her old Arab husband.
-------------
Indian Muslim Girls to Submit Education Proposals to Centre
TNN | May 28, 2013
IMPHAL: Girl students of the minority Muslim community in strife-torn Manipur are all set to place a battery of recommendations for their welfare in the education sector to central leaders for redressal.
The recommendations were adopted during a seminar-cum-interaction programme on 'Education of Muslim girls: Opportunities and Challenges', organized by the All Manipur Muslim Girl Students' Union (AMMGWA) recently in Imphal.
"We are prepared to submit the recommendations next week to Prime Minister Manmohan Singh, UPA chairperson Sonia Gandhi, minority affairs minister and other central leaders for redressal," said AMMGWA president Rukshar Chowdhury on Monday.
The same would also be placed to governor Gurbachan Singh, chief minister Okram Ibobi Singh and other ministers, she said, even as the seminar identified poverty as one of the most important factors for the low literacy rate of Muslims in general and the community's women in particular.
The seminar recommended that the quality of education and school infrastructure should be improved and that the government should ensure that schools in Muslim-dominated areas comply with the norms and standards laid down in the RTE Act.
Special incentives in the form of scholarships or financial assistance for poor students may be provided and such facilities may be extended to students reading in private schools also, it added.
The seminar suggested setting up of special residential schools on the model of Navodaya Vidyalayas and at least one residential girls' college at suitable locations where girl students will have no fear in going to the school or college. It also asked for setting up Kendra Vidyalayas, Kasturba Gandhi Balika Vidyalayas and model schools in the large Muslim-inhabited areas.
Other recommendations were alternate admission policies in colleges and universities to allow Muslim girls easy access to higher education and reservation of seats in schools and higher institutions for Muslim students with separate reservation for girls.
Attended by hordes of scholars, officials and social activists, the seminar also recommended that an alternate system of higher education like distance education and community college should be instituted in strategic areas of the state.
It also asked for effective minority cells in the various departments of education, namely school education, higher education, Sarva Shiksha Abhiyan and Rastriya Madhyamik Shiksha Abhiyan to look into the needs and problems of Muslim and other minority students. These cells should have advisory panels of academicians and intellectuals from minority communities to chalk out strategies for improving education of the Muslims and other minorities, it was recommended.
http://timesofindia.indiatimes.com/city/guwahati/Manipur-Muslim-girls-to-submit-education-proposals-to-Centre/articleshow/20302741.cms
----------------
Scars Of Militancy, Floods, Leave Girl Schools Empty In Swat
Muhammad Irfan Haider
27th May, 2013
SWAT: Twelve-year-old Nida Khan stands gloomily outside her mud house in Saar village, Swat. She looks at a school van carrying kids to a private school that leaves her eyes brimming.
Nida misses her own government school which was destroyed by militants in 2009. She doesn't know if her school will ever open up again.
The demolished government primary school looks more like an old ruin rather than a school located just 20 kilometres from Mingora. People cross the school property easily; it has no gate or walls, doors, or windows except for one single remaining wall dividing two classrooms.
Nida was studying in third grade along with 150 other girls. "I was near school on that day when terrorists destroyed the doors and windows of the school and banned female education in this school," she says. Her father, Niaz Ali, says parents are concerned about the education their children are missing out on. "Due to the closure of the school in our village, our children are at home … While we have no money for food then how we can admit our children in private schools?" he asks.
Like Nida, Zeba Ahmed was also a fourth grade student in this school in 2009. Zeba said that after the restoration of peace in the area, she took admission again for in the Shingrai government middle school which is eight kilometres away from her village. "After early morning prayers, I go to school and come back to home in the evening because the school is situated on the other side of the mountain," she explains.
Saeed Khan, a 10-year-old boy of Nijigram village in Swat also looks forward to school but has nowhere to go, because there are no teachers for his school. Many of the students were forced to quit education after the school was destroyed," he says.
Ajab Khan, a teacher in a primary school who belongs to Sakhra Village said that the primary school there was destroyed due to the floods in 2010. A total of 300 students were enrolled there at the time. "People who don't have financial problems admitted their children in private schools of the city while the children of the remaining poor are working in the fields with their parents to earn some money to meet the expenses of daily life," he added.
Khan said that hundreds of students in villages in the Matta, Kabal, Bahrain and Charbagh Tehsils are facing difficulties in continuing their education because of a delay in reconstruction of schools in their areas. "Some of them are attending their classes in the grounds of these destroyed schools which create more difficulties for them during the rainy season," he explains.
According to Muhammad Habib, the head of the psychiatry department at Islamic International Medical College, Rawalpindi says that the children who are unable to join their often suffer from depression as a result. Professor Dr. Anis Ahmed, the Vice Chancellor at Riphah International University adds, "If a male reads, it is as if an individual reads but when a woman studies, it is as if a country reads," highlighting the important of the resumption of female education.
Former Khyber Pakhtunkhwa Education Minister Sardar Hussain Babak said that after the extended unrest and violence, the literacy rate in Swat is 26 percent, although it stood at 80 percent before 2005 in Swat valley. The major reasons for the decrease in the literacy rate were militancy, destruction of schools, the migration of around 1.2 million people during the militancy period and the flood of 2010, he explains.
Swat District Education Officer Dilshad Begum said that around 404 schools were damaged during conflict in Swat, including 217 schools for girls and 187 schools of boys. "Out of 404 destroyed schools, 174 schools destroyed completely while 230 schools damage partially," she added.
Dilshad Begum said that the former provincial government of KP reconstructed around 350 schools in the district with the help of the Provincial Reconstruction, Rehabilitation and Settlement Authority (PaRRSA), Qatar Charity, the UAE government, the EU and USAID but around 52 schools including 33 girls' primary schools are still closed in different areas of Swat which were destroyed due either due to militancy or the flood of 2010. "These destroyed schools are situated in Tehsil Matta, Kabal, Bahrain and Charbagh areas of district Swat," she says.
Taliban militants headed by Maulana Fazlullah started anti-state activities in the district while security forces started an operation against them in 2009.
Although the government managed to restore peace in Swat by December 2009, militants targeted 15-year-old Malala Yousufzai on October 9, 2012 who penned a series of articles for the BBC, describing life for a girl in Taliban-controlled Swat, where she was forced to sit at home, unable to attend school. Two others students named Shazia Ramzan and Kainat Riaz were also injured along with Malala in the terrorist attack although both have now returned to school.
Former Federal Minister and PML-N leader Ameer Muqam said that his government will focus on the reconstruction of the destroyed schools in Swat. "I visit different areas of my district to take the review of the destroyed schools and I will provide a detailed briefing to my leadership for the reconstruction of these schools on a priority basis," he says.
In the meanwhile, Nida waits for the day she can go back to school. "I keep my school uniform so that one day I will go to my school again along with my friends," she says.
http://beta.dawn.com/news/1014173/scars-of-militancy-floods-leave-schools-empty-in-swat
----------------
Maldives women's team forfeit basketball tournament over headscarf ban
By Minivan News | May 27th, 2013
The Maldives' women's basketball team refused to play without their headscarves, forfeiting the International Basketball Federation's (FIBA) first under 18 three-on-three tournament held in Bangkok, Thailand earlier this week.
"The girls were really upset, we are as well. We came prepared based on the uniform the team wore in the last two games," Maldives Basketball Association (MBA) President Ahmed Hafiz told Minivan News today (May 27).
"According to FIBA, the head cannot be covered during play. We have to go with FIBA rules if we want to play," Hafiz stated.
The Maldives' women's basketball team has been allowed to participate in past tournaments while wearing burugaathah (headscarves), however the decision to make an exception to the rules "depends on the officials", according to Hafiz.
"Qatar held a tournament two weeks back and there were some complaints that the Qatar team was wearing headgear, so FIBA was forced to apply the rules," Hafiz explained. "Maybe that is the reason this issue came up for the Maldives [in this tournament]."
FIBA Asia has designed a jersey for Muslim players, but still needs to obtain FIBA international approval, according to the MBA.
"FIBA Asia is working on this because lots of Muslim countries are involved. Now the are suggesting to FIBA International to change the rules to allow headgear," said Hafiz.
The Maldives' under 18 women's team is planning to participate in the upcoming Asian Youth Games, to be held this August in Nanjing, China, according to Hafiz.
"However, [the choice] is up to the players. We will not force them," he said.
"This is a big problem for the game and will ruin the development of women's basketball for a place like this, because there are still very few girl players and most wear the burugaa," MBA Secretary General Arif Riza told Minivan News today.
"FIBA is pretty clear about the rules, so although the team has been allowed to play twice before, this was a mistake of ours also," said Riza.
The primary issues of concern to MBA are that FIBA permitted the Maldives' team to wear headscarves during tournaments in 2011 and 2012 as well as allowed other teams to play in violation of different dress code rules, such as wearing t-shirts instead of jerseys, according to Riza.
"Immediately after President Hafiz arrives [from Thailand] we will discuss the issue and write FIBA a letter," said Riza.
"They should be allowed to have the right to play," he declared.
FIBA Response
The headgear ban is "a part of FIBA Rules, but not a policy," FIBA Asia Secretary General Hagop Khajirian told Minivan News Thursday (May 23).
"It has nothing to do with headscarves as such, but more to do with the regulations which stipulate that the playing gears of players has to be such that it may not cause any harm or hindrance to themselves or opponent players," explained Khajirian.
Although these rules have "been the case always", FIBA is currently reviewing the headscarf restriction.
"There have been requests from many nations regarding this. And the FIBA Asia Central Board, in its meeting [held] on April 24 in Kuala Lumpur, resolved to send a study paper to FIBA to be taken up for further consideration," said Khajirian.
The choice to cover
While Maldivian women's participation in basketball is slowly increasing, netball is popular nationwide. Although there are key distinctions between the two sports – such as no dribbling in netball – the rules are very similar, according to a skilled Maldivian netball player of nine years and student coach of six years.
"Wearing the burugaa while playing netball is no problem for us, it is not difficult and we've never experienced any injuries [from the headscarves]," she explained on condition of anonimity.
"Every person has the choice of whether or not they choose to wear the burugaa. However, it is a religious thing, in Islam Muslims have to cover, it is the right thing," she continued.
"Although some are not wearing [headscarves], that is their choice," she added.
The netball enthusiast agreed with the Maldives' women's basketball team decision to not remove their headscarves and forefit their game in the recent FIBA three-on-three tournament.
"Their choice was the correct one, they do not want to break religous rules," she said.
"FIBA should change their rules if they want Maldivians to participate, because so many [women] are wearing burugaathah. They have to change so everyone can compete," she added.
Burugaa bans
A senor researcher from the internatonal NGO, Human Rights Watch, previously highlighted the discriminatory issue of banning women from wearing headscarves, in a 2012 article "Banning Muslim Veil Denies Women a Choice, Too".
"The sad irony is that whether they are being forced to cover up or to uncover, these women are being discriminated against. Banned from wearing the hijab – a traditional Muslim headscarf – or forced to veil themselves, women around the world are being stripped of their basic rights to personal autonomy; to freedom of expression; and to freedom of religion, thought and conscience," wrote Judith Sunderland.
"Denying women the right to cover themselves is as wrong as forcing them to do so. Muslim women, like all women, should have the right to dress as they choose and to make decisions about their lives and how to express their faith, identity and moral values. And they should not be forced to choose between their beliefs and their chosen profession," notes the article.
Muslim women's basketball players in Switzerland and Baharain have also faced controversial opposition to their refual to remove their headscarves.
The Baharaini team was "lauded" for their refusal to remove their headscarves during an international competition in 2009, according to Gulf News.
Meanwhile, Sura Al-Shawk, a 19 year-old STV Luzern basketball player, was denied permission to play while wearing a headscarf by the Swiss basketball association ProBasket in 2010, reported the Associated Press.
ProBasket told the Associated Press it followed FIBA rules and that wearing the headscarf while playing basketball "could increase the risk of injury and the sport has to be religiously neutral".
In July 2012, the Fédération Internationale de Football Association (FIFA) overturned a headscarf ban, which was put into place in 2007, after a yearlong campaign led by FIFA vice president Prince Ali of Jordan, reported the Associated Press.
http://minivannews.com/society/maldives-womens-team-forfeit-basketball-tournament-over-headscarf-ban-58580
----------------
Zero women voter turnout in some Swat areas
May 28, 2013
MINGORA, May 27: Swat Unity Network, a grouping of 13 nongovernmental organisations, has said zero women voter turnout was recorded at many polling stations of Miadam and Bharthana union council, Swat on May 11.
SUN coordinator Khan Saeed told a news conference here at Swat Press Club that his organisation had conducted a survey to know turnout of women voters in Swat district.
He said the survey showed that in Bharthana union council of PK-84, not a single women voter participated in the May 11 electoral exercise, while in Miadam union council of PK-85, women were deprived from their right to vote. Mr Saeed said the survey was conducted in areas to which the surveyors' access was possible.
He said three polling stations in PK-85, including Mataltan, Osho and Cherat, and one polling station in PK-80, Amankot, had reported zero women voter turnout.
The SUN coordinator said 10 per cent of the total women votes in a national or provincial assembly constituency were required by the Election Commission of Pakistan rules to be polled. He demanded re-election in polling stations, where women voter turnout was zero. Mr Saeed said he had written to the chief election commissioner for the purpose, but to no avail yet.
SUN executive member Huma Shakir, who was also in attendance, said her organisation had carried out a campaign before May 11 to motive women to cast vote.
She said women had reportedly gone to polling station in Bharthana union council on May 11 but were stopped from casting vote.
Power transformer to be installed
Commissioner of Malakand division Dr Fakhar Alam on Monday said he that a heavy power transformer sanctioned for the district Swat would be installed here at any cost.
He said this during a meeting with a delegation of Swat Chamber of Commerce and Industry (SCCI) here.
The delegates led by SCCI president Haji Ameer Rehman apprised the commissioner of their reservations about the reported shifting of 20/26 KV power transformer from Swat to Dera Ismail Khan.
According to SCCI general sectary Mohammad Iqbal, the commissioner contacted the Pesco chief executive by the telephone at the visitors' request and conveyed the SCCI office-bearers' reservations.
He said the transformer approved for Swat would be installed in the area next month.
The commissioner said he would continue protecting the rights of Swat besides addressing their problems, including excessive power cuts.
Academic Expo to be held
University of Swat will hold a two-day Academic Expo from tomorrow (Wednesday) on the campus.
A spokesman for the university said students of all public sector universities will exhibit their work in the event. On the first day of the exposition, noted Pashto poets will appear in a grand mushaira to recite poems.—Correspondent
http://beta.dawn.com/news/1014320/zero-women-voter-turnout-in-some-swat-areas
----------------
Emirati Women Pioneers Talk Tradition Vs Unusual Career
By Noor Nazzal
May 27, 2013
Dubai: Tradition and culture should not be a barrier that limits Emirati women and communication is the key tool in changing people's mind set about certain professions was the message that Emirati women pioneers shared at the Higher Colleges of Technology in Dubai yesterday.
The forum titled 'Emirati Women breaking Barriers' was organised by a group of senior students as part of their senior graduation project.
During the panel titled 'Which comes first my culture, traditions and family or my career', speakers discussed the relation between career and traditions and the means to convince parents about the unusual professions.
Full report at:
http://gulfnews.com/news/gulf/uae/education/emirati-women-pioneers-talk-tradition-vs-unusual-career-1.1189201
----------------
Malala Meets UAE Top Leadership
May 28, 2013
ABU DHABI: Malala Yusufzai Tuesday met the top leadership of the United Arab Emirates (UAE), which included Sheikh Mohammad Bin Zayed Al Nahyan and Deputy Supreme Commander of UAE Army, at Al Bahr Palace here, Geo News reported.
UAE dignitaries enquired after the health of Malala and also got themselves briefed about the Malala's vision on education, especially girls' education.
Malala lauded the invaluable services of both the leaders for education sector.
Pakistan embassy also arranged one reception in honour of Malala Yusufzai here; however media was not allowed to participate in the reception.
http://www.thenews.com.pk/article-102778-Malala-meets-UAE-top-leaderships
----------------
Malaysian Women Opening Up About Sex
Alisha Hassan
May 28, 2013
KUALA LUMPUR: The area around their table goes silent as a man walks by. For these young girls, talking about sex and sexuality is an almost untouchable subject in Malaysia, but they are hoping that coming together and talking about their experiences will help change how women in the country can develop an understanding of sex.
"The idea of sex and women is a struggle in Malaysia because society says that women should be honourable and wait until marriage," said Sonal, a 21-year-old university student in the Malaysian capital.
Full report at:
http://bikyanews.com/88940/malaysia-women-opening-up-about-sex/
----------------
Bangladesh Mahila Parishad Expresses Concern
MAY 28, 2013
Bangladesh Mahila Parishad yesterday expressed concern over the continuous violence in the country due to political instabilities ahead of the general election.
At a press conference in the capital's Jatiya Press Club, Jana Goswami, advocacy director of the parishad, read out a paper with Ayesha Khanom, president of the parishad, and Maleka Banu, its general secretary, present.
The organisation said the political conflicts are damaging the country's economy, education system, communal peace and good governance.
Criticising the communal and fundamentalist communities, the parishad also slated the role of the present opposition party for their direct and indirect support to the communities.
The organisation made some demands including ensuring safety of women and ban on the use of religion in politics.
http://www.thedailystar.net/beta2/news/mahila-parishad-expresses-concern/
----------------
Iranian Women 'Complimentary' but Not Equal to Men
27 May 2013
Iranian women are barred from major areas of activity that require working alongside men because they are not considered equal, Iran's former Minister for Women's Affairs told Al Arabiya English on Sunday.
"In general, the whole philosophy is that women are complimentary to men but not equal entities," said Mahnaz Afkhami, who is also president of the Women's Learning Partnership.
On the sidelines of the Women Deliver 2013 conference in the Malaysian capital, she explained that a change of mindset in Iran is required.
"When you have that sort of philosophy, and you are proud of it and constantly advertising it, of course women are unable to show their real potential and help develop the country," Afkhami said.
Full report at:
http://english.alarabiya.net/en/perspective/2013/05/27/Ex-minister-Iranian-women-complimentary-but-not-equal-to-men.html
----------------
Six Women Lawmakers Win Again On General Seats in Pakistan
May 28, 2013
ISLAMABAD - Six female lawmakers of 2008 National Assembly have muscled their way back to the Lower House of the parliament in general elections of 2013, while four women who won in 2008 have once again made their way back to provincial assemblies.
Interestingly, the analysis reflects that all the women candidates who changed their loyalties this time around were able to bag more votes than past elections or converted previous losses to wins this time.
Two women each from Punjab, Sumaira Malik and Ghulam Bibi Bharwana, have again won National Assembly constituencies. From Sindh, Dr Azra Afzal Pechuho and Dr Fehmida Mirza have retained their seats.
Full report at:
http://www.pakistantoday.com.pk/2013/05/28/news/national/six-women-lawmakers-win-again-on-general-seats/#sthash.CECHyCnc.dpuf
----------------
Saudi climber asks women to challenge themselves
(AFP) / 28 May 2013
Adventurer Raha Moharrak, the first Saudi woman and youngest Arab to conquer Everest, urged women in the the Gulf to "challenge themselves" as she arrived back in the region.
Her group of four, including a Qatari royal, a Palestinian and an Iranian, was greeted with cheers and garlands of flowers on arrival from Nepal at Sharjah International Airport on Sunday night.
"It was unbelievable," an emotional 25-year-old Moharrak, covered from head to toe in a black abaya, told AFP.
"I'm the first but I really hope I'm not the last," she said. "I hope it awakens the intention in (Saudi) women to challenge themselves more."
Full report at:
http://www.khaleejtimes.com/kt-article-display-1.asp?xfile=data/todayevent/2013/May/todayevent_May31.xml&section=todayevent
----------------
Decade's largest women conference launches in Malaysia
28 May 2013
More than 3,000 leaders, policymakers and advocates from over 150 countries will take part in a three-day global conference on women and girls in Kuala Lumpur, Malaysia on Tuesday.
Women Deliver 2013 is the decade's largest sit-down on issues pertaining to women's health and rights, according to a statement issued by its organizers on Monday.
"The conference will feature more than 100 sessions with talks by some of the world's leading voices on girls' and women's issues," said the statement, adding that people taking part in the talks include "Melinda Gates, Co-Chair of the Bill & Melinda Gates Foundation; Chelsea Clinton, Board Member of the Clinton Foundation; Dr. Babatunde Osotimehin, Executive Director of the United Nations Population Foundation (UNFPA); and Cecile Richards, President of Planned Parenthood Federation of America. Malaysian Prime Minister Honorable Dato' Sri Mohd Najib bin Tun Abdul Razak will lead the opening ceremony on the first day of the meeting."
Full report at:
http://english.alarabiya.net/en/News/asia/2013/05/28/Decade-s-biggest-women-conference-launches-in-Malaysia-.html
----------------
URL: https://newageislam.com/islam-women-feminism/hyderabad's-nausheen-exposes-racket-temporary/d/11776