Age Islam News Bureau
14 March 2017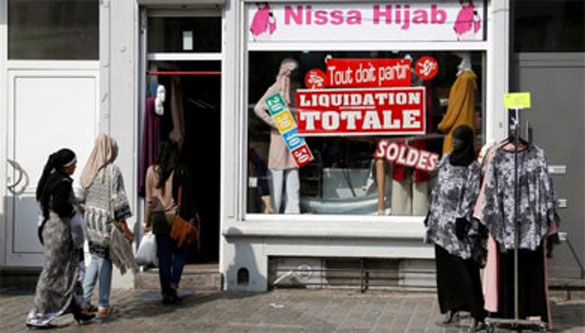 Women enter a store selling hijabs in the Brussels district of Molenbeek, Belgium, August 14, 2016. REUTERS/Francois Lenoir
------
• Hyderabad High Court Asks State How It Is Protecting Muslim Women
• European Union Court's Headscarf Ban Ruling Sparks Faith Group Backlash
• Pakistan Census: A Third Sex, Nine Languages, Many Faiths
• Women Defend Muslims from Abuse on New York Subway
• Trump's New Muslim Ban Blames Islam for Violence against Women, Advocates Aren't
Impressed
Compiled by New Age Islam News Bureau
URL: https://newageislam.com/islam-women-feminism/hyderabad-high-court-asks-state/d/110392
-------
Hyderabad High Court Asks State How It Is Protecting Muslim Women
14th March 2017
HYDERABAD: While admitting the petition filed questioning the "triple Talaq" (divorce) pronounced through WhatsApp message, the Hyderabad High Court on Monday issued notices to the secretary to ministry of minority welfare, principal secretary to state minority welfare, principal secretary to home chief executive officer of state wakf board and others concerned to inform about the steps taken to protect the innocent Muslim women from the illegal method of triple Talaq.
Justice A Ramalingeswara Rao while admitting the case filed by Mehreen Noor and Syeda Hina Fathima of the city against the triple talaq pronounced by their husbands through WhatsApp message from USA, also issued notices to the unofficial respondents who included husbands and in-laws of the petitioners for filing counter affidavits in the matter.
The petitioners submitted such a talaq was invalid as per the orders of Supreme Court and various High Courts of the country.
The Apex Court in Shamim Ara vs State of UP and the High Courts of Allahabad, Bombay and Madras had ruled that pronouncing talaq unilaterally without counselling and without giving reasons was bad in law and in violation of the Constitution.
Petitioners' counsel MAK Mukheed complained that the authorities have failed to protect the Muslim women whose husbands have sent triple talaq through WhatsApp. He sought the court to declare triple talaq pronounced by the petitioners' husbands, both brothers Osman Qureshi and Syed Fayyazuddin Hafeez working in the US, through a WhatsApp message as illegal.
The counsel urged the court to issue directions to the authorities concerned to frame guidelines to protect married Muslim women from wrong ways of pronouncing triple talaq. Further, he sought directions for preventing the Qazis from certifying such talaq.
Meanwhile, the counsel for wakf board submitted that the Centre has sought recommendations from the law commission on the above issue, and accordingly the latter was seeking suggestions from the people.
Reacting to these submissions, the judge said it would not be proper to issue any order when the matter was before the law commission.
The judge adjourned the case hearing by four weeks.
http://www.newindianexpress.com/cities/hyderabad/2017/mar/14/high-court-asks-state-how-it-is-protecting-muslim-women-1581086.html
-----
European Union Court's Headscarf Ban Ruling Sparks Faith Group Backlash
Reuters | Posted by Nikhil Agarwal
Brussels, March 14, 2017
Companies may bar staff from wearing Islamic headscarves and other visible religious symbols under certain conditions, the European Union's top court ruled on Tuesday, setting off a storm of complaint from rights groups and religious leaders.
In its first ruling on a hot political issue across Europe, the Court of Justice (ECJ) found a Belgian firm which had a rule barring employees who dealt with customers from wearing visible religious and political symbols may not have discriminated against a receptionist dismissed for wearing a headscarf.
The judgment on that and a French case came on the eve of a Dutch election in which Muslim immigration is a key issue and weeks before France votes for a president in a similarly charged campaign. French conservative candidate Francois Fillon hailed the ruling as "an immense relief" that would contribute to "social peace".
But a campaign group backing the women said the ruling could shut many Muslim women out of the workforce. And European rabbis said the Court had added to rising incidences of hate crime to send a message that "faith communities are no longer welcome".
The judges in Luxembourg did find that the dismissals of the two women may, depending on the view of national courts, have breached EU laws against religious discrimination. They found in particular that the case of the French software engineer, fired after a customer complaint, may well have been discriminatory.
Reactions, however, focused on the conclusion that services firm G4S in Belgium was entitled to dismiss receptionist Samira Achbita in 2006 if, in pursuit of legitimate business interests, it fairly applied a broad dress code for all customer-facing staff to project an image of political and religious neutrality.
"BACKDOOR TO PREJUDICE"
The Open Society Justice Initiative, a group backed by the philanthropist George Soros, said the ruling "weakens the guarantee of equality" offered by EU non-discrimination laws.
"In many member states, national laws will still recognise that banning religious headscarves at work is discrimination," policy office Maryam Hmadoun said.
"But in places where national law is weak, this ruling will exclude many Muslim women from the workplace."
Amnesty International welcomed the ruling on the French case that "employers are not at liberty to pander to the prejudices of their clients". But, it said, bans on religious symbols to show neutrality opened "a backdoor to precisely such prejudice".
The president of the Conference of European Rabbis, Chief Rabbi Pinchas Goldschmidt, complained: "This decision sends a signal to all religious groups in Europe". National court cases across Europe have included questions on the wearing of Christian crosses, Sikh turbans and Jewish skullcaps.
In the Belgian case, the ECJ said: "An internal rule of an undertaking which prohibits the visible wearing of any political, philosophical or religious sign does not constitute direct discrimination."
It was for Belgian judges to determine whether she may have been a victim of indirect discrimination if the rule put people of a particular faith at a disadvantage. But the rule could still be justified if it was "genuinely pursued in a consistent and systematic manner" to project an "image of neutrality".
However, in the case of Asma Bougnaoui, dismissed by French software company Micropole, it said it was up to French courts to determine whether there was such a rule. If her dismissal was based only on meeting the particular customer's preference, it saw "only very limited circumstances" in which a religious symbol could be objectively taken as reason for her not to work.
http://indiatoday.intoday.in/story/european-union-eu-court-headscarf-ban-court-of-justice-islam-muslim/1/903733.html
----
Pakistan Census: A Third Sex, Nine Languages, Many Faiths
World | Agence France-Presse | Updated: March 13, 2017
ISLAMABAD: Pakistan is preparing for its first census in 19 years. Here are some facts about the sixth most populous nation in the world.
A third sex
For the first time, transsexual people will be counted separately, according to representatives of this historically recognised but often persecuted community in Pakistan.
The forms had been printed well in advance of court decisions to include them in the count. Now enumerators have been informed that those surveyed will have three numeric choices for their gender: 1 for men, 2 for women, 3 for those who declare themselves transsexuals.
Only nine languages
Language is considered an essential tool in evaluating the makeup of multi-ethnic Pakistan - but only nine of the country's estimated 70 will be listed, to the dismay of many communities.
No regional languages from sparsely populated Gilgit - Baltistan will be included nor will Gujrati - spoken by some Muslim immigrants from India.
Faith matters
The census will provide an insight into the true number of religious minorities, especially Christians and Hindus. Estimates are approximate and disputed, ranging from 2 to 10 million Christians and 2.5 to 4.5 million Hindus.
Citizens can declare themselves Muslim, Christian, Hindu or Ahmadi - a branch of Islam considered heretic by the state.
Otherwise, they can be "members of scheduled castes" - members of marginalised Hindu families, or "other". There are no separate options for Sikhs, Parsis or Baha'i.
Feeling flush
One box asks households how many toilets they have - a particularly salient question in Pakistan, where the United Nations estimates up to 40 percent of people defecate in the open air with dramatic health consequences, especially for children.
Nationality
The census gives two nationality options: Pakistani or foreign.
But the army, which will conduct a parallel count, plans to be more precise mainly because of the country's Afghan refugees who are accused of everything from terrorism to trafficking.
Many local officials fear Afghans could be counted as local and skew demography in favour of ethnic Pashtuns, whose political parties would benefit as a result.
On the other hand, the estimated six million Pakistanis working abroad will not be counted. No information will be collected on internal migration - necessary to assess the political weight of a province where many people have moved for economic reasons.
This information will be the subject of a separate subsequent survey based on a large sample of the population, according to authorities.
http://www.ndtv.com/world-news/pakistan-census-a-third-sex-nine-languages-many-faiths-1669065?browserpush=true
----
Women Defend Muslims from Abuse on New York Subway
Tuesday 14 March 2017
DUBAI: Two women can be seen jumping to the defence of Muslim subway riders in New York City in a video recently uploaded to YouTube.
The Muslims were being verbally assaulted by a female passenger who stated that she is Puerto Rican in the video.
"Why are you here?" the woman is heard shouting. "Why are you in this country if you're not with us?"
An off-screen voice then asks "who's us?" to which the woman responds "us. And maybe they're not taking my back, I know nobody taking my back. And that's a shame, but I will take my own back."
The off-screen voice retorts: "Nobody on this train is with you."
Then, another woman steps in to challenge the ranting female.
"Whether you're born from here, Puerto Rico, wherever you are from," the woman says, "I don't like the way you're treating her. It's rude, we're here in it together, OK? We're all in this together. Whether we like what's going on in the government or not.
"You're a grown woman," she said. "You suck it up and you defend your brothers and sisters because that's what you are. If you're a part of this country, you're brothers and sisters with everyone."
http://www.arabnews.com/node/1068081/world
-------
Trump's New Muslim Ban Blames Islam for Violence against Women. Advocates Aren't Impressed.
Amnesty International and 54 other groups want Trump to rescind the policy and stop misleading people about gendered violence.
14/03/2017
Akbar Shahid Ahmed
WASHINGTON ― President Donald Trump often tries to justify his extreme suspicion of Muslims by arguing that they threaten Americans ― particularly women.
Trump likes this argument so much that he incorporated it into official policy, in his executive orders on refugees and citizens of Muslim-majority countries. Both "Muslim ban" documents have directed the Department of Homeland Security to collect and publish what the second calls data on "the number and types of acts of gender-based violence against women, including so-called 'honor killings,' in the United States by foreign nationals."
Advocates for women who actually face that kind of violence were immediately skeptical, seeing Trump's professed concern as an attempt to frame the problem of violence against women as something unique to Muslim-majority countries. Now they're pushing back.
In a letter sent to the president and national security adviser Lt. Gen. H.R. McMaster Monday night, and exclusively provided to The Huffington Post, Amnesty International, the International Rescue Committee, CARE and more than 50 other organizations denounced the president's ban and his portrayal of the issue.
"As a global crisis, violence against women and girls is not specific to any one country. Connecting 'gender-based violence against women or girls' with the travel ban and refugee program suspension is out of sync with the reality that every country, including the United States, suffers from such violence," the letter reads. "Enacting a travel ban on these countries and suspending the refugee resettlement program does not address the global crisis of violence against women; neither does it offer any solutions to violence against women in the specifically targeted countries."
The letter notes that Trump's pause on accepting refugees and issuing new visas to citizens of Iran, Libya, Somalia, Sudan, Syria and Yemen could put women and girls in danger. The travel moratorium does nothing to make women and girls in those countries safer ― and it could trap many of them in the process of migrating away from danger, which often involves giving up one's social network and any safety resources one might have. Ceasing to issue visas or grant refugee status to displaced people seeking safety in the U.S. could greatly increase the odds that they'll face exactly the kind of violence the Trump administration says it wants to prevent. The executive orders could even end up keeping women and girls in conflict zones like Syria and Sudan, where rape has been used as a weapon of war.
"Any shutdown of this program or ban restricting travel does not help make women and girls safer," the organizations' letter says.
While Trump's policy fails to offer real recourse for survivors of gender-based violence, it does include some well-known anti-Muslim tropes, the groups note.
"We are further concerned by the executive orders' singling out of so-called 'honor killings' as a type of gender-based violence that is more deserving of concern than other types of violence," the letter says. "Specifically naming this type of violence in connection with the six Muslim-majority countries listed in the executive order not only promotes and inflames Islamophobia, but it further feeds into the false narrative that violence against women is specific to non-Western cultures."
Amnesty and the other organizations do significant work in the Muslim-majority world. They are hardly unaware of the dangers and restrictions women can face there. But they're also familiar with the line Trump is peddling ― and with his other actions, like attacks on American and global reproductive health.
The groups asked Trump to rescind his new order.
The ban is meant to go into effect on Thursday. It already faces legal challenges from eight states, including California, Hawaii, Maryland, Massachusetts, Minnesota, New York, Oregon and Washington, and advocates hope to block it from being implemented at all.
http://www.huffingtonpost.in/entry/trump-muslim-ban-violence-against-women_us_58c7016be4b081a56dee9d4f
-------
URL: https://newageislam.com/islam-women-feminism/hyderabad-high-court-asks-state/d/110392
New Age Islam, Islam Online, Islamic Website, African Muslim News, Arab World News, South Asia News, Indian Muslim News, World Muslim News, Women in Islam, Islamic Feminism, Arab Women, Women In Arab, Islamophobia in America, Muslim Women in West, Islam Women and Feminism