New Age Islam News Bureau
30 Aug 2014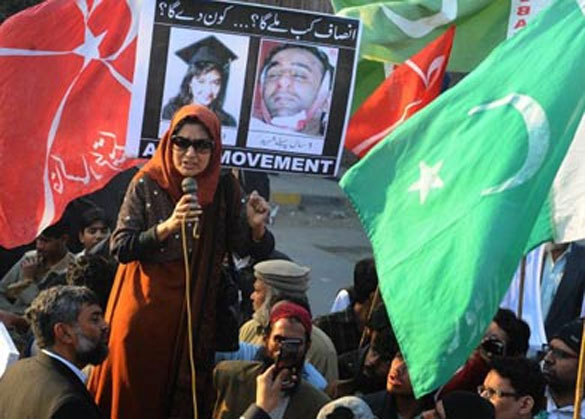 Fauzia Siddiqui, sister of Aafia Siddiqui who is being sentenced to 86 years in prison for trying to shoot US military officers, leads a protest in front of the US Consulate in Lahore on January 29, 2012. (Getty Images)
-------------
• Two Teenage Girls Arrested Over French Synagogue Suicide Bomb Plot
• Afghan Women Drivers: A Rare, Cherished Scene
• UN Concerned Over Discrimination against Iraqi Women from Minority Groups
• Lady Al-Qaida: On the Trail of The World's Most Wanted Prisoner
• Angelina Jolie Makes Fresh Plea for Syrian Refugees
• Divorce and Marital Conflict Affect Children Negatively In South Africa
• Of Women, Mountains, Equality and Success in Pakistan
Compiled by New Age Islam News Bureau
URL: https://www.newageislam.com/islam,-women-and-feminism/new-age-islam-news-bureau/husband-deserts-muslim-woman-for-attending-i-day-function-in-bihar,-india/d/98818
------------
Husband Deserts Muslim Woman for Attending I-Day Function in Bihar, India
August 30, 2014
A Muslim school teacher in Bihar was forced to leave her house by her husband who felt she had violated the Shariat law by participating in an Independence Day function, police said on Saturday.
A teacher in a government-run middle school in Begusarai, about 125 km from Patna, was driven out of the house along with her two minor sons by her husband, a police official posted in Chatra district in neighbouring Jharkhand.
She approached the Begusarai Superintendent of Police and sought justice.
"My husband has been threatening me to leave my school teacher job or he will desert me. He forced me to leave my house after I attended the Independence Day function," she said.
She told the police that her husband was torturing her for more dowry and was married in 2003.
Begusarai Superintendent of Police Manoj Kumar said police have taken her case seriously.
"We will try to resolve the issue. If he does not change his mind, a legal action will be initiated against him," Kumar said.
Muslim priests and scholars said the husband was misusing the the Shariat law to force her out of the house.
"Hoisting the national flag and participating in the function is not against the Shariat. It is merely an excuse to desert his wife, while the actual reason may be something else," Mufti Mohammad Khalid Hussain Qausmi said.
http://www.thehindu.com/news/national/other-states/husband-deserts-muslim-woman-for-attending-independence-day-function/article6364674.ece
-----------
Two Teenage Girls Arrested Over French Synagogue Suicide Bomb Plot
30 August 2014
Two teenage girls have been arrested on suspicion of conspiring to blow up a synagogue in Lyon, French news websites have reported.
According to JSS News and Europe 1, a source from the French security agency the Central Directorate of Homeland Intelligence revealed that two Muslim girls, aged 15 and 17, were arrested in the Tarbes and Venissieux neighbourhoods a week ago, after authorities uncovered a plan to carry out a suicide bombing inside the Great Synagogue of Lyon. They were indicted on August 22nd for conspiracy to commit terrorism.
An unnamed security source also revealed that the two teenagers had never met, but communicated only via social media. "These girls were part of a network of young Islamists who were being monitored by security services," said the unnamed security source. Security services are becoming increasingly concerned with online radicalisation, particularly following the proliferation of videos created by jihadist groups such as Islamic State.
A recent Newsweek cover story detailed the rising tide of anti-Semitic violence across Europe, including an attack on a Paris synagogue in July and an incident in May 2012 in Toulouse in which a gunman killed seven people, including a teacher and three children, at a Jewish school.
"Jews in France or Belgium are being killed because they are Jews," Roger Cukierman, president of the Representative Council of French Jewish Institutions (CRIF), told Newsweek. "Jihadism has become the new Nazism. This makes people consider leaving France."
In a statement released on an online forum, the National Bureau of Vigilance against Anti-Semitism (BNVCA), one of France's leading anti-Semitism watchdogs, remarked that synagogues have become increasingly popular targets for Islamists and terrorists. The excessive measures taken to secure Jewish places of worship have turned them into "semi-fortresses", they said.
BNVCA attribute the recent spike in anti-Semitic crimes in France to the influence of unnamed political parties and sections of the media, which "pillory the Jewish state fighting against the Islamic state in Gaza". They also called upon the French Interior Minister to take all possible security measures to foil further attacks, particularly during important Jewish festivals like Yom Kippur, which begins in early October. "Jewish citizens are increasingly pessimistic about their future in France," the statement added.
http://www.newsweek.com/two-teenage-girls-arrested-over-french-synagogue-suicide-bomb-plot-267523?piano_t=1
------------
Afghan Women Drivers: A Rare, Cherished Scene
30 August 2014
KABUL: In many countries, to see women drivers on streets is a familiar sight. In China and many European countries, it is not uncommon to see women driving taxis, buses and even heavy trucks. But in Afghanistan, a conservative Muslim country, to see a woman driver is still a rarity.
That was why when a young lady was seen driving in a street in the eastern part of capital Kabul, she was followed by curious onlookers, Xinhua news agency reported. Some young kids flying kites and riding horses and elderly people in their yards had to stop at what they were doing to take a look at the young lady-driver. It was as if they have seen a ghost.
"I am trying to learn how to drive so that I can drive in going to the university and in visiting friends and relatives. I also intend to drive to my office once I get employed after graduation, " said the young lady on condition of anonymity.
The lady driver, in her twenties and wearing a scarf, said in other countries, women can drive cars and even airplanes. "Why can 't we do it in Afghanistan?" she asked.
"We should make women and men equal," another lady-driver, who introduced herself by only one name, Laila said.
Women in Afghanistan, especially in the countryside where people deeply believe in traditions, usually prefer to stay at home or do light jobs. They also do not usually reveal their names to strangers.
Although there is no government ban for women to drive, it is very rare to see women drivers in Kabul and other Afghan cities.
During the reign of the Taliban, with its brutal Islamic rule, women were not allowed even to walk in streets without a veil and without a male companion.
They have outlawed schools for girls and confined women to their homes.
It was only after the Taliban were toppled in 2001 that Afghan women began to regain their freedom. With education and influences from Western democratic countries over the past 13 years, some women are now breaking from traditions and are seen driving in the city's congested roads.
Women in today's Afghanistan are now involved in social, political and cultural activities. In fact, there are now women holding government posts.
There are women in the cabinet and some are parliamentarians, journalists, traders, singers and entertainers, something that was unheard of during the Taliban rule.
Although the Taliban-led militancy is a continuing threat to the country's security, the bulk of the Afghan populace, including women, are serious in moving their country towards more freedom and progress.
One observer said Afghan women definitely would play a major role in restoring the country's stability as soon as the election deadlock is settled.
http://www.newindianexpress.com/world/Afghan-Women-Drivers-A-Rare-Cherished-Scene/2014/08/24/article2395977.ece
------------
UN Concerned Over Discrimination against Iraqi Women from Minority Groups
30 August 2014
MOSCOW, August 29 (RIA Novosti) - The UN Committee on the Elimination of Racial Discrimination is concerned about multiple forms of discrimination against women belonging to minority groups in Iraq, a report published Friday says.
"For example, it is reported that Yazidi women suffer from a higher suicide rate," the committee says in the report.
According to media reports, several Yazidi girls committed suicide after they were raped by militants from the Islamic State (IS).
Moreover, the committee's report says "those minority women in marginalized areas, such as Roma and Black Iraqi women, are less employed outside the house and more illiterate than women belonging to the majority population; and, that child marriage is more common among these groups of women."
Since June, Iraq has seen a surge in violence as the Islamic State started seizing large parts of the country and declared itself a caliphate.
"The committee notes the persistence of terrorist attacks and the recent intensification of clashes between the Iraqi armed forces and the terrorist group calling itself the 'Islamic State (IS)'," the report says.
The document also states that over the past weeks, thousands of civilians have been killed or are at risk of death, and over 650,000 people are internally displaced, most of them belonging to ethno-religious minority groups.
http://en.ria.ru/society/20140829/192468972/UN-Says-Concerned-Over-Discrimination-Against-Iraqi-Women-From.html
------------
Lady Al-Qaida: On the Trail of The World's Most Wanted Prisoner
Andrew Buncombe,The Independent | Aug 30, 2014
The message from the militants was revealing.
"You were given many chances to negotiate the release of your people via cash transactions as other governments have accepted," it said. "We have also offered prisoner exchanges to free the Muslims currently in your detention, like our sister Dr Aafia Siddiqui. However, you proved very quickly to us that this is not what you are interested in."
This message, reportedly sent to the employers of American journalist James Foley by fighters belonging to the Islamic State of Iraq and the Levant (Isis), which labels itself the Islamic State, highlighted an audacious gambit: they had sought to exchange Mr Foley for a Pakistani woman who has been dubbed Lady al-Qa'ida and who was once described as the world's most wanted woman, but whom her family insist is an innocent victim.
Isis also reportedly wanted £80m. The Obama administration declined to consider either option or the 40-year-old American journalist was subsequently beheaded.
Amid the outrage and horror over the stark, shuddering murder of Mr Foley, the offer made by the militants for Siddiqui has led to fresh questions about the curious case of the 42-year-old mother-of-three. Who is she and why were Isis interested in her?
Aafia Siddiqui was born in Karachi and grew up in an upper-middle-class family before travelling to the US to study. Siddiqui, whose mother once served in Pakistan's parliament and whose father trained in the UK to be a doctor, began her studies at the University of Houston in Texas before moving to Massachusetts and earning a PhD in neuroscience from Brandeis University.
She and her first husband, Amjad Mohammed Khan, an anaesthesiologist, left the US after the attacks of 11 September 2001, eventually returning to Karachi in the summer of 2002. While still in the US, Siddiqui and her husband were questioned by the FBI regarding their purchase over the internet of £6,000 worth of night vision equipment and body armour. They said it was for hunting.
Siddiqui and her husband divorced in late 2002. He would later claim he was concerned about her increasingly extremist views. "I was aware of Aafia's violent personality and extremist views and suspected her involvement in Jihadi activities" he told a local newspaper two years ago.
Shortly after the divorce, Siddiqui allegedly married Ammar al-Baluchi, the nephew of Khalid Sheikh Mohammed, the man accused of plotting the al-Qa'ida attacks on New York and Washington. Her family still denies this marriage happened and says the story was invented by the western media.
Yet other reports say there is substantial evidence of the marriage. Baluchi has been in US custody since 2003 and was moved to the US prison at Guantanamo Bay in 2006. The US says he was one of two main people who handled the money that financed the 9/11 attacks.
In March 2003, Siddiqui and her three children disappeared, just after the FBI announced a global "wanted for questioning" alert for her and her first husband. (Mr Khan was questioned over alleged terror links and released without charge.) It is believed she was mentioned as a possible al-Qa'ida operative by Khalid Sheikh Mohammed, who was repeatedly questioned and tortured by the US after he was arrested in Rawalpindi at the beginning of March 2003.
There remains an intense and ongoing debate about what happened to Siddiqui and her children during the next five years. Some believe they were held by the Pakistani authorities, while her family say she was a "ghost prisoner" of the US and was kept in a secret prison at Bagram air base in Afghanistan.
Her ex-husband believes she and her children spent those years at large in Pakistan, under the eye of the Inter-Services Intelligence agency (ISI).
The next confirmed sighting of her was in the summer of 2008 when she was detained in Afghanistan after being discovered close to the home of a senior official in Ghazni province. She was carrying documents describing the production of explosives, chemical weapons and the Ebola virus, and hand-written notes referring to a "mass-casualty attack" in the US.
Siddiqui was eventually convicted in the US, not on terror-related charges but on counts of attempted murder - charges resulting from the claim, denied by her, that she tried to shoot her US interrogators while in Afghanistan. She was sentenced to 86 years in jail and is currently being held at the Federal Medical Centre in Carswell, Texas, which houses female prisoners with mental health issues. Prisoner number 90279-054 is not due for release until 2083.
Since the release of the Isis email that referred to Siddiqui, there has been much speculation among experts about what it may signify.
Dr Farzana Shaikh, a Pakistan scholar at Chatham House in London, said Isis may have been prompted by one of several militant groups in Pakistan who have called for Siddiqui's release in exchange for Shakil Afridi. The case of Afridi, a doctor who was recruited by the CIA to try to locate Osama bin Laden and later charged with treason by Pakistan, is due to be reviewed again shortly.
Michael Kugelman, a South Asia expert at the Woodrow Wilson Centre in Washington, said the use of Siddiqui's name suggested the group may have some Pakistanis in its ranks, or at least influencing its decision-making processes.
He said the Isis fighters may have been trying to secure support from hardline Muslims elsewhere in the world by claiming they were trying to secure the release of a Muslim woman they believe was wrongfully imprisoned by the US government.
Following Siddiqui's conviction in 2010, her elder sister, Fowzia, a Harvard-trained neurologist who worked at several US hospitals before returning to Pakistan, has been leading a campaign seeking her release and insisting she is innocent. Recently she managed to obtain more than 100,000 signatures on a petition calling for the US government to look at the case, a threshold that requires the Obama administration to consider the petition.
Fowzia Siddiqui, who lives in Karachi and takes care of her sister's children, said the lawyer handling the case had not been able to speak to Siddiqui for six months and the family had received no word from her independently.
Asked about the significance of her sister's name being included in the ransom message from Isis, she said: "As long as both the US and the Pakistani governments keep delaying the matter, such incidents will continue happening, because now the injustice done to her has come to the fore. Extremists, and any other faction, can use Aafia's image to invoke emotions."
She added: "She has become a symbol of strength and injustice for Muslims across the globe. The best way to reduce such unfortunate incidents is to at least amend this one mistake by releasing her."
She said her family had learned about Isis only in the past few weeks. She had previously assumed people were talking about the Pakistani ISI. "Then someone corrected me that it was another organisation in Iraq."
The likelihood that Isis is using Siddiqui as an attempt to reach out to Muslims globally is supported by the fact that this is not the first time her name has come up. Isis also referred to her during ransom negotiations over a 26-year-old American woman kidnapped while doing humanitarian work in Syria in 2013. Isis has asked for £4.4m for the woman, whose identity has not been divulged and who remains in captivity.
Previously, the Taliban in Afghanistan had called for Siddiqui's release in exchange for Bowe Bergdahl, the US army sergeant who was held captive for five years and released this spring after the US agreed to release five Taliban prisoners from Guantanamo Bay.
http://timesofindia.indiatimes.com/World/Middle-East/Lady-al-Qaida-on-the-trail-of-the-worlds-most-wanted-prisoner/articleshow/41254621.cms
------------
Angelina Jolie makes fresh plea for Syrian refugees
30 August 2014
U.S. actress Angelina Jolie made a powerful plea Friday for "greater efforts" to help more than 13 million Syrians displaced by the ongoing conflict in Syria in a statement posted on the United Nations High Commissioner for Refugee (UNHCR) website.
"The reputation and credibility of the international system is at stake with so many thousands of lives threatened in Syria," the Oscar- winning UNHCR special envoy said.
The statement comes after the U.N. announced Friday that three million Syrians are now registered refugees outside their country.
"Three million refugees is not just another statistic," Jolie wrote.
"It is a searing indictment of our collective failure to end the war in Syria," she warned.
"Almost half of all Syrians have now been forced to abandon their homes and flee for their lives," the statement read.
"U.N. Security Council Resolutions are being ignored; war crimes are being committed on a daily basis; regional countries are staggering under the human burden; and Syrian refugees are dying in the Mediterranean sea, trying to reach Europe," Jolie said.
The agency had described the 3 million as a record, but later qualified that the Syrian crisis was record-breaking in terms of the unprecedented size and scope of the $3.74 billion operation needed to care for the refugees.
"The Syria crisis has become the biggest humanitarian emergency of our era, yet the world is failing to meet the needs of refugees and the countries hosting them," said U.N. High Commissioner for Refugees Antonio Guterres.
The recent surge in fighting appears to be worsening the already desperate situation for Syrian refugees, the agency said, as the extremist Islamic State in Iraq and Syria (ISIS) group expands its control of broad areas straddling the Syria-Iraq border and terrorizes rivals and civilians in both countries.
According to the UNHCR, many of the new arrivals in Jordan come from Syria's northern province of Aleppo and the northeastern region of Raqqa, a stronghold of the group. An independent U.N. commission says the group is systematically carrying out widespread bombings, beheadings and mass killings that amount to crimes against humanity in both areas.
http://english.alarabiya.net/en/perspective/features/2014/08/30/Angelina-Jolie-makes-fresh-plea-for-Syrian-refugees-.html
------------
Divorce and marital conflict affect children negatively in South Africa
30 August 2014
THERE are numerous causes and consequences of marital conflict, most of which often lead to two out of every three marriages in South Africa ending in divorce.
Marital conflict and divorce can create serious instability in the family and insecurity in a child.
Consequences of divorce are split families, poor parent-child relationships and in some cases economic deprivation.
Disruption to home life can create a situation serving as a dysfunctional learning experience in all aspects of a child's life, particularly in the area of interpersonal functioning.
Poor parent-child relationships due to divorce and interparental conflict can cause these children to have less secure attachments.
The happier children perceive their parents' marriage to be, the more secure they are.
Also associated with divorce is the exposure of children to dysfunctional learning experiences.
Children model, or show the aggressive tactics they see their parents using, while others model avoidant strategies of conflict-resolution and learn to turn their anger inward.
Divorce has also been associated with economic deprivation, which causes a disrupted home life which, in turn, is associated with subsequent diminished academic achievement, low occupational attainment and poverty.
Studies have come to the conclusion that divorce is associated with interpersonal and intimacy problems in adults.
Young adults of both sexes from broken homes experience difficulty in establishing intimate interpersonal relationships.
Children who experienced high levels of pre- and post-divorce conflict between their parents have been shown to have:
Decreased beliefs in the benevolence of people and the impersonal world and in the dependability of their future spouses;
Decreased trust in their mothers and fathers and between their parents, and;
Less optimism about their future dating relationships and marriage.
Links between divorce and lower levels of self-esteem have also been found, with children's lower levels of self-esteem prompted by the parent's higher levels of marital conflict.
P roblems often found after and during marital conflict and divorce, tend to be more pronounced in boys, while girls tend to exhibit problems later in life.
Aggression, conduct disorders, and delinquency are among the problems most frequently associated with parental discord, and its effect on children.
A consequence for parents as well as for some children of divorce, is a "withdrawing" and depression. - South African Depression and Anxiety Group
Separated couples need separate insurance policies
BOTH spouses should have separate insurance policies, according to Christelle Fourie, the managing director of MUA Insurance Acceptances, and she advances reasons why this is important.
l "If there is still only one policy, a spouse cannot claim for items taken unlawfully," Fourie says.
"Should the ex-wife come into the house and take jewellery out of the safe that she considers to be hers, the ex-husband cannot claim for stolen jewellery when it is under the same policy."
The ex-husband also needs to bear in mind that criminal charges need to be laid against the ex-wife.
Fourie says even if one spouse is still responsible for paying for the policy, there should still be separate policies.
"In fact, it is better if the policyholder takes full responsibility for the payment, even if they are reimbursed through alimony, because an unpaid policy can also result in major problems when the time comes to claim."
Fourie advises that each person should seek the assistance of an insurance broker who can look after the policyholder's interests.
She also provides two general insurance tips for divorced couples:
"It is also important that the owner of the items is in possession of the valuation certificates for claims purposes. We often have a case where the other spouse refuses to give the valuation certificates when it comes time to claim," Fourie points out.
"An ex-spouse might approach the insurance company and inform them about fraudulent claims the other spouse may have submitted during the marriage.
"There are no limitations in terms of the policy for the time elapsed since submitting a claim, so the insurance company is likely to open a criminal case against the individual, which can have serious repercussions. The lesson to be learnt here is not to submit a fraudulent claim."
http://www.sowetanlive.co.za/incoming/2014/08/30/divorce-and-marital-conflict-affect-children-negatively
------------
Of Women, Mountains, Equality and Success In Pakistan
30 August 2014
KARACHI: A woman can do just about anything a man can, all she requires is 'opportunity', said 22-year-old Samina Baig, speaking at the jam packed Aga Khan University Hospital's gymnasium, with her talk aptly titled 'No Mountain Too High, Nor Too Easy'.
Baig is the first Pakistani woman and the third Pakistani after ace mountaineer Nazir Sabir and Hassan Sadpara, to hoist the green flag on the mighty Everest, the world's tallest mountain.
Apart from being Everest summiteers, Baig also has a personnel best record – she is the only Pakistani to have stepped on the highest points of all seven continents, a feat that is unlikely to be beaten anytime soon.
Know more: http: Samina Baig becomes first Pakistani woman to conquer seven highest peaks
Baig's journey to fame and glory has not been an easy one, but in her case her biggest opportunity came in the form of her older brother Mirza Ali Baig, the man who trained her and set her on a path, often considered a man's domain, where sky is the limit.
"The place where I am from, it has no electricity, no telephones and no internet," she said, as the audience, a vibrant mix of school students, young doctors and other professionals, sat awestruck.
Recalling how she was fascinated by the mountain stories and climbing adventures her brother shared, her voice filled with admiration every time she mentions Mirza.
But to her climbing has become more than a physical act as she understood her brother's vision and eventually shared it.
"Our aim is to motivate women all over Pakistan and tell them that if a woman can climb a mountain, she can do anything," Baig stressed.
It worth noting that the brother-sister duo are the third most popular siblings in the country, following Quaid-a-Azam Mohammad Ali Jinnah and his sister Fatima Jinnah and late pop-star Nazia Hassan and her brother Zoheb.
After her brief talk, over brother took over the podium space and went on to chart the journey of the two siblings which began from the remote Shimshal village in the Gilgit-Baltistan region.
Though Mirza had been instrumental in Samina's Everest feat, he was unable to reach the summit due to health issues but encouraged Samina to finish her climb.
"Mountaineering is a metaphor. All of us have our own mountains to climb," said Mirza, as he alluded to the highs and lows that life offers.
"I went to a government school, not an English medium one," he said, as he addressed the crowd in English.
"When I started working, I wore Rs200 shoes from Landa Bazaar. I didn't have proper climbing clothes even."
In Karachi, where he finished his higher education, he tutored kids to make some extra money. "Every day, I walked from Tariq Road to Garden to save money. This continued for five years," he said, as the crowd sighed.
From working as a porter and carrying loads for foreign expeditions that came to Shimshal, to becoming a cook and finally and a high-altitude porter, he paid his dues and worked his way to achieve his goal. Being the industrious person he is, he started looking around for a way to make mountaineering popular with Pakistanis.
Taking his sister under his wings, he worked on their climbing skills and went to climb a few peaks in Pakistan, with zero sponsorship from a local or multinational. In between all this, he used social media and raised funds, with mostly white climbers sending in monetary donations as well as climbing gear for the two siblings.
Then set his sight on Everest. His motto of gender equality and the buzz he created online landed him lucrative sponsorships and generous funding from donors who had faith in him.
Once Everest was done, the siblings went on to do the Seven Summits challenge.
The Seven Summits are the highest mountains of each of the seven continents. Though unlike Everest, the remaining six peaks are not as tough or high, accenting them is a mountaineering feat.
In a short period of less than nine months, Baig and her brother successfully climbed all the six peaks including Mount Aconcagua, the highest peak in South America, followed by Mount Vinson (Antarctica), Mount Kilimanjaro (Africa), Puncak Jaya 4,884 metres, the highest peak in Indonesia, Mount McKinley in Alaska and Elbrus in Russia.
If Mirza Ali summits Everest anytime soon, his seven summits feat would be complete too and he will be the first Pakistani man to do so.
In response to a question by Dawn on whether the duo will climb five of the fourteen 8000m peaks located in Pakistan, Mirza Ali said: "K2, Nanga Parbat, Gasherbrum I and II and Broad Peak are challenging peaks and now on our list. I look forward to climbing them but for now Samina will go back to her studies."
Once the talk was over, Ms Baig was practically mobbed by the crowd and obliged to selfies and autographs.
Meanwhile, posing with star struck fans and grinning from ear to ear, Mirza quipped to this reporter: "I believe in doing things untraditionally!"
Taking a look at his and Samina's journey, his formula of 'woman + opportunity = success' sure is untraditional but very successful.
http://www.dawn.com/news/1128420/of-women-mountains-equality-and-success
------------
URL: https://www.newageislam.com/islam,-women-and-feminism/new-age-islam-news-bureau/husband-deserts-muslim-woman-for-attending-i-day-function-in-bihar,-india/d/98818