New Age Islam News Bureau
12 Nov 2017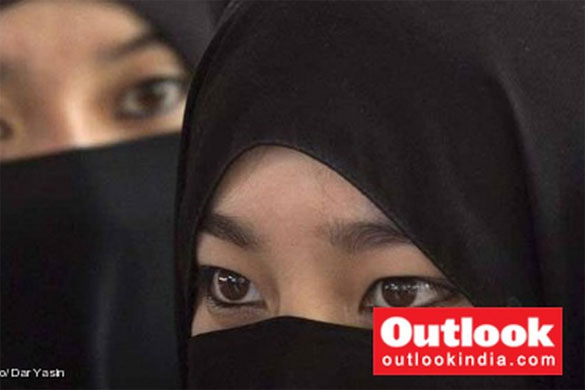 File-Representative Image
-----
• Two More Women Accuse Muslim Brotherhood Founder's Grandson of Sexual Harassment
• Islam and the Mistreatment of Women
• SEX, PORK AND JIHAD: HEARD THE ONE ABOUT INDONESIA'S HIJAB-WEARING MUSLIM COMIC?
• 'You should be ashamed of yourself': Imam slams Muslim activist Yassmin Abdel-Magied for 'hijacking Remembrance Day' with yet another Manus Island tweet
• Muslim Rape Gang Survivors: 'Groomers Are Still Abusing Girls in Rotherham'
• Women must cover their faces, says Islamic scholar
• Saudi women to be allowed into sports stadiums next year - but they must sit in the 'family section'
• Winds of change: Muslim girls embrace education, aim high
• Muslim students in WV talk how to overcome bullying in schools
• Greater empowerment of Saudi women expected
Compiled by New Age Islam News Bureau
URL: https://www.newageislam.com/islam-women-feminism/husband-attempted-sell-sex-slave/d/113195
----------
Husband Attempted To Sell Me As Sex Slave To Islamic State: Kerala Woman's Petition In High Court
A 25-year old woman has filed a petition in the Kerala High Court accusing her husband of forcing her into marriage and conversion and attempting to sell her as a sex slave to the Islamic State (IS).
The woman has claimed that her husband Muhammed Riyaz is a member of Popular Front of India (PFI), which has been under the scanner for its alleged terror links.
In her plea, the woman, a native of Kerala who was born and brought up in Gujarat, stated that she met Riyaz in Bengaluru and the two got into a relationship.
Riyaz later recorded a private video and forced the woman to change her religion and marry him using the footage.
victim also stated that she was taken to Saudi Arabia and made to join the ISIS in Syria.
Somehow, the girl managed to contact her parents and asked them to rescue her.
The petition was filed in the high court on Friday and the case will be considered on November 13.
The case has come at a time the Supreme Court is expected to hear another woman convert in Kerala, Akhila alias Hadiya on November 27. Her marriage with Muslim man ShefinJehan was annulled by the Kerala High Court after her father Ashokan filed a petition alleging an organised conspiracy behind his daughter's conversion.
(With agency inputs)
https://www.outlookindia.com/website/story/husband-attempted-to-sell-me-as-sex-slave-to-islamic-state-kerala-womans-petitio/304218
-----------
Two More Women Accuse Muslim Brotherhood Founder's Grandson of Sexual Harassment
By David Israel - 23 Heshvan 5778 – November 12, 2017 0
In October 2017, secular activist HendaAyari filed a complaint with the prosecutor's office of Rouen, northern France, stating that Ramadan had sexually assaulted her in a Paris hotel. Ayari had described the incident in her 2016 book "I Chose to be Free," but had kept the identity of her attacker secret. But in October she announced on Facebook: "This is a very difficult decision, but I have decided it is time to denounce my aggressor, he is Tariq Ramadan."
A statement Oxford university released on November 7 said, "By mutual agreement, and with immediate effect, Tariq Ramadan, Professor of Contemporary Islamic Studies, has taken a leave of absence from the University of Oxford. Professor Ramadan's teaching, supervising and examining duties will be reassigned, and he will not be present at the University or College."
Now a third woman, using the pseudonym Yasmina, has told Le Parisien the professor had threatened her with rape in 2012.
"At first he gave me religious advice through his website, and then asked me for my picture so that he would know who he was talking to. He found me beautiful, and since that day, things became pornographic between us," she told Le Parisien. "Two years later he called me to a hotel in the suburbs and then threatened me that he had compromising things on me," she said.
On Friday, a second woman filed a complaint in France against Ramadan for rape and sexual assault, following HendaAyari's complaint.
Tariq Ramadan is persona non grata in Tunisia, Egypt, Saudi Arabia, Libya, Syria, and Israel. So, hey, there's at least one thing everyone in the region agrees on.
http://www.jewishpress.com/news/politics/two-more-women-accuse-muslim-brotherhood-founders-grandson-of-sexual-harassment/2017/11/12/
-----------
Islam and the Mistreatment of Women
Share On Facebook Share On Twitter
By Hank Hanegraaff , CP Op-Ed Contributor | Nov 11, 2017 9:07 AM
Hank Hanegraaff is president of the Christian Research Institute, and host of the national radio broadcast The Bible Answer Man.
Many Muslims are peaceful and tolerant, and it has become fashionable in the West to portray Islam as a peaceful and tolerant religion, even in the wake of terrorist attacks like the recent one in New York. But it's hard to buy into this charade when it comes to Muslim treatment of women under Sharia law. Plainly put, Sharia subjugates women in virtually every area of their lives.
Allah's decrees enshrine inequality. Although Allah allows a husband to beat his wife, there is no provision in the Qur'an for a wife to beat her husband. Nor can she initiate a divorce. Only men can do so, and with relative ease.
In "Heretic," Ayaan Hirsi Ali explains the shackles of sharia for women, including "the right of men to have unfettered sexual access to their wives, the right of men to practice polygamy, and the restriction of women's legal rights in divorce cases, in estate law, in cases of rape, in court testimony, and in consent to marriage."
According to Sharia, women (and little girls) who are captives of war can be raped by their Muslim captors. But girls who have sex outside of marriage are flogged, and women who commit adultery are stoned.
Two incidents almost 14 centuries apart show just how deeply the exploitation of women is ingrained In Sharia.
In August 2014, after Muslim fighters captured Yazidi villages in the Sinjar region of northern Iraq, they executed the men and adolescent boys by spraying them with automatic-weapons fire. What happened to women and children might truly have been worse.
As chronicled in the Islamic State on-line magazine "Dabiq," "After capture, the Yazidi women and children were then divided according to the Sharī'ah amongst the fighters of the Islamic State who participated in the Sinjar operations, after one fifth of the slaves were transferred to the Islamic State's authority to be divided."
Captives were sent "to Syria or to other locations inside Iraq, where they were bought and sold for sex." According to a report in The New York Times, one of the captives, a 12-year-old Yazidi child, was raped by a devout Muslim fighter who "took the time to explain that what he was about to do was not a sin. Because the preteen girl practiced a religion other than Islam, the Quran not only gave him the right to rape her — it condoned and encouraged it."
Sadly, the victim was just one of countless thousands in the history of Islam.
In 627, Muhammad and his fighters invaded the villages of the prosperous BanuMustaliq Jewish tribe on the shores of the Red Sea. As with the Yazidis, the Jewish men and boys murdered by Muhammad and his Muslim hordes were spared the unthinkable atrocities their loved ones were about to suffer. In accordance with the law of Allah, many were raped, others sold as chattel.
Muhammad, revered by Muslims the world over as the founder of their religion, took a Jewish woman as booty after having her husband and hundreds more men beheaded. Then he forced her on his bed and added her to his stable of wives and concubines.
Though the Yazidi and Mustaliq atrocities bookend nearly 1,400 years of Islamic history, their treatment of female captives was virtually identical. Why? Because, as chronicled in "Dabiq," what the Islamic State does in the 21st century is an authentic application of the teachings and practices of Muhammad.
Ayaan Hirsi Ali tells the horrifying story of a 13-year-old girl in Somalia who was found guilty of adultery after reporting that she had been raped by three men. Aisha Ibrahim Duhulow — named after Muhammad's 9-year-old wife — was dragged, screaming and flailing, into a sports stadium in Kismayo to be stoned.
"It took four men to bury her up to her neck in the hole," Hirsi Ali wrote. "Then fifty men spent ten minutes pelting her with rocks and stones. Then she was dug out of the ground and two nurses examined her to see if she was still alive. Someone found a pulse and breathing. Aisha was returned to the hole and the stoning continued."
After she died, "a local sheik told a radio station that Aisha had provided evidence, confirmed her guilt, and 'was happy with the punishment under Islamic law.'"
When will equality-minded Americans stand up for women's rights around the globe?
https://www.christianpost.com/news/islam-and-the-mistreatment-of-women-206039/
-----------
SEX, PORK AND JIHAD: HEARD THE ONE ABOUT INDONESIA'S HIJAB-WEARING MUSLIM COMIC?
BY RESTY WORO YUNIAR
12 NOV 2017
SakdiyahMa'ruf doesn't look like a typical stand-up comedian. Perhaps it's something to do with the hijab, but there's nothing typical about her jokes either. "Indonesian jihadists should stop using guns because it's too American," goes one of her favourites, "they should start using sharpened bamboo sticks, that way they would have a better image and could brand their actions eco-terrorism!"
Ma'ruf made that particular joke in Bali, the resort island that in 2002 and 2005 was rocked by suicide bombings that killed hundreds of people, mostly foreign tourists. She is unique in Indonesia, where many see her willingness to poke fun at Islamic issues as bold, especially at a time when fundamentalism and extremism are on the rise in the world's most populous Muslim majority nation.
Ma'ruf, 35, Indonesia's first female Muslim stand-up comic, is among a select few of her kind in Southeast Asia, where the scene is emerging from its underground roots.
She grew up in a conservative Arab community in Pekalongan, in central Java, where girls had two options: "Get married at the age of 16 or get a sex change and turn yourself into a man to get a [salary] raise," Ma'ruf joked at the Ubud Writers & Readers Festival.
"Most of my friends are rich or pretty, and I am neither so my parents sent me to school," she quipped, inviting dry laughter from the audience.
Could anti-Chinese violence flare again in Indonesia?
Ma'ruf had to hide her early gigs from her conservative parents, who wanted her to pursue a more lucrative career as a doctor or lawyer. She sneaked around and made excuses whenever she performed, telling her parents she was a public speaker.
Eventually she told her parents the truth after increasing recognition saw her win the Creative Dissent award in 2015 from the Oslo Freedom Forum's Vaclav Havel International Prize. At first, her parents were disappointed, but now they accept her career choice.
"I love comedy because it provides a space to discuss not only the multiple identities that we Muslims have, but also the many ironies and hypocrisies that we have," Ma'ruf said. "My comedy is my choice of language to discuss the complexities we face [as Muslim women]."
She drew inspiration from Indonesia's famous comedy collectives Srimulat and Warkop, as well as HerithIskander, the godfather of stand-up in Malaysia.
Comedians such as Ma'ruf, whose jokes revolve around sex, misogyny, and radicalism, are a novelty in Indonesia, where religious and racial tensions have soared after Jakarta's former governor Basuki Tjahaja Purnama (inset), a Christian of Chinese descent, was sentenced to two years in prison for blasphemy against Islam in May.
A survey this month found nearly 20 per cent of students in Indonesia support the establishment of an Islamic caliphate, an alarming result in a country long praised for religious tolerance and secular governance.
Radical groups have been threatening defamation and blasphemy lawsuits against people who take part in leftist political discourse, especially discussions on the 1965-1966 killings that left between 500,000 and 1 million dead. Online critics of the government have also been targeted by the groups.
Muslim humorists have long used comedy as both a shield and weapon to cope with their frustration at common stereotypes of their faith.
"When you grow up during the war, you have two options, either you can have a bit of a laugh or you can slit your wrist," said Osamah Sami, an Australian-Iraqi comedian, writer, and actor whose parents fled Iran during the Iran-Iraq conflict of the 1980s and moved to Australia when he was a teen. "You have to adapt to the world that you're living in, or try to make sense of it. If we take ourselves seriously all the time we're not going to be able to see the beauty of the world."
In Australia, where Islamophobia has increased in recent years, Sami tried to put Muslims back into the country's narrative this year by making an all-Muslim cast biopic, Ali's Wedding, Australia's first Muslim romcom based on his 2015 memoir Good Muslim Boy.
"Australia is multicultural, it is a melting pot of races and cultures," Sami said. "Forever and a day we've been spoken of, but not heard from. Now we have a chance to be heard from."
Everyday Indonesians need change, not more identity politics
In Malaysia, stand-up comic Shamaine Othman contests the notion that Muslim women are stodgy and staid by weaving sex and religion into her material. Unlike Ma'ruf in Indonesia, Othman censors her jokes about extremism and radicalism when she appears on television. "I have combined religion and sex in my jokes. Not so much poking fun at religion but how being a Muslim gets in the way of dating and my sex life," Othman, who is also a screenwriter, said. "I do want to poke more fun at religious issues that matter to me. I find that because stand-up comedy is quite a niche scene, I get away with joking about sex and Islam. I would never be allowed to do it on TV though."
In more open societies, such as the United States, Muslim women who do stand-up joke more freely about how they practise their faith, as showcased by comics such as NeginFarsad, Shazia Mirza, and Zahra Noorbakhsh. "There is no one way of practising or observing Islam. I think the most toxic thing to happen to the Muslim community is that 1.7 billion people have been reduced to this term, regardless of their distinctions that inform on their religious practice," said Noorbakhsh, an Iranian-American comic who begins her shows by introducing herself as "a pork-eating, alcohol-drinking, premarital-sex-having Muslim". "I perform true to my experiences and avoid making claims on behalf of all Muslims, unless it's satirically done to prove the point that that's impossible."
Muslim comics agree there are certain topics they wouldn't touch with a 10-foot pole, including the Prophet Mohammed and Islam's main set of values as well as fresh tragedies and disasters.
"I do have a joke about wishing I grew up with a poster of Mohammed so that I wouldn't need a poster of Shahrukh Kahn to replace [photos of] my parents," Ma'ruf said, referring to the Bollywood actor.
"But I think all of us around the world, regardless of our background, should respect Muslims' love of Prophet Mohammed as much as we respect the cartoonists' freedom of expression."
To an outsider, living as a Muslim woman in an increasingly fundamentalist Indonesia might seem unbearable. That is part of the reason why Ma'ruf tries to include a message of optimism in her shows abroad.
"People would say 'Oh, it must be hard for you to live in Indonesia [as a Muslim woman],' and I would reply 'we may not have Disneyland but we're fine'," Ma'ruf said. "Indonesia is not that bad, it looks bad only on Twitter. What's happening now is nothing compared to what happened during [Suharto's] New Order. We've been through the worst." ■
http://www.scmp.com/week-asia/society/article/2119005/sex-pork-and-jihad-heard-one-about-indonesias-hijab-wearing-muslim
---------
'You should be ashamed of yourself': Imam slams Muslim activist Yassmin Abdel-Magied for 'hijacking Remembrance Day' with yet another Manus Island tweet
By Stephen Johnson and Belinda Cleary For Daily Mail Australia
12 November 2017
An Islamic imam who speaks out against Sharia law has slammed Muslim youth activist Yassmin Abdel-Magied for 'hijacking Remembrance Day'.
The Sudanese-born, Brisbane-raised writer has stirred more controversy by using the 99th anniversary of the end of the First World War to make a political point about asylum seekers in Papua New Guinea.
In an almost identical message to her polarising Anzac Day post, the 26-year-old former ABC host, who now lives in London, tweeted '#LestWeForget (Manus)'.
Adelaide-based Shia imam Mohammad Tawhidi said her social media message was disrespectful to the war dead, who included soldiers fighting against the Islamic caliphate of the old Ottoman Empire.
'Sister Yassmin, you should be ashamed of yourself for hijacking Remembrance Day for your political motives,' he tweeted.
'This means that your last apology for disrespecting ANZAC Day was a lie to the entire nation.'
The imam, who campaigns against Islamic fundamentalism and radicalisation, said Sharia law was responsible for the refugee crisis on Manus Island, not Australia, as asylum seekers protest being moved out of their Papua New Guinea compound.
'Violent Sharia law is responsible for the tragedies in Manus Island,' he claimed.
'The majority of refugees fled Sharia law and Islamic governments.
'If you want to blame a government, blame Islamic governments/caliphates.'
Asylum seekers have fled Sharia law nations like Iran - where Sheikh Tawhidi was born - and Somalia.
Ms Abdel-Magied has been widely slammed for her 'culturally insensitive' Twitter message.
Hundreds of disturbed Australians were quick to voice their disapproval of the provocative post - many accusing her of being deliberately inflammatory.
In April she was slammed after a similar post which read 'Lest. We. Forget. Manus, Nauru, Syria, Palestine.'
After facing catastrophic backlash, she 'apologised unreservingly' for her 'disrespectful' words.
But it seems Ms Abdel-Magied didn't learn her lesson; once again outraging her followers with an identical jab.
'Remembrance Day is not about you,' a Twitter user stated.
Another called her out for what they believed was a move to intentionally try and provoke followers into an emotional response.
'You are just trolling now,' they wrote.
She was also accused of using Manus Island as a tool to draw the public eye towards herself.
'You don't even care about Manus. This is just a publicity stunt to get attention. Any normal person would have learnt from last year,' one tweet read.
Several others called her 'selfish' and accused her of deliberately detracting attention from the true meaning of Remembrance Day.
'Seriously.... what is wrong with you? It upsets me that you deliberately use days that commemorate war dead to push political agenda...,' one reply read.
Twitter user Melissa wrote: 'Absolutely disgraceful. I'm convinced now that your point is to be disrespectful and distasteful.'
Multiple concurred, with one responding: 'Totally agree Melissa. Yassmin is so self centred once again she's turned a day of remembrance into an all about her.'
The hypocrisy behind her new post, particularly in light of her Anzac Day apology earlier in the year, did not go unnoticed.
'What happened to 'my last post was disrespectful and I apologise unreservedly' - @yassmin_a on last Anzac Day when you posted a similar disgusting post. I think even if you do apologise most Australians have wisened up. You really have no morals or respect. #auspol #lestweforget,' a frustrated Twitter user wrote.
Many did their best to direct attention back to honouring fallen Australian soldiers by replying with true 'Lest We Forget' graphics.
The explosive post garnered nearly 400 replies and it was 're-tweeted' by more than 200 of her followers.
http://www.dailymail.co.uk/news/article-5074363/Imam-slams-Yassmin-Abdel-Magied-Remembrance-Day-tweet.html#ixzz4yDcSFBY7
-----------
Muslim Rape Gang Survivors: 'Groomers Are Still Abusing Girls in Rotherham'
12 Nov 2017
Two survivors of Muslim child rape gangs have said that groomers are still abusing young girls in Rotherham.
Linzi Williams and Natalie Fuller, who have been best friends since childhood, waived their anonymity to speak to Channel 4 about being groomed and raped as children.
Ms. Williams was 15 when she was abused by Arshid "Ash" Hussain, but thought she was having a normal boyfriend-girlfriend relationship as she had never been out with anyone before.
After falling pregnant by her abuser and having an abortion, Ms. Williams told Channel 4 that the childhood trauma affected her ability to trust people and she now suffers from attachment problems.
"At one minute I thought I wanted to keep it, because I thought, 'Oh, he's going to be with me and everything's going to be fine.' Obviously, it wouldn't have been," Ms. Williams said.
Ms. Fuller was just 13 when she was raped by Ash's brother, Bannaras. Natalie suffers from panic attacks, and described the experiences as a "torment" that she has to relive every day.
"I went home and remember getting straight in the bath and scrubbing myself… My childhood was ruined from that point," Ms. Fuller said.
Describing an occasion when Bannaras tried to force Ms. Fuller to commit a sexual act in the woods, she refused and he beat and kicked her. Then a young girl, she was frightened, but mustered the courage to tell the police.
"I was scared. I said to them [the police] what he'd done, and they said, 'Well, you've got to press charges. We can't do anything.'"
"I said I was scared, because you don't know what they're like. I gave them a name, but nothing was done," the young woman said.
"It was disgusting. I was just a child. There were all these people there that should have been protecting me, but they didn't."
Nearly half of all child exploitation cases being investigated in South Yorkshire are rooted in Rotherham with 21 convictions over the past three years.
Newcastle has joined a list of cities where grooming gangs, made up of predominantly Muslim men, systematically rape and abuse vulnerable, white girls.
In Rotherham, there have been 1,400 victims of child sexual exploitation since the 1980s, described as "the biggest child protection scandal in UK history", and 92 people have been convicted.
Bannaras and Ash Hussain have been convicted and imprisoned, but Ms. Williams and Ms. Fuller know that Muslim groomers are still operating in the city.
Ms. Williams told Channel 4: "You know it's still happening. When you're driving down town centre roads you see men in their cars with their girls and stuff."
When asked why the police couldn't see that if she could, she answered: "I don't know."
Rotherham: Whistleblower Threat by GovtWith Removal of Kids 'For Speaking Out About Abuse' http://bit.ly/1RyBHFW
In May, Maggie Oliver, a former police detective who helped prosecute another Muslim grooming gang in Rochdale in 2012, wrote that offenders identified during the original investigation are still at large.
"There are still paedophiles who we identified… who are out there right now," the whistleblower said. "I still support many of the girls and they tell me they've seen them."
A nationwide pattern emerged after the first prosecutions in Rotherham, and then Rochdale, where a "culture of silence" and political correctness led to inaction by authorities who feared being called "racist" as the groomers were predominantly Pakistani-origin Muslims who preyed on vulnerable, white girls.
In some cases, authorities made the victims feel that they were racists for identifying the ethnicity of their abusers, and even suggested that the underaged girls' victimisation was a "lifestyle choice" and that they were prostitutes.
http://www.breitbart.com/london/2017/11/12/muslim-rape-gang-survivors-grooming-gangs-still-abusing-girls-rotherham/
-----------
Women must cover their faces, says Islamic scholar
DNA CORRESPONDENT | Updated: Nov 12, 2017
Mufti NizamuddinRazavi was answering questions on "covering" at the second day of the 27th annual Sunni Ijtema at Azad Maidan on Saturday
A Mufti who was answering questions on "covering" said that women who were not slaves, and hence free, were asked to wear a hijab to be differentiated from women who were slaves. Mufti NizamuddinRazavi was answering questions on "covering" at the second day of the 27th annual Sunni Ijtema at Azad Maidan on Saturday.
While the first day of the Ijtema is reserved for women, the second and third day of the three-day event can be attended only by men. Thousands had gathered to listen to Islamic scholars speak on various Islamic teachings.
"The Quran says that the head must be covered. The covering of face is optional. But in Hadees it is said that even the face has to be covered. Back then, women who were free (not slaves) were asked to cover their faces to distinguish them from women who were slaves. Hence, covering was for those women whose rank was higher because they were free (not slaves) in the society," said Mufti NizamuddinRazavi while giving religious answers to the queries raised by men.
On the first day, an Islamic scholar while talking about talaq said, "instant talaq is not liked by God." However, Mohammed Shahid, spokesperson for Ijtema, told DNA that instant talaq is still valid. "If women cover themselves up, they will not have to suffer from criminal acts," added Razavi.
http://www.dnaindia.com/mumbai/report-women-must-cover-their-faces-says-islamic-scholar-2559399
-----------
Saudi women to be allowed into sports stadiums next year - but they must sit in the 'family section'
Saudi Arabia has formally announced it will allow women to enter sports stadiums as the Islamic kingdom inches toward easing rules on gender segregation — but they will be seated in the so-called family section, an area separate from the male-only crowd.
The General Sports Authority described the decision as one that will allow "families" into the stadiums from next year — a term authorities use to refer to the public spaces that accommodate women.
These "family" sections are for women who are out on their own or who are accompanied by a male relative.
Many restaurants and cafes, which often also have separate entrances for women, have similarly segregated seating arrangements.
The authority said the three major sports stadiums in the capital, Riyadh, and the cities of Jiddah and Dammam, will undergo renovations to accommodate families.
The decision comes after the Saudi public appeared to welcome a decision to allow women to drive for the first time next year. Reform is being driven by powerful Crown Prince Mohammad Bin Salman.
Many Saudis also responded enthusiastically when women were allowed into the Riyadh stadium for national day celebrations last month.
Economic forces are believed to be helping to drive change as the stadiums were built with hundreds of millions of dollars generated when oil prices were nearly double what they are now – and allowing women to enter effectively doubles the potential audience of the lavishly maintained venues.
The kingdom appears to be relaxing some of its ultra-conservative interpretation of Islamic law as part of its Vision 2030 plan for economic and social reform, which aims to boost female employment rates from 22 to 30 per cent.
Campaigners in the country have fought for years to overturn the oppressive guardianship system, where a male family member – usually the father, husband or brother – must give permission for a woman to study, travel or take part in other everyday activities.
Two years ago, a Saudi woman was arrested while attending a football game in Jiddah's al-Jawhara stadium, which opened to the public in 2014. Police were quoted in local media at the time as saying that security spotted her at the stadium "deliberately disguised" in trousers, a long-sleeve top, a hat and sunglasses to avoid detection.
The majority of women in Saudi Arabia cover their hair and face with a veil – although the law does not require face covering - and all women are required to wear an abaya, a loose black dress, in public.
Over the years, exceptions have been made for foreign women visiting the ultra-orthodox Kingdom. In 2015, an Australian female supporter of Western Sydney Wanderers soccer club was permitted to attend a match at Riyadh's main stadium and a group of American women travelling with members of the Congress watched a local club match, also in Riyadh.
http://www.independent.co.uk/news/world/saudi-arabia-women-able-to-enter-sports-stadiums-reform-guardianship-system-a8050281.html
-----------
Winds of change: Muslim girls embrace education, aim high
November 12, 2017
Katihar: For Ghazala Tasneem, October 31 was not a normal day. It was the day her dream came true and she was rewarded for her hard struggle of three years. She was selected for the Bihar Judicial Services Competitive Examination with 65th rank and can soon aspire to be a judge.
"Indeed, it was difficult, but thanks to Allah, due to the continuous support and motivation from my husband and other family members, I have achieved what I deserved," says Tasneem, a housewife from Katihar district of Bihar with two sons.
There is a general perception that Muslim women rarely pursue higher education, or go for competitive exams, and the social odds are stacked even higher once they get married and have kids. But women like Tasneem challenge such stereotypes.
India has the largest Muslim population after Indonesia, which is about 14.2 percent of its 1.34 billion population, and the 2011 census says that about half of the population of Muslim women is illiterate. But women like Tasneem think that the situation is changing fast.
"Though in areas like law and judiciary, still the number of Muslim girls is very less. But in general, the situation is changing now and there are many more Muslim girls going to school," Tasneem said.
ZebunNisa Khan, associate professor at the Department of Education in Aligarh Muslim University, says that situation has already changed. "The trend is not changing, but it has already changed. For the last few years, the number of Muslim girls in schools has increased massively," Khan said.
Muslim women's literacy rate is on the increase in Uttar Pradesh, but the situation in states like Bihar and West Bengal needs to further improve.
MoonisaBushraAbidi teaches Physics at Maharashtra College of Arts, Science and Commerce in Mumbai. She also thinks that educating the girl child is an increasing trend among Muslims and an increasing number of Muslims girls — encouraged by their parents, particularly mothers — are going for higher education.
"One can see a larger number of girls with hijab in many institutions now. In the early 1990s, when I was pursuing my M.Sc. from the University of Mumbai, I was the only girl in the entire university with a hijab," Abidi explains.
She says that during her days in the same college, at the intermediate level, there used to be one division of girls against four of boys, but now there are four divisions of girls against one for boys. At UG and PG levels, there are hardly 8 to 10 boys in each class against 80 to 90 girls.
The college is being run under the presidentship of a woman, Fatima Zakaria, a Padma Shri awardee, journalist and academician, and mother of veteran journalist Fareed Zakaria.
"The situation is not good because the number of boys is decreasing and now our college is becoming a girls' college," Abidi said.
But what had been the major issues for educating Muslim girl child in India? Khan lists poverty and lack of awareness as some of the major problems in the path of girl child education.
"The major obstacles are poverty and lack of awareness. Many Muslim families are below the poverty line and they are unable to educate girls," she explained.
Sadia Rahman, PhD scholar of international relations at National Chung Hsing University in Taiwan, thinks that widespread poverty and financial constraints are the major causes that prevent Muslim girls from accessing modern education. "Also, the poor quality schools in Muslim populated areas is also responsible for it," says Rahman who hails from Kolkata and completed MA from Presidency University.
According to Islamic teaching arrangements of classes, male and female students should be separated and many people believe that it is also one of the important reasons for the low literacy rate of Muslim women in various places.
"I think the biggest obstacle for girls' education was co-education and less availability of Muslim-management colleges. Sometimes a girl with a hijab becomes the butt of jokes, because of which religious-minded girls are hesitant to go to colleges run by non-Muslim managements," Abidi added.
Abidi believes that Muslim girls from conservative families don't feel comfortable in the co-education system and the community should think about opening more separate colleges for them.
"In rural areas, even Hindu girls prefer girls-only colleges and avoid co-education," Khan pointed out.
Neyaz Ahmad Daudi, who runs Fatima Girls Inter College in Daudpur village in Azamgarh district of eastern Uttar Pradesh, has another story to tell. Daudi, who has doctorate in Psychology from Banaras Hindu University and served at Shibli National Intermediate College as principal for over a decade, says that he chose to start a girls' college because boys can go far and there were not enough girls' colleges at nearby villages and towns.
Non-availability of schools and colleges nearby is also one of the major obstacles and a major issue in many areas.
Daudi says that in places like Azamgarh, where most of the guardians away in the Gulf countries or in metro cities earning a livelihood, people are cautious about the security of girls and don't allow them to be sent too far; they also seek a safe and secure transportation system from home to school.
At 73.01 percent, Azamgarh has the highest Muslim female literacy rate in Uttar Pradesh. But being a small place, it is still difficult to gain higher education here.
"Now girls are educated but they have less opportunity for higher studies and competitive exams because usually it is available only in bigger cities," Daudi explained.
There is another misconception that some people think that educating a girl child — especially modern education — is against the religion, but Khan believes that getting an education is a religious duty.
"The very first revelation on Prophet Mohammed was the word 'Iqra' which means 'you read' and such words are mentioned in many places in the Holy Quran. It is general guidance for both males and females," Khan says.
"Islam and Muslims are not against education. Islam teaches one to gain knowledge from cradle to grave, but some people misinterpret Islam," says Tasneem.
"All educational goals can be achieved being in veil. There are a number of examples in the early Islamic period where women were very much involved in education and nursing sectors," Tasneem added.
(This feature is part of a special series that seeks to bring unique and extraordinary stories of ordinary people, groups and communities from across a diverse, plural and inclusive India, and has been made possible by a collaboration between IANS and the Frank Islam Foundation. Abu Zafar can be contacted at abuzafar@journalist.com)
https://www.siasat.com/news/winds-change-muslim-girls-embrace-education-aim-high-1256197/
-----------
Muslim students in WV talk how to overcome bullying in schools
"There's a lot of racist teachers, and they don't try to hide it from you," said Maryam Rawash, a student at George Washington High School. "You will ask to do something, and they'll be like, 'No,' and they can even say something, like make a racist comment toward you. If you say something back that's disrespectful or anything, you can get in a lot of trouble for it, which has happened to a lot of students actually."
About 25 Muslim middle school and high school students gathered at the community center to participate in a youth program hosted by the Islamic Networks Group to teach anti-bullying, leadership and public speaking techniques.
Rawash, who has worn a hijab — a covering some Muslim women choose to wear around their heads — since middle school, said she hears cracks from students and teachers alike. They ask her about recent terror attacks and ask her if she's related to the suspect.
As a board member of the Muslim student association at her school, Rawash said the best course of action for her is to try to educate people on the realities of the Islamic faith and its similarities with other Abrahamic traditions, and to just be the adult in the room.
"You hear stuff that's really ignorant, but you can't be ignorant back, because, what's the point of being petty," she said. "You can't really fix it. You just have to try to show them that you're the bigger person, that you're not what they think you are."
IbtesamBarazi, vice president of the local Islamic Association, said she worked to bring the ING program to the center to teach the kids how to respond to Islamaphobia and the bullying that can stem from it. She said while bullying can reach all students, because many Muslims are people of color and many of the women wear hijab, they can be easily identifiable, which can make them targets for bullies.
"We're trying to teach them how to approach other kids and to explain," she said. "We believe the bullying that's religiously and ethnically based can be stopped, can be diminished by education and training. So we're trying to teach them confidence. We're trying to teach them about their own religion and how to approach other people by explaining to them that Islam is actually a religion of peace. It is not what is portrayed in the news media and through the eyes of a criminal group such as ISIS."
In the program itself, IshaqPathan, an ING youth manager, led the class in a light, though at times thorny conversation. They talked about how students treat other students of different diasporas in school, a lack of diversity in their communities, and the mean jokes said in the back of the school bus.
One room over, adults sat in on a seminar as well, geared to get them more involved in the community and to build a stronger presence of Muslims in the Charleston area.
Deena Dahshan is a senior at Marshall University who came home to volunteer for the program while her younger brothers take part in it.
She said when she was in high school, she never had this opportunity, and she's glad to be a part of it now. She said conversations like the ones the program encourages leads to the students gaining more confidence in themselves and their faith.
"I think having this conversation shows students that they can wear their identity with pride, and it's not something they should only have at home and something they should be ashamed of in school," she said. "It kind of empowers them to wear their faith, versus trying to hide it. They should be able to practice however they feel and they shouldn't be pressured to be a different person at school."
Despite the issues, Barazi said she loves the Charleston and the West Virginia communities, both of which have been largely accepting.
Similarly, Dahshan said at the end of the day, it's building bridges between cultures that will make all the difference.
"I kind of think that people are just scared of what they don't know," she said. "If they keep themselves isolated, they'll just continue being scared of Muslims because they think that they have some preconceived ideas, whereas if they get to know a Muslim, have a conversation, or even see what the inside of a Mosque looks like, they might be like, 'Oh, OK, that's what they do,' and they might be not as scared."
https://www.wvgazettemail.com/news/education/muslim-students-in-wv-talk-how-to-overcome-bullying-in/article_62254d15-e8e7-52d0-93a9-1faa273a34bf.html
-----------
Greater empowerment of Saudi women expected
Rodolfo C. Estimo Jr. | Published — Sunday 12 November 2017
RIYADH: Saudi women have shown leadership skills but Shoura Council member Haya Al-Munea has noticed their lack of number or absence in key decision-making platforms.
She expects an increased empowerment of women in the future, and they will play a more active and vital role in the decision-making process in various fields in the public and private sectors.
In an interview with the press, Al-Munea — a writer herself — based her belief on the fact that women have not been included on the list of those involved in corruption, in addition to the fact that they're highly educated.
"Women are more careful about accuracy in work and integrity. They hold positions and are untainted by any manifestation of corruption," she told an Arabic daily.
She also expressed her firm belief that this will happen if and when efficiency — in addition to integrity and competence — is one of the criteria of choice rather than gender in appointing personnel to leadership positions.
She lauded King Salman's move of forming a supreme committee to stamp out corruption, going after persons accused of wrongdoing and punishing them if and when they're found guilty.
She added that they should not be spared no matter what their positions or status in life are so that the initiated administrative reform will succeed, which heralds a better tomorrow for the nation as well as for the Saudi people.
In the public sector, women have shown their brilliance and competence. Ten women out of 30 retained their posts as Shoura Council members when the Kingdom reshuffled the consultative body in early December last year.
By historic royal decrees, they're among those who advise King Salman on policies and legislation. A majority of them hold doctorate degrees and have held positions in universities across many different fields.
Plans are also afoot for the Kingdom to empower women scholars to play a greater role in the Islamic ruling process. The Shoura Council plans to authorize them to issue fatwas and pave the way for them to contribute to Islamic research rulings.
In diplomacy, the number of female diplomats employed by the Saud Foreign Ministry and working inside and outside Saudi Arabia has risen to 113, according to Foreign Ministry spokesman Osama Nugali.
Abroad, they're making Saudi Arabia proud. One of them is Manal Radwan, first secretary and political coordinator at the Saudi mission at the United Nations in New York. She attended the George Washington University for her master's degree in political science and government.
In business and finance, KhloodAldukheil holds the position of managing director of the Aldukheil Financial Group, a closed company engaged in investment and banking.
She has expertise in various areas, including business formation and restructuring, debt advisory and debt restructuring, risk management and regulatory compliance, and investment banking.
She is currently the president of the National Committee for Statistics under the Saudi Council of Chambers, chairperson of the audit committee for Saudi Orix Financing Company, among others.
For his part, lawyer and arbitrator Ibrahim Al-Hakami attributed the absence of corruption and waste of public money among women to the lack of senior positions available for them.
Al-Hakami also noted that women in leadership positions are few — in stark contrast to their male counterparts — and their number can be counted on the fingers.
"When a woman holds a leadership position, she is more afraid of responsibility than men. It's because there are only a few women leaders and she's careful because she wants to keep her position and preserve her reputation, he said.
Activists and writers with social advocacies have also expressed their firm belief in the capability and qualification of women for leadership positions.
"There is no woman in a circle of corruption," said Halima Muzaffar, a poet, on her official Twitter page, adding that "women are more active and more honest."
http://www.arabnews.com/node/1192141/saudi-arabia
URL: https://www.newageislam.com/islam-women-feminism/husband-attempted-sell-sex-slave/d/113195