New Age Islam News Bureau
23 Jun 2018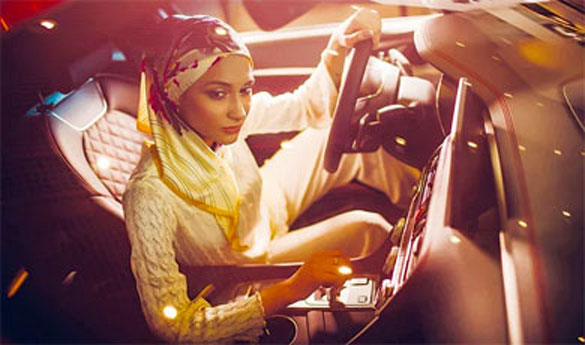 The auto industry has an estimated 9 million potential new customers in the Saudi female population
-----
• Adventurous Vehicles, Unconventional Colours in Demand as Women Gear Up To Hit Saudi Roads
• Abused and Destitute: Wars Fuel Rise in Global Number of Widows
• By Taking a Bullet, a Muslim Woman Finds Her Calling
• CFWIJ Condemns Series of Attacks on Female Journalists in Pakistan
• Saudi Female Car Accident Claims Inspectors Ready for Women Driving
• How Saudi Women Driving Has Changed Gender Discourse In The West
• Iranian Women Continue To Actively Participate In Protests
• New Online Platform Helps Turkish Immigrant Women Abroad
Compiled by New Age Islam News Bureau
URL: https://www.newageislam.com/islam-women-feminism/hunger-strike-iranian-sufi-women/d/115623
--------
Hunger Strike of Iranian Sufi Women in Protest to Their Ill-Treatment
23 June 2018
Hunger strike of Sufi women in protest to their ill-treatment by prison guards in Qarchak prison of Varamin passed the tenth day.
The hunger strike of Sufi women in protest to their ill-treatment by prison guards began on Monday, June 11, 2018, with six sufi women participating.
The names of those participating in the hunger strike of Sufi women in protest to their ill-treatment are: Shokoufeh Yadollahi, Elham Ahmadi, Sepideh Moradi, Nazilla Noori, Maryam Farsiabi, and Massoumeh Barakouhi.
Sedigheh Khalili, the mother of Sepideh Moradi, explained about the hunger strike of Sufi women in protest to their ill-treatment in Qarchak Prison. She said, "On June 11, when these women were outside, one of the prison guards closed the door and made them stay for three days and nights in a narrow dark corridor between the ward and the courtyard. On the same day, the women started their hunger strike. Three days later, on Wednesday, June 13, prison guards allowed them back into the ward, but shortly afterwards, 4-5 dangerous prisoners were incited by the guards to attack the sufi women. That is when the latter started shouting Ya-Ali. Then the Special Guards raided the ward and female agents started beating them with batons and shockers."
The participants in the hunger strike and five other sufi women have been imprisoned in Qarchak Prison since February 20, 2018, under inhuman conditions.
According to judiciary and SSF officials as well as sources of Gonabadi Dervishes, more than 300 Gonabadi dervishes were arrested and imprisoned during the crackdown on the sufis' peaceful protest. Some 150 of them have so far received heavy and light sentences.
The US Secretary State also reacted to the recent arrests in Iran in a tweet and wrote, "5,000 Iranians arrested in January's protests. 30 women jailed for protesting the hijab. Hundreds of Sufi dervishes, dozens of environmentalists, 400 Ahwazis, 30 Isfahan farmers - all imprisoned by Iran's criminal regime. Iranian people deserve respect for their human rights."
https://women.ncr-iran.org/iran-women-news/5272-hunger-strike-of-sufi-women-in-protest-to-their-ill-treatment
--------
Adventurous Vehicles, Unconventional Colours in Demand as Women Gear Up To Hit Saudi Roads
June 22, 2018
JEDDAH: Ever since the long-standing driving ban for women was lifted last September, auto-industry marketers have been scrambling to figure out just what women want. The auto industry has an estimated 9 million potential new customers in the Saudi female population who are now eligible to drive, an (em)powering move that instantly established Saudi Arabia as the world's largest market
for new sales.
But many Saudi women were less than impressed with the initial ad campaigns. Some felt that these were driven by an emotional play on women's feelings. Many complained that they focused too heavily on feminine stereotypes, rather than offering any practical information. These campaigns, while witty and creative, lacked any real substance to help women with the necessary decision-making required when buying a vehicle.
Jeddah resident Layla Hamdan, 26, spoke candidly with Arab News about which vehicle models appeal most to her and her friends. "A lot of the marketing toward women has been way off-base in my opinion," she said. "They are appealing to a very feminine stereotype that is not accurate in regards to the cars we prefer.
"Personally, I think pink is one of the ugliest colors for a car. It's not even so much about style or flash for me either, it's all about practicality. This is an exciting time for us. A time for freedom and adventure. To be able to explore our great country and go on fun road trips together. For these reasons me and many of my girlfriends prefer larger cars such as SUVs or large hatchbacks."
Quick to take notice were major players in the auto industry such as Abdul Latif Jameel Motors, General Motors and United Motors Co., which between them boast the authorized rights to sell Toyota, Chevrolet, GMC, Chrysler, Dodge and Jeeps in the Kingdom. These firms have ramped up their advertising and marketing campaigns, too, but have taken a more tactful and considerate approach.
Along with establishing a call center managed exclusively by women to handle finance options and general inquiries, Abdul Latif Jameel Motors, the Japanese group's authorized Toyota distributor in Saudi Arabia, will be designating showroom lots run by all-female staff.
General Motors, which has exclusive selling rights to Chevrolet and GMC autos in the Kingdom, recently promoted a Saudi-born female advertising executive to be the region's chief copywriter and assist in crafting advertisement campaigns that are more in tune with women's preferences.
United Motors Co. is the sole distributor for Chrysler, Dodge, Jeep, Ram, Fiat and Alfa Romeo autos in the Kingdom. Established in 1999 as a merger of United Arab Motors Co. and Al-Essayi Trading Corp., it is one of the largest automotive companies in the Saudi market, employing more than 1,200 trained staff in more than 63 branches.
Arab News spoke exclusively with United Motors Co. sales manager Mohammed Mohsen Al-Amoudi about what types of vehicles Saudi women have been buying from his Jeddah lot, their color preferences and the appeal factor that larger cars have for women.
"Now that women are allowed to drive in the Kingdom, there is a demand for exclusive offers and packages exclusively geared toward women that have been highly successful for us. We've had consistent record-setting months in sales since September. For example, last Ramadan we did not exceed
1 percent in sales for women, while this Ramadan it has jumped by
25 percent. The demand has shifted from women clients buying a car for their driver to buying a car for personal use, and we have found them to be just as concerned as men when it comes to the fine details on safety measures, fuel mileage and customized options."
As far as what vehicle models and color preferences women have, Al-Amoudi said that the market has been overwhelmingly lopsided in favor of larger cars.
"While we have all options available, from elegant and classic selections like our Alfa Romeo, Chryslers and Fiats to our sportier options in our Chargers and Challengers, we have seen the most spike in sales with our Jeep Wrangler. Just last week we sold four cars, all to women, and all were Wranglers."
On color preference, Al-Amoudi said: "What we have noticed is that women have been requesting unconventional colors. Unfortunately, at the moment most dealerships mainly carry the generic solid colors of black, blue, white, and silver, but we are more than happy to order customized colors to accommodate their preferences."
With June 24 a mere day away, it's clear that Saudi women are not the only ones preparing for this big moment. Soon women will be driving on every Saudi road, but don't expect to spot them strictly by their vehicle choice or color.
"What do women want?" ask marketers. Well, maybe a clue can be found in the popularity of Jeeps. They are tough, secure and highly resistant to extreme conditions. How fittingly appropriate. No argument here.
http://www.arabnews.com/node/1326291/saudi-arabia
--------
Abused and Destitute: Wars Fuel Rise in Global Number of Widows
June 22, 2018
LONDON: Millions of widows worldwide suffer crushing poverty and persecution, their numbers swelled by a proliferation of conflicts from Syria to Myanmar.
International Widows' Day on June 23 aims to raise awareness of the often hidden injustices they face.
Many are robbed of their inheritance, while others are enslaved by in-laws, accused of witchcraft or forced into abusive sexual rituals. Here are some facts:
- Experts estimated there were 258.5 million widows globally in 2015, but say the number is likely to have risen.
- Deaths through conflict and disease contributed to a 9 percent increase in the number of widows between 2010 and 2015.
- The biggest jump has been in the Middle East and North Africa, where the estimated number of widows rose 24 percent between 2010 and 2015, partly due to the Syrian war and other conflicts.
- One in seven widows globally — 38 million — lives in extreme poverty.
- One in 10 women of marital age is widowed. The proportion is about one in five in Afghanistan and Ukraine.
- A third of widows worldwide live in India or China. India, with an estimated 46 million widows in 2015, has overtaken China (44.6 million) to become the country with the largest number of widows.
- Widow "cleansing" rituals in some sub-Saharan countries may require a widow to drink the water used to wash her dead husband's body or to have sex with an in-law, village "cleanser" or stranger.
- Campaigners for widows' rights say such rituals, which are intended to rid a widow of her husband's spirit, spread disease and are a violation of dignity.
- Widows are regularly accused of killing their husbands either deliberately or through neglect — including by transmitting HIV/AIDS — in India, Nepal, Papua New Guinea and sub-Saharan Africa.
- Property seizures and evictions by the late husband's family are widespread in many places including Angola, Bangladesh, Botswana, India, Ivory Coast, Ghana, Kenya, Malawi, Nigeria, Tanzania and Zimbabwe.
- A significant number of girls are widowed in childhood — a reflection of the prevalence of child marriage in developing countries and the custom of marrying off young girls to much older men.
http://www.arabnews.com/node/1326421/world
--------
By Taking a Bullet, a Muslim Woman Finds Her Calling
By Melissa Eddy
June 22, 2018
BERLIN — Seyran Ates recalls the searing pain of a bullet tearing through her neck. She remembers wavering on the brink of death and telling God that she had to rejoin the living. A 21-year-old law student at the time, working at a women's center in West Berlin, she was nowhere near finished with the world.
" 'I want to go back,' I told God," Ms. Ates, now a 55-year-old lawyer and women's rights activist who is also studying to become an imam, recalled of that afternoon. "I still have a mission."
More than three decades later, that mission came to fruition a year ago when she stood before a congregation of Muslim men and women kneeling side-by-side as they recited prayers in the Ibn Rushd-Goethe Mosque — the first Muslim house of worship in Germany where women, many with dark ponytails and long curls uncovered — are recognized as imams. Any Muslim is welcome to join: men or women, Sunni or Shiite, transgender, gay or straight
"We want to send a signal to political Islam," Ms. Ates, wearing a long, white tunic trimmed with gold, told a packed room on the opening day, when journalists outnumbered worshipers. "We want to show that another Islam exists, that has nothing to do with terrorism."
Over the past year, that something has grown into a congregation of 35 core members — many of them women. They help Ms. Ates organize weekly prayers, give tours to school groups and hold seminars on democracy, love and the concept of an open, tolerant interpretation of Islam and a forgiving God.
Three years after a wave of more than one million, mostly Muslim, migrants arrived in Germany seeking asylum, culture wars over religious identity and the possible threat posed by Islam have led to a rise in nationalist, populist movements. The government of Chancellor Angela Merkel was nearly brought down this week over a dispute with the Bavarian sister of her conservative party, which sought to turn back refugees at the border.
The Bavarian conservatives of the Christian Social Union joined the far-right party Alternative for Germany in promoting a narrative that refugees pose a threat, after several highly publicized killings and sexual assaults in the country led to charges against Muslim migrants. The party ordered that crosses be displayed in all public buildings in the state, and Ms. Merkel's new interior minister, Horst Seehofer — also a Bavarian — declared that "Islam is not a part of Germany."
Against the backdrop of these debates, Ms. Ates sees the survival of the Ibn Rushd-Goethe Mosque, which recently celebrated its first anniversary, as proof that Muslims living in Germany need and are open to an interpretation of Islam that reflects the values of the Western society in which they live.
She recently extended the lease on the room where the mosque is housed for two more years, defying those who foretold a swift demise for the project.
"A couple of days after we opened the mosque, a young man showed up and told us, 'You won't be here long. The Arabs will never allow it,' " she said. Instead, hundreds of people from across Germany, Europe and abroad have visited or attended services. Those most committed to its survival have made donations, some as much as 500 euros, or about $580, Ms. Ates said, emphasizing that the mosque receives no public funding.
"Even atheists come here and appreciate this place, as a spiritual place, a place of peace," she said recently, standing barefoot on the pale carpet of the mosque. "I had hoped, but never dreamed, that so many atheists would be interested. That was a positive surprise."
The criticism and rejection, in its fierceness and intensity, less so. Even before the mosque opened, her personal Facebook page and that of the mosque were flooded with derogatory messages and even some death threats. "May Allah put you on the right path, or destroy you," someone writing under the name Xalo Bero said in one of the friendlier remarks.
Protection provided by the police and paid for by the city government, in place since she published the book "Islam Needs a Sexual Revolution" in 2009, was increased to a personal security detail after the heightened threats on her life.
Days after the mosque opened, Dar al-Ifta, an influential arm of the Egyptian Justice Ministry that issues religious verdicts denounced the mosque and declared that allowing men and women to pray alongside one another violated Islamic law. Turkish news outlets reported that the mosque was a terrorist organization with links to the Islamist cleric Fethullah Gulen, whom Turkey blames for a coup attempt in 2016 against President Recep Tayyip Erdogan.
Despite a video message in which Ms. Ates states that the "the Rushd-Goethe mosque has nothing to do with the Gulen movement," the rumors have persisted. She blames them for the fact that few Turks have joined the congregants, although they make up the vast majority of the estimated 4.5 million Muslims living in Germany.
Despite the demands of running the mosque, she takes Arabic classes and continues to work as a lawyer. She considers achieving a degree in Islamic theology important to her recognition in the Muslim community. "I want to understand the words and know the meanings so no one can say, 'She's just a lawyer,' " she said.
Born in Istanbul to a Turkish mother and a Kurdish father, she emigrated with her parents to what was then West Berlin in the late 1960s, part of the first large wave of Muslim immigrants who came to fill the blue-collar jobs needed to rebuild the German economy after World War II. Ms. Ates was 6 when she and her four siblings moved into a one-room apartment with their parents.
As she learned German and excelled in school, Ms. Ates says, she came to understand that it was not the crowded living conditions that she found suffocating, but the realization that because of her gender she was not afforded the freedoms of her non-Muslim peers.
"I was a girl," she wrote in 2007 in Zeit Online. "I embodied the family's honor and my hymen — for a long time I didn't even know what that was — was more important to the whole family than my brain."
At 17, she fled her home, graduated from high school and started studying law at the Free University of Berlin. To support herself, she worked as a counselor in a women's center. In September 1984, she was speaking with a client when a man wearing a trench coat entered the center, pulled out a pistol and fired three shots. One hit the client in the stomach, killing her; the other struck Ms. Ates.
She survived to see the suspect, a Turkish bricklayer, acquitted for lack of evidence, which enraged her. For years, she struggled with the psychological fallout of the attack. She returned to her faith, but was again alienated by Berlin's traditional, conservative mosques, where women were forced to pray behind a curtain. She decided that if the faith community that she needed did not exist, she would create it.
It took years of planning, fund-raising and looking for a suitable space. While she received support from like-minded liberal Muslims from Switzerland to the United States, the critics have remained.
What keeps her going is the encouragement, not only from social media postings but also from the visitors who go out of their way to find a place of worship that previously existed only in their dreams.
Meriam Yabir, an 18-year-old Muslim from Munich, had heard about the liberal mosque and sought it out while she was visiting Berlin. In a story similar to that of Ms. Ates, she said she grew up in a conservative household, but with her bright blue hair, pierced nose and miniskirt, she said she has struggled to find a congregation where she feels welcome.
"It is hard to find a mosque where I fit in, so I normally pray at home," said Ms. Yabir, adding that she wished there were more liberal mosques. "Where I can be like this," she said, gesturing to her clothes, "and still be a Muslim."
While several hundred Muslims visit the Ibn Rushd-Goethe Mosque each month, Ms. Ates said, like Ms. Yabir, many are just passing through. Ms. Ates said she would like to see her congregation grow among the city's Muslims.
"There are still many who are afraid to come, because the rumor that we are a terrorist organization persists," she said
Nevertheless, she said she believed that she would be able to live without 24-hour protection one day, although it might take 10 or 15 years. "The more liberal mosques exist in Germany and across Europe, the less there will be this fixation on one individual."
"I'm very confident of it," she said, adding, with a nod to the muscled officer on the other side of the room, "You'll soon be out of a job," she laughed.
https://www.nytimes.com/2018/06/22/world/europe/germany-muslims-seyran-ates.html
--------
CFWIJ Condemns Series of Attacks on Female Journalists in Pakistan
June 23, 2018
The Coalition for Women in Journalism (CFWIJ) strongly condemns the break-in and ransacking of the home of journalist and human rights activist Marvi Sirmed in Islamabad.
Sirmed and her family returned home Thursday night to find all content in her house disrupted. Clothes were strewn across the house, some valuables, jewellery, and watches were left lying around while two laptops, a phone, and some travel documents such as newly issued passports of family members were missing.
Sirmed told us that people who broke in seemed most interested in data and documents, especially her files on human rights cases, as well as documents related to Track Two diplomacy initiatives with Afghanistan and India that she had been involved in.
"In Pakistan, it is increasingly clear how journalists are being threatened in innovative ways. Those who cannot be killed are abducted. Those who cannot be abducted or physically harmed and threatened, then their families are threatened. This is one in a series of improvised attacks on Marvi and her family. We want the government to take actions immediately to offer protection to Marvi and all other journalists especially as elections approach," said Kiran Nazish, the co-founder of CFWIJ.
This is the third time Sirmed has been targeted along with her family, in a similar pattern. This comes amid what seems like an increased crackdown on freedom of speech in Pakistan. Gul Bukhari, another journalist, was recently picked up by unknown men and held for several hours before being released. A few days ago, close to Sirmed's house, another activist Fiza Hassan's house had a similar break in with nothing but a laptop stolen. Another member of Hassan's theatre group Salman Haider was kidnapped last year along with several other bloggers. When the bloggers finally returned, some of them indicated that they had been picked up the country's intelligence agencies.
Nosheen Abbas the country manager for CFWIJ in Pakistan said the incidents had become uncomfortably frequent.
"It's now a norm for authorities to harass journalists – we want to create a channel of dialogue and accountability instead of working under constant intimidation. We strongly condemn the constant threat of censorship through harassment and extrajudicial methods by the state and ask that a proper investigation take place into the incident of the break-in that took place at Marvi Sirmed's house," said Nosheen Abbas of CFWIJ.
"It's not just journalists. Progressive activists in Pakistan have long been threatened, harassed and intimidated for going against the security state narrative about the 'ideology' of Pakistan. Those who uphold the idea of peace with neighbouring countries, particularly India, are targeted especially and termed as 'traitors'. Raza Mahmood Khan, a peace activist, has been missing since Dec. 2, 2017. In his case too, his rented room was broken into and the CPU of his laptop taken while he had disappeared," said Beena Sarwar, a member for the CFWIJ.
"Repeated incidents like the one with Marvi Sirmed must be investigated. The manner this crime was committed is indicative of the recently organised campaign to silence the press. The intelligence agencies in Pakistan have been found involved in such acts in the past. This attempt to further intimidate and silence dissent in the lead up to elections shows how media is under attack. Without a free media there can be no free elections," said Sara Farid, member of CFWIJ who has recently been forced to live in self-exile, as her husband and our colleague Taha Siddiqui was attacked by armed men in Islamabad, for being vocal against the military establishment.
Freedom of speech is one of the most important components of a democratic society. With an election around the corner, the crackdown on dissent will directly impact Pakistan's democratic character. The coalition believes that it is the responsibility of the state to quickly investigate these crimes and bring the criminals to justice.
https://www.pakistantoday.com.pk/2018/06/22/cfwij-condemns-series-of-attacks-on-female-journalists-in-pakistan/
--------
Saudi Female Car Accident Claims Inspectors Ready for Women Driving
June 22, 2018
RIYADH: Saudi Arabia's first batch of women car accident inspectors are training to respond to incidents involving female drivers, who will be allowed to drive in the conservative Muslim kingdom starting on Sunday when a decades-old ban ends.
Forty women hired by private insurance company Najm attended a celebration on Thursday in the capital Riyadh. All of them wore black abayas, the traditional loose-fitting robes, and most covered their faces with the conservative niqab as they lined up to receive symbolic diplomas.
Just days before women are set to hit the road, though, it was unclear when the trainees will be ready to start their new jobs and how they will navigate mixed-gender environments in a country where strict separation rules usually prevent women from interacting with unrelated men.
Sweeping social reforms pushed by Crown Prince Mohammed bin Salman, twinned with an economic overhaul aimed at ending dependency on oil exports, are chipping away at traditional norms.
Much of the kingdom's overwhelmingly young population supports the reforms, but many Saudis are concerned that changes are happening too fast and fear they could provoke a backlash from religious conservatives once seen as dominant.
Social opening has also been accompanied by a crackdown on dissent, including the arrests over the past month of more than a dozen activists who had previously campaigned for the right to drive.
When King Salman decreed an end to the world's only remaining ban on women drivers last September, he gave the government nine months to prepare for introducing women drivers to the country's roads, which are among the world's deadliest.
The Ministry of Interior has been preparing for the day women take the wheel, opening driving schools and setting up locations for women to exchange their foreign licenses. They worked with Najm to prepare the female inspectors.
They also plan to open holding cells for female traffic violators, but will hold them in juvenile detention centres in the meantime.
Trainee Tahani al-Ameeri, 35, said she was excited to start working as an inspector in the eastern city of Kohbar.
"There is fear at first," she said of women driving, "but little by little the situation will improve, and God willing this will be a good thing for women."
The female inspectors will be called to the scene of the accident when one of those involved is insured, not those involving injuries, and when at least one party is a woman, said Maha al-Shneifi, Najm's communication director.
They have yet to finish their training, however, and it is unclear how many female inspectors will be hired in coming years. It will depend on demand, said Shneifi.
http://www.freemalaysiatoday.com/category/world/2018/06/22/saudi-female-car-accident-claims-inspectors-ready-for-women-driving/
--------
How Saudi Women Driving Has Changed Gender Discourse In The West
By Eve Dugdale
June 23, 2018
JUST recently an American website described how Westerners often discussed women's rights in Saudi Arabia from a pitying perspective, which creates an air of superiority.
Writing for Upworthy.com, Kayla Stewart mentioned how it was "kind of the pot calling the kettle black," adding: "With European countries like Ireland just reversing laws that prohibit abortions and America currently grappling with a pervasive culture of sexual assault, it's clear that all nations are still learning how to treat its women like equals."
It was an interesting take on a situation that has been in the global spotlight quite a lot recently with women finally being able to get behind the wheel legally in Saudi Arabia next week.
But how do Saudi nationals feel about that perspective? Do they feel that they're pitied?
Prominent Saudi dermatologist Dr. Lillian Khan believes they are.
She says: "A woman's situation in Saudi Arabia has always been unique. I think to Westerners, because they haven't been raised in this society, they don't understand it. Like any society there is good and bad. And all improvements are always, as with any society, welcomed.
"Westerners always talk about the need to empower women in Saudi Arabia because they look to us in their eyes. But we women in Saudi Arabia have been empowered in our own way. We live under the umbrella of Islam and the Saudi heritage that we don't want to lose. We need improvements in certain aspects like any society — look at the 'time's up' movement in USA. For instance like being our own guardian because in order to be part of a modern world it has become essential but it has to be done when society is accepting of it. Many Saudi women don't want to lose the guardianship rule because they feel safety being cared for.
"So, in our society, things are better changed when many are ready for it. We are a culture that is very proud of its heritage and we don't want to lose all of it just because the Western world thinks we should. It has to be done in our way and in our time."
Echoing Dr. Khan's sentiments, PR and marketing pro Yaser Alamoodi says he feels that the sense of pity does nothing to help women in the Kingdom.
He explains: "Aside from religion, there is nothing that brings a greater degree of tension between Saudi and Western relations than the issue of women.
"For Saudis, the issue of women driving was one of, if not the most embarrassing notion, that Saudis felt very self-conscious about and it was a question many of us found ourselves having to answer all the time. People would ask why can't women drive to the extent where it became more of an issue than how come men can marry four wives or how come women have to wear the veil. Women and gender-related issues became a big huge brush that painted the whole of Saudi Arabia so no matter what kind of progress you're making in political rights, religious tolerance, economic development and technological advancements, women was always the issue that overshadowed everything else."
Yaser says he and many of his friends felt an "ongoing sense of embarrassment" about this issue and says that many felt this pity only came from Westerners who assumed a tone of moral outrage as though they were standing on "some ethical pedestal telling other people what is right or wrong".
He adds: "The people who fully support women's empowerment and gender equity within Saudi society still feel a sense of hurt and concern that the voices and the rationale behind them are disingenuous or motivated by political or ideological agendas or even they're racially motivated. It's observed that people often use us as 'the other', a vehicle by which they would look at themselves as a mirror to make themselves feel more morally superior in the sense that how do you make yourself feel better? By looking at other populations who are less fortunate. It becomes not a genuine concern for women's rights as much as a vehicle to boost your own self-esteem and pride.
"This moral righteousness and outrage does get you a lot of publicity but at the same time, the very population you are trying to influence and effect positive change, you instead make them feel disillusioned."
Saudi businesswoman and fitness instructor Fatima Batook believes people should spare their pity for those who need it.
With women holding positions in the Shoura Council, Saudi females being allowed to enter sports stadiums and the country hosting its first ever concert headlined by a woman last year, Fatima believes the country is moving in the right direction.
She says: "The situation for women in Saudi Arabia is improving big time. We are witnessing changing times where women have a bigger role in society. She's not only a mother and wife or daughter, she's welcomed to participate in any area and will be supported by men and women alike to make a positive change in whatever industry she's in. Saudi Arabia has opened up a lot to women and many opportunities have blossomed for women to reap now."
Fatima, who owns the sportswear brand TIMA as well as fitness studios across the Kingdom, says Saudi women are going from strength to strength.
She says: "We have Saudi women in roles that are very influential in the Saudi stock market and actually some very powerful women may be affecting global stock markets too. Women have been always in big roles but were hidden, now we are at a time where they can stand without fear in public attending to their roles and responsibilities."
And while Fatima believes there is always room for improvement for women's empowerment, she says women being given the right to drive has made her excited for what the future will bring.
Before women were granted permission to drive they were always subject to a male's availability and mood and it meant they were completely dependent. The move to allow women behind the wheel means the next generation of girls and boys won't grow up with this discrimination.
She adds: "We will have a generation that understands equal rights which will improve the male/female relationship so there's no superiority and this will build trust and respect."
http://saudigazette.com.sa/article/537405/SAUDI-ARABIA/How-Saudi-women-driving-has-changed-gender-discourse-in-the-West
--------
Iranian Women Continue To Actively Participate In Protests
21 June 2018
Iranian women continue to actively participate in protests of various sectors of Iranian society. Their presence was prominent in recent days in protests and demonstrations in Abadan, Tehran and Iranshahr.
In Abadan, the second largest capital of the oil-rich Khuzistan Province, southwestern Iran, a group of residents held a protest on Wednesday, June 20, 2018, across from the Department of Water and Waste Water in the city. Women's participation was prominent and active. The protesters demanded healthy drinking water, while the so-called potable water they are provided in Abadan is salty and has foul odor. Nevertheless, people have to pay for the rotten water.
Iran suffers from water crisis particularly in the south, but relevant officials are not taking any effective measures to resolve this problem. On the other hand, there have been reports that good potable water is being exported to other neighboring countries from the same cities that desperately need them.
Young Iranian women continue to actively participate in protests against heavy sentences issued for students arrested during the winter uprising in Iran.
Thursday, June 21, 2018, students of Tehran University's School of Social Sciences continued their protest for the fifth consecutive day against illegal and heavy sentences issued for students of this university. Young women's presence was prominent and active. They threatened to boycott the term's final exams if their demands are not met. They demand immediate and unconditional repealing of the students' illegal and heavy sentences and granting them the right to continue their education.
On Tuesday, June 19, 2018, a group of residents of Tehran who have been plundered by the fraudulent Caspian Institute staged a protest march around Argentine Square. Women actively led the march and chanted slogans against officials who lie about having reimbursed their money.
On the same day, in Iranshahr, southeastern Iran, a group of women gathered outside the Governor's Office in this city and protested against gang rape of 41 young women and girls, demanding the arrest and punishment of the culprits.
https://women.ncr-iran.org/iran-women-news/5271-iranian-women-continue-to-actively-participate-in-protests
--------
New Online Platform Helps Turkish Immigrant Women Abroad
Riada Asimovic Akyol
June 21, 2018
The increasingly popular online platform "Gocmen Anneler" ("Immigrant Mothers") — or the "Immigrant Women's Solidarity Platform" as the founders prefer it to be known in English — actively serves as the voice of Turkish women who seek a network, support and ways to share their experiences while living abroad. The results of the online survey "Immigration Routes" conducted with the participation of some 1,000 Turkish women who moved abroad in recent years were published at the end of March and provide fascinating insights into the experiences of these women.
"Gocmen Anneler," founded by Pinar Erbas Erdurmaz and Esra Iyidogan Pencereci, started as a Facebook group in June 2017. They spoke to Al-Monitor and shared their story. The two businesswomen first met in Istanbul in 2007, and they soon became friends. Erdurmaz and Pencereci went through milestones in their lives around the same time — marriage, new jobs, children and moving abroad for their husband's jobs, to Montreal and Dublin, respectively.
Moving to a foreign country brings with it many unknowns. "In the beginning, all our dilemmas, questions and basic needs were related to our babies and the desire to sustain their routines in the new countries. We were lost in topics related to immigrant motherhood," Erdurmaz said.
Today, their online platform has grown into a popular site that brings together more than 14,000 Turkish women scattered across 80 countries, including prospective immigrants. Obtaining residency permits, learning a new language, children having to adapt to their new lives, raising bilingual children, finding a kindergarten or school, searching for a job and handling racism or violence against women are among the main topics of interest for the group's members. The site's latest sub-group, "Gocmen Anneler ve Ozel Cocuklari" ("Immigrant Mothers and their Special Need Children"), focuses on those with children with genetic anomalies, disabilities or special needs. Another sub-group, "Gocmen Anneler Okul Projesi" ("Immigrant Mothers School Project"), provides audio-visual content on other cultures and countries to a group of primary school teachers in Turkey.
Since the site's launch, Erdurmaz and Pencereci have come to realize that "we are first of all women and we need to show solidarity among ourselves." While they decided to keep the original name for the platform, they now target "women" instead of just "mothers."
Between Dec. 11, 2017, and Jan. 23, 2018, they carried out the "Immigration Routes" survey, and 986 group members, mostly between the ages of 25 and 44, from 60 different countries participated. The women were asked about the differences between Turkey and their host countries on topics such as health care, education, job opportunities, social life, the environment and the challenges of raising children abroad.
The site's founders came up with the idea of the survey because of the challenges they faced in their new homes abroad. They posted questionnaires on their website every Friday, which contained either open-ended or multiple-choice questions for the group members to answer. As the group grew and more members submitted their answers, Erdurmaz and Pencereci decided to analyze the data obtained in order to better understand the group members' demographics, past experiences, expectations and motivations.
They said the reasons for the group members to have left Turkey vary widely, such as "giving children better opportunities, exposing children to a better educational system, achieving career goals, working in a more stable economic system and living in a society in which individuals have relatively more peace and independence." The issues that respondents most commonly cite as unsatisfying in Turkey are the country's politics and the lack of prosperity or comfort, individual freedoms, green spaces and the failures of the education system.
Among the survey respondents, 39% have lived outside of Turkey in more than two countries. Erdurmaz and Pencereci noted that some group members are seasoned expats or employees with multinational companies, while others found employment in the countries where they studied. Some are single; others have married Turkish men or foreigners. "There is another group of members — like us, expat wives — who moved abroad because of their husbands' jobs. When we look at the data we see that 57% of the respondents are like me and Esra, but 43% said they are work migrants themselves," Erdurmaz said.
The respondents have a striking level of education — 95% of them hold university, graduate or doctoral degrees, which makes them nine times more educated than Turkey's average rate for women. According to TGI Turkey 2018 Survey, a periodical research by Kantar Research Company, only 10% of Turkish women have university or higher education. In the paper "Why Don't Highly Skilled Women Want to Return? Turkey's Brain Drain from a Gender Perspective," academics Adem Yavuz Elveren and Gulay Toksoz published findings indicating that "the political, social and cultural atmosphere" damage gender equality in Turkey, and that "increasing gender disparities in Turkey that disadvantage women in education and labor markets are significant push factors in the migration decisions of highly skilled females."
The survey also revealed that while 46% of participants are working in their host country, 54% are not, even though almost all the women worked back home. One of the reasons for this, according to Erdurmaz and Pencereci, could be that 48% of respondents moved abroad in the last two years, therefore needing time to adapt and settle down, learning a new language, looking after children without an established support system or navigating legal barriers to find and accept paid employment. However, they noted that "this motivates and triggers the entrepreneur spirit in [many of] these women to create their dream jobs and turn hobbies into [paid activities]."
One such group member and entrepreneur is Tugba Alparslan, who moved to San Francisco from Istanbul three years ago because of her husband's job. She spoke to Al-Monitor about transferring to a completely new career after having been a successful IT project and portfolio manager at Turkey's largest telecom company, "as a female, in a department mostly dominated by men." Due to her highly sought-after computer engineering background and familiarity with California because she previously studied at UCLA, she had received numerous interview requests from regional recruiters. But she put those aside and decided to take the tougher road. "I said to myself, 'Now or never,' and started to work on creating my dream job in natural cosmetics and perfumery," Alparslan said. She did a lot of research, took courses, experimented and then registered her company — Loverdure Natural Cosmetics — in San Jose in 2017. She acknowledges the highly competitive industry in which she started her new business, but proudly talks about her 100% natural, mostly organic, high-quality and handmade products.
Alparslan enjoys being part of the network of other Turkish immigrant women. "This group is a lively one. You smile, you frown, you hope. People mostly respect each other's opinions, but occasionally over-reactions on some of the hot topics [religion and politics] happen," she said. In such cases, common sense always rules, Alparslan noted, adding, "I appreciate freedom of speech plus respect. And a lot of solidarity."
Erdurmaz and Pencereci are in the process of expanding the scope of their activities and building country-specific contents that include a YouTube channel with expert videos on popular topics, as well as individual consultations by psychologists, pediatricians, therapists and lawyers.
The two women are planning to write a book in the near future, spurred by "the many inspiring, impressive and motivating stories of our members." And so the platform keeps expanding in directions both socially responsible and emotionally meaningful.
https://www.al-monitor.com/pulse/originals/2018/06/turkey-new-network-help-turkish-immigrant-women-abroad.html
--------
URL: https://www.newageislam.com/islam-women-feminism/hunger-strike-iranian-sufi-women/d/115623
New Age Islam, Islam Online, Islamic Website, African Muslim News, Arab World News, South Asia News, Indian Muslim News, World Muslim News, Women in Islam, Islamic Feminism, Arab Women, Women In Arab, Islamophobia in America, Muslim Women in West, Islam Women and Feminism