New Age Islam News Bureau
9 Aug 2014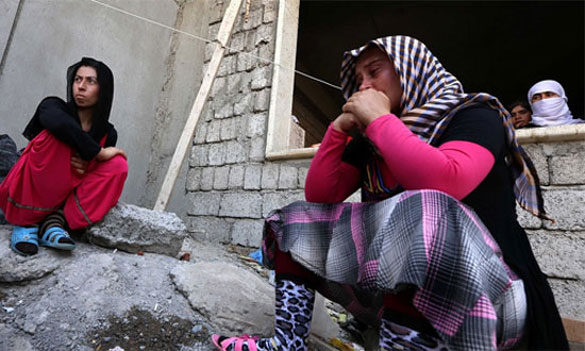 Iraqi Yazidi women who fled the violence in the northern town of Sinjar took shelter in the Kurdistan region on Tuesday.
----------
• Hundreds of Yazidi Women Taken Captive By Islamic State Militants
• Pakistani Men Urged Not To Marry Pakistani Women before Taking Consent from Saudi Arabia
• Muslim Groups See Conspiracy in Meerut Gang Rape
URL: https://newageislam.com/islam-women-feminism/hundreds-yazidi-women-taken-captive/d/98501
Hundreds of Yazidi Women Taken Captive by Islamic State Militants
KASHMIRA GANDER
08 August 2014
08 August 2014
Hundreds of Yazidi women have been taken captive by Sunni militants, according to an Iraqi official - further underscoring the plight of Iraq's minorities at the hands of the Islamic State group.
The women captured are under 35-years-old, and are being held in schools in Iraq's second city, Mosul, said the spokesman for Iraq's Human Rights Ministry, Kamil Amin.
Amin told reporters he believes the women are likely to be considered slaves by the militants who have "vicious plans…in a way that contradicts all the human and Islamic values."
His comments were the first Iraqi government confirmation that some women were being held by the group. On Tuesday, Yazidi lawmaker Vian Dakheel made an emotional plea in parliament to the Iraqi government to save the Yazidi people, saying the "women have been sold in a slavery market."
The US also confirmed that the Islamic State had kidnapped and imprisoned the women, but the exact number victimised is unknown. The captives will be sold or married off to extremist fighters, said the US official who spoke on condition of anonymity because the information came from classified intelligence reports.
Earlier this month, tens of thousands of Yazidis fled when the Islamic State group captured the northern Iraqi town of Sinjar, near the Syrian border. The Yazidis practice an ancient religion that the Sunni Muslim radicals consider heretical.
The extremist group's capture of a string of towns and villages in the north has sent minority communities fleeing for their lives. The Islamic state views Yazidis and Shiite Muslims as apostates, and has demanded Christians either convert to Islam or pay a special tax.
About 50,000 Yazidis — half of them children, according to UN figures — fled to the mountains outside Sinjar where many of them remain, trapped and running out of food and water. Late Thursday, the US military cargo jets dropped humanitarian aid to the mountains.
On Friday in the northern city of Arbil, the US military conducted two additional air strikes against Islamic State forces on Friday, the Pentagon said.
The air strikes followed the dropping of two 500-pound bombs on Islamic State positions earlier Friday, included a drone strike on a mortar position and an attack by four F/A-18 jets on an Islamic State convoy and mortar position, the Pentagon said in a statement.
President Barack Obama said the humanitarian airdrops were made at the request of the Iraqi government as the Islamic State militant group tightened its grip on northern Iraq. In his remarks late Thursday, he mentioned "chilling reports" of fighters with the group "rounding up families, conducting mass executions, and enslaving Yezidi women."
http://www.independent.co.uk/news/world/middle-east/iraq-crisis-hundreds-of-yazidi-women-taken-captive-by-islamic-state-militants-9658393.html
-----------
Pakistani Men Urged Not To Marry Pakistani Women before Taking Consent from Saudi Arabia
August 09, 2014
Matches are no longer made in heaven
Showing overwhelming support to Saudi Arabia's decision to bar Saudi men from marrying women from Pakistan, Chad, Myanmar and Bangladesh, a Pakistani local cleric has also produced a fatwa disallowing the same.
Earlier this month a report outlined that over 500,000 women or more originating from these countries were currently living in Saudi Arabia. In a bid to ensure that Saudi men do not favour foreign brides over local women, regulations surrounding imported wives were further tightened. If a man wishes to wed a woman from another country he must first submit several marriage applications and get official approval from the government before he can proceed.
In an odd twist the local cleric from Pakistan has produced a fatwa which is meant to ensure that Pakistani men do not marry women from Pakistan, Bangladesh, Myanmar or Chad either. The cleric has suggested that Pakistani men that wish to marry women from their own country, or any of the other three outlined, must first apply for similar consent to the Saudi government before they can proceed. The cleric Maulana Habib-ul-Yak exclusively spoke to Pakistan Today to explain his fatwa, "We must always follow Saudi Arabia, it is the capital of Islam. I am surprised I am the first one to address this issue. If the supreme country for Muslims doesn't feel that women from these countries are fit as brides, then how can we? Any good Muslim in Pakistan will Alhamdulillah pay heed!" he said.
Some people are calling the move a confused one citing the lack of an original fatwa as the main problem. An opposing and equally popular cleric Maulana Atish said that "We should wait for a fatwa to come through from Saudi Arabia itself before we issue such fatwas for our people. I agree that Saudi Arabia is the supremacist of supreme countries, they have the Kaaba after all, and we should always ALWAYS follow their footsteps. Who are we to issue a fatwa on our own? We have no such authority, Astaghfirullah."
"It seems this was only a notification from the government, and Pakistanis who have trouble following their own rules and regulations will have a huge problem implementing a foreign law. This problem may resolve overtime but in the short term it is an issue," he said.
On the other hand, local women responded with mixed reactions to the new fatwa. Bibi Izhar-e-Nargiz is well respected in her community as a prominent matchmaker. "When I first heard the news I didn't know how to react. Of course it's Saudi Arabia and indeed we must follow any Fatwas that are inspired by the great land, but it is chaos here. Where am I supposed to find brides for all these helpless mothers that come to me with their sons' pictures and biodata now? How am I supposed to cater to my clients after this ban?"
Bibi is now considering new tools that she can use to rectify the situation. "I am actively looking for girls with foreign passports… you know the ones who were born abroad but got dragged back to Pakistan by their parents so that they wouldn't go crazy. Those girls were always easier to get hitched anyway. Other than that I've made a Facebook page and started a Twitter account under the name 'Bibi Izhar-e-Nargiz finds Good Girls', and I'm hoping to find girls from countries that haven't been banned for our poor boys here. I'm positive this will work."
Some women also welcomed the news and were overjoyed that they would now forcibly have to end up finding their spouses elsewhere. "Pakistani men have been brought up in the worst possible misogynistic and patriarchal setup around. Great that they're not allowed to marry us, we'll find better men and we'll be happier as we do it," exclaimed an excited woman on the condition of anonymity.
However, not all people have taken the news all that well. Sheikh Tahir Ali Malik, a young student, has several issues with the new law. "I am the first to support everything that is Saudi. I mean look at my license place. It reads Al-Bakistan and not Pakistan. I think Pakistan is totally un-cool. I always talk in favour of the holy land, I even added a Sheikh at the beginning of my name to feel closer to being an Arab. But this ban will ruin my life. "Meri Khala Ki Beti Se Shadi Honi Thi Yar. Ab Mein Kya Karon Ga? Kash Woh Pakistani Na Hoti," he lamented before bursting into tears.
At present people aren't precisely sure what the fallout from this fatwa will mean for Pakistan and it is the wedding industry which has been on a boom even during times when poverty and unemployment have been sky high. Wedding planners, decorators, hall owners and other vendors are gearing for a storm, one where people will either marry in secret or not marry at all, of course in the name of Saudi pride.
Subhan Allah.
http://www.pakistantoday.com.pk/2014/08/09/featured/pakistani-men-urged-not-to-marry-pakistani-women/
------
Muslim Groups See Conspiracy in Meerut Gang Rape
9 August 2014
In the aftermath of alleged forced conversion and subsequent gang rape of a 20-year-old Hindu woman who taught at a madrasa in Meerut recently, Muslim community leaders are of the view that Hindu teachers should not be hired to impart education at madrasas.
The UP Modernized Madrasa Association (UPMMA) has decided not to appoint women from the majority community as teachers in madrasas. The decision was taken after Hindu organizations joined hands and issued an ultimatum to the Meerut district administration demanding arrest of the culprits. The committee officials and madarsa clerics handed over a memorandum of their demands to the district magistrate in which they have called for a fair probe and demanded an effective check on elements trying to disturb peace and harmony in the area.
The committee is of the view that a thorough investigation is required before jumping to any conclusion. Committee member and a senior lawyer, Kunwar Shafeeq, pointed out that according to some media reports the girl had reportedly denied that the signature shown in the affidavit of conversion was hers. "A probe team sent to the site of the incident told the committee they suspected there was a conspiracy against madrasas," said Shafeeq.
Coordinator of the Committee, Qari Shafeeq, also said the whole episode was nothing but a conspiracy to tarnish the reputation of madrasas. He said four days after a madrasa teacher made shocking allegations about being abducted, forced to convert and then gang-raped, the main accused, Hafiz Sanaullah, still remains scot-free.
Questions are also being raised over the working of Meerut police as no team has yet visited Muzaffarnagar to identify the madrasa where the victim was allegedly held captive. Neither have efforts been made to identify the people who took her there, or the hospital and doctor who treated the girl.
Qari Shafeeq said the very concept of madrasa education is to impart religious education to Muslim children. If the government wants to impart modern education to children, they should be sent to traditional schools. The modern madrasas usually hire teachers from majority community both male and female and here the problem arises.
Spokesperson for All India Muslim Personal Law Board (AIMPLB), Qasim Rasool Ilyas, said modern education had drawn people from other community to the madrasas. In the name of modern education, the government is trying to change the basic structure of madrasas, he said. Modern madrasas usually hire both male and female teachers.
"This may lead to repeat of Meerut-like incidents. The role of madrasas should be limited to religious education and those who want formal education should go to school." Ilyas said the AIMPLB condemned the Meerut incident and the accused involved in the gang rape and conversion of the girl should get strict punishment.
Coming down heavily on the BJP and Hindu organizations for 'poisoning the atmosphere', the committee also expressed its dismay over the soft attitude of the Uttar Pradesh Chief Minister, Akhilesh Yadav and its officials toward these organizations, which, according to it, had taken law and order in their own hands. "The entire propaganda is to extract political mileage," alleged Ilyas.
http://www.arabnews.com/news/world/613501
--------
URL: https://newageislam.com/islam-women-feminism/hundreds-yazidi-women-taken-captive/d/98501