New Age Islam News Bureau
20 Feb 2020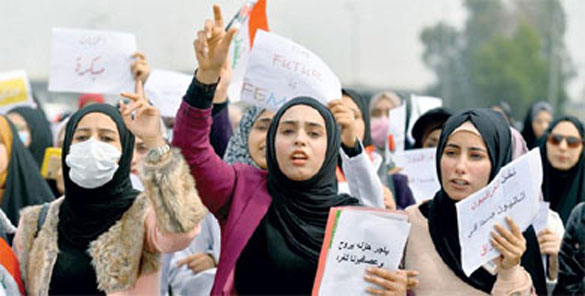 Iraqi women chant as they take part in an anti-government protest in the central city of Najaf on Wednesday (AFP photo)
-----
• Tears and Defiance As Shaheen Bagh Protesters Meet SC Interlocutors
• Iranian Headscarf Campaigner Calls For Vote Boycott
• Woman Lawyer Who Exposed Secret Yemen Prisons Wins Rights Prize
• Nahid Sobhan, First Bangladeshi Female Envoy to Jordan Vows to Promote Women's Cause
• Indonesia's Family Resilience Bill Says Housekeeping Wife's Duty
• 'Wusool' Transport Program Benefits 60,000 Saudi Women
• Women Empowerment In Pakistan: How Well A Society Treats Its Women Is One Of The Strongest Indicators Of The Success
• Macron Draws Fire As Admirer Flouts Law over Islamic Face Veil
• Pakistani Woman Offended By Traffic Police 'Speaking To Her In Punjabi In A Muslim Country'
Compiled By New Age Islam News Bureau
URL: https://www.newageislam.com/islam-women-feminism/hundreds-iraqi-women-protest-held/d/121111
--------
Hundreds of Iraqi Women Protest Held the Shiite Holy City of Najaf
February 19, 2020
NAJAF — Hundreds of Iraqi women staged a march Wednesday in the Shiite holy city of Najaf insisting on their right to play a central role in the protest movement sweeping the country.
"No voice can muffle the voices of women," said one of the marchers, Saba, 22, reacting to a call from influential Shiite cleric Moqtada Al-Sadr against mixed-sex demonstrations.
"We started demonstrating to bring down the regime. Now we're holding women-only marches because they've insulted us," she told AFP.
Nada Qassem, a university professor in her 50s, also focused her criticism on Sadr, who at first supported street protests but later turned against them over demonstrators' alleged use of drugs and alcohol.
"We are free. We don't go out on the orders of a cleric or stop because of some decree," said Qassem, who herself was injured in attacks on anti-government protesters by Sadr's supporters.
Around 550 people have been killed since the movement erupted in October, almost all in clashes between young demonstrators and security forces. — AFP
http://www.saudigazette.com.sa/article/589338/World/Mena/All-women-protest-held-in-Najaf
--------
Tears and Defiance As Shaheen Bagh Protesters Meet SC Interlocutors
February 19, 2020
New Delhi: There were tears and defiance too as the women of Shaheen Bagh poured their hearts out to the two interlocutors appointed by the Supreme Court on Wednesday, the first attempt to reach out to those sitting in protest against the citizenship amendment legislation for more than two months.
Advocates Sanjay Hegde and Sadhana Ramachandran as well as former bureaucrat Wajahat Habibullah went to Shaheen Bagh, the epicentre of the anti-CAA protests, to speak to the women and attempt to find a way out of the impasse.
Many said they would clear the protest site only after the Citizenship Amendment Act, National Register of Citizens and National Population Register were removed.
"The Supreme Court has upheld your right to protest. But other citizens also have their rights and those should also be maintained," Ramachandran told the crowd assembled at the spot in south Delhi in large numbers.
"We want to find a solution to the problem together. We will listen to everyone," she said in Hindi.
Responding to the concerns raised by the women, Ramachandran said all the points will be put forward before the Supreme Court and discussed in detail.
"However, I want to say one thing. A country that has daughters like you can never face any threats," Ramachandran said.
Hegde explained in detail the Supreme Court order to the crowds. This was translated into Hindi by Ramachandran.
On Monday, the Supreme Court observed that the blockade of the road at Shaheen Bagh was "troubling" and suggested the protesters go to another site where no public place would be blocked. It, however, upheld their right to protest.
The apex court also asked Hegde to "play a constructive role as an interlocutor" to persuade the protesters to move to an alternative site. It said the interlocutors could seek Habibullah's assistance.
The sit-in, which has been going on since December 16, has blocked a critical arterial road connecting Delhi and Noida, causing trouble to commuters and schoolchildren.
The women, young and old, tried to explain their point of view to the interlocutors.
Bilkis, one of the feisty 'dadis' who has been demonstrating against the CAA since it began, declared they wouldn't move an inch even if someone fires a gun.
The wizened elderly woman said the main tent where the podium has been erected covers only 100 to 150 metres of the road.
"We have not blocked the whole stretch. It is Delhi Police which barricaded the whole road in the name of security. Why don't you get that removed first? We never asked police or any authority to block the roads for us. It is they who did it and are now blaming us for the blockade," she argued.
A defiant Bilkis said they will not move until the CAA is repealed.
"They call us traitors. When we pushed Britishers out of the country, who are Narendra Modi and Amit Shah? We won't move an inch even if someone fires at us. You remove NRC and CAA, we will clear the site in no time," she said as the crowd of about 100 people cheered on.
Another woman broke down while talking to the mediators.
She said they are protesting to save the Constitution but people see only the inconvenience of commuters who have the option of taking so many other roads.
"Aren't we facing inconvenience sitting here in cold nights, without food, taking our children to the protest? We are ourselves so troubled, what trouble will we cause to citizens?"
She said the allegations that they are not letting ambulances pass and vehicles pass are baseless.
"The road hasn't been blocked by us. In fact, it is the Centre that has blocked freedom in this country," she added.
Another woman described their ongoing protest as mental trauma. She said they jump up even at the slightest noise at night, fearing police action.
"We are unable to sleep at night and every woman is scared here. Our religion does not allow us to commit suicide but each day is killing us. Our condition is like patients who seek mercy killings," she said.
The protest site witnessed firing earlier this month, triggering panic.
Many women said they had been living in the area since generations.
"We are not infiltrators who will move," she said.
The talks, which lasted for almost three hours, will continue on Thursday.
https://gulfnews.com/world/asia/india/tears-and-defiance-as-shaheen-bagh-protesters-meet-sc-interlocutors-1.69811034
--------
Iranian Headscarf Campaigner Calls For Vote Boycott
20/02/2020
Anti-headscarf campaigner Shaparak Shajarizadeh once believed in the potential for change in Iran but is now so despondent she is calling for a boycott of Friday's parliamentary elections in the Islamic Republic.
Shajarizadeh became a dissident in 2018 when she was arrested for repeatedly removing her headscarf in public and waving it on the end of a stick, as part of a women's rights protest that caused a social media storm.
"The Iranian people lost their hopes... I was among those who had some hopes. But now it is like choosing between bad and worse," the 44-year-old women's rights campaigner told AFP in Geneva, where she was attending an annual conference for human rights activists.
Shajarizadeh said the supposed political choice in Iran between reformist and conservative politicians was like picking between "two faces of the same coin".
Thousands of reformist and moderate candidates are in any case being barred from contesting the elections -- something that critics say could turn the vote into a choice between conservatives and ultra-conservatives.
Iranians "lost their hopes," particularly after a bloody crackdown last year on fuel-price protests, she said.
Shajarizadeh calls President Hassan Rohani, who was first elected in 2013 and again in 2017 and was once seen as a possible force for change, a "so-called reformer".
- Escape on foot -
The protest movement against Iran's Islamic dress code began when in December 2017 when a woman, Vida Mohavedi, stood on a pillar box on Enghelab Avenue in Tehran without the mandatory long coat and raised her veil on a stick.
Enghelab means revolution in Farsi and the square and avenue are among the busiest areas in the capital.
Movahedi's move sparked similar protests by other women like Shajarizadeh and they soon won recognition as "Dokhtaran-e enghelab", or the Girls of Revolution Street.
"Young women are back in the streets," she said -- a reference to other demonstrations in recent years which have seen women taking a leading role.
During her visit to Geneva, Shajarizadeh received a prize for her defence of women's rights in Iran but she talks about herself as an ordinary person whose life changed completely when she decided to join the protest.
She was arrested three times and beaten for her defiance.
She decided to run away, crossing the mountains into Turkey on foot with her head covered to avoid detection.
She now lives in Toronto in Canada with her husband and their 11-year-old son, from where she is still campaigning against the obligation of wearing the hijab.
The BBC has listed her as one of the world's most influential women and she has written a book about her story with Canadian journalist Rima Elkouri.
Her lawyer, Nasrin Sotoudeh, is a leading women's rights campaigner in her own right and is currently in prison.
Shajarizadeh said "targeted sanctions" on the government could help change the situation in Iran but these should be designed "not to put more difficulties on the people".
Ultimately she thinks the best agents of change are civil society movements like her own and the "real heroes" are the women who decide to show their hair in public.
https://www.france24.com/en/20200220-iranian-headscarf-campaigner-calls-for-vote-boycott
--------
Woman Lawyer Who Exposed Secret Yemen Prisons Wins Rights Prize
19/02/2020
A lawyer who exposed a network of secret prisons in war-ravaged Yemen, where thousands of men and boys were arbitrarily held and tortured, on Wednesday received the world's most prestigious human rights prize.
Huda Al-Sarari, 42, was hailed by the Martin Ennals Award jury for showing "rare courage" to investigate, expose and challenge a network of secret prisons established by foreign governments in Yemen since 2015.
That year, the Saudis intervened in Yemen at the head of a military coalition against Iran-backed Huthi rebels, who had seized control of the capital Sanaa.
Since then, the conflict has killed tens of thousands of people, most of them civilians, and sparked what the United Nations calls the world's worst humanitarian crisis.
Al-Sarari received the award, which is often referred to as the Nobel Prize for human rights, for her work exposing "the enforced disappearances that occurred as a result of secret prisons run by foreign governments in Yemen," the award organisers said in a statement.
Within this system "thousands of men and boys have suffered from arbitrary detention, torture and extrajudicial killings," it said.
Al-Sarari "collected evidence on more than 250 cases of abuse taking place within the prisons and succeeded in convincing international organisations such as Amnesty International and Human Rights Watch to take up the cause," they said.
- 'Extremely challenging' -
The lawyer was hailed for pushing on with her pursuit of justice despite threats and defamation campaigns against her and her family.
"Huda Al-Sarari has chosen not to leave Yemen," jury member Alice Mogwe of the FIDH said in the statement.
"That is a decision which shows a rare courage, all the more so as she is working in a high-risk context and a source of danger for herself," she added.
The laureate herself meanwhile stressed the particular challenges she had faced due to her gender.
"Being a human rights defender in Yemen is extremely challenging, and being a woman makes this even more difficult," she said in the statement.
"In a male-dominated society, I have to prove myself maybe 10 times more than a man."
The two runners-up for this year's award -- also both women -- were honoured at Wednesday's ceremony as well.
Norma Ledezma, a Mexican human rights activist was celebrated for her work in fighting femicide and supporting the families of victims after her daughter, Paloma, disappeared on her way home from school in Chihuahua.
Sizani Ngubane, a 73-year-old activist, was meanwhile recognised for her work for women's and indigenous people's rights in South Africa.
The Martin Ennals foundation is named after the first secretary general of Amnesty International and the 50,000 Swiss franc ($50,800, 47,000 euros) prize is judged by the London-based rights group, along with Human Rights Watch and other leading organisations.
Al-Sarari said the prize "gives me great strength and emboldens me to continue this fight for justice."
"I believe the award will be incredibly important in drawing attention to the continual plight of victims of arbitrary detention, abuse and torture in Yemen."
The other finalists were awarded 20,000 Swiss francs each from the foundation.
https://www.france24.com/en/20200219-woman-lawyer-who-exposed-secret-yemen-prisons-wins-rights-prize
--------
Nahid Sobhan, First Bangladeshi Female Envoy to Jordan Vows to Promote Women's Cause
February 20, 2020
DHAKA: The first Bangladeshi woman to become a top envoy in the Middle East has vowed to promote gender equality and do more to protect Bangladeshi female workers abroad.
Ambassador-in-waiting Nahid Sobhan will take office on Friday and lead the Bangladeshi mission in Amman, Jordan.
"Bangladesh and Jordan have strong similarities in social development, especially in girls' education," Sobhan told Arab News, as she lauded her upcoming host country's highly educated female population, highlighting Jordanian women's "potential to advance and deliver economic, social, and political development."
She likened Jordan's high female professional participation to that of Bangladesh, where "women's empowerment and participation have been a major factor" in development and one of the government's 10 priority action areas.
"Bangladesh is perhaps the world's only country where in its national parliament, the leader of the house, the deputy leader of the house, the speaker and the leader of the opposition are all women. In the present parliament, there are 72 female MPs," she said, adding that in local government bodies 33 percent of seats were earmarked for women in order to promote women's participation in politics.
She referred to her own appointment as an "ample manifestation" of her government's efforts for gender equality.
"Bangladesh has secured the top position in South Asia in reducing gender disparity," Sobhan said.
Of key importance during her diplomatic service will be promoting and acting for the safety of more than 100,000 Bangladeshi female workers in Jordan.
"I believe my identity as a woman will give me leverage in garnering the trust of female Bangladeshi migrants," she said, highlighting that better communication with the workers themselves helped improve their awareness of security while in a foreign country.
"Very recently, right after my appointment as ambassador-designate, BNSK led a group of female migrant workers going to Jordan to see me. I spoke to them about their role in promoting safe migration, for them and for others," Sobhan said, referring to a Bangladeshi women's organization helping female workers.
Besides taking up the women's cause, Sobhan is also planning to strengthen economic diplomacy with Jordan.
"An increase in trade and investment will be important sectors for me to pursue. I would also like to arrange visits of high dignitaries in this regard," she said.
As this year marks the centenary of the birth of Bangabandhu Sheikh Mujibur Rahman, a politician and statesman who referred to in Bangladesh as "the father of the nation," Sobhan said a year-long program would be held at the Bangladeshi embassy in Amman to celebrate the occasion.
https://www.arabnews.com/node/1630441/world
--------
Indonesia's Family Resilience Bill Says Housekeeping Wife's Duty
Gemma Holliani Cahya
February 19, 2020
Many Indonesians would agree that traditional households – which typically assign domestic roles based on gender, with the husband as the breadwinner and the wife in charge of household chores and children – should be a thing of the past.
However, a draft bill on so-called family resilience, which has been floated at the House of Representatives, apparently wants to challenge the idea by bringing back the traditional way of managing households.
Article 25 of the draft bill, a copy of which was obtained by The Jakarta Post, stipulates that husband and wives "are responsible for performing their individual roles in accordance with religious norms, social ethics and the prevailing laws".
The article stipulates that only the husband has the obligation to be the breadwinner and to fulfill the family's welfare and household needs, as well as to protect himself and the family from "mistreatment, exploitation and sexual deviation".
Point 3 of the article stipulates that housewives "are responsible for managing household affairs as best as possible" and to maintain the family's unity, as well as to fulfill the rights and treat their husband and children well based on, among other factors, religious norms.
The bill, one of the 50 bills listed as priority bills in the 2020 National Legislation Program (Prolegnas), has received criticism from the public, with many women calling it patriarchal in nature.
Financial planner Ligwina Hananto criticized the bill through a post on her Twitter account @mrshananto.
"[...] I may violate the family resilience law. [When] the husband is at home and the wife is working in Papua then who will take care of the household, huh?" she tweeted.
Ligwina Hananto
✔
@mrshananto
Hahahahah bisa2 aku melanggar UU Ketahanan Keluarga.
Suami di rumah, istri kerja di Papua. Yg ngurus rumah tangga siapa hah??? 🤭 https://twitter.com/dwiana7179/status/1229925708899610624 …
Dwi ana
@dwiana7179
Replying to @mrshananto @dondihananto
Ini bapak di rumah, ibu kerja? Apa kata Ibu Netty dalam RUU ketahanan RT?
🤣🤣
Tiap hari aku pake toaaa biar anak2 cpt berangkat, sampe mobil pada gelut nyari siapa yg bikin telat
7
6:43 AM - Feb 19, 2020
Twitter Ads info and privacy
See Ligwina Hananto's other Tweets
Meanwhile, Indonesia Solidarity Party (PSI) executive Tsamara Amany tweeted her criticism through her account @TsamaraDKI on Wednesday, implying that it was not the government's job to interfere in the private lives of couples.
"The state is trying to control the households of its citizens. Now, the role of husbands and wives is intended to be arranged according to certain perspectives in law! There is no definite responsibility of a husband or wife. The duties of the two depend on their own agreement – not the country's regulation," she said.
Tsamara Amany
✔
@TsamaraDKI
Negara mencoba ingin mengatur rumah tangga warga negara. Peran suami-istri kini hendak diatur menurut perspektif tertentu dalam perundangan! Tak ada kewajiban suami atau istri secara pasti. Kewajiban keduanya tergantung kesepakatan. Bukan aturan negara.https://news.detik.com/berita/d-4903826/draf-ruu-ketahanan-keluarga-istri-wajib-mengurus-rumah-tangga …
Draf RUU Ketahanan Keluarga: Istri Wajib Mengurus Rumah Tangga
Draf RUU Ketahanan Keluarga beredar. Dalam salah satu pasal, tugas suami-istri dipaparkan. Salah satunya, istri disebut wajib mengurusi urusan rumah tangga.
news.detik.com
2,106
8:24 AM - Feb 19, 2020 • Manhattan, NY
Twitter Ads info and privacy
1,904 people are talking about this
The family resilience bill was initiated by five politicians from several factions in the House. Three of them are women.
They are Ledia Hanifa and Netty Prasetiyana, both from the Islam-based Prosperous Justice Party (PKS), Endang Maria Astuti from the Golkar Party, Sodik Mudjahid from the Gerindra Party and Ali Taher from the National Mandate Party (PAN).
https://www.thejakartapost.com/news/2020/02/19/indonesias-family-resilience-bill-says-managing-household-affairs-wifes-duty.html
--------
'Wusool' Transport Program Benefits 60,000 Saudi Women
February 20, 2020
RIYADH: Over 60,000 Saudi female employees have benefited from Wusool, a female transportation program that helps ease their daily commute.
The program aims to find solutions that reduce the burden of transportation costs for Saudi female workers in the private sector by providing them with subsidies from the Human Resources Development Fund (HRDF) for high-quality, safe and secure transportation services to and from the workplace, partnering with taxi companies through licensed smart apps.
The program aims to increase the participation of women in the labor market and increase job stability.
The HRDF said it made amendments and updates to Wusool to ensure that the largest number of applicants benefitted from it. This comes as part of the HRDF's support for women working in the private sector.
The procedures included amendments to the terms of enrollment in the program, including the requirement to be registered under the General Organization for Social Insurance (GOSI), where the employee should be registered for less than 36 months, and her monthly salary should not exceed SR8,000 ($2,132). SPA Riyadh
The amendments also included a fixed monthly financial support provided by HRDF, covering 80 percent of the cost at a maximum of SR800 per month, in addition to the cancelation of the previously planned financial participation of SR200, and extending the support period to 12 months.
Women working in the private sector can register for the Wusool program by visiting http://wusool.sa.
https://www.arabnews.com/node/1630511/saudi-arabia
--------
Women Empowerment In Pakistan: How Well A Society Treats Its Women Is One Of The Strongest Indicators Of The Success
Hassan Salman
FEBRUARY 19, 2020
How well a society treats its women is one of the strongest indicators of the success and health of that society. It is no secret that despite the media uproar regarding this pertinent issue, women are constantly being harassed and cornered in our society. Traumatic and dreadful issues are emerging which are physically and mentally affecting the lives of women. The sad part is that now; age is actually considered just a number by a hand picked number of brutal rapists and murderers.
We still cannot forget Zainab Ansari. Why was she made victim to this inhumanity. A six year old making her way to a Quran recital. What could she have possibly done wrong? According to lawyer Asma Jahangir, one of the founders of Women's Action Forum, upto seventy two percent of women in custody in Pakistan are physically or sexually abused. You cannot expect a women to be safe, a women to not think twice before going out late at night.
Forceful marriages of women which leads to them not being able to complete their education is an example of how women are discriminated in our society. This is just the beginning. Inability to complete their education results in financial dependency on others. Circumstances like these, where women have no choice but to silently resist the injustice are the reason why these stereotypes have started.
Imagine letting go of your education for someone only to find them blackmailing and torturing you. Even if that is minimal, taking care of each and everything in households will still result in them being labelled as useless and worthless. Where's the justice? In contrast to all of this, if a women manages to secure an education for herself and decides to work to earn herself a living, she will face many problems in employment. Even if she is employed, politics as to how a male should be given higher salaries will be started.
Although the government has taken initiatives for the wellbeing of women in Pakistan, they haven't been very effective. Although Articles 25 & 26 do ensure that there will be no discrimination based on gender however it is quite evident that it isn't being taken seriously. It can be seen as how the World Economic Forum has placed Pakistan as the second worst country on gender equality in its 2017 Global Gender Gap Equality.
We know that the situation is not ideal however there is always a glimmer of hope. As a society, we should focus on how we can work to improve the status of women in our society. Provision of education for females is one of the major factors that could influence this. Schemes to fund education for females should be initiated.
Laws regarding minimum number of years of schooling each girl should have can be established. education should not only be limited to women but the men too should be taught about their roles and responsibilities and the way women should be treated. Women in rural areas should be given employment opportunities through government schemes.
Seeing how little girls are being raped is proof of how our society is desperately in need for help. After proper inquiry, if proven guilty, these rapists should be hanged publicly. The only way to stop this is to inculcate fear amongst ourselves. We don't realise how toxic this mistreatment can prove to be for our society. At the end of the day, it is our loss. Its up to us to decide whether we want our society to prosper or not.
https://dailytimes.com.pk/560786/women-empowerment-in-pakistan-daily-times/
--------
Macron Draws Fire As Admirer Flouts Law over Islamic Face Veil
February 20, 2020
Far-right lawmakers took aim at French President Emmanuel Macron on Wednesday after a woman wearing a full-face veil approached him ahead of a speech announcing new measures to fight Islamic "separatism" in the country.
Such veils, known as niqabs, have become a political lightning rod in France since 2010, when it became the first European country to ban them in public.
Critics say their use underscores the push by some Muslims to live apart from traditional French society, something Macron vowed to combat in a speech on Tuesday in Mulhouse, eastern France.
But while surrounded by police during a neighbourhood tour beforehand, a young woman wearing a burgundy niqab walked up to him through the crowd, a scene caught on camera and soon posted to social media.
She then removed the lower part of the veil for a selfie with the president, who obliged as usual with a wide smile.
The official fines of up to 150 euros ($160) for wearing clothing denoting a religious affiliation are only rarely applied, which has long irked rightwing parties accusing officials of being too lax against so-called Islamic separatism.
A lawmaker from the far-right National Rally party, Bruno Bilde, assailed Macron for "letting this person flagrantly violate the law of 2010".
"Before attempting to win back the republic [from Islamists], we must apply the republic's laws," he said in a question submitted to Interior Minister Christophe Castaner.
National Rally leader Marine Le Pen, expected to again be Macron's main adversary in presidential elections set for 2022, had already demanded to know Tuesday if the young woman "had been stopped by police, as the law requires?"
During his speech, Macron announced a series of steps to counter "foreign influences" on Islam in France, notably by gradually expelling the roughly 300 imams currently sent to preach in France by countries including Algeria and Turkey.
France will also step up its oversight of foreigners brought in to teach optional language classes, who currently are subject to limited oversight by French authorities.
"The problem we have today with this system is that we have more and more teachers who don't speak French," Macron said.
Taking aim at Turkey particularly, he said he would let "no country stoke separatism on French soil, whether religious, political or identity-related".
Turkey's parliament speaker Mustafa Sentop hit back on Wednesday, accusing Macron of "primitive islamophobia".
Critics argue that in some French immigrant communities, Arabic teachers encourage extremist ideas that could radicalise young people, a potent fear in a country hit by a wave of Islamic terror attacks since 2015 which have killed more than 250 people.
https://www.thejakartapost.com/news/2020/02/20/macron-draws-fire-as-admirer-flouts-law-over-islamic-face-veil.html
--------
Pakistani Woman Offended By Traffic Police 'Speaking To Her In Punjabi In A Muslim Country'
February 19, 202
Falah Gulzar
A woman in Pakistan said that it is offensive to speak in Punjabi in a Muslim country and to women, and netizens are very confused.
Videos of the woman that seemed to have been filmed in Pakistan emerged online and soon went viral on Twitter.
In one 2-minute-long clip, the enraged woman is seen just after being stopped by a traffic police official who claimed she was using her phone while driving.
She accuses the traffic police personnel of being "disrespectful" and "misbehaving" with women by speaking to her in speaking in Punjabi, a language that is spoken by 48 per cent of Pakistanis, according to a 2015 BBC report.
Bilal Farooqi
✔
@bilalfqi
Years of trying to become something we're not has produced this generation - confused, lacking knowledge, disrespectful & ashamed of their own roots. This woman found it offensive that a cop spoke to her in Punjabi...
Embedded video
796
5:55 AM - Feb 19, 2020
Twitter Ads info and privacy
462 people are talking about this
The woman is heard speaking in English and Urdu in the video.
In another clip, the traffic cop explains that he had asked her to stop using her phone and roll her car's window down.
The person recording the video, who claims to be a "crime reporter", tells the woman that the official was just asking her to do something.
Abdul QaDeer
@abdulqadeer03
She is mad at police for talking to her in Punjabi. Your views? 🤔😁@hamzashafqaat #Islamabad
Embedded video
34
11:04 AM - Feb 19, 2020
Twitter Ads info and privacy
See Abdul QaDeer's other Tweets
The traffic controller responds and questions the woman whether it is a crime to talk to someone in Punjabi. Moreover, the woman answers saying: "Muslim country, how can you talk to a woman in Punjabi like this?"
Netizens confused…
After the video was posted, the word 'Punjabi' became a top trend on Twitter in Pakistan. Social media users shared the video, with many left confused by her claims.
One such user, @abdulqadeer03, asked: "She is mad at police for talking to her in Punjabi. Your views?"
Tweep, @bilalfqi, wrote: "Years of trying to become something we're not has produced this generation - confused, lacking knowledge, disrespectful and ashamed of their own roots. This woman found it offensive that a cop spoke to her in Punjabi..."
Twitter user @sideeque96 highlighted that a large number of people speak the language: "Punjabi in the language of 120 Million Muslims and these desi firangis [South Asian foreigners] have to live with this reality. We'll keep speaking Punjabi and you just can't do anything."
Mehmet :/
@sideeque96
Punjabi in the language of 120 M+ Muslims and these desi firangis have to live with this reality. We'll keep speaking Punjabi and you just can't do anything. https://twitter.com/Islaamabad/status/1229994405546864645 …
Islamabad
@Islaamabad
This lady mad at Police for talking to her in Punjabi 🤔
Embedded video
8
1:33 PM - Feb 19, 2020
Twitter Ads info and privacy
See Mehmet :/'s other Tweets
Twitter user @mona_qau thought that all regional languages must be celebrated: "Maturity is, when you speak Urdu and all other regional languages without any inferiority complex. Punjabi, Potohari or any other."
Whereas, @AdityaMenon22 made a comment on the woman's own style of speaking: "Funny part is that the lady objecting to Punjabi, is unable to speak either Urdu or English properly."
But there were also those who thought that the woman might have been mistreated in some ways.
Tweep @MemoonaRasheed2 wrote: "1. A cop on duty should speak in official language. 2. Video recording without consent and posting on social media without consent is not right."
https://gulfnews.com/world/asia/pakistan/video-pakistani-woman-offended-by-traffic-police-speaking-to-her-in-punjabi-in-a-muslim-country-1.1582119395408
--------
URL: https://www.newageislam.com/islam-women-feminism/hundreds-iraqi-women-protest-held/d/121111
New Age Islam, Islam Online, Islamic Website, African Muslim News, Arab World News, South Asia News, Indian Muslim News, World Muslim News, Women in Islam, Islamic Feminism, Arab Women, Women In Arab, Islamophobia in America, Muslim Women in West, Islam Women and Feminism