New Age Islam News Bureau
3 Dec 2014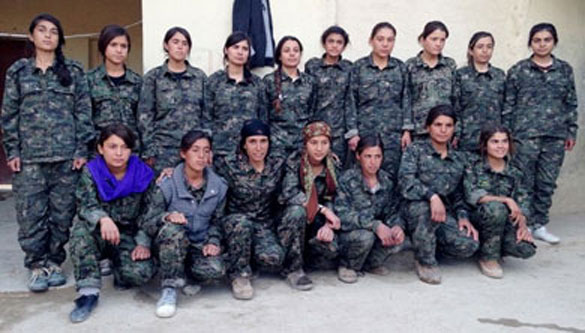 Female trainees, between 15 to 22 years of age, of the Yazidis Protecting Sinjar pose with their trainer, Hader, at their barracks on Mount Sinjar. All the girls have since graduated from training. Jonathan Krohn for The National
----------
• Behind-The-Scenes Look at Life for Saudi Women
• Terrorizing Women in Indian Society Should End: Indian Actress
• Yazidi Girls Train To Take On ISIL from Sinjar Mountain
• Young Kelantan Woman Claims Almost Left For Syria to Be Islamic State Sex Slave
• Nigeria's Purported Boko Haram Leader Says Has "Married Off" Girls
• Pakistan Policewomen out on roads to regulate traffic
• Israeli-Canadian Woman Kidnapped by ISIS Makes Contact: 'I'm Totally Safe and Secure'
• I Met an Afghan Girl Sold Into an Abusive Marriage at Age 9
• Sydney Girl, 9, Feared Sent To Middle East for Arranged Marriage
• HRW Urges Saudi to Free Two Women Held In Driving Case
Compiled by New Age Islam News Bureau
URL: https://newageislam.com/islam-women-feminism/hundreds-british-women-want-be/d/100311
-----------
Hundreds Of British Women Want To Be Jihadi Brides, Warns IS Researcher
03 Nov, 2014
Hundreds of young women in the UK are desperate to join Islamic State and become jihadi brides, a London-based researcher on radicalisation warned today.
Melanie Smith, 22, is in direct contact with 53 women from Europe who have either made it to Syria or attempted to go there.
But the researcher at King's College International Centre for the Study of Radicalisation, who tracks women and girls who want to marry into the terror group, said soaring numbers of British citizens are being brainwashed by jihadists over the internet every day.
Miss Smith talks to these women on Ask.fm, the site on which IS fighters can often be found updating the world on their thoughts and activities.
"There must be hundreds of girls wanting to go across," she said. "I come across girls every day who say, 'I'm so desperate to go over there but it's just so hard for me.' I saw someone say this morning, 'I want to come but I'm a full-time mum.' And someone said, 'Just bring your kids.' The proportion of girls who eventually make the transition from wanting to go to physically going is tiny. But there are so many people who want to go."
She said one girl on Ask.fm told her of "a thing called Jihad Matchmaker" on Twitter: "You follow it, it follows you back, you send a picture of yourself with your veil and the men choose from hundreds of headshots."
Miss Smith added: "I'd say 90 per cent of the Ask.fm messages to these jihadi men are marriage proposals. It's 'You're so attractive. Will you marry me if I come to Syria?'"
Aqsa Mahmood, who tweets under the name Umm Layth, is one of the women Miss Smith is tracking. The 20-year-old radiography degree dropout from Glasgow married an IS fighter and has become one of the group's most hard-line internet activists.
Miss Smith said that independence is a huge incentive. "There may be pressure from parents: 'You should study for your A-levels so you can go to university so you can be a doctor or a lawyer or an engineer.' They say they have more freedom in IS."
But once there, she warned, it is near impossible to leave. "The people around you and the entire state in which you live would probably kill you if you said you wanted to go home openly. Once you're there you're not supposed to leave. It's the rest of your life."
http://www.standard.co.uk/news/world/hundreds-lining-up-to-be-jihadi-brides-warns-islamic-state-researcher-9897560.html
http://www.firstpost.com/world/many-women-desperate-jihadi-brides-fighters-shows-research-1832375.html
-----------
Behind-The-Scenes Look at Life for Saudi Women
03 Nov, 2014
The boulevards of Riyadh, Saudi Arabia's capital, are lined with office towers, American fast food chains, and super-sized shopping malls. But the modern façade can't obscure a deeply conservative Islamic country.
The malls may sell miniskirts and sexy lingerie, but the female shoppers nearly all wear floor-length black gowns known as Abayas, and Niqabs that cover everything except their eyes. And - as is the norm in Saudi Arabia - the fast food restaurants are segregated. Men sit at the front; women and families sit in a partitioned area at the back, shielded from public view.
Saudi women are also banned from driving, and need a male relative's permission to work and travel overseas. For visitors from the West, it can be tough to digest.
But we went to Saudi Arabia to talk to Saudi women, and to find out what they think about their own society. We wanted to look behind the cliché that paints all Saudi women as veiled and therefore victimized. On a rare visit to the closed-off kingdom, we also wanted to know if there were any real signs of change.
(For more of Holly Williams' reporting from Saudi Arabia, tune in to "CBS This Morning" Wednesday and Thursday.)
A few days after arriving in Riyadh, we visited the Starbucks near our hotel. We ordered our coffees and sat at a table outside in the sun. My producer, Erin Lyall, and I both wore head-to-toe black, and had covered our heads out of respect for local customs.
After a few moments a very apologetic staff member approached us and explained that, as women, we weren't allowed to sit at the front of the café.
"We don't have a problem," he said. "But if the religious police see you there could be trouble."
The religious police, employed by the Committee for the Promotion of Virtue and the Prevention of Vice, are tasked with implementing Islamic Sharia Law in Saudi Arabia. They can punish unrelated men and women for "intermingling" in public areas, and they enforce the dress code that is imposed on Saudi women.
Fearful the religious police would blame Starbucks for allowing intermingling to take place on its terrace, the staff member directed us to the "family" section at the rear: indoors, with little natural light.
There, we bumped into two young Saudi women who complained to us vociferously.
"We hate this," said one, as she tapped her fingernails on the counter.
During nearly two weeks in Saudi Arabia we met many other Saudis who shared their frustration with the country's strict interpretation of Islamic law -- some of them reformers within the government. One member of the Shura Council, the body that advises Saudi Arabia's all-powerful King Abdullah, told us he wanted reform in "in every aspect of life."
Saudi Arabia is clearly changing. There are now more women than men graduating from university, and the government is encouraging them to join the workforce. We met countless professional Saudi women who - despite a legal system that treats them as less-than-full citizens - occupy powerful positions in government and private companies.
There are others in Saudi Arabia -- including women -- who don't necessarily want things to change.
One of them is Um Seif, a high school teacher whose husband has two wives. Polygamy is legal under Islamic law, and still widely practiced in Saudi Arabia.
"Foreign women outside Saudi Arabia have more freedom than we do," she told us. "But I don't want to be like them. From a young age we're taught that these are our customs, and we follow them."
Balancing those very different attitudes is the challenge for King Abdullah and his government. Nobody in Saudi Arabia doubts that change is happening, but many worry that if it occurs too quickly it will prompt a backlash from religious conservatives.
http://www.cbsnews.com/news/in-saudi-arabia-women-struggle-to-gain-equality-respect/
-----------
Terrorizing women in Indian society should end: Indian Actress
03 Nov, 2014
Mumbai: Actress and TV host Gauahar Khan rued the fact that our laws aren't stricter to inculcate fear among people committing crimes against women.
Speaking to media persons for the first after she was blatantly hit by a youth for wearing a short dress, Gauahar said that, "I spoke to now because I wanted the law to take its course. I have given my statement to police & they have co-operated well by taking the right action."
Gauhar was attacked and threatened by an audience member who said that, "being a Muslim woman, she should not have worn such a short dress".
The accused, identified as Mohammed Akil Mallick (24), slapped and touched her inappropriately during the break of the show, but was immediately overpowered by the security guards deployed there, following which the police were notified.
Unhappy with the way the security arrangements at the sets of 'India's Raw Star', Gauahar said that, "we ignored a few things during the course of the show & never made me think that anything of such sorts could even happen."
"There was a huge security lapse. Even if he had a card to enter the premises, his intentions with what he came in should have been analysed."
Equating the shocking incident to a "terrorist attack", she questioned "isn't this a terror attack? To create a terror this... It happened to a girl & why does this happen only to girls."
"Respecting women has to come from within and it can't just be fed into people's minds," she added.
Gauahar said when the attack happened, she kept shouting "don't let him go".
She is of the opinion that the laws in the country aren't stricter that apprehend such men.
"Laws are not stricter as they do not create fear or regret among such offenders," the model said.
http://www.abplive.in/tv/2014/12/02/article448339.ece/Terrorizing-women-in-Indian-society-should-end-Gauahar-Khan#.VH9zO9LF84U
-----------
Yazidi girls train to take on ISIL from Sinjar mountain
03 Nov, 2014
Mount Sinjar, Iraq // Seventeen Yazidi girls stream out of the wedding hall that serves as their military training camp and line up for inspection.
Their blemished faces highlight their youth: many appear no older than 13, though their instructor claims they are all between 15 and 22.
The young trainees are learning to fight with the aim of breaking ISIL's siege of Mount Sinjar, the mountain in north-west Iraq where they live after fleeing the Islamist's onslaught.
With most Iraqi towns at the foot of the mountain taken over by ISIL and the road to Syria also cut off by the militants, Kurdish and Yazidi fighters have struggled with a lack of troops to launch a counter offensive.
To fill the gap, the Kurdistan Worker's Party (PKK) has offered military training to young Yazidis between the ages of 15 and 30 under the banner of the Sinjar Resistance Units.
Back at their barracks in Kursi Valley, located on the north side of Mount Sinjar, Qul Baher Said Hassan, one of the trainees, smiles shyly. "I like the weapons," she says. Her classmates giggle. Qul Baher claims to be 15, though she looks much younger.
"Yes, we are the youngest fighters, but our hearts are big enough to fight," she says.
Hader, a seven-year-veteran of the PKK who instructs the girls, says they are learning to be the "women of the future."
"All these girls are like men," she says, surveying her recruits.
Based in northern Iraq, the PKK has for 30-years battled neighbouring Turkey for Kurdish rights. Yet, since ISIL took over large areas of Iraq last summer, the PKK have trained their guns on the Islamist extremists.
In August, two months after ISIL launched its blitzkrieg across Iraq, they stormed into areas populated by followers of the Yazidi religion — one of Iraq's oldest minorities.
The militants embarked on a campaign of persecution against the group kidnapping, killing, and enslaving hundreds of girls and women and sending thousands fleeing to the top of Mount Sinjar. Most have now scattered to safehavens across Iraqi Kurdistan. Some, however, have stayed to fight.
The PKK has three training camps for the Sinjar Resistance Units. There is a male training camp at one of the highest points on the mountain and separate training camps for male and female fighters in the mountain village of Kursi.
Each class of trainees consists of about 20 recruits and covers nine courses over a 15 day period.
The training includes learning to shoot an AK-47 and throwing hand grenades. Recruits are also taught the ideology of Abdullah Ocalan, the PKK's leader who has been jailed on an island off Istanbul since 1999.
Hader says that it's not uncommon for recruits under 18 to take part in the training.
For those as young as Qul Baher and many of her classmates, Hader says their families had given permission for them to be trained to fight.
When the girls are sent to the front they will be on the "second line," according to Hader, learning from older, more experienced PKK fighters.
Already, part of the training involves visiting the battle field. "Sometimes we take the girls to the front lines to stand behind the guys on the front," Hader says.
Qul Baher's father, Said, a Yazidi politician, beams proudly as he watches his daughter, in full military fatigues, recite the well rehearsed rationale for why she and the others have become fighters at such a young age.
"All of the Yazidis are our family," she explains, "Many of our girls were taken by ISIL. That is why we fight."
There are about 200 PKK-trained fighters in the Sinjar Resistance Units.
In combat, the group is commanded by the PKK, though the Kurds claim the end goal is for the units to eventually function without their help.
Still, the Sinjar Resistance Units' status as a franchise of the PKK has led to criticism of the group for not being a purely Yazidi organisation.
"[The group] is not beneficial for us, because their leaders are not Yazidi" says Sheikh Qassem Derbo of the Jelko, a Yazidi tribe on Sinjar. "Their orders come from the PKK."
Following the visit by The National last month, the girls went on to complete their training, and are now stationed around Kursi. They are among the last to be trained due to a lack of new volunteers.
Hader is now the commander for all female Yazidi fighters.
She is routinely followed around Sinjar by a troop of girls giggling with shouldered guns.
foreign.desk@thenational.ae
http://www.thenational.ae/world/middle-east/yazidi-girls-train-to-take-on-isil-from-sinjar-mountain
-----------
Young Kelantan Woman Claims Almost Left For Syria to Be Islamic State Sex Slave
03 Nov, 2014
A young Kelantan woman has alleged that she almost left for Syria to act as a sex slave to Islamic State (IS) jihadists there, Utusan Malaysia has reported.
Citing a purported video interview, the Malay language daily reported that the woman — identified only as Umairah — claimed she was lured by promises of "paradise" and influenced by a religious class in a local university.
Umairah reportedly spoke of the preparations she made for the abortive trip to Syria, including learning the guide to taking care of Muslim militants such as eating, dressing and fulfilling their sexual needs that included serving five men at a time.
The 23-year-old was determined to go Syria despite her parents' opposition to carry out jihad (holy struggle) and fulfilling the militants' sexual needs, but hinted that a nightmare of being gang-raped put a stop to her plans.
"Up until that pointed, I still agreed because (I) wanted heaven. I told my parents; of course they were very angry. But I have already promised to jihad, so I don't care about the prohibition, what I know, I want to go Syria.
"But on the last night I was in Malaysia, I dreamt of being gang-raped. Very torturous. Only God knows. After I was raped, my mother came and wrapped me with white cloth and black veil," the second daughter of an engineer was quoted saying in the video cited by Utusan.
According to the Malay-language daily's report dated December 1, the eight minute and 11 second video was posted the day before on popular video-sharing website YouTube by a local portal.
Utusan did not specify, however, the name of the purported video clip or the portal that was said to have posted it.
Citing the same video, Utusan said Umairah spoke of how a man in a religious class had exposed her to the new method of using jihad to wipe out past sins, adding that he had also spoken of heaven and the benefits of jihad.
She said she was also taught to hate infidels, liberal Muslims and Muslims of different sects, besides being given reading materials from Syria and Indonesia and online articles.
Last week, the prime minister tabled a White Paper in Parliament titled "Addressing the threat of Islamic State", in which he outlined the history of IS, the threat the group poses and the impact it has on Malaysians as well as the danger in allowing its skewed Islamic teachings and practice of violence to spread in Malaysia.
According to the White Paper sighted by Malay Mail Online, 39 Malaysians are already in Syria, with 17 of them involved in IS while 22 had joined Ajnad al-Sham.
The police have also arrested 40 suspects in the country as of November 13, with the first arrest on February 7.
The White Paper pointed out that the arrests of 11 suspects on April 28 exposed their plans to bomb entertainment centres in KL, an alcohol plant in Selangor, government buildings in Putrajaya.
Putrajaya also confirmed last week that it was planning to introduce a new anti-terrorism law, with the bill expected to be debated during the next Parliamentary sitting in March next year.
http://www.themalaymailonline.com/malaysia/article/report-woman-claims-almost-left-for-syria-to-be-islamic-state-sex-slave#sthash.IFchj7XH.dpuf
-----------
Nigeria's purported Boko Haram leader says has "married off" girls
03 Nov, 2014
(Reuters) - A man claiming to be Boko Haram leader Abubakar Shekau has said more than 200 girls kidnapped by the group six months ago were "married off" to its fighters, contradicting Nigerian government claims they would soon be freed.
Nigeria's military says it killed Shekau a year ago, and authorities said in September that they had killed an imposter posing as him in videos.
In the video recording obtained by Reuters on Saturday, the man's face is difficult to see as he is filmed from a distance.
"We have married them off and they are all in their husbands' houses," the man claiming to be Shekau says.
"The over 200 Chibok girls have converted to Islam, which they confess is the best religion. Either their parents accept this and convert too or they can die."
The majority of the kidnapped girls were Christians.
It was not possible to independently verify the video, but it was given to local journalists through the same channels that Boko Haram has used to distribute video tapes for the past three years, in what has become the militant group's sole means of communicating messages through the media.
It was also the classic style seen in the group's previous videos -- the purported leader is standing in semi-desert scrubland surrounded by fourteen masked gunmen with four military jeeps in the background. Two of the gunmen are holding up Boko Haram's al Qaeda-inspired black flag.
Verifying the authenticity of the video was further complicated by the fact that the group is made of several competing, and sometimes cooperating, factions with little in the way of a centralised command structure.
Whoever the figure in the video is, its release is likely to raise doubts about whether talks between a Boko Haram faction and the government in neighbouring Chad will secure the release of the girls, who were kidnapped from a secondary school in Chibok, northeast Nigeria, in April.
The man in the video denounced Danladi Ahmadu, the self-proclaimed representative of Boko Haram in Chad with whom the government has been talking. Nigerian authorities have said repeatedly they believe Ahmadu is a real Boko Haram commander and that he represents the faction holding the girls.
He also denied the existence of a ceasefire called by the government two weeks ago to help make the talks a success, which has had no apparent effect on the level of violence in the country.
"Who says we are dialoguing or discussing with anybody? Are you talking to yourselves? We don't know anybody by the name of Danladi. If we meet him now we will cut off his head," the man in the video says.
"All we are doing is slaughtering people with machetes and shooting people with guns ... War is what we want."
Officials at the presidency, whose office is conducting the talks, did not immediately respond to a request for comment.
The five-year-old campaign for an Islamic state by Boko Haram, which has killed thousands and whose name means "Western education is sinful", has become by far the biggest menace to the security of Africa's biggest economy and top oil producer.
Its fighters have attacked targets almost every day for weeks and last week seized control of the town of Mubi, the district town of Nigeria's defence chief Air Chief Marshal Alex Badeh. It was Badeh who announced the ceasefire.
They robbed banks, burned down houses and hoisted their black flag over the Emir's palace, killing dozens of people and forcing thousands to flee, witnesses in Mubi said.
On Saturday the fighting continued, with a security source saying as many as 30 Boko Haram fighters were killed in a battle in remote community called Sabon Gari, after insurgents stormed it on motorcycles and Nigerian troops fired back to protect it.
A car bomb thought to have been planted by Boko Haram killed at least 10 people at a crowded bus stop in Gombe on Friday morning, emergency services said.
The government has blamed the violence on Boko Haram's allied criminal networks that it cannot control, and on the various competing factions within the group.
The man in Saturday's video, who spoke in the northern Hausa language with occasional phrases in English, also said the group is holding a "white man", without giving details.
The only known hostage seized in the northeast is a German teacher kidnapped from a college in the northeastern city of Gombe in July by gunmen widely assumed to be linked to Boko Haram. (Additional reporting from Lanre Ola in Maiduguri; Writing by Tim Cocks; Editing by Louise Ireland and Sonya Hepinstall)
http://af.reuters.com/article/chadNews/idAFL5N0SR06620141101?sp=true
---------
Pakistan Policewomen out on roads to regulate traffic
03 Nov, 2014
KARACHI: "Look out! There's a woman in the middle of the road with a stop sign." Jamming on the brakes, drivers brought vehicles to a halt. No one dared jump the red light. A few motorcycles with their front wheels over the zebra crossing line were politely asked to move backwards, which they did without questioning.
This was the case from Fawwara Chowk to the traffic intersections of the PIDC to Do Talwar where some 30 women traffic constables took to the roads to control traffic. "Well, we are training at the moment which would be completed in about a week, Insha Allah. From next week, we will be wearing our new white traffic police uniforms," head constable Syeda Bobby Tabbasum minding traffic at the Teen Talwar intersection told Dawn on Tuesday.
"There would also be more women controlling traffic on the roads soon as 70 more are expected to join the ranks. Some of us are from Police Operations, some from Investigations and others from the CIA," she said.
Police constable (PC) Madiha Shah said their timings during training were from 12noon to 5pm, and they were picked and dropped by a police bus. "We are all family women and when transport became an issue for us we were provided it by our department for which we are grateful," she said.
Some of the lady constables there wore black shirts with khaki shalwar while others donned khaki trousers. "Well, there is flexibility over what we feel more comfortable in at work," said PC Mehwish Dani.
Working side-by-side with male traffic police officials, who were also guiding them, the women said they had faced no problems so far. "I'm six months pregnant with my first baby," said PC Asma Akhtar. "And I'm grateful that my supervisor gives me relief whenever I feel tired."
She added: "My husband and I have been trying to have a child for four years and now that I'm expecting my husband is concerned about me controlling traffic. It can become hectic but it's also pretty exciting. I'll soon be taking my maternal leave but hope to come back here after that."
Head constable Saifal Khan, one of their colleagues, said he was glad to be working with the women. "We are usually afraid of stopping women drivers for violating traffic rules. Now they are our lady constables' problem," he said.
Head moharrir Mohammad Jawaid Jadoon, one of the personnel supervising the lady constables' training, said he told them to also brief the people about traffic rules while on duty. "They are quick learners and I don't usually have to explain things to them more than once. But I think they tire easily and we let them take short breaks. Still I am hopeful they will do better than us even after gaining more confidence," he said.
This new change on Karachi's roads is said to have been brought about by DIG-traffic Dr Amir Sheikh. "I believe in equal opportunities for women and wanted to empower police women in this male-dominated society. For this I intend to bring in at least 100 lady constables and we are encouraging the women in the police department to opt for traffic police by also offering them an extra monthly allowance of Rs1,000 with pick and drop facility," he said.
"At the moment there are only 30 of them out there but it would be a positive change as more and more join in. I want them regulating traffic everywhere as people, too, seeing women would behave and listen to them. That way the usual arguments we see on our roads between the public and traffic police would slowly lessen too," the DIG added.
"And this is not all. Besides the lady constables controlling traffic, we also have two very senior lady section officers. These are two very senior lady inspectors driving around town in police mobiles, who'll come to hear your grievance in person when you call on the '1915' complaint number. These are all just a part of our new reforms and improvements."
http://www.dawn.com/news/1148406/policewomen-out-on-roads-to-regulate-traffic
-----------
Israeli-Canadian woman reportedly kidnapped by ISIS makes contact: 'I'm totally safe and secure'
03 Nov, 2014
After reports of her kidnapping by Islamic State surfaced, the Israeli-Canadian woman fighting the extremist group seemed to have relayed a message on social media reassuring of her well-being on Monday night.
31-year-old Gill Rosenberg apparently posted on her Facebook that she was safe but had not been able to communicate with the outside world for safety reasons.
"Guys, I'm totally safe and secure. I don't have Internet access or any communication devices with me for my safety and security. I can't reply regularly and only happened to have a chance to log in and see these buklshit news stories. Ignore the reports I've been captured. Yalla, Acharai! [alright, later]," read a message on her Facebook.
http://www.jpost.com/Breaking-News/Israeli-Canadian-woman-reportedly-kidnapped-by-ISIS-makes-contact-Im-totally-safe-and-secure-383369
-----------
I met an Afghan girl sold into an abusive marriage at age 9
By Sudarsan Raghavan
03 Nov, 2014
Pekay was small, with a puffy nose and an infectious smile. That was the last memory I had of her, 10 years ago.
She was 13 back then, but she had already suffered a lifetime of misery.
When Pekay was 9, her impoverished family sold her into marriage to a man old enough to be her grandfather. They needed to pay their rent — $80, a princely sum at the time – and so their landlord became Pekay's husband. He brutalized her, so severely that she contemplated suicide.
As I wrote in a 2004 article for Knight-Ridder, Pekay was "one of thousands of girls and women who are trapped in forced marriages, caught between the rural, tribal and Islamic customs that ruled the country for centuries and the promise of a new Afghanistan ruled by laws that apply equally to everyone."
The Afghanistan of 2004, as it is now under new President Ashraf Ghani, was one of great expectations. The Taliban Islamist regime had been ousted three years earlier by the U.S.-led intervention after the Sept. 11, 2001, terrorist attacks. The nation had its first presidential elections, won by Hamid Karzai. Women voted in unprecedented numbers.
But none of that helped Pekay. Afghanistan's laws made it illegal for girls younger than 16 to marry. Buoyed by the new hope across the nation, Pekay's parents reported the abuse to the police and then tried to get her a divorce. But the court's conservative clerics, who abided by Islamic law, ruled that she could not separate, even from a violent child molester.
Finally, though, the chief justice of the Supreme Court reversed the decision of the lower court – but only because he learned of the abuses committed against Pekay.
Pekay went back to her parents' house and to the life of a child – as best she could, anyway, after so much trauma. But the threat remained.
In my last conversation with her husband, he declared:
"I'll die before divorcing her. I can't force her to come back to my house, but I can make sure she won't marry again. One day she'll come back. She has to."
When I returned to Afghanistan last month to become The Washington Post's bureau chief, I wanted to learn Pekay's fate.
Today, domestic violence against women and girls is still widespread in Afghanistan. Many rural women are still forced into unhappy marriages every year. The legal system remains weak and corrupt.
Had Pekay managed to overcome all these obstacles?
Kabul has changed so much since I was last here that I couldn't remember where Pekay and her parents lived. After knocking on doors, we learned that the family had moved to a village north of Kabul. Last week, we drove there.
Pekay's mother and father, frail and aging, welcomed me into their mud-brick house. They were so poor they could no longer afford to pay rent. They were staying in a compound of a cousin. Pekay's father was nearly blind, staring through bottle-thick spectacles. Her mother was completely blind in her left eye. Pekay's mentally ill brother was lying on a mattress, staring vacantly at the wall.
But Pekay was not there. When I asked about her, her mother's face turned solemn. She informed me that Pekay had married again. Then, she asked me not to contact her.
"She's happy now," explained her mother. "And I want her to remain happy."
The family, I learned, had not told Pekay's new husband about her past. Divorce in Afghanistan is still considered a disgrace to the family and tribe, particularly in conservative rural areas. "Half of this village doesn't even know," said her mother. "We didn't say anything about her past."
Since Pekay's divorce, the only potential suitors were old, disabled men, her mother explained. Four years ago, through some neighbours, her parents were introduced to a man in his 40s who ran a business and wanted a wife to bear him a son.
Pekay, who was 19, was of childbearing age. She had never attended school and spent her teenage years doing chores around the house. "We were too poor to send her to school," her father said.
They were desperate to find Pekay a husband. They didn't mind that her suitor was from a conservative ethnic Pashtun family and that they were ethnic Tajiks. They told him that she was a widow, and that her husband had been killed.
It was a large wedding, said her mother, adding that today Pekay has lots of clothes and plenty of food.
Most important, they never heard again from her ex-husband. "He never dared to show up and take her back," said her mother.
When I asked what would happen if Pekay's husband and her in-laws learned about her past, her mother replied: "It would be a big problem. They would do something to her, probably."
"We don't want our daughter to suffer any more," she continued. "She has suffered enough."
I thanked her parents and left, satisfied with the knowledge that Pekay seemed to be in a happier place.
http://www.washingtonpost.com/blogs/worldviews/wp/2014/12/01/in-2004-i-met-an-afghan-girl-sold-into-an-abusive-marriage-at-age-9-this-month-i-set-out-to-find-her-2/
-----------
Sydney girl, 9, feared sent to Middle East for arranged marriage
03 Nov, 2014
A women's health service has fears a nine-year-old Sydney girl sent overseas may become a child bride.
The girl's mother told the Immigrant Women's Health Service that her daughter had flown out of Australia on Monday to travel to a Middle Eastern country.
Dr Eman Sharobeem, a doctor in psychology and the health service's chief executive, said she feared for the girl's safety and wellbeing.
While the girl's mother did not specifically say her daughter would be involved in an arranged marriage, Dr Sharobeem feared the girl would become a child bride.
Dr Sharobeem said health service workers had become suspicious when the girl told them several days ago that she was going overseas and "wasn't coming back".
"She said, 'I'm going to go to my country and I'm going to stay there, I'm not going to come back to school. I hate school'," Dr Sharobeem said.
"The worker was trying to talk to her about schooling and how it's important for her life, and she said, 'No, my parents told me it's better to go there and stay there and I'm going to be happier there.'
"In cases like this, many girls disappear from the radar and we don't know anything about them, and then we are surprised with them coming back married or already pregnant."
Dr Sharobeem said staff immediately went to the girl's home to speak to her family. The girl's mother spoke limited English, but suggested her daughter would return to Australia in the near future.
"We tried to have another conversation with the girl, and she actually disappeared," Dr Sharobeem said.
"A colleague went there and she was told that she [the girl] already was sent overseas. Basically we were not able to have a conversation with her after the first suspected comments were made by the girl.
"I have fears for her safety. I have fears for her wellbeing. If the suspicion came and we didn't attend to it, then it's our fault."
Dr Sharobeem said girls often approached the Immigrant Women's Health Service and asked for help to negotiate with their parents.
"Some others just go along with what the parents want and accept it," Dr Sharobeem said.
Dr Sharobeem said the youngest child she had encountered being sent away for an arranged marriage was 14 years old.
More needed to be done to educate at-risk communities, she said.
"Addressing this epidemic within the culturally and linguistically diverse communities doesn't happen because the government is creating a website or creating glossy brochures. This is not the way to deal with this epidemic," she said.
"We really need to talk sense, we really need to address these communities in a culturally appropriate manner and we need to tailor our education to these girls. It's a continuous battle and it's not a quick fix by another brochure."
In October, Fairfax Media reported that Australian Federal Police were investigating a record number of human trafficking cases in Australia involving sex slavery, forced marriages and child brides.
In particular, the AFP revealed they were uncovering more cases of trafficking that were related to forced marriages. Police had more than 20 active investigations into alleged forced marriages, with 18 cases involving females aged under 18.
http://www.smh.com.au/nsw/sydney-girl-9-feared-sent-to-middle-east-for-arranged-marriage-20141202-11y71r.html
-----------
HRW urges Saudi to free two women held in driving case
December 3, 2014
DUBAI: Human Rights Watch on Wednesday urged Saudi authorities to "immediately release" two women arrested after one of them attempted to drive into the kingdom in defiance of a ban.
Border officers stopped Loujain Hathloul when she tried to drive from neighbouring United Arab Emirates (UAE) into Saudi Arabia on Sunday. Maysaa Alamoudi, a UAE-based Saudi journalist, later arrived to support her.
An activist told AFP on Wednesday that Hathloul, 25, and Alamoudi were still in custody in Eastern Province but neither had been charged.
The activist declined to be named.
"Given that both women appear to be detained because they were driving, Saudi officials should immediately release them and end the discriminatory driving ban on women," said HRW.
The New York-based watchdog's Middle East and North Africa director Sarah Leah Whitson said: "After years of false promises to end its absurd restrictions on women, Saudi authorities are still arresting them just for getting behind the wheel."
"The Saudi government's degrading restrictions on women are what bring shame to the country, not the brave activists standing up for their rights," she said.
Before her arrest on Monday, Hathloul wrote on Twitter that she had been stuck at the frontier for 24 hours waiting to cross from the UAE to Saudi Arabia.
The interior ministry has so far not commented on the case, and referred enquiries to the customs department.
During October, dozens of women drove in the kingdom and posted images of themselves doing so as part of an online campaign supporting the right to drive.
In response, the interior ministry said it would "strictly implement "measures against anyone undermining "the social cohesion".
Activists say it is not actually against the law for women to drive and that the ban is linked to tradition and custom in the kingdom.
http://www.dawn.com/news/1148511/hrw-urges-saudi-to-free-two-women-held-in-driving-case
---------
URL: https://newageislam.com/islam-women-feminism/hundreds-british-women-want-be/d/100311