New Age Islam News Bureau
18 March 2021
• Tunisia Court Frees Prominent Women's Activist, Rania Amdouni
• Shaima Dallali, First Muslim Woman to Chair London University Student Union
• Pakistan Embassy in Seoul Holds Conference for Pak-Korean Women Entrepreneurs
• Afghan Women Have Equal Stakes in Peace: MoWA
Compiled by New Age Islam News Bureau
URL: https://www.newageislam.com/islam-women-feminism/human-rights-watch-says-indonesias/d/124571
--------
Human Rights Watch Says, 'Indonesia's Hijab Push Traumatises Its Schoolgirls'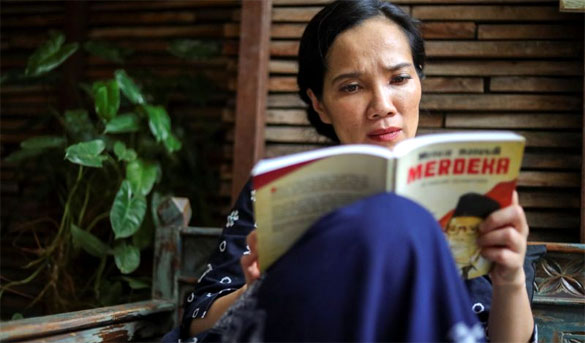 Ifa Hanifah Misbach, a psychologist and university lecturer, reads a book in Jakarta, Indonesia, March 17, 2021. REUTERS/Yuddy Cahya BudimanREUTERS
-----
March 18, 2021
JAKARTA: Ifa Hanifah Misbach was 19 when her father died – and her family told her he would not go to heaven because she refused to wear the hijab, a Muslim head covering.
Misbach now works as a psychologist in Bandung, West Java, where she has counselled dozens of Indonesian girls who have been ostracised, bullied and threatened with expulsion from school because they too declined to wear the veil.
"The impact of religious pressures, especially to wear the Jilbab, when you're young, makes it feel like you have no breathing room," Misbach said, using the word for hijab more commonly used in Indonesia, in a report by Human Rights Watch (HRW).
"I wanted to run away."
The 45-year-old's experience is one of many shared by women and girls in the world's largest Muslim-majority nation, including cases of girls being expelled from school.
Indonesia's ideology enshrines religious diversity and the country has significant Christian, Hindu, Buddhist and other minorities, but religious conservatism and growing intolerance of beliefs other than Islam has been rising over the past two decades.
Women and girls across the country can face "intense and constant" pressure to wear the hijab, said HRW Indonesia researcher Andreas Harsono, which the rights body described as an assault on basic rights to freedom of religion, expression and privacy.
"Wearing a jilbab should be a choice, it should not be a mandatory regulation," Harsono told Reuters.
"There is a growing belief all over Indonesia that if you are a Muslim woman and you don't wear the hijab you are less pious; you are morally less."
HRW identified more than 60 discriminatory local, provincial bylaws issued since 2001 to enforce female dress codes.
A 2014 national government regulation has been widely interpreted as requiring all female Muslim students in the country of around 270 million people to wear a Jilbab at school.
"Indonesian state schools use a combination of psychological pressure, public humiliation, and sanctions to persuade girls to wear the hijab," said the report.
One Muslim high schooler, who asked to remain anonymous, recalled being told at age 12 by two of her classmates that she should wear the hijab as "one strand of hair that is shown is equal to one step closer towards hell".
There has been some pushback.
The case of a Christian schoolgirl in West Sumatra who was forced to wear the hijab sparked a national outcry last month, leading the education and religious affairs ministry to issue a decree banning public schools from making religious attire mandatory. Indonesia's main rights body, Komnas HAM, said the decree supported the right to religious choice, but it remains unclear how strictly it will be enforced.
HRW found the problems extended well beyond school, reporting cases of female civil servants and lecturers who resigned from their jobs due to pressure to wear the hijab, and others who were unable to access government services because they chose not to veil.
The education and religious affairs ministries did not immediately respond to a request for comment on the report.
https://www.freemalaysiatoday.com/category/world/2021/03/18/hrw-says-indonesias-hijab-push-traumatises-its-schoolgirls/
--------
Tunisia Court Frees Prominent Women's Activist, Rania Amdouni
March 18, 2021
A Tunisian appeals court released on Wednesday a prominent women's rights defender and LGBTI activist who had been jailed on charges of "insulting police and abuse of morals", her lawyers said, in a case that raised concerns about freedom of expression, reported Reuters.
Rania Amdouni, 26, a member of the human rights group Damj, Tunisian Association for Justice and Equality was arrested this month in Tunis, the country's capital.
Amdouni had been involved in protests, calling for social and economic justice and against police abuse.
"We are happy that Rania was freed today by the appeal court, but our concerns about freedoms continue, because for months Rania has been subjected to harassment by some Facebook pages of police unions," the lawyer Yassin Azzaza told Reuters.
Activists said Amdouni had increasingly been targeted since February as she became a visible part of the daily protests in the capital.
"Rania Amdouni's arrest and prosecution sends a chilling message to activists who face harassment that if they dare to come forward to report police abuse they risk being turned from victim to accused," Emna Guellali, deputy director for the MENA at Amnesty International, said on Tuesday.
Protesters have been demonstrating in Tunisia since January 15, the day after the 10th anniversary of the revolution, calling for social equality and access to jobs.
The police arrested more than 1,600 people during the protests, and dozens of them have complained of ill-treatment and torture. Tunisian authorities denied the accusations and said the police performed well.
https://www.middleeastmonitor.com/20210318-tunisia-court-frees-prominent-womens-activist/
--------
Shaima Dallali, First Muslim Woman to Chair London University Student Union
March 18, 2021
Shaima Dallali, the first Arab Muslim to win the presidency of the City University of London Students' Union, has stated that there is a real and justified concern over the British government's attempts to suppress student activities in support of the Palestinian cause.
This came in response to reports on the British government's efforts to exert continuous pressure on student unions in universities to adopt a new approach to anti-Semitism, which will affect student activities in support of the Palestinian cause.
Dallali added in an interview with Al Jazeera Mubasher: "Students are already more active and interactive regarding education and academic issues. They are defending freedom of expression regarding these issues despite constant pressures exerted by the government."
However, she stressed that despite this, the students have a sense of awareness and can resist government attempts to suppress their voices.
Supporting the Palestinian cause
Dallali has established an association to support the Palestinian cause and has previously launched more than one campaign to raise awareness about Palestine.
Dallali also discussed issues of concern to students, has voiced students' rights and defended their demands, earning her the trust of both staff and students alike.
Both Muslim and non-Muslim students voted for Dallali, who became the first veiled Muslim woman to chair the students' union in the history of the university, in an election that took place earlier this month, with the participation of 19,000 voters.
Confronting Islamophobia
On her plan to tackle the rising tide of Islamophobia in the west and the UK's right-wing, Dallali expressed: "From my position at this university, I will focus on being effective, and we need to be more involved in implementing strategies that allow us to work with the student community and the local community to reject racism in all its forms."
In addition to Dallali, two other veiled Arab Muslim women have also won the positions of vice-president. This team will lead the students' union for an entire year after taking office in July.
Dallali, 26, was born to a Tunisian father and a Sudanese mother. She came to Britain in 2000, and studied at the City University of London, obtaining a master's degree in Law.
She hopes that her success will pave the way for other victories for Muslims and all just causes.
https://www.middleeastmonitor.com/20210318-first-muslim-woman-to-chair-london-university-student-union-governments-attempts-to-suppress-pro-palestine-activities-is-concerning/
--------
Pakistan Embassy in Seoul Holds Conference for Pak-Korean Women Entrepreneurs
March 18, 2021
SEOUL: In celebration of Women's Day, the Embassy of Pakistan in Seoul organised a forum for women entrepreneurs of Pakistan and South Korea to explore avenues of collaboration among women-led businesses of the country.
The distinguished panel of speakers at the event consisted of Chairperson of the Committee on Gender Equality and Family of the National Assembly, Choun Sook Jung and Secretary Board of Investment, Fareena Mazhar. The two spoke about the role of women leaders in promoting women empowerment in the business world and workplace.
In their presentations, CEO of PCL Inc Kim Soyoun and Co-founder of Amco IT system Zarish Amjad briefed the participants on their respective journeys in establishing their companies and their success in male-dominated sector.
CEO of Earthman Fair Trade Company explained how their company was providing a platform for farmers and artisans from developing countries including Pakistan to sell their produce in the international market.
Pakistani and Korean entrepreneurs discussed the economic opportunities created by women and how business can facilitate and promote opportunities for women in workplace including safe work environment, child care facilities and capacity building.
They also explored avenues of collaboration between women enterprenures of Pakistan and the Republic of Korea.
https://www.thenews.com.pk/latest/806232-pakistan-embassy-in-seoul-holds-conference-for-pak-korean-women-entrepreneurs
--------
Afghan Women Have Equal Stakes in Peace: MoWA
18 Mar 2021
KABUL (Pajhwok): Afghan women, making half of the country's population, have equal stakes in the peace process, says the Ministry of Women's Affairs.
Women reserved the right to share their views on any proposal, decision or action by the parties involved in the peace drive, the ministry said.
It reminded the government, Taliban, the US and the international community of their duty to take into account the views of women in all their proposals, decisions and actions
While stressing their active participation in national processes, the ministry collected views of women, including lawyers, politicians and civil society activists.
The Afghan Women's Network, academia, journalists, entrepreneurs and minorities also offered their views on the recent US peace proposal.
The ministry said in a statement:
"Even though there are some positive points in it, there are also ambiguities in the proposal."
It added the vague suggestions would not help uphold the principles of good governance, security and rule of law.
Contrarily, the ministry noted, the proposal did not reflect realities of Afghan society and the efforts made by the people and government over the last 20 years in these areas.
"Therefore, it (US proposal) may cause all (state) institutions the risk of collapsing," the ministry warned.
It went on to point to the idea of a 50-50 share in government evoked completely different and sometimes conflicting views.
If implemented, the plan would pave the ground for a civil strife in the country, according to the MoWA statement, which also outlined the strengths and weaknesses of the suggestions.
https://pajhwok.com/2021/03/18/afghan-women-have-equal-stakes-in-peace-mowa/
--------
URL: https://www.newageislam.com/islam-women-feminism/human-rights-watch-says-indonesias/d/124571
New Age Islam, Islam Online, Islamic Website, African Muslim News, Arab World News, South Asia News, Indian Muslim News, World Muslim News, Women in Islam, Islamic Feminism, Arab Women, Women In Arab, Islamophobia in America, Muslim Women in West, Islam Women and Feminism