New Age Islam News Bureau
17 Apr 2015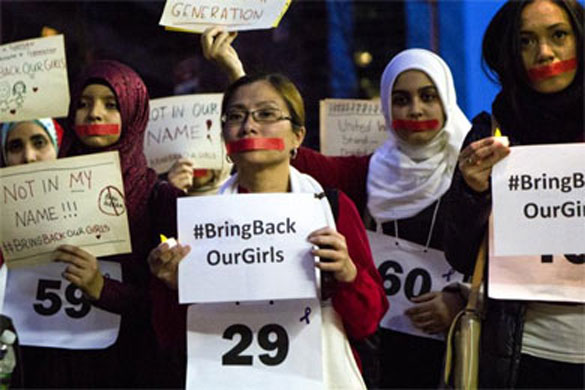 April 14, 2015. New York. A group of women marched from the United Nations to show solidarity for the nearly 300 girls who were kidnapped by Boko Haram in Nigeria a year earlier.
-----------
• Women's Football Making Great Strides in the UAE on Senior and Youth Levels
• UAE Friday Sermon: Avoid Overly Lavish Weddings
• Muslim Women Should Be Allowed to Wear the Veil in Court, Britain's Top Judge Suggests
• Chibok Girls Anniversary: Hundreds Gather In New York To Support #BringBackOurGirls
• Viral Video Appears To Show Sydney Train Passenger Defending Muslim Woman against Hateful Rant
• Palestinian Women Join Effort to Keep Jews from Contested Holy Site
• Malaysian Minister's Reasoning Why Women Join IS Is Chauvinistic
• Mason Principal Cancels Muslim Event, "Covered Girl Challenge" Apologizes
Compiled by New Age Islam News Bureau
URL: https://newageislam.com/islam-women-feminism/human-rights-watch-reveals-harrowing/d/102519
----------
Human Rights Watch Reveals Harrowing Accounts of Islamic State Fighters 'Rape Lottery'
17 April, 2015
Islamic State fighters have been targeting children as young as eight for rape by drawing their victim's names in a sick 'lottery'.
A horrific account of atrocities committed by Isis fighters against abducted Yazidi women and children has been released by the Human Rights Watch.
The study, which includes accounts of 20 women and girls who escaped from ISIS, shows a system of organised rape and sexual assault, sexual slavery and forced marriage – acts that constitute war crimes.
In one harrowing account, a 12-year-old girl, who escaped her captors, revealed she was tied up, beaten and raped by seven different IS militants after being kidnapped from her home in Yazidi.
The girl, who has been named "Jalila", to protect her real identity, described how she was abducted with seven members of her family, when Arab men stormed her village north of Sinjar in August 2014.
Several weeks later, she was separated from her family and taken to a house in Syria where other abducted Yazidi women and girls were held.
She described how she was selected by an ISIS fighter to be raped. "I told him not to touch me and begged him to let me go", she said. "I was a young girl, and I asked him, 'What do you want from me?' He spent three days having sex with me."
During her captivity Jalila was 'owned' by seven ISIS fighters and raped on multiple occasions.
Another woman, identified as Rashida revealed the sickening 'lottery' from which the victim's names were drawn.
"Later that day they made a lottery of our names and started to choose women by drawing out the names," the 31-year-old said. "'The man who selected me, Abu Ghufran, forced me to bathe but while I was in the bathroom I tried to kill myself. I had found some poison in the house, and took it with me to the bathroom. I knew it was toxic because of its smell.
"I distributed it to the rest of the girls and we each mixed some with water in the bathroom and drank it. None of us died but we all got sick."
Dilara revealed she was taken to a wedding hall in Syria where ISIS fighters would come to buy girls to rape them.
She said: "I saw in front of my eyes ISIS soldiers pulling hair, beating girls, and slamming the heads of anyone who resisted. They were like animals.... Once they took the girls out, they would rape them and bring them back to exchange for new girls. The girls' ages ranged from eight to 30 years... only 20 girls remained in the end."
The report concludes that the campaign of systematic rape and violence committed against women and children is tantamount to war crimes and crimes against humanity, violating the laws of war.
Survivors are urged to obtain the medical and psychological treatment they need to cope with trauma they have suffered and better support needs to be provided to victims.
Liesl Gerntholtz, the women's rights director at Human Rights Watch said: "Yazidi women and girls who escaped ISIS still face enormous challenges and continuing trauma from their experience. They need urgent help and support to recover their health and move on with their lives."
http://www.ibtimes.co.uk/isis-human-rights-watch-reveals-harrowing-accounts-islamic-state-fighters-rape-lottery-1496836
------------
Women's football game making great strides in the UAE on senior and youth levels
17 April, 2015
Two weeks ago, the UAE women's football team moved into the top 100 in the Fifa World rankings to reach No 73; the highest rated team from the Arabian Gulf, and second highest Arab team behind Jordan.
The rise came on the back of the senior women's team's participation in the Aphrodite Cup in Cyprus where they won one of three matches.
Meanwhile, the next generation is already being prepared for the future with the UAE taking part in the Under 14 West Asia Championship starting in Bahrain on Monday.
While the news is welcome for Emirati football, these rankings are often purely cosmetic. Women's football in the UAE is only just starting to take its first steps on the international stage.
"The game is starting to spread but it needs more hard work and patience," said Belhassan Mloush, head of the technical committee at the Football Association.
"The girls' team is new, a result of the FA's intensified efforts to discover talent whether in schools or at clubs and training academies."
Even more encouraging are the steps that the FA has taken to build the game at grass-roots level.
Last month saw the start of the 2015 IPIC Women's Football League season. Organised by Abu Dhabi Sports Council and the FA, the eight-team league is made up of established local clubs, B teams and independent expatriate sides. Matches are played over two 35-minute halves.
The country's oldest club, Al Nasr, has for the first time introduced a women's football team.
Some games have been one-sided but there is plenty of optimism about a league that is only in its third season.
More significantly for the long-term future of women's football in the UAE is the continuing progress of the youth leagues, which are also in their third seasons. Both the U16 and U14 competitions kick off today with teams made up of schools, clubs and training centres.
The ultimate goal is to produce and promote a steady stream of Emirati talent that can progress through the ranks of international football.
Already the FA has thrown its support and resources behind age-group national teams. As part of the preparation for Bahrain, the U14s over the last week took part in a friendly tournament that included Nitra of Slovakia and Jitex of Sweden.
"We held this tournament so the players can get a feel for international football and as preparation for the West Asia Championship," Muslim Ahmed of the Women's Football Committee (WFC) said.
"The schedule will be tight in Bahrain as they will play three matches in three days, have a day's rest, and then play on the fifth day. That was replicated at the tournament."
After a tentative start, the Emirati youngsters did well.
In their opening match, on April 8, they lost 2-1 to Nitra. There was a huge improvement intheir next match: a 5-0 win over Jitex.
That was backed up with a 2-1 win in their second match against Nitra. The team concluded the matches with a 3-2 loss to the Swedish team last Sunday.
Already the likes of Salha Rashid and Alanood Khaled Fakher have stood out with their contribution and goals.
"The team came out with a lot of positives from the friendly tournament, especially as they faced teams with more experience in European football," said Alia Al Hussaini, another WFC member.
http://www.thenational.ae/sport/football/womens-football-game-making-great-strides-in-the-uae-on-senior-and-youth-levels
------------
UAE Friday sermon: Avoid overly lavish weddings
17 April, 2015
People should remind one another to refrain from overly lavish weddings, Muslims will be told on Friday.
"Overspending causes damage to one's lifestyle ... and risks one's self to become arrogant," says today's sermon. "Our daily lives are always filled with occasions and banquets, weddings and parties where generosity is praised and wanted, whereas overspending is frowned upon."
Therefore, it is the responsibility of each one of us to convince one another not to overspend on wedding ceremonies – "the wise one is always careful to spend moderately".
"Wasting natural and environmental resources is prohibited in the Islamic Sharia, because resources are a great blessing that should be preserved."
Even the overuse of water during ablutions is frowned upon. The sermon cites an incident from the days of Prophet Mohammed, when he passed one of his companions, Sa'ad bin Abi Waqas, as he was performing ablutions. The Prophet said to him: "what is all of this waste [of water]?"
The companion replied: "Is there waste in ablution?"
Prophet Mohammed said of course – even if one was using a running river for ablutions.
The sermon states: "Waste is not restricted to water, but includes various energy sources such as electricity, which we could preserve by choosing [power] saving devices, and by taking advantage of solar energy, and turning off devices when we are not using them."
Parents should enrich their children with these traits so they can grow a saving culture.
http://www.thenational.ae/uae/heritage/uae-friday-sermon-avoid-overly-lavish-weddings
------------
Muslim Women Should Be Allowed to Wear the Veil in Court, Britain's Top Judge Suggests
17 April, 2015
Judges should allow Muslim women to appear in court wearing a full-face veil, Britain's most senior judge has suggested.
Lord Neuberger, the President of the Supreme Court, said it was crucial that courts and judges "show, and be seen to show" respect towards different customs.
He said this included having an understanding of the "different cultural and social habits" of those appearing as witnesses, defendants or jurors in cases.
His comments, in a lecture about the need for courts to be less intimidating, come at a time of uncertainty over the place of the Muslim Niqab, or full face-veil, in the legal system.
In 2013 the Lord Chief Justice, Lord Thomas, said there was a need for clear guidance on the issue following controversy over the trial at London's Blackfriars Crown Court of a Muslim woman accused of witness intimidation.
Rebekah Dawson was told that she would be forced to take off her full-face veil if she gave evidence, which she declined to do. She was later jailed for six months after changing her plea to guilty.
In his address to the Criminal Justice Alliance, Lord Neuberger said judges and lawyers often failed to recognise how "artificial and intimidating" courts could be for ordinary people, adding: "I sometimes wonder whether our trial procedures really are the best way of getting at the truth."
He continued: "Would you feel that you had given of your best if you had been forced to give evidence in unfamiliar surroundings, with lots of strangers watching, in an intimidating court, with lawyers in funny clothes asking questions, often aggressively and trying to catch you out, and with no ability to tell the story as you remember it?"
He said this did not mean a call for a major overhaul of court proceedings but said judges, lawyers and court staff must do as much as possible to help people feel at ease in court.
Significantly, he said judges should be "sensitive" to the fact that they usually came from "more privileged sector of society" than many of those facing them, adding: "This is where neutrality shades into the second requirement, respect.
"Judges have to show, and have to be seen to show, respect to everybody equally, and that requires an understanding of different cultural and social habits.
"It is necessary to have some understanding as to how people from different cultural, social, religious or other backgrounds think and behave and how they expect others to behave.
"Well known examples include how some religions consider it inappropriate to take the oath, how some people consider it rude to look other people in the eye, how some women find it inappropriate to appear in public with their face uncovered, and how some people deem it inappropriate to confront others or to be confronted – for instance with an outright denial.
"More broadly, judges should be courteous and, generally, good-humoured; and, while they should be firm, they should never, however great the temptation, lose their temper. "
Dr Shuja Shafi, Secretary General of the Muslim Council of Britain, said: "No one disputes that in the dispensation of justice, the law of the land must be upheld.
"Lord Neuberger's eminently sensible statement also upholds our best British traditions of accommodation and fair play.
"A judge who respects and is attuned to the sensitivities of those in the court room should hopefully expect better results. In the case of the minority of those people who do cover their face for religious, cultural or any other reason, they should be allowed to do so unless the situation demands otherwise."
But Keith Porteous Wood, Executive Director of the National Secular Society, said: "Lord Neuberger understandably recommends judges understand the expectations of how those 'from different cultural, social, religious or other backgrounds think and behave and how they expect others to behave' and that the judiciary should show 'respect to everybody equally'.
"It was a missed opportunity, however, not to acknowledge that occasionally – for example on a defendant wearing a full face veil – doing so might conflict with justice being seen to be done, or even justice being done.
"My concern is not theoretical; it is now 18 months since a judge at Blackfriars Crown Court wasted a great deal of court time dealing with the question of full-face veils, and made a heartfelt plea for central guidance to avoid this inefficient use of expensive court's resources being replicated elsewhere. The Lord Chief Justice's office has been dealing with this for a long time but seems disappointingly reluctant to issue any direction."
Suleman Nagdi, of the Leicester-based Federation of Muslim Organisations, described Lord Neuberger's remarks as "heart-warming and really welcome".
"This is what our great British system is built on: respect for the other," he said.
"We must remember that there is an impact on legislation in other parts of the world whenever we show good practice in the United Kingdom.
"I am sure that this example will be followed in other parts of the world which are less tolerant in respecting minority communities."
http://www.telegraph.co.uk/news/uknews/law-and-order/11543712/Muslim-women-should-be-allowed-to-wear-the-veil-in-court-top-judge-suggests.html
------------
Chibok Girls Anniversary: Hundreds Gather In New York To Support #BringBackOurGirls
17 April, 2015
One year to the day after the world learned that Boko Haram had kidnapped 276 girls from the Nigerian city of Chibok as part of a continued campaign of violence, a group of over 300 people gathered in New York City, more than 5,500 miles away, to show support for the ongoing search effort and to ask authorities to work harder.
"What is the reason that the world has not turned its attention to these girls," Rev. Herbert Daughtry, activist and presiding minister of the House of the Lord Church, asked the crowd moments before they marched to the Nigerian Embassy.
The kidnapping "anniversary" was also marked with massive protests in the Nigerian cities of Abuja and Lagos. The crowd gathered in New York was comprised of people representing dozens of ethnicities and religions in an attempt to show nondenominational support for the girls, and to condemn the actions of Boko Haram, a militant group with ties to Islamist extremism.
"It's so important for us to be united and look at the things that bind us. We all cry the same," said Debbie Almontaser, president of the New York City-based Muslim Community Network, to the crowd of people gathered outside the United Nations church center, many of whom were wearing numbered signs, in homage to the number of girls who were taken.
"We are all here as people of faith," Almontaser said. "Those who aren't people of faith are people of good conscience wanting good for their fellow human beings."
http://www.ibtimes.com/pulse/chibok-girls-anniversary-hundreds-gather-new-york-support-bringbackourgirls-photos-1883929
------------
Viral Video Appears To Show Sydney Train Passenger Defending Muslim Woman Against Hateful Rant
17 April, 2015
A commuter has been caught on camera defending a fellow passenger from a hateful tirade on a train in Sydney, Australia.
In the shocking video, an elderly woman is seen asking a Muslim woman: "Why are you wearing it [a head scarf] for a man who married a six-year-old girl?"
Shocked, Stacy Eden jumped to the woman's defense.
In the clip, Eden is heard telling the woman: "She wears it for herself, she wears it because she wants to be modest with her body okay? Not because of people like you who are going to sit there and disrespect her."
The woman continues: "Read the newspapers, 148 Christians murdered in Kenya, they're killing each other in Syria."
Eden responds: "That's not her doing that, that's a minority of people not a majority. Have some respect. What's that got to do with her?"
The woman admits: "Nothing."
Eden wraps up the argument with some well-need advice: "If you've got nothing nice to say, don't say anything."
Speaking to Australia's ABC News, the 23-year-old said that she saw the woman speaking to a passenger accompanied by her husband and a baby.
Eden explained: "The old lady actually bent over and touched the lady's scarf while she was talking. I didn't think anything of it."
She then realized that the woman was abusing the couple, who remained silent.
Eden said: "The lady next to me was saying things like 'all the people that were dying were because of the Muslims in the world and look what's happening overseas'."
She said that the woman continued: "Read the newspapers, why are you following this religion for, why do you wear things like that so you can marry a man who's going to go marry a 6-year-old?"
"I was like, 'This isn't right, why are you saying these kinds of things?' She was picking on her for the way she was dressed and that's what really got to me.
"This lady that was sitting across from me wearing a scarf, she was minding her own business, she never said anything out of line, she never even spoke.
"That's why I decided to say something because it just made me really angry and upset."
Eden said she stayed on the train past her stop to ensure that the couple were able to get off the train without further harassment.
On her Facebook page she wrote:
I listened to this woman bad mouth muslims and call the lady sitting opposite me an ISIS supporter because she wore a scarf, then she told me to go join ISIS because i was sticking up for her.
People like this make me sick. People who are so ignorant and disrespectful to other people who were clearly sitting there minding their own business.
People need to stop judging and putting others down over religion! EVERY RELIGION HAS GOOD AND BAD but if you take it back to the foundations, every religion is also built on LOVE. To LOVE one another. The purpose of religion is to control yourself, not to criticize others.
Hafeez Ahmed Bhatti, the victim's husband, posted a message on Facebook and said: "This video was not made by me. That is what happened to us on a Sydney train, God bless Stacey Eden she supported us".
Eden has since become something of celebrity in Australia and her Facebook page has been inundated with well-wishers.
http://www.huffingtonpost.com/2015/04/16/sydney-passenger-defends-muslim-woman_n_7078542.html?ir=India
------------
Palestinian Women Join Effort to Keep Jews From Contested Holy Site
17 April, 2015
JERUSALEM — The women, covered face-to-toe, surrounded the Jewish group walking through the contested holy site in Jerusalem. "The army of Muhammad is coming!" the women shouted.
One woman covered her face with a poncho as she chanted against the Israeli police, who were guarding a group of religious Jews visiting the sprawling compound that Jews call the Temple Mount and Muslims call Al Aqsa, or the Noble Sanctuary. Another woman concealed her face with a fur stole. Tourists quickly vanished.
The chaotic scene, which has become routine at the sacred site, was led by a group of women known in their community as Muslim garrison soldiers, or mourabitat. They say it is their role to protect the integrity of the Noble Sanctuary from religious Jews who want to pray at a contested site that is held sacred by both.
"We are guardians for the sake of God," said a 57-year-old woman named Mona, who, like the others, would not provide her last name for fear of arrest.
"Everybody must protect Al Aqsa so the Jews don't take it," said the woman, wearing John Lennon-style eyeglasses, her maroon head scarf firmly pinned on. "They have their eyes on it."
The women are the most striking element of a mixed Palestinian effort to strengthen their hold on the compound. They fear Israel seeks to seize or divide the property, and they do not trust the assurances of the Israeli prime minister, Benjamin Netanyahu, that he will continue to bar non-Muslims from praying there.
The 37-acre compound in Jerusalem's walled Old City is the holiest site in Judaism and the third holiest place in Islam. Muslims believe that the Prophet Muhammad's mystical journey took him from Mecca to Al Aqsa, and from there to the heavens. And it is for Jews the site of the First and Second Temples. Israel captured the compound — along with the rest of the Old City from Jordan in the 1967 war — but returned administrative oversight to Jordan. Israel maintained security and the ban on non-Muslim prayer.
A small group of religious Jews have for years sought to pray at the site, and more Jews have visited in the past few years, increasing tensions that burst into violence last fall. In a rare move, Israel closed the compound for a day, prompting Jordan to recall its ambassador, who returned only in February.
Reinforcing Muslims' own claim to the site, in 2010 an organization called the Israel-based Islamic Movement began busing in thousands of Palestinians for prayers, encouraged school excursions and urged Muslims to marry at Al Aqsa through an organization that it established. It also started study circles on the stone platforms scattered throughout the site, paying participants $300 per month to keep vigil all day.
With Israel restricting young men's access in times of tension, the circles were opened to women in 2012. Hundreds signed up.
During classes, students chanted loudly when Jews entered. Israel shut down the organization that made the study circles in September, said its former director, Hikmat Naamnih, but the women kept coming.
"It's like God gave us a gift, a place to stand guard," said Hayat, 40, whose seven older children watch her toddler while she is at Al Aqsa. "You feel then how much value you have."
Mustafa Abu Sway, dean of Islamic studies at Al-Quds University, said Islamic history had female warriors, but never what he described as female guardians of a holy site in quite this way. "There is no similar situation," he said. The mourabitat "found themselves at the front line, and now," he added, "they have changed the dynamic."
The women said some Palestinian men mocked them, unused to women defying authority.
"Some say it's not good for women to be in the barrel of the cannon," Hayat said. "Why belittle the abilities of the women who are here to defend Al Aqsa?"
Hayat paused. "Until when do we wait for a savior?"
Micky Rosenfeld, an Israeli police spokesman, declined to say how many women have been barred from the site since they began their activities. But the women said about 60 were barred from Al Aqsa in 2013, and nearly as many in just the first three months of this year, most for two weeks at a time.
In recent weeks, Mr. Rosenfeld said, the women have progressed from chanting at Jewish visitors to chasing them; some who are barred from the site stand outside the gate and shout at Jews as they exit.
"It's very unsettling to many people," said Rabbi Chaim Richman, international director of the Temple Institute, a group based in Israel that calls for reinstating the third Jewish temple and organizes tours of the Temple Mount. "It's basically incitement."
The women arrive around 8 a.m. and stay until non-Muslim entry is stopped at 3 p.m. They exchange tips, like how to remain anonymous: Cover your face and change your clothes, including your shoes, before leaving the Israeli-guarded gates. In police interrogations, do not give away your friends' identities and say you are a student.
On a recent morning, several dozen women gathered on stone stairs near the Al Aqsa entrance for tourists. They passed around tea and snacked on sesame seed-coated bread, ignoring the visitors, many of them with scarves wrapped around their legs in a hasty try at modesty.
They were keeping an eye out for Jews in religious dress, generally a tiny minority among the hundreds of non-Muslim tourists pouring through every day.
Suddenly a woman hollered — "Settlers!" — referring to religious Jews.
"God is great!" the women chanted, raising scarves and books to form a faceless choir. About 10 gave chase. About 10 men joined and surrounded the Jews. "The community of Muhammad does not kneel!" they shouted in Arabic.
A grinning Jewish visitor filmed the Palestinians. Police officers filmed the women, and a woman filmed them in return.
Chanting, the women and men followed the group around the compound. Some tourists scrambled out of the way. Others wildly snapped photos.
"Is it always like that? It's crazy!" a tourist said to a policeman.
"They don't believe Jewish people can visit," he shrugged.
After the confrontation, the women settled back in their circle. One woman passed around sweets. Another continued knitting a yellow poncho for her granddaughter.
Mona said she had joined the study circle because she had nothing else to do. "It takes me two hours to clean the house. Then what?" she said.
She said she enjoyed the bird-chirping, pine-scented tranquillity of the compound. "I'm not relaxed, except here," Mona said, kissing her fingers in a sign of gratitude. "This is the gateway to heaven."
Asya, 27, a single mother of a 4-year-old, said she had joined the study circle because "Al Aqsa is the only place my father lets me go." But she frowned at mocking the police. "Maybe we are offending them, and turning them away from Islam."
The women broke into chants several times as the day passed. One older women, in particular, called Jews pigs and apes.
Asya and Hayat took a break to attend a friend's wedding at one of the compound's mosques, stained-glass windows softening the light.
A sound filtered in from a distance: A woman was shouting at a new group of Jewish visitors.
http://www.nytimes.com/2015/04/17/world/middleeast/palestinian-women-join-effort-to-keep-jews-from-contested-holy-site.html
------------
Malaysian Minister's Reasoning Why Women Join IS Is Chauvinistic
17 April, 2015
According to Datuk Seri Jamil Khir Baharom, who is in charge of Islamic Affairs, women who join Islamic State (IS) are often lonely and fragile "Lonely women who can't sleep at night will stay awake and be online on their Facebook. They are still online on Facebook at 2am or 3am".
His remarks only provide an extremely oversimplified generalisation and are not coherent enough to provide the solution our government needs to combat the rapid "radicalisation" of Malaysian men and women.
Radicalisation is a process where individuals embrace extreme socio-political and religious ideologies. They become enthralled by dangerous ideas; consequently, these individuals will downright reject any notion of freedom, social justice and human rights that is understood in our progressive world.
The International Centre for the Study of Radicalisation, an organisation based in the UK, has identified three main reasons why some women may be inspired to join the IS: the alleged oppression of Muslim people, a desire to establish an ideologically pure Islamic state and a sense of personal religious duty to facilitate this process.
Even though, some of the recruits may experience some level of culture shock – as they are thrust into a very different environment and made to live in a social structure that is incredibly misogynistic, the level of radicalisation they have experienced allows them to part with their families and leave the comforts of their homes – and this kind of reckless abandonment is dangerous to democracy.
Reports estimate that approximately 550 women from western countries have travelled to ISIS-controlled territories. So far, in Malaysia, a total of 173 Malaysians have been arrested for joining IS and the youngest recruit (to date) was a 14-year-old girl. Past reports also emphasise the possibility of these numbers being higher as many other recruits have not been detected or have simply 'fallen off the grid'.
IS has gained quite a reputation for being internet savvy and skilled for spreading its radicalised version of religion through social media. Potential recruits are motivated by the romantic idea of fighting for a divine cause and to rectify the wrongdoings brought upon by the Western civilisation. Hence, many unassuming individuals fall for this heavily romanticised fallacy that also "promises" some level of excitement and sense of adventure.
Reasons why individuals join IS vary from one case to another; each cases is highly complicated and has more to do with radicalisation than the quest for love, unlike what Datuk Seri Jamil Khir Baharom insinuated in his statement ("Women who felt empty, alone and lonely, and decided to join the Isis militants, might end up falling in love").
The threat of IS is real and the atrocities committed against women, men and even young children are repulsive. Therefore, it is only in our country's best interests that those in power refrain from making chauvinist statements that alienate and demean women. Sweeping statements that provide very little practicality and lack of prudence are also incredibly hurtful to the families that are affected by these recruitments.
Syerleena Abdul Rashid is DAP Wanita Bukit Bendera Political Education Director; DAPSY Bukit Bendera Secretary, and Councillor to Majlis Bandaraya Pulau Pinang (MBPP).
http://www.freemalaysiatoday.com/category/highlight/2015/04/17/ministers-reasoning-of-women-is-recruits-is-chauvinistic/
------------
Mason Principal Cancels Muslim Event, "Covered Girl Challenge" Apologizes
17 April, 2015
The Mason High School's Muslim Student Association April 23 event - the "Covered Girl Challenge" - has been cancelled by principal Mindy McCarty-Stewart.
The cancellation, announced in a Thursday night email to MHS parents, comes in response to negative backlash received by school officials for an email sent by school officials earlier Thursday.
The initial, informational email sent by school officials from their Student Activities Department account publicized the event, and appeared to endorse it.
McCarty-Stewart has apologized for the initial email, and to anyone offended by receiving it.
"This (previous) communication should not have come from our Student Activities Department because this was a student-led initiative, rather than a school-sponsored activity," McCarty-Stewart wrote in the email. "We will put procedures into place in the future that ensure that any communication from a school email is for a school-sponsored event, and not merely supported by a student-run group.
"As the event spread beyond our school community, however, we received many strong messages that made me reconsider the event's ability to meet its objectives. I now realize that as adults we should have given our students better guidance. After much consideration and after talking with the student event organizers, we have cancelled the event."
As part of the MSA's Covered Girl Challenge, female students were to be asked to consider wearing a Hijab, or a traditional Muslim woman's headdress, during the April 23 school day, according to the initial email. The event was to have been voluntary.
Mason City Schools officials did not respond to multiple Enquirer requests for comment Thursday night.
Previous report: Mason High School's Muslim Student Association is holding an event in which female students will be asked to consider wearing a Hijab, or a traditional Muslim woman's headdress, during the April 23 school day.
In an email sent to Mason High School parents Thursday, school officials said the scheduled "Covered Girl Challenge" event was created to celebrate the school's unique and diverse student body.
The email, published by JihadWatch.org, was obtained by The Enquirer from multiple Mason High School parents.
"In order (to) celebrate this diversity and promote open mindedness, the Muslim Student Association is inviting all female students to participate... Afterwards, there will be a discussion (open for all students, male & female)."
Mason City Schools did not immediately to Enquirer requests for comment.
The event has sparked a debate on Jihad Watch and on Facebook.
On Jihad Watch, comments ranged from criticism of Mason City Schools employees for allowing the event, to claims that the Mason High School Muslim Student Association has ties to the Muslim Brotherhood.
Comments in a Mason and Deerfield Township Facebook group pointed to outrage from some locals about the event taking place.
Kim Skindzier, 47, of Mason, surveyed and discussed with her husband the nature of the Facebook and other internet comments regarding the school's event. Skindzier, who has two children and one international exchange student from Barcelona enrolled at Mason High School, said she disagreed with most of the people offended by the event.
It's important to to keep in mind that the event is voluntary, Skindzier said.
"The school did not organize this," Skindzier said. "It was organized by a group of girls who have a club within the school... A couple of people (commenting) have mentioned 'separation of church and state,' that schools need to stay out of religion, that their constitutional rights were being violated.
"It is not the school who organized this. And there are other organizations in the school that are faith-based. My son belongs to one of them. I'm under the assumption that if they (the other faith-based organizations) wanted to create something, they could. It's not that they can't. It's that they haven't."
http://www.cincinnati.com/story/news/2015/04/16/mason-high-school-asks-female-students-to-wear-islamic-hijab/25909373/
------------
URL: https://newageislam.com/islam-women-feminism/human-rights-watch-reveals-harrowing/d/102519