New Age Islam News Bureau
25 Jul 2020
• In Sweden, Female Priests Now Outnumber Male Ones
• KAUST Trains Saudi Women in Cybersecurity
• Lisa SmithAccused of Financing Terrorismas Well as Being A Member of ISIS
• Saudi Arabia Allows Raunchy Vogue Arabia Photoshoot In Madina Province
• These 10 Women In UAE Made A Difference By Distributing 10,000 Food Kits
• Amid Coronavirus, Kenyan Women Risk Their Lives To Give Birth
• UK Politicians Switch from Vilifying Burqas to Mandating Masks
• 64,577 Saudi Women Employees Benefit From 'Wusool' Program
Compiled by New Age Islam News Bureau
URL: https://www.newageislam.com/islam-women-feminism/how-tiktok-became-egypt-latest/d/122468
--------
How TikTok Became Egypt's Latest Battleground Against Women
24 July, 2020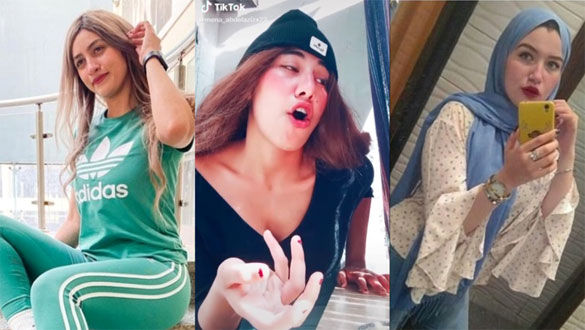 (L-R) Mawada al-Adham, Menna Abdul Aziz and Haneen Hossam have all been arrested. [Twitter]
-----
The arrest of two women in Egypt's Nasr City last week for their activity on social networking site TikTok comes as no surprise, given they are the latest in a string of a dozen so-called TikTok girls accused of using the platform to violate Egypt's "family values", a crime punishable by six months' in prison and a hefty fine.
Just as those arrested before them, the public prosecution has charged the pair with "immoral practices", a vague term implying prostitution by way of the video platform.
However, a petition circulated by a group campaigning against what it calls a "systematic crackdown" against women influencers on the highly popular video platform reveal their real crimes may be as innocuous as posting selfies in fashionable clothes or taking part in the latest dance craze. In other words, normal teenage online behaviour.
The "immoral behaviour" charge has even been levelled against women using the site to make a call for help about a rape and blackmail ordeal, as in the case of Menna Abdul Aziz, who was arrested, detained, and charged after doing so in April.
Last Thursday's incident takes the tally of TikTok arrests to at least 12 in the past four months. Those facing punishment have several things in common: they are young, female, and from middle or lower-class backgrounds.
Justice for some women
As the campaign group has underscored, the crackdown comes at a watershed moment for combatting sexual assault in Egypt, making it not only a crackdown on women by the civilian and state moral policemen, but an open show of the prosecution's hypocrisy and a telling judgement on which women it feels it must police the most.
In a landmark development for women's rights in Egypt, the public prosecution has taken action against alleged serial rapist and former American University in Cairo (AUC) student Ahmed Bassem Zaki. Zaki's arrest was prompted by a deluge of victim testimonies and evidence uploaded onto social media, with over 50 women accusing the 22-year-old of rape.
Known as the #ABZ case, the public prosecution took action based upon these allegations made over social media, not formal complaints lodged with the judicial body. The National Council for Women (NCW) - a nominally independent but state-aligned organisation - praised this action. The law was also changed to allow victims of sexual assault to remain anonymous. These were all highly commendable and long-awaited developments for many.
But Zaki's status as a luxury-compound dwelling, son of a telecoms mogul, prestigious university attending young male also bought him opportunities to prey on, assault and silence women. The victims were largely from these same wealthy circles
Despite their huge popularity on the app, the TikTok girls lack the wealth or connections to influence Egypt's decision-making bodies.
Their videos are not like highly polished and curated Instagram feeds of wealthy influencers, but fun and carefree content, singing along to popular songs against the backdrop of their more modest neighbourhoods.
The NCW has not yet come out to support them despite the viral social media campaigns in their defence.
Menna Abdul Aziz is just a teenager, while others, including Haneen Hossam who was arrested in April, are university students. Some wear the hijab, others choose to sport crop tops and ripped jeans. Mawada al-Adham and ManarSamy, arrested in May and June respectively, have budding careers as influencers across TikTok and other platforms.
Nearly all have been accused of trying to use the platform, albeit in "immoral" ways, to build a large following and make money.
Herein lies another of the regime's duplicities: it cracks down on women for allegedly earning money from social media, but increasingly cuts off this demographic from well-paid jobs, and sits by as living standards continue to decline. Meanwhile it jails women for prostitution for posting a selfie on social media, but supports a niqab ban at university.
Who gets to define family values?
Since its establishment in a clause of Egypt's 2018 Cybercrime Law, "Egyptian family values" has been a bone of contention with rights campaigners in the country, who argue that the term is left undefined and deliberately vague in order to adapt to the whims of the public prosecution.
Article 25 of the law, which gives the state increased powers for online surveillance, blocking websites, and monitoring internet users, punishes anyone who attacks these unspecified values with six months in prison and/or a 50,000 EGP ($3,100) fine.
As the petition reads: "If Tik Tok women are being punished for their content that 'violates the Egyptian Family Values', could we at least know what [those values are]? Which family do we mean?"
The hashtag #بعد_اذن_الاسرة_المصرية - "if the Egyptian family allows" - has also been circulating social media, encouraging people to speak out against the hypocrisy of the law.
According to Egyptian journalist and researcher Nourhan Fahmy, the scope of cyber monitoring was further expanded in 2019 with the appointment of the new Public Prosecutor, Hamada al-Sawy, who established a new monitoring unit dedicated to social media.
"While this unit does have a positive impact in monitoring complaints like what happened recently with sexual predator Ahmed Bassam Zaki's case, there are countless other cases including journalists, human rights defenders and most recently, the Tiktok girls, who have been targeted as well," Fahmy told The New Arab. "Therefore, there is an apparent expansion in the pool of suspects as a result of this increased social media monitoring."
How the TikTok case has played out also exhibits how this law works in the favour of men.
"Some citizens, who also happen to be males, [are willing] to act as 'guardians' of these purported societal values and go on to track and report women vloggers, or simply any woman or girl who broadcasts videos that they deem are inappropriate and file a complaint," said Fahmy. "The receiving end here, which is the prosecution, take such claims seriously and go on to investigate."
This is of course provides another jarring contrast with Menna Abdul Aziz reporting her ordeal on the site, while other alleged victims of harrowing assaults, including a group of women who took to social media in 2018 to accuse Egyptian footballer Amr Warda of rape and harassment, are also ignored.
Fahmy argues this unofficial cooperation between male civilians and the authorities to police women is a tool to optimise the control of female bodies and behaviour. This "reflects the conservative, patriarchal hegemony embodied in state laws and regularly reinforced by the state and its media," Fahmy added.
Egyptian activist Salma El Hosseiny agrees. "It really has to do with the fact that women's bodies are not theirs, they're always considered as their relation to their brother, their family, the state," she told The New Arab.
In the TikTok case, this effect is compounded by the fact that even if these women also complained themselves, the prosecution would never act on their accusations, however serious. These women's definition of the violation of "family values" does not matter.
"Just because someone files a complaint doesn't mean that the prosecution follows it up," said Hosseiny. "Victims of torture file complaints all the time and the prosecution never follows it up."
"Regardless of whether [these men] do this to rich women or not, the prosecution is also a patriarchal structure," says Hosseiny. "They think the state has a role to manage morality. But the problem is what kind of morality? It depends on who you ask. Some families would say FGM is part of Egyptian family values. The reason it got used against these women is because they have no one to back them up."
Why TikTok?
Moreover, this makes these women the first in the firing line on Egypt's ever-expanding demolition of civil society.
"They are the weakest in the ecosystem," said Hosseiny. "If their plan is to shut down TikTok, they'll start with those who they know neither society, that also has these prejudices, nor their parents, are influential and can defend them."
Fahmy called it a continuation of the crackdown on rights and freedoms that began in 2013, "first with the Muslim Brotherhood and their supporters, then expanded to encompass civil society more broadly to include journalists, lawyers, human rights defenders, political opposition and now, individuals, especially girls with a large following on social media."
Ironically, and tragically, this crackdown also delineates the potential these enterprising and popular women have, and why they are thus considered so threatening to Egyptian society, as judged by men.
"Everything is a threat to them," says Hosseiny. "These women are not talking about politics, but what about if one day, one of them decides to use that platform? And then that's a threat," she said, citing the example of Mohamed Aly and his videos that led to a rare outbreak of mass anti-government protests in 2019.
The same effect was witnessed during the 2011 uprisings, which were facilitated by the mass mobilising power of new social media platforms, empowering legions of young people from Egypt's working-class neighbourhoods.
Egypt's campaign against civil society will no doubt continue, but the untapped potential of these young and resourceful women will remain, if for the mean time under the surface.
https://english.alaraby.co.uk/english/indepth/2020/7/24/how-tiktok-became-egypts-latest-battleground-against-women
--------
In Sweden, Female Priests Now Outnumber Male Ones
July 22, 2020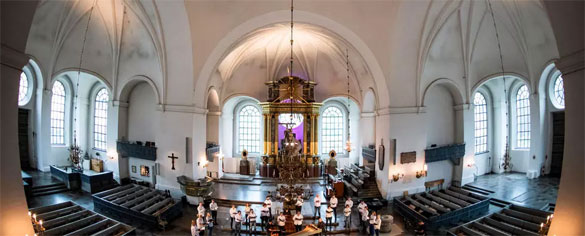 Jonathan NACKSTRAND AFP
----
Of the 3,060 priests currently serving in Sweden, 1,533 are female
For the first time in history, Swedish female priests outnumber their male counterparts, sixty years after they were first allowed to don the clerical collar, the Church of Sweden said on Wednesday.
Of the 3,060 priests currently serving in Sweden, 1,533 are female, or 50.1 per cent, according to Cristina Grenholm, secretary for the Church of Sweden.
"From a historical perspective, this parity happened faster than we earlier imagined. A report from 1990 estimated that women would be half of the total clergy in 2090. And it took thirty years," Grenholm told reporters.
Unlike the Catholic Church, the Lutheran Church of Sweden has allowed female priests since 1958 and first ordained three women in 1960.
In 1982 the Swedish parliament also scrapped a "conscience clause" that allowed members of the clergy to refuse to cooperate with a female colleague.
Women have been over-represented on theological courses, especially since the separation of church and state in 2000, and accounted for 70 per cent of those training for ordination in a study in 2013.
"Many parishes during the Sunday service try to have both a man and a woman at the altar," Grenholm said.
"Since we believe that God created human beings, both men and women, in God's image, it is essential that we do not only speak about it, but that it is also shown," she added.
However, there is a wage gap between male and female pastors - averaging 2,200 Swedish kronor ($248 or 215 euros) per month according to the church's newspaper KyrkansTidning.
Grenholm said this was due to more men being in higher positions of authority.
In Sweden, ministers in the Church of Sweden have the title of priest, while those serving in parishes outside the former State Church are referred to as pastors.
https://www.khaleejtimes.com/in-sweden-female-priests-now-outnumber-male-ones
--------
KAUST Trains Saudi Women in Cybersecurity
24 July, 2020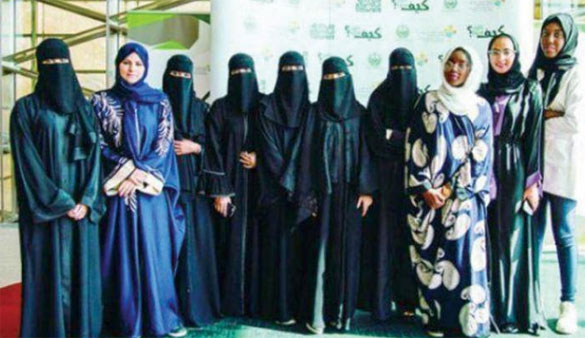 Saudi cybersecurity graduates
----
The King Abdullah University of Science and Technology (KAUST) announced that it will provide cyber-security training to Saudi female graduates in partnership with RSA and the support of the Early Career Accelerator Program, which the university established to engage more women in IT and in the national digital transformation and equip them with the skills and knowledge they need to obtain jobs in the local market.
Speaking about the program, Samer Samman, Chief Human Resources Officer at KAUST, explained, "Opportunities in cybersecurity in the Middle East were limited in the past for women."
"It is time to change that. The initiative was launched by the National Cybersecurity Authority during the Global Cybersecurity Forum at the beginning of this year, in order to support the women working in this field through a series of initiatives, emphasizing the Kingdom's commitment to increasing women's participation in the labor market within the framework of (Vision 2030)."
Four female graduates from the University of Prince Mugrin in Madinah who had finished their holistic risk management training took part in the inaugural program.
KAUST and RSA will continue to provide graduates with consultation guidance and support for a year and a half after they complete the program, as they apply the skills they garnered during their training in the workplace.
Those in charge of the KAUST program expect to accelerate career development and become a continuous initiative held every year, with between two and four female graduates participating in each, to give participants the opportunity to work in different areas of digital risk management.
"We believe it is imperative that cybersecurity companies such as RSA support initiatives that bridge the cyber skills gap, presenting the broader technology sector with a model to replicate," says Gennaro Scalo, director of the Group's Risk Committee at RSA in Europe, the Middle East and Africa.
"It is a source of pride that my RSA team has equal representation of both genders, and I am glad to see these young Saudi women pave the way for this becoming the rule, not an exception."
https://english.aawsat.com/home/article/2408956/kaust-trains-saudi-women-cybersecurity
--------
Lisa Smith Accused of Financing Terrorism as Well as Being A Member of ISIS
24 July 2020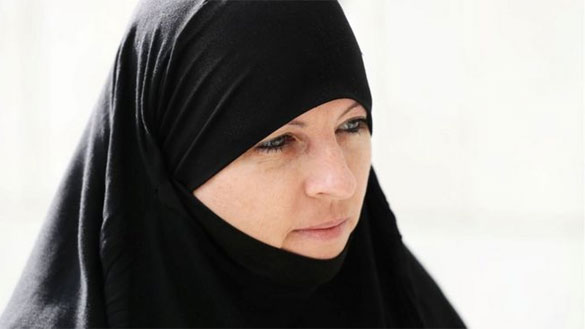 Lisa Smith pictured arriving at Dublin District Court on Friday morning
-----
A former member of the Irish Defence Forces who is accused of membership of the group calling itself Islamic State (IS) is facing an additional charge.
Lisa Smith, who is originally from Dundalk in County Louth, is now accused of financing terrorism as well as being a member of IS.
The 38-year-old appeared before Dublin District Court on Friday.
The new charge relates to the transfer of €800 (£728) via a Western Union account in 2015.
Ms Smith travelled to Syria more than eight years ago and was deported back to Ireland late last year.
The hearing at Dublin District Court was told that she will be tried at the non-jury Special Criminal Court.
However, her solicitor said the defence would challenge this decision because Ms Smith was being denied her fundamental right to a jury trial.
A Garda (Irish police) sergeant from the Republic's Special Detective Unit told the court that officers charged Ms Smith with the new offence at the courthouse on Friday morning.
The sergeant said she made no reply when the charge was put to her.
The judge remanded Ms Smith on continuing bail for another week.
She is due to appear again in court next Friday when the book of evidence is expected to be served.
https://www.bbc.com/news/world-europe-53528298
--------
Saudi Arabia allows raunchy Vogue Arabia photoshoot in Madina province
July 9, 2020
Saudi Arabia has stoked controversy after it was revealed that it gave permission for Vogue Arabia to conduct a raunchy photoshoot of international supermodels within the historical site of Al-Ula in the province of Madina.
Vogue Arabia, the Arab edition of the renowned US-based fashion magazine, released its 24-hour campaign photoshoot for the New York-based label Mônot yesterday, which featured models such as Kate Moss, MariacarlaBoscono, Candice Swanepoel, Jourdan Dunn, Amber Valletta, Xiao Wen and Alek Wek.
In the photoshoot, named '24 hours in AlUla,' the models were seen wearing tight dresses with thigh-slits while they posed and walked around the UNESCO World Heritage site, known as the world's largest open air museum consisting of carved rock structures similar to Jordan's Petra.
The Lebanese designer Eli Mizrahi, who organised and directed the shoot, said: "I convinced the talent that they would look back on this moment — 24 hours in AlUla — as something special. Kate Moss not only came, but she was the first one on set at 5 a.m. and the last to leave."
The nature of the shoot and the dresses worn in them are classed as immodest by many Muslims, and despite the fact that the distance of the site is around 300 kilometres from the holy city of Madina, it is within the same province which many see as inappropriate for the Saudi authorities to have allowed.
The controversial photoshoot is part of a series of reforms that the kingdom has been implementing in recent years in order to open up its economy to international tourism and modernisation. Such reforms, which include the decrease in authority of the religious police, the lifting of restrictions in gender mixing, and the stripping of the requirement for women to wear the abaya or loose gown, are also part of the Saudi Arabia's Vision 2030.
https://www.middleeastmonitor.com/20200709-saudi-arabia-allows-raunchy-vogue-arabia-photoshoot-in-madina-province/
--------
These 10 women in UAE made a difference by distributing 10,000 food kits
July 25, 2020
'Since February, we have distributed over 10,000 food kits and 37 air tickets to individuals and families in need'
A community group consisting of 10 Indian ladies have distributed over 10,000 food kits to distressed individuals and families amid the Covid-19 outbreak.
The informal group, Community and Social Work (CAS) Ladies formed in 2008, is spearheaded by a small, tight-knit group of working women and homemakers.
The group, with support from the PravasiBharatiyaSahayata Kendra (PBSK), a welfare initiative for providing support to Indian expatriates in need, and the Consulate-General of India in Dubai, has also distributed 37 free air tickets to stranded Indian expats. Formerly known as the Indian Ladies Association (ILA) in Dubai, the group has been actively involved in resolving issues of distressed Indians and running awareness campaigns in the UAE.
Kusum Dutta, social worker and member of the group, told Khaleej Times: "Since February, we have distributed over 10,000 food kits and 37 air tickets to individuals and families in need. We have a wish list for the grocery kits. Each bag contains basic amenities to keep a family or individual running for a few weeks to a month at least." The bags contain lentils, rice, flour, oil, spices, biscuits, noodles, tea, sugar, and canned milk for example.
The kits are distributed to labour accommodations and homes of couples and families in need. She explained: "We receive recommendations of families in need from the consulate as well as the PBSK. We have a simple screening process and those with genuine need are given these food kits as well as the air tickets."
Members of the group have said they were overwhelmed by the generosity of the community during these hard times. Samita Khanna, another member, added: "People in the UAE have been excellent. The Indian community came forward in large numbers to help those in need."
She said the demand for food kits have drastically reduced. "We purchase the food packets from wholesalers, who pack them into smaller bags which can be easily distributed. Initially, we were also packing the kits."
Khanna added: "We have also distributed hot food packets. However, food kits seemed to be the more logical choice. This is going to be an ongoing process, as we will continue to provide food and tickets to those who need help."
https://www.khaleejtimes.com/coronavirus-pandemic/these-10-women-in-uae-made-a-difference-by-distributing-10000-food-kits
--------
Amid coronavirus, Kenyan women risk their lives to give birth
25 July 2020
Veronica Atieno remembers feeling her way through the dark alleys between the shacks that make up Nairobi's slums, picking her way past raw sewage and rusty, razor-sharp metal roofing with trepidation.
Her labor pains had crescendoed during Kenya's coronavirus dusk-to-dawn curfew, and there were no public or private means of transport to the hospital where she had planned to give birth. Fears of heavy-handed police enforcement of the curfew kept possible helpers away.
With time running out, her only option was to reach the home of a traditional birth attendant nearby, Atieno said. But she was scared.
For all the latest coronavirus updates, visit our dedicated section.
"I had many concerns about the health of the baby if she was delivered by the traditional caregiver. How hygenic is her place? Does she have personal protection gear to prevent the spread of COVID-19? What if I need surgery?" she worried as her spasms intensified.
Her plight has played out every night for pregnant women across Kenya, putting some at deadly risk. That has inspired a local doctor to create an emergency service, Wheels for Life.
Kenya already had one of the worst maternal mortality rates in the world, and though data are not yet available on the effects of the new curfew, experts believe the number of women and babies who die in childbirth has increased significantly since it was imposed mid-March.
The concerns drove obstetrician and gynecologist Jemimah Kariuki at the government-run Kenyatta National Hospital to attempt a solution.
"When the curfew started we had open hospitals but no women, and we would hear reports of women delivering at home with very dire consequences: Women would come in the morning with babies who passed in the night or they had ruptured the uterus or had significant tears," she said.
When one mother was reported to have died while in labor, Kariuki felt she needed to do something.
She shared her phone number on Twitter, asking women who needed to consult about their pregnancies to reach out. The tweet quickly went viral.
"The response was overwhelming, I was getting 30 to 40 calls from women telling me, 'I was anxious, I did not know what to do.' In one week I had five mothers calling me like, 'I am in labor and I don't know what to do," she said.
Kariuki started to track down vehicles to provide transportation to health facilities, but few were on the road because of multiple reports of police brutality while enforcing the curfew. Human rights groups have reported at least 23 curfew violators allegedly killed by police, and videos have circulated of baton-wielding officers whipping people.
Kariuki reached out to companies and state organizations for support in providing free services such as transportation and medical personnel. The response was overwhelming, leading to the formation of Wheels for Life.
The Health Ministry, Nairobi University, taxi service Bolt and others pitched in to provide the free services.
"It is really amazing when you can see that people are willing to go beyond the economic gain so that they can help the less privileged in society, especially at a time of COVID when everyone is thinking about cutting costs," Kariuki said.
Wheels for Life has a toll-free number which pregnant mothers call to be triaged and connected to a doctor. If a mother needs medical attention but it's not an emergency, a taxi is dispatched to take her to hospital. If it's an emergency, an ambulance is dispatched.
According to the United Nations' Maternal Mortality Estimation Inter-Agency Group, maternal deaths in Kenya had fallen from 9,100 a year in 2000 to 5,000 in 2017. That translates to 13 recorded maternal deaths daily, down from 24.
Still, the East African country remains among the top 21 in the world for maternal deaths.
Louisa Muteti, chair of the Midwives Association of Kenya, fears that mother and child deaths during childbirth have increased under the curfew.
Muteti said 68 percent of mothers who give birth in Kenya have access to skilled personnel. Others give birth at home using traditional birth attendants or by themselves, and when deaths occur they are not officially recorded.
Transport and security are the biggest challenges under curfew, Muteti said, especially in dimly lit informal settlements.
"That's why some mothers may die at home or struggle and go to hospital in the morning, only to die," she said.
According to the World Health Organization, women die as a result of mostly treatable complications during pregnancy and following childbirth such as severe bleeding, infections and high blood pressure.
WHO emphasizes the importance of skilled assistance during childbirth, saying "timely management and treatment can make the difference between life and death for the mother as well as for the baby."
Kariuki said Wheels for Life has handled 10,950 calls in the last 100 days while 890 women have been taken to hospitals for various issues with their pregnancies.
She envisions the service continuing beyond the curfew, targeting low-income residents and moving beyond Nairobi county. Most users are from informal settlement or low-income areas, she said.
"It's just given me perspective of just how many women are in dire need out there even without the curfew," she said. "Because if a lady tells you they have $5, curfew or not, they were not going to make it to hospital."
Atieno, 23, knows how lucky she is to have survived the birth of her second child without reaching the hospital as planned. After eight hours of labor, she gave birth to a beautiful, healthy baby named Shaniz Joy Juma at the hands of the unskilled traditional birth assistant.
She continued bleeding after birth but managed to reach the hospital in time to treat it.
"Some things is just God's will. I could have died," she said.
https://english.alarabiya.net/en/coronavirus/2020/07/25/Amid-coronavirus-Kenyan-women-risk-their-lives-to-give-birth.html
--------
UK Politicians Switch from Vilifying Burqas to Mandating Masks
July 23, 2020
People in the UK will be soon be required by law to wear masks in shops to prevent the spread of coronavirus. This follows the introduction of mandatory face coverings on public transport in June.
There is evidence that supports the public health benefits of wearing face coverings in public. But the UK government and public have been slow to accept masks as a pillar of the country's coronavirus strategy. This should perhaps come as no surprise after two decades of negative messaging about face coverings, largely targeting Muslim women.
Since 9/11, Muslims in the west have endured constant scapegoating and vilification for their religious and lifestyle choices. This includes the wearing of the hijab, burqa, and niqab – different types of hair and face covering.
These garments have been attacked by politicians, including the UK prime minister himself, often characterised as impeding communication, being non-British and representing an anti-western patriarchal culture.
Banning the burqa, mandating the face mask
The fact that Boris Johnson is now calling for face coverings to be imposed is particularly ironic given his past comments on the subject.
When he was foreign secretary in 2018, Johnson wrote in his column in the Telegraph newspaper that while he opposed a ban on Muslim face coverings, he nonetheless felt "entitled" to see the faces of his constituents, and likened women who wore the niqab to letterboxes and bank robbers. "Human beings must be able to see each other's faces and read their expressions," he wrote. "It's how we work."
These beliefs are not restricted to the Conservative Party. In 2006, Labour foreign secretary Jack Straw wrote about his encounter with a Muslim couple, including a woman who covered her face, describing the "incongruity between the … entirely English accent, the couple's education (wholly in the UK) - and the fact of the veil". In doing so, he further cemented the notion that face coverings cannot be English.
For at least a decade there have been calls to ban Muslim face coverings in the UK. In the aftermath of the Brexit referendum in 2016, more than half the British population said they supported a burqa ban. Many countries across Europe have done so despite negligible numbers of people who are affected by such a policy.
In an act of arguable hypocrisy, France, the first country to ban face coverings in 2011, made them mandatory this month to prevent the spread of coronavirus. Face masks are now required in all indoor public spaces in France from August, but the burqa remains banned.
This means fines can be imposed for those who are not covering their face, but also for those whose face coverings are deemed to be religious in nature. In the UK, however, religious clothing can be used as the mandatory face covering in shops.
Face coverings and 'freedom'
The evidence for wearing a face mask in public to prevent the spread of coronavirus is clear, and research has shown that most face coverings, including the niqab, do not impede communication.
But the repeated association of Muslim women's dress with lacking freedom and being controlled seems to have resulted in a psychological barrier around the use of masks. In a recent viral video, an American woman screams, "We don't cover our face in America. They don't control us. We're Americans!"
There are also echoes of the association between face coverings and stereotypes of "submissive" Muslim women. A recent preprint study – which has yet to be peer-reviewed – shows that men are less likely to wear a face mask, with some believing it to be a "sign of weakness".
In a bizarre act of parallel solidarity, many anti-maskers are protesting with the phrase, "My body, my choice" – a feminist slogan about bodily autonomy that Muslim women have used to demand their right to cover their face or hair.
The truth is that Muslim women have always had agency in their choice of what they wear, and the reasons for their choices are manifold, as my research has shown. Some women may well be pressured by their husbands to wear the hijab, just as some western women are pressured to dress in ways they don't want to by their partners. This is an issue of misogyny, not one of religion.
Now we find ourselves in a situation where politicians, who have sought to use the personal dress codes of Muslim women to portray them as pitiful and controlled, have a battle on their hands to convince the population that masks do not restrict communication, are not a sign of coercion, and are actually a marker of being part of an integrated community where people care for each other.
As we move towards face masks becoming more widely accepted, we can only hope the positive messages of unity that are associated with preventing coronavirus infection now can persist in the longer term and be extended to all who cover their faces, no matter the reason.
https://theconversation.com/about-face-politicians-switch-from-vilifying-burqas-to-mandating-masks-143151
--------
64,577 Saudi women employees benefit from 'Wusool' program
July 13, 2020
RIYADH — A total of 64,577 Saudi women employees have benefited from the transportation program "Wusool" since its launch in November 2017 until the end of June this year.
In a statement carried by Saudi Press Agency, the Saudi Human Resources Development Fund (Hadaf) said that the Riyadh region has the highest number of beneficiaries from the program with 28,308 employees, Makkah region with 19,463 beneficiaries, and the Eastern Region came third with 9,186 beneficiaries.
It is worth mentioning that the program aims to empower females working in the private sector, raise their participation rate in the labor market, and support their job stability.
The fund made amendments and updates to the program in order to provide benefits to the maximum number of applicants and to facilitate the procedures for registering Saudi workers.
The enrollment mechanism in the program included registration in the General Organization for Social Insurance (GOSI), where the total GOSI subscription period shall be less than 36 months and the monthly salary should be SR8,000 or less. It also included the amount of monthly financial support provided by the fund fixed at 80 percent of the cost and a maximum of SR800 per month.
The program contributes to finding solutions that reduce the burden of transportation costs for Saudi women working in the private sector. It also aims to improve and develop the transport environment for commuting by providing a safe service with high quality and safety for working women, in partnership with companies using licensed smart apps to guide private cars being operated as taxis.
https://saudigazette.com.sa/article/595450/SAUDI-ARABIA/64577-Saudi-women-employees-benefit-from-Wusool-program
--------
URL: https://www.newageislam.com/islam-women-feminism/how-tiktok-became-egypt-latest/d/122468
New Age Islam, Islam Online, Islamic Website, African Muslim News, Arab World News, South Asia News, Indian Muslim News, World Muslim News, Women in Islam, Islamic Feminism, Arab Women, Women In Arab, Islamophobia in America, Muslim Women in West, Islam Women and Feminism