New Age Islam News Bureau
19 Feb 2020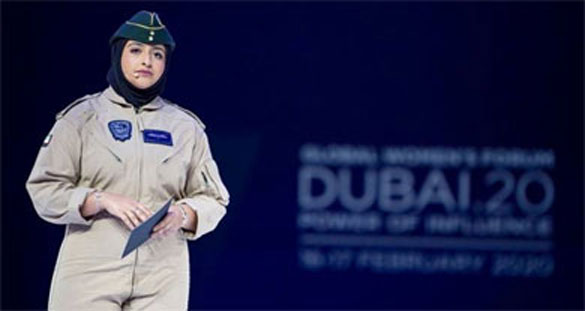 At 17, she was the youngest student when she joined Oxford aviation to pursue her commercial pilot's licence.-Photo Courtesy Twitter
-----
• UN Must Include More Women in Peace Talks: UAE
• Muslim Girls Harassed By Miscreants for Not Wearing Burqa In UP
• Egypt's National Council For Women To Propose Toughening Anti-FGM Law
• More than Football: Kurdish Women Win Big With Syria Title
• Pak Court Orders Action against Minor Hindu Girl's Muslim Husband for Child Marriage
• Female Labour Force Share on the Rise in Pakistan unlike India
• Muslim Student Association raises awareness for Hijab Day
• Qatari Foreign Ministry Official Praises Women's Role in Kuwait
• Pakistani Female Student Contesting To Represent 31,000 Students In London
Compiled By New Age Islam News Bureau
URL: https://www.newageislam.com/islam-women-feminism/how-this-uae-royal-capt/d/121102
--------
How This UAE Royal, Capt Sheikha Mozah, Became Dubai's First Female Police Pilot
Anjana Sankar
February 18, 2020
The 23-year-old lieutenant pilot was also featured as the 'game changer' at the Global Women's Forum.
A flying lesson at the age of 12 planted the first seed of aviation in her and, since then, the sky became home for Capt Sheikha Mozah bint Marwan Al Maktoum, the first female pilot in the Dubai Police. "I will never forget: It was a hot summer day. I was flying in the Robinson 22 with no doors attached. What I didn't know at that time was that day was going to change my trajectory and determine most of the choices that led me to where I am today," said Capt Mozah.
The 23-year-old lieutenant pilot was featured as the 'game changer' at the Global Women's Forum on Monday and spoke about her undying passion for flying and how she pushed boundaries to achieve her dream.
"I love the feeling of soaring between the clouds; seeing the earth from a different perspective. Every flight is different, and the adrenaline rush never ends. I had finally found my home."
She said that even as a child, she spent most of her time doing adrenaline-inducing activities - be it horse-riding, rock-climbing, boxing, trampolining or bungee-jumping.
"This is the thing with adrenaline. The more you get, the more you want."
Her thirst for adrenaline and the drive to push the limits, Capt Mozah said, made her set the Guinness World Record on wing walking in 2013. She willingly tied herself to the frame of an airborne aircraft, then the pilot did 10 flips.
'Go test reality'
She said girls need to fight what is known as 'limiting beliefs' the same way she did and overcome it.
"The thing with us girls is we always tells stories to ourselves. We tell some version of a potential outcome turning around inside our heads, when we should be really testing reality.
"If we sit there and wait for our dreams to materialise, that day will never come. Many of us are really great in creating boundaries within our minds; answering questions in our heads before we start out."
At 17, she was the youngest student when she joined Oxford aviation to pursue her commercial pilot's licence. Capt Mozah joined Emirates Airlines after getting her licence and flew her first passenger flight - EK409 - to Oman.
Recently, she graduated from the Dubai Police academy and became the first female pilot to join the force. Her duties include patrol and conducting search and rescue missions.
"I am proud in serving my country. It is a very rewarding role where I get to help the community on a job I love and I am so passionate about."
Encouraging more women to enter aviation
Speaking about the number of women in aviation, Capt Mozah said it is encouraging to see more women entering the male-dominated profession.
"We are slowly getting more women to join. Given my experience and my love for it, I felt compelled to do something tangible to accelerate the growth rate of women entering the industry," she said.
In October last year, Capt Mozah established an association called Shehana, aiming to increase the female ratio in aviation and spread awareness.
"I personally would like to see more young girls made aware of the opportunities. Our leaders have demonstrated so much faith in us. Now, it is our turn to make them proud and show that UAE women can represent them locally and internationally."
https://www.khaleejtimes.com/uae/dubai/how-this-uae-royal-became-dubais-first-female-police-pilot-
--------
UN Must Include More Women in Peace Talks: UAE
Anjana Sankar
February 18, 2020
Today, less than 10 per cent of women are negotiators and mediators in peace and conflict situations.
Gender parity is not enshrined even in the founding document of the United Nations, and the UN should step up efforts to include more women in conflict resolutions for lasting peace, Ambassador Lana Nusseibeh, UAE's Permanent Representative to the UN, has said.
"The UN Charter forged at the end of World War II actually describes the secretary-general as a 'he'. If you look at where we (the UN) have come today, you can see where we have had to move the dial. Documentation does matter," the UN ambassador said during a session at the Global Women's Forum on Monday. Nusseibeh said the current secretary-general, Antonio Guterres, pursues a feminist leadership and is committed to ensuring 50-50 gender parity at high levels of UN agencies.
However, the UN has to step up efforts to include more women in conflict resolution and negotiations for lasting peace, she said.
"Today, less than 10 per cent of women are negotiators and mediators in peace and conflict situations, and it is for the UN and the Security Council to step in and make sure it is a higher figure."
She said studies have proven that peace agreements could last 35 years or more by adding women to the negotiating table.
"Women bring the full spectrum of considerations when they negotiate a peace settlement. It's not just about power sharing, it's also about access to justice, social services, medical health and facilities, and education. That is why it is such a core part of the UAE's foreign policy objective."
The session also featured Mariam bint Mohammed Saeed Hareb Al Mehairi, Minister of State for Food Security; Rania Al Mashat, Egypt's Minister of International Cooperation; Mimoza Kusari Lila, Kosovo's former Deputy Prime Minister and Minister of Trade and Industry. CNN's Business Emerging Markets Editor, John Defterios, moderated the discussion.
Closing gender gap
Speaking to Khaleej Times on the sidelines of the event, the ambassador said the 50 per cent quota system implemented by the UAE in its parliament was an effective and quicker way to close the gender gap.
She said that while a good number of women stood for FNC elections, "societally, structurally perhaps, they did not have the same access as men had to social networks and to other means of communicating. So in order to close that gendered gap in society, the leadership decided to go the quota route".
"I think the quota route is a really effective bridge to bringing up women to the decision-making table, whether or not that happens through the natural process."
The ambassador said the rest of the world can emulate the UAE example when it comes to institutionalising gender parity.
"In the UAE, a legislative framework exists. There is a constitutional framework that says men and women are equal and should be paid equally. There is leadership with an attitude of inclusion that men and women complement each other whether in the Cabinet, judiciary, police or education sector. There is partnership role for men and women in society."
https://www.khaleejtimes.com/uae/dubai/Gender-parity-must-start-with-UN-UAE
--------
Muslim Girls Harassed By Miscreants for Not Wearing Burqa In UP
18th February 2020
BULANDSHAHR: The Muslim college girls in Bulandshahr district's Khurja have complained that they were being harassed by miscreants and forced to wear Burqa.
The girls, on Monday, met the Sub Divisional Magistrate (SDM) Isha Priya and apprised her of the situation.
Acting swiftly on the complaint, the SDM, accompanied by Station House Officer (SHO) of the area, reached the locality where the girls were being harassed, and held a meeting with the residents.
The officials warned the people of the area that those harassing the college girls will be booked and arrested.
SDM Isha Priya said: "Some miscreants in Sarai Murtaza colony were harassing the girls and asking them to wear Burqa. The girls told us that when their families had no problem in sending them college without a Burqa, then how can these men raise questions?"
The SDM held a meeting with the locals and encouraged them to continue sending their daughters to college.
She said, "To begin with, we have just issued a warning to the accused, but, if they do not mend their ways, we will file a case and arrest them."
The local residents and religious heads of the community have assured the SDM and the police that the incident of harassment will not be repeated.
https://www.newindianexpress.com/nation/2020/feb/18/muslim-girls-harassed-for-not-wearing-burqa-in-up-2105086.html
--------
Egypt's National Council For Women To Propose Toughening Anti-FGM Law
February 18, 2020
Egypt's National Council for Women said on Monday that it is in the process of studying the article related to female genital mutilation (FGM) in the Penal Code and preparing an amendment proposal to toughen the existing law, after the death of a twelve-year-old girl who underwent the procedure last month in Egypt sparked renewed efforts to eradicate the practice.
NCW President Maya Morsi said that the Legislative Committee of the NCW will hold a hearing with members of the National Committee on the Eradication of Female Genital Mutilation to discuss the proposal.
The announcement came during the regular meeting of the NCW, which included a presentation on the strides made by the National Committee on the Eradication of Female Genital Mutilation since its inception in May 2019.
The National Population Council said in 2019 that Egypt ranked first globally in the medicalization of FGM, with 82 percent of girls under age 17 having undergone the procedure. A earlier government survey from 2015 found that 87% percent of all Egyptian women between 15 and 49 years of age have been subjected to genital cutting, despite efforts by the Egyptian government to curb the practice, according to a report from The Associated Press.
Legislation was introduced criminalizing FGM in Egypt in 2008 through amendments to the Child Act (1996) and the Penal Code.
The practice is widespread in Egypt and other parts of Africa and believed by many to be a way to control female sexuality. The move to ban FGM in Egypt in 2008 was opposed by conservative voices at the time.
In December 2016, an Egyptian criminal court sentenced two doctors and the mother of a 17-year-old girl who died after undergoing FGM to one year suspended sentence each, with the verdict drawing a wave of criticism from women's rights activists, according to the Associated Press.
That same year, Egypt toughened up penalties for those who performed the procedure, with amendments to the anti-FGM law stipulating sentences of five to seven years in prison. Moreover, the 2016 amendments include sentences of 15 years in prison if the procedure leads to the death of the victim or a permanent deformity.
Any individuals who bring victims to have the procedure done in a clinic or other location also face imprisonment of one to three years, in accordance with the law.
A committee from the Assiut Health Directorate has closed the clinic belonging to the doctor arrested in the January death of the twelve-year-old girl in Egypt's Assiut, but her parents and Aunt, who brought her in for the procedure, as well as the doctor in question, have been released, according to Reuters.
https://egyptindependent.com/egypts-national-council-for-women-to-propose-toughening-anti-fgm-law/
--------
More than Football: Kurdish Women Win Big With Syria Title
18/02/2020
Samar Sheikh's neighbours used to tell her football was not for girls but the criticism stopped when her team won the very first women's championship in Syria.
The 20-year-old also finished top scorer at the end of a season that saw teams from all over Syria face off over weeks before the final that was held in late January in Damascus.
"I've been hooked on football since I was little," says Sheikh during a training session in Amuda, a town in northeastern Syria where part of the autonomous Kurdish administration is headquartered.
"I used to watch my brothers play and I've watched a lot of games," she says, as her teammates, all wearing fluorescent bibs, jog behind the coach on the artificial grass of the covered pitch.
The young Kurdish woman, sweat pearling down her face and her ruffled hair in a ponytail, recounts how she started playing when she was 15 but had to stop "because of the criticism from her family and neighbours."
She came back to it more determined than ever to overcome social and gender prejudice and it all paid off when it was with cheers that a crowd greeted her and her team off the bus after winning the national trophy.
- Victory parade -
With their medals around their necks, Sheikh and her teammates even went on a celebratory tour of Amuda, joined in dance by residents congratulating them and asking for selfies.
"I couldn't believe it," she says. "Seeing all these people in the street to celebrate our victory."
After a week-long break the team has resumed training for two hours a day.
Dalaf Hussein faced the same challenges as a teenage girl trying to live her passion for football in northeastern Syria.
Plastered on the walls of her room are posters of her favourite players, including one of Portuguese legend and Real Madrid star Cristiano Ronaldo.
"Passersby used to bother us when they saw us play in the street because it was considered a boys' sport, but we never paid attention," she says.
Hussein says she also had to deal with her parents' opposition to her playing football.
"But after our victory in the championship, there was no pushback," she says, with a chuffed smile.
Syrian society is still largely patriarchal and conservative but women enjoy greater gender equality in areas under Kurdish control.
Hussein says she hopes football will continue to grow in her region.
"Many girls have come to sign up since our victory," she says.
https://www.france24.com/en/20200218-more-than-football-kurdish-women-win-big-with-syria-title
--------
Pak Court Orders Action against Minor Hindu Girl's Muslim Husband for Child Marriage
Feb 19, 2020
AMRITSAR: Amidst protests and calls for strike by Islamist organizations, a Pakistan court on Tuesday directed the minor Hindu girl be sent to a child protection centre and directed local police to act against her Muslim husband, Ali Raza Solangi.
Sources said the minor Hindu girl was presented in a Jacobabad court amidst elaborate security arrangements, as several Muslim bodies, including Jamiat Ulama-e-Islam Pakistan, called for a strike and protest against the trial of the Muslim husband.
Ghulam Ali Kansiro, Jacobabad's additional session judge II, ordered that the minor girl be temporarily shifted to the nearest child protection institution, from Dar-ul-Aman in Larkana, where she has been staying so far. The court also directed local police to ensure the girl's safety.
Holding the accused, Ali Raza, of violating Sections 3 and 4 of the Sindh Child Marriage Restraint Act, 2013, the court directed the Larkana deputy inspector general of police, and Jacobabad senior superintendent of police to take due action against him and those involved in the child marriage.
Earlier, a medical board constituted by the court reported the age of the minor Hindu girl to be between 15 and 16 years of age.
Reacting to the court's decision, Ravi Dawani, general secretary of All Pakistan Hindu Panchayat, said, "This is a most welcome order by the court to diffuse the present tense atmosphere in Jacobabad. If the court had given order in either community's favour, it would have evoked reaction and further inflamed sentiments."
Sources said most of market places remained closed in Jacobabad on Tuesday in response to the shutter-down call by Islamist organizations.
At first, the minor Hindu girl had said she embraced Islam and married Ali Raza out of her own will but, in the second statement, which was video recorded, she called it a mistake and wished to be sent back to her family and be allowed to practice Hinduism.
This evoked sharp criticism from Islamist organizations who maintained that after embracing Islam, the girl may not reconvert to Hinduism. They even declared her "murtad" (apostate) and "wajib-ul-qatal" (liable for death), in keeping with the Sharia law.
https://timesofindia.indiatimes.com/world/pakistan/pak-court-orders-action-against-minor-hindu-girls-muslim-husband-for-child-marriage/articleshow/74200271.cms
--------
Female Labour Force Share on the Rise in Pakistan unlike India
Amin Ahmed
February 19, 2020
ISLAMABAD: While female labour force participation in both Pakistan and India is below 30 per cent (half of the global average), the two neighbouring countries seem to be heading in different directions, with Delhi recording an average decrease of one per cent and Islamabad witnessing 2pc rise in female labour force participation in recent decades.
These findings were part of an International Monetary Fund's (IMF) study titled "Women in the Labour Force: The Role of Fiscal Policies".
According to the IMF staff report, women in most countries do not have same opportunities as men have to participate in economic activities. Although the gender gap in labour force participation has declined substantially over the past 30 years, average female labour force participation remains well below the male rate.
Increased female labour force participation and stable male labour force participation led to a seven percentage point decline in the global gender gap in labour force participation, which fell to 20 percentage points in 2018. On an average, only 60pc of 15- to 64-year-old women were in the labour force in 2018, compared with 80pc of men. However, in 21 countries, including India, Pakistan and Egypt, female labour force participation was below 30pc.
Female labour force participation varied widely across countries, from 15pc in Algeria and Jordan to 86pc in Iceland. This reflects historical differences in economic and social structures that have affected women's economic opportunities.
Countries also differ greatly in the growth of female labour force participation since 1990. Globally, about one-quarter of countries experienced declining female labour force participation, with countries such as India and Sri Lanka facing an average annual decrease of one per cent between 1990 and 2018, whereas Pakistan, Peru and Spain experienced average annual increase of 2pc.
"The average female labour force participation rate across countries is still 20 percentage points lower than the male rate, and gender gaps in wages and access to education persist," the report says.
Many countries have adopted fiscal policy measures to promote gender equality since the mid-1980s, it mentions. Countries use tax and expenditure policies to address gender inequality and the advancement of women in areas such as education and economic empowerment.
As of 2018, at least 80 countries have used gender-responsive fiscal policy interventions to reduce gender inequality.
Women's economic empowerment is key to growth both through the direct impact of the size of the labour force on output and productivity and through higher domestic demand. Greater participation of women in the labour force also brings greater diversity that can foster new ideas for production and management, boosting aggregate productivity. A wide range of country and regional case studies provide further support for the positive relationship between female labour force participation and growth.
The IMF findings confirm that the gender-responsive fiscal policies can support female labour force participation and have important macroeconomic and distributional effects. The analysis highlights the key channels through which policies impact women's participation in the paid workforce, economic growth, income inequality and poverty, rather than considering trade-offs among the different measures and ranking them.
The impact and transmission channels of different fiscal interventions depend on both the design of the measures and a country's features, such as its level of development, labour market and economy structures, education gaps between men and women, and the degree of discrimination against women's economic empowerment.
In advanced economies, removing tax provisions that discriminate against secondary earners would have a very significant positive impact on female labour force participation for economic growth, at no fiscal cost in the long run. The measure would also increase the progressivity of the tax system, with a positive impact on both inequality and poverty.
However, this measure could potentially have a negative impact on some married, single-earner households. Subsidising childcare and providing paid maternity leave would boost economic activity supported by an expansion of female labour force participation, mostly among women with low and moderate skills.
In low-income countries, investing in education and in infrastructure projects that have higher return for women, such as for safe water, would have the largest economic and social payoffs while boosting female labour productivity. While investing in education is important for shaping future labour force productivity, financial support to less privileged women in the labour force can help reduce poverty in the meantime.
https://www.dawn.com/news/1535374/female-labour-force-share-on-the-rise-in-pakistan-unlike-india
--------
Muslim Student Association raises awareness for Hijab Day
FEBRUARY 18, 2020
When a woman wears a hijab, many misconceptions form around her. There is a stigma that hijabs define oppression and women are forced to wear them. On Tuesday, the Muslim Student Association hosted a table on Titan Walk to raise awareness and spread the truth behind why Muslim women choose to wear a hijab.
The event brought attention to World Hijab Day, which occurs annually on the first of February. The purpose of the day is to recognize women who wear a hijab and incorporate Islam into their day-to-day lives.
Muslim activist Nazma Khan founded the holiday in 2013, which is now celebrated in over a hundred countries. The day encourages women of all backgrounds to experience wearing a hijab and to support a woman's right to wear one.
Cal State Fullerton students wearing hijabs stood at the table, and informed passersby about the internationally observed day and answered questions. The club provided pamphlets with more information, a colorful set of hijabs and fundraised with pastries from Porto's Bakery.
The club's goal was to promote the idea that an Islamic headpiece is a choice and a form of worship and empowerment.
"I can't imagine life without it now. It's just a part of me," said Urooj Brohi, a Muslim Student Association board member.
Brohi said that wearing a hijab gives her a voice and brings her closer to her religion. It also serves as a reminder for her values, helping her make decisions that support her thoughts and beliefs.
"If I'm out somewhere and I've been wearing my scarf, it reminds me that I shouldn't be drinking, I shouldn't be out in this area or my clothes; I shouldn't be wearing this because then what does that say about me," Brohi said.
Despite the misconception that women are required to wear a hijab, the headscarf is a choice Islamic women make, said Saja Serhal, the club's treasurer.
"I choose to wear it as a symbol of my religion and also my own worship. It makes me feel more empowered," Serhal said.
The holiday is important because it informs people that the hijab is a form of independence, not oppression, said Simra Lakhani, the president of the Muslim Student Association. "We're just celebrating the importance of feminism," she said.
The club is aimed to bring together the Islamic community at CSUF by allowing a safe space for students to feel comfortable with their Muslim identity, make new friends and bring awareness to the community, Lakhani said.
"To bring them into a community where they're accepted and they have people around them that are essentially just like them and practice the religion the way that they do," Lakhani said.
Lakhani said she met many of her friends through the Muslim Student Association and learned more about the resources available to students by joining the club.
"We can just have a good time, but also kind of also grow our own values even like academic values and kind of keep up with what's going on at school," Serhal said.
The club hopes to increase its members and create an inclusive environment for all types of beliefs, Brohi said.
"For us, growing up over here, we're just balancing both our American identity and our Muslim identity," Brohi said. "It's definitely possible. It's just that we got to work on it."
Students who are interested in joining Muslim Student Association can attend the next general meeting on Wednesday from 4 p.m. to 5:30 p.m. in EC-067.
https://dailytitan.com/2020/02/muslim-student-association-raises-awareness-for-hijab-day/
--------
Qatari Foreign Ministry Official Praises Women's Role in Kuwait
18/02/2020
BRUSSELS: A top Qatari official lauded the role of women in Kuwait, in particular in civil society. "In the wider Gulf region in some countries, the status of women especially in the civil movement for example in Kuwait is really excellent," Lolwah Rashid Al-Kahter, Assistant Foreign Minister and Spokesperson for the Ministry of Foreign Affairs of Qatar told an event organized at the Brussels Press Club yesterday.
"Women in NGOs and civil society are doing a great job in Kuwait," she said. "Arab women are great women. They are number one why there is resilience in several countries like Syria, Yemen and Iraq," she stressed. In Qatar also, since 1995, there has been a movement for more rights for women in the modernization process, noted Kahter.
Speaking on the topic of 'Middle Eastern Conflicts and the European Experience,' Kahter said that the European Union could serve as a model for the Arab-Islamic world to progress and unite. "Brexit happened in peace. This is one of our main messages, how to learn from the EU," she said. The Qatari official stressed that promoting education is the key element for progress and development in the Middle East region. – KUNA
https://news.kuwaittimes.net/website/qatari-foreign-ministry-official-praises-womens-role-in-kuwait/
--------
Pakistani Female Student Contesting To Represent 31,000 Students In London
Hamza Azhar Salam
February 19, 2020
LONDON: A Pakistani student from Islamabad at the King's College London has launched an innovative election campaign which seeks to redefine the university's relationship with its students.
Speaking to The News, Mina Rana highlighted her detailed election manifesto which focuses on gender and religious diversity, better mental health facilities for students, countering Islamophobia, raising charity and creating an overall cohesive environment for students at King's College London.
"I am contesting the elections for Vice President Activities and development to represent Pakistan and show the world what Pakistani women can do when they are given equal opportunities," Mina said as she highlighted her struggles during her four-year journey as a Pakistani student in London.
Mina plans to revolutionise the student experience at King's College London by establishing a free university shuttle service which will connect all four campuses. This will greatly improve student engagement at the King's College, according to Mina.
Mental well-being of students is also a top priority of Mina's campaign. "Students have to wait for up to 10 weeks to access mental health support at King's. If I am elected, I will enable final year psychology students to support those suffering from mental health problems so that a friendly environment is created for students without incurring any extra burden on the university and also ensure shorter waiting times to see a counsellor."
Claire, an international relations student at King's commented on Mina's campaign saying: "She has always been an engaging student. She's the person who anyone can come to share their problems because she goes the extra mile to make everyone feel special."
The experience of Muslim students is also a major part of Mina's campaign. She is already lobbying in the university to ensure a 1-hour Jumma break, a practice which is prevalent in other major universities with large Muslim students' population. Mina also seeks to add non-alcoholic options like milkshakes, mocktails, teas and coffees at the King's student's bar which currently does not have many options for non-drinkers.
Mina also seeks to build a contemplation room which promotes interfaith harmony by including people from all religions and creating a welcoming environment for different belief systems.
Leading by example, Mina seeks to dispel the notion that Muslim women are oppressed or subjugated. "One should never forget their roots. I feel dignified by my culture, religion and heritage which enable me to help people regardless of their nationality, background, race, gender or religion." Mina's slogan for this campaign is "She should run 'cause she's the one."
She has garnered the support of multiple student societies at the university which include, Pakistan Society, Italian Society, India Society, Indo-Pak Development Society and Feminist Society.
https://www.thenews.com.pk/print/616289-pakistani-female-student-contesting-to-represent-31-000-students-in-london
--------
URL: https://www.newageislam.com/islam-women-feminism/how-this-uae-royal-capt/d/121102
New Age Islam, Islam Online, Islamic Website, African Muslim News, Arab World News, South Asia News, Indian Muslim News, World Muslim News, Women in Islam, Islamic Feminism, Arab Women, Women In Arab, Islamophobia in America, Muslim Women in West, Islam Women and Feminism