New Age Islam News Bureau
27 Oct 2019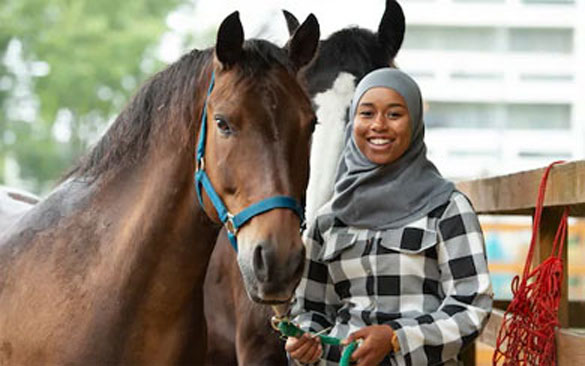 Mellah went on hacks around her neighbourhood whenever possible CREDIT: JON CARTWRIGHT
-----
• 178 Women Graduate for Public Security Jobs in Saudi Arabia
• Woman Leads Hikers in Sinai, Rejecting Gender Norms
• Afghan Women Coders Inspiring Girls To Smash Obstacles In Patriarchal Afghanistan
• How Cairo's Women Cyclists Are Claiming Their Urban Space
• This Battle to Become West Midlands Mayor Reminds Us Women Of Colour Face A Double Oppression
• Women's Sports: Arab Women Sports Tournament Revolutionising Women's Sports
• Turkey: Syrian Women Find Peace, Trade At Soap Workshop
Compiled by New Age Islam News Bureau
URL: https://www.newageislam.com/islam-women-feminism/how-khadijah-mellah-rode-victory/d/120100
--------
How Khadijah Mellah Rode To Victory at Goodwood – And Became an Inspiration to Other Muslim Girls
Boudicca Fox-Leonard
27 OCTOBER 2019
Early morning at Newmarket racecourse as the sun rises and muscular racehorses thunder past; a mesmerising sight, says Khadijah Mellah. "I recommend that everyone visits Newmarket at least once in their life. I loved it," says the 18-year-old rider.
Her own first time was last year when she visited the course with her brother, Abdus, a budding jockey. Driving down from south London to drop him off, she recalls watching the horses and thinking that if she had the opportunity she would like to try that out – just once.
Flash forward to today, and Mellah has done that, and then some. In August, she made national news as she rode a 25-1 outsider to victory in the Magnolia Cup, a race for ­female...
https://www.telegraph.co.uk/women/life/khadijah-mellah-rode-victory-goodwood-became-inspiration-muslim/
--------
178 Women Graduate for Public Security Jobs in Saudi Arabia
October 25, 2019
By Ibrahim Alawi
JEDDAH — Gen. Khalid Al-Harbi, director of Public Security, on Thursday, graced the graduation ceremony of 178 women recruits who have completed training from the Women's Institute at the Public Security Training City.
Al-Harbi honored the graduates by giving away graduation certificates in a ceremony held at Prince Muhammad Bin Naif Hall in the city.
Al-Harbi expressed his happiness over attending the graduation ceremony of public security women recruits. He said that Saudi women have proved successful in many fields of work.
"We are now celebrating the graduation of a new batch of women cadets. I thank Minister of Interior Prince Abdul Aziz Bin Saud Bin Naif for the generous support to the Public Security sector. I also wish to congratulate all the graduates who celebrated their graduation to be an important addition in the march of Public Security," he said.
Al-Harbi praised the seriousness that the cadets showed during their training period, reminding them of the need to have full sense of their responsibility, fear of God, work with a team spirit, and make every effort to serve the country wherever they are.
The graduation ceremony of the second batch of women recruits is part of the Public Security's plans to benefit from women staffers in a number of security and technical specializations in the administrative and field works of the Public Security and that include police forces in all regions of the Kingdom, as well as in the areas of traffic, road security, security patrols, Haj and Umrah security, as well as security of the Two Holy Mosques.
Addressing the ceremony, a number of graduates shared the experiences that they had during their training period in which they were provided with theoretical lessons and practical applications in the systems and procedures of the tasks and responsibilities entrusted to them when they join their duty in due course of time.
The graduates received training that made them fully prepared to execute their mission in the best possible manner. They were given training in military preparedness, shooting, in addition to skills in the use of computer, English language and communications, forensic evidence, first aid and so on.
It is noteworthy that Saudi women will now be considered for top military and Public Security posts as part of Vision 2030, which calls for empowering women and increasing their active participation at all levels.
The Defense Ministry's General Directorate of Admission and Recruitment in the Armed Forces (Tajnid) announced recently that women can now join as lance corporals, corporals, sergeants, and staff sergeants in the Royal Saudi Land Forces, Royal Saudi Air Force, Royal Saudi Arabian Navy, Royal Saudi Air Defense Forces, Royal Saudi Strategic Missile Forces and Armed Forces Medical Services.
Last year, Saudi women have been in military ranks of Public Security, including the General Directorate of Narcotics, General Directorate of Prisons, Criminal Evidence, and Customs.
The women also conducted inspections and worked in the Customs and as security guards in many malls and public and private hospitals to reduce crimes committed by women and maintain security in society.
http://saudigazette.com.sa/article/580799
--------
Woman Leads Hikers in Sinai, Rejecting Gender Norms
October 26, 2019
Cairo: As Umm Yasser reeled off her household chores collect wood, cook, make bread, shepherd goats she stopped to say why she decided to also lead trail hikes through the mountains of Egypt's Sinai Peninsula.
"Normally, a woman's role is to take care of the household, family and children," Umm Yasser, a Bedouin member of the Hamada tribe, said recently. "Hiking is the first time I earned an income."
Umm Yasser, whose name means "mother of Yasser" and per tradition is known by her son's name, this year became the first woman to sign on as a guide on the Bedouin-led hiking initiative along the Sinai Trail, until recently Egypt's only long-distance hiking route. It's run by eight tribes in the region.
She tested traditional gender norms among Bedouin of the peninsula – who have a long history of escorting travellers and pilgrims through the Sinai – when she led her first group of hikers in April at age 47, and has every intention of picking up where she left off.
Autumn brings the start of another hiking season, which generally runs through spring, and head trail guides can make roughly the equivalent of $40 per day showing tourists how to navigate the area.
The trail, which aims to help the tribes by attracting tourism money to the region despite Egypt's political turmoil in recent years, covers more than 345km and can take six weeks to complete. During the 2018-2019 hiking season, the trail raised the equivalent of about $60,000.
Umm Yasser and three other women from the Hamada – one of the area's most impoverished and smallest tribes, with about 1,500 to 2,000 people – showed the potential for more financial gain by leading the first Sinai Trail trip guided by women.
The two-day trip in April was restricted to female tourists, with a special agreement on that occasion for some male journalists to attend. The 16 female hikers and six journalists were not permitted to camp overnight in the wilderness and returned to their village before sunset. Still, it marked a milestone.
"The other tribes had objected before the trip because they thought it's shameful for women to walk with tourists," Umm Yasser said at the family home. "I don't think it's shameful so I'm not concerned. I believe what I'm doing is right because work is a good thing."
As she talked, her husband, Ebrahim Ebeid Saeed, a big supporter of his wife's accomplishments, walked past several times, beaming. The couple's adult son and teenage daughter, Umm Yasser's sister and children from the village sat on the ground of the sandy courtyard.
Life in the valley is slow and simple. The stunning, rugged mountains surrounding the area mean there's no phone signal and often the only noises are those of goats, dogs or chickens.
Umm Yasser and her family live in a square-brick home with a corrugated-metal roof. The five-room home is void of furniture or bedrooms. They sleep anywhere on the floor, including in the courtyard.
Umm Yasser, and to some degree her husband for openly encouraging her, are considered trailblazers for Bedouins. Her experience as a guide actually started in 2015, when she first hiked with British trail developer and Sinai Trail co-founder Ben Hoffler, at the suggestion of her husband.
Hoffler, who has known the couple since 2011, began visiting them more frequently after 2014 to scout routes for the Sinai Trail with Saeed, each time staying with them in their home. Saeed suggested that Hoffler try Umm Yasser as a guide, leaving the developer stunned.
"As far as I was concerned, walking with a Bedouin woman was off-limits," Hoffler said. "When he mentioned it, I wasn't even sure he was serious."
Umm Yasser started to walk with Hoffler, initially accompanied by her son and then other small boys from the village, earning her first income as a guide.
"She was obviously a mountain person. Even with flimsy sneakers she was quick on difficult trails," Hoffler said. "She was tough. And she was proud of being tough."
When the Sinai Trail extended to Hamada lands last year, Umm Yasser, Saeed and Hoffler discussed the possibility of her becoming a guide on it. Saeed was already a head guide and represented the Hamada on the Bedouin cooperative managing the Sinai Trail. He discussed the idea with the other tribes while Umm Yasser found a few other women willing to get involved, including her sister.
"When people of other tribes objected I didn't care because it's not the same here," Saeed said. "Their lands may be more open or interconnected, but ours is secluded, so it's safe. The women can go off and won't encounter men from other tribes."
His fellow Hamada tribesmen don't object, he said, "because in this tribe women shepherd goats into the mountains on their own, so it's similar to hiking with women."
Umm Yasser and other women in the tribe have the potential to inspire others into employment, said Hilary Gilbert, chairwoman of the South Sinai Foundation and a former research fellow at the University of Nottingham in the United Kingdom.
"To provide active role models for Bedouin girls is incredibly important, as it will give them choices about what sort of life they want to lead," she said. "Once their families can see that they can work safely and respectably, without compromising their reputation, more girls will hopefully be allowed to work, in this and other areas."
Umm Yasser expects to lead solo trips, including mixed groups possibly with outdoor overnight stays. She also expects to co-guide a mixed-group with her husband involving overnight camping.
"I feel very proud," she said.
https://gulfnews.com/world/mena/woman-leads-hikers-in-sinai-rejecting-gender-norms-1.67405884
--------
Afghan Women Coders Inspiring Girls To Smash Obstacles In Patriarchal Afghanistan
26 Oct, 2019
Like the princess who hops over goblins and throws daggers at evil wizards in the video game they built, a team of women coders in patriarchal Afghanistan wants to inspire a generation of girls to smash obstacles.
The young women are part of an after-school training programme called Code to Inspire in the western city of Herat, where they learn tech skills and create games and apps to educate girls across Afghanistan and beyond.
Their highest-profile success has been this year's release of Afghan Hero Girl, a phone app built over six months by 12 young women in which a princess wearing a green veil leaps around a crumbling castle in a quest to defeat a wizard and rescue her family.
Fereshteh Forough, a computer science teacher and a former refugee who founded Code to Inspire in 2015, said students were sick of the lack of female representation in the gaming industry and told her they were bored of "playing games where men are superheroes".
Afghanistan's ongoing war, now in its 19th year, resulted in more than 1,000 schools being closed by the end of 2018, Unicef says, depriving some 500,000 children of their right to learning. A disproportionate number of these – about 60 per cent – are girls.
"In the worst case scenario, if the Taliban limit women's presence to the work space, [tech is] a skill that can get them beyond their doorsteps," Forough says.
The games and apps are both educational and entertaining. Some include memories of the coders or are based on true stories.
For instance, in the Fight Against Opium game, soldiers are deployed on a mission to poppy-growing Helmand province. It was based on a true story of one of the coders' brothers who was deployed to the southern province.
"My main goal as a game and app developer is to make as many educational games for girls as possible," Code to Inspire student Nasrin Wahidy says, who attends the Herat school where the programme is based. "We want the girls to learn and get educated faster through games."
Another game teaches young Afghans how to recognise the geography of their country by showing them where each province is located. So far, Code to Inspire has taught more than 150 students to code, make games and apps, and develop websites.
"They will become a digital citizen of the world without considering geographical boundaries," Forough says.
https://www.scmp.com/lifestyle/article/3034512/afghan-women-coders-inspiring-girls-smash-obstacles-patriarchal
--------
How Cairo's Women Cyclists Are Claiming Their Urban Space
NIVEEN GHONEIM
OCTOBER 26, 2019
Earlier this year, the Egyptian government rolled out a national campaign, A Bicycle for Every Citizen, to promote cycling culture and healthy living and to reduce carbon emissions and fuel consumption. In addition to changing Egypt's transport culture, the initiative would see the government subsidize bicycles to get more Egyptians cycling.
Despite the sound logic and valid policy objectives behind the government's initiative, it is unlikely that all Egyptians will switch to cycling, and not just due to Egypt's crumbling infrastructure and urban planning shortcomings, which the plan completely fails to address. Given the announcement's gendered language and the use of the masculine form of citizen in Arabic, one could almost be forgiven for thinking that the government means to exclude women entirely from the proposed measure—or the definition of the word citizen, for that matter.
"The government is promoting cycling for everyone, so they are selling the bikes for the same price for both genders, but if they [were] more serious about it, they [would] highlight the gender equality aspect, but I don't think they really care. It is just a [PR stunt], the bikes aren't affordable anyways," 27-year-old architect Nouran Salah tells Egyptian Streets.
Salah turned to cycling for urban transportation in 2015 and, a year later, she launched Cairo Cycling Geckos, a cycling group that organizes trips to deliver aid to underprivileged communities across Egypt and encourage more women and girls to do the same. "People whistle at me or make obscene remarks when they see me on my bicycle," she revealed in a June 2019 interview with Equal Times. "A girl cycling through busy streets in defiance of social conventions is risky business. For me the solution was to form a group."
To truly understand Egypt's warped gender politics, one must first go on a leisurely stroll in its capital. Despite being a somewhat secular and cosmopolitan city, Cairo's urban spaces grow more hostile and inhospitable to women by the day due to rampant sexual harassment and a general attitude of laissez-faire towards the issue by law enforcement and society as a whole. "For women, …cycling is something we do without letting our guard down. You have to be alert and I often opt for using headphones and blasting music, so I won't have to deal with the comments I get, which is ridiculous because it also means I can't [hear] the cars around me and rely only on my [eyes], which is unsafe," explains Egyptian adventurer Hamsa Mansour.
At its core, this street culture is yet another manifestation of a greater problem: patriarchy and the collective obsession with women's bodily autonomy, which minimizes their visibility and objectifies them either by hypersexualizing or sanctifying and chastising them. For instance, many in Egypt still believe that women and even little girls shouldn't ride bicycles because it might cause their hymens to break. This, coupled with the general hostility towards women in public spaces, automatically makes the simple act of riding a bike to work a radical and costly decision for many women in Egypt.
"When my father found out that I was going to buy a bike, he called me and we got into an argument. He told me I couldn't do it. To him, it wasn't really about me being a woman, he just didn't think it was safe—that people would harass or even be aggressive towards me," 24-yer-old Salma recounts. She bought a bicycle anyway and has been using it for over a year now. "He still doesn't know about it and I don't know how to confront him because I don't know how to prove him wrong—our streets aren't safe anyway, even if I walk or drive everywhere, and he gets really worried about me," she explains.
Like all socio-cultural issues, the degree to which problematic attitudes—namely religious bigotry, homophonia, transphobia, and sexism—are upheld among certain communities in Egypt is greatly influenced by their level of education and cultural awareness. In Egyptian society, this almost always denotes wealth and economic privilege due to the cost of quality education. It is in these little social bubbles that many women often find refuge.
For Cairo-based performance artist Rana Khodair, however, cycling within the confines of an affluent gated residential compound was neither radical nor urban. "Ironically, it was not as encouraging," she says.
It wasn't until after she made the move to Downtown Cairo that Khodair began to fully rely on her bicycle for transportation. "I would say that it has been very liberating, I would get [cheering] reactions—I would hear it from someone [whom] I imagine would say something to hurt me if I was walking," she remarks.
But in Cairo's politically-charged climate, women's bodies are battlefields and their outward appearances are a form of social shorthand. In a society so segregated by class issues and marred by economic inequality, women's attire is a marker of social status that also serves as an indicator of their place on the political spectrum and the social capital they wield. "[When biking], I make the choice to behave a specific way and dress in specific forms that automatically categorize me as a foreigner, or what I used to think was an untouchable woman," she explains. "I also had moments of tension, when I would be referenced to as [a Sisi supporter]… It would always be interesting to see how they would [peg you as] because they're constantly trying to do that." For Mansour, who cycled from Cairo to Nuweiba, the experience outside the city was entirely different. "The people I met on the [road] were very supportive and encouraging, a lot of people offered [me] water and made sure I don't need anything and that I'm okay," she says. "I felt very safe on the road, met amazing people and had a lot of conversations about what I'm doing and [about] life. Contrary to how I feel in Cairo, I didn't face [any] gender based-discrimination or challenges on the road."
For Passant Hafez, however, who used to work as a delivery person, the public's perception of female cyclists in Cairo is changing. "When I used to cycle in 2011 and 2012, I thought I was unique. People would be surprised when they found out I rode a bicycle," she remarks. "Now, people in Cairo see that it is normal [for a woman] to use a bicycle."
It is often said that decay is the hallmark of a great city and there is no greater metropolis than Cairo. It is a city that has survived its brutal history, owns up to its own moral and urban planning failures, and continues to challenge the laws of physics in its ceaseless expansion. But hard places breed hard men and even harder women. A Cairene woman leaving her house can expect anything from verbal harassment and stern looks, all the way to sexual assault, but she braves it all the same.
With a political leadership that continues to fail women, female cyclists are taking it upon themselves to make the streets of Cairo safer and friendlier to women and girls. "I think women get encouraged when they see other women cycling, they start asking about the experience and they understand it is doable. Some people start with cycling in groups and organized rides as it makes them feel safer. I believe that safer streets and generally empowering women is where we start," Mansour explains.
Empowering a woman to run for president or inspiring girls to pursue the hard sciences starts not in the classroom, but on the streets. "When I'm stopped at a traffic light, I'm thinking I'm just basically existing… I reclaim my space by being visible," Khodair explains. "Their eyes have seen you, so you've been replicated in their minds one way or another, whether they like it or not."
https://egyptianstreets.com/2019/10/26/how-cairos-women-cyclists-are-claiming-their-urban-space/
--------
This Battle to Become West Midlands Mayor Reminds Us Women Of Colour Face A Double Oppression
Sonia Sodha
27 Oct 2019
Iwas on a train by myself on a warm summer day, wearing a knee-length skirt. An Asian male guard in his 50s was walking down the train. "You shouldn't sit like that, I can see everything," he hissed at me. The implication was that I was some kind of hussy for sitting in a skirt, legs bare and uncrossed. It's far from my only run-in with rank misogyny, but I bawled when I got home. I knew the guard wouldn't have said that to me had I been white, that he felt he had the right to police me because of our shared skin colour. It made my sense of disgust at his behaviour more acute.
I was reminded of this last week when I read Labour MP Naz Shah's powerful account of Salma Yaqoob's complicity in the toxic misogyny directed at her by a vocal minority of Muslim men in the 2017 Bradford West election. Yaqoob, the former leader of the Respect party, has just been shortlisted by Labour as a candidate for West Midlands mayor. "Her campaign created a platform which allowed men to literally slut shame me," Shah says, leaving her feeling suicidal.
It takes an understanding of the biraderi, or clan, politics that have historically dominated some south Asian communities to fully grasp why the actions of Yaqoob, who ran as an independent against Shah, were so insidious. From the 1960s onwards in places such as east London, Birmingham and Bradford, local Labour politicians developed mutually beneficial relationships with self-appointed "community leaders" from Asian immigrant communities.
Labour councils funded their organisations to provide services as a way of managing growing diversity and became increasingly dependent on community leaders for electoral support, relying on kinship bloc voting, in which older men ensured everyone in their extended network voted the same way. The effect has been to give huge power to those men while marginalising women and young people. A Newsnight investigation in 2016 interviewed a number of Muslim women who said their attempts to get involved in Labour politics were thwarted by men within their community.
The sense of disenchantment this engendered among young Muslims was one factor behind George Galloway's victory for Respect in the Bradford West byelection of 2012. After that, Labour decided its next candidate would be from an all-women shortlist. But any woman fighting that seat was bound to face a hostile ride. The first to be selected withdrew just days afterwards. Enter Naz Shah, bravest of feminists. Her story is extraordinary. She was propelled into the role of domestic violence campaigner as a teenager after her mother was jailed for 15 years for killing the man who sexually enslaved her (the mother). A few years earlier, her mother had sent 12-year-old Shah to Pakistan to protect her from her abuser. Shah was forced to marry a much older cousin, whom she later divorced. A woman for these reasons considered "dishonoured" by a small number of toxic men in her community, Shah had a tough time fighting Galloway in 2015 and has spoken about the nasty attempts to smear her. But she found the 2017 campaign even worse after Yaqoob entered the race, even though Shah says Yaqoob had previously agreed to stay out of it after she spoke to her about the patriarchal abuse she faced.
According to Shah, Yaqoob shipped in more toxicity to Bradford: Yaqoob campaigners from the West Midlands told voters they had come there to campaign because Shah was the daughter of a prostitute. At one of Yaqoob's rallies, she applauded a speaker who said in Urdu "when we buy a dog we look at its pedigree… What do Naz Shah's characteristics or her appearance tell us?" (Yaqoob later claimed she did not understand the dialect.) In another video, Yaqoob is seen saying to Shah: "When you make a chapati you may need to flip flop, but if you can't stick to your position get out of the kitchen, love", to male hooting and cheering.
My train incident pales in comparison, but it would have felt worse had there been another Asian woman of my generation cheering the conductor on. Yaqoob's complicity is devastating, not least because she has spoken out about biraderi politics on numerous occasions as "a corrupting influence on politics". But the truth is that her former party, Respect, attracted votes by railing against clan politics even as it benefited from it: for instance, Galloway visited the Bangladeshi province of Sylhet to canvas for support when he ran in Bethnal Green and Bow in 2005. In the context of rising Islamophobia, it can be immensely difficult for women to call this out for fear of stigmatising their own communities. And of course, misogyny exists everywhere in society: just look at the revolting revelations about the Presidents Club dinner.
But "sexism everywhere" cannot be used as a foil to hide behind when women like Shah have the courage to speak out about their treatment at the hands of men who share their skin colour and heritage but not their values. Not only was Yaqoob – who also stands accused of homophobic and antisemitic remarks – allowed to join Labour a few months ago despite being formally admonished by the party for putting out leaflets in 2017 saying a vote for her was a vote for Jeremy Corbyn, she was waved through to the mayoral shortlist. (Labour says it was because she was the only BAME candidate to put herself forward, a sorry indictment of its efforts to encourage people of colour to stand for office.)
No one is beyond redemption, and that includes Yaqoob. Shah herself provides a model for that: after it came to light in 2016 that she had shared an antisemitic Facebook post before she became an MP, she issued an unreserved apology for the hurt she caused and has since been widely praised by the Jewish community for her efforts to make amends and educate others about antisemitism. All Yaqoob has issued are denials that her campaign was complicit in patriarchy and clan politics, a tweeted apology for standing against Shah and an appeal to move on. The minimum we should expect is a sincere apology and a temporary withdrawal from public life to honestly reflect on her actions.
If a white man had run a campaign like Yaqoob's, he would not have escaped consequence as she has. That tells us that society is complicit in the double oppression of women of colour: caught between the intersectionality of gender and race, we are not only more likely to face sexism from people of all colours, but less likely to be heard when we call out misogyny from within our own communities.
• Sonia Sodha is an Observer columnist
https://www.theguardian.com/commentisfree/2019/oct/27/battle-to-become-west-midlands-mayor-has-revived-memories-of-clan-rivalry-and-misogyny
--------
Women's Sports: Arab Women Sports Tournament Revolutionising Women's Sports
By Sophia Rooke
26/10/19
Originally comprising teams from six member states of the Gulf Cooperation Council, the tournament expanded in 2012 to include all world-class female athletes across the pan-Arab region.
The growth, in both size and stature, of the Arab Women Sports Tournament (AWST) is a true indicator of the progress of women's sports nationally, regionally and around the Arab world.
Held every other year under the patronage of Her Highness Sheikha Jawaher bint Mohammed Al Qasimi, wife of His Highness the Ruler of Sharjah, Chairperson of SWS, exemplifies the dedication to provide a platform for women athletes to pursue careers in sports.
AWST is now considered an international competition platform where high-calibre Emirati sportswomen can compete with their Arab counterparts. The world is now able to see what the region offers in terms of female sports and signals a step forward for women.
Last year, sportswomen represented 16 Arab countries and 67 clubs competed professionally in basketball, volleyball, table tennis, archery, fencing, equestrian jumping, karate, shooting, and athletics.
With regional participation increasing, the upcoming 2020 tournament, scheduled for February 2 in Sharjah (UAE), is set to be the biggest yet.
https://www.givemesport.com/1516373-womens-sports-arab-women-sports-tournament-revolutionising-womens-sports
--------
Turkey: Syrian Women Find Peace, Trade At Soap Workshop
Rabia İclal Turan
26.10.2019
MARDIN, Turkey
Hand-in-hand with locals, Syrian women who took shelter in a Turkish border city are taking back their lives through making natural soap with support from a nonprofit group.
"Friendship is universal, something human, and has nothing to do with language," said Zainab, 40, who fled Qamishli, a town in northern Syria, amid the eight-year civil war there. (To protect their identity due to security concerns, the names of Syrian women in this article have been changed.)
Recalling the day she first joined the soapmakers in Turkey's southeastern province of Mardin, Zainab told Anadolu Agency that some people in the workshop hugged her, while others showed their sympathy in other ways.
"Until that day, I was struggling to build relationships since I don't know Turkish, but I saw that friendship goes beyond language," she added, speaking in Arabic through a translator.
When the Syrian civil war broke out in 2011, Zainab was studying law at university. Breaking off her studies, she fled to Turkey, and took shelter in Mardin for the last eight years with her sister, leaving six other siblings behind.
Finding it hard to cope with her changed circumstances, she started studying at Mardin's Artuklu University, where she is now a final-year sociology student.
Four months ago, an Iraqi neighbor of Zainab encouraged her to attend a soap workshop in the city center. Since then, she has been learning to make natural homemade soap in addition to building friendships with the women of Mardin and Syrian refugees like her as well as earning a living.
Zainab says that she wants to stay on in Mardin and serve the city where she found a safe haven during the toughest time in her life, and where now she is being educated.
Turkish border towns become hub for Syrians
Mardin, which borders Syria, has seen a huge influx of refugees since 2011. According to Turkey's Migration Directorate, there are 88,000 registered Syrians in Mardin, or nearly 11% of the population.
Turkey itself hosts the largest number of refugees worldwide, with 3.7 million people, according to UN data.
Zainab is only one of 182 women working in the soap workshop, half of them Mardin natives, and the other half immigrants from Syria and Iraq.
Like Zainab, 29-year-old Aisha also came from Qamishli in northern Syria before taking shelter in Mardin, along with her mother and brothers.
Aisha said when she first came to Turkey seven years ago, she didn't know what to do with herself. After first working at a coffee shop, she later found the soap workshop through a relative.
"This is the place where I feel happiest and most at peace," she said.
"I cheer up and build friendships here. I love being here," she added.
When asked if she had learned everything about the process of soap production, she smiled, saying that her training is continuing.
Workshop transforms lives
The soap workshop in Mardin started as a project by RET International, a humanitarian group headquartered in Geneva, Switzerland but with offices in Ankara, Turkey's capital, which supports young people and women through education.
With the escalation of the refugee crisis in 2014, RET launched education programs and workshops in various Turkish provinces such as language courses and psychosocial support, with the aim of helping the refugees integrate into society and also earn a living.
Among these projects is the workshop in Mardin where local women learn soap-making alongside Syrian and Iraqi women, which later turned into a workplace, with women selling their soaps under a brand.
"Our biggest support for the women is their involvement in the production process," said Elcin Demirel, RET's country director.
"In addition, we have supported them by bringing their products to market, as well as helping with transportation and branding. And we will continue to do that."
Demirel told Anadolu Agency that all the women are paid equally on an hourly basis, and their group is making no profit after paying taxes.
At the workshop, the women also have the opportunity to expand their horizons by taking classes in marketing, entrepreneurship, design, and social media.
"Our long-term goal is to ensure that this workshop becomes a cooperative where women themselves do the process of marketing, standardization, quality control and other tasks," said Demirel.
https://www.aa.com.tr/en/life/turkey-syrian-women-find-peace-trade-at-soap-workshop-/1626786
--------
URL: https://www.newageislam.com/islam-women-feminism/how-khadijah-mellah-rode-victory/d/120100
New Age Islam, Islam Online, Islamic Website, African Muslim News, Arab World News, South Asia News, Indian Muslim News, World Muslim News, Women in Islam, Islamic Feminism, Arab Women, Women In Arab, Islamophobia in America, Muslim Women in West, Islam Women and Feminism