New Age Islam News Bureau
2 Nov 2018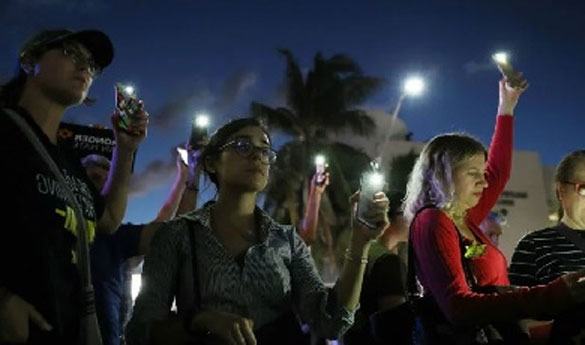 Photo: This weekend's barbaric massacre at the Tree of Life synagogue in Pittsburgh didn't just personally touch those sisters in the Pittsburgh chapter; it affected all of us. (Joe Raedle / Getty)
---------
• How Asia Bibi went from being the first woman in Pakistan on death row for blasphemy to freedom
• Look after women, don't make polygamy easier, say activists
• Ethiopia gets first woman president of Supreme Court
• FaceOf: Saudi-British artist Nasreen Shaikh Jamal Al-Lail
• Muslim women don't need Israeli supermodels to bring them 'freedom'
• More women find work as Saudi unemployment rate steadies
• Women-only theme park opens in Saudi Arabia
• Al-Hokair Group family entertainment centers empowering women
• At least 14 young women and girls commit suicide in Iran cities
• Women's National Canoe Polo Team of Iran lacks facilities to practice
• Civil activist women tortured by intelligence agents in Iran
Compiled by New Age Islam News Bureau
URL: https://www.newageislam.com/islam-women-feminism/how-jewish-muslim-women-working/d/116770
--------
How Jewish and Muslim Women Are Working to Save Our Democracy
Nov 1, 2018
Muslim women throughout the United States, and from as far away as London and Toronto, are reaching out to their Jewish sisters and bringing them meals, reciting prayer together, sending cards and email messages, calling on the phone to check in, and just sitting together and holding hands.
Why? Because these are the sisters of the Sisterhood of Salaam Shalom and when one of us is hurt, we are all hurt. This weekend's barbaric massacre at the Tree of Life synagogue in Pittsburgh didn't just personally touch those sisters in the Pittsburgh chapter; it affected all of us. These women know that the same people who hate Jews often hate Muslims, and vice versa.
The Sisterhood of Salaam Shalom is the first and only North American grassroots organization of Muslim and Jewish women dedicated to relationship building and fighting hate toward one another. What began after an emotionally overwhelming trip to Poland in 2010 has turned into a movement of others who want to ensure that history does not repeat itself. The existence of the Sisterhood signals that the Muslim and Jewish communities are officially joining together to fight our common enemies of hate, racism, and bigotry.
Since the Sisterhood began just five years ago, we've experienced rapid growth across the country and in Canada. We now have 160 chapters operating in 32 states and teen chapters starting throughout North America, and these women are empowered to make change like never before.
Saturday's massacre came at a time of unprecedented activism by Muslim and Jewish women. The swelling of the #MeToo movement calling attention to sexual misconduct has been concurrent with a rise in religious bigotry and hate that is endorsed at the highest levels of the federal government. We are motivated to vote more than ever before because of the misogyny, Islamophobia, and anti-Semitism plaguing our nation. We will defend our bodies and our rightful place in the religious fabric of the United States.
This fall, our chapters have focused on voter registration drives and are now mobilizing to make sure everyone turns out to vote. Carrying signs that read "Muslim and Jewish women come together to vote," Sisterhood chapters across the United States have organized voter registration drives in their local communities. Some focused on helping new citizens, for whom this may have been their first opportunity to vote; others set up weekly registration drives at mosques, churches, synagogues, grocery stores and farmers markets. Never before, to our knowledge, has there been an organized national voter registration effort by Muslim and Jewish women.
Beyond our own efforts, we rejoice at the historic number of women and Muslim candidates running for office. More than 90 Muslims have run for office during this election cycle, according to NBC News, and 476 women ran in Democratic or Republican primaries for Congress.
Some of the most high-profile races in the country have involved Muslim and Jewish women running for office. Rashida Tlaib and Ilhan Omar would become the first Muslim women elected to Congress, and Jacky Rosen's run for Senate in Nevada is one of the most closely watched races in the nation.
Rosen, while in Congress, stood up for her Muslim sisters by denouncing the president's Muslim ban executive order after the Supreme Court ruled in its favor: "Denying individuals entry to the U.S. based solely on religion or nationality is wrong and out of touch with our American values. This travel ban won't help keep us safe, and I will continue to stand up against this Administration's ignorant and xenophobic policies."
In Tucson, Sisterhood of Salaam Shalom member Alma Hernandez is running for the Arizona House of Representatives. Hernandez would be the first Mexican-American Jewish woman to hold elected office in the state. Hernandez was recently featured in InStyle magazine for being one of the ten worthy candidates who are seeking to effect change and advance bipartisanship progress.
This election means much more to Muslim and Jewish women than just doing our civic duty. And, after this past weekend, it takes on even more meaning. We face two open questions: Will America continue to welcome people of all religious backgrounds? And, will our sisters penetrate our country's mostly male leadership?
We answer these questions with definitive affirmation and we will raise our voice louder than ever and pray with our feet to cast our votes accordingly.
This Sunday, we will gather outside Philadelphia for our fifth annual conference. Muslim and Jewish women from across the country will come together for fellowship and strategic planning for our movement. We will not ignore or erase our differences, but instead embrace the richness found in them—and claim our spot in our society to live safely and proudly as Muslims and Jews. We have created a movement that is coming out strong to crush the hate that surrounds us. And, we'll again see firsthand how Muslim and Jewish women are coming together through the Sisterhood.
https://rewire.news/article/2018/11/01/how-jewish-and-muslim-women-are-working-to-save-our-democracy/
--------
How Asia Bibi went from being the first woman in Pakistan on death row for blasphemy to freedom
November 1, 2018
After being acquitted of blasphemy by the Pakistan Supreme Court, Asia Bibi walked free Thursday. She had been in solitary confinement for almost 10 years. But thanks to death threats and protests by Islamists after her acquittal, she may have to leave the country.
Asia's lawyer, Saiful Malook, said that his client was taken to an undisclosed location for her safety after being released from prison. He said that she would soon leave the country. France and Spain have offered asylum to the 47-year-old mother of four, who is a Roman Catholic.
Why Asia Bibi was accused of blasphemy
Asia Noreen was the first woman in Pakistan to be sentenced to death on charges of blasphemy.
On June 14, 2009, Asia is alleged to have made some "sarcastic and defamatory remarks" against Prophet Muhammad during an argument with three Muslim women. The three women had allegedly refused to drink water from a container that had been used by a Christian. A few days later, a mob accused her of insulting Islam's Prophet Muhammad, and that led to her initial conviction.
A trial court sentenced Asia to death in November 2010, under section 295-C of Pakistan Penal Code. The offence carries a mandatory death sentence. The Lahore High Court upheld the verdict in October 2014.
In 2011, Punjab governor Salman Taseer voiced his support for Asia and spoke up against the blasphemy law. Taseer was assassinated by his guard Mumtaz Qadri for his comments.
Qadri was convicted and executed in 2016. but later was hailed as a martyr by religious hardliners, and millions visited a shrine set up for him near Islamabad. Shahbaz Bhatti, Pakistan's minister for minorities, was also killed in 2011 after seeking justice for Asia.
Asia Bibi's defence
Asia said she had a "quarrel" with the three women and "hot words" were exchanged after which Mafia and Asma (the two women she was arguing with), and Qari Muhammad Salaam (the complainant) and his wife, fabricated a case of blasphemy against her. Asia also reportedly said she had "great respect and honour for the Holy Prophet (PBUH) and the Holy Quran" and denied making any blasphemous remark.
A document released by the International Court of Jurists (ICJ) said that the "hot words" Asia mentioned in her defence were treated as her confession by the trial court which sentenced her to death.
Asia, who had pleaded not guilty, appealed against her conviction. The Supreme Court agreed to hear it in July 2015. The first hearing took place on October 13, 2016, but the matter was adjourned when one of the judges recused himself.
On October 8, 2018, a Supreme Court bench – headed by Chief Justice of Pakistan Mian Saqib Nisar – heard the matter again and reserved its verdict. Asia was finally acquitted on October 31, 2018.
Landmark judgement on October 31, 2018
Overturning the trial court and the Lahore High Court verdicts, the Chief Justice of Pakistan said,"Tolerance is the basic principle of Islam."
"If our religion of Islam comes down heavily upon commission of blasphemy, then Islam is also very tough against those who level false allegations of a crime," the judgement said. A Dawn report which quoted the judgment said that the Supreme Court had said that the prosecution has "failed to prove its case beyond reasonable doubt."
However, the judgment invited sharp reactions from Pakistan hardliners, with the Chief Justice also receiving death threats.
Protesters demanded that Asia be publicly executed. Security forces moved quickly, deploying outside churches to protect minority Christians and urging demonstrators to disperse peacefully. Commandos were sent to protect Nisar and the other two other judges after a Lahore cleric urged religious extremists to kill them.
The outburst over the divisive blasphemy law prompted Prime Minister Imran Khan to deliver a televised address to the nation guaranteeing the judges' safety and to criticize those who made verbal attacks on Pakistan's institutions, including his government.
https://indianexpress.com/article/pakistan/what-is-asia-bibi-blasphemy-trial-5428902/
--------
Look after women, don't make polygamy easier, say activists
Nurul Azwa Aris
November 2, 2018
PETALING JAYA: Vocal women's rights group Sisters in Islam (SIS) has called on the Perak government to strengthen laws to safeguard the welfare of women instead of making it easier for husbands to enter into polygamous marriages.
Responding to the state's plans to amend Section 23 of the Islamic Family Enactment (Perak) 2004 to make polygamy easier for Muslim men, SIS said it would be better to enact laws that compel husbands to pay nafkah, or maintenance costs, to their wives and children.
"Also, to ensure swift justice when they (their wives) need to face the shariah court system," SIS communications manager Majidah Hashim told FMT.
With the proposed amendments, the shariah courts will have discretion on whether or not to call the first wife to court when arriving at a decision.
Under the existing enactment, the courts' hands are tied if the first wife does not appear in court to state her case.
Majidah said it was distasteful for the Perak government to amend laws specifically to make it easier for husbands to have more than one wife.
She urged the authorities to view the wives' absence from court not as an excuse but as a sign of deeper, more underlying issues.
Activist-lawyer Nik Elin Nik Rashid agreed that the state should focus more on getting fathers to pay maintenance for their children than on facilitating polygamy. In many cases, she said, polygamous marriages were why these fathers failed to pay up in the first place.
She added that polygamy degrades not only the wives but also the children of these men.
"What the Perak government wants to do is to dispense with the presence of a very important person who would be greatly affected by the polygamy," she said.
She said the present law requires that all affected parties be present in court for the decision.
"That is a good law," she said. "To make it even better, call the children too and ask if their nafkah has been regular, and whether the father has been giving them the necessary care as is his responsibility."
https://www.freemalaysiatoday.com/category/nation/2018/11/02/look-after-women-dont-make-polygamy-easier-say-activists/
--------
Ethiopia gets first woman president of Supreme Court
01.11.2018
By Addis Getachew
ADDIS ADABA, Ethiopia
The Ethiopian parliament on Thursday approved the nomination of the first female Supreme Court president in the history of the country.
Meaza Ashenafi served as a judge of the High Court of Ethiopia from 1989 and 1992. In 1993 she was appointed by the Ethiopian Constitution Commission as a legal adviser.
In 1995, Meaza founded the Ethiopian Women Lawyers Association.
She will replace Dagne Melaku, her predecessor.
Last week, Sahle-Work Zewde, a long time diplomat and UN official, was appointed the first woman president of the state.
Ethiopia also received global acclaim for achieving gender parity in its Cabinet with 10 female ministers out of 20.
https://www.aa.com.tr/en/africa/ethiopia-gets-first-woman-president-of-supreme-court/1299869
--------
FaceOf: Saudi-British artist Nasreen Shaikh Jamal Al-Lail
November 01, 2018
Nasreen Shaikh Jamal Al-Lail is a Saudi-British artist. She is the founder and director of Variant Space, an art collective that provides a space for Muslim women to creatively express their experiences through art.
Her mixture of painting, video and photographic works are investigations into the connection between self-identity, individual experiences and the physical space in which these conflicts exist.
Having been raised in both Saudi Arabia and Britain, her personal experiences have shaped the way she perceives the fluidity and dynamism of cultural identities.
Al-Lail's latest creative artwork was on display on Thursday night at GPP Slidefest in Jeddah. A highly popular format, GPP Slidefest offers photographers and artists the platform to showcase their latest projects through a series of slideshows followed by a Q & A session from the audience.
Al-Lail's artwork incorporates both a subjective and objective point of view that urges the viewer to reflect on how multi-faceted and fluid the concept of identity can be. Her artwork is known to interlace ideas of both culture and gender, as well as religion and politics.
Al-Lail earned her bachelor's degree in photography from the University of Westminster in 2013. She continued her studies at the University of Westminster London, gaining her master's degree in photographic studies.
Since she founded Variant Space in 2014, her work has been exhibited in both Saudi Arabia and Britain.
Al-Lail has grown the project to become a powerful medium through which Muslim women can collectively showcase their creative achievements.
Founded on the principle of appreciative collaboration, Variant Space continues to extend this offer to all Muslim women around the world who wish to be a part of this dynamic expressive artistic platform.
http://www.arabnews.com/node/1397796/saudi-arabia
--------
Muslim women don't need Israeli supermodels to bring them 'freedom'
1 November, 2018
This week, Israeli fashion brand Hoodies released a series of adverts depicting women removing hijabs and niqabs in the name of freedom.
The campaign features a video that opens by asking "Is Iran here?" What follows is Bar Refaeli - supermodel and reportedly a co-owner of the company - appearing, solemnly in a hijab and niqab. With a quick tug she is liberated of the clothing, to reveal a happy, dancing, carefree - or rather, a western - woman beneath.
Right, because all Muslim women are waiting for is a clothing brand to free us of those pesky hijabs. But this label seems to lack basic reasoning skills and branding expertise, as they're criticising head coverings while their company name and flagship item - hoodies - literally comes with a built-in hijab.
After being liberated of the hijab and niqab, (all too easily - anyone who has ever actually worn a niqab or hijab could tell you that nobody would go out on an autumn day with such a weather-unworthy veil) and after turning suitably joyous, as any poor oppressed Muslim would surely be, the advert tells its viewers, "Freedom is basic."
Freedom is basic, and it's about a person's right to choose, to autonomy and to practice those rights without demonisation.
The great irony is that this campaign was purported to "call out racism and bigotry," according to The Jerusalem Post, with plans to co-opt Hassidic, Ethiopian and transgender Israelis into future advertisements. The closest this Israeli brand could get to stomaching a Muslim for their diversity box-checking exercise was a white woman playing dress-up in a niqab.
The advert is a far cry from supporting Iranian women's right to choose, as generous analyses claim it was intended. Instead it perpetuates the false dichotomy that women in the hijab or niqab cannot be happy, cannot dance, cannot be fashionable until we are unshackled from our headcoverings.
Bar Refaeli was wearing her Hoodie outfit the whole time, but - and this is the point, no doubt - she only enjoyed it once she removed the niqab.
Women in the hijab are able to wear sweatshirts and jeans without their scarves being whipped off. Or have I missed the memo that says we have to pledge lifelong allegiance to either black hijabs or the jumper?
The video advert was removed from Instagram after its obvious Islamophobic nature was called out, but it's still live on YouTube and the billboards across Israel with the image of a niqabi, remain, as does Hoodies' Instagram photo campaign.
Over the past two weeks, their page has featured the image of a woman in jeans, topless but for three pairs of jeans tied around her head and chest, in the style of a hijab. Behind her an anonymous man pulls at the clothes, proof that this campaign does not promote freedom, but rather removing the clothes of Muslim women, without our consent. Clearly, it was never about freedom.
It's obvious that in advertising today, the hijab guarantees attention, whether the campaign vilifies or promotes its wearers.
Every few months another brand releases a clothing, makeup or haircare advert that features a hijabi – though usually they enlist an actual hijab-wearer, rather than a caricature of an approximation.
Hoodies knew exactly what they were doing when they set out to vilify the hijab and niqab. They knew that the hijab and Islamophobia would translate into clicks. And they did not give a thought to the danger of this pervasive single narrative.
In the United States, hate crimes against Muslims are currently higher than they were post-9/11, and last year the UK experienced a record number of anti-Muslim attacks. For an Israeli company to act as the moral compass for Muslims is patronising and hugely ironic.
But more than that, it dangerously incendiary and it is unlikely that is mere coincidence.
At a time when Arabs are vilified in political campaigns in a similar vein to Hoodies' advertisement, and when the dehumanisation of Palestinians is commonplace, it is both reckless and foolish to release a campaign that echoes these nefarious tropes.
Hoodies' advert is set to a song that states, "It's all about freedom, finally breaking the chains, costing my freedom."
But the campaign does the opposite of what it claims, it does not liberate Muslim women, it puts them back within the four walls of a tired and one-track narrative of helpless, exotic beings who need saving by white outsiders.
https://www.alaraby.co.uk/english/comment/2018/11/1/muslim-women-dont-need-israeli-fashion-brand-for-freedom
--------
More women find work as Saudi unemployment rate steadies
01 Nov 2018
Unemployment in Saudi Arabia remains at nearly 13 percent, according to new data released by the country's General Authority for Statistics (GaStat).
The unemployment rate remained unchanged at 12.9 percent in the second quarter of 2018 compared to the previous quarter, said analysts Jadwa Investment.
It said the labour force participation rate rose among females, rising from 17.4 percent in Q2 2017 to 19.6 percent at the end of this June, indicating more enthusiasm among females to join the workforce.
Jadwa said that with increasing number of females joining the labour market, the female labour force participation rate rose, but the number of unemployed females is still higher than unemployed males.
At the beginning of this month, the Ministry of Labour and Social Development announced 68 new initiatives to stimulate Saudization in the private sector, distributed between job seekers and employers.
In addition, the Minister of Labour has recently stated that the unemployment target is 10.5 percent by 2022.
Jadwa said the total number of foreigners in the Saudi labour market has declined by around 1.1 million since the start of 2017, with 312,000 leaving the market between March and June.
Data also shows that all sectors saw a drop in the number of foreign workers, with construction losing the biggest number by 187,000 workers, followed by trade with 65,000 workers.
At the same time, two sectors showed a marginal increase in the number of Saudi workers during Q2, with mining and quarrying and financial services seeing numbers rise by 1,800 in each.
https://www.arabianbusiness.com/politics-economics/407256-more-women-find-work-as-saudi-unemployment-rate-steadies
--------
Women-only theme park opens in Saudi Arabia
01 Nov 2018
AlHokair Entertainment, Saudi Arabia's largest leisure and amusement chain, has announced the opening of AlHokair Time AlAzizyah in Al-Khobar city, a theme park for women only.
The park, which also features the Sky Zone Trampoline Park at its Eastern Province location, is managed by a team of women and is open to girls aged 5 and above.
AlHokair Time AlAzizyah also features a Snow Forest, with activities such as skiing, snowball throwing, and camping on offer, a statement said.
Mishal Al Hokair, executive vice president and general manager of the Entertainment Sector at Al Hokair Group, said: "AlHokair Time is the largest theme park destination in the region that offers a unique family entertainment experience. Al Hokair Group is committed to offering the highest quality and safety standards for customers within the unique entertainment experience, enabling them to have a great time with their beloved ones."
AlHokair Group, which employees more than 4,000 people, operates 91 entertainment centres and 35 hotels in Saudi Arabia and the UAE.
https://www.arabianbusiness.com/retail/407305-women-only-theme-park-opens-in-saudi-arabia
--------
Al-Hokair Group family entertainment centers empowering women
2018-10-29
Al-Hokair Group for Tourism and Development has hired a number of Saudi women across its entertainment centers in the central, eastern, western and southern regions and in the city of Madinah as site supervisors.
These employees started as accountants and were trained, qualified and provided with new knowledge and skills required for supervising the entertainment site to ensure the highest levels of safety of all visitors, especially children. This reflects the commitment of Al-Hokair Group to provide opportunities for young people, particularly, Saudi women.
Mishal Al Hokair, Executive Vice President and General Manager of the Entertainment Sector, said: "We, at Al Hokair, Group strive to empower women in the Saudi entertainment sector in line with the goals of Saudi Vision 2030 and to encourage Saudi women›s participation in social and professional fields."
He added that the Group is proud of the work of women and their leadership positions. "We will encourage women to pursue their career ambitions and drive the development process as per the vision announced by the government to encourage more Saudi women to take up challenging roles across all business sectors."
Al Hokair emphasized that facilities will be provided to talented and educated Saudi women to ensure they have equal opportunities to contribute to the Kingdom's growth.
Furthermore, Al Hokair Entertainment, one of the leading family entertainment organizations in the UAE and Saudi Arabia, is now planning to establish its footprint within the global $50 billion virtual reality gaming sector. With 91 active entertainment centers, under Al Hokair's key entertainment brand 'Sparky's', the group will now focus on embedding their centers with comprehensive virtual reality (VR) gaming zones. — SG
http://www.saudigazette.com.sa/article/546729/BUSINESS/Al-Hokair-Group-familyentertainment-centersempowering-women
--------
At least 14 young women and girls commit suicide in Iran cities
31 October 2018
At least 14 young women and girls in Iran have committed suicide and ended their lives in October. At least six teenage girls, 13-17, were among the victims.
Poverty and depression led a 16-year-old girl in one of the villages of Khormoj, in Bushehr Province, to commit suicide on October 7, 2018, by setting herself on fire as a result of which she lost her life.
On October 15, 2018, Raziyeh Rubina, 46 from Marivan in Kurdistan Province, commited suicide by hanging herself.
On October 19, 2018, a 16-year-old girl named Sholeh Sobhani from Ravansar in Kermanshah Province, ended her life through self-immolation.
A 16-year-old girl from Sanandaj, in Kurdistan Province, ended her life by jumping off the Shalman Bridge on October 20, 2018.
On October 21, 2018, a French-language female student from the University of Tehran commited suicide by throwing herself off the multiple-storey building of the municipality's parking.
Also on October 21, a 13-year-old girl in Tehran hanged herself at home after her family left.
Fatemeh Ghaderi, a middle-aged woman residing in Marivan, Kurdistan Province, commited suicide by self-immolation on October 24, 2018, due to family problems and differences with her husband.
On the same day, Shima Dastan, a young woman from Saqqez, in Kurdistan Province, who was the mother of a young child, hanged and killed herself because of poverty.
On Friday, October 26, 2018, Maryam Jangali, 37, committed suicide in Piranshahr, West Azerbaijan Province. She threw herself off the fourth floor of an apartment building due to the problems she had with her husband.
On Saturday, October 27, 2018, a Kurdish woman by the name of Shermin Ahmadi, from Oshnavieh, set herself on fire and lost her life.
Monday night, October 29, 2018, a 17-year-old girl in Fouman, Gilan Province in the north, committed suicide and died.
Other reports during the past month also indicated three more suicides without mentioning exact dates:
A 14-year-old girl from Jamshidabad, Abadan Province, hanged herself.
Two female students in Tehran also committed suicide.
According to the Statistical Yearbook of the Iranian Coroner's Office, published in September 2018, at least 1365 Iranian women committed suicide in 2017, i.e. an average of 4 women per day.
https://women.ncr-iran.org/iran-women-news/5547-at-least-14-young-women-and-girls-commit-suicide-in-iran-cities
--------
Women's National Canoe Polo Team of Iran lacks facilities to practice
31 October 2018
The Women's National Canoe Polo Team of Iran is facing many problems during the cold season.
Saba Rahmati, a member of the Women's National Canoe Polo Team of Iran, said, "We do not have a well-equipped pool in Khorramabad, that is why we are practicing in Keeyow Lake." The arrival of the cold season has contributed to the problems and practically eliminated the possibility for the Women's National Canoe Polo Team to practice.
"We have good talents in the Canoe Polo field who can reach the highest levels, but since we practice at the Keeyow Lake in Khorramabad, many families do not allow their daughters to participate. Now it's a season that does not allow us to train in the lake because of the cold and we cannot have our practices regularly," said Saba Rahmati in an interview about the Women's National Canoe Polo Team.
Regarding the success of the Women's National Canoe Polo Team in Iran, the canoe-poloist from Lorestan said, "Canoe Polo was first tested in the Asian games which led us to the championships, and is now considered an Olympic field. Therefore, officials should pay more attention to it. Women's sports should be one of the concerns of the authorities so that we can succeed." (The state-run ISNA news agency – October 27, 2018)
Iranian women athletes do not have any governmental support. The restrictions imposed on them - for example, the ban on the official broadcast of women's sports competitions from state television - have worsened their situation because they cannot obtain any nongovernmental or private sponsors. This situation has had serious consequences for them. Sometimes the teams have been completely disbanded, and occasionally teams have not been able to travel to another city to participate in a tournament.
Not only do professional athletes not receive any wages, but gold medalists are also left to provide for their livelihoods through street peddling and farming.
https://women.ncr-iran.org/iran-women-news/5546-women-s-national-canoe-polo-team-of-iran-lacks-facilities-to-practice
--------
Civil activist women tortured by intelligence agents in Iran
31 October 2018
Two civil activist women, Hakimeh Ahmadi and Nasim Sadeqi, were tortured by the Ministry of Intelligence agents after and during their arrests.
Ms. Hakimeh Ahmadi, a civil activist detained by the Ministry of Intelligence agents on October 18, 2018, was subjected to physical and psychological torture. The agents broke her fingers and two of her rib bones. According to her husband, Gholamreza Ghorbani, Hakimeh is hospitalized at the Tabriz Army Hospital, and the Intelligence Ministry agents have demanded that he pay the hospital and treatment fees.
During the arrest of this civil activist woman, the intelligence agents beat her and even threatened her and her husband with their weapons.
Ms. Hakimeh Ahmadi, the mother of two young children, had previously been detained in September and was released after three days on a 100-million-touman bail.
Another civil activist woman, Nasim Sadeghi, who is currently in detention, explained about the tortures she had been subjected to during a telephone call to her children, saying that the security guards had beaten her repeatedly during her detention and threatened her.
Further information on the arrest of Ms. Lamya Hemadi indicates that the 20-year-old woman detained in an unknown location, is seven months pregnant. Ms. Hemadi had been previously summoned by the intelligence department for her cyberspace activities and arrested by security forces in October 2018.
The Iranian regime has been cracking down on the populace in and around Ahvaz, making dozens of arbitrary arrests since September 22, 2018, when the parade of its military forces were attacked by armed men. Around 600 people from Khuzestan province have been detained by security forces and under interrogation. Arab human rights activists have announced that many of the detainees are civil activists.
https://women.ncr-iran.org/iran-women-news/5548-civil-activist-women-tortured-by-intelligence-agents-in-iran
--------
URL: https://www.newageislam.com/islam-women-feminism/how-jewish-muslim-women-working/d/116770
New Age Islam, Islam Online, Islamic Website, African Muslim News, Arab World News, South Asia News, Indian Muslim News, World Muslim News, Women in Islam, Islamic Feminism, Arab Women, Women In Arab, Islamophobia in America, Muslim Women in West, Islam Women and Feminism