New Age Islam News Bureau
2 Feb 2020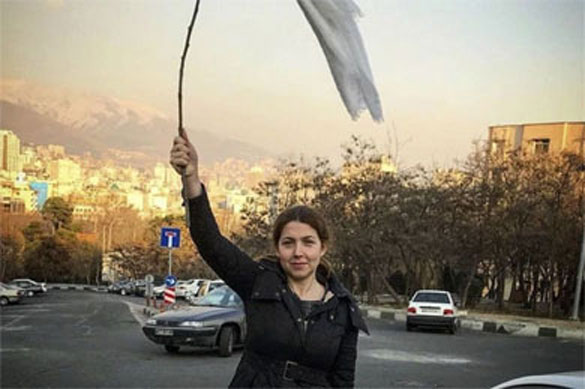 Iranian protests against the mandatory hijab have been on the rise.AY-COLLECT/SIPA/REX/Shutterstock
------
• Women Hold Their Ground at Mumbai Bagh, Despite Police Warning
• Jordanian Sportswomen Eye Gold At Arab Women Sports Tournament
• Pakistan's First-Ever All-Female Peacekeeping Team Awarded UN Medal in Congo
• Afghan Old Man Donates Private Land to A Girl's School in His District
• Ilhan Omar: 'I Always Stand Up to Bullies'
Compiled By New Age Islam News Bureau
URL:
URL: https://www.newageislam.com/islam-women-feminism/how-irans-women-using-their/d/120956
--------
How Iran's Women Are Using Their Hijabs to Fight the Regime
By Mary Kay Linge
February 1, 2020
In the summer of 2017, a social-media movement was encouraging Iranian women to tear off their mandatory hijabs and share their moments of "stealthy freedom" online.
Girls were routinely rejecting the rules of "good hijab" by wearing their veils so loosely that strands of hair could escape. Women posted photos of themselves hiking or driving with their locks flowing free, using the hashtag #whitewednesday to show their contempt for Iran's strict modesty laws.
"The veil was an ideological pillar of the revolution" that overthrew Iran's shah in 1979, writes Kim Ghattas in "Black Wave" (Henry Holt), a history of that year's twin regional crises — the Iranian Revolution and the siege of Mecca in Saudi Arabia — and the resulting tsunami of religious zealotry that flooded every corner of the Middle East.
For most of four decades, she writes, Iran's required head covering has shrouded the entire nation, enforcing "a semblance of homogenous unity" aimed at keeping all its people, women and men alike, in line.
But that homogeneity is merely a façade, Ghattas writes.
In truth, Iranians have led double lives ever since Ayatollah Ruhollah Khomeini established his theocracy in 1979.
Publicly, nearly all of Iran's 82 million citizens abide by strict rules banning music, alcohol and mixed-gender socializing. Women and girls are to keep their hair hidden at all times and are schooled to do so at home as well as in public.
But Iranians routinely break all those decrees in private.
"Life retreated indoors," Ghattas explains. "There were still private parties where women and men danced together, everyone drank, and music played."
This divide between the public and private has allowed Iranians to nurse a stubborn rebellious streak that has repeatedly burst free. Frustrations have often boiled over when the regime pushes beyond its borders in pursuit of a "Shia crescent" — an Iran-controlled empire stretching from its home territory, west through Iraq and Syria, all the way to Lebanon on the Mediterranean Sea.
Ghattas' account of Iran's split personality casts fresh light on the fierce protests that broke out repeatedly in 2019 — and on the continuing demonstrations in the aftermath of the United States' targeted killing of Iranian Gen. Qassem Soleimani last month.
It was Soleimani who in 2017 tried to shame Iran's bareheaded women back under their scarves. As commander of the Quds Force, he was in charge of the Iranian troops who fought for Syrian dictator Bashar al-Assad. The August 2017 capture and gruesome beheading of Iranian soldier Mohsen Hojaji by members of ISIS became a propaganda weapon in Soleimani's hands.
At Hojaji's public funeral, Soleimani ushered out the soldier's widow, who told the country that her husband had lost his head so that dutiful Iranian women could cover theirs.
"I'm asking people, for the sake of a wife of a martyr, a mother of a martyr, a sister of a martyr, to keep their hijabs," Zahra Abbasi urged the crowd of mourners.
It echoed a tactic that Khomeini himself deployed in 1979, in his revolution's earliest months, when he first faced pushback against his new theocracy.
Four days after Khomeini returned to Iran from years of exile, he declared any opposition to be blasphemy.
"I will decide the government, a government for the people," he intoned. "Revolt against God's government is revolt against God."
Music, banned from radio and television, was "no different from opium," the ayatollah decided. When he outlawed alcohol, troops from the Islamic Revolutionary Guard Corps (IRGC) seized more than a million dollars' worth of imported wine and beer from Tehran's Intercontinental Hotel and poured it into the gutter. It was a methodical, highly organized purging of all Western influence, a return to the medieval roots of Islam.
The campaign met with little public resistance — until Khomeini brought the hammer down on Iran's women.
On March 6, 1979, he issued a new rule: "naked women" — that is, women who did not hide their hair beneath a veil — were banned from government offices. The rule did not make the hijab mandatory for all, but the nation's women knew that eventually it would. They had won the right to dress as they wished during the previous rule of Shah Mohammad Reza Pahlavi, and they had no intention of losing it.
"In the dawn of freedom, there is an absence of freedom," they shouted through six days of mass demonstrations that drew crowds of up to 100,000 — some veiled, some bareheaded.
"What Iranian women wanted was the choice: to veil or not to veil," Ghattas writes.
In response, Khomeini's state-run media launched a shame campaign. The protesters were cast as monarchists fighting not for their personal freedom, but for the return of Pahlavi.
"The movement was racked with doubt," Ghattas writes — were they really being used by the shah's secret supporters to undermine the revolution? "The protests petered out."
Now, forty years after the revolution, a new generation of Iranians is seizing the old tradition of anti-government protest. By 2017, "many Iranians were tiring of the attention to causes that were not their own," Ghattas writes. "Their pockets were still empty. But the regime was still spending blood and money in Iraq and Syria."
Those conditions only worsened in 2019, as US sanctions hammered Iran's economy, forcing sharp price increases for gas and other essentials. Internet shutdowns were not enough to thwart the nationwide demonstrations. The response from Soleimani's troops was brutal: At least 1,500 Iranians died.
But, in the face of their violence, the pace of anti-regime protests only quickened. Observers have logged more than 4,000 separate demonstrations in the last two years.
And Iranian women's continuous acts of defiance against the veil have been the heat beneath that bubbling pot.
"Every day we see new videos of women challenging the morality police," refusing orders to cover their heads as they walk on the street or ride public transportation — even though hundreds have been arrested and imprisoned for breaking the modesty law. Ghattas said.
The veil protests "are the most difficult thing for the regime to contend with, because they are being done as isolated occurrences."
In last month's demonstrations against Iran's shoot-down of Ukraine Airlines Flight 752, dozens of bareheaded female students could be seen mingling with peers under headscarves.
"The protests against the veil have become interconnected with protests against government corruption, mismanagement, and now the downing of the Ukrainian plane," Ghattas said. "It's a war of attrition and it really has the authorities scared."
Ghattas is reluctant to predict what may happen next as Iran's regime clings to power. "But I think something is coming undone throughout the Middle East, and it has to do with the legacy of 1979," she said. "The younger generation does not want to be held hostage to that year anymore."
https://nypost.com/2020/02/01/how-irans-women-are-using-their-hijabs-to-fight-the-regime/
--------
Women Hold Their Ground at Mumbai Bagh, Despite Police Warning
Feb 2, 2020
Hundreds of women continued to protest on Morlan Road in Nagpada, now popular as Mumbai Bagh, even after the police asked them to vacate the place on Saturday afternoon.
The police have decided to take legal action against the protesters as they didn't take permission to hold a protest on the road. Abhinash Kumar, DCP Zone III, said, "The chaos on Saturday was due to a ruckus between two groups of protesters. One group had called off the protest while the other faction decided to continue the protest."
The agitation against the Citizenship Amendment Act (CAA) entered the seventh day on Saturday. Earlier in the day, a few of those leading the protest had announced that the peaceful agitation was called off after the singing of the national anthem. But police presence at the site invited more protesters, mostly local Muslim women, who decided to stick around for an indefinite period. The protesters want an assurance from the Maha Vikas Aghadi government that the CAA, NRC and NPR will not be implemented in the state.
Fatima Khan, one of the leaders of the protest, told Mirror that she left the place because the police had cited security reasons. "Several women agreed to call off the protest as they reached some sort of an understanding with the police. However some of the protestors decided to hold their ground, which led to tension."
https://mumbaimirror.indiatimes.com/mumbai/other/women-hold-their-ground-despite-police-warning/articleshow/73858369.cms
--------
Jordanian Sportswomen Eye Gold At Arab Women Sports Tournament
February 02, 2020
JEDDAH: Jordanian sportswomen are determined to settle for no less than gold at the Arab Women Sports Tournament (AWST).
The tournament, organized by Sharjah Women's Sports, runs from Sunday to Feb. 12. Sharjah is hosting 78 clubs from 18 Arab nations.
Jordan's Fuheis Youth Club is aiming to secure the top spot in basketball, after losing the final game by one point in the previous AWST. De La Salle Club is geared up to prove its mettle in volleyball.
Hamada Sports Club will be competing in table tennis, while Al-Aryan Equestrian Club will represent Jordan in the show-jumping category.
Saqr Quraish Club's martial artists are eager to clinch gold in karate.
"AWST has had a significant impact on enhancing the Arab women's sports landscape since its first edition," said Fuheis Youth Club President Ayman Samawi.
"It's the largest professional platform for the region's sportswomen, and has enabled us to compete with our counterparts. The tournament's message is that women's sports are equally important."
Samawi thanked AWST's organizers for offering Arab sportswomen from 18 nations yet another opportunity to demonstrate their skills and compete in a world-class environment.
Faisal Al-Nsoor, the club's coach, said: "Over the years AWST has crossed many milestones, honing the talents and capabilities of athletes across the Arab world by providing them with this prestigious competition platform."
He added: "AWST has offered the region's sportswomen a major impetus to continue perfecting their game and gain more expertise in their respective sporting disciplines. The more games against tough opponents they play, the more agility and experience they gain."
Assistant coach Nayef Asfour said: "We're well prepared for AWST. Our team is coming into the tournament feeling confident after their big win in the Jordanian leagues last week."
He added: "Three new players have joined our ranks for AWST, which is the strongest tournament of its kind."
Asfour said the team is competing without its captain, Rasha Abdo, who is indisposed due to personal circumstances.
The AWST is being organized in partnership with the UAE Sports Council, the Sharjah Sports Council and the Union of Arab National Olympic Committees.
Launched in 2012, the bi-yearly Olympics-themed women's sports tournament hosts clubs from Arab nations.
They compete in nine sports: Karate, basketball, volleyball, fencing, show jumping, shooting, archery, athletics and table tennis.
In 2018, AWST hosted 67 women's sports clubs from 16 Arab nations. More than 380 Arab media outlets covered the event.
https://www.arabnews.com/node/1621651/sport
--------
Pakistan's First-Ever All-Female Peacekeeping Team Awarded UN Medal in Congo
02 Feb 2020
ISLAMABAD: Members of the first-ever Pakistani Female Engagement Team (FET), which is deployed with the United Nations Organisation Stabilisation Mission in the Democratic Republic of Congo (MONUSCO), were recently awarded the UN Medal at a ceremony in Adikivu in South Kivu, one of the provinces of the central African country.
This team of 15 female Majors and Captains was the first ever Pakistani Female Engagement team in any UN peacekeeping mission around the world.
The officers are psychologists, stress counsellors, vocational training officers, gender advisers, doctors, nurses, operations officers, information officers and logistics officers, according to a message received at UN Headquarters in New York.
Another 17 female officers will join the team in early February.
UN Peacekeepers rely heavily on engaging with the local community — which feels more comfortable liaising and sharing information with military troops that include women alongside men, the mission said.
"Throughout their deployment the Pakistani female officers worked hard to win the trust of the community," it added.
The Pakistani FET, according to the mission, has implemented many successful projects including vocational training, medical outreach, regular sessions of support for students, local women and teachers exposed to trauma; and psychological workshops for Congolese police personnel.
"This team's extraordinary endeavours to serve the UN is worthy of praise", read the press release.
Governor South Kivu Province Theo Ngwabidje represented the Congolese authorities at the ceremony.
https://www.pakistantoday.com.pk/2020/02/01/pakistans-first-ever-all-female-peacekeeping-team-awarded-un-medal-in-congo/
--------
Afghan Old Man Donates Private Land to A Girl's School in His District
02 Feb 2020
An old Afghan man donated his private land to the Education Ministry, demanding to build a girl's school on it in the Gosfandi district of northern Sar-e-Pul province, Ministry of Education said.
Faizullah and elder of Gosfandi district donated 2,000 sqm land valuing AFN 4 mn to the Ministry of Education for building a girl's school.
The Education Ministry has committed to building a girl's school on the land donated by Faizullah which will enable the female students in the area to access education.
Government officials have praised Faizullah for his generous act honoring him with an appreciation letter.
This comes as despite raising billions of international aids to Afghanistan since 2001, a considerable number of residents do not have access to proper infrastructural facilities health and education.
https://www.khaama.com/afghan-old-man-donates-private-land-to-a-girls-school-in-his-district-9879078987/
--------
Ilhan Omar: 'I Always Stand Up to Bullies'
2 Feb 2020
Longworth House, which stands just south of the Capitol in Washington DC, is one of three offices used by members of the House of Representatives. A vast neoclassical building, its corridors are austere, their anonymous expanses broken only by American flags and identical brass plates identifying which Congressman or woman may be found behind each door. Turning a corner, however, something else suddenly appears on the horizon: a multicoloured cloud of butterflies that turns out, on closer examination, to be a collection of hundreds of Post-It notes. "Thank you for being strong," says one. "You're the best of what America can be," says a second. A third, heart-shaped and embellished with a smiley face, announces simply: "You are home." Almost, but not entirely, obscured by this outpouring of love is another regulation brass plate. This one reads: Representative Ilhan Omar, Minnesota.
Even by its own standards, the atmosphere in Washington this afternoon is febrile. Yesterday, the articles of impeachment against President Trump were finally brought from the House to the Senate. Meanwhile the two leading candidates on the left in the race to be the Democratic presidential candidate, Elizabeth Warren and Bernie Sanders, had a very public falling out, the former having accused the latter of calling her a liar on live television.
Outside, news crews seem to be around every corner. But to meet Congresswoman Omar, you would never know all this. Amid the noise and excitement, she is an unexpectedly still, quiet point. In her office she sits, tiny as a bird, hunched over a cup of soup, as if this was just another ordinary day.
Does it feel slightly unreal to be here at such a highly charged moment? Omar smiles. "Many of the plot lines in my story feel preposterous at times," she says, wiping her mouth with a napkin. "Maybe that's why I'm so drawn to watching dramas that are over the top. It's more bizarre than House of Cards. But my situation is also an example of how two contrary narratives can co-exist. We live in a time of hopefulness, with so many firsts, yet we can also be in complete despair, a tyrant in the White House."
Her serenity – minutes can tick by before she answers a question – comes as a surprise at first. You expect fire. After all, since her election to Congress, when she became not only the first representative to wear a hijab on the floor of the House, but also the first naturalised citizen from Africa and one of the first two Muslim women to serve, controversy has trailed her almost unceasingly. She's a member of the so-called Squad, a group of four women elected to Congress in 2018 (the others are Ayanna Pressley, Rashida Tlaib and Alexandria Ocasio-Cortez) who are pushing for such progressive ideals as the Green New Deal, a Democrat-sponsored resolution that aims to address climate change and economic inequality, and Medicare for All, in which universal healthcare would be funded by taxation. On the left of the Democratic party, she often draws the ire of her own side as well as that of the right – particularly when it comes to Israel.
Last February, for instance, the Democratic House leadership accused Omar, who is critical of Israel and a supporter of the Boycott, Divestment, Sanctions (BDS) movement, of having engaged in antisemitic tropes; she later apologised, and thanked Jewish colleagues for their efforts to "educate" her. Nevertheless, it is from the Republican side that the worst abuse comes. Last year, the campaign Twitter account for Danielle Stella, a Republican who hopes to unseat her in Minnesota, posted two messages suggesting she be tried for treason – alleging she had shared sensitive information that found its way to Iran – and hanged. On social media, the rage against her never lets up. No wonder her staff are reluctant to take down the adoring Post-It notes left by more supportive visitors – by those who regard her as a symbol of hope and American diversity – for all that the Capitol Hill authorities have quietly asked them to.
Did it feel historic to vote to send the articles to the Senate? "It did. We have a corrupt, lawless president who has subjected the American people to a great deal of harm and this is our opportunity to uphold our oath of office." She believes that the impeachment is the morally correct course of action for Democrats, irrespective of whether Trump is acquitted or of its potential effect on the presidential election later this year. "As the Speaker said, this is the highest form of patriotism. It's not about partisanship. It's about protecting the Republic." All the same, does she worry that it might ultimately boost Trump? She shakes her head. "This is country over party, regardless of what the retributions might be for us."
As a supporter of Bernie Sanders, what does she make of his spat with Warren? "It's not about leaders, it's about ideology," she says. "I'm someone who is interested in policies, not identities." Like Sanders, she is in favour both of cancelling outstanding student debt and free tuition for college students from low-income families; of reform of the private prison service; and of the automatic registration of voters when they turn 18. And both are opposed to the sealing of the US border with Mexico, and in favour of a more liberal immigration programme generally. (Though they differ when it comes to foreign policy, Sanders having suggested he would not cancel the US drone programme.)
Will he win the candidacy? "I believe he will." And if he does, can he really beat Trump? It's not only that some Americans regard Sanders as a communist. Omar followed the British general election closely, for which reason she must know that all the evidence suggests the question of leadership does matter, in the end.
But she won't waver. "Yes. The policies we are fighting for, contrary to what the right says, are supported by the majority of Americans. In our battleground states, Bernie speaks to the mother who is working three jobs and barely able to put food on the table; to the woman who wants to start a family or a business, but is shackled by student debt. I'm confident people are going to be for Bernie, because they know he sees them and hears them and will make their lives better. He has an ability, unlike anyone else, to organise a multiracial, multifaith, multiclass movement." Still, better any Democrat in the White House than no Democrat, she says. Ultimately, whoever runs will have her support.
Watching Omar on CBS's The Late Show last April, resplendent in huge yellow earrings – under questioning, she apologised again for her comments about the Israel lobby; like many people, she said, she didn't always fully understand the historic context of certain words and the pain they might cause – I was vaguely amazed by her star power. Her words were politician-careful, almost to the point of dreariness and yet, somehow, she dazzled. What's her secret?
In person, you quickly grasp that her fearlessness is the key. In Britain, politicians complain loudly about the hate they receive. But when I ask her about the trolls and the threats, about what it feels like to be such a lightning rod, her attitude is almost blithe. Yes, when Trump tweeted last summer that the Squad, all of whom are women of colour, should "go back" to "the places from which they came", there was an alarming spike in the online attacks against her; she continues to receive a "tremendous amount" of hate mail. But when she insists it doesn't make her feel vulnerable, that it causes her only to worry about how it "impacts on those who inhabit the same identities as me," I find that I believe her.
Where does it come from, this stubborn sense of purpose, this refusal to flinch in the face of a fight? Last week, she launched her campaign for re-election with the slogan "Send her back to Congress", jokily taunting Trump by playing on his tweets about her. She traces it to her childhood. "At a very young age, I was made to believe I had a role in creating my own destiny," she says. "I was a tiny kid, but I always refused to acknowledge this. I believed I was somehow both bigger and more invisible. What happened was that my father's father would call us into his room before school, and he would say we were Arawelos. Do you know who Arawelo was? She was, some say, a mythical queen: small in stature, but mighty in the way she ruled. There is a grave in what is now Somaliland: the women throw flowers at it and the men throw rocks." She laughs. "What's funny is that my sisters and I each thought we were the only one he said this to, so I walked around for my entire life thinking I was the special Arawelo in the family until three years ago, when I told this story on a panel, and my sister said: 'Stop lying, that was me.'"
Her mother died when she was two and she was brought up by her father and grandfather, both of whom had forward-thinking ideas about the raising of girls. She believes now that the latter, in particular, hoped to ignite an interior fierceness that would help her to face inequality later on – and as it turns out, he was successful.
"The fact I truly never feel inferior in any way, or afraid in any situation, has always been baffling to people," she says. "I would stand up to boys who were bullying, not even me, but other kids. They would laugh, and say: 'Who do you think you are? We're going to beat you up after class' – and I would actually show up for the fight. So yes, I think the reverse psychology that my grandfather engaged in has paid dividends."
Omar was born in Mogadishu, Somalia, the youngest of seven, and thanks to this, war is not an abstract concept for her. Following the assassination of Qassem Suleimani in Iran last month, she stated publicly that the escalation of tensions between the US and Iran had triggered her post-traumatic stress disorder – a comment one Republican denounced as "offensive to our nation's veterans". But she's not about to go back on what she said.
Why would anyone want to deny her experiences? "I understand how quickly a society can deteriorate," she says, softly. "There are other Congress members who know what it means to live under an oppressive regime, and who, as children, fled conflict. But I'm unique in being a Representative who lived through active war and who remembers the destruction."
It's this that, at least in part, lies behind the progressive foreign policy ideas she hopes to announce in the coming weeks, a package that will include the prohibition of arms sales to countries that cross humanitarian red lines and a demand that the US ratify the UN Convention on the Rights of the Child.
What does she remember of the war? "I remember it in moments. I vividly remember the first sounds of gunshots through concrete walls. I would have been eight. I remember the distinct noise that a rocket makes as it flies over your home. I remember the desire to escape your own body as you hid under the bed, not knowing whether that rocket is going to hit your home. When the war began, we lived between the rebel forces and the regime. I was truly caught up in the crossfire and our home would ultimately be hit by rockets multiple times. I lived through an invasion of militia men into our home." She lost no one close, but several people in her wider family were killed.
The family fled to a refugee camp in Kenya where they remained for four years. "I have memories of arriving there, too. One thing that has stayed with me, and which helps guide my advocacy now, is that I remember what a relief it was to show up there, to receive water and blankets – and as a kid in the open field, as people are being processed and assigned tents, you get to roam. When I see images of kids in cages at our border [with Mexico], I know their mind is not getting the break that mine got; that moment of feeling like their childhood is being restored to them, when they're allowed to play. The process we are putting children through is retraumatising."
Did the camp come to feel like home? "It did, to the point where I protested about leaving – something my family made fun of me for. You get into a routine and for someone like me, who'd grown up in a very protected environment, watched over in a big family compound, there was lots of new freedom. The rules shifted. When you're little, you can get away with a lot; you can sneak off. To run around between tents, to stand in line for water, to have the ability to move and to be trusted, was one that I adored. So, the restart wasn't something I looked forward to. When everything you know no longer exists, and you've created a new reality, to do it again… that was hard."
Her father decided the family would seek asylum in the US; having been a teacher trainer in Somalia, he would make his living in Minneapolis as a cab driver and working for the post office. She was 12 when they arrived, and 17 when she became an American citizen. "My dad is ever the optimist. It's hard to see his smiling face and to imagine what he survived. The yearning for home never goes away. But it's a lot easier to come to the US and have the opportunity of a start than it is to stay in a refugee camp, in limbo. The challenges were really all mine."
She hated not being able to speak English. "In effect, you're rendered mute. It was lonely and maddening. I have moved my own kids around a few times [a divorcee, she's been married twice and has three children by her first husband. Last summer, the rightwing press gleefully reported that she was having a "secret affair with a married aide"]. When they used to complain about it, I would say: 'Imagine doing that in a new culture, with no acknowledgement of your faith, and no ability to communicate.' It's a good disciplinary tool. Kids like mine can't complain because their mothers will always go back to their refugee stories."
Was this new world racist? "I grew up in a black world until I was 12, so I'd never even had a conversation about being black – and even in Kenya, people were predominantly Muslim, so that wasn't talked about either. So arriving in the US was brutal, yes. Not only was I made aware that I was black and Muslim; I was also a refugee and a female. But being Muslim was the thing about me that was really noticed. Wearing a hijab was an odd thing. The other kids called it out, because that's what children do. I was made aware that I was not normal. I realised discrimination was part of the system."
Nevertheless, she thrived. She read political science at university in North Dakota, after which she worked in child nutrition back in Minnesota. Having managed the campaigns of other local politicians, by 2016, she had been elected to the Minnesota House of Representatives herself, challenging an incumbent of 44 years; two years later, she stood for Congress. "I think it speaks to something the people have acknowledged," she says, of her resounding victory in that election. "By sending me to Washington, they've established a counter-narrative; I am an antidote to the rhetoric of Trump. That we have come into the ring is a loss for him, not for us."
She's proud of what she has achieved. She is still only 37, after all. She sees the miracles here. But she's cautious, too; resolute. "This is a place that is designed to mould and change you. Except, we don't want to be changed. We want to change it – and we have." As one aide begins knocking at the door, and another begins gesturing for me to wind up, her hands go to her scarf. "There is room here for a hijab."
How high does she want to go? Where does her ambition end? She says something pat about living in the present, but looking at her face, I can't help but notice that, just for a moment, she seems suddenly coy. "We can be as bold and courageous as we want," she says, in the seconds before she darts from the room. "We have… opportunities."
https://www.theguardian.com/us-news/2020/feb/02/us-congresswoman-ilhan-omar-i-always-stand-up-to-bullies
--------
URL: https://www.newageislam.com/islam-women-feminism/how-irans-women-using-their/d/120956
New Age Islam, Islam Online, Islamic Website, African Muslim News, Arab World News, South Asia News, Indian Muslim News, World Muslim News, Women in Islam, Islamic Feminism, Arab Women, Women In Arab, Islamophobia in America, Muslim Women in West, Islam Women and Feminism