New Age Islam News Bureau
2 March 2013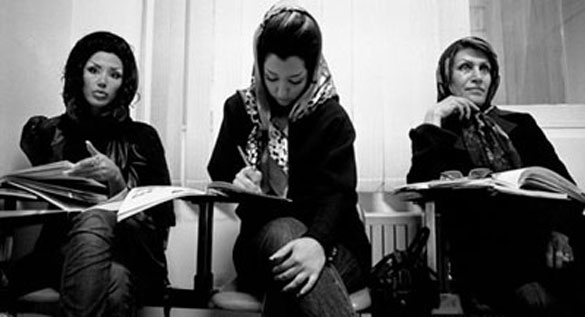 • Islamabad HC handed over Convert Muslim Girl to her Christian Father
• The Beauty Obsession Feeding Iran's Voracious Cosmetic Surgery Industry
• Naked Woman's Photos Flashed During Vicar's Church Sermon
• Tensions Remain At Alleged Kidnapping, Forced Conversion in Egypt
• Emirati Internet Rapist Gets Life Term
• The First Ever Female Head of Public Order in Jakarta
• Women Brush Aside Men to Capture Moments
• Bahrain Court Jails Woman Activist for Three Months
Compiled by New Age Islam News Bureau
Photo: Two Iranian beauticians and a housewife attend an English language class in Tehran
URL: https://www.newageislam.com/islam,-women-and-feminism/new-age-islam-news-bureau/how-brave-nusrat-survived-india's-dark-'bride-market'/d/10617
--------------
How Brave Nusrat Survived India's Dark 'Bride Market'
T S Sudhir
Mar 2, 2013
For the first time since I met her, Nusrat (name changed) was giggling. After all, a teenager is still very much a child. She was telling me how someone who performs black magic had been brought in to make her change her mind and make her a willing bride. The 'jaadugar' (magician) had tried everything he could – read weird hymns, rubbed ash, made her drink some weird concoctions, poured oil, created smoke and dance. Yet she had remained unmoved, in fact amused. At the first chance she got after that, she ran away to the police station to tell them her story and seek protection.
Nusrat's school certificate says she is not even 16 yet. But her parents decided it is best for her to be married off, even if that was to a 44-year-old man from Sudan. He had agreed to pay a Meher (bride price) of one lakh rupees at the time of the Nikah. By the time he would leave in 40 days, he had agreed to pay another one lakh rupee. They were unable to say 'no' to that.
Nusrat still can't believe her parents could do this to her. She says her family is not that poor that they need to do this. Her father dabbles in the real estate business and according to the police, also has connections with a politician from the Old City area, which is also into the media business. Nusrat has a younger sister, 12 years old and two younger brothers.
Nusrat's aunt Mumtaz Begum had brought the `proposal'. There were a couple of other middlemen. The Qazi (priest), Mohammed Naseeruddin Jehangir said he could write out the Nikaahnama only if there was an age certificate to prove she was not a minor. So another person called Mohammed Fazaluallah was brought in to create documents to show she was 24.
It is not as if all this happened in the back of beyond of Hyderabad. Moghulpura where Nusrat lives, is just half a km from the Charminar monument. Moghulpura inspector Vijay Kumar explains that the `groom' is in fact an engineer from Khartoum, working for an oil company. He is married, with two children back home. He came here inspired by what his friend Ahmed Yahiya had told him – that it is possible to 'enjoy' a young, temporary wife in India, for a price.
Osama Ibrahim came to Hyderabad on February 19. Within two days, potential 'brides' were lined up for him. Nusrat was waiting along with four other girls when she became the girl Ibrahim chose. Even before she realised what was happening, Nusrat's 'kabool' had been taken.
The only reason she escaped from a 'first night' that Thursday night was because twin bomb blasts earlier that evening in Dilsukhnagar area of Hyderabad had increased police surveillance and checks. Sensing danger, the Sudanese had left early for his hotel in Banjara Hills, an upmarket area in the newer part of the city.
No one in Nusrat's joint family of 16 members objected or supported her. Her mother in fact, beat her along with the others when she refused to play wife and get locked into a room with her `husband'. It was the support of her close friends that encouraged her to run away and report to the police.
Hyderabad has been notorious as a bride bazaar for old Arab Sheikhs for over two decades now. If there was the case of the 11-year-old child bride Ameena who was rescued from her 60-year-old Arab 'husband' by an airhostess on a flight out of Hyderabad in 1991 that gained international attention, globalisation has only widened the market base now.
So people from other countries are also now coming in to exploit the vulnerabilities of poor young girls from here. The fig leaf of morality they use as a weapon, either to escape religious criticism or the law, is what they call the Islamic tradition of mut'ah or temporary marriage, because they believe sex without marriage is `Haraam' or a sin.
Most `marriages' are hush-hush affairs and in only very few cases, someone decides to blow the lid. In 2004, Hyderabad was shocked by the case of the twice-married 73-year-old Mohammed Jaffer Yakub Hasan Al Jorani, a one-eyed resident of Sharjah who married not one but two women within a span of a fortnight in May that year. Jorani who had two wives and eleven children back in Sharjah, married 19-year-old Haseena Begum on May 7 and then deserted her to marry a 16-year-old girl on May 24. Haseena complained about Jorani to the police.
After Nusrat's complaint, the Sudanese, Osama Ibrahim, her father Yousuf, her aunt, the Qazi and two other middlemen have been arrested. But Nusrat's story does not end there. She does not want to go back home because she doesn't feel safe. The 8th class dropout who does tailoring odd jobs says hopefully because of what she did, her younger sister would not be subjected to the same fate. She feels guilty that her action sent her father to jail. "But I never thought my parents could do this to me. I needed to do what I did." I could sense she is telling herself that as much as to me.
The Quazis in Hyderabad have standing instructions from the authorities to keep their eyes and ears open and report any such matter to the police. But because they are threatened to fall in line or for a quick buck or fear of ostracisation by the community, many prefer to look the other way.
This brave young girl has shown rare courage to stand up for herself. She can be an inspiration to several others. But that is only if society and the government stand up now and support her, even after the 'sensation' of a minor's marriage farce is over. Nusrat can't be allowed to become another Ameena. Then we will be failing not just her but ourselves.
http://www.firstpost.com/india/how-brave-nusrat-survived-indias-dark-bride-market-645767.html
--------------
Islamabad HC handed over Convert Muslim Girl to her Christian Father
March 02, 2013
Justice Shaukat Aziz Siddiqui of the Islamabad High Court (IHC) here on Friday handed over a girl Sarah, who had embraced Islam, to her parents after seeking assurance that they would not pressurise her to change her faith or religious obligations.
Sarah has been living in a Darul Aman of Rawalpindi after her husband left him and his father Ashfaq Masih filed an application before the IHC that his daughter has been living in a miserable condition in Darul Aman with physical and psychological problems.
As per details, two Christian girls namely Karen and Jamima, residents of France Colony, Sector F-7/4, embraced Islam in 2011 and changed their names as Kiran and Sarah. The two girls were married to two Christian boys Arshad and Afzaal who had also embraced Islam.
Parents of the two girls Asfaq and Khalida Masih lodged an FIR with Kohsar Police for abduction against Arshad, Afzaal and their uncle namely Waris. Parents of the girls had told the police that Arshad and Afzaal kidnapped their minor daughters on April 28, 2011 and then changed their religion and got married to avoid the legal consequences.
They further said that at the time of abduction their daughter were juvenile studying in class VI and VIII. Under the Islamic and Christian family laws the marriage of juvenile children is prohibited, they further adopted.
In May 2011 Kohsar Police after registering the FIR could not arrest the accused and when a trial court ordered their arrest, the accused filed an application before the IHC that they got married under the Muslim laws and the FIR may be quashed against them. An IHC bench on September 2012 ordered the police to quash FIR conceding to the arguments of the counsel of wedded couples.
The IHC bench was told that Kiran is living with her husband while Sarah's husband has left her. The court then inquired to Sarah whether she wanted to go with her parents or she may be sent to a Darul Aman. Sarah's father told the court that her daughter is only a class VI student and living in Darul Aman. But the court at that time had dismissed his plea and send Sarah to Darul Aman. Sarah's six months stay in Darul Aman left bad effects on her health and psychology. Today's hearing Sarah agreed to go with her parents. The IHC judge took oath from her parents that they would not force her to change her faith and would take a good care of her and handed over the girl.
http://www.thenews.com.pk/Todays-News-6-162964-Convert-Muslim-girl-handed-over-to-her-
--------------
The beauty obsession feeding Iran's voracious cosmetic surgery industry
March 2, 2013
Of the many ways in which revolutionary ideals have backfired in the Islamic republic, perhaps none is more visible than the Iranian obsession with physical beauty. Far from focusing on internal spiritual values, young people – some aged 14 – are having cosmetic surgery in the hope of attaining "doll faces" to make them look like the actors they see in Hollywood films and satellite television programmes from the west.
Iran has the highest rate of nose surgery in the world. According to a report in the conservative Etemad newspaper, as many as 200,000 Iranians, mostly women, go to cosmetic surgeons each year to reduce the size of their nose and make the tip point upwards.
For many, surgery is a reaction to the restrictive rules of compulsory hijab. "They won't let us display our beauty," one woman said.
"It's human nature to want to seek out attention with a beautiful figure, hair, skin … but hijab doesn't let you do that. So we have to satisfy that instinct by displaying our 'art' on our faces."
Others see it simply as taking advantage of the benefits of modernity.
"Science and technology have progressed, and people can look more beautiful," said one. "Why shouldn't we?"
The spike in inflation experienced by Iranians in recent months has compounded the already high price of such surgery. At present, the cost of an average nose surgery in Iran is 50-100m rials (about £1,100-£2,200), a tummy tuck can be had for 30-70m rials, a facelift runs to 30-60m rials, and a complete forehead lift can cost as much as 150m rials. This in a country where the average worker in a major urban area earns about £275 a month.
Are customers satisfied with the results of what they are voluntarily submitting to at great expense?
Marjan is a 33-year-old clothing store owner. She has had two cosmetic operations: one for her nose, and one for her eyelids and eyebrows. For her nose surgery in 2009, she paid 45m rials (then about £2,800), and for her eyelid and eyebrow work in 2011, 25m rials (about £1,300 at the time).
"Probably because there were other distractions and things going on when I was a teenager, I wasn't really thinking about altering my face," she said. "But about five years ago I started really feeling the need to do it. I felt like my face was starting to weather a bit, whereas I could still look younger and prettier if I wanted."
Marjan, who has had two temporary marriages, or sigheh, since separating from her husband, currently lives alone.
"I think what myself and many other young girls see as a motivating factor for improving their appearance is simply landing a better husband who is himself in a better situation, in addition to having a better social life with a greater degree of self-confidence. I always used to feel like something in my face was lacking, and I really hated the way I looked when I laughed and smiled, so I was really uncomfortable dealing with people. I feel much better now," she said.
The work Marjan has had done has not been without complications.
"I haven't had any problems with my nose, but after the eyelid and eyebrow surgeries, I sometimes get major headaches, and I still feel like there are stitches up there," she said.
Hanieh, a 35-year-old office worker, had a nose job recently enough that her face still bears evidence of the surgery. "It may take several months for the nose to take its final shape," she said. "I'm a bit worried, though."
Her concerns stem from the post-surgery difficulties among other patients she's spoken to: respiratory problems, the nose being dented or malformed due to rolling around in sleep or a physical blow, sinus pain and congestion during the winter months, growth of extra tissue or bone, and loss of the sense of smell.
Hanieh said she obtained a bank loan of 70m rials to pay for the surgery.
How did she accomplish that? She said the bank loaned her money to buy a car. She sold the car and used the proceeds for her surgery. "My nose looks just how I want it to look now, so I hope nothing comes up," she concluded.
Another woman who had surgery not long ago said: "I do have a better social life and I don't have to be ashamed of my big, fat nose anymore. In our family, different types of cosmetic surgery are a totally normal thing, and most of the women and girls have had their noses done."
As for complications, "I haven't had any particular problems, except that when I get a cold, I get a runny nose something fierce. I have to be careful then. People who have really big problems after their nose jobs have their doctor to blame, though. They got what they paid for, which was a physician who didn't know his or her stuff."
In recent years, men have caught nose job fever as well.
Mohammad, who works in a makeup and accessories store in a busy area of Tehran, had rhinoplasty about two years ago. Along with improving his appearance in general, he cited attracting more customers as his main motivation.
"I deal with hundreds of uptown girls and women every single day," he said. "They all come to me when they want to purchase cosmetic supplies, so I have to look nice and spiffy for them."
The Rhinology Research Society of Iran conducted a study in co-operation with Johns Hopkins University in the US which showed that the rate of nose jobs per capita in Iran is seven times that in America.
The number of people paying for work on their stomachs and breasts is also increasing. While exact statistics on such work are unavailable, reports from specialists in the field suggest that only a fifth of these surgeries are for medical purposes, while the rest are purely cosmetic. According to one analysis, cosmetic surgery is as prevalent in the Islamic republic as it is in Brazil.
The cosmetic surgery trend apparently includes the wives and daughters of the conservative ruling establishment (and some of the president's men). According to Ettela'at, a centrist newspaper, and other Iranian news websites, the wife of Ali Akbar Velyati, special foreign policy adviser to the supreme leader, died several years ago due to complications with liposuction.
As the demand for cosmetic surgery booms, a growing number of operations are being performed by unlicensed practitioners. The pathology research group of the Arya Strategic Studies Centre in Tehran recently issued a report stating that while there are only 157 licensed cosmetic surgeons in the capital, about 7,000 people are actually doing such work there.
There has been a consequent surge in botched operations, with some patients sustaining irreparable damage.
"These surgeries are essentially the result of an unhealthy image that people have of themselves. Many simply see themselves as very ugly," said Reza, a psychiatrist and family counsellor.
"Some may have had tense, problematic childhoods. Thus they suffer from low self-esteem and resort to these surgeries because they think it will lead to a better, more enjoyable social life."
Many who go into surgery end up regretting their decision.
"Recently, a health official announced that around 30% of people who have cosmetic surgery are dissatisfied with the results," Reza said.
There is more than one way to assess the outcome of cosmetic surgery. A woman named Atefeh, her nose small and pointing to the sky, walks down the street with an air of confidence.
"I had my nose surgery about five years ago, when I was 29," she said. "To be honest, one of the reasons I did it was to land the man of my dreams, but unfortunately I'm still on the market."
http://www.guardian.co.uk/world/iran-blog/2013/mar/01/beauty-obsession-iran-cosmetic-surgery
--------------
Naked Woman's Photos Flashed During Vicar's Church Sermon
Mar 01 2013
London: A church in Harrogate has apologised after a vicar accidentally flashed a picture of a naked woman up on a PowerPoint screen during a sermon.
Rev Daniel Watts removed the image quickly but couldn't prevent the picture from being seen by some of the congregation at St Mark's Church, North Yorkshire, the Mirror reported.
A statement from St Mark's read that a separate teaching section was being held for about 50 adult members of the 5 o'clock service at St Mark's church last Sunday in a meeting room and a PowerPoint presentation was shown.
It further read that a technical glitch had accidentally caused an inappropriate image from the internet to appear momentarily on the screen.
The church added that it was so fleeting that it was not spotted by the leader of the teaching session and very few people seemed to be have been aware of it.
http://www.indianexpress.com/news/naked-womans-photos-flashed-during-vicars-church-sermon/1081813/
--------------
Tensions Remain At Alleged Kidnapping, Forced Conversion in Egypt
Disappearance of local Muslim woman, who some claim was kidnapped and forcibly converted to Christianity, sparks sectarian violence in Kom Ombo village, Upper Egypt
1 Mar 2013
Tensions remain high in Kom Ombo, Upper Egypt on Friday morning after a church was attacked with Molotov cocktails in a dispute over a Muslim woman who was allegedly kidnapped and forcibly converted to Christianity.
Full report at:
http://english.ahram.org.eg/NewsContentP/1/65857/Egypt/Tensions-remain-at-Aswan-church-over-alleged-kidna.aspx
--------------
Emirati Internet Rapist Gets Life Term
Marie Nammour / 28 February 2013
A 31-year-old man has been sentenced to life in prison for kidnapping a female student and raping her in the desert, after luring her over the internet with false claims of finding her a job.
The verdict was handed down in the Court of First Instance.
The Emirati defendant, an employee, became friendly with the victim, an Iranian student, 24, over the internet before convincing her to meet him in person.
The incident took place in August last year after the two met in the parking lot of the Dragon Mart. When the victim rode in the defendants' car, he locked the doors and drove to the desert where he raped and assaulted her in the back seat of his 4WD.
Full report at:
http://www.khaleejtimes.com/nation/inside.asp?xfile=/data/courtroundup/2013/February/ --------------
The First Ever Female Head of Public Order in Jakarta
March 02 2013
Your comments on the appointment of a woman, Sylviana Murni, to lead the administration's public order officers, who have become notorious for their use of violence in upholding bylaws:
It is heartening to learn that Jakarta Governor Joko Widodo named a woman, Sylviana Murni, to lead the administration's public order officers, who have become notorious for their use of violence in upholding bylaws.
Full report at:
http://www.thejakartapost.com/news/2013/03/02/text-your-say-the-first-ever-female-head-public-order.html
--------------
Women Brush Aside Men to Capture Moments
Indah Setiawati
March 02 2013
Forget about sexy models in bikinis showing their curves in front of a camera.
These women, grouped in a photography club, uphold their own definition of sexiness.
Set up on Jan. 7, 2011, The Female Photographers Community (FPC) has become a place for women who have an interest in photography to explore their cameras and hone their skills through photography sessions and workshops.
Full report at:
http://www.thejakartapost.com/news/2013/03/02/women-brush-aside-men-capture-moments.html
--------------
Bahrain Court Jails Woman Activist for Three Months
2 March 2013
MANAMA: Bahraini rights activist Zainab Al-Khawaja has been sentenced to three months in jail for insulting a public employee after an appeal court overturned her earlier acquittal.
Zainab is the daughter of prominent human rights activist Abdulhadi Al-Khawaja who was a leading figure in the 2011 uprising and who is now serving a life sentence.
Full report at:
http://www.arabnews.com/middle-east/bahrain-court-jails-woman-activist-three-months
--------------
URL: https://www.newageislam.com/islam,-women-and-feminism/new-age-islam-news-bureau/how-brave-nusrat-survived-india's-dark-'bride-market'/d/10617