New Age Islam News Bureau
11 Feb 2014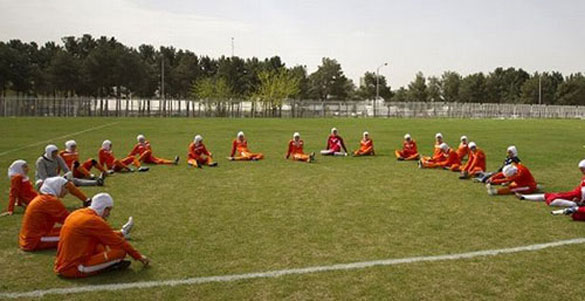 In training: Iran's women's football team
---------
• Xenophobia In San Francisco: Why Are Muslim Schoolgirls Still Getting Bullied?
• Ghana Pastor Bans Weave Wearing Women from His Church
• Pregnant Palestinian denied quick hospital access by Israel's Civil Administration
• Indonesian Sisters-in-arms stand up for gender justice
• Youths urged to help fight repression of women
• Police on the Prowl for 'Lady Killer' In Pakistan
• Four Iranian Women Footballers Banned From Playing Because They Are MEN
• Warning to All Fat Women in M'sia: Don't Walk, Talk or Have Big Hair like Rosmah / Lo-Si-Ma
• New Laws on Global Basis Needed To Curb FGM, NGO Claims
• Russian Wives in Gaza Long For Home
• Saudi Craftswomen Await Support
• Imam Charged In Australia over Child Marriage
Compiled by New Age Islam News Bureau
URL: https://www.newageislam.com/islam,-women-and-feminism/new-age-islam-news-bureau/how-an-israeli-stranger-helped-an-ethiopian-girl-escape-prostitution/d/35698
-------------
How an Israeli Stranger Helped an Ethiopian Girl Escape Prostitution
February 11, 2014
Sofiya Nigatu was working in a remote Ethiopian brothel when a traveler's act of kindness helped transform her future.
If kindness were a religion, Ishay Hadas would be its pope.
Back in 2004, Hadas, a 58 year-old advertising producer from Israel, was traveling through Ethiopia when he stumbled upon a young girl by the name of Sofiya Nigatu. She was 19 at the time, working as a waitress at a sketchy makeshift bar in a small mining town 460 miles north of Addis Ababa.
An orphan, Sofiya had dropped out of high school to support herself. She had only been at the bar for two weeks when Hadas walked in. The place was no more than a tent with a few chairs and tables. It also doubled as the local brothel.
Hadas, whose archeological expedition camped at that small tiny town for the night, decided to check out the only bar in the area. That's when he noticed Sofiya. There was something about the young girl that touched his heart.
"She looked so out of place," said Hadas."The other women seemed to have already accepted their fate. But Sofiya had that innocent look on her face."
So Hadas did something rather unexpected. He turned on his camera and started interviewing the young girl. "I asked her if she had enough money to do anything she wanted, what it would be?" recalled Hadas.
Sofiya didn't ask for clothes or even a home. Her dream, she told Hadas, was to become a nurse. That caught Hadas by surprise. "All I could think of was how I would love to give her the money to get out of this hell hole," said Hadas. "All I wanted was to help her."
And then it occurred to him, he could.
Right then and there, Hadas made Sofiya an offer she couldn't refuse. He would pay for her tuition and board until she graduated both high school and college. But he had one condition: she would have to leave the bar and her line of work immediately.
At first, Sofiya was skeptical. She had no reason to trust this stranger and his too-good-to-be-true offer. But when you have nothing to lose, you can take otherwise unthinkable risks. She agreed. "I think she knew it was her only ticket out, and luckily she grabbed the opportunity with both hands," said Hadas.
Hadas made her sign a contract, which he wrote down on a piece of paper. In it, she promised to stay in school, take an HIV test (she was negative) and stay away from prostitution. The next morning, he drove her to the closest big city, more than 200 miles away. There, he left her with $300 (a small fortune by Ethiopian standards) and a promise that if she held up to her end of the bargain, he would wire her money every month.
"I left not knowing what would happen to her. I wasn't even sure she'd call, or even what she would do with all that money I gave her."
Needless to say, his wife back in Israel was less than thrilled. She was worried he was being taken for a ride. But when Sofiya's email arrived with her banking information, Hadas began sending her $100 a month.
Nine years went by. Hadas continued to deposit the money in Sofiya's account. He also paid for a new laptop so she could study properly. Other than that, communication between the two was sporadic at best. Her English was less than basic, and Internet access wasn't always available. But every now and then, he would get a quick message, asking him how he was, and letting him know she was doing fine.
There was no way to verify she was actually in school. But Hadas is a believer in the goodness of people. "Some of my friends and family asked me why she was taking so long," recalls Hadas. "But I just told them to be patient."
Then, almost a decade after they signed a symbolic contract, Hadas received an email from Sofiya. She was finally graduating with a degree in pharmacology. "I couldn't believe it," said Hadas. "After all these years, she had done it. She managed to change the course of her life and live her dream."
Hadas booked a ticket to Ethiopia. He was her only guest. At her graduation ceremony, Hadas surprised her with a speech. There wasn't a dry eye in the crowd.
After the ceremony, Sofiya had another big surprise. She introduced Hadas to her three year old boy. "I've always wondered why it took her so long to graduate, and why she never married," said Hadas.
Sofiya confessed that she had gotten pregnant by her boyfriend but refused his marriage proposal twice, because she was afraid Hadas would see it as a breach of their contract. She couldn't have been more wrong. "I was so happy to hear that she was a mother. That she found someone who truly cared for her and loved her," said Hadas.
A friend of Sofiya, who also served as a translator, told Hadas not only was Sofiya committed to her education, she was fanatic about it. Five days after giving birth, she got out of bed and showed up to school to take one of her exams. "She's restored my faith in the human spirit," said Hadas, who is now working tirelessly to find her a job.
"I thought I'd be done once she graduated," said Hadas with a smile, "but now that she's in my life, I can't seem to stop worrying about her."
http://www.thedailybeast.com/articles/2014/02/09/how-an-israeli-stranger-helped-an-ethiopian-girl-escape-prostitution.html
-------------
Xenophobia In San Francisco: Why Are Muslim Schoolgirls Still Getting Bullied?
By Joseph Mayton | February 10, 2014
According to a December study conducted by the Council on American-Islamic Relations (CAIR), approximately 50 percent of all Muslim school kids in California face bullying based on their faith.
SAN FRANCISCO, Calif. – When Salma talks about the frustration she experiences at school, her voice cracks. She says it is anger. Her parents believe it is the emotional trauma of bullying. The 16-year-old high school junior has faced numerous verbal and physical assaults in the past few years, all because she is Muslim, her mother Dina admits.
"It is time for a change in how our young people, especially our daughters, are treated," said Dina, an Egyptian-American who described herself as a housewife. "I think what is happening is a real problem and many of our girls in our community are facing traumas daily because nobody does anything."
According to a December study conducted by the Council on American-Islamic Relations (CAIR), approximately 50 percent of all Muslim school kids in California face bullying based on their faith.
Since entering high school in the San Francisco Bay Area two years ago, Salma and her friends have reportedly faced a mounting number of bullying incidents. Salma revealed that when she thought of going out for the volleyball team, a couple of the other girls verbally assaulted her, forcing her to let go of the idea at the time.
"The other girls, on the first day of tryouts, kept asking me which bomb I would use to blow up the building, if I was a 'Bin Laden whore' and 'do all Muslim women like to be beat up by men.' It was horrible and I couldn't take it, so I just play on a team outside of school with mostly Muslim girls," Salma said.
For her friend, Heba, who is 17-years-old and veiled, the situation has even at times turned physically violent. Heba told Occupy.com that twice last year, boys at her school ripped off her hijab – the traditional Islamic headscarf worn by many Muslim women the world over – and spit on her, calling her a "terrorist."
"This is what we are forced to put up with on a daily basis at school and the frustrating thing is that there is little being done to help us," she said.
"I think people don't care because we are Muslim and the media makes people believe we are evil."
Ten percent of the kids surveyed reported physical bullying like slapping, kicking or punching. Girls, in particular, were subject to bullying for wearing their hijab.
At least 17 percent of girls said they had experienced "offensive touching or pulling" of their hijab – and 4 percent reported experiencing this often.
"I came to school one day with a bandana, not a headscarf, and a bunch of students started calling me a 'Bin Laden lover' and 'terrorist'," said Amina, a 16-year-old student here of Indonesian background.
"I am not a very devout Muslim, but my name and the friends I hang around are mostly Muslim, so it was pretty hard to hear those things against me just because of my religion."
The report, "Growing in Faith: California Muslim Youth Experiences with Bullying, Harassment and Religious Accommodation in Schools," reveals that nearly half of Muslim students say they have been subjected to some form of bias-based bullying. The findings are based on a statewide survey of almost 500 Muslim students, ages 11 to 18.They were asked questions about their relationships with peers and teachers, as well as their comfort levels participating in discussions about Islam and Muslims.
The report found that approximately one in five young women reported being bullied because they wore an Islamic headscarf to school. Additionally, one in five youth reported they were unsure of participating in classroom discussions in which Islam or Muslims are discussed and were unsure whether teachers respected their religion.
More than one-third of bullying victims surveyed indicated that reporting harassment incidents to school administrators was not helpful.
One San Francisco area school administrator, who asked not to be named because it is unauthorized to speak to media, said teachers and others are now more aware than they were about bullying of Muslim students – and that education and action on the issue is beginning.
"I think we all didn't really understand what was happening and now we are getting a better picture of it all, and the students are more willing to talk about what is happening," the official said. "Right now, we have to do a better job of educating our teachers on how to notice and understand what bullying is on a daily basis."
According to CAIR, the idea that students can be called terrorists or other vicious names, and even be subjected to physical attacks over their faith, shows that the state, and the country, have a long way to go before Muslim students – and girls especially – are given the same opportunities as other students.
"Being called 'terrorist' or 'Bin laden' is still a reality for many American Muslim students," said CAIR Los Angeles Civil Rights Manager Fatima Dadabhoy. "Throughout the course of this study, we were alarmed to find that many Muslim students didn't even deem this as a form of bullying. Through this report, we hope to show that a decision to dismiss mistreatment as a natural consequence of being Muslim in America, or simply part of growing up, is unacceptable and normalizes a toxic school environment."
For girls like Salma, Heba and others, the struggle to find a place in their school, to study and have fun like others without fear of being attacked for their Islamic faith, is still a difficult one.
"I know that a lot of the kids are poking fun at us and trying to be funny, but it hurts and makes a lot of us not want to participate in anything," said Salma.
http://www.mintpressnews.com/xenophobia-san-francisco-muslim-schoolgirls-still-getting-bullied/179244/?
-------------
Ghana Pastor Bans Weave Wearing Women From His Church
February 11 2014
The staff at Resurrecting Faith was told by their pastor, A. J. Aamir that the leadership staff cannot wear weaves because of his personal insight on the costly maintenance. Pastor Aamir has taken the position that women who wear weave shows a false image of natural beauty, and resemble a woman with low self-esteem.
"Our Black people are getting weaves trying to be something and someone they are not. Be real with yourself is all I'm saying" said Pastor Aamir.
Coming from the Islamic faith, the 39 year old Pastor was raised in a strict household that has contributed to his paradigm of judgment.
"Long hair don't care. What kind of mess is that? I don't want my members so focused on what's on their heads and not IN their heads," he told AmericaPreachers.com.
"I lead a church where our members are struggling financially. I mean really struggling. Yet, a 26 year old mother in my church has a weave on her head. NO. I will not be quiet about this."
Pastor Aamir's perceptions of the reason why women wear weave have sprung an immediate reaction from the online communities.
Demetria L. Lucas, contributing editor of TheRoot.com, wrote: "It's curious why he chose to berate women for their hair, instead of actually focusing on the problem of financial miseducation or poor priorities among his congregation."
She added: "Educating his congregation—men included, because most of the men are lining up overnight to buy Air Jordans and spending money on rims have poor financial priorities, too—would be more helpful than attacking women's hair."
Pastor Aamir founder of the Resurrecting Faith Church in Waco, Texas acknowledges the fact that he cannot stop women from wearing weaves at his church. He has maintained his position that he does not approve of the increasing desire for women to wear weave.
Source: 247naijagossip
http://www.spyghana.com/pastor-bans-weave-wearing-women-from-his-church/
-------------
Pregnant Palestinian denied quick hospital access by Israel's Civil Administration
February 11 2014
Israel's Civil Administration in the West Bank blocks a pregnant woman at medical risk from taking the quick route to a hospital in East Jerusalem, even though she is accompanying her Israeli husband in their Israeli car, because it would entail going through a checkpoint that "isn't meant for Palestinians."
Yara Abu Oudeh, 37, is from Nablus; her husband, Khaled, is from Jerusalem, and therefore has an Israeli identity card. Yara has both a Civil Administration permit to enter Israel and an Interior Ministry permit for permanent residency in Jerusalem. Both Abu Oudehs work in Jerusalem – he as a food vendor, she as a social worker – and they live in Anata, which is within Jerusalem's municipal boundaries but on the other side of the separation barrier. Getting to other parts of the city therefore requires going through a checkpoint.
Abu Oudeh is in her ninth month of pregnancy. Since she has juvenile diabetes, she needs frequent medical check-ups and special precautions when giving birth. But the checkpoint nearest her home, Shoafat, always entails long waits, so like many Anata residents she prefers to use the Hizme checkpoint, which is reserved for Israelis.
Khaled Abu Oudeh told Haaretz that until two years ago, his wife never had any problem going through Hizme with him, since she had the requisite permits. But since then, the soldiers there often refuse to let her through, he said. The last time they tried, two months ago, a soldier even threatened to tear up her permit.
With help from Hamoked: Center for the Defense of the Individual, the Abu Oudehs asked the Civil Administration for a permit for Yara to use Hizme to ensure rapid access to the hospital. They sent the request on January 20, and 17 days later, on February 6, received a handwritten response granting her "special" permission to use Shoafat – which she was already entitled to use. In a follow-up phone call, 2nd Lt. Alon Cohen told Hamoked that Yara could not use Hizme.
A spokesman for the Coordinator of Government Activities in the Territories responded that Hizme "isn't meant for Palestinian transit, because it lacks the infrastructure for the requisite security checks," and Shoafat is closer to the Abu Oudehs' house anyway.
"There are procedures for handling medical emergencies at the crossings, which enables quick handling of Palestinians who need urgent medical care in Israel," he added.
http://www.haaretz.com/news/national/.premium-1.573553
-------------
Indonesian Sisters-in-arms stand up for gender justice
February 11 2014
Do you ever wonder about what young women today talk about when they hang out?
In the case of Dhyta Caturani and Kartika Jahja, the current topic is their plans for Feb. 14, or Valentine's Day, which are a far cry from the usual chocolates, roses or romantic dinner.
What Dhyta Caturani, a veteran in human rights activism, and Kartika Jahja, a singer-songwriter focusing on injustice, have in mind are simultaneous flash mob dances in Jakarta and other major cities around Indonesia.
"We know that not everyone is willing to join protests with their fists in the air, so we have opted for a different, more friendly way of speaking out," said Dhyta, who has been advocating for justice for the downtrodden, especially women, for almost 20 years.
"The international movement to eradicate violence against women, One Billion Rising [OBR], encourages the establishment of independent local movements to dance in organized crowds in public places to draw attention to the outrage of rape, and we have begun organizing OBR events throughout Indonesia for Feb. 14 to draw attention to this issue," Dhyta explained.
As Dhyta and Kartika, who is widely known as Tika — the vocalist for the band Tika and the Dissidents, both said: "The One Billion Rising Indonesia events are from us and for us."
For this reason, OBR Indonesia does not solicit or accept sponsorships, financial or otherwise, from any organization or institution. Funds are raised entirely from the sale of T-shirts and donations, information for which can be found at onebillionrisingindonesia.org.
The website also supplies guidelines on how to organize local OBR events throughout Indonesia, including video tutorials for the flash mob dance and poster templates for reproduction.
This year, these sisters-in-arms in the fight to eradicate violence against women have been holding dance practices and a number of public discussions at various venues in Jakarta. They are also publicizing the One Billion Rising 2014 event — scheduled to be held at the west part of the National Monument (Monas) complex at 2 p.m. on Feb. 14 — on social media like Facebook, Twitter and YouTube.
Additionally, Dhyta and Tika, along with other OBR volunteers, are providing updates on related activities on the website.
Last year's OBR flash mob dance at Monas — just one among the many held in a total of 207 countries around the globe — drew more than 400 women and men, including children. Also last year, similar crowds turned out to protest all forms of violence against women in 10 other Indonesian cities, including Denpasar and Ubud in Bali, and Poso in Central Sulawesi.
This year, OBR 2014 focuses on justice for victims of sexual violence, with six cities in Java already committed to holding OBR events: Bandung, Jakarta, Malang, Semarang, Surabaya and Yogyakarta. Still others are expected to sign on in the next couple of weeks. According to Dhyta, in 2013 there were a lot of last minute participants.
"The issue of justice is especially relevant in Indonesia," Tika said.
"People rarely get any justice for anything, let alone in cases of violence against women," she said, citing the lack of awareness and support for such issues in a society with rigid social structures, norms and values rooted deeply in tradition and religion.
"Indonesia's societal structures, including the justice system, shame victims of sexual violence, so law enforcement is not the first recourse for women who have experienced rape," Tika added.
"Even before I became involved in OBR, I was deeply frustrated by the reaction to violence against women in society. I had no effective channel to express this. All I could do was to write and sing about it."
She added that the One Billion Rising movement, which derives its name from the statistic that one out of three women has experienced or will experience violence in their lifetime, provided a wider channel.
"I, myself, am a survivor. We survivors are forced to live in shame all of our lives. When we do speak out, we get no support," she said, explaining that she was no longer afraid to reveal her experience.
"It was not my fault. I have no reason to be ashamed."
"Finding OBR helped me tremendously because I could channel what happened to me in the past into helping others," Tika said, adding that OBR allowed her not only to have a voice, but also to reclaim her body.
"The dancing is a symbol of owning our bodies and freeing them from societal perceptions," Dhyta said about the efforts exerted by women worldwide through the annual OBR flash mob events.
"We say to victims that you are not alone, we are here for you to fight for the justice you deserve," Dhyta said.
"Last year at OBR, one woman came and expressed how grateful she was for the event. She told me 'Ordinary people like me have a voice we want to use […] Now you have opened a channel for our voices through OBR'," Dhyta said.
"Because of OBR many people have told us their stories and asked for help."
Many of the survivors and gender equality activists, who organize and participate in the dancing, volunteer to help women who want to find the proper assistance, whether it be post-trauma counseling through Yayasan Pulih, or assistance with filing police reports to ensure appropriate treatment by law enforcers through the Women's Legal Aid Foundation (LBH Apik).
"Most importantly, we are there when they need someone to talk to," Dhyta said.
http://www.thejakartapost.com/news/2014/02/11/sisters-arms-stand-gender-justice.html
-------------
Youths urged to help fight repression of women
February 11 2014
Government officials and celebrities yesterday called upon the youth to come forward to prevent violence against women and child marriage.
The call came from the awarding ceremony of the Online Photo Contest 2013, a UNFPA programme to raise awareness among the youth over repression of women.
According to the Bangladesh Demographic and Health Survey, 87 percent of the country's women and girls experience gender-based violence in their lifetime, while 64 percent of girls are married off before the age of 18.
Among the 400 participants, 10 won the contest. Their photos reflect the status of women in society.
Tariq-Ul-Islam, secretary to the women and children affairs ministry, underscored the need of everyone's involvement, apart from government's measures, to stop the vices.
If everyone co-operates, violence against women and child marriage will be stopped, said actress Bidya Sinha Mim.
Everest conqueror Nishat Majumdar and supermodel Adil Hossain Nobel observed that alongside other problems, these two issues should be taken as a challenge.
The 10 winners are Plaban Gangopaddhay, Saiful Aziz Shamser, Farid Alam Khan, Huzzatul Mursalin, Abu Rasel, Turhan Al Nahian, Fariha Afroz, Sumon Yusuf, Mohammad Khaled Rayhan Shaon, and Pinu Rahman.
Argentina Piccin, representative of the United Nations Population Fund (UNFPA), presided over the award ceremony at the capital's Ruposhi Bangla Hotel.
http://www.thedailystar.net/city/youths-urged-to-help-fight-repression-of-women-10844
-------------
Police on the Prowl for 'Lady Killer' In Pakistan
February 11, 2014
ISLAMABAD: The Islamabad Capital Police is raiding various places to nab a suspect lady who, it believes, is a professional criminal and was making her fortune good by harassing the 'housewives'.
The police, now a days, is striving hard to arrest this 'lady' who had stormed entry into a house of Khursheed Baigam, a housewife, in G-11/1 sector and attempted to stab her to death.
Khursheed Baigam was lucky to escape the murder attempt, however, the assailant managed to escape from the scene. After the victim reported the incident to women police station on February 8, the police registered FIR against unknown assailant under section 382/511 PPC and started investigating the case.
The victim reported to the police that she was looking for a housemaid. On the day of incident, the accused lady came in to her house and claimed her former maid had sent her in.
"All of a sudden, the accused attempted to slit my throat," the victim told The Nation on Sunday. However, she said, she remained lucky as a came stepped into her house after hearing her screams.
Frightened by the attack, Khursheed Baigam reported the incident to police. She spoke highly of a lady police officer Shakeela who, according to the victim, listened to her in detail and promised to help.
A spokesperson of ICT police confirmed the incident when contacted on Sunday. "We have registered an FIR and started investigating the case," said the spokesman.
The federal capital Islamabad is allegedly fast becoming a heaven for various gangs including dacoits, auto-thieves, extortionists and arm-dealers. And now, a gang of ' ladies for hire to kill' has surfaced in the Islamabad, the federal capital.
http://www.nation.com.pk/islamabad/10-Feb-2014/police-on-the-prowl-for-lady-killer
-------------
Four Iranian women footballers banned from playing because they are MEN
February 11, 2014
The quartet were found to be men awaiting sex-change operations - but will be allowed to return to women's football after surgery
Four footballers from Iran's national women's team have been banned from playing - because they are in fact blokes.
The quartet are among a several top 'female' players in the Islamic Republic found to be men awaiting sex-change operations.
Yet despite the country's ban on homosexuality and sex before marriage, the stars have been told they will be allowed back after surgery.
All female footballers are now being gender-tested before they can sign for a club.
Random checks are also being carried out at training grounds.
As a result, seven players have had their contracts cancelled.
Some of the banned players have sexual disorders where their genitals have not developed properly, or are a mixture of male and female organs.
Ahmad Hashemian, head of the Iranian football federation's medical committee, told The Sun: "If these people can solve their problems through surgery and be in a position to receive the necessary medical qualifications, they will then be able to participate in women's football."
http://www.mirror.co.uk/news/weird-news/four-iranian-women-footballers-banned-3132742#ixzz2t3KCKtIU
------------
Warning to All Fat Women in M'sia: Don't Walk, Talk or Have Big Hair like Rosmah / Lo-Si-Ma
February 11, 2014
KUALA LUMPUR - It looks like the speculation that Prime Minister Najib Razak's wife Rosmah Mansor was behind the controversial crackdown on a video lampooning her husband's mismanagement of the economy and their ultra extravagant lifestyles while the man in the street suffered from sky-rocketing costs of living, might just be true!
The ... sorry to say this but let's call a spade a spade ... the FAT actress Lim Ching Miau who acted as a feng shui expert in the video has been hauled by the Malaysian cops.
"This is ridiculous. Somebody in the police force must be trying to be funny. Are they trying to send the message that anyone who dares to imitate or impersonate Rosmah Mansor will be jailed?" MP for Batu Tian Chua told Malaysia Chronicle.
Blatant racism against the Chinese and other minorities
He was referring to the One-der-ful CNY 2014 video produced by Opposition colleague, Teresa Kok the MP for Seputeh.
In the video, Rosmah who in real life is often accused of megalomania and an unquenchable thirst for material wealth was lampooned as 'Lo-si-ma'.
Ching Miau, in her role as the rotund handbags and jewellery-crazy 'Mrs Jit', had advised viewers to place a 'lo-si-ma' or horse made of of nails and screws to attract good luck in the Year of the Horse.
Teresa herself has been harassed for producing the video, with extremist Muslim NGOs staging violent protest and calling her 'ayam' or chicken (rude local slang for prostitute) and even offering RM1,200 cash as reward to anyone who could successfully slap her.
No longer harmonious, or happy or even a stable nation
The shocking inducement, made in public, to assault Teresa has been totally ignored by the Najib administration, dismissed by Home Minister Zahid Hamidi as being of no consequence.
This has emboldened the violent Muslim NGO to issue further threats, while the police continue to launch one-sided action against Teresa and those involved in the video, with Ching Miau the latest to be taken in. A Chinese sitcom was also banned from national TV for alleged involvement in Teresa's 'One-der-ful' video, meant to usher in the 2014 lunar new year.
Indeed, once a poster-nation for harmonious multiracial relations, Malaysia has become known as an extreme pro-Malay and anti-Chinese country.
The Malay form 55% of the 28-million population and control both the government and economy, while the Chinese who form 25% of the population have found themselves - along with other non-Malays such as the Indians, Punjabis, Kadazans, Ibans and Dayaks - increasingly sidelined and stripped of their constitutional rights.
Lydia Shum or Lo-si-ma - no fear, Chinese will continue to rebel against Umno's overt racism
Meanwhile, according to Malaysiakini, Ching Miau is due to give her statement on Tuesday. She claims she was mimicking the late Lydia Shum, a Hong Kong actress much-loved for her motherly ways, beautiful skin and comically-obese shape.
"I was summoned under Section 111 of Criminal Procedure Code (as a witness), to give a statement to the police at 2pm tomorrow," said Ching Miau.
"I imitated Lydia Shum (a late Hong Kong comedian and artiste). I don't know how I ended up becoming Rosmah. I thought I just look like Lydia. I have watched her acting ever since my childhood."
It looks like whoever is trying to strike fear into the hearts of the non-Malays so as to warn them off from lampooning top Umno leaders, such effort is doomed to boomerang.
Not only is it plain for all in the country to see that the police are using scare tactics to frighten the ordinary folk into docility so as to please the political bosses, most of the non-Malays in Malaysia are fairly well educated and know their legal rights.
They see through the bluff and the clear-cut bullying tactics deployed by Najib and Rosmah via the police can only set their backs up even more.
Jump in "instant fame", renewed interest in Lo-si-ma video
If anything, legal experts told Malaysia Chronicle, Ching Miau was likely to see a jump in "instant fame" and they also expected renewed interest in the video and her role in it.
"It is like Zunar's cartoons. Najib also tried to clamp down on Zunar caricatures of him and Rosmah with the big hair but it has not worked. Instead Zunar is now world famous as a political cartoonist who is willing to go to jail for his work. He even held an exhibition of Altantuya and Scorpenes in London recently," said Tian.
He was referring the late Altantuya Shaariibuu, a beautiful 28-year-old Mongolian translator allegedly involved in the Malaysian government's Scorpene submarines procurement, with whom Najib was also accused of having an affair with.
Both the PM and Rosmah were implicated in Atantuya's gory murder but have denied involvement
http://www.malaysia-chronicle.com/index.php?option=com_k2&view=item&id=225061:warning-to-all-fat-women-in-msia-dont-walk-talk-or-have-big-hair-like-rosmah-or-lo-si-ma&Itemid=2#ixzz2t2fvMFzw
-------------
New Laws on Global Basis Needed To Curb FGM, NGO Claims
February 11, 2014
A leading development NGO says that efforts to end female genital mutilation (FGM) will fail without a concerted global push to get the issue onto the global policymaking table, reports EurActiv Spain.
"If laws at a local level do not apply and are not strict enough, the effort of the international community against FGM will be in vain," Concha López, director of the NGO Plan International, told EurActiv.es.
"It is a practice that violates the most basic rights of girls and women and has serious physical and psychological consequences for them. FGM should be a priority and part of the international agenda: we must stop this at once", López added.
FGM involves the partial or total removal of the external female genitalia, and can cause severe bleeding, infertility and infections.
Almost 140 million girls and women worldwide have undergone such mutilations, around half of them in Africa and Yemen. The figures are also increasing in Europe, Australia, Canada and the United States, mainly among immigrants from Africa and Southeast Asia, according to UNICEF.
In many countries, particularly in Africa, FGM has often been defended as a part of ethnic identity, or for being consistent with traditional and religious beliefs. "This is the crux of the issue," López said.
In Guinea-Bissau, one of the West African countries where Plan International works, almost 50% of girls continue to be victims of genital mutilation.
In 2012, the country's parliament passed a law banning FGM, a significant step towards its elimination in the country. "This was a move in the right direction and a good example for other African countries, but certainly not enough," López said.
FGM has also an economic side, and can be seen as big business or a source of income for many families. "There are midwives who engage in these practices as a business," López explained. "We also have a challenge there, trying to promote a big change in mentalities".
Sawandim Sawo, 68, who practiced FGM for 18 years before joining Plan's FGM project told the NGO's website that the FGM practitioners had a "special status" in their community. "They are seen as professors or doctors of the community," he said. "I was very proud to be an FGM practitioner and didn't know of the serious health problems it caused to girls and women."
Because mutilation has become linked with other cultural practices, tackling it can sometimes seem to undermine broader cultural foundations. "It is very complex to eradicate because it is deeply rooted in the society and, in many cases, related to the 'purity' of women," López said.
In many African countries, women who have not undergone FGM are stigmatised and cannot find husbands, López said.
"This issue must be handled with a lot of diplomacy if we are to persuade local communities that FGM should not be part of a girl's education," López said.
http://www.euractiv.com/development-policy/ngo-new-laws-needed-curb-female-news-533357
-------------
Russian wives in Gaza long for home
February 11, 2014
GAZA CITY, Gaza Strip — "I miss the scent of the forest. Sometimes, I feel that I can smell it." This is what Svetlana Birova misses most from "Mother Russia" after 20 years of not leaving the Gaza Strip, even for short trips.
"Although I miss my country, I consider my homeland to be where my husband, my son and my daughter Miriam are. I remember the difficulties I faced in the first years here because of the difference in cultures, but, with the help of my husband, I resisted homesickness," Birova said.
Birova isn't the only Russian here in Gaza: There are more than 80 Russian women married to Gazan men living in the Strip. This is in addition to hundreds of other women from former Soviet states, according to the Compassionate Hearts Association, which is concerned with the affairs of these women.
Birova and her husband, Fadel Ashour, spoke to Al-Monitor in a cafe that they have frequented in the evenings for many years. "Whenever I see a new Russian wife arrive in Gaza, I feel the foolishness of her decision. I imagine the difficulties she will face, regardless of her beauty and her university degree. Here, Russian wives have no protection," she said.
"Sometimes, people have the impression that foreign women are easy. Problems arise if the husband of the Russian woman is influenced by this view, and thus puts more restrictions on his wife or his daughter," she added.
Fadel said that his wife was one of the first of seven Russian women to arrive in Gaza. According to him, the first was Elena Elbarkoni, who came in the 1970s. He explained that the history of the Russian presence in Palestine goes back to the time of the former Soviet Union, when Palestinian students who had studied there would return with wives. There were only a few such women until the fall of the Soviet Union, when there was an opening up and many more Palestinian students were accepted into universities in Russia.
For her part, Russian national Elena Nasrallah, 36, said that what annoys her the most are attempts to impose local traditions and orders on her and her daughters. "I always dream about settling down in Russia with my daughters, but even if I wanted to do that, [the authorities] wouldn't allow me to travel with them," she told Al-Monitor.
Nasrallah misses her freedom and happiness in her social life, saying, "When I walk in the streets here, people are frowning. [In Gaza,] worries are common, yet happiness is rare. I miss being myself. [I want] to walk in the streets of Russia, laughing with my daughters, but this is impossible."
Unlike some mothers from other foreign countries who quickly leave the Strip, Russian wives and mothers are known for staying a long time. Anna Ashour, 40, arrived in Gaza in 1997 and has only left for a few visits to Russia. "We were raised to consider children something very important in life. We can't leave them in another country, since they are our responsibility. Thus, many Russian mothers sacrifice everything to stay with their children," Anna said.
During a meeting with Al-Monitor in her beauty shop in Gaza City, Anna said, "The things I miss the most from Russia are the trees and nature and, of course, Russian food. I dream of eating blini [buckwheat pancakes]. I have, however, traveled back to Russia with my children multiple times, since I'm my parents' only child."
Anna knows the names and stories of many other Russian women and others from former Soviet states who live in Gaza. She feels a sense of sadness for the social reality that most of these women live. She said that one girl died during an Israeli shelling with her son, while another died alone in the hospital. A third hanged herself a few months ago, and no one would agree to bury her.
Anna's daughter Elizabeth, 20, said that she sometimes feels that there is a conflict of cultures and she cannot comply with society, unlike the case when she is in Russia. "When in Russia, the first places I visit are archaeological sites, they always amaze me," she said.
Difficulties when it comes to integrating isn't the only problem facing Russian women in Gaza. Elena Alyan, who works for the Russian Consulate in Gaza, said that there were other problems related to travel documents. The consulate opened its doors two and a half years ago, after having been closed since 2004.
"There are still dozens of women who have yet to receive Palestinian identity cards, which makes it easy for one to leave and enter the Strip. Thus, some of them are stuck in Gaza against their will. If they leave without their children, they will not be able to return," she said, adding that the Egyptian authorities decided to allow these women to travel out of Gaza, but only if accompanied by their husbands.
She noted that other problems related to the difference in cultures and the imposition of a particular belief or type of dress on these women, exposing them to humiliation in many cases. "There are 500 Russians — including men, women and children — living in Gaza," Alyan said.
There is no Russian cultural center in the Gaza Strip that teaches the Russian language or carries out cultural activities, unlike in the West Bank, where there is a Russian museum, school and cultural center.
Alyan said there are many Russian women who go to the consulate because of problems they are suffering. She said the consulate can protect them and even help them travel back to Russia, but they can't do the same for their sons or daughters. "We are governed by the family system and local laws that stipulate a father must give permission for his children to travel. There are some husbands who completely refuse for their children to obtain Russian nationality, out of fear they will leave. This is especially true for daughters. Others, however, do the complete opposite: [As soon as they are married] they try to get [their children] Russian nationality," she said.
Alyan said that the consulate has nothing to do with the religion Russian women choose. Each citizen is free to profess any religion he or she wants, according to Russian law.
Al-Monitor met with Mohammed Badawi, the head of the board of directors of the Compassionate Hearts Association, at the association's headquarters in Gaza City. Badawi, who is married to a Ukrainian woman who helps him to manage the association, said that they are concerned with foreign wives, especially those from former Soviet states. He said that the number of such women in Gaza, including their children, is more than 4,000. "The majority are from Russia and Ukraine, and then from Belarus, Kazakhstan and Uzbekistan," said Badawi.
He explained that there are many obstacles that prevent these women from integrating into society, the first and foremost being unemployment. The majority of these women do not work, even though they hold university degrees, Badawi said. Other problems relate to their children integrating into society and difficulties in mastering two languages.
Badawi said that the majority of these women willingly converted to Islam, either because they wanted to or to please their husband and his family. However, some have remained Christians. "All of them feel homesick, so every day we organize a recreational activity so that they can come together, such as a day for cooking or embroidery," he added.
Birova, whose daughter has traveled to the United States to study and whose son will join her soon, dreams of a house for herself, her children, her husband and future grandchildren, regardless of the city it is located in. Yet, she said, "At that moment, Palestinian culture will not be the only thing that unites us. We will be united by the Russian and American cultures as well, and perhaps other cultures. We will sit at a single table that has dishes from all of these cultures."
http://www.al-monitor.com/pulse/originals/2014/02/russia-marriage-gaza-palestine.html#ixzz2t336rEGG
-------------
Saudi craftswomen await support
February 11, 2014
A number of local craftswomen have called on Saudi stakeholders to support and provide them with suitable workplaces to practice their crafts, which they assert is the main source of income for them and their families.
They described their experience in national and local festivals as positive and effective, as it provides them with an opportunity to display their crafts to a large audience.
Maha Al-Ruwais, director of craft activities in the Eastern Province, agreed with the need to empower Saudi craftswomen, pointing out that it would boost national income.
"Many women working in this field are responsible for providing a living for their families. There are university graduates and higher degree holders who have found in this field an opportunity to work and invest by exploiting their talents and interests," said Al-Ruwais.
Amal Al-Qasir, a college student who grew up in a family that practiced the profession of "sadu" weaving, said, "I am proud of our family tradition, which is the reason why I strive to participate in all the heritage festivals, as they provide an opportunity for us to promote our profession."
"This profession is a good source of income, especially after the growing interest in the past years. We are also witnessing a growing demand among young women to learn and practice this skill, which is gratifying," she said.
Mashaal Al-Harbi, another graduate student working in the field of manufacturing household products, said there are many qualified and trained Saudi women in this field with great potential who require more support.
Umm Turki, who makes qursan and traditional rugag bread — a profession rarely practiced by women nowadays, said she engaged in this profession since she was 17 years old.
Umm Turki has participated in many festivals and events, and has become a well-known name in the Eastern Province, gaining the support of influential figures in the society.
"I have a passion for this work, which has prompted me to participate at different festivals and events in the province in order to keep this profession alive and train the younger generation," said Umm Turki.
Meanwhile, Umm Bandar, who is originally from Al-Qassim and bakes klija, maamol and other traditional sweets for a living complained that her inability to reach stakeholders has limited her participation in national festivals.
"Now most of my work is within houses, guesthouses, malls, charity events," she said, adding, "I hope I can receive financial support to be able to produce larger quantities and promote my products in the local market."
http://www.arabnews.com/news/524151
-----------
Imam charged in Australia over child marriage
February 11, 2014
SYDNEY: A Muslim cleric was Tuesday charged in Australia with conducting an illegal marriage between a 26-year-old man and a 12-year-old girl.
It follows the arrest of a Lebanese national, the "husband", last week on child sex offences.
Police said the imam, reportedly Pakistan-born, was arrested in Sydney on Monday afternoon by the Child Abuse Squad and charged with solemnisation of a marriage by an unauthorised person.
He was granted strict conditional bail to appear in court on April 2.
Last week police revealed that the Lebanese man, in Australia on a student visa, met a 12-year-old girl in the Hunter region north of Sydney in 2013 and allegedly became involved in a sexual relationship with her.
The pair then allegedly moved to Sydney where they continued the relationship, with police claiming the man and child were married in an Islamic ceremony earlier this year.
While child marriages remain prevalent in parts of the world, in Australia 18 is the minimum age to tie the knot.
The "husband" has been charged with 25 counts of sexual intercourse with a child between 10 and 14 years and remains in custody.
Police have not laid charges against the parents of the girl, but investigations are continuing, police said.
http://www.dawn.com/news/1086311/imam-charged-in-australia-over-child-marriage
-------------
URL: https://www.newageislam.com/islam,-women-and-feminism/new-age-islam-news-bureau/how-an-israeli-stranger-helped-an-ethiopian-girl-escape-prostitution/d/35698