New Age Islam News Bureau
24 March 2016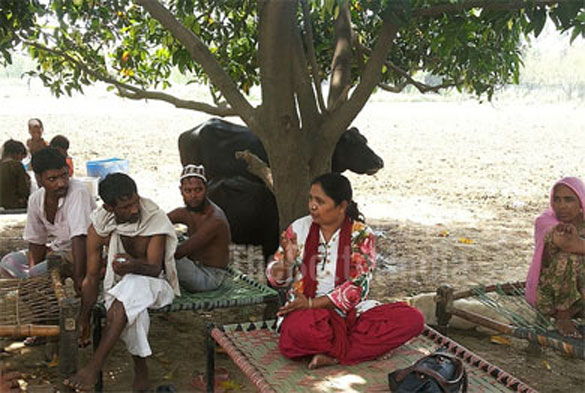 Rehana interacting with the community
--------
• How a Muslim Woman in a Small Town in India Is Redifining the Notion of 'Bad Women' in Our Society
• Mother of two from Mumbai becomes face of Brussels horror
• Wives of Kings and Presidents of Islamic world to hold special meeting in Istanbul to lead anti-cancer efforts
• Empower women and you empower the world, Vatican tells UN
• Man who confronted Muslim woman to 'explain' Brussels attacks arrested
Compiled by New Age Islam News Bureau
URL: https://www.newageislam.com/islam,-women-and-feminism/new-age-islam-news-bureau/how-a-muslim-woman-in-a-small-town-in-india-is-redifining-the-notion-of-'bad-women'-in-our-society/d/106745
-----
How a Muslim Woman In A Small Town In India Is Redifining The Notion Of 'Bad Women' In Our Society
Rajat Kumar March 24, 2016
In a society where women have been suppressed and discriminated against for ages, there is one courageous voice that is helping many in breaking the shackles of patriarchy. Meet Rehana, a woman from an orthodox family in Uttar Pradesh, who is successfully fighting for the rights of women with her laudable organization.
Liberal women are stereotyped as 'bad women' in our society. Women who work outside their houses, who resist domestic violence, who demand divorce, who wear jeans and western dresses, who talk to other men, who don't want to wear a ghunghat, dupatta or burqa, and those who marry by their own choice, are considered to be bad women – particularly in small towns.
Rehana is a Muslim woman from an orthodox family in the small town of Purkazi, located in Muzaffarnagar district of Uttar Pradesh. And she took up the challenge to redefine this notion of bad women.
She pledged to bring about positive changes in her town. Muzaffarnagar is known for its caste based panchayats with regressive approach towards women. Rehana mustered the courage to rais her voice against domestic violence, said no to burqa and decided to change perceptions about the second gender in a patriarchal society.
While on one hand duppatas are said to be the honour of women, the same duppatas are used to shut their mouths in cases of domestic violence and marital rapes. Many a times, this 'honour' is even used to hang women. Raising awareness is therefore the only ray of hope to bring about some change in this jungle raj.
Thus Rehana began her work by talking to women about their problems and discussing patriarchy and feudal mindsets, which influence and control our beliefs and perpetuate different practices that oppress women.
Gradually, she empowered women to raise their voices against various patriarchal practices and began to redefine the idea of 'bad women'.
She told the women of Purkazi – "you do not need to go far from your homes and do something in the village. Start challenging the orthodox customs at your homes".
Rehana's aim is to increase the importance of women's work at the domestic level, because many women work at their homes but do not get any reclamation. She is enlightening women about the importance of domestic work to build their confidence and is also challenging the inequalities that exist between girls and boys within families. She is creating awareness and providing support to dropout girls as well.
The toughest job for her is to challenge the caste panchayats that garner immense political support. But she has raised her voice against the Khap Panchayats and the different fatwas by ulemas such as bans on jeans for girls and the use of contraceptives by women, which were declared as haraam.
Rehana campaigns along with other women, all of whom are members of Astitva – the organization that she set up for the emancipation of women.
According to her, dialogue is a strong and effective means to address and solve any problem. That is the reason why she uses street plays and door to door awareness programmes to mobilize the community to fight against those customs that suppress women. Of these, the Sharab Andolan (a movement to close alcohol shops) is prominent. As a part of Sharab Andolan, hundreds of women came out to protest against the alcohol shops, seeking for their closure, as the consumption of alcohol by men was affecting their lives the most. She also aims to increase the participation of women in political processes at the village level. For this, she is providing the required information and support to women, especially from the minority and weaker sections of the society.
Rehana believes that violence can be stopped and that the community is the primary agency for this – "through mobilization of women and men, we can bring an end to violence against women" she says. Many women with similar experiences of domestic violence work with Rehana at Astitva. Their self-belongingness here, which assures to secure their identities, is the essence of Astitva. It has motivated and brought together many distressed women in their fight against violence and oppression. This unique group of 'bad women' is gradually changing the notion of 'bad women' in Purkazi.
http://www.thebetterindia.com/49942/rehana-uttar-pradesh-womens-rights/?utm_source=The+Better+India
-------
Mother of Two From Mumbai Becomes Face Of Brussels Horror
TNN | Mar 24, 2016
There are seminal photographs that define historic episodes. The picture of a naked Vietnamese girl running away from a napalm explosion in Vietnam in 1968 was one such image, leaving revulsion in people's minds about the human cost of war.
Photographs of the "walking wounded" after terrorist attacks in London in 2005 will similarly remain embedded in memory: Of a blood-splattered man walking out of Edgware Road tube station to be treated at the Hilton Metropole, unassisted.
The My Lai picture tugged at the heart-strings about the vulnerability of women and children in times of war; the London survivor bespoke of defiance in face of cowardly terrorist assault.
Wednesday's Brussels blasts produced a similar iconic moment. With blood dripping from her injured forehead and her clothes in tatters, images of Nidhi Chaphekar, a Jet Airways in-flight manager from Mumbai, sitting injured at Brussels airport, epitomised the horror of the terror attack.
The photograph of this mother of two rapidly turned into a social media phenomenon with #PrayForNidhi trending on Twitter.
It was also the lead picture in newspapers and websites across the world - from the New York Times to the Guardian in the UK - and in this country, from The Times of India to Malayalam Manorama. ( TOI was the first to trace her family in Andheri and speak to them on Tuesday.) Time magazine published a prominent story headlined, 'The Story Behind The Iconic Photo Of A Brussels Airport Attack Victim'. USA Today ran a report with a very similar headline: 'The Story Behind The Brussels Photo You Saw Everywhere.' The Daily Mail's headline was a lot longer, 'Woman who was pictured covered in blood and dust in aftermath of Brussels airport bombing is revealed to be an Indian air stewardess who is recovering in hospital.'
A Sky News report started by saying: "The picture of Nidhi Chaphekar in her shredded uniform has for many become a symbol of victims' suffering in the bombings at the airport and the Belgian capital's Metro." Media outlet after media outlet used the word 'iconic' to describe the photo; one described it as the 'iconic embodiment' of the horror of terror.
"What do you do in this situation if you're a journalist? Help? Ask doctor to come? Or take a photo?" she told a news website. "In that very moment, I realised that to show the world what was happening in this moment of terror, a photo was more important."
She kept taking photos and screaming for help until armed soldiers came and told everyone who was able to, to run as fast as they could. In the course, she gave the world a picture that turned epochal.
http://timesofindia.indiatimes.com/india/Mother-of-two-from-Mumbai-becomes-face-of-Brussels-horror/articleshow/51535033.cms
------
Wives of Kings and Presidents of Islamic World to Hold Special Meeting in Istanbul to Lead Anti-Cancer Efforts
JEDDAH, 24th March, 2016 (WAM) -- The Organisation of Islamic Cooperation, OIC, announced today that the wives of the Kings and Presidents of the Islamic world will hold a special meeting on the sidelines of the 13th Session of the Islamic Summit Conference, hosted in the Turkish city of Istanbul, from 10th to 15th of April, 2016.
The subject of the session will be on the wives of Kings and Presidents' efforts to fight cancer in OIC members states in a step that is the first of its kind at the level of Islamic Summit Conferences of OIC member states.
Maha Mustafa Aqil, Director of the Information Department of the OIC, said in a statement today that the special session is aimed at creating and promoting awareness of the growing burden of cancer in member states of the OIC and ways to facilitate access to effective prevention of this disease, its diagnosis and treatment, and care of persons suffering from it. It will also look at identifying ways and means by which the wives of Kings and Presidents can further strengthen their leadership role for effective treatment of the disease and save lives.
http://wam.ae/en/news/international/1395293313292.html
------
Empower Women and You Empower the World, Vatican Tells UN
New York City, N.Y., Mar 23, 2016 / 03:06 am (CNA/EWTN News)
If diplomacy and policy-making are to be successful, all women – including those who are often left out of the conversation – must have a voice in the process, a Holy See representative told the United Nations.
"Empowering women means creating the conditions necessary for them to flourish, in full acceptance of and in accordance with their natural genius as women, and in harmonious complementarily with the gifts of men," Archbishop Bernardito Auza, Permanent Observer of the Holy See to the United Nations, said March 18.
"Empowering women and girls will greatly help the world community not to leave anyone behind, and their empowerment will empower us all," he said.
He gave his remarks during the deliberations of the 60th Session of the Commission on the Status of Women of the United Nations. This session's focus was "Women's Empowerment and the Link to Sustainable Development."
Archbishop Auza focused on the idea that "no one will be left behind" as found in the commitment of the Member States in the 2030 Agenda for Sustainable Development.
Women, he said, must be recognized for their "vital role ... in preventive diplomacy, mediation, peacekeeping and peace-building processes, as well as their growing presence in policy-making bodies and advocacy groups."
However, elderly women, mothers, and pre-born girls, the archbishop said, are especially vulnerable to sex-based discrimination.
Instead of being seen as critical policy priorities, elderly women's needs are frequently overlooked leading these women to feel "unwanted and, in some cases, leaving them vulnerable to the pressures of assisted suicide."
"An exaggerated focus on economic productivity and the decline of family values are leaving elderly women even farther behind," he said.
Elderly women should be made to "feel welcome and productive in their own way" by making their wisdom available for the whole of society, Archbishop Auza said.
In a similar way, he said, mothers face discrimination when their "essential contribution to the development of society through motherhood is not adequately acknowledged, appreciated, advanced and defended." This prejudice, oftentimes by way of cultural and legal pressures, forces women to choose between a career and motherhood.
On behalf of his delegation, Archbishop Auza said he wanted to thank "all women who have raised generations of responsible daughters and sons."
Girls in the womb also face discrimination, even before they have the chance to be born.
Abortion and in-vitro fertilization have been used to "selectively eliminate girls, leading to unnatural sex-ratio-at-birth disparities" causing a deficit of more than 160 million girls compared to boys, he said.
After addressing the concerns of these groups of women, Archbishop Auza emphasized the importance of ensuring access to education and healthcare for women and girls, which he called indispensable.
He pointed out that the Catholic Church, "through its vast network of 250,000 schools, 23,500 clinics and hospitals, 16,000 homes for the elderly and those with special needs," the majority of which are located in developing nations and areas of conflict, is the "largest education and health provider in the world."
Women's healthcare must be provided "in accord with their feminine humanity and dignity," he said, adding that it "would be contradictory to seek to empower women while suppressing their natural potentialities."
Women in need should not only be the beneficiaries of aid, but they should "above all ... be empowered to become dignified agents of their own development and important drivers of sustainable development."
http://www.catholicnewsagency.com/news/empower-women-and-you-empower-the-world-vatican-tells-un-96733/?
-----
Man Who Confronted Muslim Woman to 'Explain' Brussels Attacks Arrested
Ben Quinn
Wednesday 23 March 2016
A man who sparked an outcry on Twitter after tweeting about confronting a Muslim woman on a street in Croydon, south London, and challenging her to "explain Brussels" has been arrested by police.
The Metropolitan police confirmed that a 46-year-old man had been arrested on Wednesday evening in Croydon on suspicion of inciting racial hatred via social media.
He is understood to be Matthew Doyle, a partner at a south London-based talent and PR agency, who tweeted earlier in the day: "I confronted a Muslim women [sic] yesterday in croydon. I asked her to explain Brussels. She said "Nothing to do with me" a mealy mouthed reply."
The comments, which followed Tuesday's bomb attacks at Brussels airport and on the city's metro system, were later deleted but sparked a furious response from other users of Twitter.
Following criticism by other users of Twitter, Doyle tweeted:
One of his last tweets on Wednesday evening was to say: "Thanks all you tweeters for proving I can still do PR."
Officers for the Metropolitan police in Croydon tweeted on Wednesday that a suspect had been arrested for inciting racial hatred.
The force said that a man remained in custody at a south-London police station on Wednesday night.
Responses to Doyle's tweet included one from another Twitter user who asked: "What has a Muslim woman in Croydon, got to do with the horrific events in Belgium, you simpleton?"
Another, referring to the far-right extremist Anders Behring Breivik, asked: "Did anyone accost you on the streets of Croydon after the Brevik shooting in Norway?"
http://www.theguardian.com/uk-news/2016/mar/23/london-man-confronted-muslim-woman-explain-brussels-attacks-arrested?
------
URL: https://www.newageislam.com/islam,-women-and-feminism/new-age-islam-news-bureau/how-a-muslim-woman-in-a-small-town-in-india-is-redifining-the-notion-of-'bad-women'-in-our-society/d/106745