New Age Islam News Bureau
12 Jul 2015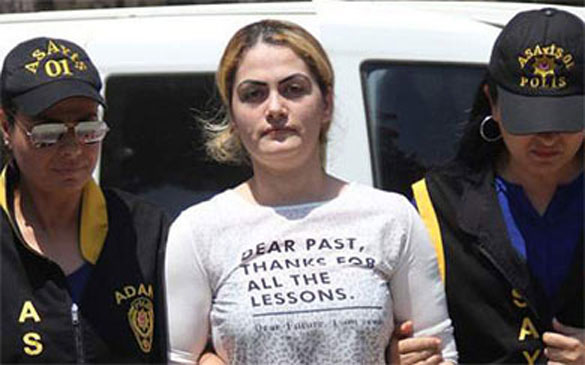 • Hope My Win Inspires A Lot Of Girls In India, Sania Mirza Says After Wimbledon Win
• 300kg Mumbai Woman Loses 117kg Post Bariatric Surgery
• Roshni Mukherjee's One-Teacher Virtual School Has 68,000 Students
• Queen Victoria's 'Big Pants' Fetch 12k Pounds At Auction
• ISIS 'Female Gestapo' Leading Campaign Of Terror Against Own Sex - And 60 Are British
• Iran Changes Law To Make Divorce Harder
• Afghan Women's Football Gains Membership In AFC Committee
• I Won't Apologize For Being A Palestinian Feminist: Secretary-General Northern Branch Of The Islamic Movement
• A Deep Dive Into The Women-Run Hedge Funds Universe
Compiled By New Age Islam News Bureau
URL: https://www.newageislam.com/islam,-women-and-feminism/new-age-islam-news-bureau/hope-my-win-inspires-a-lot-of-girls-in-india,-sania-mirza-says-after-wimbledon-win/d/103866
----
Hope My Win Inspires A Lot Of Girls In India, Sania Mirza Says After Wimbledon Win
AFP | Jul 12, 2015
LONDON: Martina Hingis won her first Wimbledon title since 1998 when she and partner Sania Mirza captured the women's double trophy on Saturday.
Hingis, 34, and 28-year-old India star Mirza came from a set down and 2-5 behind in the final set to beat Russian duo Ekaterina Makarova and Elena Vesnina 5-7, 7-6 (7/4), 7-5.
It was the top seeds' first Grand Slam title as a team having only decided to play together in March this year.
Hingis won the Wimbledon doubles with Helena Sukova in 1996 and Jana Novotna in 1998.
For Mirza, it was a maiden women's doubles title at
a Grand Slam although she has won three mixed doubles at the majors.
"It's been another lifetime. Seventeen years, usually you're lucky to win it once or happy to be out here and play on the Wimbledon grounds. It's above my expectations," said Hingis who was also the singles champion at Wimbledon in 1997.
"I have a great partner to pull me through. It takes guts and courage being 5-2 down in the third set. Couldn't have asked for more drama how to win it."
The final was halted at 5-5 in the deciding set due to fading light and to allow the Centre Court roof to be closed.
When the players returned, Hingis and Mirza raced through the next two games to take the title.
"To come out here at Wimbledon, this is something we dream of as kids," said Mirza.
"Every kid that picks up a tennis racquet this is about winning Wimbledon or playing at Wimbledon one day.
"When we came out at 5-5 we had goosebumps. The energy on the court, we were getting a standing ovation, it was unbelievable. We both came out and I said, This is what we play for, this is what we work for, this energy."
Mirza praised the support she and Hingis received throughout the tournament and hoped her win will have a positive impact back home in cricket-mad India.
"I hope it inspires a lot of girls and makes them believe they can be Grand Slam champions too," she said.
"I think for me as an Indian, I'm in Little India here. There are so many Indians in England. Thankfully there are a lot of us everywhere. In England especially I've always had amazing support."
Hingis can be back amongst the silverware on Sunday when she and Leander Paes face Alexander Peya and Timea Babos in the mixed doubles championship match.
http://timesofindia.indiatimes.com/sports/tennis/wimbledon-2015/indian-challenge/Hope-my-win-inspires-a-lot-of-girls-in-India-Sania-Mirza-says-after-Wimbledon-win/articleshow/48039463.cms
----
300kg Mumbai Woman Loses 117kg Post Bariatric Surgery
Sandhya Nair,TNN | Jul 10, 2015
MUMBAI: She stands in front of a bedroom mirror, colour-coordinates her dress and makeup, and steps out into the living room of her Vasai bungalow. After eight long years.
Amita Rajani (42) recently got back to her feet after being confined to bed since 2007 with a genetic condition that caused her weight to touch 300kg.
Once a businesswoman, Rajani underwent bariatric surgery, more specifically laparoscopic sleeve gastrectomy, this April. It brought down her weight to 183kg. She is still losing it.
"Amita's is a classic case of 'super super morbid obesity'. She had the highest circumference at 100 inches among any Indian and her body mass index was over 100," said bariatric surgeon Dr Shashank Shah who operated on her in Pune. The BMI of an average person should be 18-23. The circumference should be less than 80cm.
Plastic surgeon Dr Ravin Thatte said obesity cannot be linked to lifestyle alone. "This seems to be more of a genetic problem."
Amita, the youngest in a joint family of 28, weighed a normal 3kg at birth. At six, she began to gain weight. "By the time I reached Class X, I weighed 128kg." Her mother Mamta (top right pic, with Amita) blames heredity. Amita's grandmother weighed 250kg. Her father Avinash underwent a weight loss surgery four decades ago. When he died in November last year, he was 95kg.
Amita was initially averse to surgery, as her weight did not stop her from running a soft toy factory in Vasai. She would board a train at Vasai and travel to distant Crawford Market. Stares and remarks did not bother her. "Since I was going about life like any normal person, surgery was not on my mind," said the science graduate.
By 2007, her weight crossed 200kg. Her feet and hands began to swell. She had trouble breathing and was left with only one functional kidney. She could not get up without the support of four-five people. What was more devastating for her was performing all her bodily functions in bed. Dr Shah said, "When I first saw her picture, I could not see the sofa on which she was seated."
The turning point for agreeing to surgery came last year when she lost a cousin who weighed 115kg. He mother said, "First Amita lost her father and then her cousin. She was worried what would happen to her once I leave this world."
After preparing Amita for the operation for a month, an ambulance arrived right at her doorstep to take her to Pune. The seven stairs that led to her veranda were flattened for the purpose. "We got a dozen people to carry her to the ambulance," said her mom. Dr Shah said handling his heaviest patient was a task. "She could not even see her feet, so she was scared to alight from the ambulance."
An extended table was specially designed for the operation. A special weighing machine was also put in place. The cost of surgery thus rose by another Rs 4 lakh; it totalled Rs 8 lakh.
What complicated her case was a BMI of over 100 and height of only five feet. "A 35-minute operation and four days of stay in the hospital have brought me back to life and that too one of dignity," said Amita who hopes to touch 100kg by the year-end.
An avid cook, Amita can lead a healthy life based on a balanced diet of proteins, iron supplements and Vitamin B12, said Dr Shah. Amita, who now creates handicrafts and wants to get back to business, may make it to the Limca Book of Records for once having the biggest belly.
http://timesofindia.indiatimes.com/city/mumbai/300kg-Mumbai-woman-loses-117kg-post-bariatric-surgery/articleshow/48024354.cms?utm_source=TOInewHP_TILwidget&utm_medium=ABtest&utm_campaign=TOInewHP
-------
Roshni Mukherjee's One-Teacher Virtual School Has 68,000 Students
Merlin Francis,TNN | Jul 10, 2015
She wanted to do PhD and become a teacher, but after her father's death, she had to take up a job in an MNC. However, Roshni Mukherjee found a way to teach tens of thousands of school students for free.
She launched Examfear.com to post video lessons for classes 9 to 12, and her YouTube channel has more than 68,000 subscribers. She has shared around 3,700 videos in the past four years, which means more than two video les sons posted per day .
"It began when my maid told me her two children kept failing in their exams be cause teachers in the government school in Tamil Nadu, where they studied, would rarely come to class. These were the children I wanted to reach out to," she said.
As technology offered the best solution, she uploaded a video on YouTube, explain PY ing the physics concept of motion. She used a Powerpoint slideshow and a microphone to explain the concepts. As there was a good response, she started posting more video lessons.
"After seeing the videos, students started asking doubts in the comments section and also requested for video lessons on specific topics. I was happy to help," she said. She spent a few hours on weekdays and all her weekends preparing the videos lessons in chemistry, physics, mathematics and biology .
She initially prepared videos for classes 11 and 12, but soon expanded to classes 9 and 10. "I refer CBSE syllabus and brush through ICSE syllabus to add any points I may have missed out. The videos are simple: made on Powerpoint (slide shows) with a voice in the background explaining the concepts," she said.
About eight months ago, Roshni quit her job with HP (which she had joined in the meantime) to focus on video lessons. "The channel was starting to make a little money from Google ads and I added a contribute button for those who wished to do so. I plan to keep the videos entirely free because only then can I reach a lot more students," she said.
Now, Roshni wants her videos to reach the remotest corners of the country. For this, she has to translate the videos into regional languages.
"That is the next course of action -making these videos into regional languages such as Kannada, Tamil and Bengali," she said.
Over time, Roshni hopes to expand her classes to junior grades and also subjects such history and geography .
http://timesofindia.indiatimes.com/city/bengaluru/One-teacher-virtual-school-has-68k-students/articleshow/48012594.cms?utm_source=TOInewHP_TILwidget&utm_medium=ABtest&utm_campaign=TOInewHP
-------
Queen Victoria's 'Big Pants' Fetch 12k Pounds At Auction
PTI | Jul 12, 2015
LONDON: A pair of Queen Victoria's underwear with a 45.5 inch waist have sold for a "record breaking" 12,000 pounds at an auction in the UK.
The bloomers, which bear the stamp VR for Victoria Regina, were bought by an English woman who is a private collector for 12,090 pounds.
"This is a record-breaking price for Victoria royal intimate apparel," said Principal auctioneer Richard Edmonds at Chippenham Auction Rooms in Wiltshire.
The underwear, dating to the late 1890s, was in 'excellent' condition, having spent years preserved in tissue paper in a temperature-controlled storeroom at Yesterday's World museum in Sussex, 'express.co.uk' reported.
"Items of Queen Victoria's clothing were often given to members of the royal household, particularly after her death in 1901," said Edmonds.
"We've been able to date the pants by measuring the waistband.
"As there's such a good photographic record of Queen Victoria, it's possible to calculate her waist measurement over time, so we know roughly when she would have worn items of this size," Edmonds said.
The woman who bought the pants also purchased a number of other items of royal clothing and a set of replica Crown Jewels, which she bought for 5,500 pounds.
The pants were sold alongside a nightdress, stockings and hats worn by Victoria and her third child Princess Alice.
In 2014, a pair of Victoria's bloomers sold at an auction in Kent for 6,200 pounds.
Victoria was Queen of the United Kingdom of Great Britain and Ireland from June 1837 until her death in January 1901.
http://timesofindia.indiatimes.com/world/uk/Queen-Victorias-big-pants-fetch-12k-pounds-at-auction/articleshow/48040413.cms
-------
ISIS 'Female Gestapo' Leading Campaign Of Terror Against Own Sex - And 60 Are British
BY IAN LEONARD, 11 JULY 2015
The female fanatics bite and whip any woman who steps out of line and force girls to become sex slaves
Islamic State's 'female Gestapo' is conducting a sickening campaign of terror against their own sex.
The special brigade - set up to enforce the terror group's strict Islamic views - bite and whip any woman who steps out of line and force girls to become sex slaves.
As many as 60 British women are thought to be members of the brigade, which operate in ISIS' self-proclaimed capital Raqqa, in Syria.
The city is ruled by fear, with torture, stoning and crucifixions common.
All women are prohibited from going outside or travelling without a male relative.
ISIS imposes a strict dress code demanding all females from puberty upwards wear two gowns to hide their body shape, black gloves to cover their hands, and three veils so their faces cannot be seen, even in direct sunlight.
One former Syrian schoolteacher trapped in the city opened up to Channel 4 in a documentary, Escape From ISIS, to be aired next week.
She saud: "We have no freedom. We cannot go out on the balcony or look through the window. They will arrest a woman if she wears perfume or raises her voice. A woman's voice cannot be heard."
The teacher told of her horrifying capture by the city's ruthless all-women police unit, the Al-Khansa brigade.
"They said my eyes were visible through my veil. I was tortured. They lashed me. Now some of them punish women by biting. They give you the option between getting bitten or lashed."
British women in the brigade are thought to include Aqsa Mahmood, the 20-year-old Glaswegian woman who left her family to join ISIS last year.
They are paid up to £100 a month, a relative fortune.
Marriage: Many women who join ISIS become jihadi brides
One former Al-Khansa enforcer, a young Syrian woman called Umm Abaid, told the filmmakers how she had led a normal life until the arrival of ISIS and the imposition of Sharia law in Raqqa.
"I went to school, to coffee shops," she said, "but slowly, slowly my husband [a Saudi Arabian IS fighter killed in a suicide bomb attack] convinced me about Islamic State and its ideas. I joined the brigade and was responsible for enforcing the clothing regulations.
"Anyone who broke the rules, we would lash. Then we would take her male guardian, her brother, father or husband, and lash him, too."
The brigade even stops buses to check women passengers.
If one is found breaking the code, all the passengers are forced to get off and the bus is refused permission to proceed. The driver can be lashed because he let the woman on board.
Some of the Al-Khansa members operate undercover, posing as housewives and mingling in the crowds to listen for any dissent.
They also run brothels where kidnapped girls are expected to satisfy fighters returning from battle.
Those who have escaped the brothels say they have slept with 100 different fighters in a few weeks.
Emily Dyer, a research fellow with the Henry Jackson Society, spends hours tracking social media messages sent to the West by jihadi brides.
She says many Muslim British women see joining ISIS as an "attractive option" but once they arrive in Syria the reality of their situation is wholly different from the propaganda they are fed.
Under ISIS prohibitions, single women live in all-female safe houses called maqqars. If they are married, they must be only mothers or housewives unless selected to be IS 'enforcers' or fighters.
A girl tracked by Emily on Twitter said: "I'm fed up. They make me do the washing up."
Another said: "I've done nothing except hand out clothes and food. I help clean weapons and transport dead bodies from the front. It's beginning to get really hard.'
One complained: 'My iPod doesn't work any more. I have to come back [to the West]."
Women in maqqars are forbidden access to mobile phones or the internet.
They are then prepared to become jihadi brides, even if they are young teenagers.
But girls who marry one fighter, have found they are expected to spend a week with their new 'spouse' before they are 'divorced' by an Islamic cleric and married to another fighter for a week.
Yet more Muslim girls and women from Europe, and notably the UK, arrive in Raqqa each month to join ISIS.
It's just one of the reasons politicians view the threat from ISIS so seriously
http://www.mirror.co.uk/news/world-news/isis-female-gestapo-leading-campaign-6046944
--------
Iran Changes Law To Make Divorce Harder
12 July 2015
TEHRAN — Iran has changed a law to make divorce by mutual consent invalid unless couples have first undergone state-run counselling, the country's latest move to tackle a rise in broken marriages.
The measures, reported by media at the weekend, are contained in a new family law that a top official said would be implemented by Iran's judiciary.
"A decree of divorce by mutual consent, without counselling, is forbidden," Parnian Ghavam, head of the judiciary's social work and counselling office, was quoted as saying by Tasnim news agency.
All Iranians filing for divorce would be obliged to go to a counsellor, she said. "From now on, without this it will not be possible to register divorces of mutual consent."
Iran's average divorce rate peaked at 21 percent last year, with big cities showing far higher rates.
One in three marriages fails in Tehran. In its northern quarter, home to the more affluent Western-leaning metropolitan elite, the figure is more than 40 percent. And most divorces are by mutual consent.
"The adviser's intention is to decrease the rate of divorce, in particular the rate of divorces of mutual consent," Ghavam was quoted as saying Saturday.
The official reasons for splitting up in Iran are a lack of affection, family interference, domestic violence and drug addiction.
The new law says the aim of counselling is "to consolidate the foundations of the family and prevent an increase in family conflicts and divorce and try to create peace and reconciliation."
After counselling a couple, the state-appointed adviser's role is to assess if either partner has behavioural or character disorders.
If so the counsellor can rule that the couple needs more sessions and it is his or her word that a judge must act on in deciding whether or not to approve a divorce.
The judiciary reportedly has until February next year to fully establish the marriage counselling service but it was now in force.
Reformist newspaper Shargh reported Sunday that there were more than 30,000 divorces in Tehran alone last year, 90 percent of which were by mutual consent.
The enactment of the compulsory counselling measures coincides with broader concern in Iran about family breakdown and rising ages of those who get married.
Last month the government launched a matchmaking website in which clerics and professionals of good standing in their communities, such as doctors and teachers, will try to pair off young men and women.
Supreme leader Ayatollah Ali Khamenei, who wants Iran's population of 80 million to nearly double to 150 million by 2050, last year also urged officials to take new steps to improve the birth rate.
The government has since reversed past policies to control population growth, with legislation to cancel subsidies for condoms and birth control pills and eliminate free vasectomies. — AFP
http://www.saudigazette.com.sa/index.cfm?method=home.regcon&contentid=20150712250196
-------
Afghan Women's Football Gains Membership In AFC Committee
By MIRWAIS ADEEL - Tue May 05 2015
The Afghan women's football eyes progress by gaining member of the women's football committee at the Asian Football Confederation (AFC).
The head of the Afghan women's football federation Zahra Mehri was appointed as a member of the women's football committee after the directors of the Asian Football Confederation unanimously voted for her membership.
The women's football federation was formed within the framework of Afghanistan football federation in 2006.
With Mehri's membership of the Asian football confederation women's committee, the Afghanistan football federation officials are optimistic that the women's football in Afghanistan will have remarkable achievements in the years ahead.
The officials are saying that fundamental steps have been taken by Ms Mehri since she assumed charge of the women's football federation in Afghanistan.
The Afghanistan football federation has also conducted special coaching classes for C and D grades in the past in various provinces of the country to train coaches for the women's football.
The federation also has plans to start special leagues for the women and support women's football in other provinces of the country.
The women's football federation is actively operating in Kabul, Balkh, Herat, Bamyan, Sar-e-Pul, Ghor and Jawzjan provinces.
http://www.khaama.com/afghan-womens-football-gains-membership-in-afc-committee-1069
--------
I Won't Apologize For Being A Palestinian Feminist: Secretary-General Northern Branch Of The Islamic Movement
By Samah Salaime
July 11, 2015
I am neither a criminal nor a terrorist. Yes sir, I'll admit it: I founded a women's organization, and I wish to be judged severely for my actions. I want, once and for all, to hang the dirty laundry for all to see and be tried in a court of law.
I recently came across a speech given by Sheikh Kamal Khatib, the secretary-general of the northern branch of the Islamic Movement, in which he blames a young girl who was taken advantage of on social media. "You crazy idiot, you are superficial and hollow," he tells her, before continuing with his scaremongering over what can happen to young "idiot" women like her on social media.
Until this point I was not surprised by his remarks. What worried me, and what requires an immediate response, is the portion of his speech in which he starts blaming women's organizations, "the criminals and the terrorists, those who receive dubious dollars from Western countries in order to destroy our society."
And just like that our fate was sealed. With one miserable sentence, the honorable speaker decided that I am a criminal, a terrorist and a traitor! How unfortunate that someone like Khatib uses his position of influence to incite against women's organizations. What kind of space for action does he leave me in the face of the crazy reality we live in?
And if we're already on the topic of settling accounts, I would like to admit to my wrongdoing: I am a woman. This is how God created me and not you, alhamdulilah. My body is absolutely my own. I am responsible for it, and I will use it and take care of it according to my values.
The "Your Body Belongs to You" campaign, which you mocked while preaching from your pulpit, was started by Al-Siwar, an organization that provides support for victims of sexual abuse in Arab society. Do you support sexual abuse, sir? Shouldn't you, as a religious figure, be supportive of this struggle? Do you want me to be afraid that a man will touch me without my consent? I support this campaign, and wish to be judged severely before judgement day. I demand justice from my God, because it seems that humans have forgotten what justice means.
Where were you when women were murdered?
No, I am not a traitor, nor am I a terrorist against my society. You accused me of destroying our society with the aid of foreign money, but I have something say about this issue: our perfect, little society was ruined from the beginning. We in our women's organizations are trying to fix what you men have done for decades to make us reach this point.
I am a woman who sees the truth and is not afraid—I struggle against injustice without blinking. I do not want to fall victim to violence and refuse to allow men to abuse women. I am against rape and child marriages. Yes, I stand behind many women and push them to study, work and live the life they were given by the creator.
In my society, sir, dozens of women are murdered, and not at the hands of the security services or the weapons of the occupation. And what do you do about it? The bullet that murders an Arab woman was shot by a gun held by a man who may have heard you speak before.
While you were busy preaching, those same women's NGOs you defamed and blamed for the destruction of Arab society may have enrolled a young woman into a self-defense class or a group dedicated to women's empowerment. Perhaps they even advised her on opportunities for higher learning.
While a crowd of fawning men sat silently and became wiser due to your remarks, sir, there sat a volunteer with an abused woman in the hospital after an angry man put out his cigarette on her "weak" body.
While you organized mass demonstrations of men to protect Al-Aqsa Mosque, Palestinian women in Jerusalem protested against the separation wall on both sides, in order to demand the removal of that large piece of concrete that separates them.
While you unrelentingly incited against Arab women's organizations, brave women drove to faraway villages in order to gather and market crafts and embroideries by impoverished Palestinian women.
When you wrote that no one apart from Muslims have a right to Jerusalem, Christian and Muslim women cooked Iftar dinners together in the Old City.
And through it all, our manly leaders kept their mouths shut. Not because they agreed with you, but because of the might of the religion that you pretend to represent.
I am not a foreign agent of the West, sir. I am an Arab Palestinian and a Muslim just like you, who struggles from within my society just like you, and does everything I can to advance the women around me. I am a feminist and an activist and there are many like me, who work day and night to help lift women and teenage girls out of poverty, from violence and primitivity toward progress and development.
We won't wait for the occupation to end
For many years I stood behind the front lines of my people's struggle. I hid myself from the cameras and was never elected to a venerated public position. I do not own a newspaper and have no stage or audience.
I had hoped that you would be more fair and responsible in your declarations, and that your conscience would lead you to support positive, women-based activities for the sake of our society. I thank God that there are responsible men and religious figures around who are different from you. Ones who are guided by tolerance and see what we do and what we support. These men have reached the necessary conclusion that there is no way to make social change without real partnerships. With you, however, I have no place.
In a hypocritical society, which you blame me for, I need to be at the protests—but only if I am not photographed near the men. I am allowed to struggle against home demolitions—but only if my voice is silenced. We demand justice from an oppressive regime—but the future scientist or doctor is locked in her room.
Don't you understand that it no longer works this way? I cannot wait until the occupation ends and all the other problems in our society are solved before it is my turn. Not only do I refuse to wait, I am sure that I am part of this nation, and that without me, nothing will progress.
http://972mag.com/i-wont-apologize-for-being-a-palestinian-feminist/108743/
--------
A Deep Dive into The Women-Run Hedge Funds Universe
VW Staff July 11, 2015
Executive Summary
All too often conversations about women in asset management center on their absence rather than their success. Discussions regarding the representation of women in the industry have a tendency to overshadow the performance and characteristics of those women who are successful in the field. Unfortunately, up until this point little data examining that performance has been available, particularly in the opaque world of Hedge Funds.
There are approximately 150 to 200 women-run hedge funds currently in existence. These funds are comparably distributed based upon size versus the overall hedge fund universe. The womenrun cohort shows a moderate skew by strategy, particularly favoring equity strategies to the detriment of broad multi-strategy funds. In reviewing their performance, a sizeable skew exists by quartile distribution. Women-run funds show a significantly higher presence in the top quartile of performance over the past decade.
By constructing an index of women-run hedge funds, we observe that these funds post compelling risk and return statistics. These statistics are persistent over a variety of time periods and market conditions. Importantly, efficiency ratios show higher return per unit of risk in every environment tested.
Academic research and industry studies have long examined the behavioral differences between the genders. In considering the concept of downside protection, the drawdown experience of women-run hedge funds during the financial crisis was both shallower and significantly shorter than the broader hedge fund industry. This provides some evidence of consistency with academic studies.
The practical application of this research is best observed when replicating a portfolio inclusive of these managers. By combining women-run hedge funds into a portfolio with a large, multi-strategy fund of funds, improvement is seen in the performance of the balanced portfolio on all but a few metrics. As a whole, the correlation between women-run hedge funds and a sampling of 10 of the largest fund of funds is notably low. This implies that incorporating these managers into a diverse portfolio could improve overall diversification and performance for a broad array of investors.
Statistical adjustments to the women-run hedge fund index should be incorporated to provide the most conservative view of the data. Correction for its smaller sample size, strategy skew, and higher propensity to display survivor bias are important to consider. When accounting for all three of these adjustments, it is still observed that women-run hedge funds outperform the broader hedge fund universe with a high degree of statistical significance over the past 10 years.
The sum total of this analysis presents a case for the incorporation of women-run hedge funds into a broad hedge fund allocation. Frequently, the question of inclusion becomes one of social responsibility. We would argue that these funds stand solidly on their own investment merit. It is unfortunate that debate around gender inclusion has a tendency to obscure the investment proficiency displayed by many women-run hedge funds.
A Deep Dive Into The Women-Run Hedge Funds Universe - Introduction
When discussing women in finance, the conversation tends to gravitate towards their absence. At issue is that while women have been earning the majority of bachelor's degrees since the 1980s, and most other industries have seen marked appreciation in the participation of women, the level of senior women in finance has been practically unchanged at sub-10% for the last twenty years.
This becomes all the more relevant when considering that academic research and industry studies have long shown a behavioral difference between genders in the investment space. While some studies conflict on the degree and the relevance of the bias, the vast majority of research acknowledges its existence. Despite the integrity of the research performed, few investors have considered the implications of what these studies assert. If women are truly showing differentiated behavior in the investment arena, and yet so few women are playing in it, then an inefficiency exists that deserves consideration.
Our goal with this piece is to delve into the universe of women-run hedge funds. By our estimates, approximately 150 to 200 women-run hedge funds are currently in operation. Detailed data on how they have performed and what that performance looks like has been lacking up until this point. So, too, is a review of whether those behaviors discussed in academic research affect the performance of these funds. Without this data, consideration of an allocation to women-run funds all too often understates the investment opportunity they present.
ioral Research in Investing
Richard Thaler originally published his seminal work on behavioral economics, The Winner's Curse, in 1992. Since then, the world of behavioral analysis and its influence on economics and investing has exploded. Andrei Schleifer cemented these concepts as they relate to finance in 2000 with Inefficient Markets: An Introduction to Behavioral Finance. The base economic assumption of rational market participants has been called into question ever since. In 2011, Daniel Kahneman brought the discussion main stream with his bestselling Thinking Fast and Slow, and with it the profound impact of human behavior on market dynamics changed from a question to an accepted fact.
As the study of behavioral finance has grown, so has research relating to the nuances of cognitive bias. From an investment perspective, dozens of academic and industry studies have delved into the review of gender bias on investment behavior. While some studies conflict as to the size and impact of this bias, few question its existence. In fact, in 2008 two researchers stated emphatically that "the question whether women behave differently from men has been extensively researched and reveals robust gender differences."
While a thorough review of the breadth of gender-related behavioral research in finance would warrant its own paper, three common behavioral differentiators are frequently examined. First, experimental and empirical evidence show that women experience fewer losses attributed to overtrading and overconfidence. Second, studies indicate women exhibit increased discipline and consistency as it relates to investment decisions. And third, research suggests that women display an increased focus on downside protection and risk management. Detailed citations of some of the most prominent studies discussing these findings are listed at the end of this paper.
http://www.valuewalk.com/2015/07/a-deep-dive-into-the-women-run-hedge-funds-universe/?utm_source=mailchimp&utm_medium=email&utm_campaign=EMAIL_DAILY&utm_content=quick_link
-----
URL: https://www.newageislam.com/islam,-women-and-feminism/new-age-islam-news-bureau/hope-my-win-inspires-a-lot-of-girls-in-india,-sania-mirza-says-after-wimbledon-win/d/103866