New Age Islam News Bureau
09 February 2022
• Hijab-Wearing Indian Woman Lauded For Standing Up To Far-Right Hindu Mob
• Nigerian Constitution Supports Wearing Of Hijab by Muslim Women – Buhari Government
• Pakistani Woman Had Nail Hammered Into Head to 'Guarantee' Baby Boy
• 4 Saudi Women on Forbes List of Most Influential Businesswomen in MENA Region
• Actress Sharifah Sakinah Shows Proof Hubby Embraced Islam
• 'Horrifying': Malala Asks Indian Leaders to Let Girls Go To School in Hijab
• Karnataka Hijab Row: Child Rights Panel Says Darul Uloom Told Muslim Women to Not Wear Uniform
• As Karnataka Hijab Row Escalates, a Look at Laws on Face Coverings across the World
• Sports Minister Sajadi Hails Potential of Iranian Women Athletes
Compiled by New Age Islam News Bureau
URL: https://www.newageislam.com/islam-women-feminism/honour-killing-iranian-mona-heidari/d/126336
--------
'Honour Killing' Of Iranian Woman Mona Heidari, 17, Sparks Calls for Social, Legal Reforms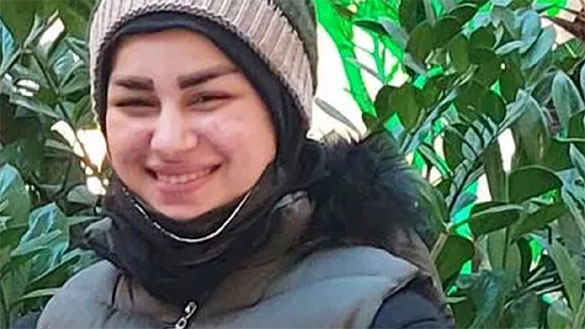 Mona Heidari PHOTO: Iran hrm
-----
08 February, 2022
A viral video of a man appearing to display his decapitated young wife's head in the street after he discovered her alleged adultery has deeply shaken Iranians.
Police suspect that Mona Heidari, 17, was killed by her husband and brother-in-law in the southwestern city of Ahvaz, Iran's ISNA news agency reported.
By Monday, officers had arrested the two men "during a raid on their hideout," state news agency IRNA said, citing local police.
The case prompted Iran's vice president for women's affairs, Ensieh Khazali, to call on parliament to take "urgent measures" and on the authorities to raise awareness to prevent such cases.
Iranian newspapers and social media saw an outpouring of shock and rage over the killing, with many demanding social and legal reforms.
"A human being was decapitated, her head was displayed on the streets and the killer was proud," said the reformist daily Sazandegi.
"How can we accept such a tragedy? We must act so that femicide does not happen again."
Renowned feminist filmmaker Tahmineh Milani wrote on Instagram: "Mona was a victim of devastating ignorance. We are all responsible for this crime."
Following Heidari's murder, calls were revived to reform laws for the protection of women against domestic violence and to raise the legal age for marriage, currently set at 13 in Iran.
According to Iranian media, the victim was just 12 when she was married, and had a three-year-old son by the time she was killed.
Lawyer Ali Mojtahedzadeh, in the reformist paper Shargh, blamed "legal loopholes" for "paving the way for honor killings."
Fellow member of parliament Elham Nadaf told the ILNA news agency: "Unfortunately, we are witnessing such incidents because there are no concrete measures to ensure the implementation of laws to prevent violence against women."
Authorities meanwhile shut down the news website Rokna, saying it "psychologically disturbed society" after it shared the viral video of the man, IRNA reported.
In May 2020, a man beheaded his 14-year-old daughter in another so-called "honor killing" which sparked public outrage. He was sentenced to nine years in prison later that year.
Source: Al Arabiya
https://english.alarabiya.net/News/middle-east/2022/02/08/Alleged-honor-killing-of-Iranian-woman-sparks-calls-for-social-legal-reforms
--------
Hijab-Wearing Indian Woman Lauded For Standing Up To Far-Right Hindu Mob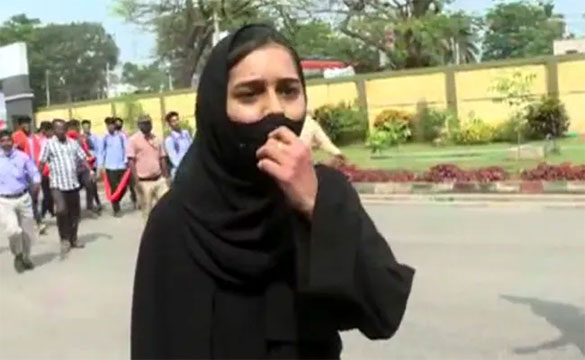 Hijab wearing Indian Muslim student was heckled by a large group of slogan-shouting young men wearing saffron scarves at a Karnataka college.
----
February 9, 2022
A Muslim woman wearing a hijab in southern India's Karnataka state has been hailed for braving threats and heckling by a Hindu far-right mob outside a college, as protests intensified over a ban on Islamic headgear in the educational institutes that has outraged Muslim students in the South Asian country.
In a video posted online by campaigners on Tuesday, Muskan Khan is seen parking her two-wheeler outside a college in the city of Mandya before she is heckled by Hindu members of a right-wing group with "Jai Sri Ram" (Hail Lord Ram) chants.
The girl reacts by raising her hand and shouting back: "Allahu Akbar" (Allah is Great).
Khan, who stood up to a mob of saffron scarf-clad men, later told NDTV –– a local TV channel –– she "was not worried about facing them alone and that she would keep fighting for her right to wear the hijab."
"I have always worn the hijab in college," she said, adding the school never had issues with her clothes and it's "the outsiders" who have stirred the controversy in the province ruled by PM Narendra Modi's right-wing Bharatiya Janata Party (or BJP).
Support grows for Muslim girl
Immediately after the video went viral, Khan was called "lioness", "hero", "brave", and "courageous" on social media.
"How brave these men are and how macho they must feel while targeting a lone young lady! Hatred for Muslims has been completely mainstreamed and normalised in India today," said ex-chief minister of India-administered Kashmir, Omar Abdullah, while commenting on the video in a tweet.
Bollywood actor Richa Chadha slammed the mob and tweeted in support of the woman.
"Raise your sons better! A bunch of ugly, cowards attacking a lone woman in a pack and feeling proud of it? WHAT LOSERS! Shameful. They'll be jobless, more frustrated and penniless in a few years. What poor upbringing! No sympathy, no redemption for them. I spit on your kind (sic)," she wrote.
Aakar Patel, who is the Chair for Amnesty International India, wrote on Twitter, "Shekhar and I have written a thousand columns each none of which amounted to or achieved what that woman did today," referring to Shekhar Gupta, founder of news website The Print, whose editorial over the hijab ban drew widespread flak.
Global rights champion Malala Yousafzai called the hijab ban for students "horrifying", adding, "Objectification of women persists – for wearing less or more. Indian leaders must stop the marginalisation of Muslim women."
Schools shut over possible violence
Meanwhile, authorities in the state shut schools on Tuesday.
The stand-off in Karnataka state has galvanised fears among the minority community about what they say is increasing persecution under the Hindu nationalist government of PM Modi.
Fresh demonstrations on Tuesday saw officers fire tear gas to disperse a crowd at one government-run campus, while a heavy police presence was seen at schools in nearby towns.
Chief Minister Basavaraj Bommai appealed for calm after announcing all high schools in the state would be closed for three days.
Students at a government-run high school were told not to wear hijabs last month, an edict that soon spread to other educational institutions in the state.
"All of a sudden they are saying you are not supposed to wear hijab... why did they start now?" said Ayesha, a teenage student at the Mahatma Gandhi Memorial College in the coastal city of Udupi.
Ayesha said a teacher had turned her away from her chemistry exam for wearing the garment.
"We are not against any religion. We are not protesting against anyone. It is just for our own rights," she told AFP news agency.
Fellow student Amrut, standing nearby among a crowd of Hindu boys wearing saffron shawls, said the dispute had unfairly prevented him from attending class.
"We had... requested them not to wear hijab," he said. "But today they are wearing hijab. They are not allowing us to go inside.
'Religious apartheid'
"What we are witnessing is a form of religious apartheid. The decree is discriminatory and it disproportionately affects Muslim women," said A H Almas, an 18-year-old student who has been part of the weeks-long protests.
Critics say Modi's election in 2014 emboldened hardline groups who see India as a Hindu nation and are seeking to undermine its secular foundations at the expense of its 200 million-strong minority and 14 percent Muslim community.
Opposition parties and critics accuse the BJP government at the federal and state level of discriminating against religious minorities and running the risk of stoking violence.
Modi has defended his record and says his economic and social policies benefit all Indians.
A case filed by one of the students, who said in her petition that wearing the hijab was a fundamental right to religion guaranteed by the constitution, was heard in the Karnataka High Court in state capital Bengaluru on Tuesday.
While no final order was passed, the judge appealed for peace and calm and will continue hearing the petition on Wednesday, one of the lawyers for the petitioner told Reuters news agency.
Neither banned nor curbed
For many Muslim women, the hijab is part of their Islamic faith. It has for decades been a source of controversy in some Western countries, particularly in France, which in 2004 banned it from being worn in public schools.
But in India, where Muslims make up almost 14 percent of the country's near 1.4 billion people, it is neither banned nor is it restricted in public places.
In fact, women wearing hijab are a common sight in India, and for many of them, it symbolises religious identity and is a matter of personal choice.
Because the debate involves alleged bias over a religious item worn to cover hair and maintain modesty, some rights activists have voiced concerns that the decree risks raising anti-Muslim hate.
Violence and hate speech against Muslims have increased under Modi's nationalist party.
The protests have drawn public condemnation, with the hashtag #HijabIsOurRight circulating widely on social media, but also led to a rather unexpected pushback.
For the last week, some Hindu students in the state have started wearing Saffron-colored shawls, a symbol of Hindu nationalist groups.
They have also chanted praises to Hindu gods, while protesting against the Muslim girls' choice of headgear, signifying India's growing religious faultlines and bitter tensions between the country's Hindu majority and its Muslim minority.
Source: Trt World
https://www.trtworld.com/asia/hijab-wearing-indian-woman-lauded-for-standing-up-to-far-right-hindu-mob-54560
--------
Nigerian Constitution Supports Wearing Of Hijab By Muslim Women – Buhari Government
FEB 07, 2022
The Nigerian government says the country's constitution allows Muslim women to wear hijab in line with the teachings of their faith.
Minister of Education, Adamu Adamu disclosed this at the National Mosque, Abuja on Sunday during a public lecture organised by the Coalition of Nigerian Muslim Women as part of activities marking this year's World Hijab Day.
Adamu noted that all citizens are allowed to practise their religions as long as no harm or inconvenience is caused to other people.
The minister, represented by Hajiya Sidikat Shomope of the Social Mobilisation Department, Universal Basic Education Commission (UBEC), said it was unfortunate that the controversy over the wearing of hijab in the country had gone down to the school level and generated needless clashes.
There was violence on Thursday at the Baptist High School, Ijagbo in Oyun Local Government of Kwara State, leading to the killing of Habeeb Idris, a Muslim student of the school, when a rally by the Muslim students was reportedly disrupted by hoodlums and security agents.
The minister said, "The wearing of hijab by Muslim women is a Sunna as recommended in the Holy Qur'an (Q 33 V 59)."
According to him, there is a lot the country can gain by dialoguing on matters of religious differences rather than resorting to violence.
"Our children will remain citizens of Nigeria irrespective of their faith. They will live and interact in the world outside school where no boundary exists between the religions.
"We should understand that the constitution of the Federal Republic of Nigeria guarantees freedom of religion to all citizens. This, by implication, means that all citizens are allowed to practise their religions according to the teachings of their faith as long as no harm or inconvenience is caused to other people."
He appealed to all traditional, religions and community leaders to use their offices to douse tension so that Nigerians could all live in peace, harmony and tolerance.
Source: Sahara Reporters
http://saharareporters.com/2022/02/07/nigerian-constitution-supports-wearing-hijab-muslim-women-%E2%80%93-buhari-government
--------
Pakistani woman had nail hammered into head to 'guarantee' baby boy
February 09, 2022
PESHAWAR: A pregnant Pakistani woman had a nail hammered into her head by a faith healer who said it would guarantee she gave birth to a boy, a doctor said Wednesday.
Exploitative faith healers, whose practices are rooted in mystic Sufi lore, are common across Muslim-majority Pakistan despite the disapproval of some schools of Islam.
In South Asia, a son is often believed to offer better financial security to parents than daughters.
The woman arrived at a hospital in the northwestern city of Peshawar after trying to extract the nail herself with pliers, doctor Haider Khan told AFP.
"She was fully conscious, but was in immense pain," said Khan, who removed the spike.
The mother of three daughters said she was pregnant with another girl, the doctor added.
An X-ray showed the five-centimeter (two-inch) nail had pierced the top of the woman's forehead but missed her brain.
Khan said a hammer or other heavy object was used to knock it in.
The woman initially told hospital staff she had hammered the nail into her head herself on the advice of the faith healer, before later saying he had carried out the act.
Peshawar police are trying to track down the woman in order to question him.
"We have collected the CCTV footage from the hospital and hope to reach the woman soon," city police chief Abbas Ahsan told AFP.
"We will soon lay our hands on the sorcerer," he said.
Source: Arab News
https://www.arabnews.com/node/2021291/offbeat
--------
4 Saudi women on Forbes list of most influential businesswomen in MENA region
February 09, 2022
By Hanouf Aldouqi
JEDDAH — Four Saudi women are among MENA region's most influential and successful businesswomen listed by Forbes this year. The list featured representatives of 19 different nationalities and 17 sectors.
Saudi women on the list are: Sarah Al-Suhaimi, Hutham Olayan, Lubna Olayan and Basma Al-Maiman.
Ranked 4th on the list is Sarah Al-Suhaimi who is the first Saudi woman to chair the Saudi Arabian Stock Exchange (Tadawul), which is the largest stock market in the Middle East.
In April 2021, the Saudi Stock Exchange was transformed into a holding company with four subsidiaries, including the stock exchange. The Saudi Tadawul Group was listed on the Saudi Stock Exchange in December 2021.
Al-Suhaimi is also a board member of the Saudi Telecom Company, the Saudi Arabian Airlines Public Agency, and the Cultural Development Fund. She is a trustee of the International Financial Reporting Standards Foundation.
Ranked in the 6th place is Hutham Olayan, chairwoman of the Olayan Group. Founded by Suleiman Olayan 75 years ago as a contracting and trading company in Saudi Arabia, the group today has a diversified commercial, industrial and investment portfolio.
The family owns 4.9% of Credit Suisse, which amounted to $1.3 billion as of January 2022, and 20.3% of the Saudi British Bank (SABB) worth $4.1 billion.
The group's real estate assets include 550 Madison Avenue in New York, Knightsbridge Estate in London and Hotel Ritz in Madrid. In Saudi Arabia it bottles Coca-Cola, operates Burger King restaurants, and manufactures cans and paper. In January 2021, Olayan was appointed to the Board of Directors of Brookfield Asset Management Inc.
Ranked in the 11th place is Lubna Olayan. After serving as CEO of Olayan Finance for more than 33 years, Olayan announced her retirement in 2019. She became chair of SABB's board in June 2019. The bank generated $1.5 billion in total operating income in the first nine months of 2021.
She also chaired the Board of Directors of Alawwal Bank, which merged with SABB last March. Olayan was the first woman to join the board of directors of a company listed in Saudi Arabia.
She sits on the boards of Olayan Finance, Schlumberger and Ma'aden, and sits on the international advisory boards of Akbank, Allianz SE, McKinsey & Co, and Bank of America Merrill Lynch. She is also a trustee of King Abdullah University of Science and Technology (KAUST), the Massachusetts Institute of Technology (MIT), and the Asian Business Council.
Finally, ranked 15th on the Forbes list is Basma Al-Maiman who assumed her current position in 2018, becoming the first GCC national to serve a leadership position in the World Tourism Organization (UNWTO), and the first woman to spreadhead the region in the organization's history.
UNWTO opened its first Middle East regional office in Riyadh in 2021. She was recognized by the World Bank as one of the youngest CEOs in the MENA region in 2020.
Forbes reported that it compiled the list according to revenues, assets, AUM, market capitalization, and number of employees, accomplishments achieved over the last year by the businesswomen, designation, overall work experience, CSR and other initiatives led by the businesswomen
According to Forbes Middle East, more than 25% of women on this year's list led regional offices and divisions of multinational companies in the region, such as: Saeeda Jaffar of Visa, Derya Matras of Meta, Sophie Doireau of Cartier, in addition to Rima Assi of McKinsey & Company.
Source: Saudi Gazette
https://saudigazette.com.sa/article/616891/SAUDI-ARABIA/4-Saudi-women-on-Forbes-list-of-most-influential-businesswomen-in-MENA-region
--------
Actress Sharifah Sakinah Shows Proof Hubby Embraced Islam
09 Feb 2022
SHARIFAH Sakinah was upset after being accused of being an apostate (Murtad) for not showing proof that her husband Michael Hansen has embraced Islam before marrying her recently, Berita Harian reported.
Addressing the issue on her Instagram account after an individual questioned her, the 33-year-old actress explained that she did not share her husband's conversion status out of respect for her in-laws.
"Since you want proof, swipe next. Thank you for causing such a ruckus. I have already given my explanation, so there is no need to question it anymore," she said.
On her Instagram, Sakinah shared her husband's conversion card from the Selangor Islamic Religious Council and the screenshot of a religious message by an unnamed individual.
Sakinah, who is the sister of Suria FM radio presenter Sharifah Shahirah, had announced her marriage to Hansen last Friday.
> Firefighters managed to stop a 27-year-old man from jumping from the 18th floor of an apartment block in Taman TTDI, Shah Alam, Kosmo! reported.
The man is said to be have been depressed over a relationship issue.
Selangor Fire and Rescue Department director Norazam Khamis said eight men from the Kota Anggerik station were deployed to the scene as soon as the call came at 3.30am yesterday.
He said the officers arrived within five minutes and began their rescue operation by preparing an inflatable mattress.
"Based on the information gathered, the man failed to contact his girlfriend," he said, adding that the man was recently divorced.
Norazam added that they took four hours to persuade the man not to do it, with the help of his sibling and ex-wife.
Those suffering from mental health issues or contemplating suicide can reach out to the Mental Health Psychosocial Support Service (03-2935 9935 or 014-322 3392); Talian Kasih (15999 or 019-261 5999 on WhatsApp); Jakim's (Department of Islamic Development Malaysia) family, social and community care centre (011-1959 8214 on WhatsApp); and Befrienders Kuala Lumpur (03-7627 2929) or go to befrienders.org.my/centre-in-malaysia for a full list of numbers nationwide and operating hours.
Source: The Star
https://www.thestar.com.my/news/nation/2022/02/09/sakinah-shows-proof-hubby-embraced-islam
--------
'Horrifying': Malala asks Indian leaders to let girls go to school in hijab
Feb 08, 2022
Malala Yousafzai, the Nobel Peace laureate and women's rights activist, on Tuesday took to Twitter to share her horror over the ongoing hijab controversy raging in Karnataka where Muslim girls wearing the headscarves are being barred from attending classes.
Yousafzai said refusing to let girls go to school in their hijab is horrifying, adding objectification of women continued in one way or the other – for wearing less or more. The Nobel laureate, who had taken bullets from the Taliban in Pakistan in 2012 for speaking up about the rights of girls and their education, urged Indian leaders to stop marginalisation of Muslim women.
"College is forcing us to choose between studies and the hijab".
Refusing to let girls go to school in their hijabs is horrifying. Objectification of women persists — for wearing less or more. Indian leaders must stop the marginalisation of Muslim women. https://t.co/UGfuLWAR8I
— Malala (@Malala) February 8, 2022
Quoting a report where a Muslim student said that they were being forced to choose between studies and the hijab, Malala said, "Refusing to let girls go to school in their hijabs is horrifying. Objectification of women persists — for wearing less or more. Indian leaders must stop the marginalisation of Muslim women."
Earlier in the day, the Basavaraj Bommai-led government in Karnataka ordered the closure of schools for three days as protests spread across the state over the issue.
Campuses witnessed 'conflict-like' situations marked by stone-pelting, use of force by police and Muslim girls standing their ground for wearing the headscarves, prompting calls for peace and calm both by the government and the high court, that is hearing a plea from the students over their right to wear the hijab.
Hijab controversy: A Political power play ahead of Karnataka assembly polls
Bommai, who is in New Delhi, said, "I appeal to all the students, teachers and management of schools and colleges as well as people of Karnataka to maintain peace and harmony."
Source: Hindustan Times
https://www.hindustantimes.com/india-news/malala-hijab-refusing-girls-school-horrifying-karnataka-101644336401823.html
--------
Karnataka hijab row: Child rights panel says Darul Uloom told Muslim women to not wear uniform
Amit Bhardwaj
February 9, 2022
The National Commission for Protection of Child Rights (NCPCR) chief Priyank Kanoongo reacted to the ongoing hijab row in Karnataka. He alleged that Darul Uloom, an Islamic seminary in India, was asking Muslim women not to wear uniforms and that they were responsible for promoting this culture.
Invoking Mahatma Gandhi in his statement, he said, "Gandhi must be in pain seeing these visuals." He added, "Gandhi was against the Parda pratha. He considered the parda a hindrance to the educational progress of Muslim women."
"Those trying to manipulate students on this issue are against the nation's progress," said the child rights panel chief. "In order to stop incidents like these, we have issued a notice to Darul Uloom Deoband."
Darul Uloom asked Muslim women to not wear uniforms, to stay away from co-ed schools and from schools where male teachers are part of the faculty, alleged the NCPCR chief.
The ongoing hijab row in Karnataka took a violent turn on Tuesday, February 8. Stones were pelted during the protest in Karnataka's Bagalkot district and the police responded with lathi charge.
Due to the unstable climate in the state, Karnataka CM Bommai ordered schools and colleges to be closed for the next three days.
NCPCR'S POSITION ON HIJAB
Responding to whether the NCPCR is against hijabs in educational institutions, he said, "uniform ends disparity. We are against anything beyond a uniform — whether it is Hijab or saffron scarf. We can't promote anarchy amongst students."
The NCPCR chief stated that the panel was keeping an eye on the situation, and they would take all necessary steps. He stated that there should not be any intervention from outsiders in this matter.
Source: India Today
https://www.indiatoday.in/india/story/karnataka-hijab-row-child-rights-panel-says-darul-uloom-told-muslim-women-to-not-wear-uniform-1910691-2022-02-09
--------
As Karnataka hijab row escalates, a look at laws on face coverings across the world
February 09, 2022
The Karnataka hijab row has captured the entire country's attention with people from all walks of life expressing their opinions. While many agree with the students demanding that they be allowed to wear hijabs in classrooms, others say a uniform should be adhered to.
The issue has snowballed into a major controversy with the Karnataka High Court now hearing the case against the ban.
However, this is far from the first time that the issue of face coverings — the burqa, niqab and hijab — has created controversy. Here's a look at how other countries have dealt with the face coverings: which allow it and which don't.
Turkey
Mustafa Kemal Ataturk introduced the secularisation of Turkey in its Constitution of 1924. While Ataturk never forbade the headscarf, he actively discouraged its use in public venues. His efforts saw an almost disappearance of hijab and burqa in Turkey.
In 2013, Turkey lifted its decades-old ban on headscarves in the civil service. Then Prime Minister Recep Tayyip Erdogan hailed the move as a "step toward normalisation".
Critics had accuse Erdogan of lifting the ban to force his Islamic values on the majority Muslim but staunchly secular nation.
France
France was the first European country to put a ban on wearing a burqa or niqab in public.
The legislation has been in force since April 2011.
In order to quell allegations of discrimination, the wording of the law deliberately avoids mentioning religious veils, stating instead in general terms: "In the public sphere, no-one must wear an item of clothing that serves to cover the face."
In addition, wearing any kind of religious clothing (including head scarves) in schools has been banned since 2004.
The ban is estimated to affect only some 2,000 Muslim women. This is because it is believed that only this small number of women opt for the veils in a population of five million Muslims.
While introducing the ban, President Nicolas Sarkozy had said that the veils oppress women and were 'not welcome' in France.
As per the law, wearing a full veil attracts a €150 fine and instruction in citizenship. Anyone found forcing a woman to cover her face risks a €30,000 fine.
In 2016, the European giant took it one step further and also banned burkinis, women's full-body swimsuits. The Prime Minister Manuel Valls had called the swimsuits "the affirmation of political Islam in the public space".
It was later lifted in seaside resorts after France's top administrative court overruled the law.
Switzerland
Switzerland joined the list of European nations banning the niqab in 2021. In March, over 51 per cent of Swiss voters cast their ballot in favour of the initiative to ban people from covering their face completely on the street, in shops and restaurants.
According to the law, full facial veils will still be allowed to be worn inside places of prayer and for "native customs", such as carnival.
The ban came after the Italian-speaking region of Ticino voted in favour of a ban on face veils in public areas by any group in September 2013.
Discussions on banning face veils in Switzerland cropped up in 2009 when Justice Minister Eveline Widmer-Schlumpf said a face-veil ban should be considered if more Muslim women begin wearing them, adding that the veils made her feel "uncomfortable".
Denmark
In 2018, Denmark became another European nation to introduce a ban on face coverings in public places. Offenders can incur fines of up to €134 ($157). Repeat offenses are punishable by up to 10 times that amount.
The wording of the legislation does not specifically mention Muslim women but says that "anyone who wears a garment that hides the face in public will be punished with a fine".
Belgium
A law banning the full-face veil came into effect in Belgium in July 2011. The law bans any clothing that obscures the identity of the wearer in places like parks and on the street. Anyone who breaks the law risks a fine or up to seven days in jail.
Support for the legislation crossed the ideological spectrum, with supporters calling it an effort to promote gender equality.
"I think we have to defend our fundamental principles of the Enlightenment. Man and women are equal in all aspects," Peter Dedecker, a lawmaker from the center-right New Flemish Alliance, was quoted as saying.
The Netherlands
If you cover your face with a veil in the Netherlands, you face a fine of at least €150. The ban not only applies to burqas and other veils, but also full-face helmets and balaclavas.
The Netherlands introduced the ban after 14 years of debate. In 2005, the Dutch parliament surprisingly voted in favour of a proposal for a complete ban on burqas that had been introduced by right-wing lawmaker Geert Wilders. The parliament passed a milder version of the proposal in 2016.
Italy
A 1975 law aimed at protecting public order makes it illegal to cover the face in public but courts have systematically thrown out local moves to use the ban to outlaw the full-face veil.
Two regions held by the anti-immigrant Northern League — Lombardy and Venetia — have banned the burqa and full-face veil in hospitals and public places.
Austria
The ruling coalition agreed in January 2017 to prohibit full-face veils (niqab and burka) in public spaces such as courts and schools, with the law coming in to force in October the same year. Known as the Law against Wearing Face Veils, it requires people to show their facial features from chin to hairline. If that area is not visible, they face a fine of up to €150.
Bulgaria
Like the Netherlands, Bulgaria introduced a burqa ban in 2016. Wearers face a fine of up to €750 if they break it. There are some exceptions for people playing sport, at work or in a house of prayer.
Sri Lanka
In April 2021, Sri Lanka's cabinet approved a proposed ban on wearing full-face veils including Muslim burqas in public, citing national security grounds, despite a United Nations expert's comment that it would violate international law.
Public Security Minister Sarath Weerasekera has called burqas, a garment that covers the body and face worn by some Muslim women, a "sign of religious extremism" and said a ban would improve national security.
The wearing of burqas was temporarily banned in 2019 after Easter Sunday suicide bomb attacks killed more than 260 people.
Russia
Russia's Stavropol region has a ban on hijabs: the first of its kind imposed by a region in the Russian federation. The ruling was upheld by Russia's Supreme Court in July 2013.
UK
There is no ban on Islamic dress in the United Kingdom, but schools are allowed to decide their own dress code after a 2007 directive.
In January 2010, then Schools Secretary Ed Balls said it was "not British" to tell people what to wear. A 2016 poll had found that 57 per cent of the British public supports a burqa ban.
Source: Firstpost
https://www.firstpost.com/world/as-karnataka-hijab-row-escalates-a-look-at-laws-on-face-coverings-across-the-world-10360991.html
--------
Sports minister Sajadi hails potential of Iranian women athletes
February 8, 2022
Ahmadi will represent Iran in the Alpine skiing in Beijing. Sajadi lauded the woman, saying the sports officials are well aware of the potential of the Iranian female athletes.
"Atefeh Ahmadi carried Iran's flag in the opening ceremony. Ahmadi had dream of bearing Iran's flag when she was 17 and her dream came true in the 2022 Winter Olympics," Sajadi said in an interview with Beijing Daily.
"I am very happy since Atefeh could bear our country's flag in Beijing as a young woman athlete. We are proud of her and I think she has a bright future ahead. I also hope the other two male skiers can get good results in the Games," he added.
"We have Deputy Minister of women's development in our country's sports. Every Iranian federation has a women vice president. This is included in the Statutes of the federations," he added.
"In Iran, we have 52 sports federations and more than 100 associations and a woman vice president works in each federation.
"In Iran's National Olympic Committee (NOC) we also have a woman deputy because we believe in potential of our country's women," the former athlete added.
"We will meet Director of China's General Administration of Sport Gou Zhongwen tomorrow and I hope we could strengthen our cooperation in the sports," Sajadi concluded.
Source: Tehran Times
https://www.tehrantimes.com/news/469960/Sports-minister-Sajadi-hails-potential-of-Iranian-women-athletes
--------
URL: https://www.newageislam.com/islam-women-feminism/honour-killing-iranian-mona-heidari/d/126336
New Age Islam, Islam Online, Islamic Website, African Muslim News, Arab World News, South Asia News, Indian Muslim News, World Muslim News, Women in Islam, Islamic Feminism, Arab Women, Women In Arab, Islamophobia in America, Muslim Women in West, Islam Women and Feminism