New Age Islam News Bureau
19 October 2021
• Saudi Female Biker Dania Akeel A Pacesetter as Kingdom Changes Gear
• A Culture of 'Hard Work and Play' For Creative Young Saudi Women
• Malala Sends Letter to Taliban One Month after Girls' School Ban
• Bill Gates' Daughter, Jennifer Gates Secretly Married Egyptian, Nayel Nassar In A Muslim Ceremony
• S Arabia Recruits 30,000 Women Workers from Bangladesh in Nine Months
Compiled by New Age Islam News Bureau
URL: https://www.newageislam.com/islam-women-feminism/honour-killing-pakistan-daughter-burn/d/125605
--------
Honour Killing In Pakistan: Man Burns Alive Seven Family Members After Daughter Marries Against His Wishes
October 19, 2021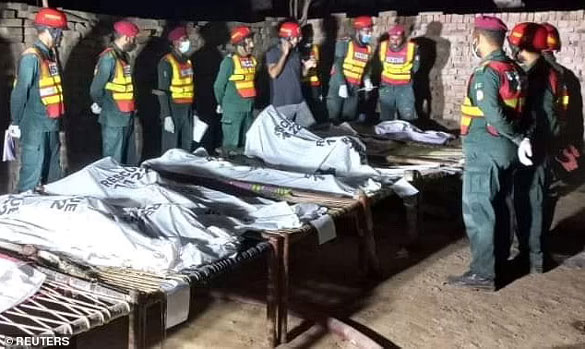 Fauzia Bibi, 19, and her son, and Khurshid Mai, 35, her husband and their three children were all killed in a house fire in a village in the Muzaffargargh district of central Pakistan
------
LAHORE — In a gruesome case of honour killing, a man in Pakistan allegedly burned alive seven members of his family, including two daughters and four grandchildren, because one of the women married against his wishes.
Police are looking for Manzoor Hussain after allegedly set fire to the home that sisters Fauzia Bibi and Khurshid Mai shared in a village in the Muzaffargargh district of central Pakistan, police official Abdul Majeed told Reuters by phone.
Mai's husband also died in the blaze, Majeed said.
Bibi had married Mehboob Ahmad about 18 months ago against her father's will in a so-called love marriage, according to the official.
"The incident is outcome of the rivalry between the two families over the love marriage," Majeed said.
Bibi's husband Ahmad told police he was not at home at the time of the fire and had found the house ablaze when he returned from work early in the morning.
Ahmad said his 4-month-old son had died, along with Mai's three children aged 2, 6, and 13.
Hundreds of women in Pakistan are killed by relatives every year for marrying without consent, or against their family's wishes, according to the Human Rights Commission of Pakistan. — Agencies
Source: Saudi Gazette
https://saudigazette.com.sa/article/612403
--------
Saudi Female Biker Dania Akeel A Pacesetter As Kingdom Changes Gear
Mariam Nihal
Sep 22, 2021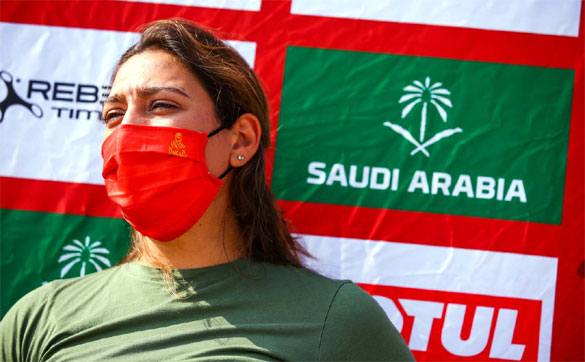 Akeel Dania (sau), Saudian female driver who want to take part to the Dakar Rally in 2022 during the Rest Day of the Dakar 2021 in Ha'il, in Saudi Arabia on January 9, 2021. DPPI / Panoramic / Reuters
-----
As Saudi Arabia marks its 91st National Day, 'The National' sits down with pioneering Saudis to talk about the changing face of the kingdom.
In recent years, Saudi women have been at the forefront of changes in the kingdom.
As much as anyone, Dania Akeel symbolised those changes when she became the first Arab woman to win the World Cup for the T3 Desert Baja Rally in Italy this year.
Saudi women were granted the right to drive just three years ago — a move that aimed to empower women across the country — but in that time, they have excelled in motorsports on a global level.
The FIA World Cup is an annual competition that hosts Baja-style rally raid events for buggies, lorries, cars and side-by-sides in multiple countries.
Speaking to The National, Dania said she does not consider rally an extreme sport as she has been a driving enthusiast "far before becoming a motorsport athlete".
As a young girl, she enjoyed off-roading on weekends with her father in Jeddah. Together, they would find "open spaces and he'd give me the wheel and teach me the basics on how to drive," she said.
"Once it was over, I'd ask when we could go back again."
Aged 17, Dania secured her UK driving licence while at a boarding school there. The following year, in 2011, she went on to study at university in London.
"I travelled for a bit, did my master's degree and officially moved back to Saudi Arabia in 2016."
She enrolled in an off-road rally in the UK and a driving course along the Swedish Lapland in early 2019, a region made up of frozen lakes.
"There are a few companies that teach you how to drift on ice and they have these F1 replica circuits carved into ice, which was a lot of fun," she said.
Then, later that year, Crown Prince Mohammed bin Salman announced Vision 2030, an ambitious plan to reform the country. The kingdom opened up its doors to the world and offered new youth opportunities, with a strong emphasis on empowering women in different fields.
Dania said: "I don't look at driving in the long term. What matters most are the moments that have taken me to the sport. It's about enjoying what you're doing when you're doing it.
"That's what driving gives me. I enjoy every moment, even the difficult ones," she says. "It's important that whatever you do has a purpose and you have to be able to connect with it. What you do has to be able to benefit you yet enable you to help others."
Dania said some of the most challenging moments on the road have helped her evolve off it.
Her master's degree in international business helped her "mark out her career in motorsports" in the country, she said. She used her experience as a consultant and knowledge of problem-solving from her master's degree to get sponsors behind her to participate in motorsport events locally.
She is the first Saudi woman to receive her Speed Bikes Competition license with the help of the Saudi Arabian Motorsport Federation (SAMF), which also issued her KSA driver licence in late 2019.
She acquired the license to participate in the UAE National Sports Bike Super Series while immersing herself in "driving experiences", in ice, sand, and mud.
However, rallies weren't her planned goal, she said. She had bought a motorcycle in the UAE and started racing. Then during one of her races in Bahrain, she sustained an injury and returned to Saudi Arabia.
Earlier this year, she participated in Sharqiyah International Baja Toyota in Saudi Arabia, an opportunity she "jumped on" following the return of the sport from a Covid-19 shutdown. Later, she discovered she could build on her FIA championship points in a similar race in Jordan.
"I called the sponsors to ask if they were on board as the race was only 10 days later and they agreed," she said. "Later on, SAMF called and encouraged me to keep going."
She continued to race and claimed her spot in the top three, generating income and receiving a fair share of recognition and support from men and women in the country.
Dania will be one of the first female Saudi athletes to participate in the annual Dakar Rally in 2022.
"The borders shut down but naturally I was still connected to racing," she said. "Once I was introduced to the Dakar rally, I was in a place that facilitates these insanely high-level global rallies. I figured this is what I will do. It was almost like the decision was already made.
"The training period was six months. I was supported by the trajectory of Saudi culture. I was invited to watch the Dakar rally the first time we hosted it in the kingdom. They asked me to participate and honestly, I got a lot of help and support from them giving me a solid foundation to get on this track."
SAMF helped provide training, education and a platform to Dania and other drivers.
Having had no professional training before races, Dania said she has continued to learn from experts on different tracks.
She said she recommends that aspiring athletes take the well-structured road, while she found herself piecing her journey together.
"The team I am going to race with [South Racing Middle East, based in the UAE] have been communicating with me for training up to the Dakar race," she said, adding that so far she has been lucky to have a network that allows her to learn from pros all over the world.
"You get what you need at the right time I believe and people have been very generous in offering their guidance, knowledge and contacts to connect me with the right people. I think South Racing Middle East will have a good structure for someone who wants to learn A-Z.
"Mostly because I took the opportunity I discovered SAMF would be the best place to start as they are the ones who guided me to the right places."
Humble and determined to work harder, Dania is not motivated by titles. She said she believes several women driving enthusiasts are enrolled in motorsports and are slowly coming into the limelight.
"There was a Saudi female driver, Mishaal, in Shargiyah and I know Reema Juffali is planning for F1, so it's wrong to presume that I or someone is the only one. I am sure there are many other girls out there."
Another example of the growing demand for motorsports is the Bikers Skills Institute, a certified motorcycle training school in Riyadh established by Captain Wael bin Huraib, a Saudi rider and trainer. He says the school now employs two female trainers and has trained 70 women so far.
"I just hope I finish the Dakar rally race for now," she said when discussing her goals. "What matters eventually is being a good person, to live a productive and fulfilling life. Not just for ourselves but to be able to share it with others."
Dania feels it is too early to claim that motorsports will be her only focus in the future.
She hopes the new opportunities and "unlimited support" of the Saudi Arabian Motorsport Federation inspire women across the country to participate in both local and international sports arenas.
Source: The National News
https://www.thenationalnews.com/gulf-news/saudi-arabia/2021/09/22/saudi-female-speed-biker-dania-akeel-is-leading-change-in-the-kingdom/
--------
A culture of 'hard work and play' for creative young Saudi women
Mariam Nihal
Sep 22, 2021
As Saudi Arabia marks its 91st National Day, 'The National' sits down with pioneering Saudis to talk about the changing face of the kingdom.
The growing number of women in the workforce shows how times are changing in Saudi Arabia, where many young people are taking on creative roles for the first time.
A key goal in the kingdom's Vision 2030 programme is to empower women in leadership positions across all fields.
One of its aims is for women to occupy 30 per cent of jobs by 2030. Saudi Arabia hit the target in February this year, nine years before schedule. A labour market survey found that Saudi women's participation rose to 31.3 per cent in the third quarter of 2020, up from 26 per cent at the end of 2019.
Young women are now working in all sectors of business and government, and at all levels, right up to ministerial positions. The reforms have helped them to take up positions in film, music and fashion.
Haya Shaath, of MDLBEAST music and entertainment company, spoke about the changes in the kingdom.
She said many people saw the wave of reforms as a transformation, but the country always had the "dynamics" for the changes.
"When you look at the social dynamics and cultural fabric of society, the dynamics are already there," Ms Shaath said.
"We haven't had the chance to engage with each other in public spaces. It's a cultural revelation.
"This is how we have always been. We have always loved music, dancing and celebrating."
Before joining the team, she attended MDLBEAST's first event in Riyadh.
That was before the start of the Covid-19 pandemic.
Ms Shaath said she was overjoyed that the country's youths were being given a platform for self-expression through music and dance.
"I joined in the middle of the pandemic, which is surprising because it's an events company, when you're locked in, but that is testament to the trust that events will pick up again," she said.
"People will always be craving music and self-expression no matter what the situation."
Ms Shaath studied design in social innovation in New York, which is useful in her role at MDLBEAST.
"I see myself using that skill set. Doing that through music, creative expression and shifting these behaviours with all the changes in the kingdom."
Many Saudi men have applauded the moves and are supporting women who want to take up these new opportunities.
Although men and women had been working together, Vision 2030 has amplified those opportunities and highlighted the ease and success of mixed working environments.
The reforms have also allowed segments of society to celebrate and rejoice in public, rather than only in private spaces as happened before 2016.
So what is it like working in a mixed environment in the country?
"It's normal for us," Ms Shaath said with a smile.
"But fun, no abayas, a lot of hard work and play. The best thing is we get to work remotely, so I am currently in Berlin.
MDLBEAST started with a team of seven and has been expanding since the success of its first festival.
"My scope is constantly expanding and contracting – jumping into marketing, communications, event production and voice-overs," Ms Shaath said.
"As a creatively driven organisation, we work collaboratively with teams and partners. We place artists and people at the heart of everything we do."
Before her job in Saudi Arabia, Ms Shaath lived in Dubai.
"I remember waking up one day thinking 'what am I doing here when my country is going through a massive transformation? I should be there'," she said.
Many young Saudis around the world are following suit.
As an events company, Ms Shaath says the fast rate of change in the kingdom makes it important for MDLBEAST to maintain a balance.
"It is an intuitive sense and direction of the country when it comes to arts and culture. It is important for all of us not to forget our cultural identity – who we are and what we stand for."
MDLBEAST is aiming to elevate local talent "and put them on the global map," she said.
The Middle East's biggest music festival has released its official line-up.
"It's no small feat but we're beasts," Ms Shaath said.
MDLBEAST will host Soundstorm 2021, a four-day festival with more than 150 local and international artists due to perform in Riyadh later this year.
Source: The National News
https://www.thenationalnews.com/gulf-news/saudi-arabia/2021/09/22/a-culture-of-hard-work-and-play-for-creative-young-saudi-women/?D45FC4BF-F715-EC40-B3D4-AF88B3A97128_kav_cup_C6FA3ED5_6D17_47D1_B6E2_F4B02CC905E0_
--------
Malala sends letter to Taliban one month after girls' school ban
Oct 18, 2021
KABUL: Nobel Peace Prize winner Malala Yousafzai, who was shot by the Pakistani Taliban as a schoolgirl, has urged Afghanistan's new rulers to let girls return to school.
It has been one month since the hardline Islamist Taliban, which seized power in August, excluded girls from returning to secondary school while ordering boys back to class.
The Taliban have claimed they will allow girls to return once they have ensured security and stricter segregation under their interpretation of Islamic law -- but many are sceptical.
"To the Taliban authorities...reverse the de facto ban on girls' education and re-open girls' secondary schools immediately," Yousafzai and a number of Afghan women's rights activists said in an open letter published on Sunday.
Yousafzai called on the leaders of Muslim nations to make it clear to the Taliban that "religion does not justify preventing girls from going to school".
"Afghanistan is now the only country in the world that forbids girls' education," said the writers, who included the head of the Afghan human rights commission under the last US-backed government Shaharzad Akbar.
The authors called on G20 world leaders to provide urgent funding for an education plan for Afghan children.
A petition alongside the letter had on Monday received more than 640,000 signatures.
Education activist Yousafzai was shot by terrorists from the Tehreek-e-Taliban Pakistan, an offshoot of the Afghan Taliban, in her home town in the Swat valley while on a school bus in 2012.
Now 24 years old, she advocates for girls' education, with her non-profit Malala Fund having invested $2 million in Afghanistan.
Source: Times of India
https://timesofindia.indiatimes.com/world/pakistan/malala-sends-letter-to-taliban-one-month-after-girls-school-ban/articleshow/87107725.cms
--------
Bill Gates' Daughter, Jennifer Gates Secretly Married Egyptian, Nayel Nassar In A Muslim Ceremony
17th October 2021
New York: Mega-billionaire Bill Gates and his ex-wife Melinda Gates walked their oldest daughter Jennifer Gates down the aisle ahead of her nuptials with fellow equestrian Nayel Nassar.
The non-public Muslim ceremony was held on Friday night time in the backyard of the household's 142-acre property in North Salem, New York the place a bigger civil ceremony with 300 company is scheduled for Saturday afternoon.
According to Fox Business, Jennifer was also photographed posing with bridesmaids in her wedding gown on Saturday.
MS Education Academy
The Microsoft co-founder is said to have purchased the $15.82 million estate for Jennifer in 2018 shortly after she graduated from Stanford University.
The luxurious, star-studded event took weeks of planning. Photos that surfaced earlier this week showed the expansive property being transformed into an opulent wedding venue, complete with a stage, elaborate pavilions, floor-to-ceiling windows, hardwood floors and a stage.
In addition to 25-year-old Jennifer's parents — Bill and Melinda Gates — attendees included brother Rory and sister Phoebe.
Also in attendance was Bill Gates' stepmother, Mimi Gardner Gates, a 79-year-old respected art historian.
The nuptials came just months after Bill and Melinda announced they were splitting after 27 years of marriage. Their divorce was finalised in early August.
As per media reports, the wedding was likely to cost the Gates family "at least" $2 million.
Source: Siasat Daily
https://www.siasat.com/bill-gates-daughter-jennifer-marries-nayel-nassar-2209761/
--------
S Arabia recruits 30,000 women workers from Bangladesh in nine months
October 19, 2021
Saudi Arabia recruited more than 30,000 women workers from Bangladesh in the last nine months of the current calendar year amid Covid-19 pandemic, according to the latest data from the manpower bureau.
It showed that a total of 33,263 women workers went to Saudi Arabia during the January-September period of this year.
The data also found the gulf country hired about 68 per cent of the total women workers who went abroad from the country in the nine months of the current year.
The Bureau of Manpower Employment and Training (BMET) data revealed that Bangladesh sent 49,129 women workers to foreign countries in the January to September period of this year.
Sector insiders said the demand for women workers in the gulf country has increased this year. Saudi Arabia is the country that recruits the highest number of workers including women from Bangladesh.
They, however, said recruitment by the Arab nation remained halted for a certain period in 2020 following the infection of coronavirus.
So, the number of outflow of workers to the country was only 12,735 in the entire calendar year of 2020.
The lower recruitment by Saudi Arabia impacted on the overall count of the women overseas jobs last year. The sector could add only 21,934 jobs for female workers in 2020.
Among other countries, Jordan hired 9,196 workers while Oman 4341, Qatar 1473, and United Arab Emirates (UAE) 509.
Migrant rights activists called for ensuring safe migration for women migrant workers as pandemic makes them more vulnerable than the male workers in workplaces.
Referring to the women workers' problems abroad, the rights activists said that the workload of women domestic helps had increased several times during the period.
A significant number of returnee female migrant workers failed to bring home their arrear wages and other dues from job destination countries, they also added.
Over 0.9 million Bangladeshi women workers went abroad with jobs since 1991, the data of BMET said.
Source: The Financial Express
https://thefinancialexpress.com.bd/trade/s-arabia-recruits-30000-women-workers-from-bangladesh-in-nine-months-1634611368
--------
URL: https://www.newageislam.com/islam-women-feminism/honour-killing-pakistan-daughter-burn/d/125605
New Age Islam, Islam Online, Islamic Website, African Muslim News, Arab World News, South Asia News, Indian Muslim News, World Muslim News, Women in Islam, Islamic Feminism, Arab Women, Women In Arab, Islamophobia in America, Muslim Women in West, Islam Women and Feminism