New Age Islam News Bureau
26 May 2013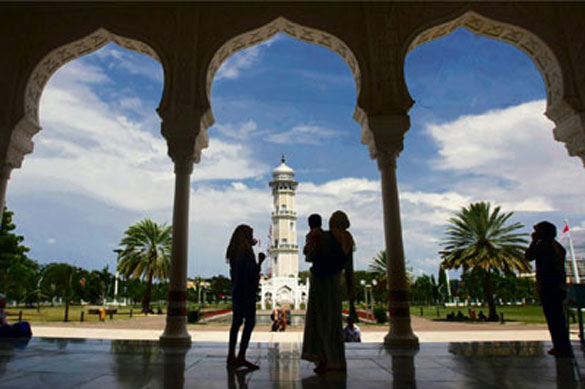 North Aceh's district head has banned women from dancing in public places. (EPA Photo/Hotli Simanjuntak)
----------
• Deliberation on Education of Muslim Girls Held In Imphal, India
• North Aceh Head Bans Women from Dancing in Public
• 'Pregnancy Kills 16,000 Pak Women Each Year'
• Shariah Courts Need To Prioritise Child's Interest
• Saudi Women Find Steep Learning Curve in Nursing
• Breathable Nail Polish Receives Mixed Reactions from Muslim Women
• PML-N nominates Marvi Memon for NA reserved seat
• Female Conversion to Islam in Britain Examined In Unique Research Project
• First Lady Seeks End to Teenage Pregnancies in Africa
• Birmingham's Muslim Women Condemn Drummer Lee Rigby Murder
• Palestinian Homes Answer Knock by Women
Compiled by New Age Islam News Bureau
URL: https://newageislam.com/islam-women-feminism/honour-killing-pakistan-husband-guns/d/11744
------------
Honour Killing In Pakistan: Husband Guns Down Wife for Filing Divorce Papers
May 26, 2013
NOWSHERA: In what is being called an 'honour' killing, a woman was gunned down by her husband and his brother in front of Nowshera court near the Railway Phatak on Saturday.
Nowshera Cantonment police official Ishaq Khan told The Express Tribune he heard gunshots outside the court around 11:30am. Ishaq added he rushed towards the Railway Phatak where he was informed two men shot a woman dead and escaped. Following a police chase, the accused were arrested and taken to the police station for interrogation.
The official said the accused, Sher Rahman, killed his wife with the help of his brother, Habibur Rahman. Ishaq further said Sher was married to Sahira for three years. After the first year of marriage, Sahira allegedly eloped with their neighbour Shah Bacha, a resident of Mali Khel in Akora Khattak. Later, she filed for divorce in a Nowshera family court.
"I had left her, but when she dragged me to court I had had enough," Sher told police.
Ishaq explained Sahira and Bacha had come to court for the hearing where Sher was also due to appear. After the hearing, as Sahira and Bacha left the court premises, Sher and Habib opened fire at them. Bacha narrowly escaped, but his wife was killed.
Both the accused told police they would kill Bacha once they were released. A case has been filed while Sahira's body was shifted to her hometown in Mardan for burial.
http://tribune.com.pk/story/554348/honour-killing-husband-guns-down-wife-for-filing-divorce-papers/
-----------
Deliberation on Education of Muslim Girls Held In Imphal, India
26 May 2013
Imphal: A seminar cum interaction programme on "Education of Muslim Girls- Opportunities and Challenges" was organized by All Manipur Muslim Girls Students' Union at Kuki Inpi here today.
Ex-Speaker of Manipur Legislative Assembly Dr Maniruddin Sheik, retired IAS officer AR Khan, State Nodal Officer of National Tobacco Control Programme Dr Konsam Komolini and Assistant News Editor of DDK Imphal Ch Birendra attended the programme as presidium members.
Social activist Dr Dhanabir Laishram and Dr Sheikh Ahmad were the resource persons of the seminar cum interaction programme.
Dhanabir Laishram stated that the purpose of education is to have better understanding of the values of life and regards for teachers.
Students often fail to realize the purpose of education as a result of wrong policies adopted by the government.
The Indian government encourages privatization and not much fund is allocated for education and social welfare, he asserted.
The whole system of education is in a murky situation with private institutions coming out better than the government institutions.
Moreover, the State receives some tit-bits of Central fund only due to insurgency.
Education should instil values in people and make them realize the purpose of their life, he exhorted.
Dhanabir further maintained that caste system would eventually hinder development and progress of a society and so people should strive to remove such obstacles from their progressive path with the tool of education.
Highlighting the problems of Muslim girls in the country, Dr Ahmad called for a collective effort to bring up the backward communities and foster peace and progress in the country.
He also stated that specific programmes must be taken up by the government for educating the Muslim girls, instead of confining them within the four walls of the households.
http://www.e-pao.net/GP.asp?src=31..190513.may13
------------
North Aceh Head Bans Women from Dancing in Public
By Camelia Pasandaran
May 26, 2013
A women's rights group has criticized a move by North Aceh's district head to ban women in the area from dancing in public places.
Muhammad Thaib, the district chief, on Saturday said that he had banned all adult women from dancing when welcoming guests in North Aceh, adding that only children should perform the tradition.
"I'm very glad to welcome our guests with Aceh culture," Thaib said as quoted by Tempo on Saturday. "But cultural preservation should not damage Islamic Shariah values, such as dancing performed by adult women."
Masruchah, deputy chair of the National Commission on Violence Against Women (Komnas Perempuan), told the Jakarta Globe on Saturday that Thaib violated the rights of women to express themselves in an art such as dancing.
"Indonesia upholds the constitution, and it guarantees all citizens the right to express themselves, including in dancing," Masruchah said. "Dancing is apart of Indonesian culture to show people the local tradition. It should not be linked to someone's opinion about Islam. Islam indeed supports art and the right to express."
Thaib said that the ban was in line with the spirit of Islamic Shariah, which he claimed was supported by North Aceh residents.
"Such activities that go against Shariah should be banned according to the mandate of the Ulema," he said, adding that if he did not ban public dancing it would reflect on him as a bad leader.
The North Aceh Ulema Consultative Assembly (MPU) supported Thaib's ban, calling the move a positive innovation.
Mustafa Ahmad, head of the MPU, said that Aceh's traditional dances, including the Saman dance, were evil because it involved body movement, as quoted by Atjehlink.com.
Masruchah also said that the district head should do something against men who might look at women's bodies in a negative way.
"The interpretation to body movements, whether done by children or adults, lies in the heads of men. Why should women be blamed if men easily get aroused?"
Masruchah said that the Home Affairs Ministry should ensure that all regional heads understand the constitution and human rights.
Home Affairs Ministry spokesman Reydonnyzar Moenek told the Jakarta Globe on Saturday that he had not heard about the ban and would seek information on whether the ban was already written in a regulation before making a comment.
http://www.thejakartaglobe.com/news/north-aceh-head-bans-women-from-dancing-in-public-2/
------------
'Pregnancy Kills 16,000 Pak Women Each Year'
May 26, 2013
KARACHI: President National Committee for Maternal and Neonatal Health (NCMNH) Prof Sadiqua N Jafarey said that around 16,000 young women die of pregnancy and childbirth-related complications every year. This she said while addressing a seminar titled 'Reducing Maternal Deaths' organised by NCMNH in collaboration with Midwifery Association of Pakistan (MAP) and Association for Mothers and Newborns (AMAN). Prof Jafarey informed that maternal mortality ratio in Pakistan is 276 per 100,000 live births, which is the highest in South Asia. She further said that every 30 minutes a woman dies due to pregnancy. She said most common cause of maternal deaths is excessive blood loss after childbirth, while abortion-related complication are among the five major causes of maternal deaths. Secretary General MAP Mehmooda Afroze said majority of these maternal deaths are preventable through proper use of life saving medications. She encouraged the use of preventive and effective drugs and also recommended for treatment of post-abortion complications. Gynecologist Dr Sadia Ahsan Pal urged the doctors and midwives attending childbirths to give tablets to women so as to save them.
http://www.dailytimes.com.pk/default.asp?page=2013\05\26\story_26-5-2013_pg12_7
----------
Shariah Courts Need To Prioritise Child's Interest
The Star/Asia News Network
May 26, 2013
The Shariah courts system need to be reviewed to incorporate the best interests of a child when dealing with marriage applications of young girls aged below 16, says the Women's Centre for Change.
WCC's advocacy officer Melissa Mohd Akhir says the Shariah courts need to be sensitive to the vulnerabilities of these young brides-to-be, particularly if they are victims of statutory rape cases.
Before making their decisions, the courts need to look at the effects on the mental and physical well-being of the victim.
"They need to assess: What is the impact of allowing this child to marry a person accused of raping her? Is it in her best interest?
"What about the alternative, by not allowing the marriage, what is the impact?" she stresses, opining that the Islamic family laws need to be reviewed to also uphold the principle, as stipulated by the UN Convention on the Rights of the Child, which Malaysia is a signatory of.
The controversial practice of child marriage reared its ugly head again in the country when a 40-year-old alleged rapist in Sabah tried to get his court case withdrawn by marrying his 13-year-old victim.
Melissa points out that the Sabah Islamic Family Law prioritises the impact on the child in custody cases.
"Therefore these same principles should apply in any application to marry a child in the Shariah courts, as the person affected is still a child.
"The level of maturity of the child must be considered and obtaining the reports of the social welfare officer and the psychological expert must be a matter of practice in considering the application to marry.
"In short, any supposed loophole lies in the application of these laws and principles, especially when marriage is seen as a win-win solution for all parties," she notes, urging that expert reports be made compulsory in the Shariah Court's decision-making.
Melissa concedes that the Shariah courts face many challenges when dealing with the families of statutory rape victims who want to marry off their daughters.
"The application to marry off the child is done by the parents, and as the father is the wali to the child, the father's wishes carry precedence. There have even been cases where the parents have cited the child's lack of interest in education as a supporting reason to marry her off."
However, she strongly believes it can take the lead in advising parents to go to trial and get justice for their daughter.
http://news.asiaone.com/News/AsiaOne%2BNews/Malaysia/Story/A1Story20130526-425212.html
------------
Saudi Women Find Steep Learning Curve in Nursing
26 May 2013
As taboos fall away in the nursing profession and more Saudi women are hired to give care to patients in hospitals and clinics, medical personnel are beginning to realize there is a learning curve in how to approach the job.
Many new Saudi nurses have expressed dislike and frustration over the type of work they are required to perform in hospitals. Many complained about the demands of the job at a recent Jeddah conference to commemorate the International Nurses Day.
"Our job duties require that we have sometimes to deal with difficult situations, which is understandable and part of the job," said Manish Archie, an Indian nurse who came to Saudi Arabia nine years ago. "However, what I can't understand is that some people use us to do things that another female nurse would refrain from doing for religious reasons. And we are asked frequently to do night shifts."
Archie told Arab News that some female nurses refuse to perform catheterization on a male patient, saying either that it is not allowed in Islam or because she feels embarrassed in performing the task.
Full report at:
http://www.arabnews.com/news/452963
------------
Breathable Nail Polish Receives Mixed Reactions from Muslim Women
May 26, 2013
DAMMAM — Nail polish or nail colour is a fashion statement. Women all over the world have been painting their nails for over 5,000 years.
According to the nail colour history, Indian women were the first to colour their nails using "Henna;" the colour was deep red and stayed for a long time.
Later Chinese women started painting their nails. But only a few privileged ones were allowed to do it. Chinese only let females of high social status to colour their nails as it was a symbol to show wealth. They used bees' wax, Arabic gum mixed with roses or orchids to get the right colour.
Full report at:
http://www.saudigazette.com.sa/index.cfm?method=home.regcon&contentid=20130526167251
------------
PML-N nominates Marvi Memon for NA reserved seat
By Web Desk
May 26, 2013
PUNJAB: Pakistan Muslim League-Nawaz (PML-N) on Sunday decided to nominate Marvi Memon as a member of the National Assembly from Punjab's reserved seats for women, Express News reported.
Marvi had lost her seat from Sindh during the general elections on May 11, 2013. The PML-N's Aisha Javed and Saba Sadiq were also nominated for the reserved seats.
The three nominated MNAs had left Pakistan Muslim League-Quaid (PML-Q) in favour of PML-N earlier.
Prime minister-elect Nawaz Sharif had welcomed Marvi after offering PML-Q leaders membership to his party if they apologised to the nation for supporting a dictator.
On Marvi's joining PML-N, Nawaz had said "Marvi's approach towards issues is pragmatic. She will prove to be an asset for the party."
The PML-N has reached a simple majority with 144 seats in the National Assembly after a number of independents joined the party.
This number is expected to rise with the inclusion of women and minorities reserved seats.
http://tribune.com.pk/story/554634/pml-n-nominates-marvi-memon-for-na-reserved-seat/
------------
Female Conversion to Islam in Britain Examined In Unique Research Project
26 May 2013
A ground-breaking report examining the experiences of nearly 50 British women of all ages, ethnicities, backgrounds and faiths (or no faith) – who have all converted to Islam - was launched in London yesterday by the University of Cambridge.
The report (bit.ly/12tv0YM), produced by the University's Centre of Islamic Studies (CIS), in association with the New Muslims Project, Markfield, is a fascinating dissection of the conversion experience of women in Britain in the 21st Century.
The first forum of its kind held in the UK, the study concludes with a series of recommendations for the convert, heritage Muslim, and wider British communities. The 129-page report also outlines the social, emotional and sometimes economic costs of conversion, and the context and reasons for women converting to Islam in a society with pervasive negative stereotypes about the faith.
Full report at:
http://phys.org/news/2013-05-female-conversion-islam-britain-unique.html#jCp
------------
First Lady Seeks End To Teenage Pregnancies In Africa
By: Uche Uduma
May 26, 2013
The First Lady and President of African First Ladies Peace Mission, Dame Patience Jonathan, has canvassed for the reduction of teenage pregnancies across Africa. Dame Patience Jonathan stated this at the just concluded National Strategy seminar for the reduction of teenage pregnancies in Sierra Leone, with the theme, "Let Girls Be Girls, Not Mothers."
In a press statement signed by the Media Adviser to the First Lady, Omoba Kenneth Aigbegbele, Patience Jonathan called for a synergy and partnership between the traditional institutions, religious leaders and opinion leaders on the essence of working together with civil society organisations and Non-Governmental Organisations (NGOs).
Full report at:
http://leadership.ng/news/260513/first-lady-seeks-end-teenage-pregnancies-africa
------------
Birmingham's Muslim women condemn Drummer Lee Rigby murder
25 May 2013
Mothers in Birmingham's Muslim communities have condemned the murder of Drummer Lee Rigby in Woolwich.
Community leaders from across the city came together earlier to call for vigilance and co-operation with the police to ensure no similar attacks would be allowed to happen.
Among them were representatives from Islamic women's groups.
Arfa Afzal, a community worker at the Sparkbrook Islamic Centre, said she completely sympathised with the soldier's mother and said she "wished I was there for her".
Razia Awan, from the Sparkbrook Islamic Centre Sisterhood, said that sort of attack could have happened to "anyone" and it had terrified her children.
http://www.bbc.co.uk/news/uk-england-birmingham-22667763
------------
Palestinian Homes Answer Knock by Women
Dinah Atallah
May 26, 2013
RAMALLAH -- Clients answering the door bell for service personnel in the Palestinian Authority may be in for a bit of a surprise: women doing what used to be considered work for men only as they take advantage of an increasing number of new opportunities to join the work force.
Women are finding position with a growing number of businesses, especially those who send employees on home visits, in some cases allowing the customer to opt for a female over a male technician. The response has been so great that long-established companies in the West Bank are now trying to meet this growing demand with new services.
"For Gemzo female service, press 2," the voice on the answering machine at Ramallah's Gemzo Internet Service Company says when you call.. "The female support service is what distinguishes us," the automated voice on the other end tells the company's prospective clients.
Full report at:
http://themedialine.org/news/news_detail.asp?NewsID=37755
------------
URL: https://newageislam.com/islam-women-feminism/honour-killing-pakistan-husband-guns/d/11744