New Age Islam News Bureau
14 Jan 2013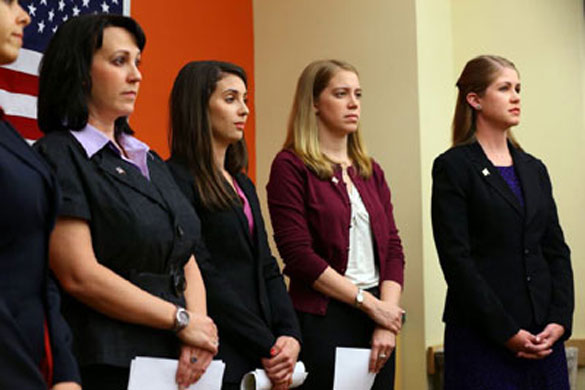 • Rape, Repression on Women Protested Across Bangladesh
• Ukrainian Topless Feminists Stage Vatican Gay Protest
• Indonesian Coalition Demands Longer Prison Sentences for Rapists
• Syrian Women and Girls Allege Use of Sexual Violence as Weapon of War
• Training Centre for Women on the directives of the UAE President, Opens in Pakistan
• Bangladeshi Father Sells Baby, Mother Rescues
• Sri Lankan Maid's Execution: KSA Won't Allow Any Foreign Interference
• Women Are Nigeria's Natural Resources – C E O of Gordon Barrett
• Egypt Constitution Will Be Bad News for Women
• India Denies Visa to British Journalist; She Was To Address the Spring Of Islam Conference
• Four Women Sue for Right to Fight in Direct Combat
• Jewellery Making Teenage Ivorian Refugee Discovers a New World in Tunisia
• Female Canadian Student Killed In Bangladesh in Suspicious Conditions
• Fire Guts Islamic University in Uganda Girls' Dormitory
• Asian Woman on Trial for Smuggling 63 Cocaine Capsules Before the Dubai Court
• Some Marriages for Indian Women Made In the UAE
• Woman to Be Deported From UAE after Amnesty Mix Up
• Eve-Teasing Victim Gets 'Death Threats'
Compiled by New Age Islam News Bureau
Photo: Four Women Sue for Right to Fight in Direct Combat
URL: https://www.newageislam.com/islam,-women-and-feminism/new-age-islam-news-bureau/'honour'-killing-in-pakistan--girl-declared-'kari'-shot-dead/d/9990
-------------
'Honour' Killing in Pakistan: Girl declared 'Kari' shot dead
January 13, 2013
SUKKUR: An 18-year-old girl, Shama, was shot dead allegedly by her brother, who declared her 'kari'.
The family lives in Rahim Bux Banglani village near Thull district of Jacobabad.
The suspect, Abdul Majeed Pechuho, believed that his sister was having an affair with a man from their village.
On Saturday, while she was busy in house work, her brother shot her. She died on the spot while Pechuho escaped.
Karim Bux police sent the body to Civil Hospital, Jacobabad, for post-mortem, but they have yet to register the case and arrest the suspect.
Background
Karo-Kari charges are almost always reserved for victimising young men and women.
'Honour killing' is not just a Pakistani phenomenon. It dates to the time when men started considering women the repository of their honour.
In Pakistan, a tribal chief uses authoritarianism to have his orders fulfilled and the crime is provided cover by religiosity.
Part of the problem in Pakistan is that karo kari is a domestic problem, and family members often end up forgiving each other, which explains the lack of prosecution.
Out-of-court settlements and the wait for a member of the victim's family to file an FIR are other problems.
http://tribune.com.pk/story/493149/honour-killing-girl-declared-kari-shot-dead/
-------------
Rape, Repression on Women Protested Across Bangladesh
14 January 2013
Human chains were formed in Bogra, Pirojpur and Jhalakathi and other districts yesterday, demanding an end to frequent repression against women and punishment to the rapists.
A human chain was formed on Government Azizul Haque College campus yesterday morning, protesting rape of women and repression against children across the country.
Led by Transparency International Bangladesh (TIB) and Shocheton Nagorik Committee, Bogra, the programme was organised by Yes Friends Group of the college unit, reports our correspondent.
At the human chain, the participants demanded free medical treatment and compensation to the victims and set up Victim Support Centre for them. They also demanded a ban on obscene films.
As over 40 parts of the country, the human chain was formed to realise the demands, said the participants.
Away in Pirojpur, Shacheton Nagorik Somaj formed a human chain in the district town, demanding punishment to the criminals who recently violated women across the country, reports a correspondent.
Among others, district unit Sujon president Md Muniruzzaman Nasim Ali, Udichi secretary Khalid Abu and Sohidullah Liton, councillor of the municipality, took part in the human chain led by Pirojpur district unit TIB.
The participants demanded to bring the culprits, who murdered women after rape, to book. They also urged the lawyers not to stand by such criminals for help.
In Jhalakathi, Susashoner Janno Nagorik (Sujon) Rajapur unit in the district formed a human chain, demanding capital punishment to the rapists, reports a correspondent.
People from all walks of life including hundreds of students of Rajapur Pilot Girls' High School, wearing black cloths on their faces, joined the human chain.
Similar programmes were held also in Rajshahi city and at Rajshahi University yesterday.
http://www.thedailystar.net/newDesign/news-details.php?nid=265087
-------------
Ukrainian Topless Feminists Stage Vatican Gay Protest
Members of Ukrainian feminist group stage topless protest in support of gay rights during Pope's prayer, while in France tens of thousands are set to march against government plans to legalise gay marriage and adoption
13 Jan 2013
Four activists from Ukrainian feminist group Femen stripped off in St Peter's Square on Sunday in a protest for gay rights just as Pope Benedict XVI was reciting his traditional weekly Angelus prayer.
The four topless women, who had "In Gay We Trust" scrawled on their bodies, staged their protest by the giant Christmas tree in the centre of the square and were briefly detained by Vatican police.
Tens of thousands are set to march in France later on Sunday to denounce government plans to legalise gay marriage and adoption which have angered many Catholics and Muslims, France's two main faiths.
A small protest against the plans is also due to be held in Rome outside the French embassy.
The Femen women's power group has been making headlines since 2010 for topless feminist, pro-democracy and anti-corruption protests in Russia, Ukraine and London.
In September, they set up their first ever "training centre" in Paris.
http://english.ahram.org.eg/NewsContent/2/9/62373/World/International/Topless-feminists-stage-Vatican-gay-protest.aspx
-------------
Indonesian Coalition Demands Longer Prison Sentences for Rapists
Margareth S. Aritonang
January 14 2013
A coalition of children and women's rights groups staged a rally at the Hotel Indonesia traffic circle on Sunday calling for more severe punishments for child abusers.
Participants at the rally, most of whom were women and children, also called for more support for victims of sexual abuse.
The coalition, led by the National Commission for Child Protection (Komnas PA), urged the government and the House of Representatives to improve child protection measures, for example by amending Law No. 23/2002 on child protection to set a minimum prison sentence of 20 years for child abuse.
"The current law only stipulates between three and 10 years' imprisonment for child sex abusers. This is unreasonable. Perpetrators should be sentenced to at least 20 years for the suffering they cause to victims," Arist Merdeka Sirait of Komnas PA said.
Arist added that his commission and other rights watchdogs would forward this proposal to House Commission III on laws and human rights, as well as to relevant government ministries.
"Other than suitable legal protection, the government must also create a comprehensive system to prevent future sexual abuse against all children in the country. We don't want the same fate as RI's to befall other children here," Arist said, referring to an 11-year-old girl who died last week after suffering severe vaginal and rectal injuries apparently due to repeated sexual assaults.
Participating in the rally on Sunday was Permadi Ramono, a lawyer for RI's family, who said his team would be filing a lawsuit against the perpetrator.
"The perpetrator is guilty of rape as well as of violating a child. My team and I are still working on the case," he said.
When asked about the ongoing police investigation, Permadi said that only one man, who was close to the victim's family and who was identified only by the initial R, was being questioned.
The coalition also said that there had been an increase in the number of sexual abuse cases, especially among the country's impoverished population.
Data from the coalition shows that in 2010, there were 2,426 child abuse cases, of which 42 percent
involved sexual violence.
The figure rose to 2,509 in 2011, 58 percent of which were sexual.
Looking at the trajectory, the coalition has declared 2013 as a year of emergency regarding sexual crimes.
"It is high time to create a system to protect Indonesian children and afford solidarity among victims of sexual abuse," the coalition said in a statement.
The death of RI marks only the latest case of child rape that may well have resulted in no legal action being brought against the perpetrator.
In October last year, a teenager in Depok, West Java, who was reportedly kidnapped and repeatedly raped by a Facebook "friend", was expelled from school,
The 14-year-old girl, identified only as SAS, returned for classes at her school after a one-month absence following her traumatic ordeal, only to be told to return home as the school "could no longer accept a student that has tarnished the school's image".
In September, a female passenger RS, 27, was gang-raped when traveling at night on a KWK D-02 minivan plying the Ciputat-Pondok Labu route.
Two weeks later, the victim managed to spot one of the rapists and tipped off police who then arrested him.
http://www.thejakartapost.com/news/2013/01/14/coalition-demands-longer-prison-sentences-rapists.html
-------------
Syrian Women and Girls Allege Use of Sexual Violence as Weapon of War
Women interviewed for International Rescue Committee report tell of attacks involving kidnap, rape, torture and murder
Mark Tran
14 January 2013
Rape is a "significant and disturbing" feature of the Syrian civil war, with women and girls citing sexual violence as their main reason for fleeing the country, according to a report published on Monday.
Women and girls told the International Rescue Committee (IRC) of being attacked in public and in their homes, primarily by armed men. The rapes, sometimes by several men, often occurred in front of family members.
Full report at:
http://www.guardian.co.uk/global-development/2013/jan/14/syrian-women-girls-sexual-violence
-------------
Training Centre for Women on the directives of the UAE President, Opens in Pakistan
13 January 2013
In line with the directives of the President, His Highness Shaikh Khalifa bin Zayed Al Nahyan, the Emirati project to assist Pakistan has opened the first centre for training women in Khyber Pakhtunkhwa, in Pakistan.
Full report at:
http://www.khaleejtimes.com/nation/inside.asp?xfile=/data/community/2013/January/community_January7.xml&section=community
-------------
Bangladeshi Father Sells Baby, Mother Rescues
14 January 2013
A cruel father in Mithapukur Upazila under the district went into hiding after selling his two-month-old baby for Tk 5,000 around a month ago, allegedly following his extra-marital affairs.
Fortunately, the baby's mother Momena Begum got her back by giving the same amount of money to the purchaser on Friday, 27 days after the incident.
Momena, daughter of Mobar Ali of Shaltipara village under Mithapukur Upazila, married Angur Mian, a brick kiln worker of Fotepur village in the same Upazila, around 10 years ago, locals and family sources said.
Full report at:
http://www.thedailystar.net/newDesign/news-details.php?nid=265083
-------------
Sri Lankan Maid's Execution: KSA Won't Allow Any Foreign Interference
13 January 2013
The Kingdom said yesterday that the execution of Rizana Nafeek, a Sri Lankan maid who was convicted of killing a baby in her care in 2005, was carried out according to the laws of the land and statements made by foreign organizations were incorrect.
An official statement said the sovereignty of the judiciary and rules and regulations will be maintained in the country for the benefit of citizens and residents and that the Kingdom would not allow any interference in its affairs.
Full report at:
http://www.arabnews.com/kingdom-laments-wrong-information-maids-execution
-------------
Women Are Nigeria's Natural Resources – C E O of Gordon Barrett
BY PRISCA SAM-DURU
12 JANUARY 2013
As the Chief Executive Officer of Gordon Barrett, Mrs Taizir Ajala prides herself as an integrity-driven leader with diverse business knowledge and unyielding commitment to excellence, managing and motivating teams for exceptional performance and productivity. She maintains a high standard of professionalism and has been recognized for prudent management of Human Resources in the last 8 Years.
Full report at:
http://allafrica.com/stories/201301140450.html?viewall=1
-------------
Egypt constitution will be bad news for women
Mona Alami, Special for USA TODAY
January 13, 2013
Some charge that the document's wording, drafted by Islamists, leaves room for discriminatory interpretations.
CAIRO -- Egyptian women worry that the new Islamist constitution will allow judges to enforce abusive practices against women, even approving marriages of girls as young as 9, and some are organizing to protect their rights.
"The constitutional process was flawed from the start since the committee overseeing it was mostly comprised of men who view women's role as either sex objects or servants," says Nehad Abul Komsan, director of the Egyptian Center for Women's Rights.
Full report at:
http://www.usatoday.com/story/news/world/2013/01/11/egypt-constitution-women-rights/1784135/
-------------
India Denies Visa to British Journalist; She Was To Address the Spring Of Islam Conference
January 12, 2013
India has denied award-winning British journalist Yvonne Ridley a visa. She was scheduled to address the Spring of Islam conference being held in Hyderabad by the Jamaat-e-Islami Hind.
The London-based journalist, who was captured by the Taliban on an undercover assignment in Afghanistan in 2001 and converted to Islam after her release in 2003, was to address various sessions at the three-day conference, which began on Friday.
Full report at:
http://www.hindustantimes.com/India-news/Hyderabad/India-denies-visa-to-British-journalist-Yvonne-Ridley/Article1-988718.aspx
-------------
Four Women Sue for Right to Fight in Direct Combat
They say the exclusion of women is outdated, and that the front lines of war are vastly changed.
By MATTHEW HAY BROWN the Baltimore Sun
14 January 2013
BALTIMORE - As a woman in the Army, Staff Sgt. Jennifer Hunt is barred from serving in the infantry. But that didn't stop commanders in Afghanistan from tapping her when they needed a female soldier to accompany men on their door-kicking missions.
Hunt's job on those house-to-house raids was to search any women and girls they came across. Not having trained with the teams, she says, made the work more dangerous.
Full report at:
http://www.pressherald.com/news/nationworld/in-focus-military-opportunity_2013-01-12.html
-------------
Jewellery Making Teenage Ivorian Refugee Discovers a New World in Tunisia
BY DALIA AL ACHI
10 JANUARY 2013
Choucha Refugee Camp — Jewellery making is helping teenage refugee Abdel* cope with life in a Tunisian refugee camp, get over a tragic past and prepare for a future that is starting to look rosier to him.
"Today I'm discovering another world in Tunisia," the 16-year-old from Côte d'Ivoire told recent UNHCR visitors to the Choucha refugee camp, where he has been living since March last year. As an unaccompanied minor, he is a person of concern to UNHCR, which is working with the Tunisian government to find solutions for those still in Choucha before the camp closes in June.
Full report at:
http://allafrica.com/stories/201301110764.html?viewall=1
-------------
Female Canadian Student Killed In Bangladesh in Suspicious Conditions
14 January 2013
TORONTO Munjerin Arabin Jerin Mir, 21, hoped to become a family doctor when she left Scarborough to study medicine in Bangladesh more than a year ago.
Those dreams were tragically cut short Saturday when Jerin Mir, as she was known, was killed in Dhaka, Bangladesh's capital.
Her family and friends say the Canadian died of head injuries and that the circumstances surrounding her death are suspicious. A newspaper in Bangladesh is reporting that Mir was struck and killed by a train.
Full report at:
http://www.thespec.com/news/canada/article/869138--canadian-student-killed-in-bangladesh
-------------
Fire Guts Islamic University in Uganda Girls' Dormitory
January 14 2013
Property worth millions of shillings was reduced to ashes after fire gutted a students' dormitory at Islamic University in Uganda (IUIU) yesterday.
No student was injured as they were all reportedly attending their morning lectures at the time the fire broke out.
According to Alhajj Mbasa Mali, the coordinator and Dean of Students, the exact cause of the fire has not been established but investigations were ongoing.
Alhajj Mali said the police fire brigade and well-wishers had joined hands to put out the fire that affected at least 108 female students.
Full report at:
http://www.monitor.co.ug/News/National/Fire-guts-IUIU-girls--dormitory/-/688334/1664894/-/b9bsum/-/index.html
-------------
Asian Woman on Trial for Smuggling 63 Cocaine Capsules Before the Dubai Court
Salah Al Deberky / 14 January 2013
A 42-year-old woman stood trial on Wednesday before the Dubai criminal court on the charge of trafficking cocaine.
The Asian women, identified as W.S., were arrested at the Dubai International Airport while on transit.
W.S. was caught concealing cocaine capsules in her private parts and guts and some cocaine capsules had been detected in a cream packet in the woman's luggage with others hidden in a sweets pack she was carrying.
Full report at:
http://www.khaleejtimes.com/nation/inside.asp?xfile=/data/courtroundup/2013/January/co-------------
Some Marriages for Indian Women Made In the UAE
Sajila Saseendran / 13 January 2013
Marriages are made in the UAE for some Indian women whose families cannot afford them.
In some states like Kerala, the weight of gold worn by a bride and the dowry given to her ensure her a good family life, parents believe. But 27-year-old Preetha from Wayanad was an orphan, living with a family her mother used to work for as a maid. She couldn't afford to think about marriage, settling down and having kids until she received a proposal from Ramachandran, also an orphan. The couple intended to marry, but who would bear the cost of the wedding?
Full report at:
http://www.khaleejtimes.com/nation/inside.asp?xfile=/data/community/2013/January/community_January6.xml&section=community
-------------
Woman to Be Deported From UAE after Amnesty Mix Up
Woman claims she was not told of life ban after leaving during 2003 amnesty but instead she was issued residency visas and work permit
By Bassma Al Jandaly, Senior Reporter
January 13, 2013
Dubai: A woman has been charged with entering the UAE after being deported during the 2003 amnesty, despite living and working in the country legally for nine years.
Filipina Elma Roldan had lived in the UAE since 1999 but when her sponsor died in 2003 she lost her passport with him and was forced to leave the country during the amnesty in the same year.
Full report at:
http://gulfnews.com/news/gulf/uae/visa/woman-to-be-deported-from-uae-after-amnesty-mix-up-1.1131578
-------------
Eve-Teasing Victim Gets 'Death Threats'
Jan 14 2013
Kolkata : A woman, who was allegedly teased by some Trinamool Congress workers in Barasat on Friday night that led to the arrest of one person, has now told the police that local Trinamool supporters are threatening her to withdraw the complaint.
The woman has named Bakibullah Mollah, a local Trinamool worker, and his two supporters for threatening to kill her if she did not withdraw the complaint.
Full report at:
http://www.indianexpress.com/news/eveteasing-victim-gets--death-threats--from-trina.../1059033/
---------------
URL: https://www.newageislam.com/islam,-women-and-feminism/new-age-islam-news-bureau/'honour'-killing-in-pakistan--girl-declared-'kari'-shot-dead/d/9990